101 + Easy Instant Pot recipes that are simple and delicious! Simple dinner, soup, side dish and vegetable recipes we've made in our pressure cooker. Whether you're new or an expert we've got something new to try that speeds up cooking, you can even make dessert!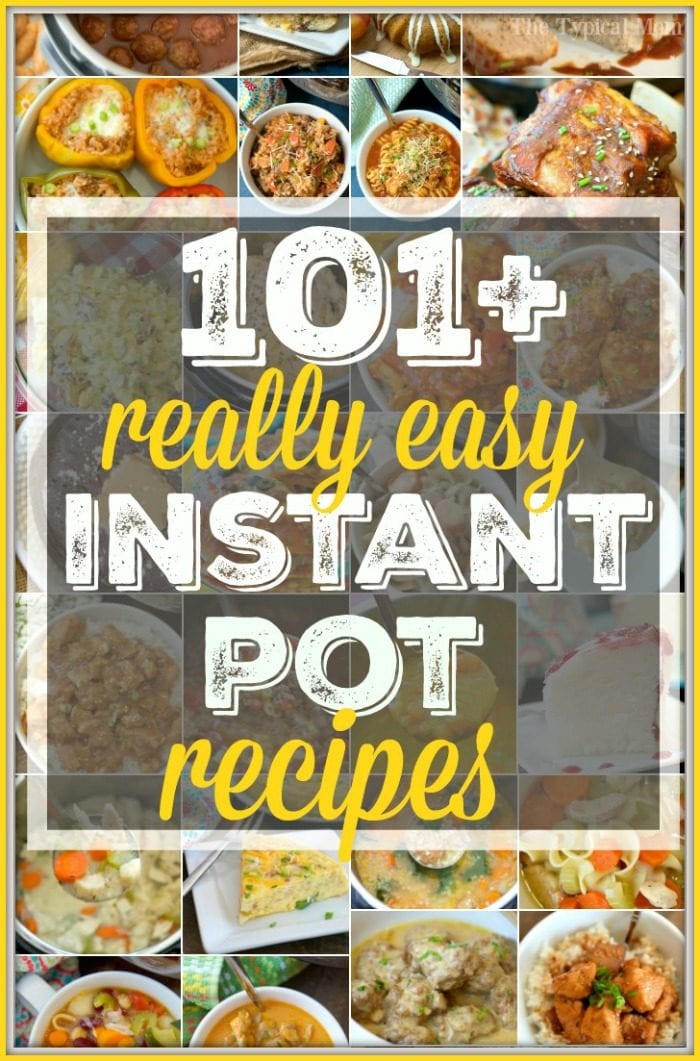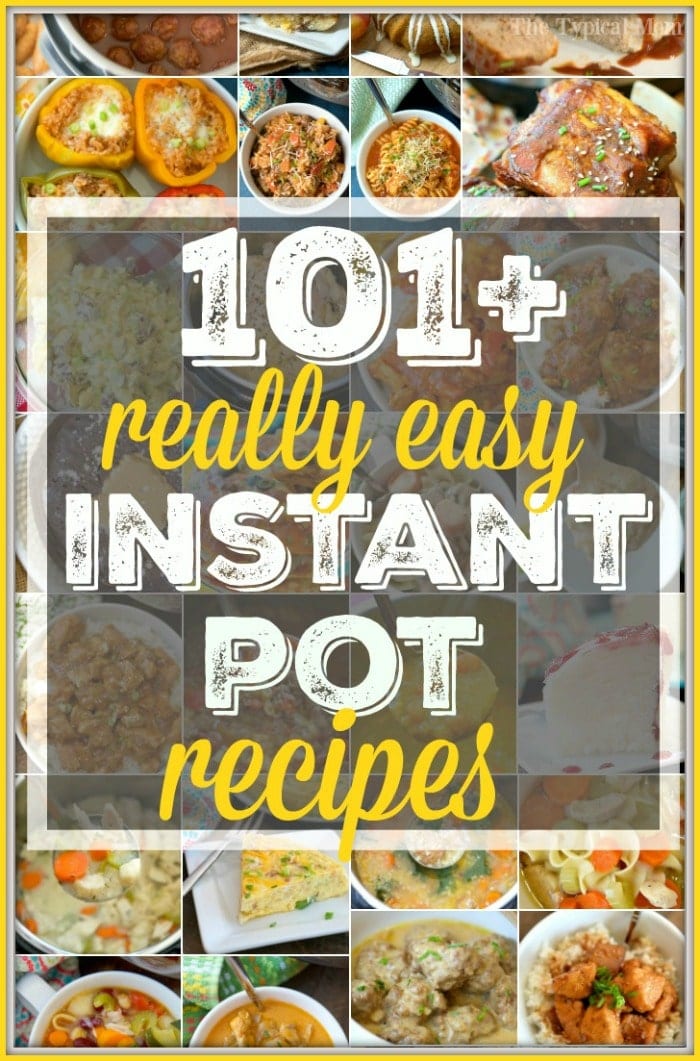 I am all about easy Instant Pot recipes! I love my crockpot but when the Instant Pot came out I was all over it!! Now I am busy creating new and easy pressure cooker recipes for us and you to enjoy in this fantastic kitchen appliance that has 7 appliances in one! Of course many of these recipes you can make in a traditional pressure cooker as well but this device has more functions than that. I will continue to add more and more as I make them so check back often and we hope you enjoy these as much as we have. (originally published 10/17)
How can you save this page so you can refer back to it easily and find easy Instant Pot recipe ideas??
You can save this list of recipes by saving it as an Instant Pot recipes APP on your phone, here's how:

You're already here so if you are on your smartphone you are already set
Now if you're on an iPhone (that is what I have) look at the bottom of your screen and touch the square button with the arrow up in the middle of it
Then a bunch of choices will pop up, scroll to the right and to the right of the copy button it will say Add to Home Screen, push that (graphic below)
Click add on the top right and you're done!! (you can change the name of it too where the curser is flashing if you want, otherwise it will say 101 Easy Instant Pot Recipes
Then look on your home screen(s) and your new free Instant Pot APP will be there so you can just click on it whenever you need a pressure cooker recipe!!

We will continue to add to this post weekly so make sure to PIN THIS PAGE and BOOKMARK IT on your desktop for future reference.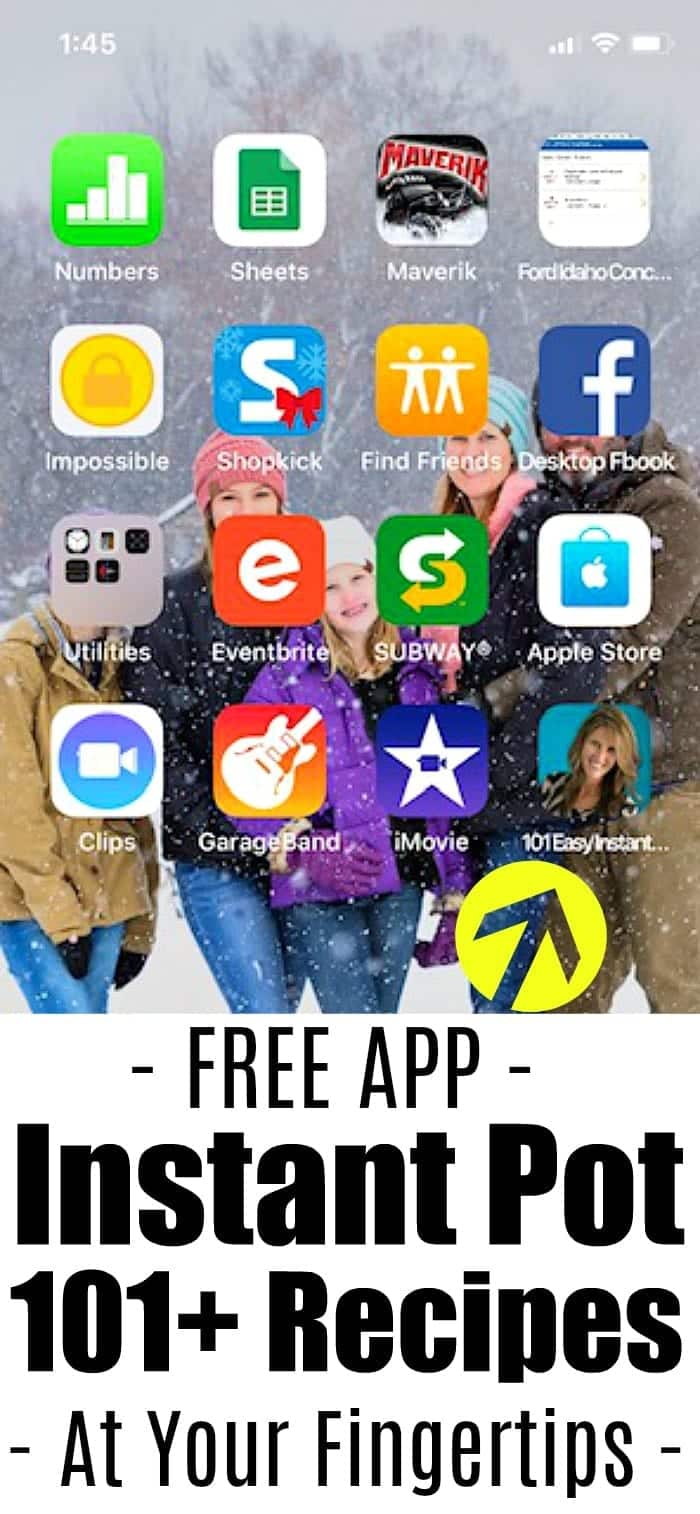 To ensure you get those first sign up for my newsletter and they'll be emailed to you. You can also LIKE Easy Instant Pot Recipes Facebook page where I share my new ideas.
This fancy multi cooker has helped me make many of these recipes below, here are my Instant Pot accessories must haves!
If you're new here's a How to use an Instant Pot for beginners post + a video explaining the buttons is below**
If you're new you'll also want to see how to avoid the notification of burn on Instant Pot machines…sometimes it isn't burning at all, and instructions on how to deglaze your Instant Pot are here too!
Both can come in really handy when you don't have any fresh meat in the house (or don't want to go to the store).
If you're new and need a bit of help getting started here is a video explanation of the buttons on your Instant Pot!
I don't have a lot of "extras" for my multi cooker programmable pressure cooker but I share my favorite Instant Pot accessories here, and above.
Here are a few of our favorite easy Instant Pot recipe ideas + a video above showing how we made them (links to directions below)!
I will start with our most popular Instant Pot recipes!
Of course we have a lot but I have received the most compliments, notes, and "ooooh"s from the recipes below. Don't stop there though!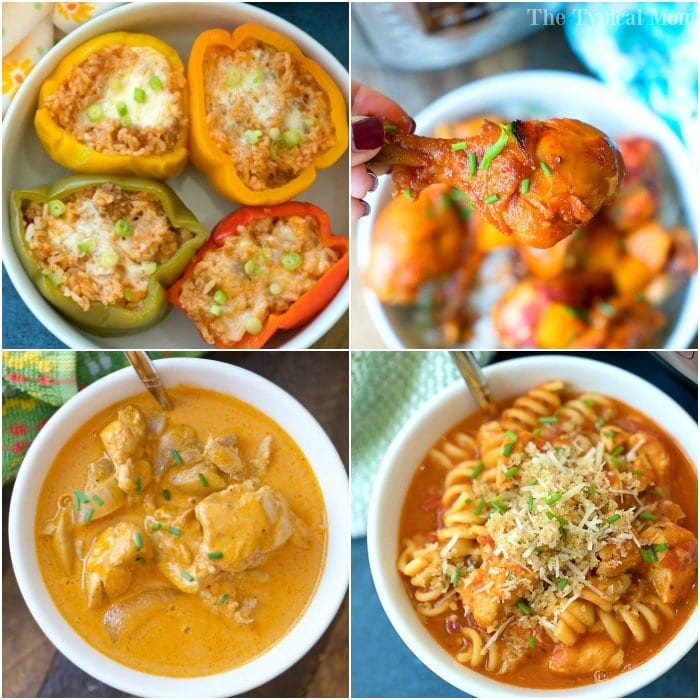 From here I'll separate the recipes into breakfast, main dishes and pressure cooker desserts.

If you're looking for healthy Instant Pot recipes we have you covered with our bean soup you see here below + many others, and our pressure cooker minestrone is amazing too!

Here are a few Instant Pot breakfast recipes to get you started at the beginning of the day, most have step by step videos included within the post so you can see exactly how I make it.

Pressure Cooker Breakfast Recipes

Once you've tried a few of these we will go on to share some Instant Pot side dishes so if you have a get together or a chicken in the oven and need some potatoes or vegetables cooked fast you'll know how to make those too.

I was brand new to using dry beans in the Instant Pot until I made a few of the recipes above as you see. I just used the Instant Pot cooking times for beans and I was amazed at just how easy it was. Now I use dry beans in my pressure cooker if at all possible because homemade that way has never been easier!

If you have kids our Instant Pot casseroles are a huge hit amongst everyone, and don't forget to make a few of our Instant Pot soup recipes too when the weather cools down!

Instant Pot sausage recipes are always a hit! Whether you have ground spicy sausage, regular, or links these are super yummy and of course easy. If you're eating healthier this list of pressure cooker fish recipes is always helpful.

If it's holiday time check out our Christmas and Instant Pot Thanksgiving recipes.

Now if you're in a real hurry (me usually) I made a list of easy 3 ingredient Instant Pot recipes for those hectic days or when you want something really inexpensive for dinner. You wouldn't think that just a few ingredients could make a delicious and healthy meal but many can and are our favorite go to meals during the week!

I have yet to use this as a yogurt maker but that is my next quest, I've heard it is easy and comes out really delicious. I am always adding new breakfast and dinner recipes each week so keep this post handy when you need a few new ideas!

Instant Pot Side Dishes

Above are the links to the recipes you saw in the video shown. Of course there are many more easy Instant Pot recipes we love and have created over the course of the past year or more but they are great to try if you're in search of a good pressure cooker dinner the whole family will love, or ready to try to make dessert in your Instant Pot!

Now if you are ready to go full force and use it daily I have a free printable menu full of 30 simple Instant Pot recipes so you can cook something new every day! Just print it out, put it on the fridge, and each day come back to this page to grab the recipe you need for that day, they are all listed here and will be updated with new electric pressure cooker recipes each week too.

My Instant Pot spaghetti recipe was the first one I created and is usually what people start with since it is a classic dish and so easy to do….I would suggest starting with that one if you are a newbie or are needing a really quick, easy, and cheap dinner that will fill all of you up. Then you can graduate to other things using a few accessories I recommend up above. Once you make 3-4 things you'll feel like a pro I promise.
The next popular is our potato corn chowder, followed by our most popular dessert….our Instant Pot angel food cake. Reminds me of my Grandma every time I make it. 😉There are so many great pressure cooker recipes around and I hope we are able to add to your list of favorites. We have a few great pressure cooker dinners below too, let us know which is your favorite.A pressure cooker is great for college students too! I created this cookbook for college students with some of my easy recipes they can make in their small apartment or dorm room.

Easy Instant Pot Dinner Ideas

More dinner ideas below……..

Many of your favorite crockpot recipes can now be made in the Instant Pot, just much faster!

We make our 5 ingredient crockpot chili recipe almost weekly and normally it takes 6-8 hours but we made it in here and it was done in 45 minutes or less!

On that one I still prefer a slower cooking to seep in the flavors so I set it on the slow cooker setting but that is done in just 4 which is quicker AND I can skip precooking the beef in it by using the saute function. I love it….and have now created a roundup of easy Instant Pot beef recipes too.

My Instant Pot butter chicken has been a hit too. I firsts tasted this popular Indian dish when I was in Utah and it was amazing.

I tinkered with it and came up with a version that reminded me of that dinner.

Of course you can incorporate your own spices if you have your own recipe for that but it's been really popular as is.