Best French dip Instant Pot recipe with tender roast beef on a bun that's out of this world. Use your pressure cooker or Ninja Foodi to try this for dinner. Served with au jus sauce for the best one pot meal ever.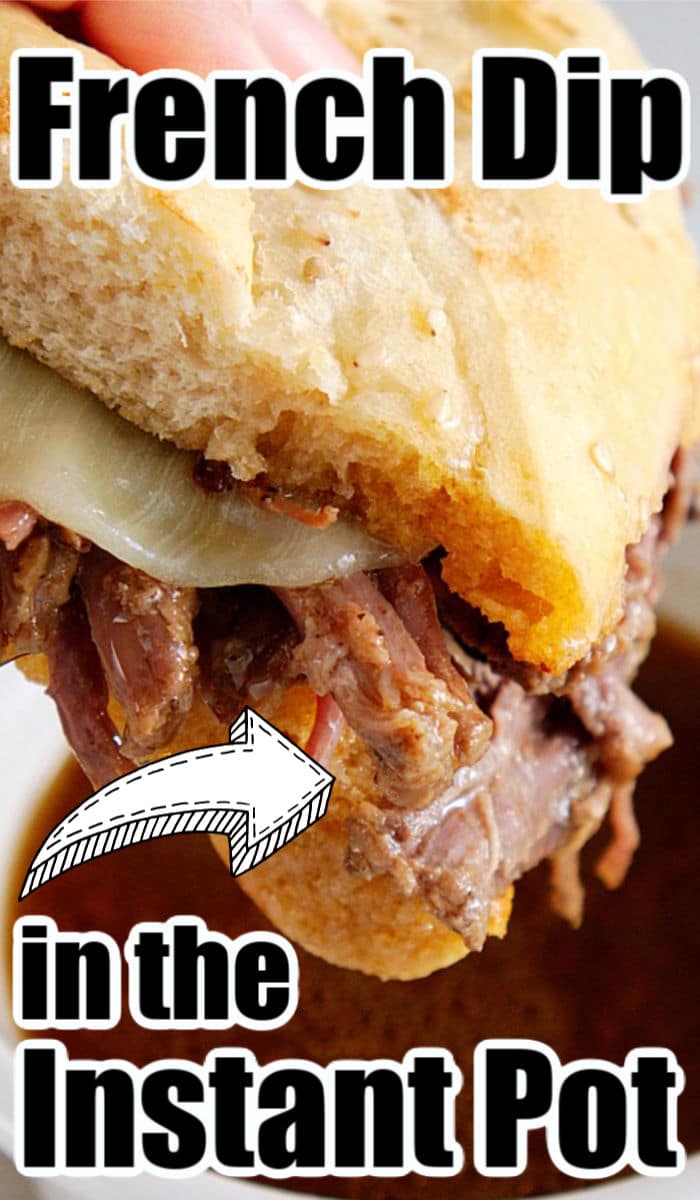 This French dip Instant Pot recipe is beyond amazing. Tender roast beef sandwiches with au jus for dipping for lunch or dinner. Just one of our easy Instant Pot recipes here on The Typical Mom blog. (originally published 7/20, affiliate links present)
Instant Pot French Dip
I mean this is definitely going to make it on to your monthly meal rotation. Love when I find beef on sale, then I load up. Making things like this and our Instant Pot frozen roast (when I forget to defrost it) have been game changers. Has allowed us to eat together as a family more often, which is our goal as parents.
If you don't have an InstaPot you can still make it though. Any electric pressure cooker brand like Crockpot Express and/or Ninja Foodi works just as well. Just throw it all in and enjoy this one pot meal in the evening.
FIRST – You should sign up for my free newsletter so you get new posts emailed to you twice a week and never miss out on anything! Now let's start with a few basic tips:
Make sure to Bookmark our InstaPot recipes page. We add new ones each week!
Then PRINT this —–> Instant Pot cooking times cheat sheet that will help you understand how long meat, vegetables and beans take to cook in your pressure cooker.
For reference, this is the pressure cooker I have (a 6 quart) and use for all recipe creations.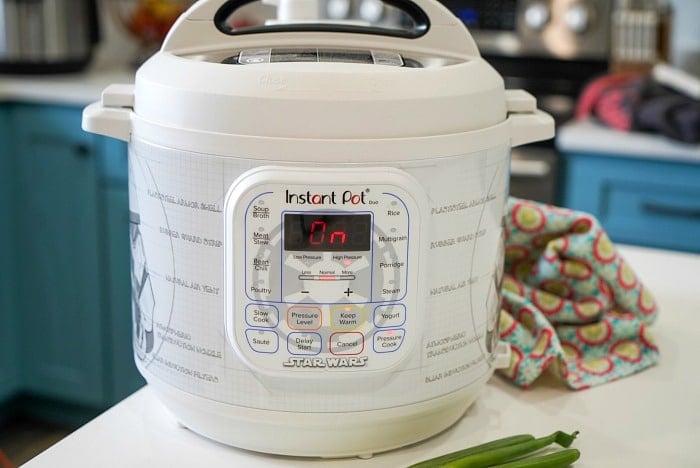 Ninja Foodi French Dip
You can jump to recipe below but you may have a few questions in your mind before getting started. These are the ones I had at the beginning, if you have others leave them in the comments below. I will do my best to answer those as well.
What is French dip sauce made of?
It's jus a light gravy made from the fluids (beef broth) secreted by the meat as it is cooked. Thickened with a bit of roux like flour sometimes, it is often just served straight out of the pot and strained.

You can buy a packet of spices to add to the broth to add flavor too.
What can I use instead of au jus mix?
4 tablespoons beef stock powder + 4 teaspoons onion powder + 2 teaspoons dried parsley + 1/4 teaspoon garlic powder and 4 tablespoons cornstarch will do the trick. Mix with stock or broth.
What goes with French dip?
We usually serve it as is but a side salad is always a good and easy side dish. Some like it with a bowl of tomato soup too.
To make it easier on myself I typically just strain the drippings in my pressure cooker and serve alongside. You could whisk in some cornstarch to thicken a bit but that isn't really necessary in my opinion.
What is French dip made of?
It's made of sliced roast beef (pork, ham, turkey, or lamb are sometimes used) served on rolls or slices of French Bread. Dipped and eaten with warm au jus broth/sauce sometimes called a consommé. You can thicken it with a bit of cornstarch roux but typically it is served like a thin beef broth of sorts.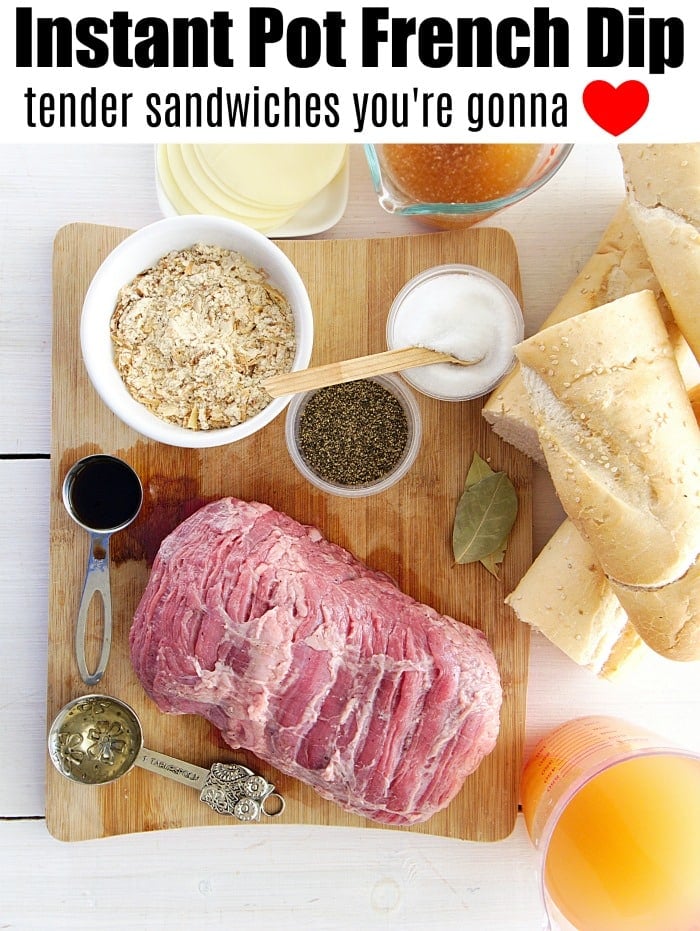 Instant Pot French dip sandwiches
You can choose to use your favorite cut of beef really, the sauce is what makes this delicious. I typically look to see what is on sale really. Of course some cuts are more expensive than others, more importantly this is for about 2 lbs. Just like our Instant Pot birria tacos with consommé the sauce and meat MUST be served together or it's a no. 😉
Beef brisket

a chuck roast could be used if that is what you have on hand

Olive oil, melted butter or vegetable oil
Onion soup mix
Worcestershire sauce

or soy sauce could be used as an alternative

Beef broth

could use half broth and half red wine if desired

Bay leaves
Kosher salt and pepper
Provolone cheese
Hoagie rolls or slices of French bread are typically used
The first thing you usually want to do when cooking a large hunk of meat like this one is to sear the roast. This can be done on the saute function for less than 15 minutes, just to get some browning on the outside. Can be skipped but it is important to keep it nice and moist and add a bit of texture to the outside too.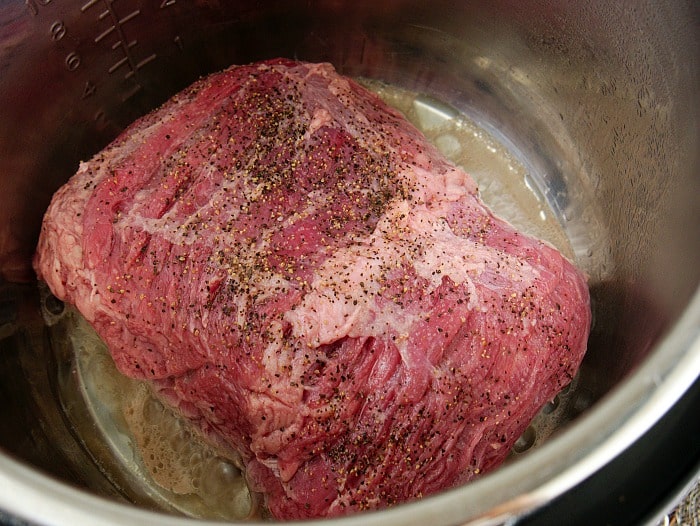 When pressure cooking a thick piece of meat you need to remember that once the cooking time is complete it's important to allow the steam to naturally release. Quick release will suck some of the moisture out, no good.
French dip sandwiches recipe
It is important to use enough liquid where the protein is fairly submerged. This will create very tender roast beef that will be fork tender when done. That is what you want for sure!! You don't want to boil it by submerging it entirely but these machines depend on liquid to essentially steam it.
You want to break down all those connective tissues, that is what makes it chewy and not as appetizing. Some cuts are tougher than others but really when pressure cooking it is hard to cook it too long. The biggest thing that will happen the longer it's in there is instead of being able to slice, it will shred instead.
Here we go, just follow along with our step by step directions so you can make the best pressure cooker roast beef like this too.
French Dip Ninja Foodi
Keep in mind that with time to pressurize, pressure cook and naturally release the steam you'll need about 100 minutes for the process to complete. Quick compared to other methods of cooking but still takes time.
Time needed: 1 hour and 10 minutes
French dip in Instant Pot
Saute

Set pot to saute and add olive oil. Rub salt and pepper all over your piece of beef and brown on all sides. Then turn your pot off. Be sure to deglaze Instant Pot after you remove your meat.

Add ingredients

Add meat back into your pot. Whisk together onion soup mix with beef broth and pour that in. Then add Worcestershire sauce and bay leaves.

Cook

Seal your lid and move valve to sealed. Cook for 50 minutes on high pressure. Do NOT quick release when done. Allow pot to naturally release pressure for 20 minutes – 25, this will make meat tender.

Shred

Shred beef in pot or on cutting board. It should be fall apart tender so you can do this with forks. If you used a much larger piece of protein you may need longer than 50 min. to get to this point.

Serve

Put meat on hoagie rolls with a slice of cheese. Serve some of the broth in your pot in a small cup on the side so you can dip sandwiches in before each bite.
Shredding should be very easy. If it is hard to pull apart then it hasn't cooked long enough. For a 2 lb. beef brisket this timing should be perfect. You could slice it too against the grain but it will likely fall apart more than staying in tact.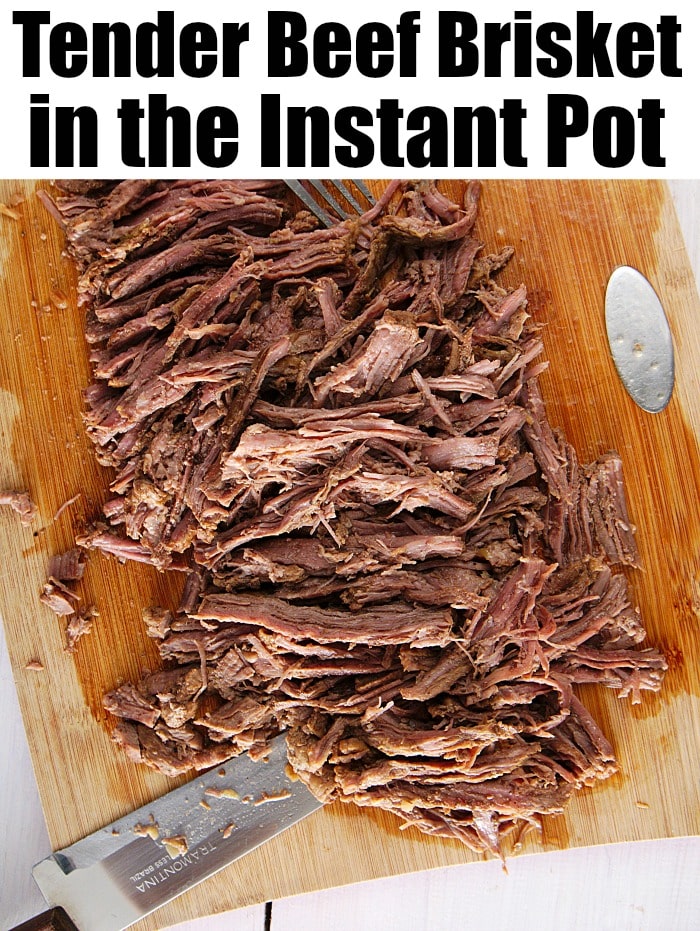 What do you serve with French dip?
I mean….that depends on whom you ask really. I would say that my favorite thing is adding just a bit of heat with chiles. You can do this with a can that is already diced, there are mild and spicy varieties out there. If you have a smoker you can get hatch chiles when they're in season and make them tender that way.
Fillet them open, remove the seeds and membrane so your mouth is not literally on fire. Then slice and dice into small bits. Throw those into the mix of your shredded beef and toss together. THEN add in the middle of small slider buns and serve as an appetizer or meal.
Pepper jack cheese slices are great
Sliced smoked chiles are fantastic
Thin slices of dill pickles my kids love
Mayonnaise or butter spread on the roll works to add moisture
Yellow or spicy mustard sauce is sometimes a favorite
It is totally up to you what you like included with your meat. Use your imagination. Many times it is served "plain" with just meat and cheese with au jus dipping sauce on the side. If you wanted it to be low carb just skip the bread all together and still delish.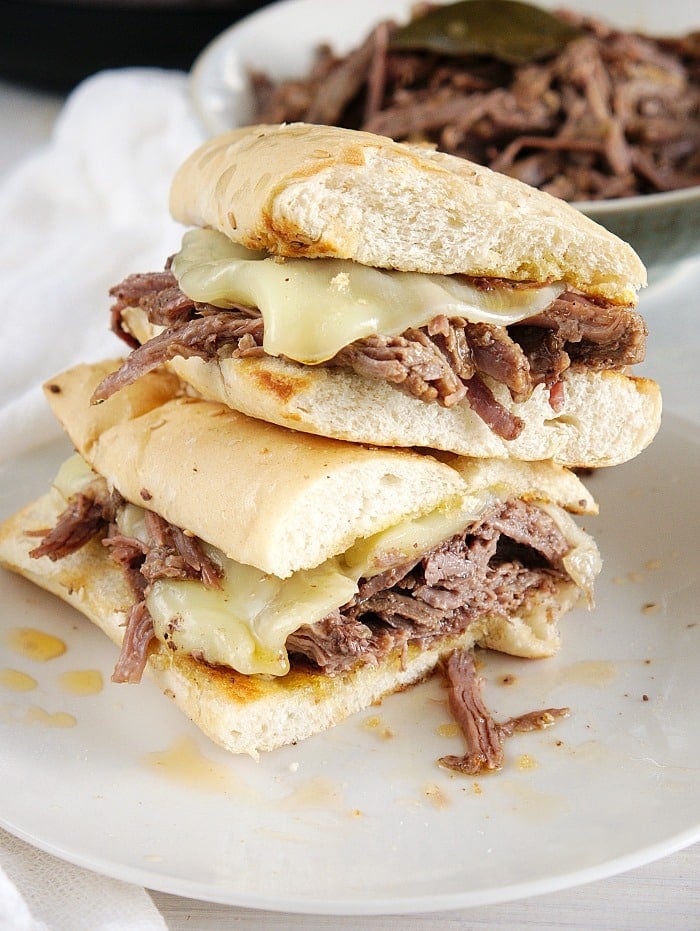 Instant Pot meat recipes
I mean we've made them all over the years, and continue to do so each and every day. Make sure you're a part of our newsletter below to get them emailed to you. Here are a few other meats you will love, cooked in your favorite 7 in 1 kitchen appliance! The first one that comes to mind is our Instant Pot Hawaiian pork recipe.
Steak in the Instant pot with potatoes all in the same pot is a great duo.
With the other meat you can make tender Instant Pot lemon garlic chicken.
Instant Pot bbq beef uses only a few ingredients and is great for sliders. I use this one really often when I am just done at the end of the day but still want a homemade meal. You just need meat cut into large chunks, and a bottle of your favorite sauce. I mean even teriyaki works well.
Make a pot of rice with maybe some steamed vegetables on the side and dinner is served! Way cheaper than going out to eat, healthier, and family dinners are the best to get your kids (especially teens) talking. 😉
Want to see a few of my favorite things that I am totally obsessed with?? Take a peek and see how many you might already have…twinsies!
Looking for more easy family recipes and tips? LIKE The Typical Mom Facebook page?
Then sign up for my free newsletter, and follow me on Pinterest! 😉
***** If you LOVED this recipe give it 5 Stars below and let everyone know what you thought about it. 😉
French Dip Instant Pot
Best French dip Instant Pot recipe with tender roast beef on a bun that's out of this world. Use your pressure cooker or Ninja Foodi to try this for dinner.
Instructions
Remove excess fat from meat. Rub with salt and black pepper on all sides to season.

Set pressure cooker to saute. Heat the oil and put the brisket inside. brown on all sides so it is no longer pink on the outside.

Turn pot off. In a small bowl mix together onion soup mix with 1 cup of beef broth, pour this over the meat.

Then add remaining 2 c of beef broth on top followed by Worch. sauce and the bay leaves. Sprinkle in a pinch of salt and pepper again now.

Spoon some of the broth over the meat and put your lid on. Seal and close steam valve too. Set to pressure high for 50 minutes.

Allow pot to naturally release steam for 25 minutes when time is up. Take meat out and shred gently with a fork. Put meat on buns with cheese and serve with juice from pot on the side for dipping.
Nutrition Facts
French Dip Instant Pot
Amount Per Serving (2 oz)
Calories 515
Calories from Fat 864
% Daily Value*
Fat 96g148%
Cholesterol 562mg187%
Sodium 3642mg158%
Potassium 3519mg101%
Carbohydrates 4g1%
Protein 196g392%
Vitamin C 2mg2%
Calcium 107mg11%
Iron 20mg111%
* Percent Daily Values are based on a 2000 calorie diet.