Pressure cooker roast beef is tender and full of flavor without ever having to turn on your oven! Sliced or shredded beef Instant Pot or Ninja Foodi style.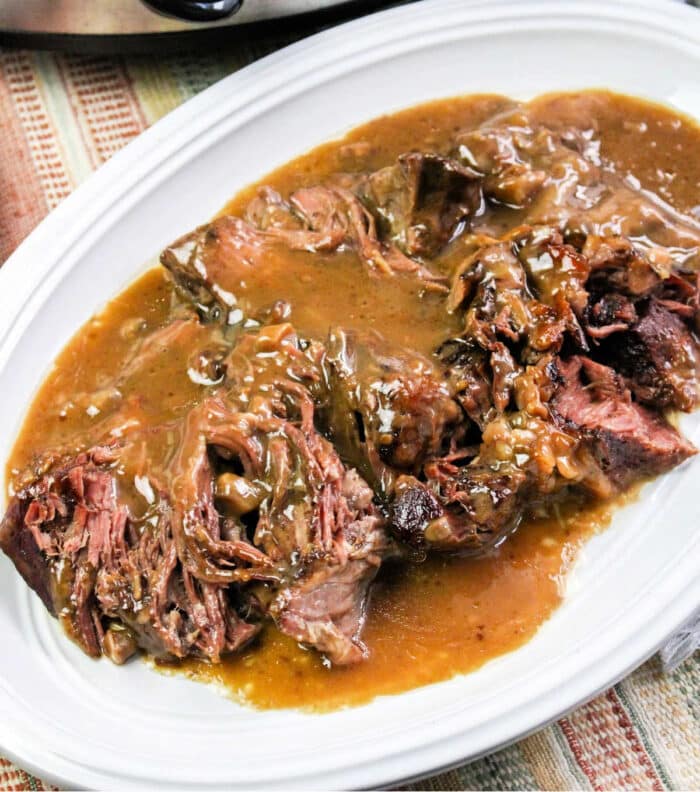 Do you love roast beef but wish you could make it quicker?? Now you can with this pressure cooker roast beef recipe using your Instant Pot or Ninja Foodi machines. Now added to our list of 101+ Instant Pot recipes for you to try. A great recipe for the holidays or dinner year round. I'm telling you, this turns out great. (affiliate links present, originally published 4/19)
Instant Pot Roast Beef
You can make this as a Ninja Foodi recipe if that is the brand you have. A great meal that is packed with protein and pretty quick compared to baking it in the oven. You don't have to heat up your house either to get that melt in your mouth tenderness this way.
We've also made an air fryer roast beef so it gets crispy on the outside. If you like a bit of a crust on the outside with your dry rub you could try that one as well and see which you like best, both are delicious. Let us know what you think.
FIRST – You should sign up for my free newsletter so you get new posts emailed to you twice a week and never miss out on anything! Now let's start with a few basic tips:
Make sure to Bookmark our InstaPot recipes page. We add new ones each week!
Then PRINT this —–> Instant Pot cooking times cheat sheet that will help you understand how long meat, vegetables and beans take to cook in your pressure cooker.
For reference, this is the pressure cooker I have (a 6 quart) and use for all recipe creations.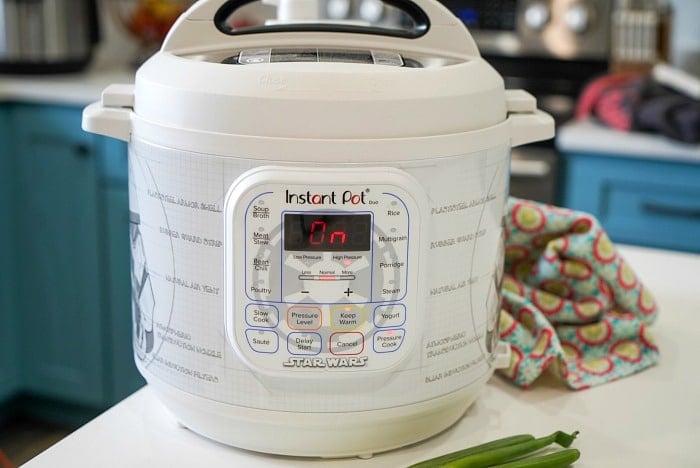 Do you use your pressure cooker on a daily basis like I do?? I literally don't even remember the last time I used my oven to make dinner.
Making French dip Instant Pot recipe is just such a game changer now.
How to cook beef chuck roast
There's nothing like pressure cooking beef. This melt in the mouth roast beef comes out fall apart tender where you don't need a knife to even cut it on your plate. The side of your fork will work just fine. Of course there will be a variation depending on how well done you want it to be.
Here are the first steps……and they're pretty darn easy I tell you.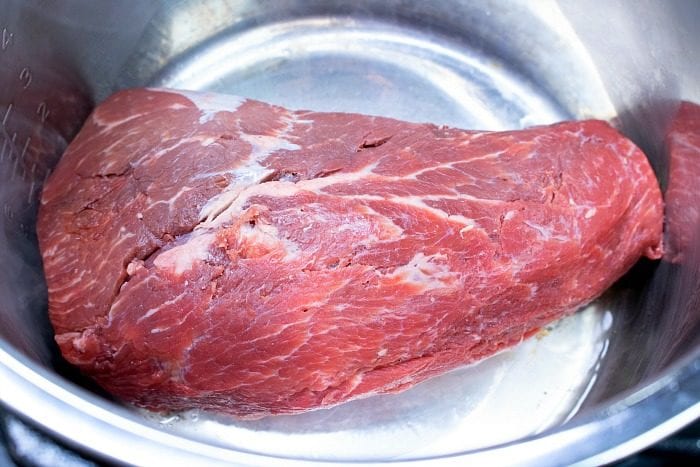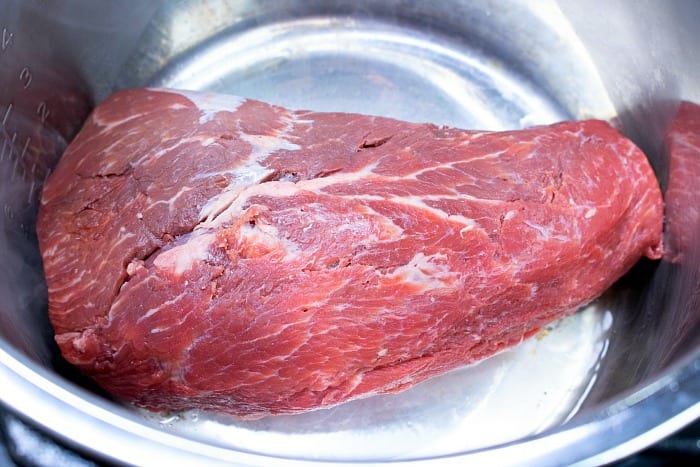 How Long to Cook 3 lb. Roast in Pressure Cooker
The timing below will vary a bit depending on how pink you want it to remain inside. Most of the time you want to keep some and not leave it until it is well done, typically. We are adding vegetables at the end too so others may say 1 hour but we do 10 minutes less to account for that extra time for the veggies.
Once you have your piece of roast beef you're going to brown both sides using the saute function with a bit of olive oil in your pot.
Then you'll add your spices and wine…yes you heard me right….red wine!
Close your lid and steam valve and let it cook all by itself….go find something fun to do for 50 minutes. 😉

if not adding veggies later set to 60 min.

You'll allow it to naturally release steam for 25 after that
Add your potatoes and carrots (or other veggies) after that
Let them soften for a little while
Take everything out and enjoy!
You can make some pressure cooker gravy in about 15 minutes using the juices left in your pot if you want too. That is super easy to do and a great add.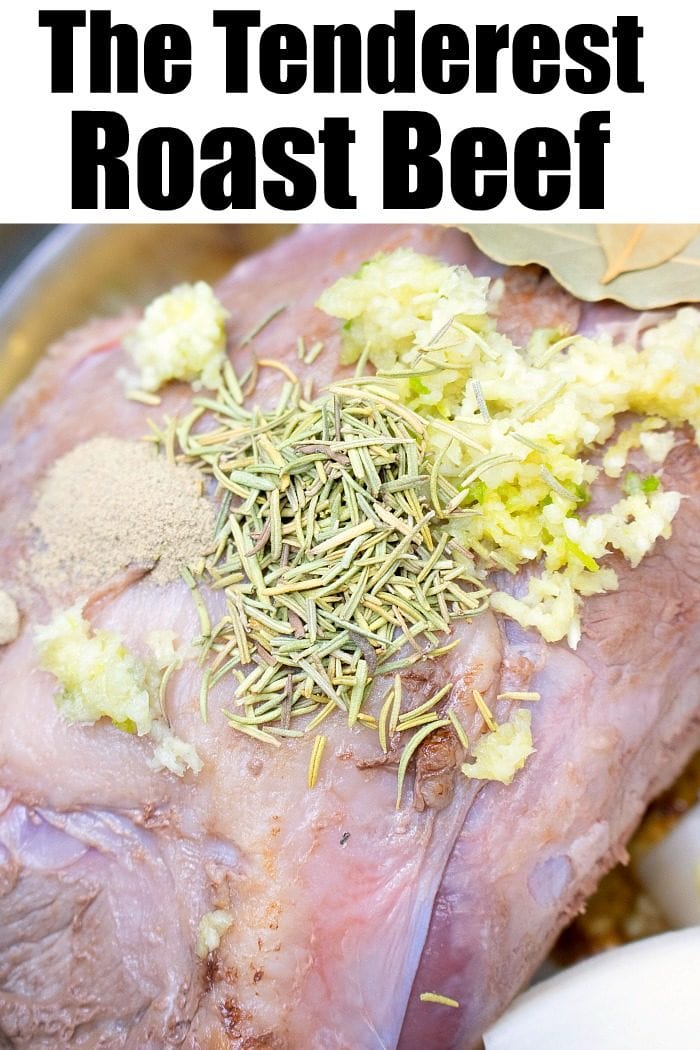 Roast beef in a pressure cooker
Now why would we bother to use this pot instead of just popping it into the oven or grill? There are many reasons to choose from but here are just a few.
It cooks way faster…..that's the point right?
Roast beef in an electric pressure cooker, Instant Pot or Ninja Foodi comes out extremely tender
You're able to cook everything all in the same pot which cuts down on dishes (yeah) and the vegetables/potatoes get to soak up all that goodness while they're cooking.
You can just throw it all in and walk away instead of tending to it in the oven making sure it's basted etc…along the way.
Because I'm just obsessed with my pretty Instant Pot and new Ninja Foodi pressure cooker and air fryer machines.
All large cuts of meat should be cooked under high pressure I say. It is the best way to get them all fork tender in about an hour. This and our Instant Pot rump roast are high on the list of favorites.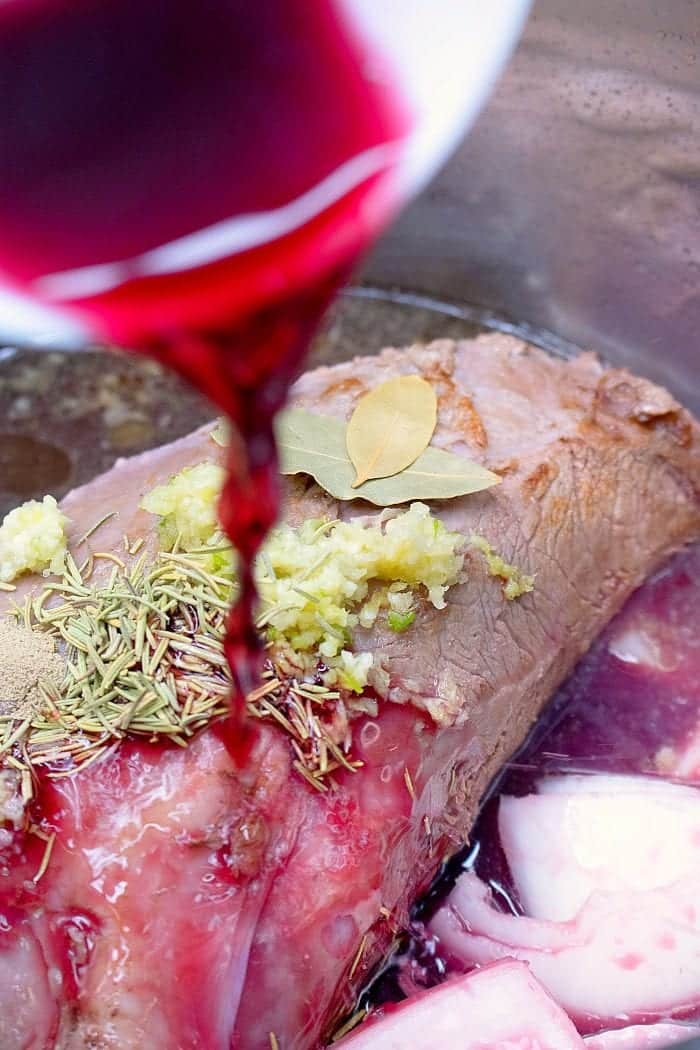 Instant Pot roast beef
You might have a few questions in mind before you dive right into this one, here are a few we have been asked. Now we have answered them for you ahead of time.
What is roast beef?
Roast beef is a piece of beef which is usually roasted in an oven BUT can now be made in a pressure cooker. Usually prepared as a main meal, roast beef leftovers are often used in sandwiches.
Is roast beef healthy?
Although it is high in fat, roast beef is very high in protein as well.
Roast beef is quite high in potassium. There are 0 carbs and 0 grams of sugar in roast beef itself.
What cut of meat is roast beef?
Roast beef is made out of beef chuck roast. If you want to make this but don't see it in the meat section of your grocery store, ask the butcher. It might be labeled a bit differently or they may have some behind the meat counter itself.
We added some vegetables at the very end with our pressure cooker pot roast. This requires a bit more time but that part is totally up to you. You could stop with just the meat itself. If you choose to just make the protein then add 10 more minutes on to the initial time.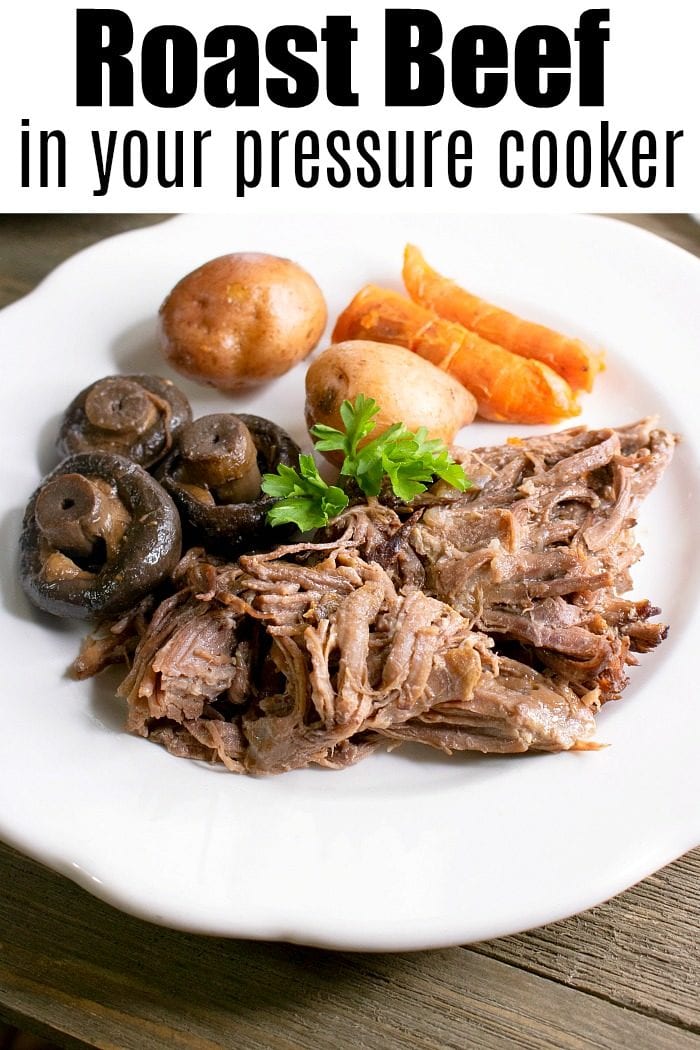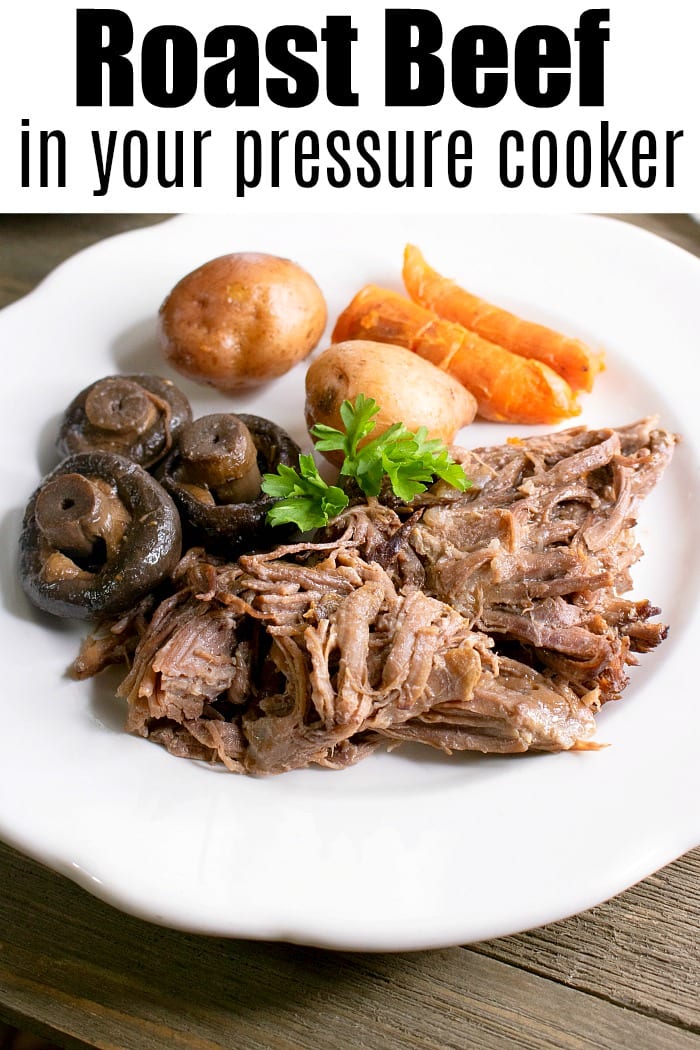 Pressure cooker roast beef recipe
Beef chuck roast piece – 3 lbs is what was used here
Beef broth
Onion
Carrots
Potatoes
Mushrooms
Red wine – could use another liquid if you'd prefer
Worcestershire sauce
Spices
Rolls if you want to make roast beef sliders at the end
Other ways of how to cook beef chuck roast into a few other pot roast recipes are;
Directions for Ninja Foodi Follow this Ninja Foodi roast beef post here for that pot. The directions for Crockpot Express and Instant Pot roast beef are below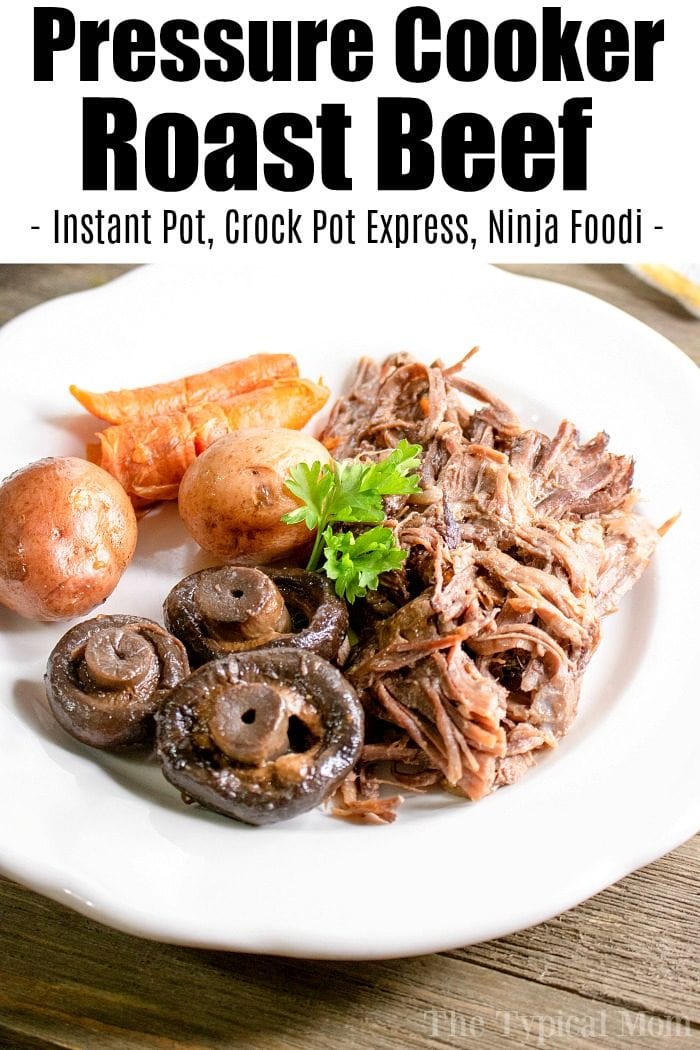 Want to see a few of my favorite things that I am totally obsessed with?? Take a peek and see how many you might already have…twinsies!
Looking for more easy family recipes and tips? LIKE The Typical Mom Facebook page?
Then sign up for my free newsletter, and follow me on Pinterest! 😉
***** If you LOVED this recipe give it 5 Stars below and let everyone know what you thought about it. 😉
Pressure Cooker Roast Beef
Pressure cooker roast beef is tender and full of flavor without ever having to turn on your oven! Sliced or shredded beef Instant Pot or Ninja Foodi style.
Instructions
Turn pressure cooker to saute mode and add olive oil. Add roast when hot.

Brown each side, turn pot OFF, remove meat from pot and deglaze the pot (add 1/2 c. of your beef broth and scrape the bottom well to remove all stuck on meat).

Return meat to pot, add onions, seasonings, wine and rest of broth.

Close lid and steam valve. Set to high pressure for 50 minutes. (timing is average but varies slightly depending on size and thickness of meat piece you have) * if not adding veggies later set to 60 min.

Do a natural release for 25 minutes, then let out rest of steam.

Add potatoes, carrots and mushrooms. Put lid back on and close steam valve.

Set to high pressure for 6 minutes, quick release when done.

Remove vegetables and meat. If you want to make gravy leave liquid in pot, set to saute and whisk together in a small bowl 2 tbsp. cornstarch with 3 tbsp cold water until smooth and add in. (or a gravy packet works) Stir until it thickens, turn pot off.
Nutrition Facts
Pressure Cooker Roast Beef
Amount Per Serving (3 oz)
Calories 437
Calories from Fat 225
% Daily Value*
Fat 25g38%
Cholesterol 117mg39%
Sodium 295mg13%
Potassium 1060mg30%
Carbohydrates 14g5%
Protein 35g70%
Vitamin A 3845IU77%
Vitamin C 11.8mg14%
Calcium 71mg7%
Iron 6.7mg37%
* Percent Daily Values are based on a 2000 calorie diet.
Try our Instant Pot beef tips next!
For more easy recipes, tips and free printables please LIKE The Typical Mom on Facebook and follow me on Pinterest! You can also sign up for my free weekly newsletter which is packed with goodies I know you'll love. 😉