Slow cooker roast beef and gravy recipe that is fork tender and full of flavor. Use chuck roast for a cheap Crockpot dinner everyone loves.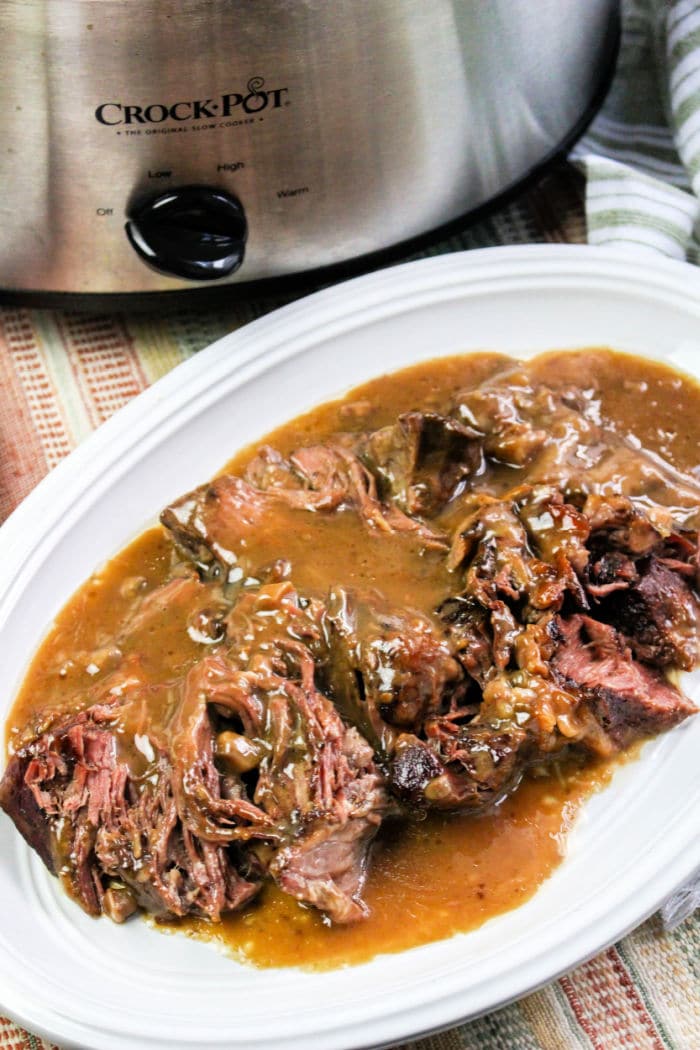 I bet your mouth is already watering looking at this slow cooker roast beef and gravy picture. Tender with every bite served on a bed of mashed potatoes or rice, we love this recipe. Just one of many easy Crockpot recipes here on the blog. (affiliate links present)
Crockpot Roast Beef
Just a handful of common ingredients whisked together makes the most delicious onion gravy. Simmering on low all day soaks up all that goodness so it's perfect at dinner time.
This one used a defrosted piece of meat. If yours is still rock solid we have directions for that at at the bottom of this post.
FIRST – You should sign up for my free newsletter so you get new posts emailed to you twice a week and never miss out on anything! Let's talk a little bit about slow cooking shall we?? First off I have a few different varieties and I love them all. Each one has an occasion to be used like….
This is my favorite 6 quart programmable one with a locking lid so it's great for bringing to a potluck too.
If you just want to serve a few appetizers you should get this one that sit side by side one another.
I prefer not to use liners, but rather just spray olive oil inside before adding my food for easier cleanups.
Let me give you a peek of my pretty thang I bought recently. It goes with my kitchen so I can just leave it out on the countertop all the time. 😉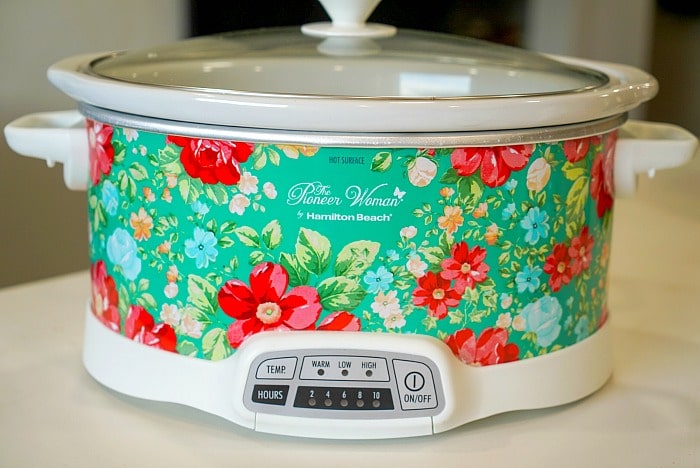 I use this cut quite often because it is really cheap and offers a lot of flavor. There's a handful of ways I rotate thru. If I had a forgetful day sometimes I use this Instant Pot frozen chuck roast recipe. This day I had it all together (sorta) and used a thicker sauce with cream of mushroom soup.
Moist Slow Cooker Roast Beef
How do you keep beef from drying out in a slow cooker?
1. If you sear the meat on the outside prior to laying it in your pot it will maintain more moisture.
2. Add a thick gravy for it to cook in.
3. Flip large pieces of meat over halfway through the cook time.
4. Cook on low for no longer than 8 hours.
What is a good cut of meat for roast beef?
If you want to slice it when it is done this is probably not the best way to cook it. This method will most likely yield a piece that falls apart with a fork, more like bbq beef. With that said ribeye and tenderloin roast are the most popular especially if you want to cook it to medium.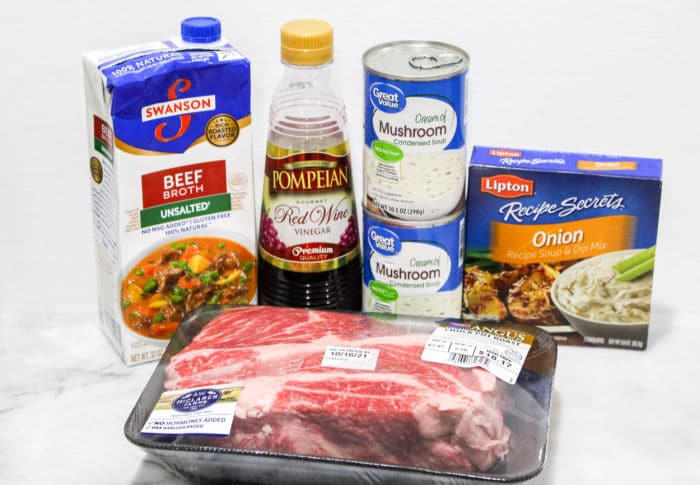 Frankly you can use any type you like with this same sauce. Cook time below will give you a well done fall apart roast. If you want pink inside I'd cut the timing by 1 hour and check. Since it is a beef recipe there isn't as much of a worry about pink inside as you would with pork or poultry.
Moist Slow Cooker Roast Beef Without Vegetables
Roast cut in half, about 3 pounds

if you find a sale buy an extra and try our air fryer chuck roast recipe too

Packet of onion soup mix
Beef broth
Red wine vinegar
Condensed cream of mushroom soup
Salt and pepper to taste
You could add petite potatoes on the sides of this if you wanted and/or large chunks of peeled carrots. Beyond those I think things get too mushy.
Slow Cooker Shredded Beef
If you have chuck roast bone in it may be tough to slice it, don't worry about that. This way it just helps for the sauce to really soak into the middle. You can use this same mixture for all sorts of recipes beyond roast with onion soup mix in Crockpot.
If you love shredded chicken you could use chicken broth instead with the same other items and give that a whirl too. Served over white rice it's a cheap Crockpot meal for everyone.
Let's talk about cooking on high vs. low and slow. I prefer the latter always, especially for large very thick pieces of protein. The meat is tenderest when you brown the meat first, then slow cook in Crock pot 8-10 hours.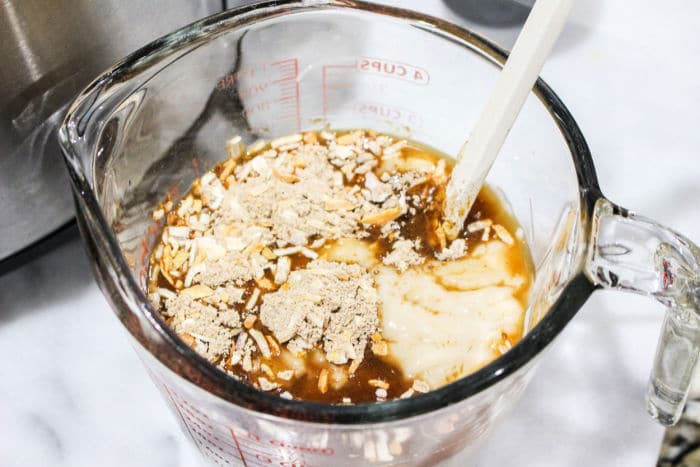 If you want to decrease the sodium a bit you could use a cup of water instead of broth or use low sodium boxes. Even my husband loved this pot roast recipe and since there were leftovers he ate it for lunch the next day too. That means a two for one meal.
Yes you can make this similarly for less time in pressure cookers but if you are beat at the end of the day this is the way to go. The "old fashioned" method is sometimes best. Here are brief step by steps;
Spray the inside of your slow cooker with non stick spray to make cleanup easier later. Cut roast in half width wise (if very thick) and lay on bottom.
Whisk together the other ingredients (except salt and pepper) to make a sauce/gravy. Pour combination over your meat.
Cover and cook this on low for 6-8 hours (timing will depend on how thick your piece is and if you want it to fall apart if you want to slice it). Once it is to the doneness you desire, serve with gravy. Season with salt and pepper when served.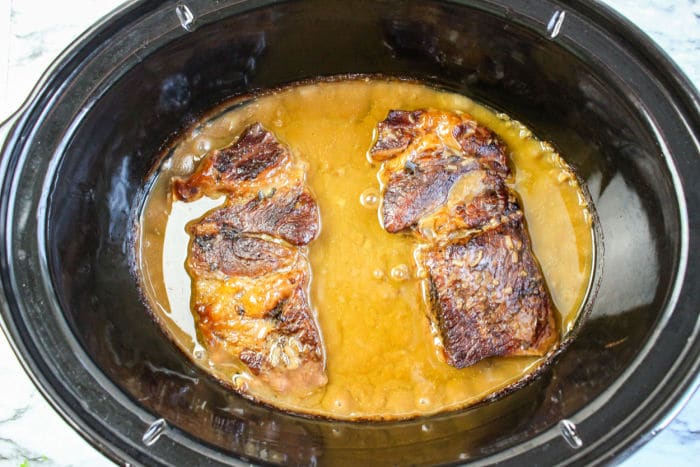 Beef Bottom Round Roast Slow Cooker
Now when choosing your piece of meat from the store remember this; the leaner your piece is the more you should keep an eye on it. This will cause your piece to get more dry than if there was more marbling or fat within it. SO unlike when you're at an expensive restaurant, cheaper is sometimes better in this case. 😉
I have done it both ways and I will say that my sirloin tip roast was fantastic but did need to be cooked for less time. At 8 hours for this piece wasn't as moist as using chuck so I just stick with that from now on.
Storing leftover beef is a must because I hate to waste and I bet you do too. If you've cooked it in a sauce it is kinda' a no brainer, store it together! You definitely want to include the thick liquid surrounding your meat inside your airtight bag or bowl. Air is the enemy too. Suck all of that out until you're ready to rewarm it.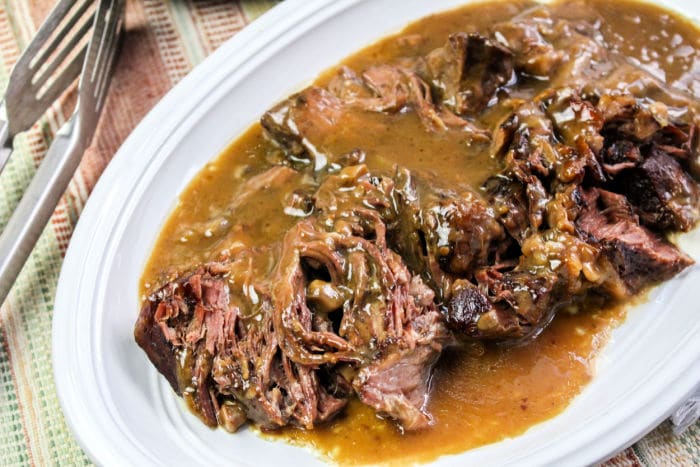 Reheating Beef
Next day leftover lunches are sometimes the best. The flavors are often times even more enhanced and all you need to do is make some Minute rice to pair it with. You can microwave in 30 second increments stirring in between until it is warm. In a small saucepan you can set to medium high heat and stir intermittently until warm and meat is tender.
Once again make sure it is submerged in some kind of liquid or sauce. Do not throw that away from the day before, that is golden. You can thin it out a bit with a little more broth or water too. Taste and season again with a little salt if needed but likely it will not need anything at all.
Printable recipe with nutritional information such as calories and saturated fat is below. Remember that each piece is going to vary depending on the weight and fat content so this is just a general reference.
Now if you want to make your hunk of protein tender and delicious FAST, follow our Instant Pot shredded beef or Instant Pot rump roast recipes here too.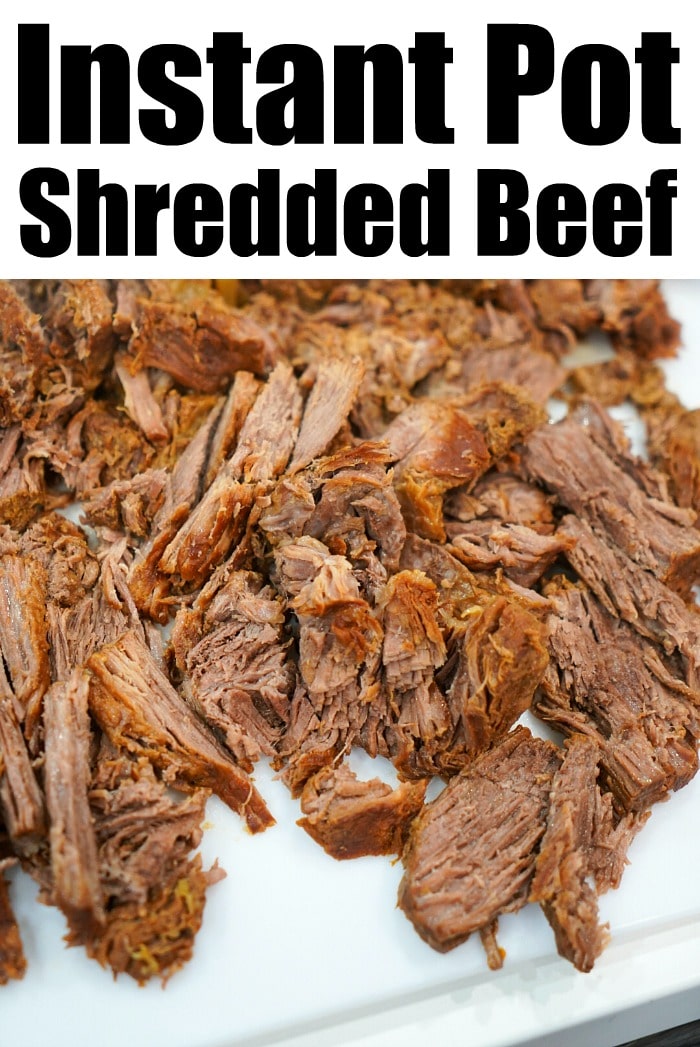 I use both of these pots quite regularly, I actually haven't used my oven at all other than for a frozen pizza here and there. Just love my small appliances that can do all the things and makes eating together so much easier. Before it was just overwhelming to think of nursing a dish on the stovetop.
Throw it all into a pressure cooker or slow cook pot now, seal the lid and the machine does all the work for you now. There isn't even a need to stir in between. Follow the timing and liquid content correctly and it will soak up all those yummy juices and become fork tender every single time.
Seriously, beef in a slow cooker can really do no wrong. I have forgot about it before after the time was up and even an hour later it was delicious. With some cuts you can certainly overcook and dry them out but surrounded by gravy it will remain nice and moist.
What if you have need directions for frozen beef in a Crockpot? I have that too. We experimented with this recently and wrote up how to make this here in our slow cooker frozen chuck roast post.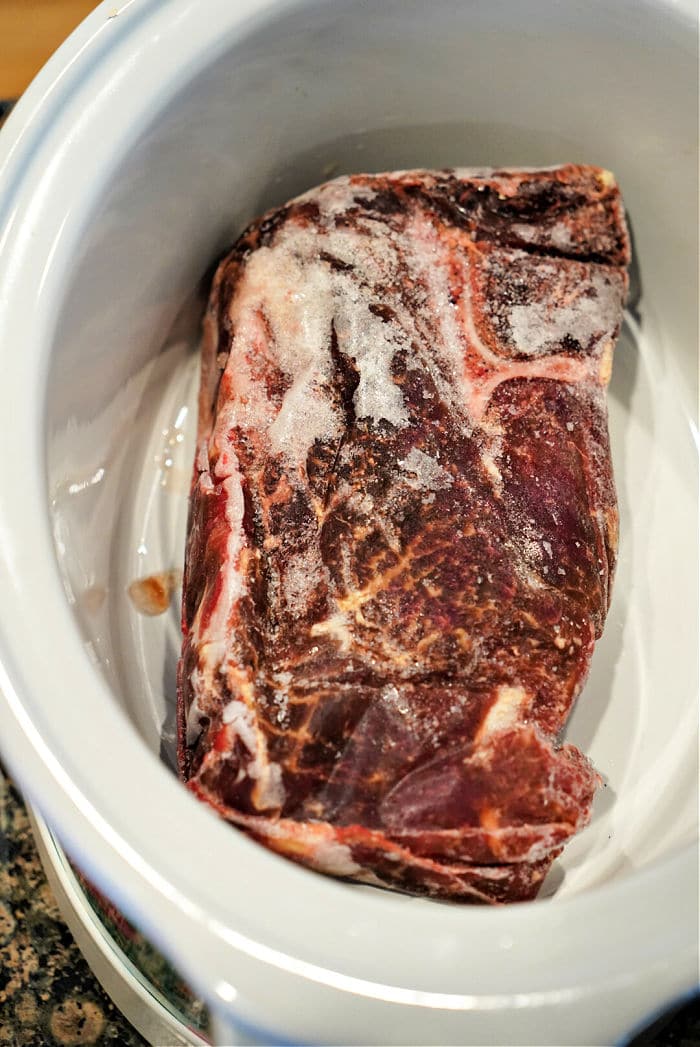 If you were forgetful and your piece of meat still looks like this NO worries. As long as you discovered this in the morning there is still hope. You just need a bit more cook time to get it done but literally you could use the same recipe below but the hours for the frozen piece.
So versatile right?? This is a great leftover gravy recipe after the holidays too though. You could totally use that instead. Literally you could throw in your chuck + at least 1 cup of your homemade gravy + just 1 can of cream of mushroom condensed soup. I'd whisk those two together before pouring on top so they aren't clumpy.
Then set the timing, shred when done, put back into the sauce to soak it up and serve as you love. Over mashed potatoes is ultimate comfort food for sure. Save what's left using the instructions above and enjoy for the next 2 days for lunch too.
Want to see a few of my favorite things that I am totally obsessed with?? Take a peek and see how many you might already have…twinsies!
Looking for more easy family recipes and tips? LIKE The Typical Mom Facebook page?
Then sign up for my free newsletter, and follow me on Pinterest! 😉
***** If you LOVED this recipe give it 5 Stars below and let everyone know what you thought about it. 😉
Slow Cooker Roast Beef and Gravy
Slow cooker roast beef and gravy recipe that is fork tender and full of flavor. Use chuck roast for a cheap Crockpot dinner everyone loves.
Instructions
Spray inside of slow cooker with non stick spray. Cut roast in half width wise and lay in bottom.

In a small bowl whisk the other ingredients (except salt and pepper) together to make a sauce/gravy. Pour this over your meat.

Cover and cook on low for 6-8 hours (timing will depend on how thick your piece is and how fall apart you want it to be). Once fork tender remove, shred or slice and serve with gravy. Season with salt and pepper when served.
Nutrition Facts
Slow Cooker Roast Beef and Gravy
Amount Per Serving (2 oz)
Calories 267
Calories from Fat 72
% Daily Value*
Fat 8g12%
Cholesterol 101mg34%
Sodium 3849mg167%
Potassium 617mg18%
Carbohydrates 8g3%
Protein 41g82%
Vitamin A 1IU0%
Vitamin C 77mg93%
Calcium 488mg49%
Iron 4mg22%
* Percent Daily Values are based on a 2000 calorie diet.