How to cook a roast in the oven, smoker, slow cooker, defrosted or frozen roast in Instant Pot or on the stovetop is here. Free printable beef roast cook times cheat sheet is here too so you know how long to cook each one until it is melt in your mouth tender.
Cooking a roast to tender can be tricky. Many times they aren't cheap to buy so you want to make sure that you get it just right. Some cuts have a higher fat content which means they make great shredded beef for sliders while others are best left pink inside and sliced. We will go over all the options here. (affiliate links present)
Types of Roasts
How Many Types of Roast are There?
There are essentially 11 kinds of roasts to choose from, each one is a bit different. Some need longer to cook low and slow, others are more marbled, and some like brisket need a long time to break down connective tissues. We will show you how to cook roast types here!
1. Tenderloin Roast
2. Tri-Tip Roast
3. Top Sirloin Petite Roast
4. Bottom Round Roast
5. Eye of Round Roast
6. Sirloin Tip Roast
7. Top Round Roast
8. Ribeye Roast
9. Arm roast
10. Chuck roast
11. Brisket
The printable above gives you a quick look at how long, at what temperature you would cook roast in the oven. I will agree that baked is a great method but hardly the only way. Over the years I have experimented with our pressure cooker and Crockpot as well. Find which one you have, or want to cook, below and I will share how we prefer that one to be done.
This one is quite large, needs to have liquid in the Dutch Oven (what we used) or pan you're using to keep it nice and moist. Once done it is great shredded or sliced, served with gravy on top or with potatoes next to it to be served as a side dish. A good cut of beef if you want a lean cut, best oven roasted.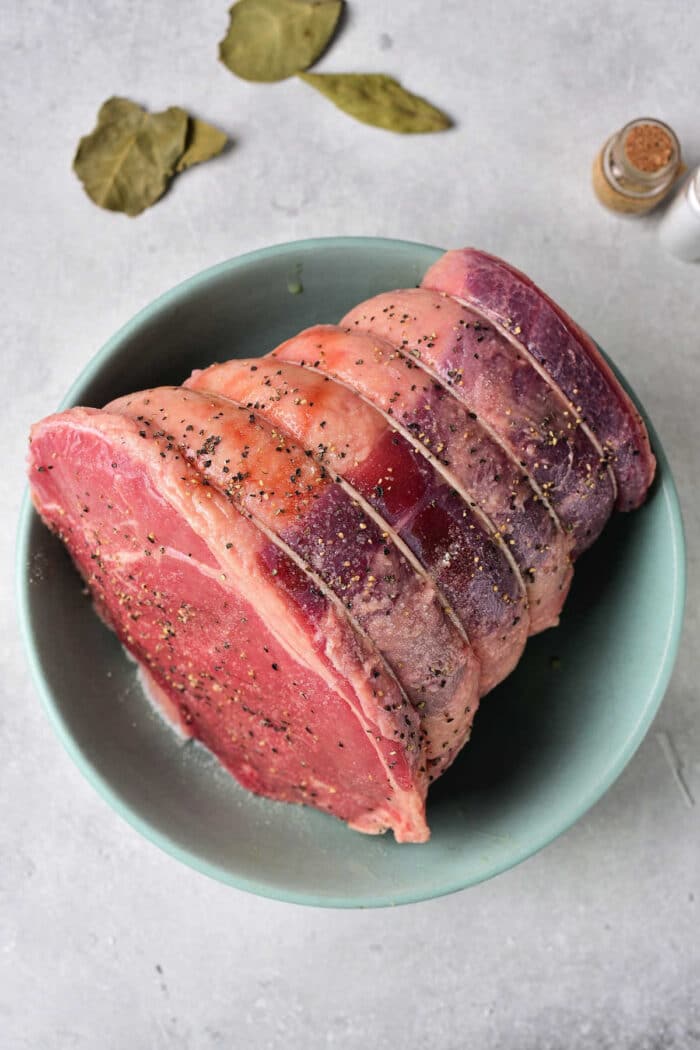 How to Cook Tri Tip
One you may have had at a restaurant and want to try out on your own would be a Tri-Tip! OMG I agree that this is one of my faves. We have made this several different ways. If you want to use small appliances to make this I would give our Instant Pot tri tip a whirl.
On the stove we used our cast iron pot again. That is right, Dutch Oven tri tip with veggies together is a great option. This way you can thicken the drippings and beef broth to make gravy.
If you love a bit of sear on the outside without turning on your grill, try air fryer tri tip.
All of these go from good to amazing coated with our tri tip dry rub.
Then we will move along to a tenderloin roast which by it's name will tell you that it in in fact one of the tenderest cuts you could select. While that may sound fantastic, and it is if baked just right, since it is really really lean that means it can dry out quickly.
Once again, we used our pot roast seasoning on the outside of this one. Seriously if you have only been sprinkling your beef with salt and pepper this will bring any cut to a whole new level! With this one you want to see that pink inside. Medium is just right for me as you see here. Melt in your mouth I tell you.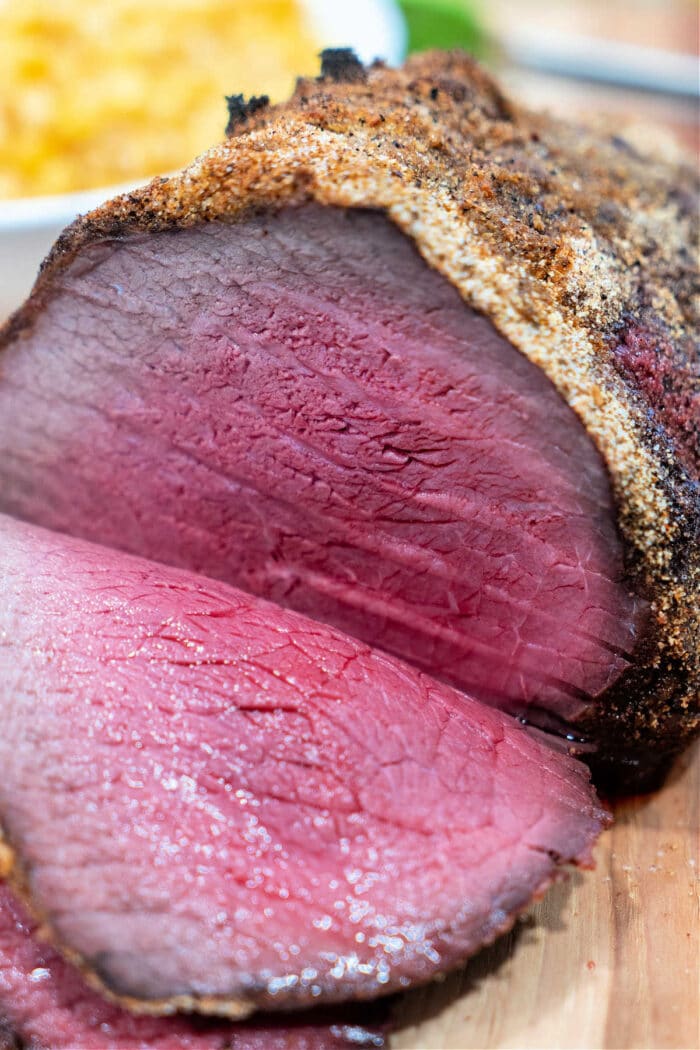 Bottom Round is what we use to make ours in a Dutch Oven on the stovetop (linked above). Another cut that could be used for roast beef as well if you preferred. Found near the bottom of the cow, thus it's name, it is less tender than other choices but works well cooked low and slow.
Top Sirloin Petite Roast was used to make our melt in the mouth roast beef recipe. When it comes to this popular dinner you can use a number of different cuts really. It really just means beef cooked at high heat in the oven, left quite pink inside to usually medium rare and sliced relatively thin to serve on sandwiches.
The one linked above is in the oven with gravy, to die for. Don't want to turn that on during the summertime because it makes your house too hot? I get it, try our Instant Pot sirloin tip roast instead and you'll skip the heat in the room. Or try slow cooker sirloin roast. But wait……there is more and you can see that one below.
Smoked sirloin tip roast. Think about that for a minute. If you haven't used your Traeger before to cook a chunk of meat it does take a bit of time but worth every single minute. You not only get the smoky flavor but the low and slow heat breaks down the connective tissues to make it fall apart fork tender.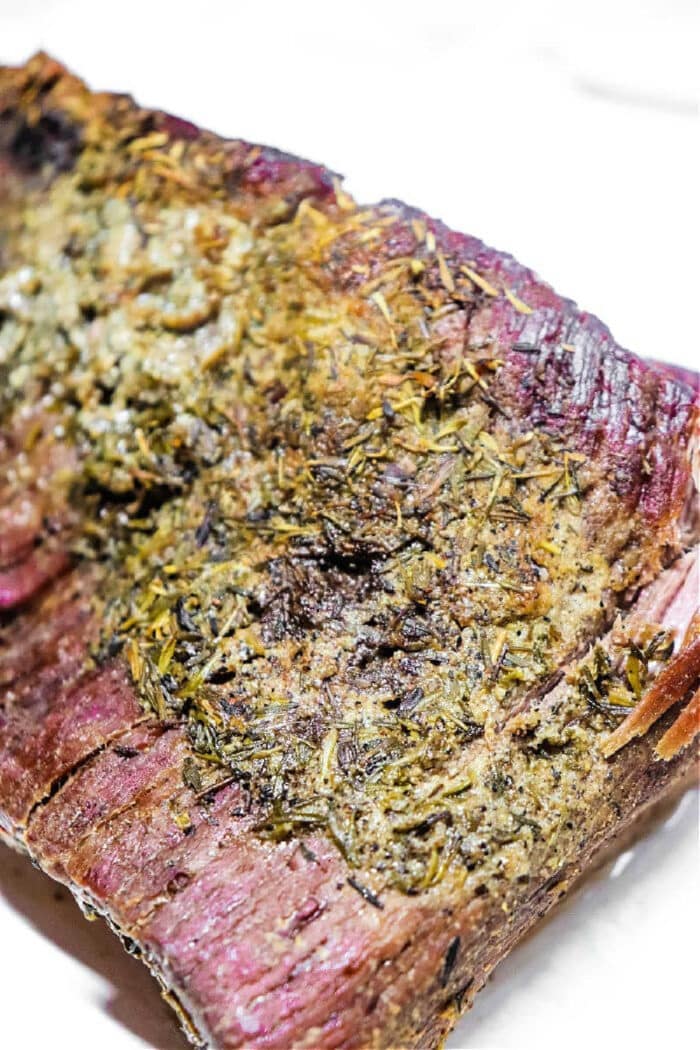 How to Cook Eye of Round Roast
Another great selection to cook to pink in your air fryer, slice thin and make into roast beef sliders or over a bed of mashed potatoes.
I haven't yet cooked a ribeye roast but a friend of mine who is a blogger has a great one so you should give that one a try if you chose this cut. It is a rather large and thick cut so a slow cook with low temperatures would be ideal for this one. That said using your smoker or slow cooker would be how I would do it.
I have used similar pieces like this one and one of our favorite ways to cook it would be our Crockpot roast beef and gravy meal. A great way to get the perfect tenderness and flavor all in one pot with very little effort on your part.
Yet another one I got when I bought a bunch of beef from a butcher that I didn't know what to do with at first. Since it had a decent amount of marbling in it, similar to a chuck roast to me, I knew it would work well in my pressure cooker. With some of our favorite balsamic vinegar and onions this one gets TONS of 5 star reviews.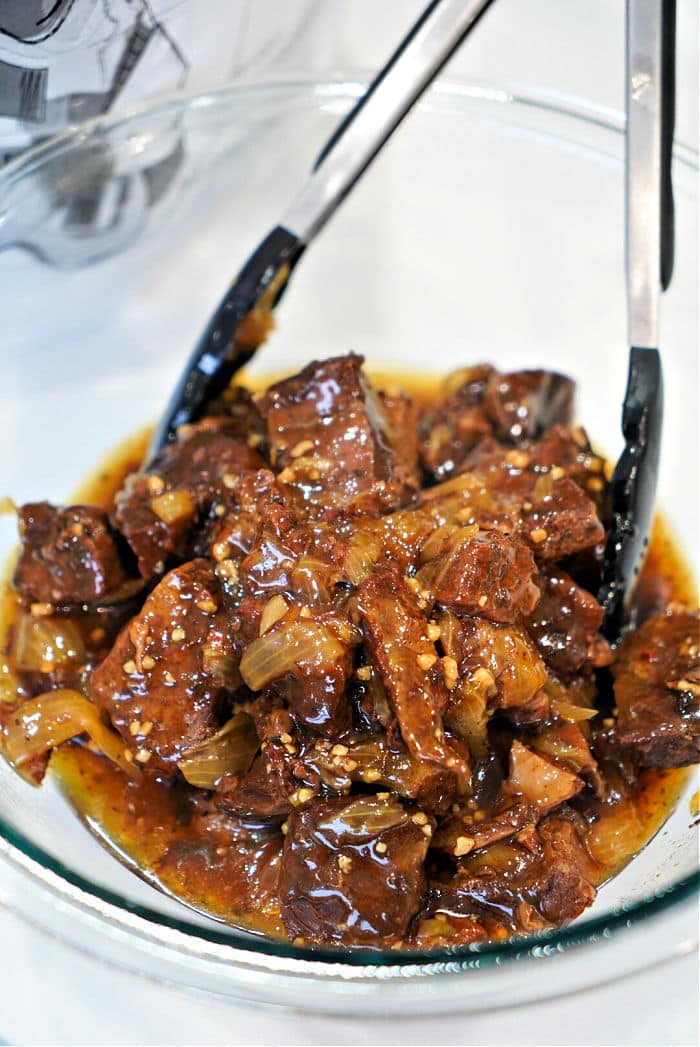 This is the one we have the MOST beef roast recipes for. Honestly I had never ever bought or used this before the first time we bought half of a cow a few years ago. I didn't specify what cuts I wanted so I got a bunch of things like this that were foreign to me. The first go around was our slow cooker version, linked above, and then air fryer chuck roast.
Two totally different textures for sure with these two methods. Both great, just depends on your preference or what you're feeling like at the time. But we have made this a number of different ways, both defrosted or cooking a frozen chuck roast a few different ways. Also;
Ever thought of cooking frozen beef roast in slow cooker but not sure how to do it? We have directions for you here.
Chuck roast burnt ends made in the oven, sticky and sweet bite size bits of protein are amazing.
Smoked chuck roast is amazing for fall apart melt in your mouth texture that you can toss with sauce and serve inside soft buns.
This is how to make a fall-apart brisket in the oven that we love if you want the "old fashioned" method. You may know already but this takes the longest to cook, must be at a low temp., is the most expensive, and the most delicious so we left it for last. Below you're drooling over our smoked flat brisket piece.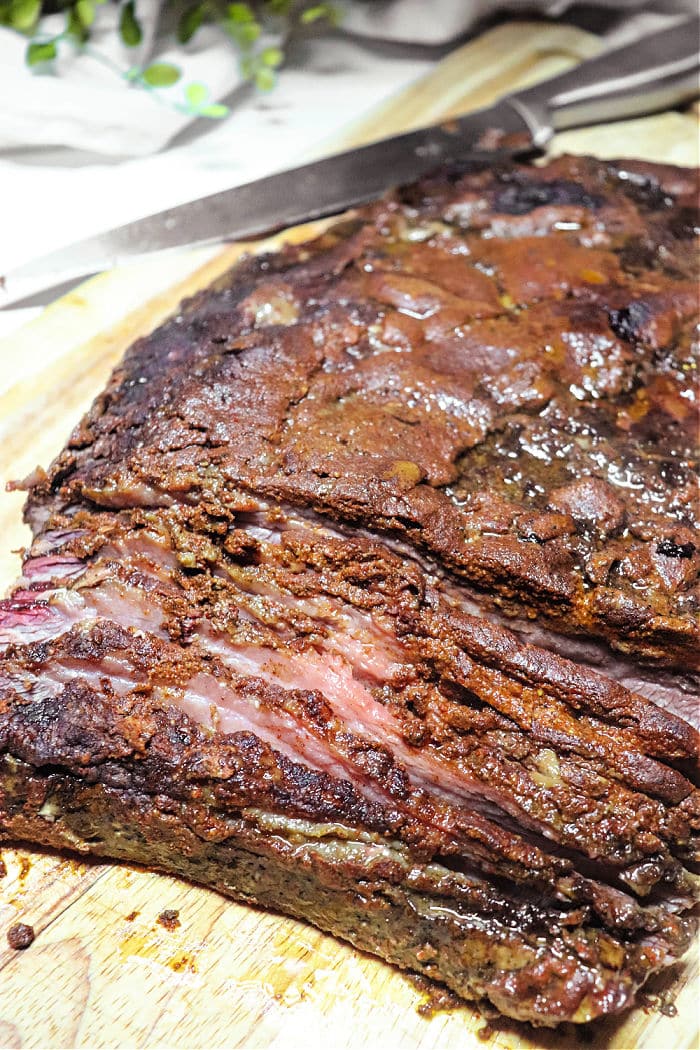 Beef Roast Recipes
The printable shown at the top of this post about types of roasts is here for you to print and keep at home. It only shows the oven method but that's a good start. For others just come back here as we will continue to add others as time goes on.
How to choose the best roast
You may first wonder where to find all of these, your local butcher shop or meat market is where you want to go. We have one that has their own farm with organic grass fed animals that free range and they butcher each themselves so we know it's fresh. You can find one in your area by googling your city + meat shop usually.
Consider the cut of meat you want to try depending on how you want to cook it. Each has its own unique flavor and texture. If you want to shred you won't want a crust on the outside, thinly sliced you would want that, so decide that first.
Choose a roast that is the right size for your needs. There is a VAST variety of sizes, from small individual portions to large family sized. Especially if you are using a Crockpot or pressure cooker it would need to be smaller to fit nicely.
Look for a roast with a good marbling of fat to keep it really moist and flavorful. A well-marbled piece of meat will have thin streaks of fat running through it.
Choose one that is fresh and has a good color. They should always be bright red or pink in color and have a firm texture. Avoid a brown or gray color with a soft texture.
Want to see a few of my favorite things that I am totally obsessed with?? Take a peek and see how many you might already have…twinsies!
Looking for more easy family recipes and tips? LIKE The Typical Mom Facebook page?
Then sign up for my free newsletter, and follow me on Pinterest! 😉
***** If you LOVED this recipe give it 5 Stars below and let everyone know what you thought about it. 😉
How to Cook a Roast
How to cook a roast in pressure cooker, in the oven, on stovetop, air fryer or smoked. All 11 roast cuts fresh or frozen shared here.
Instructions
Preheat oven to 320 degrees F and heat Dutch Oven over medium high heat. Use a paper towel to dry the outside of your roast. Rub 1 tbsp olive oil on outside and sprinkle with salt and pepper.

Pour in remaining tbsp of olive oil into Dutch Oven and add roast. Sear on all sides until browned, then remove roast from pot. Set aside covered.

Add prepared veggies into hot pot and lightly brown, then remove pot from heat. Add meat back in with all other ingredients. Put lid on.

Place covered pot into preheated oven for about 3 hours. Remove meat from pot to allow to rest for 15 minutes.

During this time remove veggies and bay leaves with a slotted spoon. Put pot back on to stove over medium high heat if you would like to make gravy out of the drippings.

In a small bowl whisk together some of the hot liquid with 1 tbsp of cornstarch until smooth, pour that into pot once bubbling. Stir and allow to thicken. Turn heat off to thicken as it cools and serve roast sliced with gravy on top.
Nutrition Facts
How to Cook a Roast
Amount Per Serving (2 oz)
Calories 184
Calories from Fat 72
% Daily Value*
Fat 8g12%
Cholesterol 65mg22%
Sodium 1945mg85%
Potassium 432mg12%
Carbohydrates 3g1%
Protein 26g52%
Vitamin A 2572IU51%
Vitamin C 53mg64%
Calcium 332mg33%
Iron 3mg17%
* Percent Daily Values are based on a 2000 calorie diet.