Killer tri tip dry rub recipe that is savory and sweet. NO need for gravy or a sauce with this. Once cooked, just slice and serve for a WOW over the top flavor everyone will love.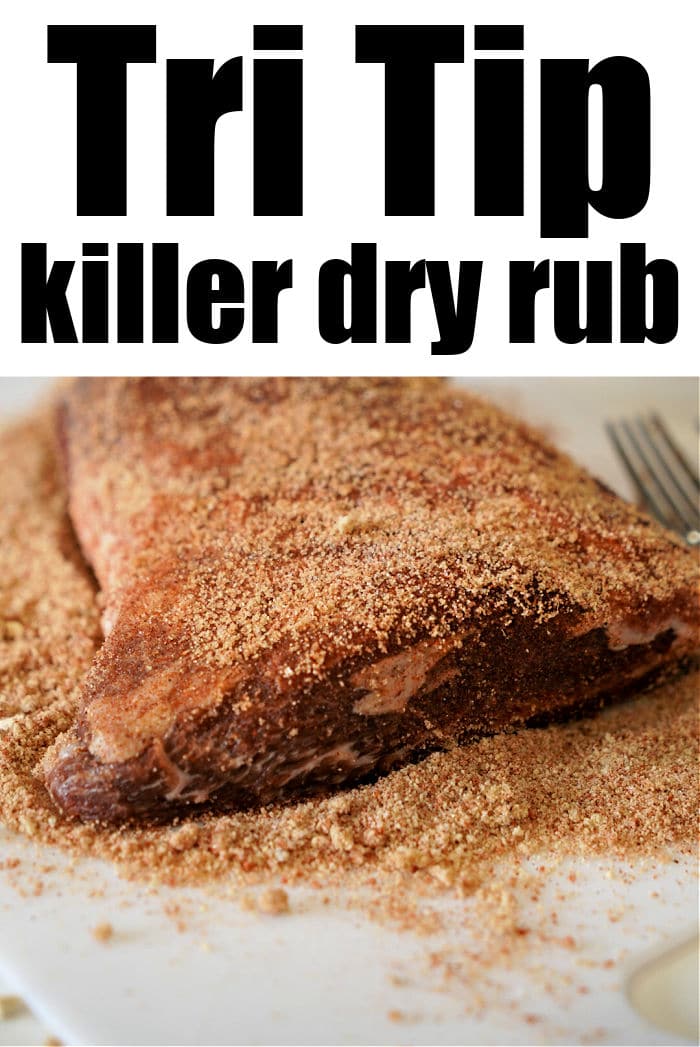 I made this tri tip dry rub recipe the other day to amp up our dinner and man was it good!! With just 5 ingredients you'll be blown out of the water too. One of many dry rub recipes on our site. (affiliate links present)
As you know, we buy meat in bulk each year. It not only saves me trips to the store but I also get to work with meat I normally wouldn't purchase at the store, this is one cut.
Not that I wouldn't love tri tip, it just is something out of my normal range of cooking ground beef, steak, or stew meat.
BUT the other day we made an Instant Pot tri tip and used this as the seasoning. OH MY was it good.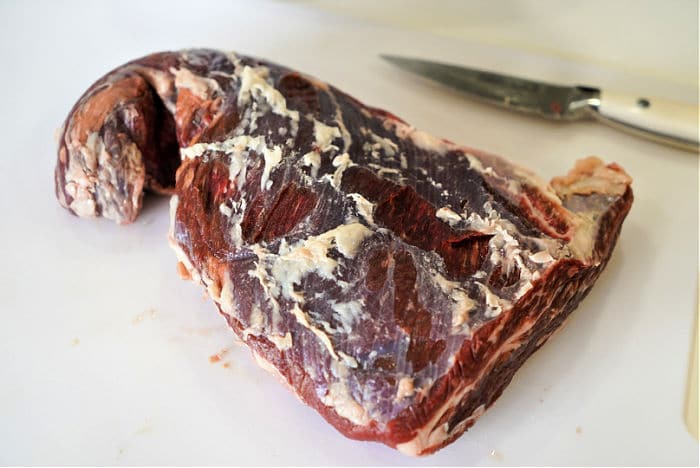 Then we used it to make our air fryer tri tip recipe and knew it should be shared with all of you.
What is the tri tip?
This cut of beef is the bottom or tip of the sirloin. The name comes from it's triangular shape. Tip roasts are very rich in great flavors and lower in fat than most other cuts.
How is tri tip supposed to be cooked?
I mean that depends. It is great cooked on a smoker for sure but many prefer using their oven to make dutch oven tri tip. This way you can sear on the stovetop before baking. We recently made it in a pressure cooker and will add a link to that once the post is live.
Why is my tri tip chewy?
There are two different grains to this meat, different from any other. SO it is very important to slice it properly or it will seem chewy. When you cut the meat you will need to slice against the grain of the fibers to shorten them. This will make it more tender when chewing.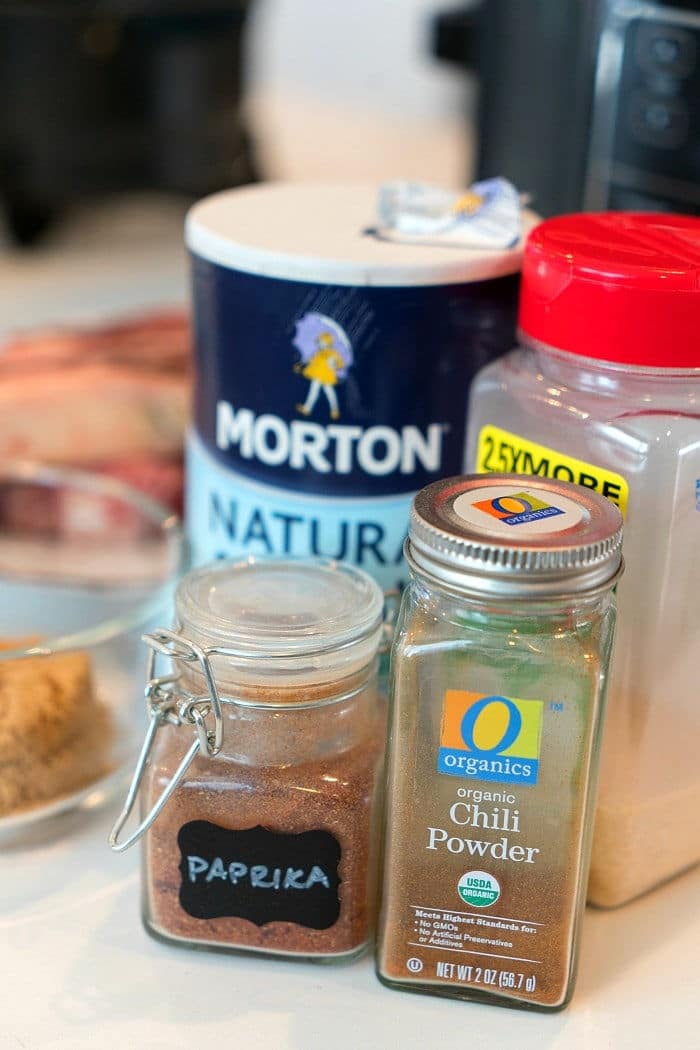 Tri Tip Dry Rub Recipe
Of course you could add and/or omit seasonings of your choice. I mean if onion powder is preferred over our garlic then do it. This combo is really our go to though. We even use it as a steak dry rub all the time. If my husband doesn't use it I am super disappointed!
You're going to need:
Brown sugar, I always choose light
Paprika
Chili powder can be set to mild as I do below but could be enhanced if you wanted more heat to it
Garlic powder is one of my go to spices
Salt is a must and yes 1 tbsp is not incorrect, believe me it works so well together! Black pepper is up to you if that is a must then throw some in by all means.
Depending on how you're cooking it you may want to rub olive oil on first, then your rub.
I'm telling you, we use this stuff for ALL THE THINGS. Even our grilled steak recipe and air fryer steak bites are tossed in it before throwing them into the basket. They blow people away.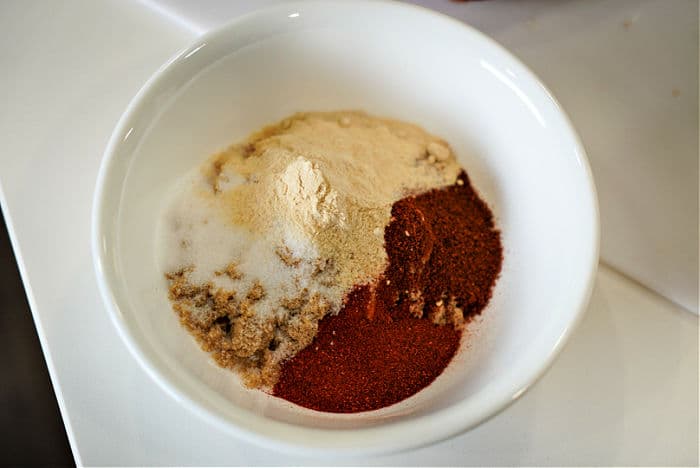 Then you just mix it all together, easy peasy, in a bowl and you're ready to season you baby! I choose to trim the fat side a bit but that is up to you. Some prefer to leave that on for moisture, and flavor.
What temperature do you cook a tri tip roast at?
You will want a digital meat thermometer to test meat internal temperature. If you want it rare it should be 135° degrees F, 140° F for medium rare (this is recommended for the best texture and flavor). 145 degrees F would make it closer to medium "doneness" for you.
Always remove from gas grill or medium high heat (however you're cooking it) before using your instant read thermometer. Put into the thickest part to get an accurate read.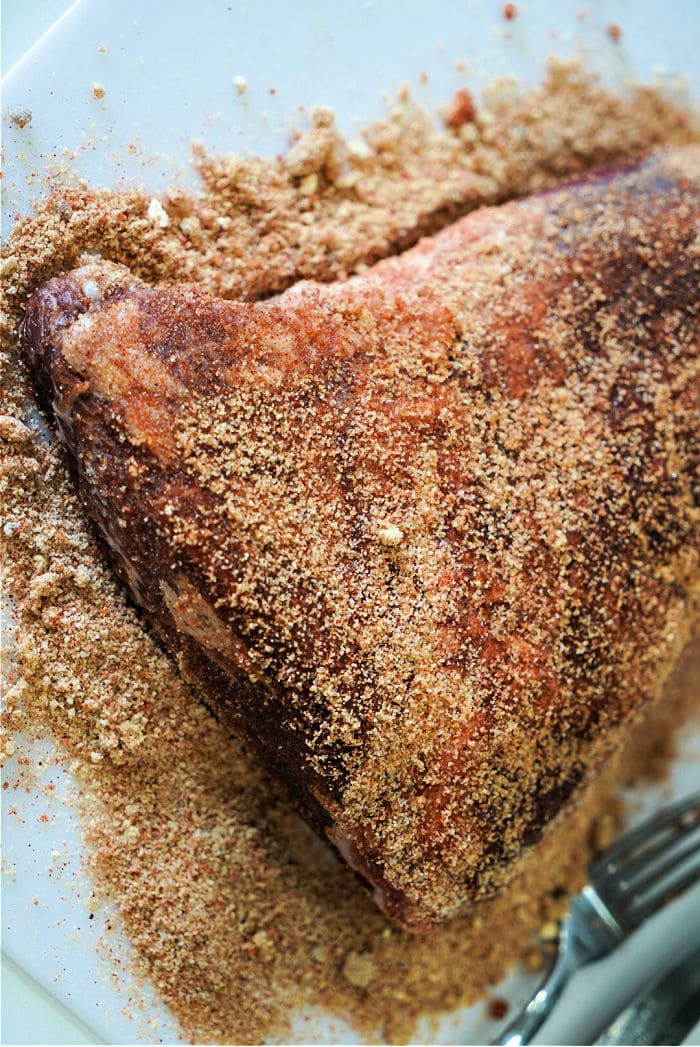 Just as with any beef or tri tip recipe you should also allow meat to rest at room temperature for about 15 minutes before slicing. This will allow the juices to soak in and not be released upon slicing.
Time needed: 5 minutes.
Tri Tip Dry Rub
Prepare

Mix all seasonings together well in a bowl. Use a fork so you can break up any chunks of brown sugar and make it smooth.

Trim your meat (or not, depending on your preferences) and pat dry with a paper towel. If you are smoking it I'd rub a bit of olive oil on the outside once dry to keep it moist. Follow your recipe.

Coat

Pour half of dry rub on top and rub with hands to cover all areas.
Flip meat over allowing excess to fall off and pour remaining rub on the other side. Rub in and on sides as well.

Lift meat up and allow excess to fall off before placing it on the grill, smoker, dutch oven, or Instant Pot to cook.
How long is leftover tri tip good?
Ideally you should reheat it within 3 to 4 days. Remember to wait until it has cooled, then store in airtight containers or freezer bags. Keeping air out will keep it moist. I would save some of your gravy too to use for reheating.
Looking for more easy beef recipes? We have a lot on our site but here are a few favorites that use a similar rub like our smoked pork steaks!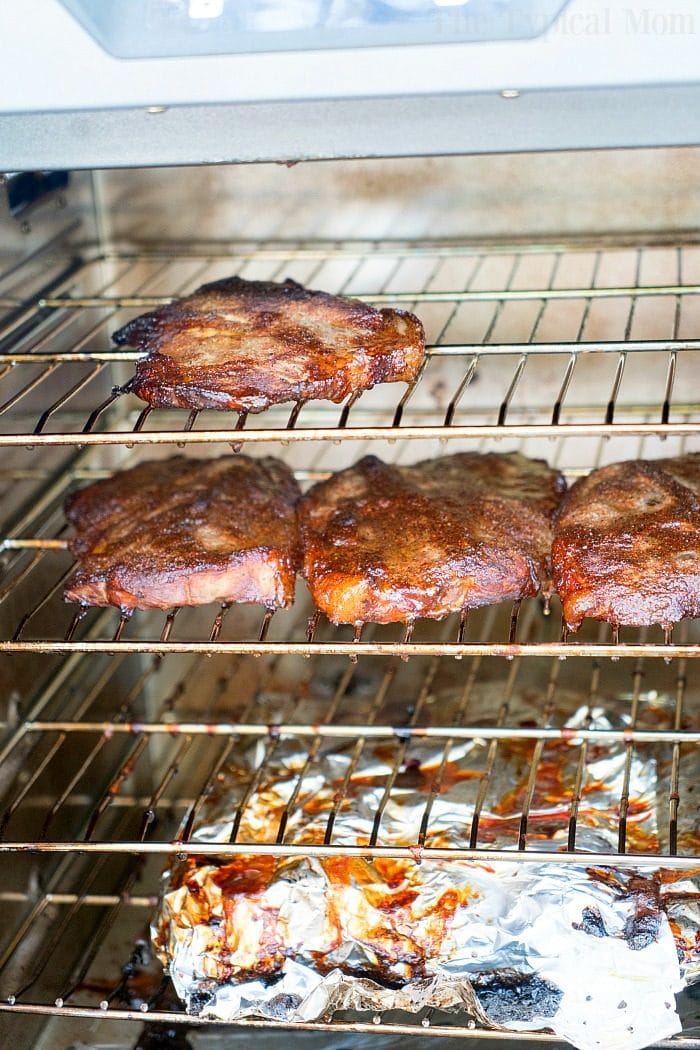 Man are those beyond amazing I tell you. This larger cut would take longer but I highly suggest you try it in your Traeger sometime too.
Want to see a few of my favorite things that I am totally obsessed with?? Take a peek and see how many you might already have…twinsies!
Looking for more easy family recipes and tips? LIKE The Typical Mom Facebook page?
Then sign up for my free newsletter, and follow me on Pinterest! 😉
***** If you LOVED this recipe give it 5 Stars below and let everyone know what you thought about it. 😉
Tri Tip Dry Rub
Try this killer tri tip dry rub that is savory and sweet at the same time. Then bake, smoke or cook it in a pressure cooker.
Instructions
Mix all seasonings together well.

Trim your meat and pat dry with a paper towel. Then pour half of dry rub on top and rub with hands to cover all areas.

Flip meat over and pour remaining rub on the other side. Rub in and on sides as well.

Lift meat up and allow excess to fall off before placing it on the grill, smoker, dutch oven, pressure cooker to cook.
Nutrition Facts
Tri Tip Dry Rub
Amount Per Serving (1 oz)
Calories 58
Calories from Fat 9
% Daily Value*
Fat 1g2%
Sodium 885mg38%
Potassium 50mg1%
Carbohydrates 15g5%
Protein 1g2%
Vitamin A 364IU7%
Vitamin C 1mg1%
Calcium 15mg2%
Iron 1mg6%
* Percent Daily Values are based on a 2000 calorie diet.