Best Instant Pot tri tip recipe with a dry rub and killer gravy using the drippings. Full of flavor cooked in your pressure cooker and quick.
Yes I do create a rich thick gravy at the end too but really with the bold flavors on the outside as is you really don't need it. I'm all about both because why not right. 😉
Is tri tip a tough cut of meat?
It is more similar to the texture of a brisket than shredded beef for sure. With grains going two different directions it does have fibers that don't break down as easily as other cuts. Slicing against the grain is key.
Should you tenderize tri tip?
Since it has very low fat content you won't have that for added flavor but the meat itself has a lot! You wouldn't want to tenderize it like cubed steak but if you wanted to use a marinade for a few hours you could. We used a dry rub instead for added flavor.
I choose to trim the fat layer before coating and cooking, but that part is totally up to you. Some would never do such a thing. Either way I d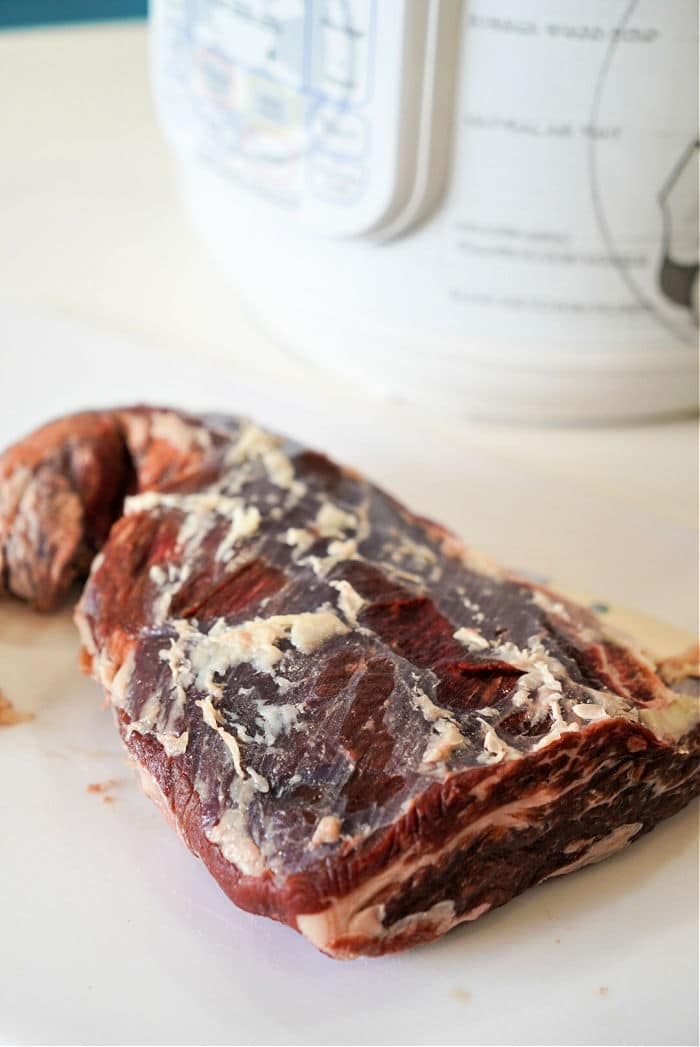 Pressure Cooker Tri Tip
With large cuts of meat cooked this way you typically want to sear the outsides first. I do this using the saute function with just a bit of olive oil at the bottom of the pot.
I mean, no sense in getting a pan on the stovetop dirty, one pot meals are the best I tell you! Once you have the rub patted down on both sides allow the excess to fall off so it isn't caked on.
As soon as your pot is hot set it inside and brown on both sides. About 2 minutes is usually enough to get it nice and seared, but not too brown. This step will keep the juices in and give the outside a bit more texture.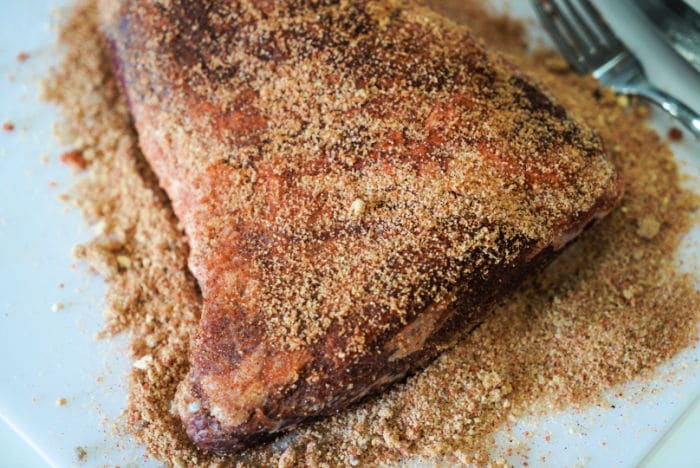 All brands and models have the saute function. On the Crockpot Express it is called brown, it is the same thing. I use a pair of small tongs to grab it and flip it over on to the other side. Just a bit of rub will come off, that is okay.
If you're new to using any sort of electric pressure cooker, you need to know how to deglaze Instant Pot. What does that even mean and why do you need to do it?? Glad you asked…..
After you saute chicken, pork or beef you will need to remove it. Use a bit of broth or water and scrape the bits of stuck on meat off the bottom with a wooden spatula. Why?? Because if not you might get that dreaded burn message on the screen.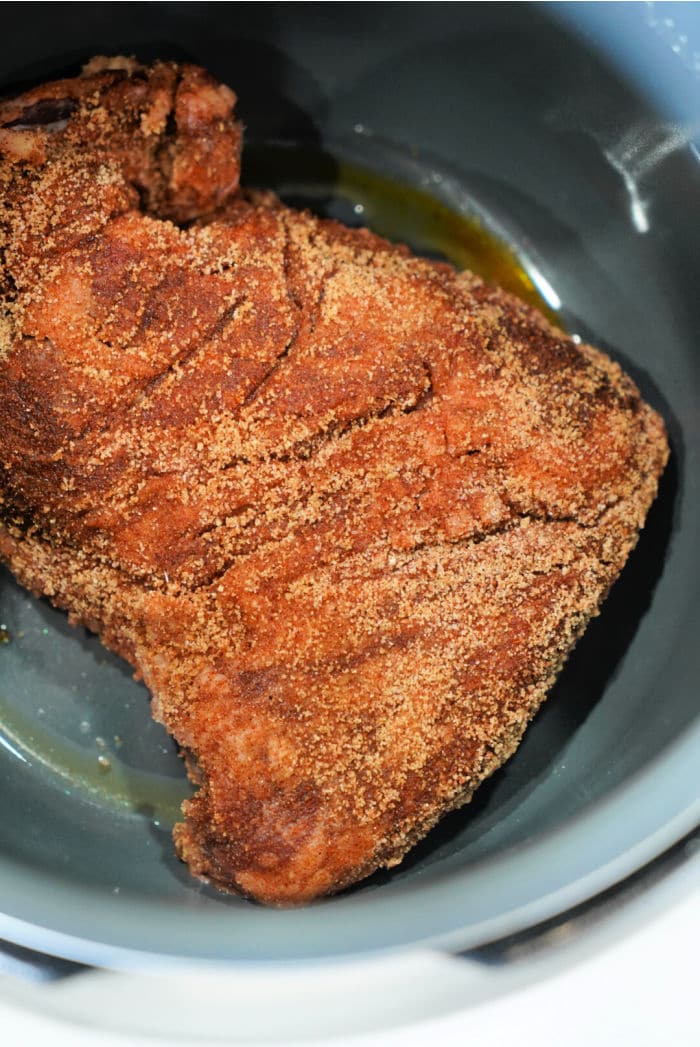 Why does that matter? Well it will be irritating for one thing, and you might freak out if you're new to cooking this way. It is just your machine thinking that something is burning. It may not be but it will turn itself off and you'll have to scrape, add everything back in, and recalculate your cook time.
Just save yourself from all of those issues and follow my suggestions to begin with.
Then you'll set it on a trivet, I like this one with handles. It makes it a lot easier to lift in and out. Don't throw the liquid at the bottom out though because it makes amazing Instant Pot gravy!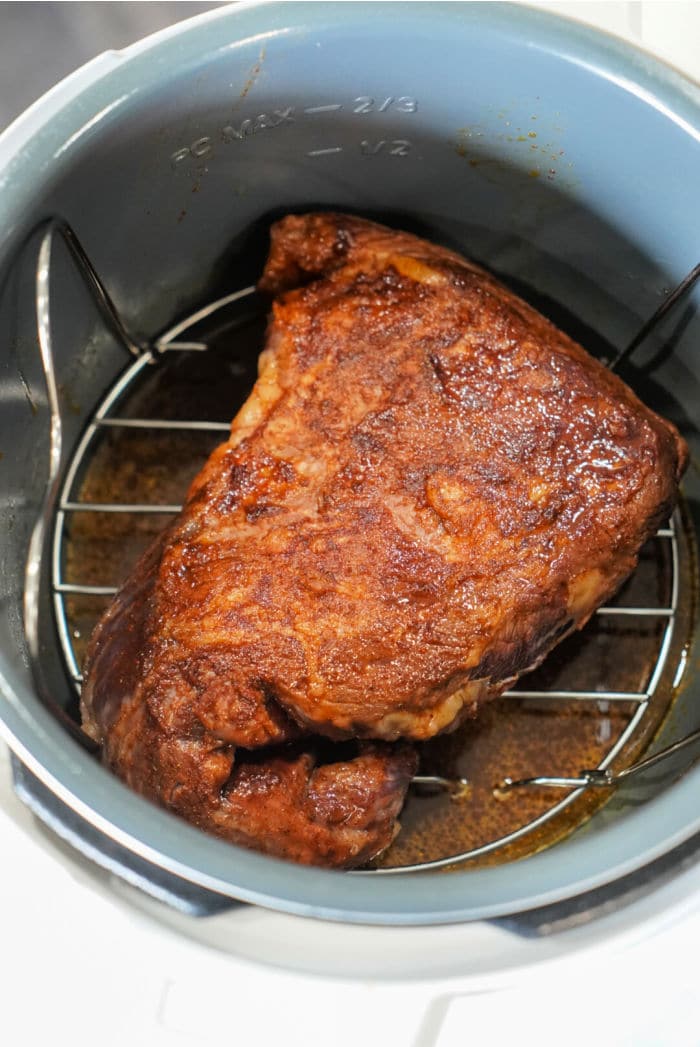 I just use the drippings in the pot with the broth used to "steam" it. A little cornstarch slurry thickens it up in literally like 1 minute, so easy.
Believe it or not this is one of my kids favorite recipes. Served with white rice and vegetables on the side it's killer.
How do you cook Costco tri tip?
I personally don't think it matters where you buy it, use your favorite method when it comes to cooking it. Many prefer the good ol' oven, where as we use our Instant pot and air fryer a lot. Next up will be smoked tri tip.
Cooked properly and for the right length of time (don't overcook this baby, you want a bit of red in the center) it's a great cut. Give it a whirl and let us know what you think!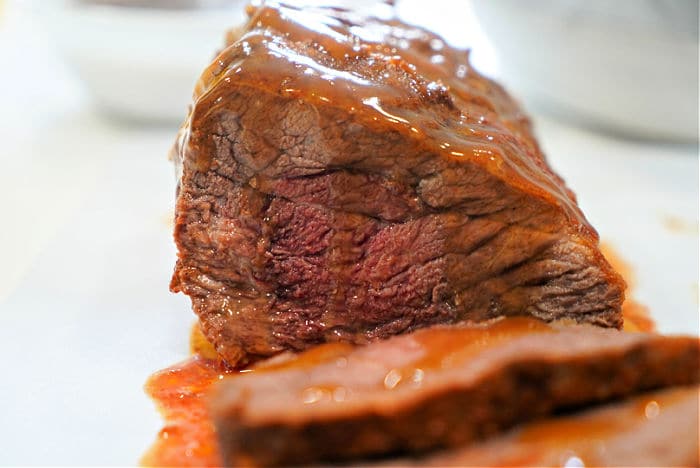 Ninja Foodi Tri Tip
No matter what pot you have, follow these directions. There is a printable recipe card with ingredients needed at the bottom as well.
This is the best way to cook tri tip in your 7 in 1 machine for sure! Want to cook other cuts of beef in it too? Here are a few other ideas starting with this Instant Pot frozen roast. OH MY does it come out wonderful.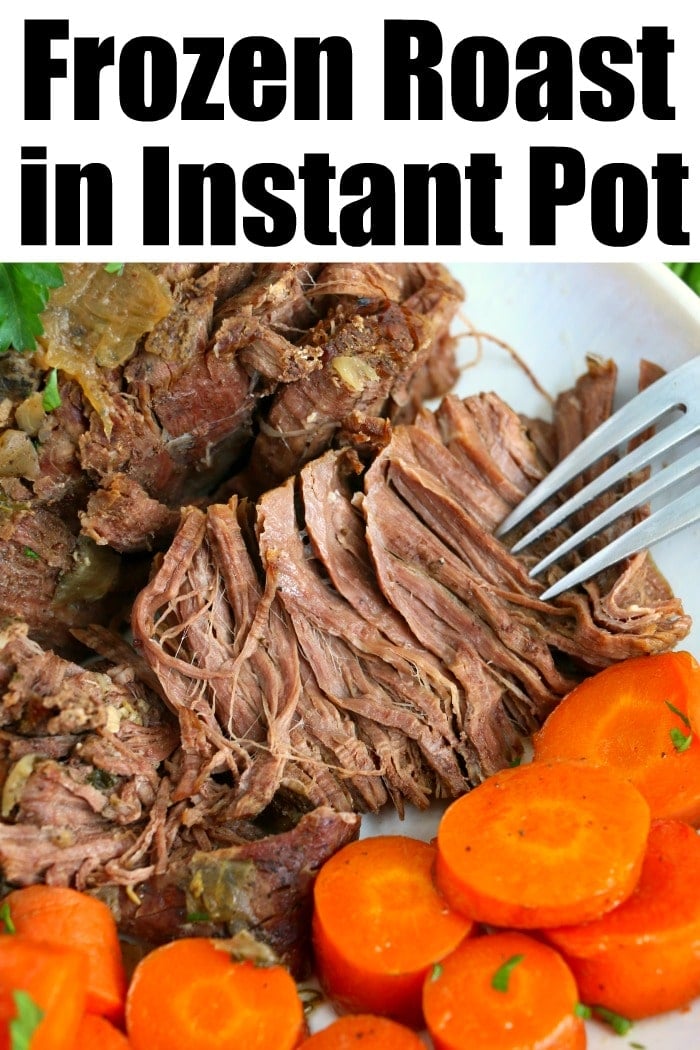 We also love these other Instant Pot beef roast recipes for dinner with easy brussel sprouts. For a load of others, take a peek at our Instant Pot beef recipes like pressure cooker brisket and more look here too.