Easy blue cheese coleslaw recipe that's a cheap cabbage side dish, perfect served at a barbecue or potluck with homemade dressing. If you loved our Hawaii coleslaw, you're going to want to serve this too.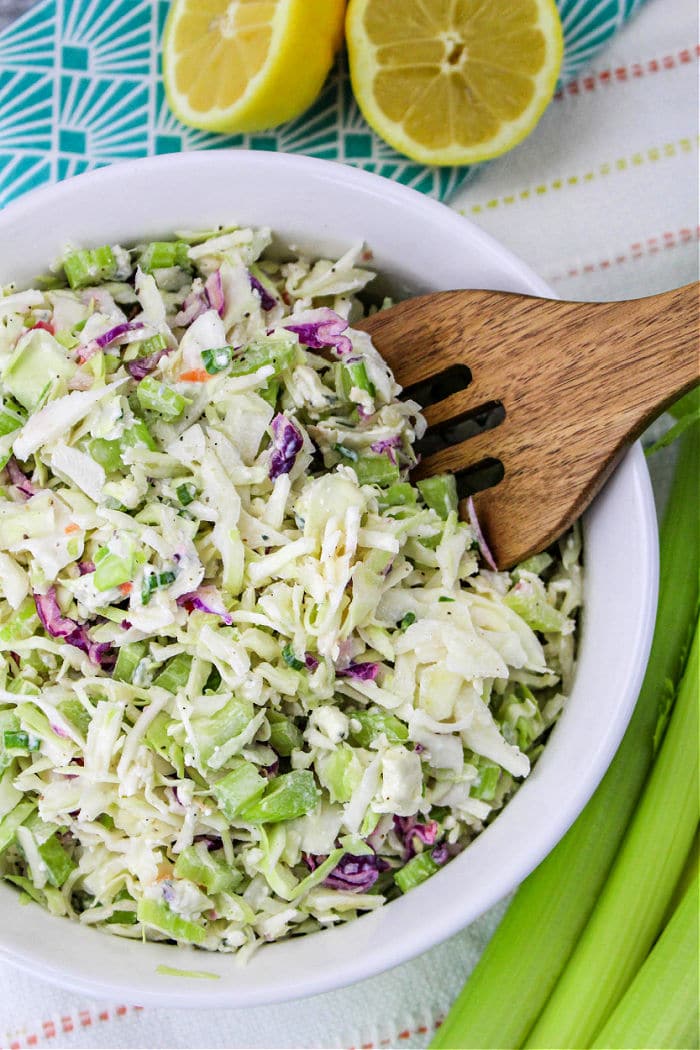 Blue cheese coleslaw is killer. Either served as an easy side dish or on top of shredded pork to make a batch of sliders it's yummy either way. Chop your own veggies or use ready made and bagged with this creamy dressing. Just toss together, chill and enjoy as a group. (affiliate links present)
Coleslaw with Blue Cheese
Ok so I am not even a huge fan of this type of dairy creation, except with a few things. Mixed in with cabbage like this, sprinkled on top of roasted brussel sprouts, or on top of some black beans. It does give an otherwise bland food a kick of flavor for sure.
We have made a few versions of our simple cole slaw over the years. It's a great way to start with a simple base and tweak it here and there depending on what you're craving, or serving. With sliders this is a great one on a bed of shredded pork or beef.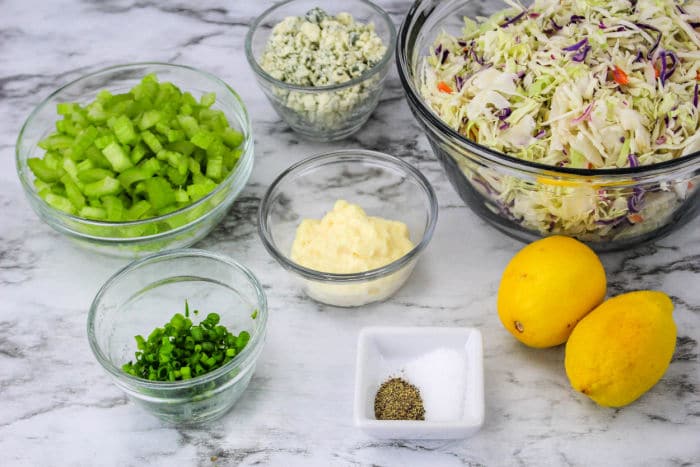 Blue Cheese Coleslaw Recipe
The biggest question mark when making any cabbage salad from scratch would be the dressing. I mean the other stuff you can just chop up into the sizes you want and toss together. What is in homemade coleslaw dressing though? Not much really, you just need;
Mayonnaise
Fresh lemon juice
White sugar
Vinegar
Salt and pepper to taste
You could easily add some heat to this with red pepper flakes if you wanted, not my style but might be your preference. Just whisk it all together right inside your measuring cup and toss with what you'll need for your veggies.
Bag of purple and green cabbage coleslaw mix, or chop up your own with green and purple cabbage
Shredded carrots
Diced celery
Green onions are optional. And then your package of crumbled blue cheese chunks.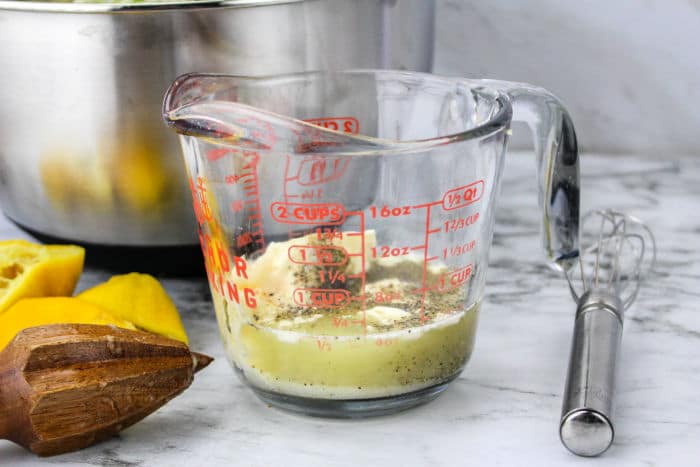 Blue Cheese Coleslaw Vinegar
To get started you'll want to get out a large bowl. If you choose to chop your own produce instead of buying shredded cabbage then I'd suggest a food processor too. You can thinly slice all the things with that much faster and more evenly than with a knife.
Whisk together the ingredients for your blue cheese dressing
Chop all of your vegetables and put into a bowl
Pour dressing over the cabbage and toss to coat all of it
Gently fold in the blue cheese chunks
Cover with plastic wrap and put into the fridge to chill
Serve your blue cheese slaw with slow cooker pulled pork, on top of a serving of Instant Pot buffalo chicken or with steaks right off of the grill.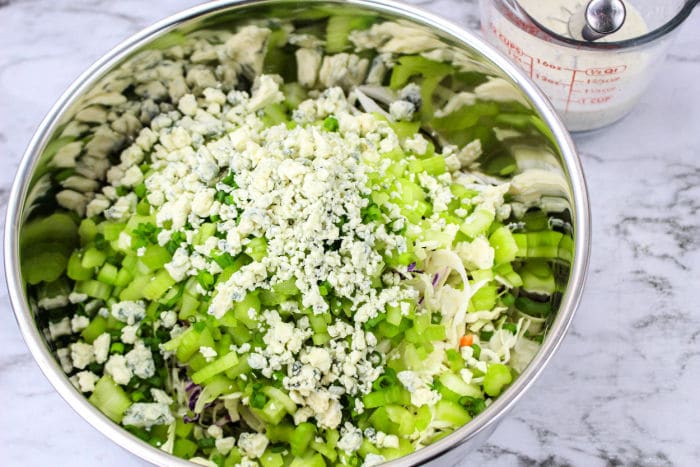 Blue Cheese Coleslaw No Mayo
You could substitute sour cream instead if you needed to for this. Another healthier alternative some take would be to use plain Greek yogurt. A different taste for sure but you can sometimes find this dairy free so people like my husband could enjoy it too.
What can I add to store bought coleslaw to make it taste better?
You could buy it ready made at the store in containers and transition it into a version of this. First I would dump your container into a larger bowl. Mix in some fresh shredded cabbage to lighten up the mixture (usually it's dressing heavy). Chop up some things like fresh celery and then integrate this type of cheese or some Feta is good too.
Blue Cheese Coleslaw with Apple Cider Vinegar
This is another tweak you could do. Instead of traditional vinegar you could use apple instead if you prefer. this would be personal preference or what you have on hand at the time.
This saves well for a day or so if you store it in a sealed container. It will soften and wilt a bit in the cold as it sits. If you are a texture person this may not be to your liking. I am definitely one of those but 24 hours in there isn't too bad and I'll enjoy it next day with whatever meat is left over too for lunch. If you love cabbage of all kinds, try it warm like in our cabbage casserole dish that is a hearty meal complete with ground beef or sausage!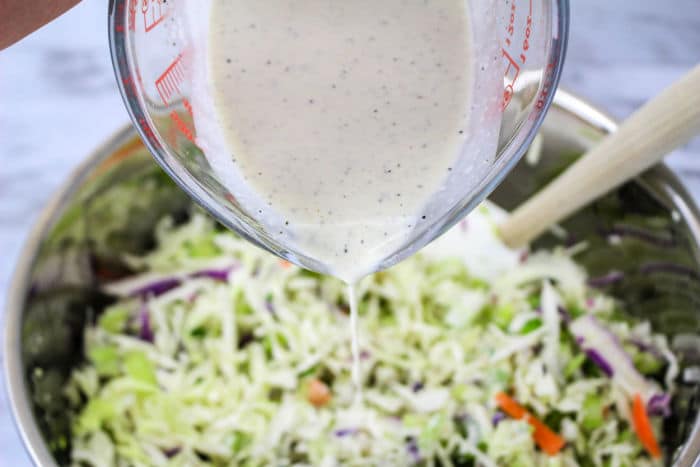 How do you preserve coleslaw?
If you do have leftovers you can save them but I always suggest that you eat it within 24 hours. It will change in texture when it sits in the fridge. You will want to keep it in a sealed container so it stays nice and moist. Typically what I will use it for is on top of pulled pork sliders the next day vs. eating it right out of the container.
I am a texture gal so it works for me that way, if you don't care that it is more wilted then either way works. There is nutritional information listed below such as calories, saturated fat, etc…
Want to see a few of my favorite things that I am totally obsessed with?? Take a peek and see how many you might already have…twinsies!
Looking for more easy family recipes and tips? LIKE The Typical Mom Facebook page?
Then sign up for my free newsletter, and follow me on Pinterest! 😉
***** If you LOVED this recipe give it 5 Stars below and let everyone know what you thought about it. 😉
Blue Cheese Coleslaw
Easy blue cheese coleslaw recipe that's a cheap cabbage side dish, perfect served at a barbecue or potluck with homemade cole slaw dressing.
Instructions
In a large bowl, mix together the first 3 ingredients for the coleslaw. In a jar or bowl, whisk together all of the ingredients for your dressing until smooth.

Pour the dressing over the coleslaw and toss to coat. Gently fold in the blue cheese chunks. Cover and refrigerate until ready to serve.
Nutrition Facts
Blue Cheese Coleslaw
Amount Per Serving (1 oz)
Calories 183
Calories from Fat 144
% Daily Value*
Fat 16g25%
Cholesterol 19mg6%
Sodium 319mg14%
Potassium 274mg8%
Carbohydrates 8g3%
Protein 5g10%
Vitamin A 394IU8%
Vitamin C 37mg45%
Calcium 136mg14%
Iron 1mg6%
* Percent Daily Values are based on a 2000 calorie diet.