Ninja Foodi green beans and bacon has never been easier to make! Steaming vegetables is the best way to maintain vitamins and color. Try it this week.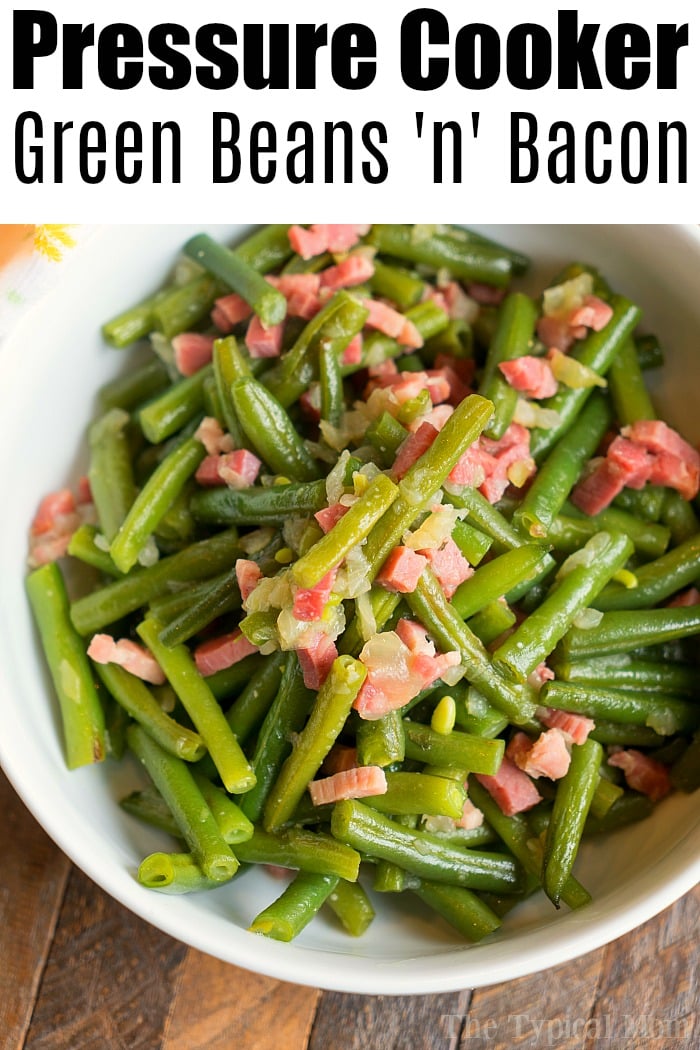 Ninja Foodi green beans and bacon is the perfect quick and easy side dish. Cooked perfectly every time in just 2 minutes you'll be able to cook fresh vegetables in no time at all now. This and more Ninja Foodi recipes here. (affiliate links present)
How do you prep fresh green beans?
First, you're going to wash them. All produce picked right out of the fields, or store bought should be rinsed well to remove debris.
Then cut off the ends, they don't taste good.
To make eating them easier, most recipes call for you to slice them in half.
We follow this method to make our Instant Pot green bean casserole too.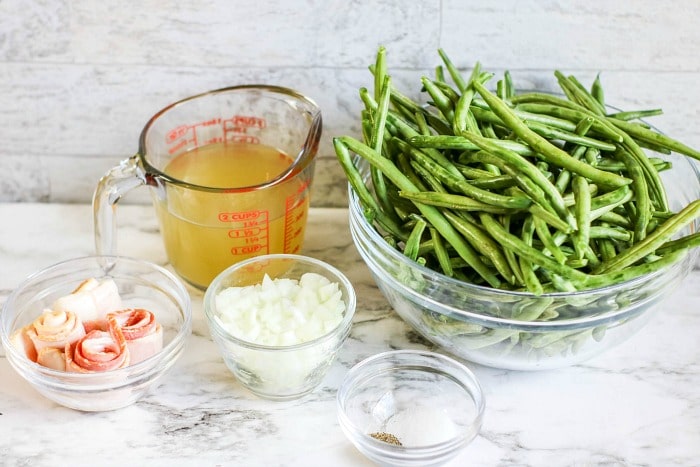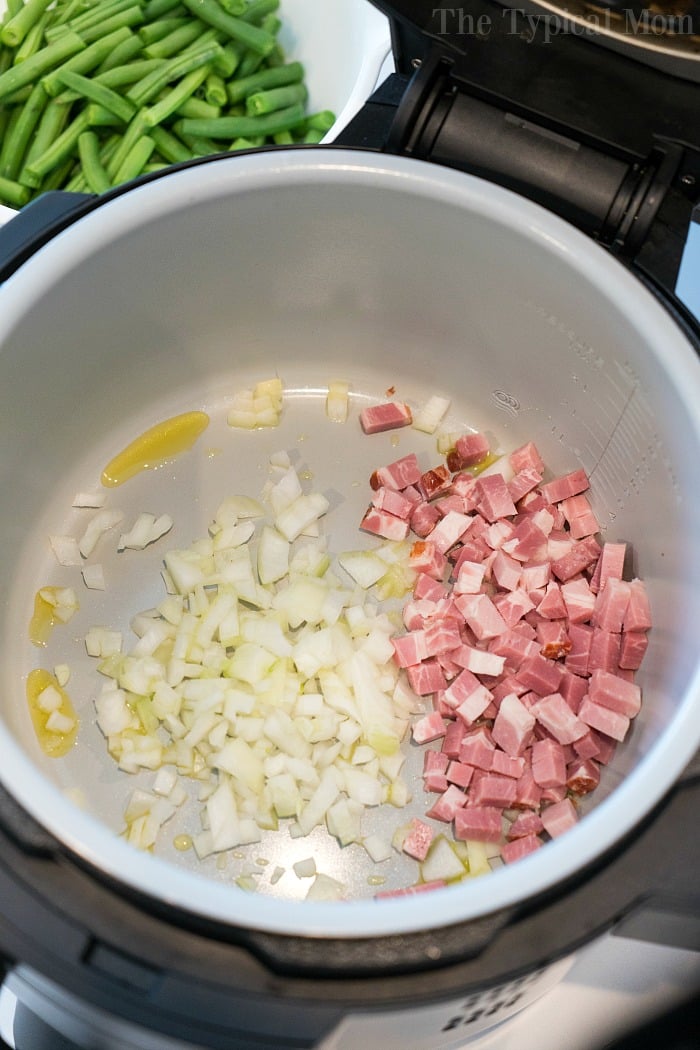 Wondering how long do you pressure cook green beans?
Not long on high pressure at all!!
Cook time will depend slightly on how soft you like them.
I don't like them as soft as if I were to open a can of them so 2 minutes is perfect for us.
We are using fresh green beans too which is ideal, frozen just isn't right if you ask me.
Wondering is it better to boil or steam green beans?
Steaming green beans is better than boiling because it prevents the beans from overcooking. It also preserves the vibrant green color, and maintains the vitamins within.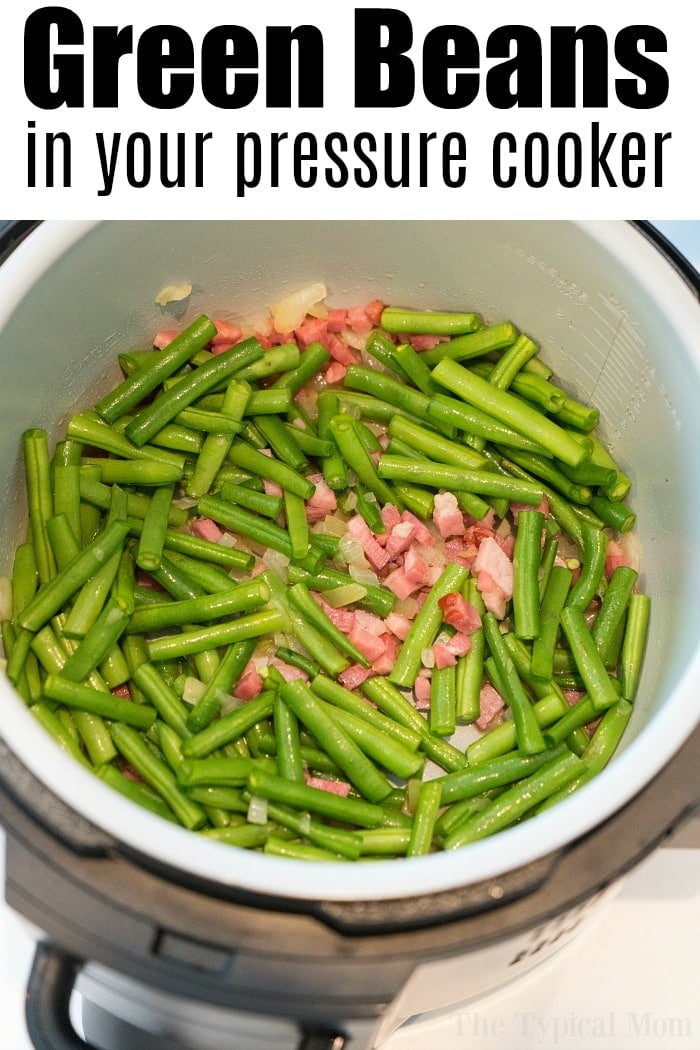 Can you can vegetables in an electric pressure cooker?
It is said to not be safe to do this actually. Instant Pot site states specifically that canning in a pressure cooker is not safe. The temperature doesn't get hot enough to adequately kill all bacteria so it's best to use a traditional method on the stovetop.
Can you cook beans in an Instant Pot or Ninja Foodi?
If you're looking to cook actual legumes in your pot you should use this cooking times for beans printout.
Some may prefer to pre-soak your beans, if so reduce cook time by 10 minutes.
Never fill your inner pot of your pressure cooker more than 1/2 full when cooking beans.
Ingredients you will need:
Fresh green beans

I haven't tried frozen green beans, they're not my preference

Salt and pepper
Bacon
Onion
Vegetable broth
Olive oil
Want to make fried green beans with tempura batter too?? You should!! They're delicious. Did you know you can use all Instant Pot recipes and make them in your Foodi too? You can!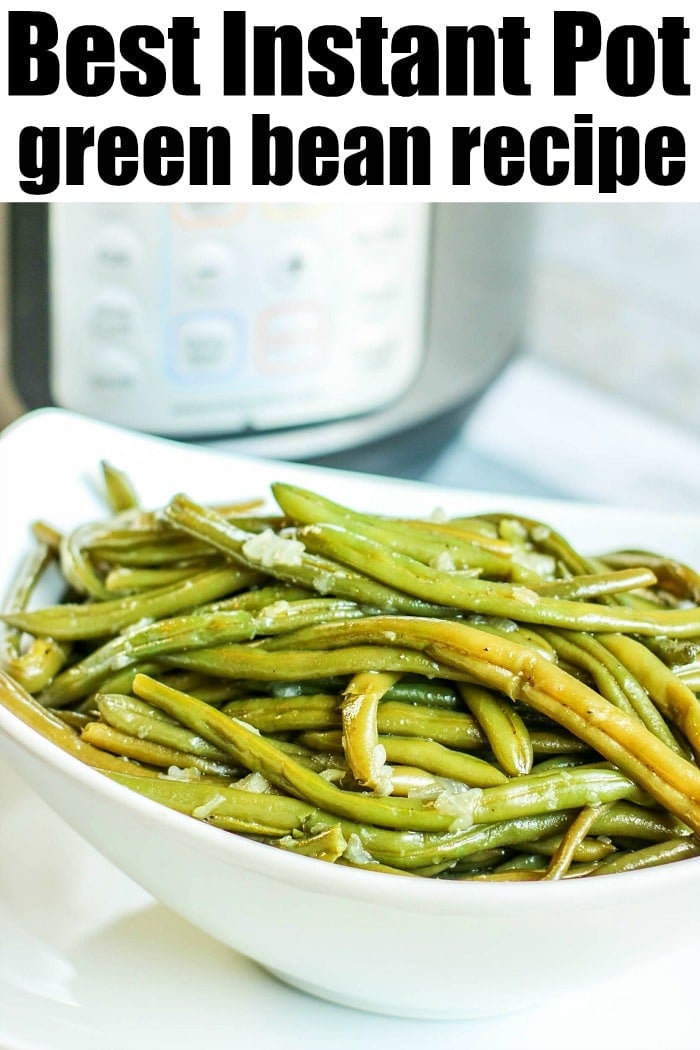 There is literally no difference with this recipe because you are only using the pressure cooker function. You can use any brand really, including a Crockpot Express or Mealthy.
Of course with any of our easy recipes here on The Typical Mom blog, add any and all seasonings you like. I would recommend under seasoning it while cooking though and add additional when it is done.
You can always add more, but eliminating too much salt once it's on there is pretty impossible.
Remember that this one includes bacon which can be omitted if you desire.
If you do add it you'll be pleased, but on that note it will add salt in the meat itself so be careful what you add beyond that.
Want more Ninja Foodi recipes?
Start with our air fryer green beans and there are more to try below!
If you want to make air fryer vegetables instead you can. They will come out crispier on the outside rather than just very tender using the pressure cook function.
Ninja Foodi Green Beans
Ninja Foodi green beans and bacon has never been easier to make! Steaming vegetables is the best way to maintain vitamins and color. Try it this week.
Ingredients
Instructions
Put Foodi on saute mode and add olive oil, bacon and diced onions. Cook until bacon is cooked. Then turn pot off. Add chicken broth and deglaze pot at this time.

Add cut fresh green beans into pot with your broth or water (broth is better), stir. Season with salt and pepper on top.

Close pressure cooker lid and steam valve and cook on high pressure for 2 minutes. (if you like really soft beans set to 3 min)

Do a quick release and remove, serve!
Nutrition Facts
Ninja Foodi Green Beans
Amount Per Serving (2 oz)
Calories 106
Calories from Fat 63
% Daily Value*
Fat 7g11%
Cholesterol 10mg3%
Sodium 531mg23%
Potassium 275mg8%
Carbohydrates 9g3%
Protein 4g8%
Vitamin A 780IU16%
Vitamin C 14mg17%
Calcium 43mg4%
Iron 1mg6%
* Percent Daily Values are based on a 2000 calorie diet.