Air fryer green bean fries with parmesan are a great snack or side dish with any meal. Crispy and crunchy vegetables covered in Panko bread crumbs and seasoning. Way less fat than our fried green beans submerged in oil but the same great texture and crunch.
Made a batch of air fryer green bean fries before? We made these parmesan air fryer green beans the other day and boy were they amazing! Talk about a healthy snack with a TON of flavor. Try this easy air fryer recipe this week. (originally published 12/19, affiliate links present)
Air Fryer Green Bean Fries
We have 3 electric air fryers, one is large for bigger batches, as well as our Ninja Foodi unit. It doesn't matter what brand you have, this will work well and you'll love every bite I tell you.
Yes you could make plain old air fryer frozen green beans as a side dish for dinner but those are boring with a capital B. This one brings fried vegetables to a whole new level. Tons of crispy flavor without the fat.
FIRST – You should sign up for my free newsletter so you get new posts emailed to you twice a week and never miss out on anything! If you love air fryer recipes too, here are some resources to start with: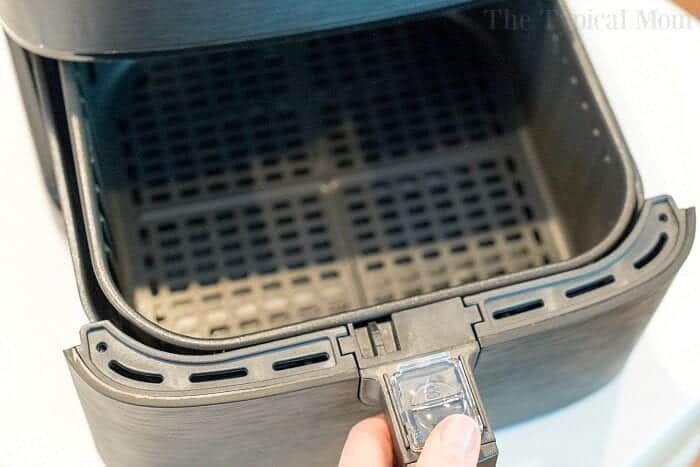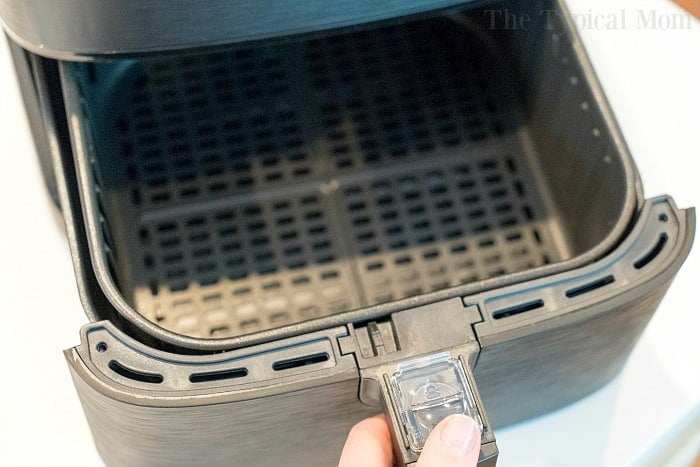 Air Fryer Green Beans Parmesan
Any brand will do really, just some are smaller and will need multiple batches so they turn out nice and crispy. We used to make fried green beans with tempura batter, and I will admit we still love them that way! BUT if you're looking for a healthier way to make these, try this recipe!
Tips when making anything coated in this machine; you always want them to be in a single layer, especially with a coating. The magic happens when the hot air is able to rotate around each piece, overlapped this can't happen.
Air Fryer Fried Green Beans
Another thing is when you air fry green beans or something else coated you must spray the basket first. It would be like cracking an egg into a cast iron pan, it would stick awful right? Well word to the wise, make sure you don't skip that step or disaster will occur. 😉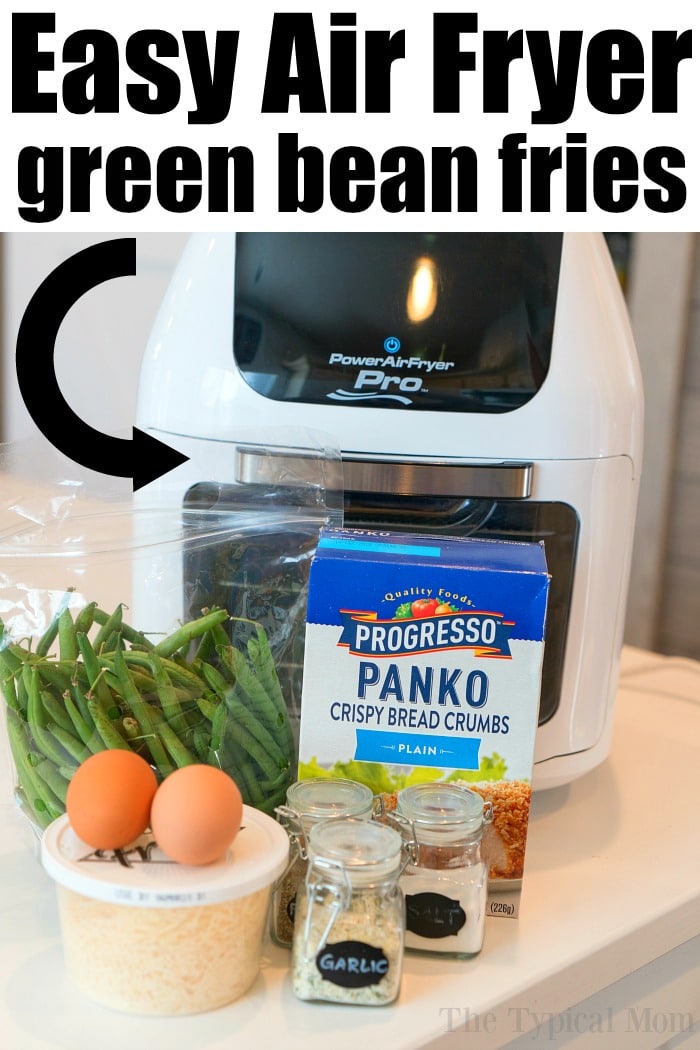 Breaded Air Fryer Green Bean Fries
You will definitely want some non stick cooking spray or olive oil in spray form for this one. If you don't the breading will stick to the grate or tray and pull it right off. You will be sad as ever and you won't get the texture or taste you ultimately want.
Panko breadcrumbs

here is a gluten free version

Eggs
All purpose four

gluten free flour could be used too

Fresh green beans raw, not cooked green beans here
Parmesan cheese
Seasonings

garlic salt
pepper
salt
anything else you like
You will also need 3 small plates with lips so you can dredge, dip, and coat the outsides of your vegetables. Bowls could be used I guess but I left the beans long and thought it was easier this way.
Note: I haven't used the gluten free alternatives but assume they'd work well for this and our air fried okra recipe.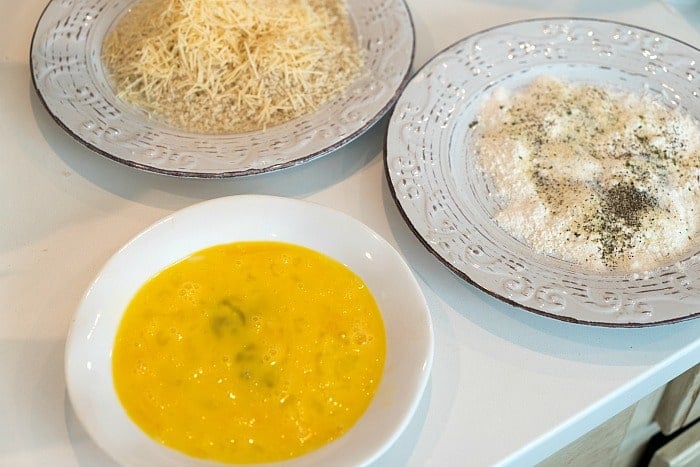 This part is a bit time consuming as you'll need to coat each piece with flour, then dredge into the egg, and lastly press the bread crumbs before cooking.
I made about 1/2 lb. of these and it took about 15 minutes to prep. Since I was using my large air fryer I was able to cook them all at once which was nice.
If you have a traditional size with a drawer you'd need to make a few batches. They're best to enjoy fresh so take that into consideration.
I had them for lunch with a side of ranch dressing and they were wonderful!
Do you need to cut off the ends of green beans?
Yes, you'll need to nip the tips off each end of the beans after rinsing them. You can line them up and with a knife cut the ends off. For best results, make sure they're young, fresh, and snap when you break one in half.
If they are a bit older and stringy you will need to cut the ends off one at a time with your fingers.
Can you eat green beans raw?
Some people say yes, they are safe to eat raw. Others say that they can be toxic. Truth is, string beans are indeed safe to eat raw, fresh or frozen after you have properly washed them.
You can call it al dente I suppose, but since it is hot air cooking them they will not get as soft as they are canned or boiled.
Personally I like the texture this way. By the time the parmesan breading is nice and brown the inside will still be a bit on the crunchy side.
If you've had The Habit fried green beans, these are different because those are submerged and fried in hot oil thus they're softer inside.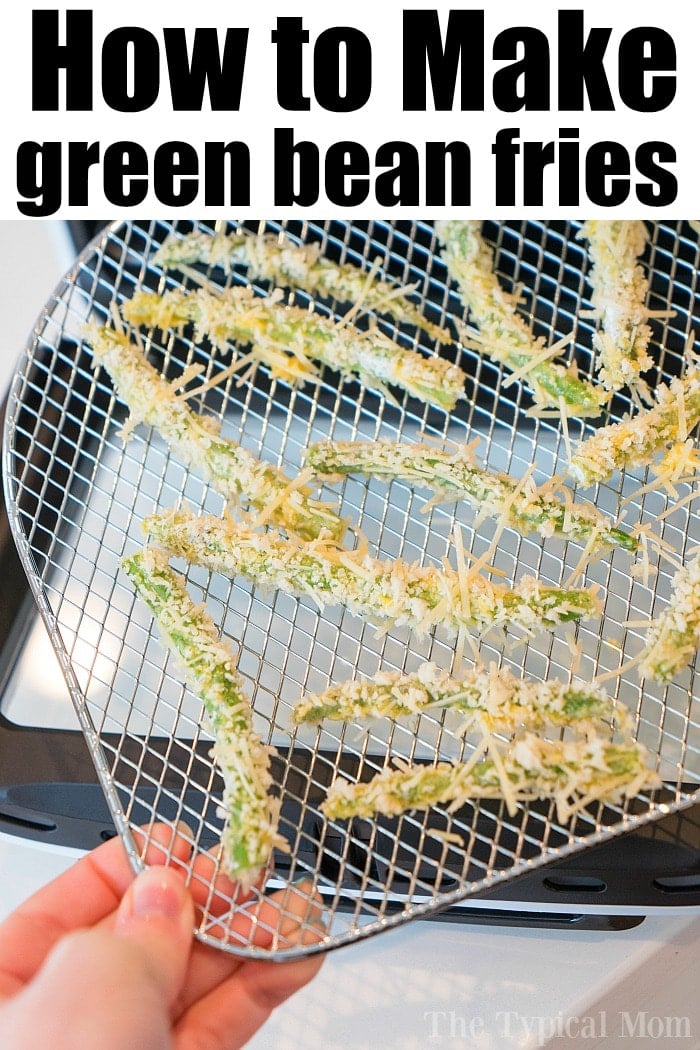 Air fryer fried green beans recipe
These are really pretty incredible snacks. With the combination of shredded parmesan cheese and lots of seasonings, there's NO lack of flavor. I do love these with dipping sauces though!
What is the most popular dipping sauce?
Bbq sauce is on the top of the list, but probably not great for these
Ranch dressing is perfect for these!
Ketchup might be a fave for some, mainly kids
Garlic aioli I love on just about everything
Fry sauce is served with EVERYTHING around here.
These are definitely one of our favorite air fryer appetizers or snacks. If you have picky eaters at home, try these with your kids! You might be surprised.
Parmesan Green Bean Fries
Here are the super easy steps to follow: Rinse and trim beans – use fresh, do not use frozen green beans that have been defrosted. Mix Panko with garlic powder, salt and pepper and any other seasonings you'd like. Whisk eggs on another plate, and put flour on a 3rd plate.
Roll beans in flour, shake off excess.
Dredge in egg, allow excess to fall off.
Bury it then in your bread crumb mixture and press so it sticks well.
Place prepared beans in the air fryer basket. Close and set to 400 degrees for a 6-9 minute cooking time varies depending on how brown you like your crispy green beans
This whole process should take just under 30 minutes from start to finish. Enjoy immediately for best taste!
After you're done enjoying these, try our Ninja Foodi french fries or air fryer carrot fries. You can make the best homemade french fries in your oven too if you want.
You can jump to recipe and get started today! But if you want to learn how to air fry everything? Here are a few to try next.
Want to see a few of my favorite things that I am totally obsessed with?? Take a peek and see how many you might already have…twinsies!
Looking for more easy family recipes and tips? LIKE The Typical Mom Facebook page?
Then sign up for my free newsletter, and follow me on Pinterest! 😉
***** If you LOVED this recipe give it 5 Stars below and let everyone know what you thought about it. 😉
Air Fryer Green Bean Fries
Air Fryer Green Beans
Air fryer green beans with parmesan are a great snack or side dish with any meal. Crispy and crunchy vegetables covered in Panko bread crumbs and seasoning.
Instructions
Wash and trim ends off green beans. On one plate mix together flour, garlic salt, salt and pepper.

On a 2nd plate mix together Panko and parmesan cheese. On a 3rd plate with a lip whisk together your eggs.

One by one dip rinsed (a bit wet on the outside still) green beans into flour mixture to coat. Shake off excess, then dip into egg mixture, and then cover with Panko mixture well. Press down on bean so last coating sticks well.

Place coated beans into air fryer basket or racks.

Once full and beans are NOT overlapping set to 400 degrees for 6-9 minutes. Timing will vary depending on whether you have multiple racks going or have a smaller basket. Get nice and brown on outside and then allow them to sit inside air fryer for 3-5 minutes to continue to soften bean a bit once they're as crispy as you'd like them.

Remove that batch and start with another in your air fryer.

Serve with ranch dressing for dipping sauce.
Nutrition Facts
Air Fryer Green Beans
Amount Per Serving (1 oz)
Calories 88
Calories from Fat 36
% Daily Value*
Fat 4g6%
Cholesterol 34mg11%
Sodium 699mg30%
Potassium 107mg3%
Carbohydrates 10g3%
Protein 4g8%
Vitamin A 300IU6%
Vitamin C 3mg4%
Calcium 68mg7%
Iron 1mg6%
* Percent Daily Values are based on a 2000 calorie diet.