This is how to preheat air fryer so you can cook your fresh or frozen foods at an even temperature the entire time. This will make everything as crispy as possible! All makes and models explained.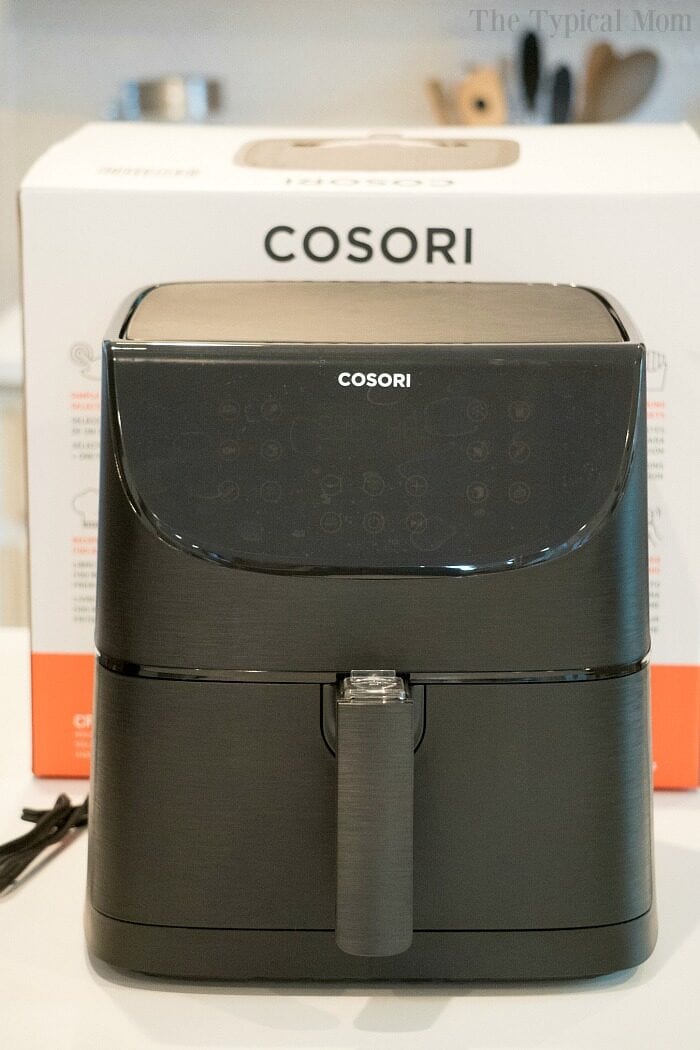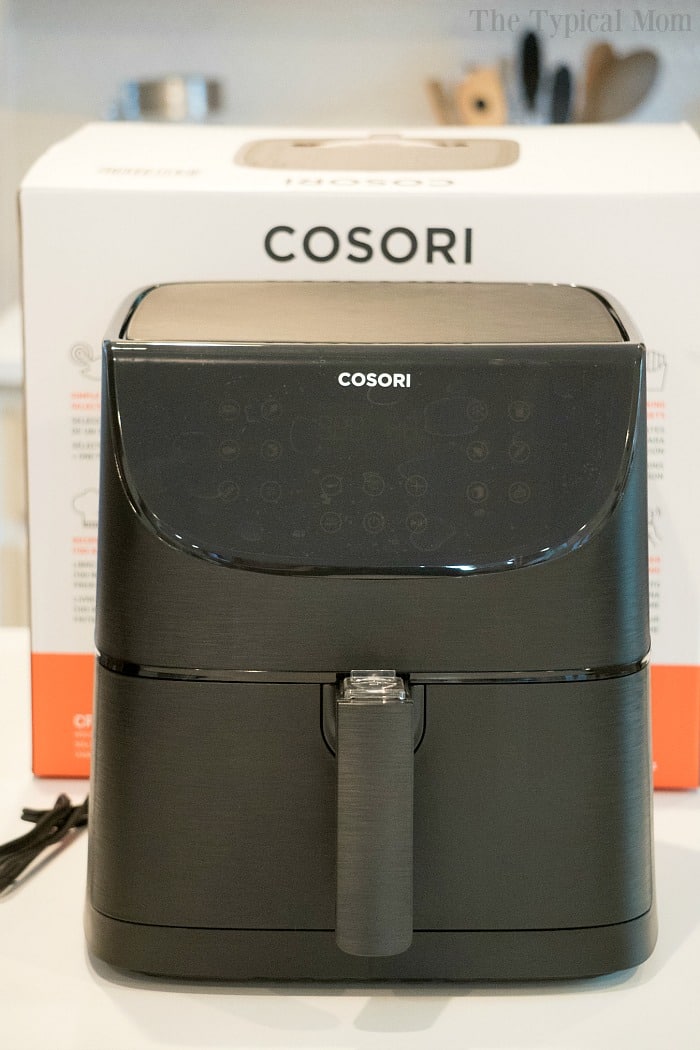 If you're just starting on this hot air cooking journey and need to know how to preheat air fryer, let me help! Preheating is so important to getting everything perfectly crunchy. Read along and then enjoy our easy air fryer recipes roundup thereafter. (affiliate links present, originally published 6/21)
How do You Preheat an Air Fryer
I have ALL THE THINGS when it comes to these "magical machines", meaning several different styles and brands. They all work basically the same, the biggest differences would just be the size and shape of the basket itself.
No matter whether you want to make a Ninja Foodi recipe, a Cosori air fryer meal, have a Phillips air fryer, Air Wave or combo unit these tips all holds true. It's always best to heat before you add any sort of food. That way it cooks at an even temperature the entire time and gets as crispy as possible. YUM.
If you love air fryer recipes too, here are some resources to start with: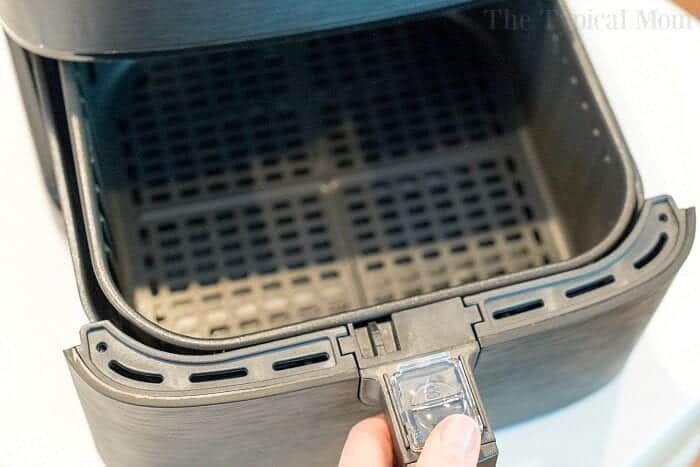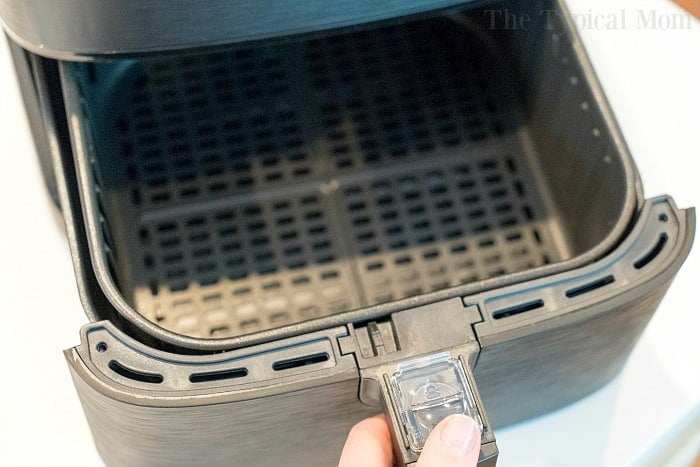 Should you preheat air fryer?
Yes I always suggest that you do so. This will create an even temp. the entire time the food is set inside. Most recipes assume that you will start with this step so if you don't the cook time will likely be off by a few minutes.
For any of these models you will have an air fryer basket similar to what you see above. I have this 5 quart version but there are smaller and larger units available of course.
Your cooking basket may be a different shape. I personally am a huge advocate of the square shape because I feel like it holds more food but I am sure you have already made your purchase so round works too, no worries.
How to Clean Your Air Fryer
First thing is you want to clean the basket if you just took it out of the box. It is no different than anything else. Use dish soap and a dish brush and dry well.
Remember to separate the two pieces if you have a model like this first!
Where my thumb is you can slide the plastic piece forward, press the button and the piece with the holes in it will come out by itself.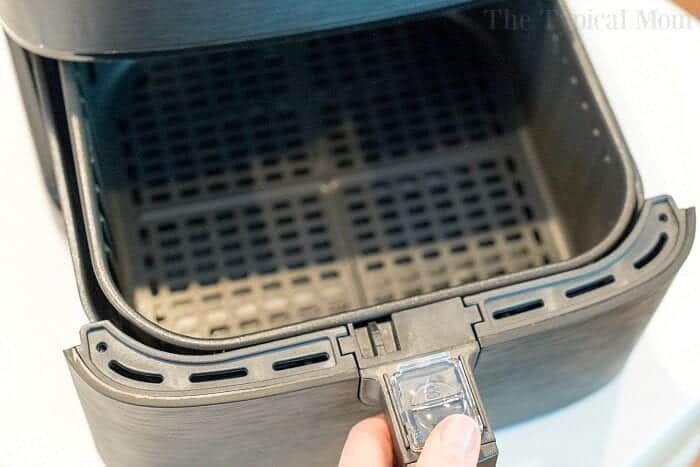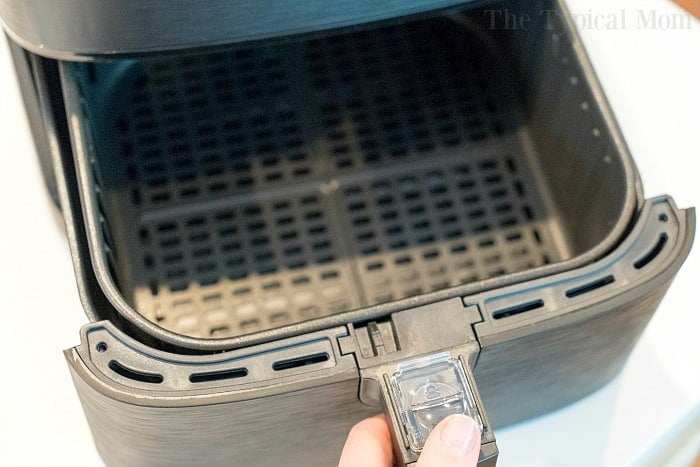 See this one above, how there are two baskets? There is a bottom drawer and the top basket the food will lay in. One fits right into the other but needs to be cleaned separately.
They both have non stick cooking surfaces but over time that will wear down a bit so you'll need to have a lot of non stick cooking spray (I prefer olive oil spray) so foods don't stick.
Once both pieces are spick and span dry them both off well. Return the inner unit (if you have one) and get ready for pre heating!
How and When to Preheat Air Fryer
While you're prepping is ideal, then it doesn't really take you any longer. It doesn't matter what brand, you want the temp to be even the whole cook time.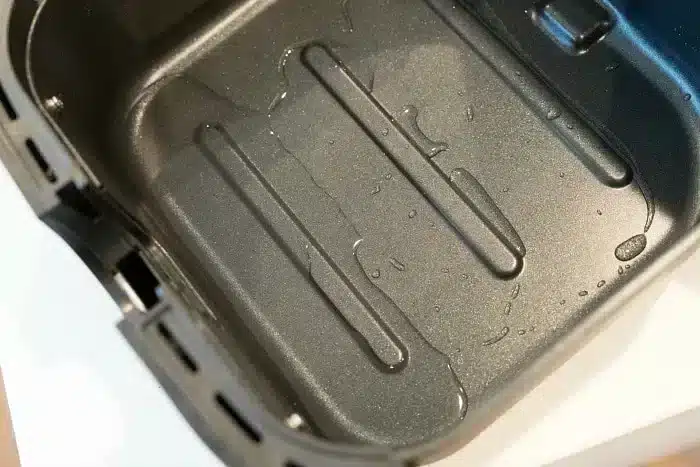 How do I preheat my air fryer?
Most units require you to plug it in and turn it on before you can get going. If your basket isn't clicked in and closed shut it probably won't let you do anything.
If it doesn't have an on button then the circle with the line part way through it as you see here near the bottom is your on button.
So you'll turn it on and then set the temperature you want to cook the food in question. You can refer to our air fryer cook times sheet to start. Let's say you're making air fryer frozen chicken tenders.
With those you'd need 400 degrees for 8 minutes BUT first you need to preheat it for 5 minutes at that same temperature! So just adjust temp. to that, set to 4 or 5 minutes and press start. When it shuts off it is ready.
Some models have a preheat button like this one, purple highlighted button on left. You just press that, set temp. and then hit start.
Does an air fryer need to preheat?
I mean should you preheat air fryer. Just think about it. When you bake your favorite muffins you always preheat your oven right?? This is no different. If you didn't would your baked goods actually be done if it started out completely cold? NO.
The same goes for this hot air machine. If you don't not only will it take longer than when you set the timer but they won't be as crispy.
This especially holds true when making things that should be really crunchy like Ninja Foodi french fries or air fryer fried chicken that have a breading.
How to preheat Ninja Foodi?
Just plug in, turn on, press air crisp, set temp. and move time up to 5 minutes. Then press the start/stop button. Make sure the attached lid is closed as you see here. Then the time will beep when 5 min. is up. Leave the lid on to stay hot and add food shortly that are prepared as you wish.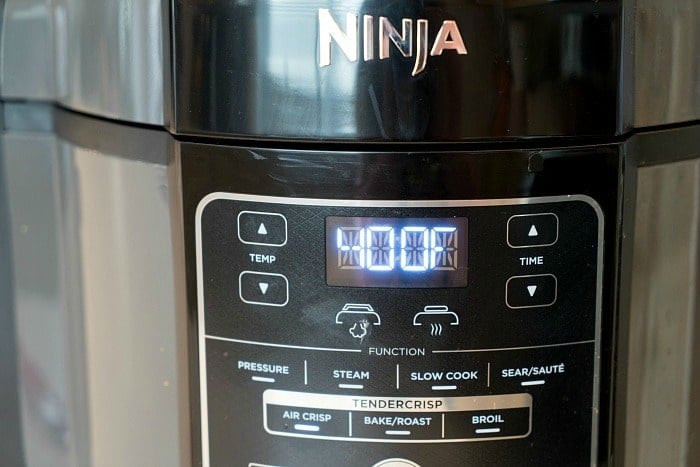 How long does it take for my air fryer to preheat?
I do not use the preset buttons for this but you could. Many machines have a preheat button. You'd turn your machine on, set the temp., hit the pre heat button and it would automatically set to 5 minutes (typically).
Typically I don't bother with this because I am always switching which machine I use. Instead I just turn on, set the temperature, and push the up button to set to 5 minutes.
Then when it beeps that it is done you can add your food. But Wait!! Make sure you spray that basket with non stick spray first…you'll thank me later.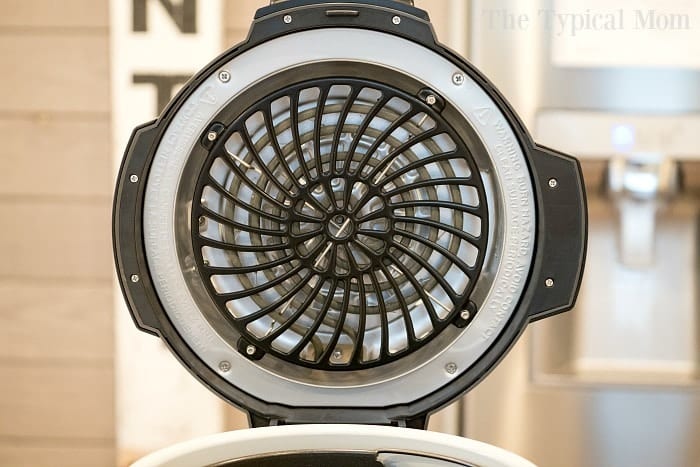 Do you preheat air fryer for chicken?
Um, yes, you do it for EVERYTHING y'all. 😉 Whether you're making an air fryer frozen chicken breast, or a frozen burrito in air fryer it doesn't matter. I explained why above. Just trust me on this, 5 minutes will be your friend.
The same goes for all models as well. If you have one of those countertop versions like you see above they work well too. We used this model to make air fryer mashed potatoes. I will say I prefer the smaller basket though.
These have knobs where you set to AirFry, set temp, time, and start.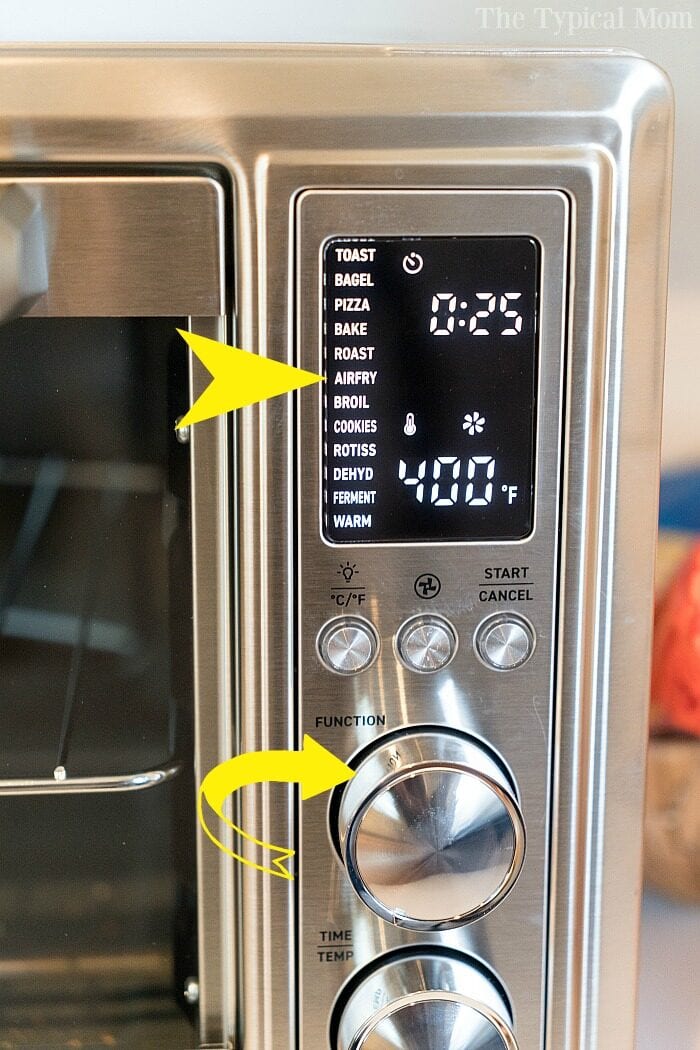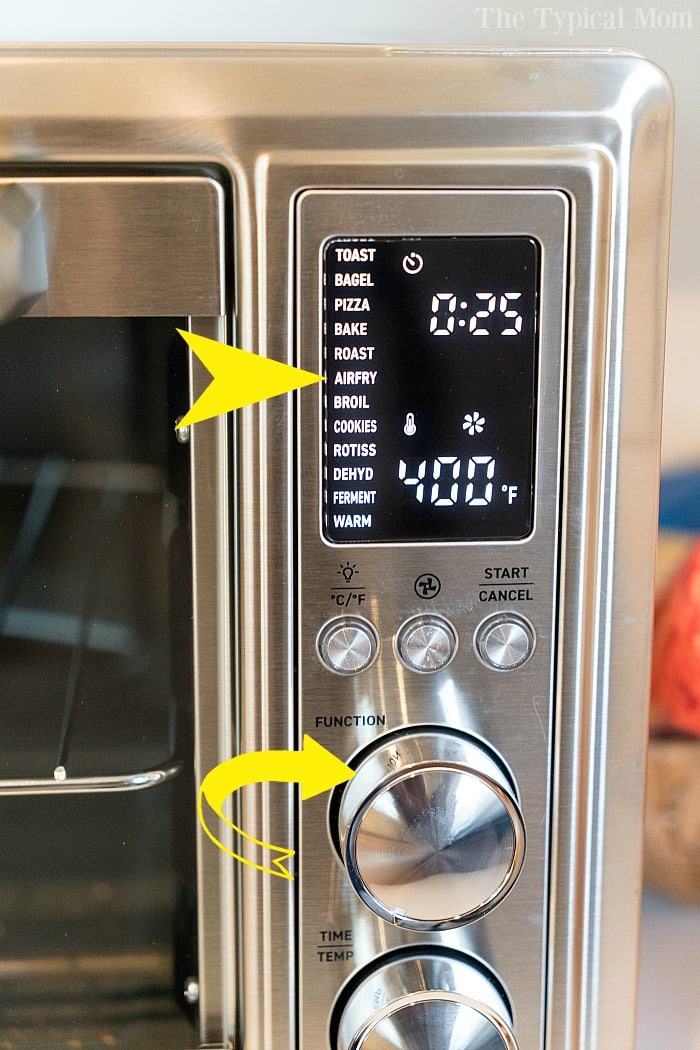 Do you Preheat Air Fryer with Oil?
No need to do that. I would suggest not doing that actually because it will bake it into the basket, make it a bit sticky and may give food a sorta' burnt taste. Instead, wait until after the 5 minutes of heating, then spray with olive oil to prevent sticking and add your food right after that.
I did get to try this large air fryer Power Air Fryer Pro version too a while back. Air fryer green beans were made in this. The downside to this type is it is harder to clean if you ask me.
Even after spraying the racks a bit of the Panko breading stuck and was not easy to scrape off. Also some dropped to the very bottom and while there is a plate at the bottom to clean it's just one more thing that needs soaking.
With that said you can throw most air fryer baskets into the dishwasher. That is helpful. I would read the directions on yours to ensure that is okay. Dry promptly so it doesn't start to rust on the edges.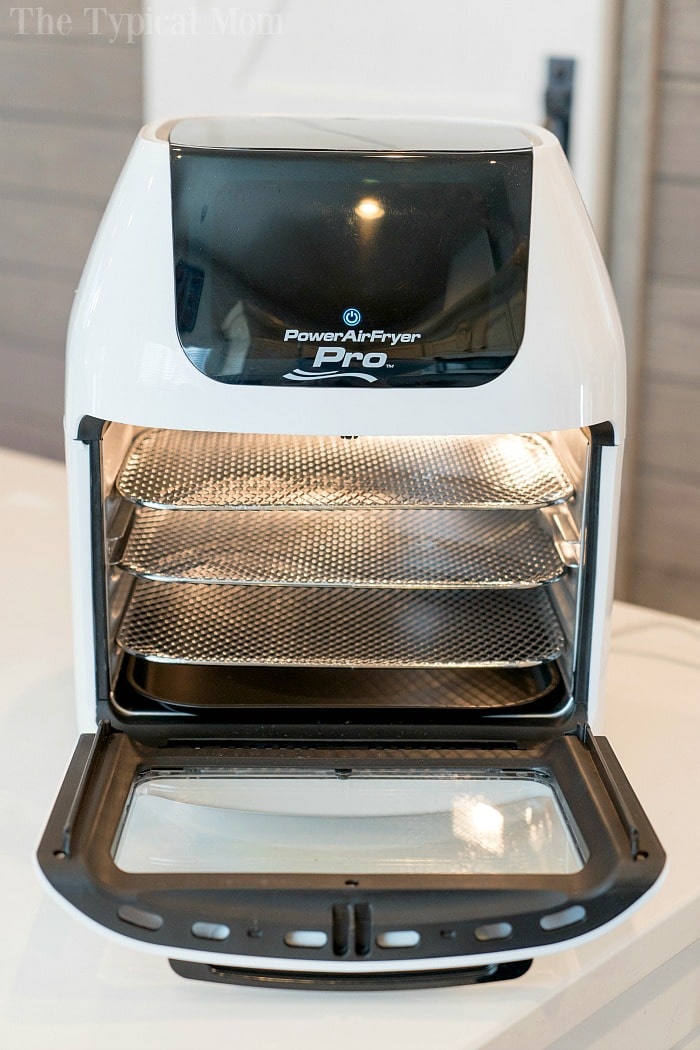 How to Preheat Air Fryer Gourmia
It doesn't really matter what brand you have. You still do it the same way. Each one has slight variations on where the buttons are but all have an adjustment for temperature and timing which is all you need.
Then let's move on to the CrispLid. The Instant Pot lid is available now too and Crockpot Express even came up with their own pot with an air fryer lid.
While this is a way to turn your Instant Pot into an air fryer it isn't the best. the heat light is quite close to the food itself and flipping is a must with this style.
I just feel like while it is great to have a multi cooker with several functions, something that does just ONE thing does it great. The other is just good. Just my opinion of course but I do use a pressure cooker and air fryer daily.
It is worth it to have 2 different devices that do that 1 thing incredibly well. Organize your pantry and find a spot for one of them, leave the other on your countertop and just swap them out.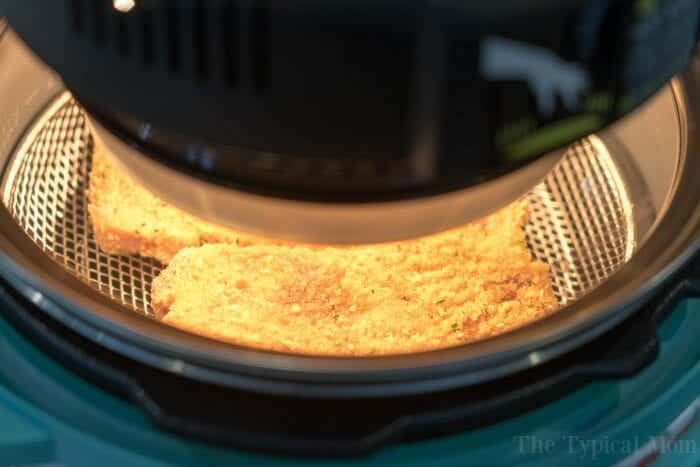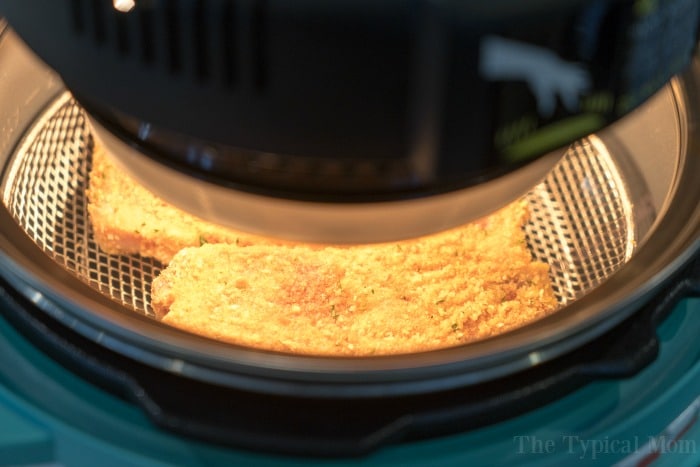 How to cook in an air fryer
This will get you going so it is ready to cook all the things! Then follow the directions on your recipe and enjoy!
Want to see a few of my favorite things that I am totally obsessed with?? Take a peek and see how many you might already have…twinsies!
Looking for more easy family recipes and tips? LIKE The Typical Mom Facebook page?
Then sign up for my free newsletter, and follow me on Pinterest! 😉
***** If you LOVED this recipe give it 5 Stars below and let everyone know what you thought about it. 😉