Easy dessert box cake mix hacks are here. How to make boxed mix taste more like homemade with one more ingredient, then go way beyond that to make cake mix brownies, cookies, banana bread, dump cakes and more!! Grab your favorite flavor and we will show you how to make cake that tastes like homemade here.
There are tons of boxed cake mix recipe hacks out there, and we have quite a few to share with y'all. Transitioning a boxed mix into other desserts is the way to go when you are in a pinch for time. Using fresh fruit or canned adds moisture, flavor and you'd never know it wasn't homemade. (affiliate links present)
How to Make Yellow Cake Better
Of course you can make your own homemade yellow cake mix but boxed is a pre-made mixture of dry ingredients used for making desserts of all kinds. It typically includes flour, sugar, baking powder, and salt, along with other ingredients such as oil, eggs, and flavorings.
To make a yellow cake using a cake mix, you would typically add the powder in the bag to a bowl along with ingredients listed on the back. Typically called for on the package is eggs, oil, and water. Then all you do is blend everything together until a batter forms.
This is then poured into a cake pan and baked in the oven according to the package instructions. It has been a convenient and easy way to make small batch cupcakes, 9×13″ or 1/2 sheet cake at home without having to measure out all the ingredients yourself. THEN comes the tweaks to make cake mix taste better!!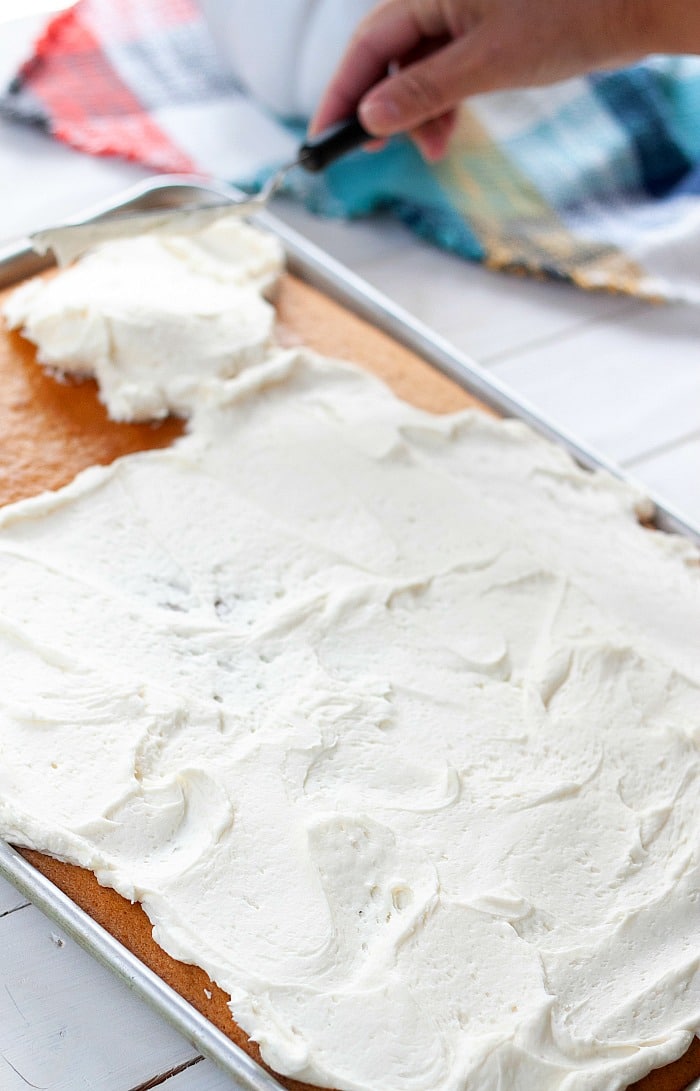 How to Make Boxed Cake Mix Taste Better
If you have only followed the back of the box and used what the recipe calls for there, you're missing out!! You can make your cake batter, and thus the end result way more moist a few different ways. Try these first and then below I have a ton of other ideas like adding a box of pudding mix, fresh fruit and more.
There are so many ways to do this as I will list below but the all time easiest and biggest change you can make is to make a pudding cake!
That is right, you add a whole box of dry Jello pudding into the mix. That makes it, well like dense moist cake with a dense moisture you cannot get any other way. A cheap tweak to make with a ton of flavor combinations.
How to Make Box Cake Taste Homemade
Most of these will use the same ingredients listed on the back PLUS something else. Of course you can totally transform the mix itself into something different like boxed cake mix banana bread, but here we are speaking about a 9×13 cake itself.
Add an extra egg or extra egg yolk to the chocolate or white cake mix can make it richer and way more moist.

that is it, try this and see what you think
use the same ingredients listed on the back of the box except include 1 extra yolk, and taste that. If you don't feel comfortable separating then just crack the whole thing in there.
will make it taste homemade more than it would without the additional egg in there. 😉

Use milk or sour cream instead of water. You could use a dairy free alternative too if you cannot handle lactose. This can add extra flavor and richness to the strawberry or chocolate cake mix.
Add vanilla extract to enhance the flavor of the baked goods, other flavors work well too like creating a coconut cake flavor with that extract!
Use butter instead of oil, melted butter of course. This can add a rich, buttery flavor to the cake with just that substitution.
Add mix-ins like 1/2 cup of mini chocolate chips, chopped nuts, or dried fruit to the cake mix for extra texture and flavor.
Top with some homemade frosting. Try making your own frosting vs. using store-bought to add extra sweetness and moisture too.

or you can use the dry mix to make a shortbread pie crust with curd on top like we did with our lemon bars with cake mix.
Ice cream on top will do the same as frosting but preferred more so in the summertime. Served over a warm piece it will melt into the baked goods itself making the end result more tender and sweeter. Want a zing too? Sprinkle on a bit of fresh lemon zest on top of that!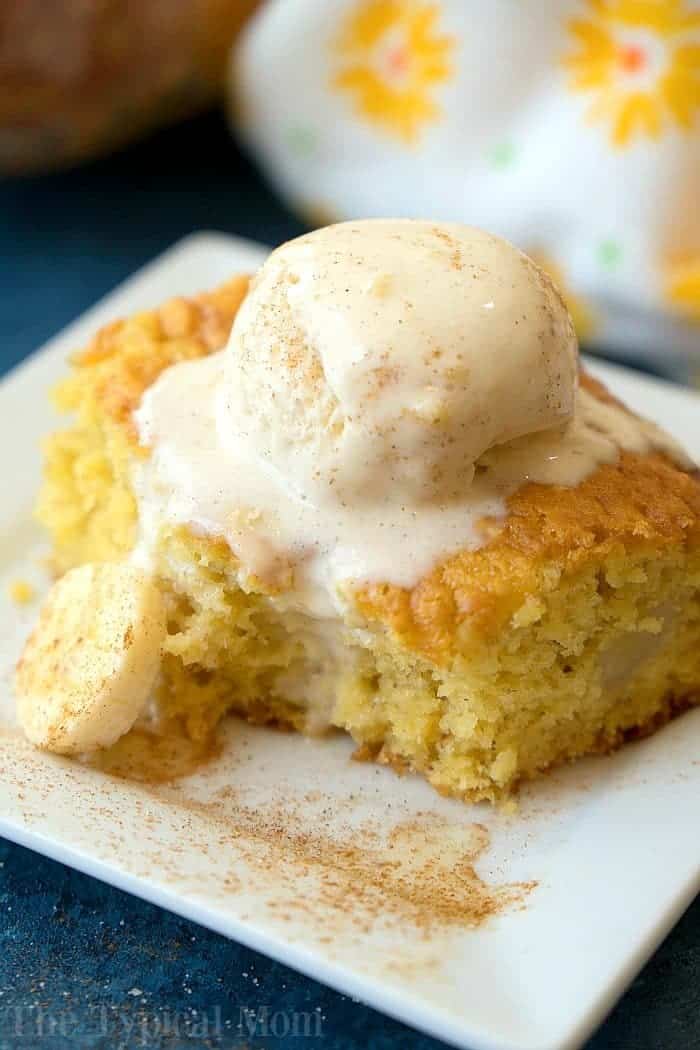 Things to Make with Cake Mix
Pineapple Upside-Down Cake with cake mix is an easy one. Mix a can of crushed pineapple with brown sugar and pour it into the bottom of a greased cake pan. Add yellow cake mix on top of the pineapple mixture and bake according to the package instructions. Once baked, invert the cake onto a plate so the pineapple is on top.
Yellow Cake Mix Cookies: Combine a box of yellow cake mix with two eggs and 1/3 cup of oil. Mix in your favorite add-ins, such as chocolate chips, M&Ms, or nuts. Drop spoonfuls of the dough onto a greased baking sheet and bake at 350°F for about 10-12 minutes.
Yellow cake mix Peach Cobbler: Pour a can of peaches (with syrup) into a baking dish. Sprinkle yellow cake mix over the top of the peaches and then pour melted butter over the cake mix. Bake in the oven at 350°F for 45 minutes.
Cake Mix Brownies: Mix together one box of Betty Crocker Devil's Food variety with melted butter, and two eggs until a dough forms.

Press the dough into a greased baking dish and bake at 350 F for about 20 minutes.
Once baked, cut the brownies into squares and serve.

Lemon Bars: These are kinda like making our pink cake mix cookies in a sense with lemon curd on the top as a layer baked in a 9×9 pan instead of drops of dough.
These are just a few ideas for easy cake mix recipes that can be made using yellow cake mix (or any other flavor) taste more like from scratch. A 9×13″ size is not all there is. The possibilities are endless!
How to Make Boxed Cake Mix Taste Better
Adding canned fruit is another great way to moisten it up and give the insides just a bit of chunk. Different frostings are a given but what you add inside makes the biggest difference of all. Love a deeper flavor like added peanut butter too?? Try our cupcakes in a jar in individual servings.
Dump Cake with Boxed Cake Mix
Not exactly cake but a sweet bread of sorts you can make banana bread with yellow cake mix quickly with it. Seriously I make this all the time when I have ripe fruit on the counter that I don't want to throw away. They add great sweetness to this breakfast or dessert made in a loaf pan.
More of a dump and go, after you slice up the fresh fruit would be our peach or apple cobbler with cake mix blend. A great one to make after apple picking or if you find a great sale on Granny Smith green varieties.
What to Add to Boxed Cake Mix
Here is a photo of the back of a Duncan Hines box. Most all brands are going to list almost the same things that need to be added. If yours says 1/3 cup oil instead of 1/2 then follow that amount but substitute for melted butter instead, etc…..
How do You Keep Leftover Cake Moist
If you just make the cake as is, do not add a cream layer in the middle or frosting to the top you can and should keep it on the countertop. Try to avoid storing in the fridge or it will dry out BUT if fruit has been added or any dairy product like frosting to the top it will need to be kept cold.
First wait until it has completely cooled. Then wrap with plastic wrap, if on a plate touch and seal on the sides so the least amount of air is trapped inside. To reheat leftover cake you should add some type of moisture to the top. Use a tbsp of whipped cream, buttercream, ice cream or syrup works. Then heat for 45 seconds until warmed in the microwave.
Want to see a few of my favorite things that I am totally obsessed with?? Take a peek and see how many you might already have…twinsies!
Looking for more easy family recipes and tips? LIKE The Typical Mom Facebook page?
Then sign up for my free newsletter, and follow me on Pinterest! 😉
***** If you LOVED this recipe give it 5 Stars below and let everyone know what you thought about it. 😉
Box Cake Mix Hack
Box cake mix hacks to make Betty Crocker or Duncan Hines yellow, white, or chocolate mix taste more like homemade and better.
Ingredients
Instructions
Pour dry mix into a bowl with the 3 other ingredients listed. You can use one or all of the substitutes for what is listed on the back of the box. Use a hand mixer on low to incorporate or whisk with your hand until dry mix is incorporated.

Preheat oven to 350 F and spray inside of 9×13" pan, pour in batter and bake about 30 minutes or until center springs back when touched with your finger gently.

** Other additions you can make are added 1 box of dry Jello pudding mix (as is, not made into pudding first) – this will make the outcome flatter and more dense but very very moist. 1/2 c mini chocolate chips can be added too.

To add more moisture to the top allow the cake to cool completely and add homemade or a tub of frosting to the top. Another option is to allow to cool for 20 minutes, poke with a large straw all over the top, melt a tub of frosting and pour the whole thing over the top so it seeps into the cake itself. (I would not use a box of pudding and this melted frosting idea together, it will be too sweet.)
Nutrition Facts
Box Cake Mix Hack
Amount Per Serving (2 oz)
Calories 130
Calories from Fat 45
% Daily Value*
Fat 5g8%
Cholesterol 39mg13%
Sodium 202mg9%
Potassium 37mg1%
Carbohydrates 18g6%
Protein 2g4%
Vitamin A 174IU3%
Calcium 63mg6%
Iron 1mg6%
* Percent Daily Values are based on a 2000 calorie diet.