What is chicken broth, how should you use it and is there a difference when using stock instead? We will answer all those questions and share recipes for it as well.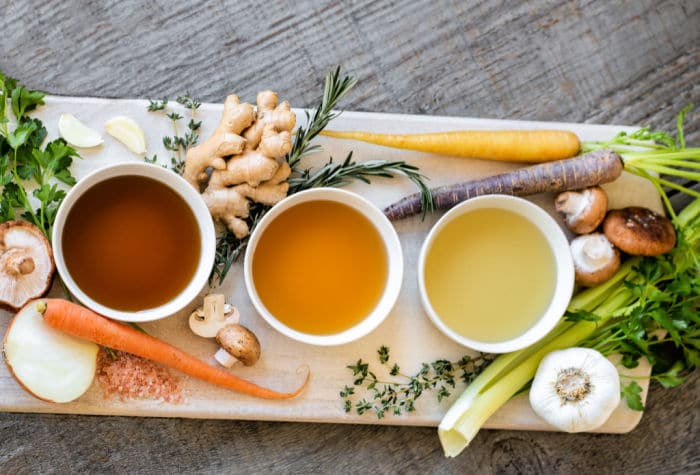 There are so many recipes that call for chicken broth but do you really know what that is? There is a difference between homemade chicken broth and chicken flavor that you might find in many of the canned soup on the shelves. It's important to learn the difference between stock and chicken broth as well. If you're a home cook, it's time to dive in and learn everything there is to know about what is chicken broth.
Chicken Broth vs Stock
In a nutshell, chicken broth is basically cooked chicken and the liquid that is created when done so. More specifically, it's the chicken carcass cooked down, oftentimes with carrots, celery, and spices. Stock is just using the bones without meat on them.
Once it's cooked down, it's often used in chicken soups, chicken salad, and various other soup recipes as well. (I love to use it in my homemade spicy chicken noodle soup recipe because it adds so much chicken flavor.)
One of my favorite hacks for making homemade chicken broth at home is that I love using store-bought rotisserie chicken. It's something that I didn't have to cook in the first place but did pay a bit extra for the convenience.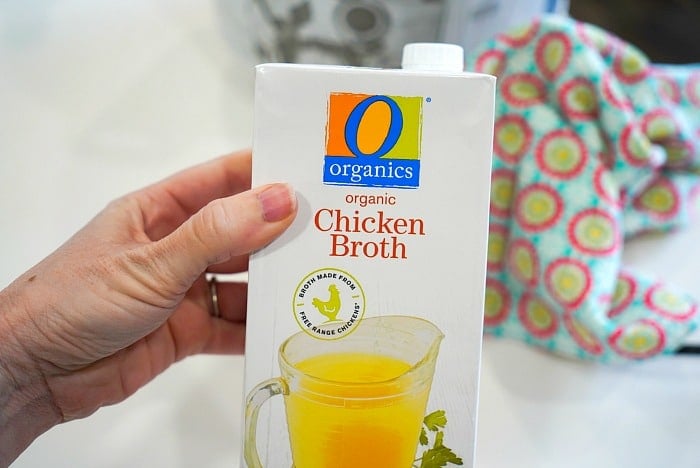 This also means that since I paid a bit more for it, I'm happy to boil it down and get every last bit of meat off it and use it for delicious broth as well.
How to Make Chicken Broth
The process for making homemade Instant Pot broth is fairly straightforward. You start with chicken bones and cover with water as the two main ingredients. Make certain that you cover the bones with water so that they're fully immersed. You're going to want to bring to a boil then reduce heat after a bit of time.
There will be some chicken meat that came off the bone which is delicious and should be eaten. You can make shredded chicken tacos with it that same night and get dinner out of the makings too. 😉
Don't forget to strain the broth before adding it to a jar or other container so that you're certain to not have any chunks of meats or bone fragments.
What is Chicken Broth Used For
Mainly you are going to use it in soups, boiling chicken, to make or thin our gravy or some love to drink it for it's health benefits.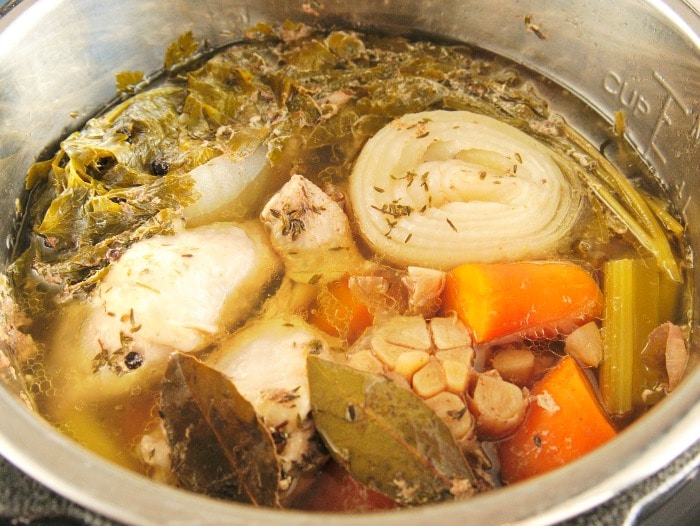 How is chicken broth different than chicken stock?
Such a great question and something that is totally easy to confuse. Chicken broth recipes are different than homemade stock recipes, without a doubt. Stock, bone broth, or making Instant Pot bone marrow and jarring the liquid at the end is going to be a bit thicker.
They almost have a gelatin-like at times. It's made from animal bones and doesn't typically have any type of seasoning in it at all.
Chicken stock is just as described above. It's created by using leftover chicken or boiling bones with chicken meat on them and then adding in seasonings as well. They might both come from parts or a chicken but they're really quite different from one another.
How to store chicken broth
Once you make your own homemade chicken broth, you're going to want to store it in the fridge. I always choose a jar with a lid. (This makes it easy for pouring out with a lid that you can screw off and on)
As long as you're going to use the this within 4-5 days, it should stay fine for that duration in the fridge. If you're not going to be able to use it during that time, you need to think about freezing in a container like this for later.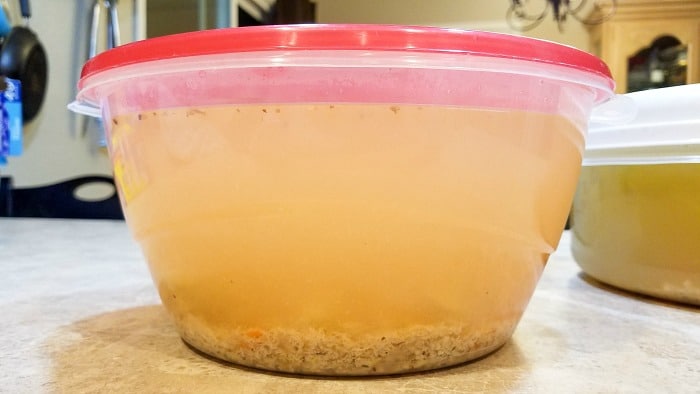 How to freeze chicken broth
Can you freeze chicken noodle soup? Totally. Luckily, this stuff actually freezes quite well. There are a few ways that you can go about freezing it, and it all depends on how you're planning on unthawing and using it.
If you're going to save it to use it all in a giant pot of slow cooker chicken noodle soup, just freeze it in one container and don't think anything about it. However, if you think that you're going to have several recipes that you want to use chicken broth in, there is a better method for freezing it that's simple.
Grab a few ice cube trays and pour in the chicken broth. Place the ice cube trays in the freezer and let them freeze. Then, when you're ready to use chicken broth, you just have to pop out the "ice" and add it to your recipes.
Keep in mind that it only lasts for about 4-5 months in the freezer. If you meal plan, you're going to want to find recipes to use it in. (There are so many recipes using this liquid out there that you shouldn't have any issues!) Then you can make Instant Pot chicken noodle soup with frozen chicken next month without the prep.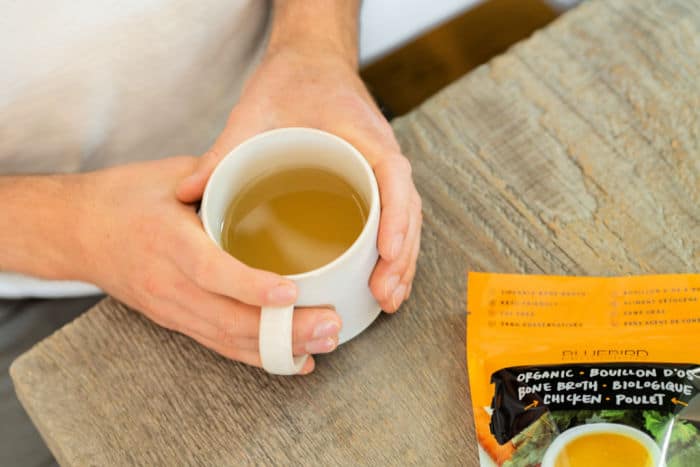 What seasonings can you add to the chicken broth?
The great thing about making it yourself is that you can season it up any way that you want, and reduce the sodium. A lot of people will add an Italian blend seasoning to it. Some just prefer salt and pepper. Remember that with broths and stocks, a little bit of seasoning goes a long way.
Since the chicken broth is going to be added to another recipe, you want to be certain that you're not over-seasoning it in any way. The milder the flavor, the more recipes that you can mix it with without issue. Like with our Instant Pot chicken vegetable soup I don't want much more, I want to taste the veggies.
Can you use chicken broth in recipes that call for beef broth?
Yes, you can. It goes both ways, actually. It all really depends on the flavor that you like best. Some people prefer chicken over beef broth because it's a milder flavor and taste. If you have a recipe that calls for one or the other, you can use either and be just fine.
Things to make with chicken broth
Now that you know a bit about this cooking liquid, it's time to make it and use it in as many recipes as you can. There's nothing more satisfying than when you're able to use food in a way that literally has you using every piece and part. Homemade chicken broth is simple, fast, and a great way to add nutrition to any meal.
Stop spending your money on broth or stock at the store. Take the time to make up your own. There's really no comparison to the taste!
Chicken Broth Recipes
Want to see a few of my favorite things that I am totally obsessed with?? Take a peek and see how many you might already have…twinsies!
Looking for more easy family recipes and tips? LIKE The Typical Mom Facebook page?
Then sign up for my free newsletter, and follow me on Pinterest! 😉
***** If you LOVED this recipe give it 5 Stars below and let everyone know what you thought about it. 😉