This chicken soup in the crockpot recipe is the best! If you're looking for a healthy and easy slow cooker soup this one takes just 10 minutes to prepare and It tastes amazing!! One of our favorite ways to make homemade chicken noodle soup.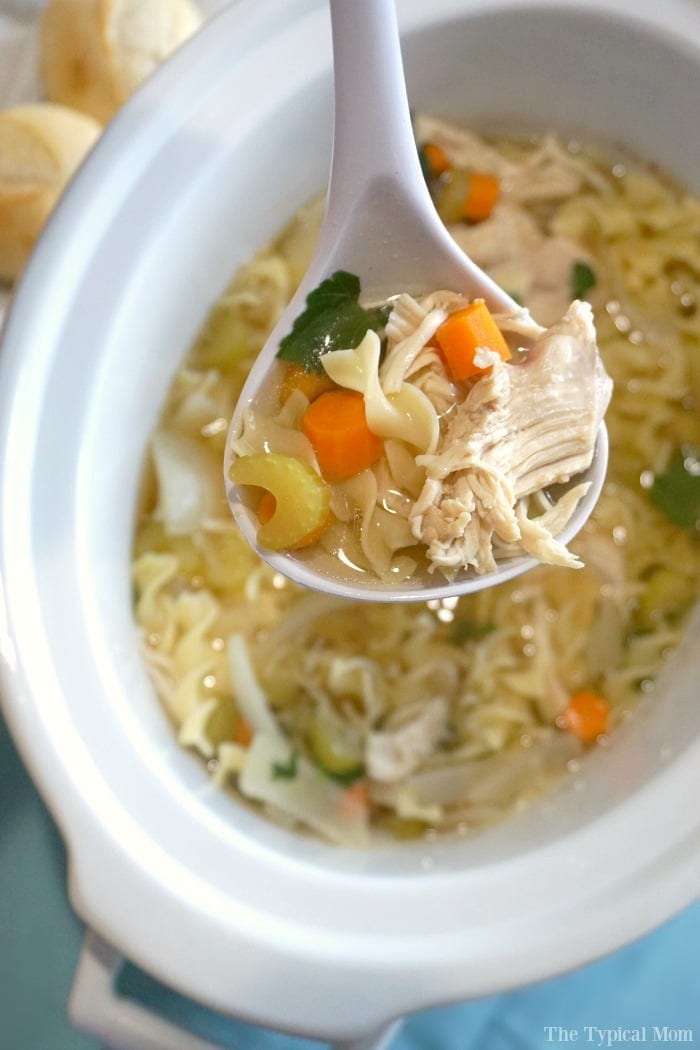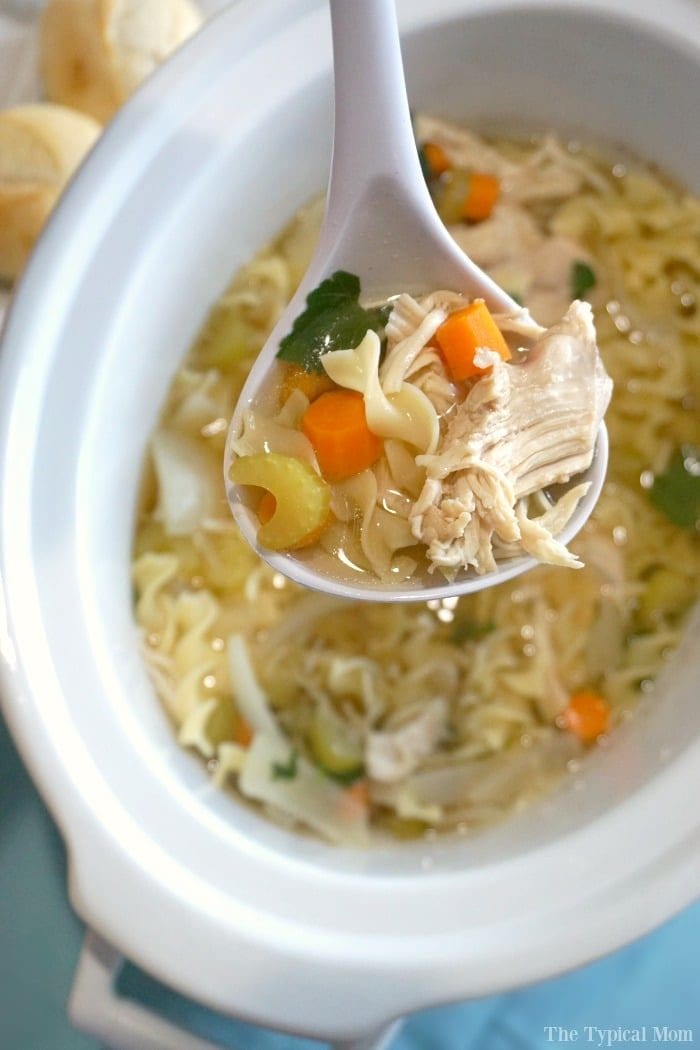 You've got to try this chicken soup in the crockpot I made when my middle daughter wasn't feeling so hot. Since then it has become one of our favorite crockpot meals, especially when it's chilly outside. Here's how you make one of our favorite crockpot recipes. Special thanks to Foster Farms for sponsoring this post so we could share this recipe with you. (originally published 10/16, affiliate links present)
I admit I am a bit obsessed with my slow cooker. Give me anything and I will find a way to cook it in there because it makes my life so easy! It is not only super tasty but it is also a healthy crockpot recipe that's inexpensive to make, triple win for us!
You shouldn't only cook chicken soup in the crockpot when you're not feeling well! We make this all the time.
Comfort food is the best! I love this easy slow cooker chicken soup recipe because you only need a few fresh ingredients. It's one of the best crockpot chicken recipes.
It's good for you too. In just 10 short minutes you can prep this for your slow cooker make it even faster in your Instant Pot. (we will share that recipe below)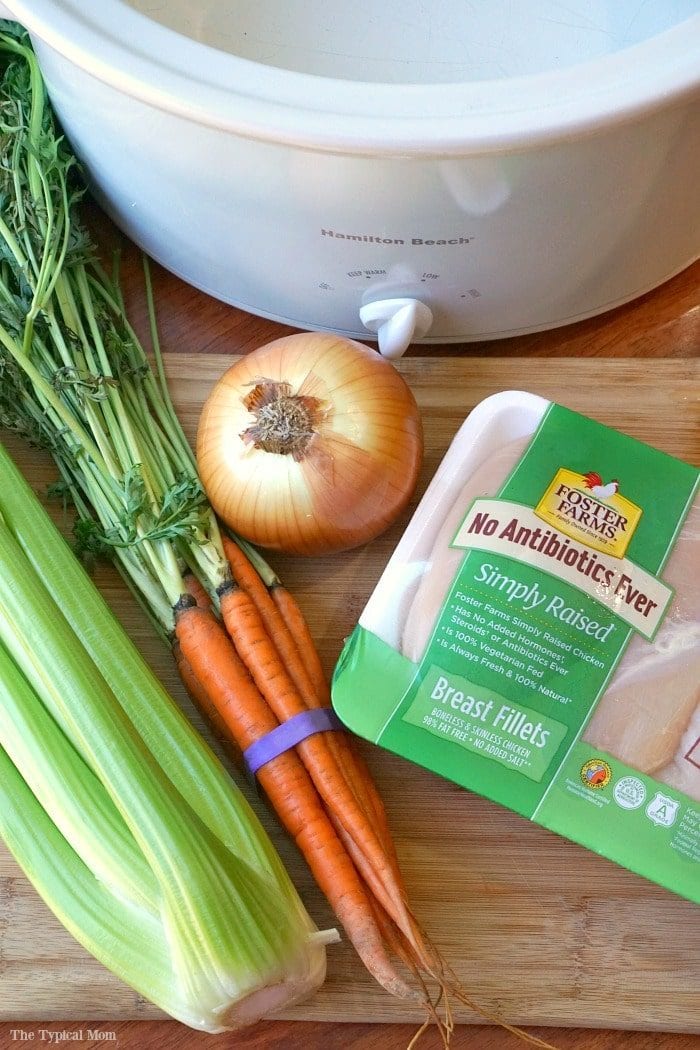 What you need to make this easy Crockpot chicken noodle soup ingredients
Chicken breasts
3 large carrots and celery stalks (I used a few more because organic varieties tend to be a bit smaller)
1/2 yellow onion
2 containers of chicken stock

or chicken broth

Egg noodles – bagged or this is how to make homemade egg noodles
Bay leaf optional
You're ready!
Can you cook noodles in the crockpot?
YES!!
They don't take much time though so I add them at the end. Just submerge then into the liquid inside your pot and close the lid for 10-20 minutes. Timing depends on what type they are. Egg noodles are the fastest while whole wheat pasta would take the longest time to get tender.
It's one of our favorite easy slow cooker recipes because it just makes you feel good, even if you aren't sick. With tender pieces of chicken and a warm broth with a few dinner rolls on the side, it's the best meal I tell you.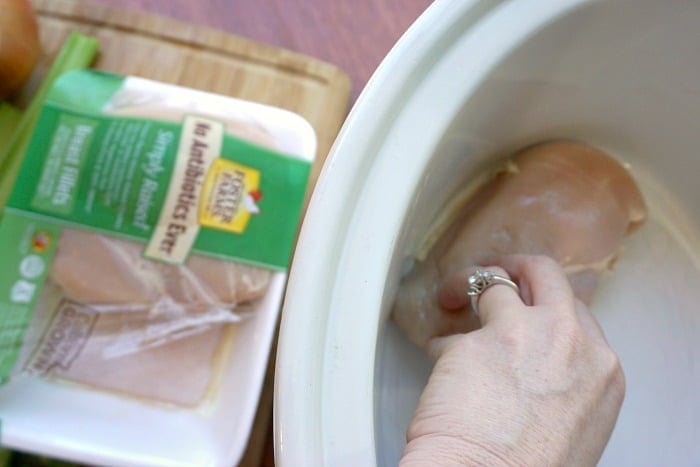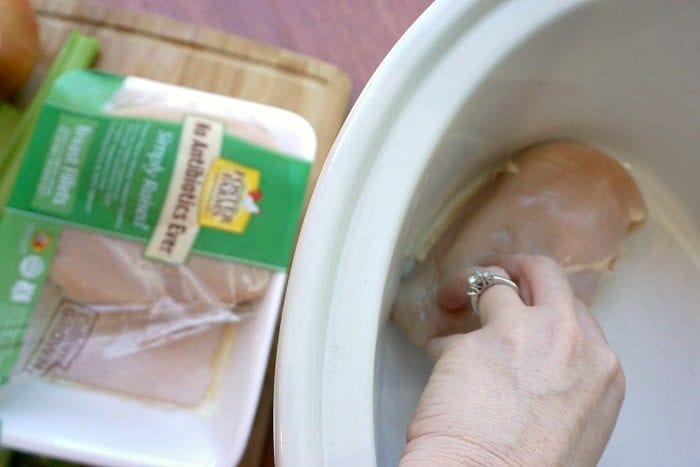 Literally this crockpot recipe is so easy to make. Here are the steps you take:
Just chop the onion, carrots, celery into small pieces like you see here below.
Then add the chicken breasts on the bottom and put your veggies on top.

If you strive to make good for you meals at your house and eat organic foods this is a great recipe to try.
You can lightly season it as well with some salt and pepper but honestly I don't add any

the sodium in the broth is plenty and it tastes amazing as is with just these fresh ingredients.

Cover and cook on low for 6-8 hours or until your meat is fall apart delicious.

3 ish hours on high but low is my preference really

About 10 minutes before you want to eat shred your chicken.
Add egg noodles and submerge into the liquid.
They'll cook in all the broth and become tender in this time.
Serve!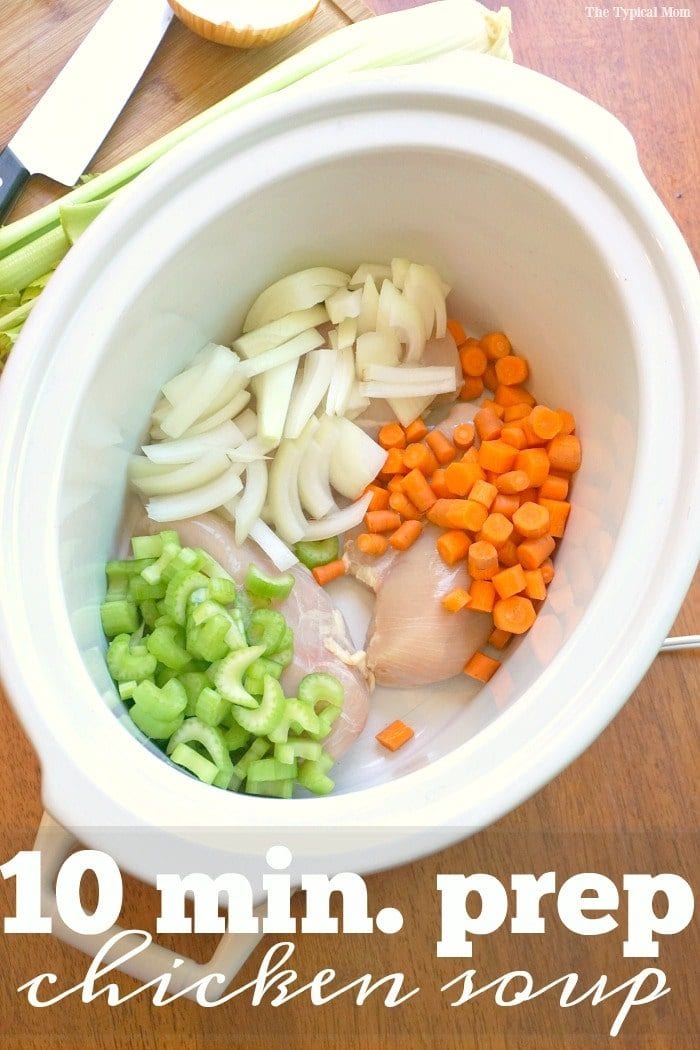 Letting your crockpot do the work for you all day is the beautiful part!
It cooks while you are away and just takes 10 minutes once you get back to gently shred the chicken inside the crockpot (it will literally fall apart after 6 hrs, no need to take it out and cut it).
Whether you're feeling under the weather, or you are looking for an easy crockpot chicken soup recipe to make we hope you enjoy ours and make it again and again!
It's basically the perfect comfort food cooked all day in your slow cooker.
Can you put frozen chicken in the crockpot?
It is entirely safe to prepare frozen chicken in a slow cooker or crockpot, you will have to increase the cook time though.
My opinion is that it is better to use fresh or defrosted meat.
There is a difference in texture to me and it isn't pleasant. You may have a different opinion.
Also the frozen meat will contain moisture itself which will increase the fluids inside your pot, thus diluting the broth flavor.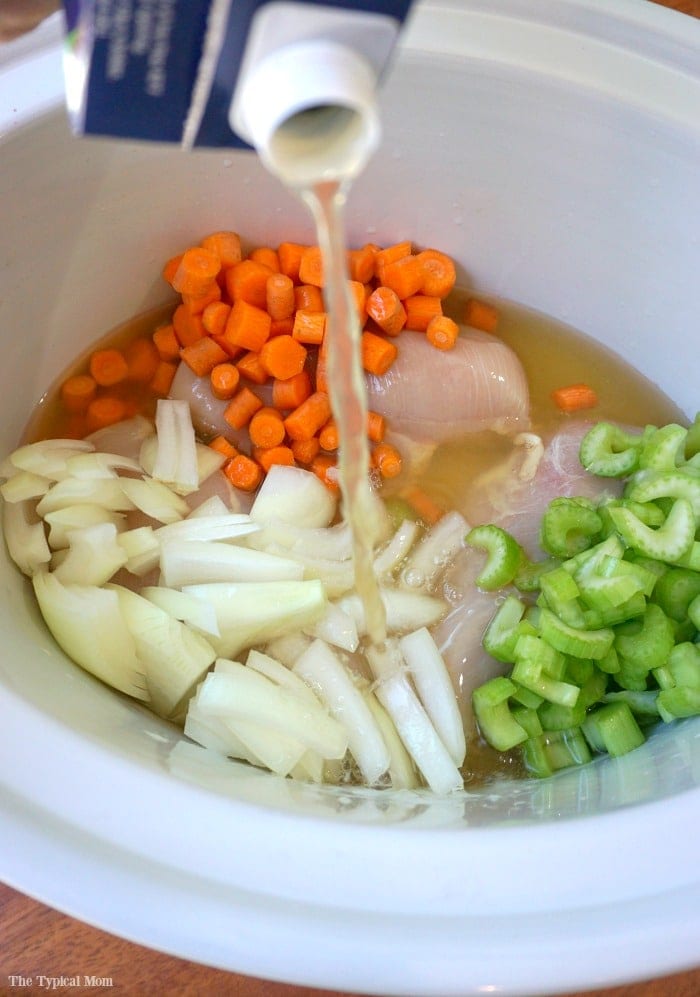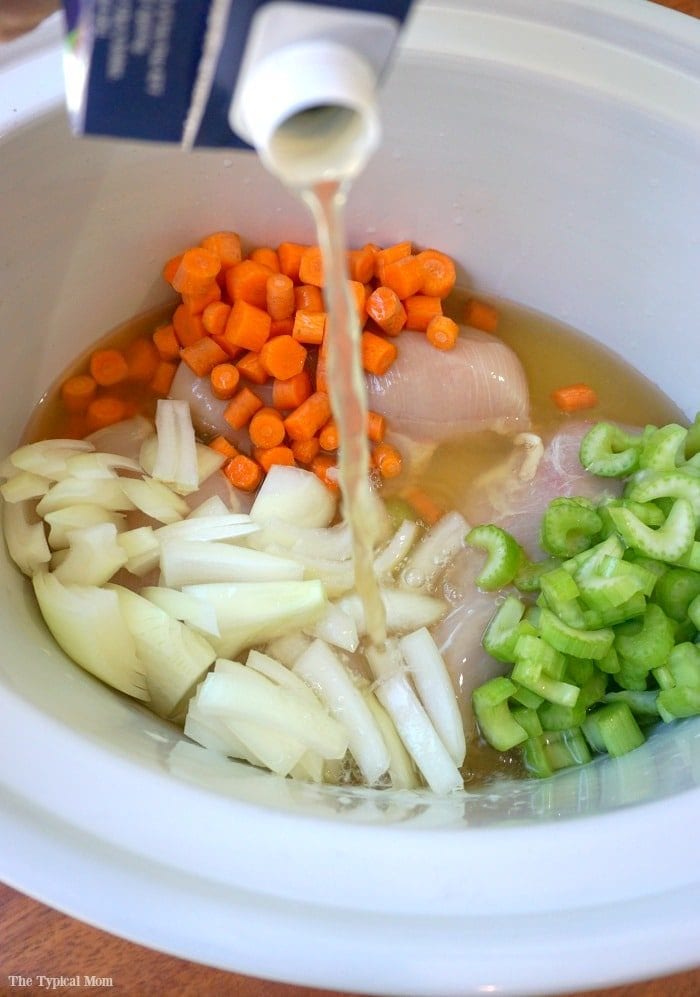 This is why I love crockpot chicken noodle soup
Uses natural ingredients

You can add tons of seasonal ingredients (load it up)
Very minimal ingredients required
It's quick, with easy steps to follow
FAST prep time
All 5 of us love it
It's super healthy and full of flavor
Here's a video showing you how we make slow cooker chicken noodle soup
** If you're in a rush we have an Instant Pot chicken noodle soup recipe as well. See the difference between Instant Pot vs slow cooker timing here.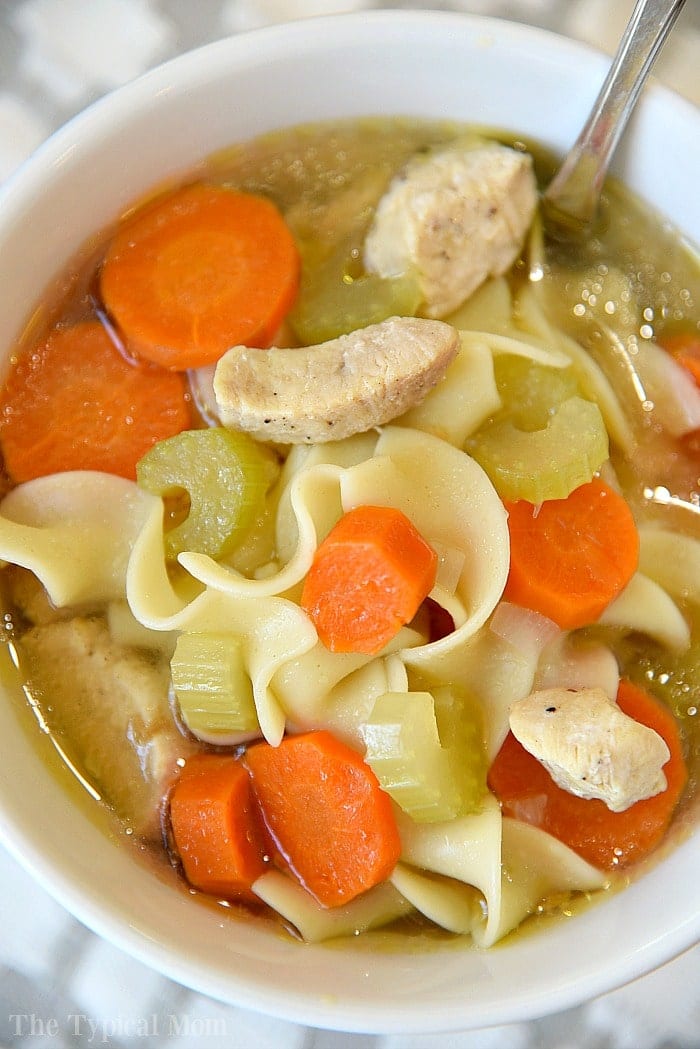 So good right??
Can you freeze homemade chicken noodle soup?
Soups that contain pasta, like chicken noodle or minestrone, won't hold up to the freezer very well. If you're cooking soup specifically to freeze just eliminate the pasta. Then when you're ready to reheat your freezer meal, boil some fresh noodles and combine them at that time.
It will come out as fresh as it was that first day you made it using this method!
How long can you keep chicken noodle soup in the freezer?
4 to 6 months is the general rule if it's been stored in an airtight container.
Properly stored, it will taste best no more than 4 to 6 months after it was initially made. It will remain safe to eat beyond that time but not taste quite as fresh. Freezer time shown is for best quality and taste, Cooked vegetable soup that has been kept constantly frozen at 0°F will keep safe indefinitely though.
What's the best container to freeze soup?
Glass Jars, bowls, or pans with plastic air tight lids are best. Mason jars and dishes are a favorite for storing food in the freezer generally. They don't stain or pit, staying in good condition for a long time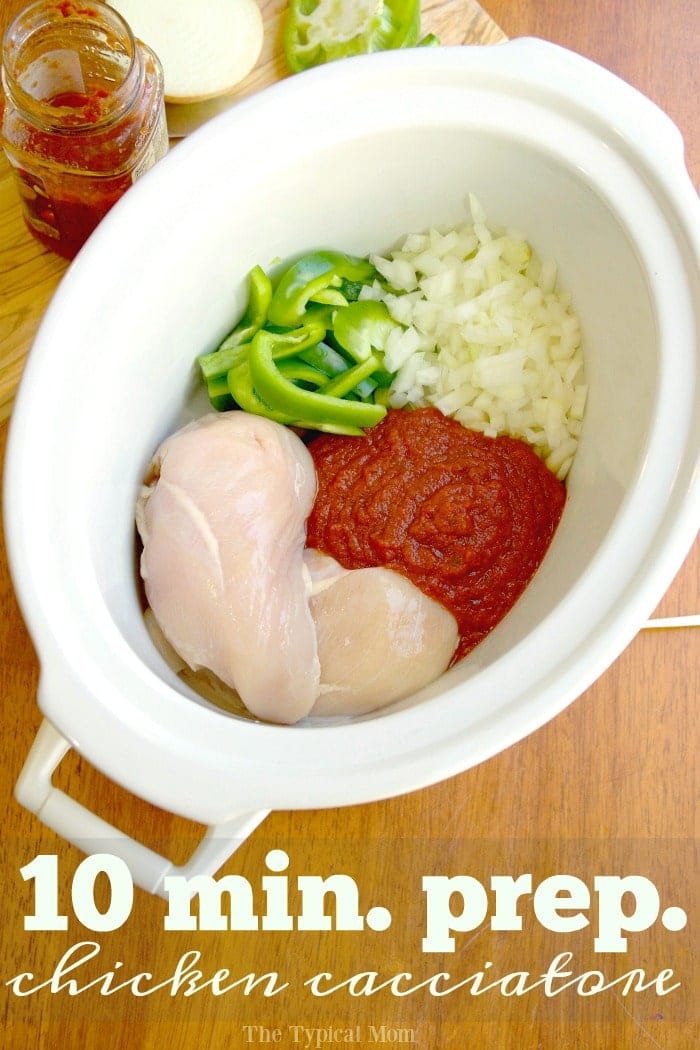 Here are a few other chicken and crockpot soup recipes too.
What goes well with chicken noodle soup?
Grilled cheese sandwich is always a winner, especially with kids.
Pull apart bread that's buttery with some garlic.
Cheese Biscuits. Dipping cheese biscuits in chicken noodle soup is a good way to add cheese flavor to the soup.
Our easy roll recipe.
Or a side salad
Yes we have cooked this on the stove top before and it is great. However the cook time is still long but a lot more work on our end. With all the things going on in our lives it is less likely to make it unless it is more hands off, thus this Crockpot chicken noodle soup recipe was created.
You can print recipe and read nutritional information below but all in all it is a really healthy meal. Let us know what you think!
Chicken Soup in the Crockpot
This chicken soup in the crockpot recipe is the best! If you're looking for a healthy and easy slow cooker soup this one takes just 10 minutes to prepare and It tastes amazing!! One of our favorite ways to make homemade chicken noodle soup. #crockpot

Ingredients
64

oz

chicken broth

or stock

3

chicken breasts

Foster Farms Simply Raised, boneless and skinless

3

carrots

sliced

3

stalks

celery

sliced

1/2

yellow onion

diced or cut into chunks

salt to taste

I usually salt after it is done to see if I want any additional

2

c

egg noodles

uncooked

3

sprigs

parsley
salt and pepper

to taste
Instructions
Put chicken breasts at bottom of crockpot.

Cut carrots, celery and onions and put on top.

Add pinch of salt and pepper if desired. (I prefer to season when it is done, the broth already has enough sodium for me)

Pour chicken broth over chicken and vegetables.

Cook on low for approx. 6-8 hours (will be done in 6).

About 10 min. before serving gently shred chicken into chunks (will fall apart, no need for cutting),add noodles and parsley if desired .

Cover and cook until noodles are cooked but still a bit al dente (that's how we like it).

I honestly don't add any salt, the salt in the stock is plenty and it tastes amazing as is. Serve.
Video
Nutrition Facts
Chicken Soup in the Crockpot
Amount Per Serving (8 oz)
Calories 181
Calories from Fat 36
% Daily Value*
Fat 4g6%
Cholesterol 41mg14%
Sodium 403mg18%
Potassium 540mg15%
Carbohydrates 18g6%
Protein 16g32%
Vitamin A 3940IU79%
Vitamin C 3.8mg5%
Calcium 27mg3%
Iron 0.9mg5%
* Percent Daily Values are based on a 2000 calorie diet.
Add something else to yours? We'd love to hear so we can amp ours up and see if we like your add ins! I like simple and just a few ingredients but maybe there is something I hadn't thought about.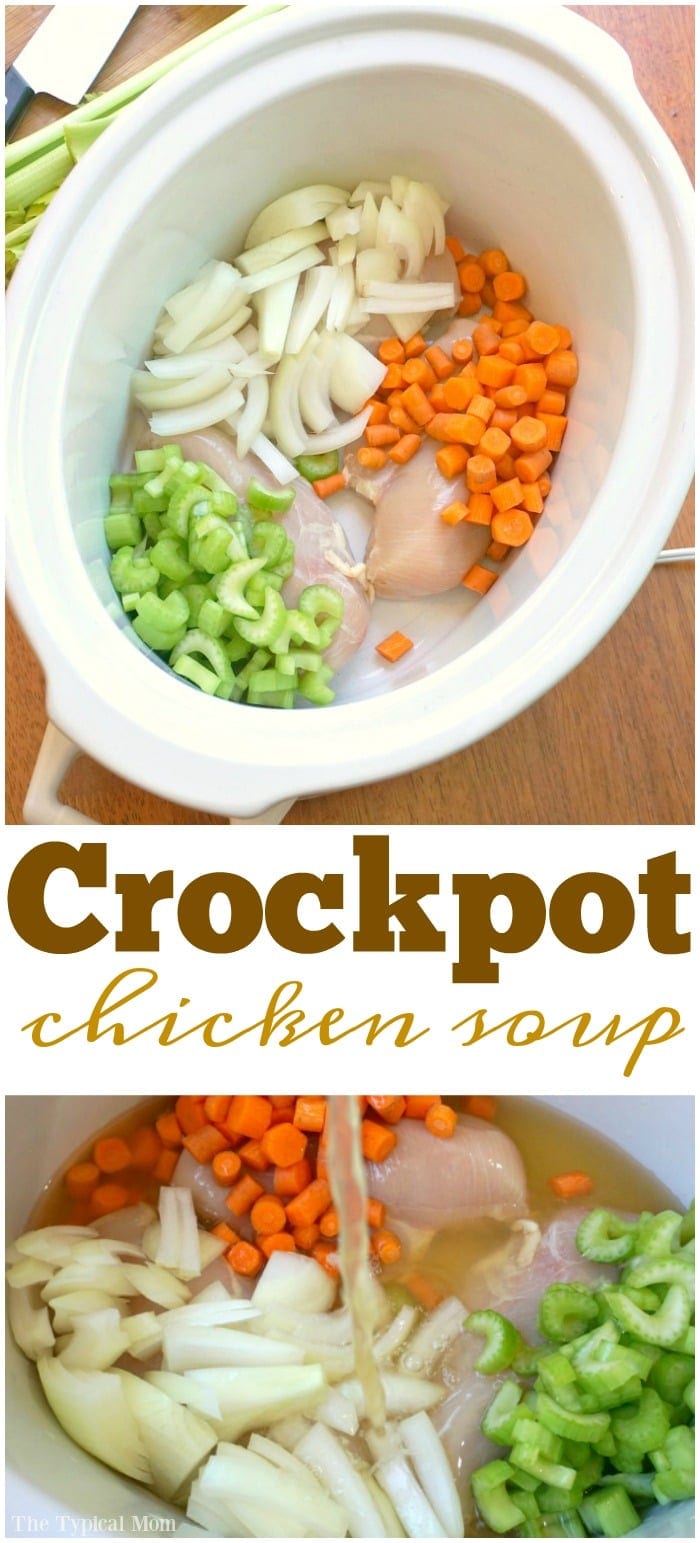 For more easy recipes, tips and free printables please LIKE The Typical Mom on Facebook and follow me on Pinterest! You can also sign up for my free weekly newsletter which is packed with goodies I know you'll love. 😉