Homemade Air fryer bread is easy to make with just 6 ingredients and very little kneading required. Perfectly fluffy white bread done in no time.
Air fryer bread is so easy to make! Baking bread is sometimes a very lengthy process, unless you have an easy air fryer recipe like this one! Of course you can make it in any brand you have and enjoy at breakfast time or with dinner. (affiliate links present, originally published 4/20)
Bread in Air Fryer
Have you tried baking in an air fryer yet? If not it is kinda' fun and opens up a world of possibilities. Great option when it is summertime and you don't want to heat up your entire house with the oven. Now this small kitchen countertop appliance can do all the same things.
We've even made air fryer cookies! I know, game changer my friend. You have got to try all the things in it and your life will surely be changed too. Nowadays I use it daily to make breakfast, lunch, dinner and dessert inside. Live in an area that is hot? Baking in an air fryer will change your life!
FIRST – You should sign up for my free newsletter so you get new posts emailed to you twice a week and never miss out on anything! If you love air fryer recipes too, here are some resources to start with: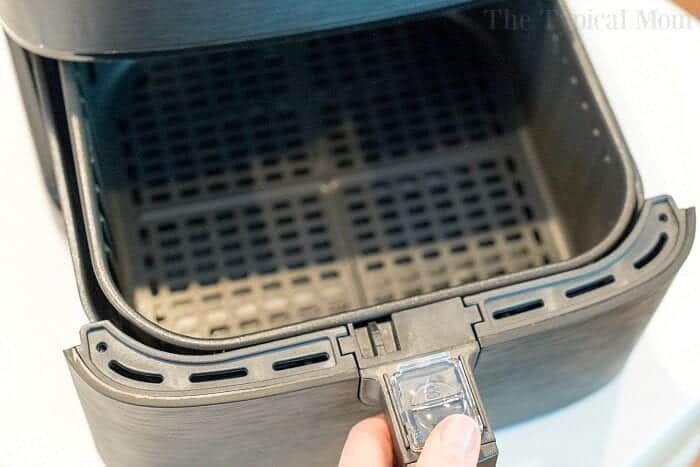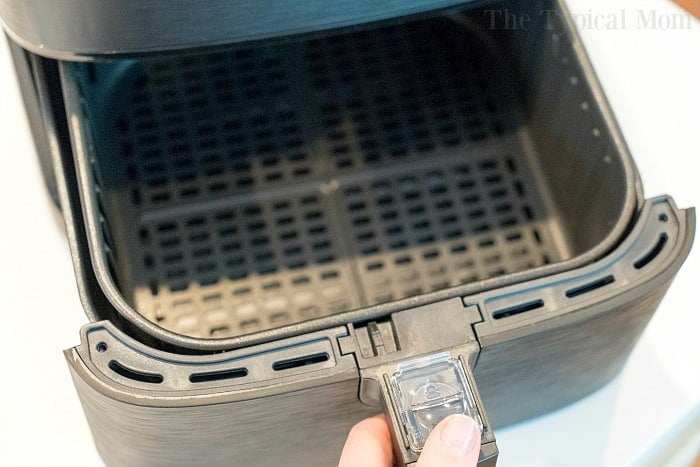 In just 20 minutes with some time to rise you too can make this homemade bread recipe with yeast we love so much.
Air Fryer Quick Bread
Let me talk about baking for a minute. I don't do it a lot when it comes to homemade. Why? Well I am typically in a hurry and usually tweak a boxed mix instead of starting from scratch.
I will say though that some things are worth taking the extra time for. I'll always still make it as easy as possible though……
First off, easy air fryer recipes really cut down on the cooking time, baking bread at home has never been easier I tell you!
You can even make things like air fryer naan too which is great with Indian food.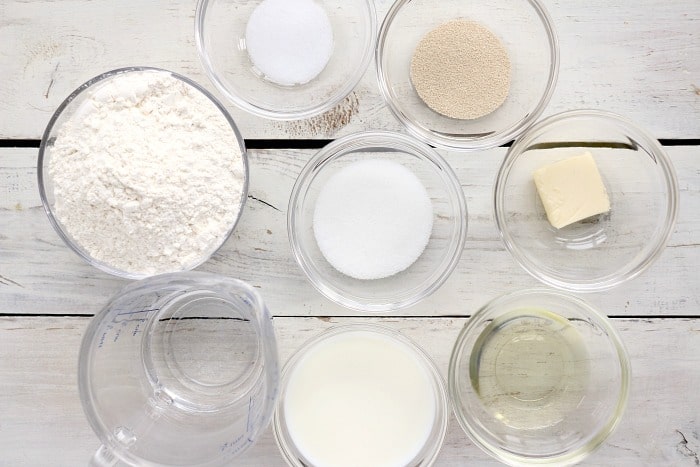 You just need a few homemade white bread ingredients to get started. You can see them here below. If you have never really baked from scratch like this before don't worry. We make everything as easy as possible on our site because yeast used to freak us out too.
For a quick idea you can follow our frozen biscuits in air fryer directions but this is so much better if you have the time. If you have prepared dough like this before it isn't much different, just maybe a smaller amount.
Air Fryer White Bread
You will need 2 mini loaf pans to make this to start with. Since all air fryer baskets are different sizes and shapes you may be able to fit both pans, or one at a time.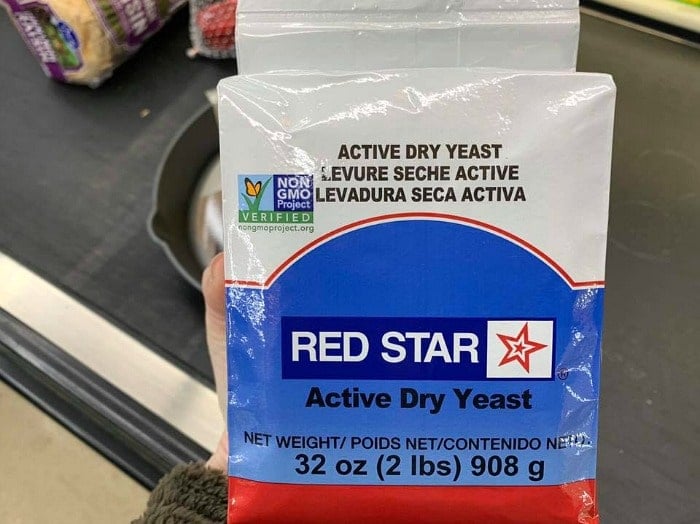 We have this electric air fryer also which has a nice large, square basket which both at the same time. If you have had troubles making all the things you want I would highly suggest this type. The smaller round versions don't fit a lot because….well most foods aren't a circle y'all.
For this all you're going to need is:
All purpose flour

make sure to measure flour properly or it won't work correctly and will be too dense

Active dry yeast is what will make this baby rise.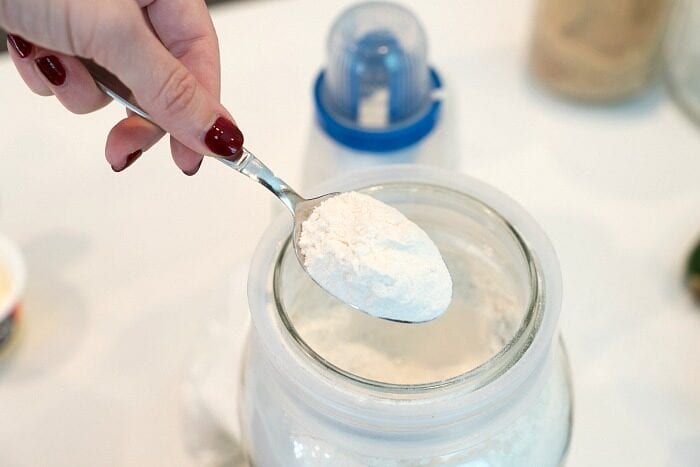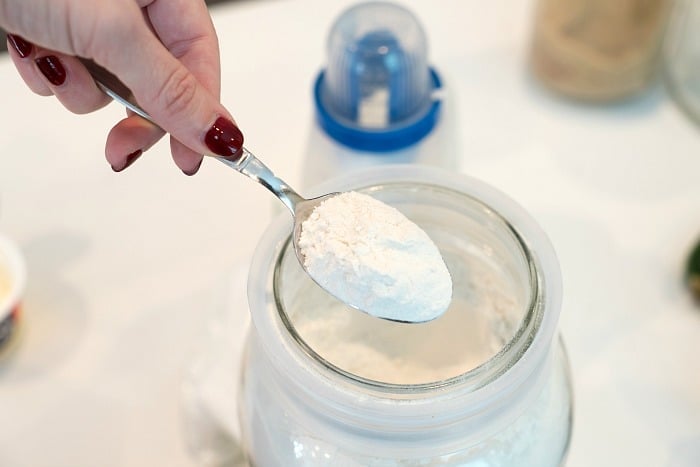 Don't freak out when you see this. I honestly used to so I was right there with you but it's okay, you don't have to do all the things that typical bread recipes require you to do.
We simplify the whole thing for you but it will still turn out fluffy and wonderful as you'd want it to be. There are a few other items here but I bet you have them at home already. Like….
Sugar is needed with your yeast
Warm water
Milk
Salt
Vegetable oil
Melted butter
As with any other homemade bread recipe you'll want to combine the warm water, yeast and sugar together until it gets bubbly!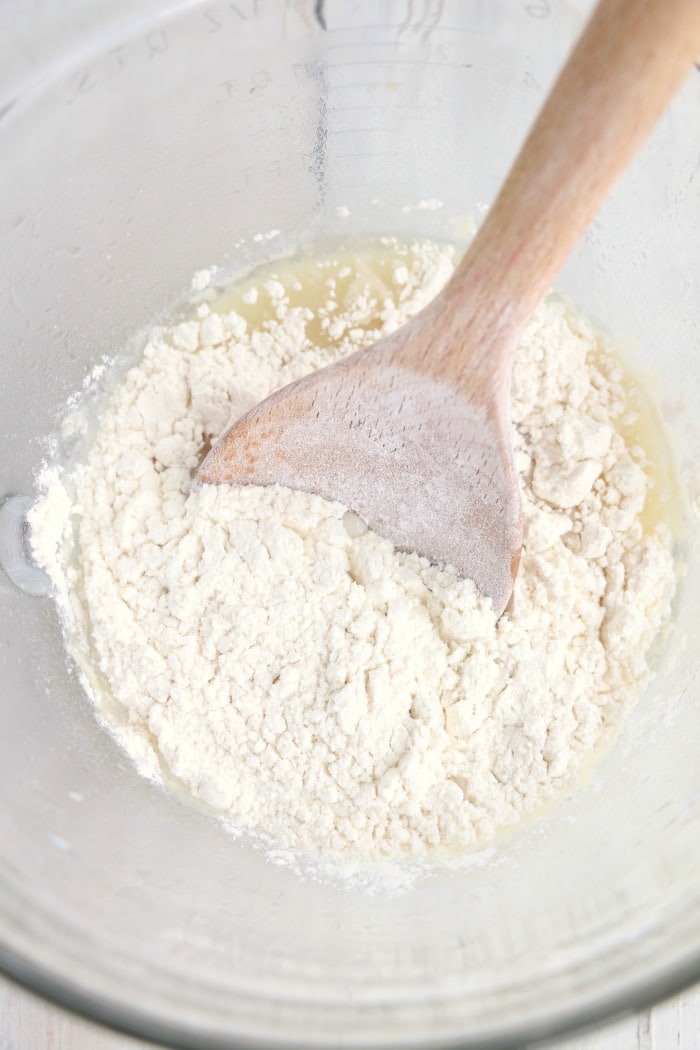 Ninja Foodi Bread
Remember that you never want to overwork or mix dough too much. If you do it will not be as fluffy as you'd like. All you need is to combine so that the powder is incorporated. Use just a bit of cooking spray inside of your pans if it already has a non stick or Teflon coating.
Adding too much can inhibit the bread from rising properly. You want it to be able to grab ahold of the sides enough to be airy inside.
Another tip is you'll want to pre heat your machine when you are…..
Baking in an air fryer
With mashed bananas, baking soda, and a few other ingredients you too can bake a quick and easy mini bundt cake too.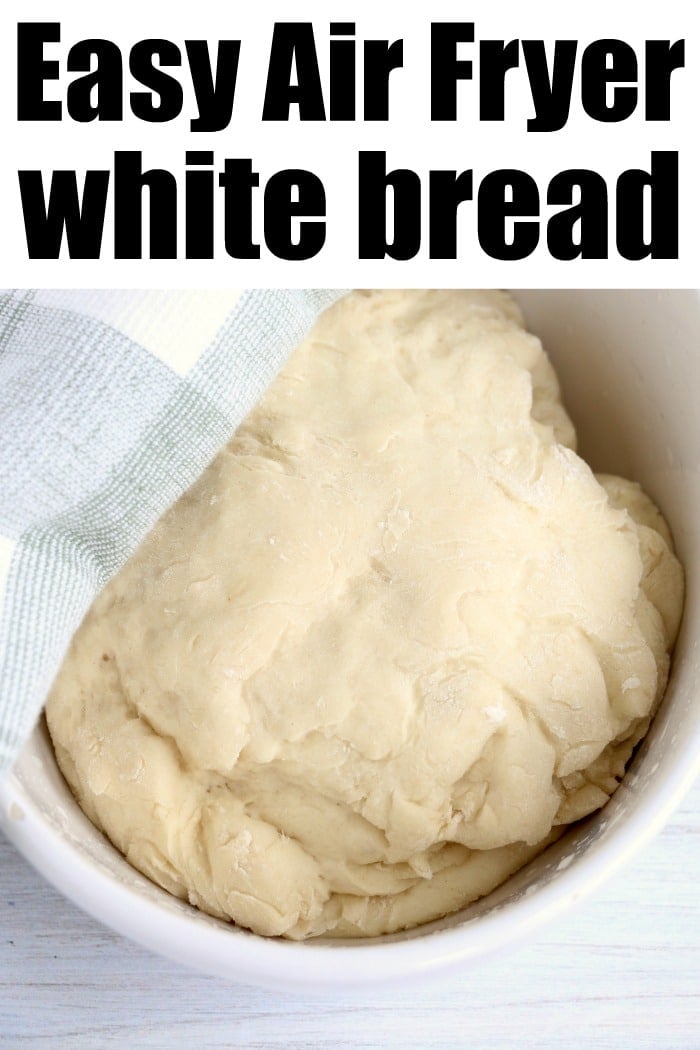 Yes you still have to allow the bread dough to rise for about an hour. This is an important step so that it becomes light and perfect. That isn't long compared to many other homemade bread recipes.
This recipe will make 2 small loaf pans full which I would say would create about 12 servings, depending on how thick your slices are of course.
Once you split your dough into two equal pieces and place it into your pans, it will need to rise again.
As soon as the dough rises just above the lip of the pans, they're about ready to bake and get golden brown on the top.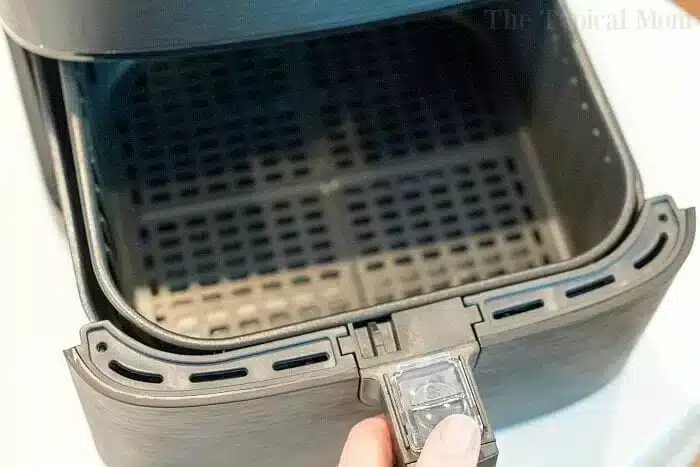 How do you know when bread is done baking?
There are two ways I have done this. Most people use a toothpick or knife in the middle to ensure it comes out clean. You can also remove the loaf and knock on the bottom. If it sounds hollow it's done!
For this I tend to just gently touch the middle with my finger. If it springs back then it is done and will be nice and fluffy.
If it stays down when touched then it needs a few more minutes, then check it again. You don't want it to to get dried out or too browned on the top or bottom, that won't be tasty.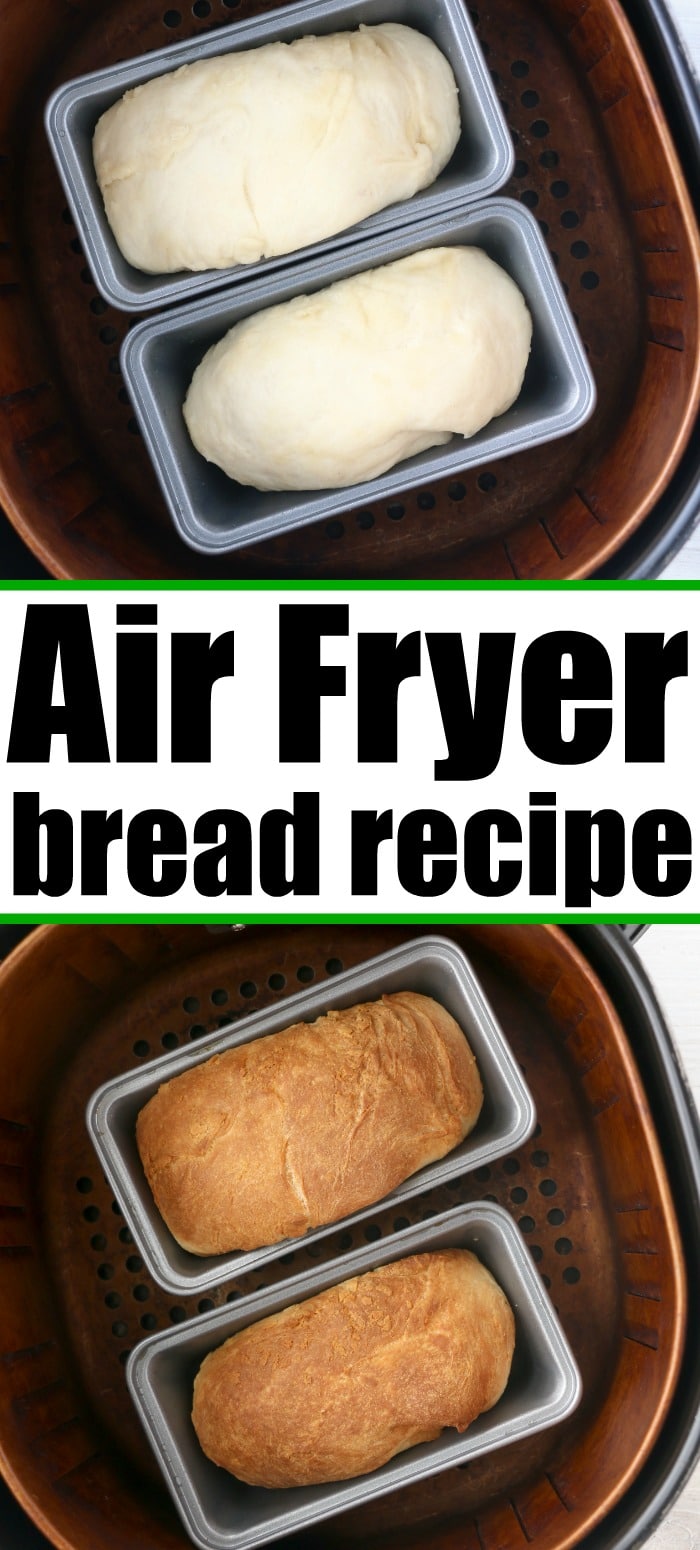 How long should bread rest after baking?
It's important to allow bread to cool all the way, barely warm. It will continue to cook in the pans as it cools which is a necessary step for perfection.
Rolls will take only about 20 minutes. Bread in loaf pans can take as long as 1 hour. Since these are smaller versions it is closer to 35 minutes or so.
Another reason to allow loaves to cool is that they will slice a lot cleaner if they're not fresh out of the oven (or air fryer in this case).
If you try to do it right away you will find that it will rip apart and you'll be disappointed. Just give it a bit of time on a cooling rack to reach perfection, it will be worth it!
A bit of patience is key here. If you rush it y'all you won't get the optimal end result and your time will have been wasted. Just set aside enough of your day to do it right the first go around.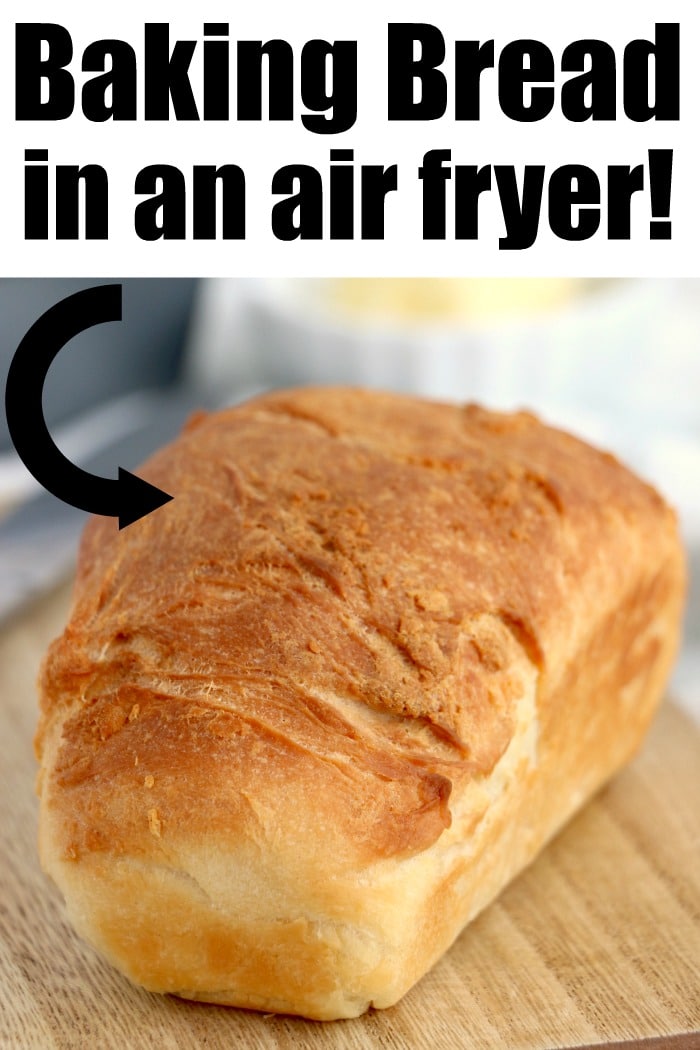 Looking for another easy bread recipe to try?
You can make air fryer croutons with your leftovers. OR make air fryer pumpkin bread and/or bundt air fryer cornbread with dinner.
Both are terrific side dishes you can make in little to no time in your "magic machine". Pretty soon you will too become a pro with your machine and your oven will get totally jealous too.
I hardly ever use mine anymore, it's even wonderful for cooking in an RV too if you love to travel. It is all you need to make breakfast, lunch, dinner and desserts.
If you want it a bit easier though, you can use frozen rolls and make this amazing pull apart air fryer garlic bread recipe or air fryer biscuits. It goes with everything and comes out just like homemade.
This bread in a bag activity is fun and a really yummy way to make homemade honey wheat bread. Mine were all about this and it got them into wanting to be in the kitchen more and more. When they can say "I made that" they are more likely to try new things and want to eat fewer processed foods.
Try our surprise cake for something sweet tonight. This is a fun thing to do with your kids. Make any shape and color you like!
Printable recipe is below complete with nutritional information such as saturated fat amounts etc.
Want to see a few of my favorite things that I am totally obsessed with?? Take a peek and see how many you might already have…twinsies!
Looking for more easy family recipes and tips? LIKE The Typical Mom Facebook page?
Then sign up for my free newsletter, and follow me on Pinterest! 😉
***** If you LOVED this recipe give it 5 Stars below and let everyone know what you thought about it. 😉
Air Fryer Bread
Homemade Air fryer bread is easy to make with just 6 ingredients and very little kneading required. Perfectly fluffy white bread done in no time.
Instructions
In a medium mixing bowl whisk warm water, sugar, and yeast together. Allow to sit for 5-10 minutes or until it appears bubbly and foamy.

Add milk and whisk again. Add salt and vegetable oil. Whisk again. Add flour 1/2 cup at a time, combining well until it forms a ball.

Continue kneading dough on a floured surface for about 5 minutes. Place the dough in an oiled bowl, rolling it to cover all sides in oil.

Cover bowl with a thick kitchen towel and allow the dough to rise for about an hour. This time will depend on the temperate and humidity level of your kitchen. When it doubles in size, punch it down and knead it for 1 minute.

Split dough in half and form each piece into a loaf shape. Put dough in oiled mini loaf pans. Cover with a kitchen towel and allow the dough to rise (about 30 minutes) again until it is about an inch above the pan.

Brush each loaf with melted butter. Place pans in your air fryer basket. Air fry at 330 degrees for 12 minutes.
Nutrition Facts
Air Fryer Bread
Amount Per Serving (2 oz)
Calories 101
Calories from Fat 27
% Daily Value*
Fat 3g5%
Cholesterol 4mg1%
Sodium 130mg6%
Potassium 28mg1%
Carbohydrates 16g5%
Protein 2g4%
Vitamin A 45IU1%
Calcium 10mg1%
Iron 1mg6%
* Percent Daily Values are based on a 2000 calorie diet.