3 ingredient homemade air fryer tortillas require no yeast and take only about 20 minutes from start to finish. Great for soft tacos or quesadillas.
We made air fryer tortillas the other night and wow were they good! Served with dinner they were a great no yeast bread alternative. Try them and let us know what you think of our newest easy air fryer recipe. (affiliate links present)
We recently made this easy homemade flour tortilla recipe and they were great!
You need NO yeast but it gives you that bread flavor you might be craving right now.
They're great for tacos or just a side dish with a main protein.
You can use your Ninja Foodi or any other brand of hot air fryer machine. This is the electric air fryer seen in this post here. Either one works great.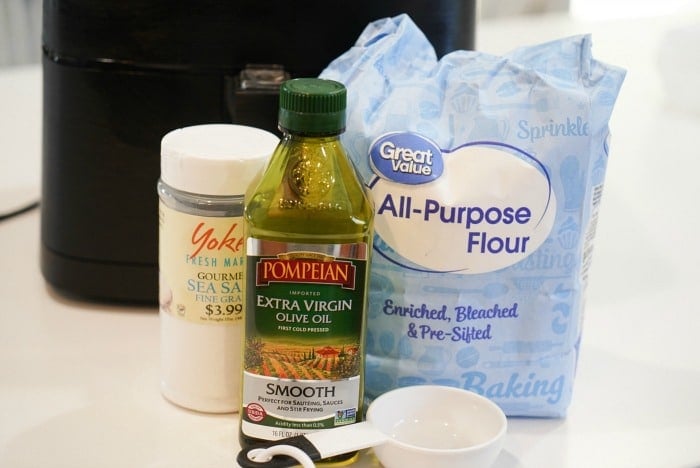 Homemade tortillas
Olive oil
Salt
Water
We added a few extras

garlic powder
oregano
It really is the simplest 3 ingredient bread of sorts that even kids can make. Whether you cook them on the stovetop or in your fancy hot air kitchen appliance, they taste amazing.
I personally like lots of flavor so instead of making plain flour tortillas I jazzed them up with some seasonings.
Yes you can go all out and bake bread at home, but sometimes you don't have a few hours on hand to do that. THIS will only take about 20 minutes total from start to finish.
Making bread in a bag is fun too but still takes time, no yeast bread is quicker.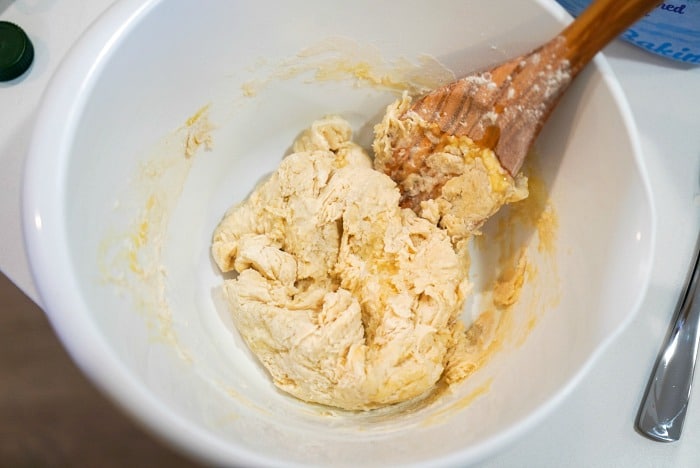 First you're going to make a batch of tortilla dough. Just mix until the flour is incorporated well which doesn't take long.
Now transfer it to a cutting board that has been lightly coated with flour to avoid sticking.
Knead the dough about 15 times using the palms of your hands.
Then allow the dough to sit and rest for a good 10 – 15 minutes and reach room temperature.
Then shape it into a ball and flatten slightly so it's all the same thickness across. This is important so when you cut it each piece is of equal size.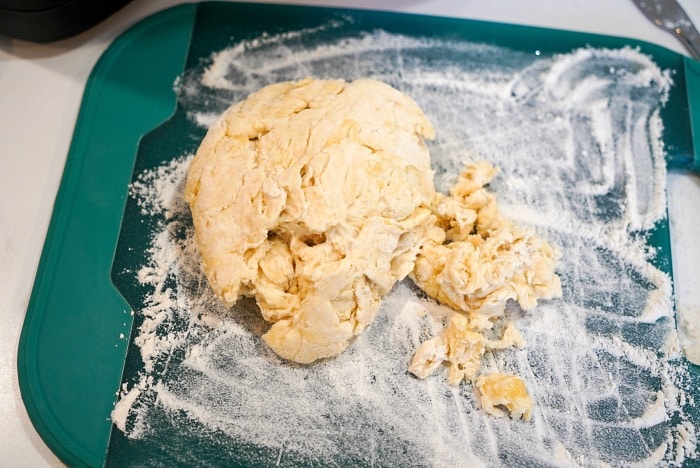 Now it is time to divide it up. Spray your pizza cutter with just a spritz of cooking spray and slice into 4 or 6 equal pieces. We did 4 this time so they'd be larger. Take note that my kids were helping with this and wanted to just flatten the dough vs. using a rolling pin to make them thin.
Once you have your pieces you'll want to flatten them.
You can just use your palms to make them thin (but some areas will remain thicker).
Or to make traditionally thin tortillas, put piece in between 2 pieces of wax paper or parchment paper.

Then use a rolling pin to make it nice and thin and even.

If you want to sprinkle with some seasonings and/or herbs do so now to both sides. Use fingers to pat down gently so everything sticks.
At this time you'll want to preheat your air fryer to 380 degrees for 5 minutes.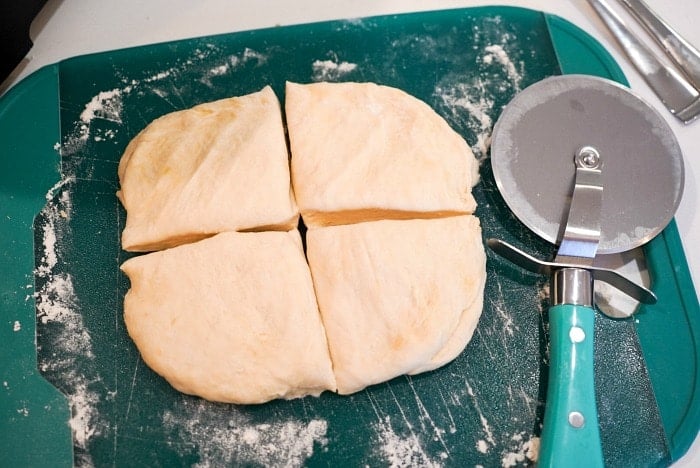 Lay one flattened piece of dough into your air fryer basket that has been sprayed a bit with non stick spray. They must be in a single layer or they'll stick and won't cook evenly, so usually only 1 will fit.
Close and cook for about 4 minutes total, flipping it halfway.

Cooking time will vary slightly depending on how thin they are, and how golden brown you want the outsides to become.

Remove when done and place on a wire rack to cool. Then do another batch.
Alternatively if you wanted to make air fried tortilla chips you could do so with ready made flour or corn tortillas.
The question of can you put tortillas in an air fryer is a definitive yes. I would just use store bought for tortilla chips in the air fryer honestly. It's way easier.
Just cut them into triangles. Each one should create 9 triangles. Place them into your air fryer basket and spray with non stick cooking spray. Cook for about 3 minutes at 400 degrees or until they're crispy and crunchy.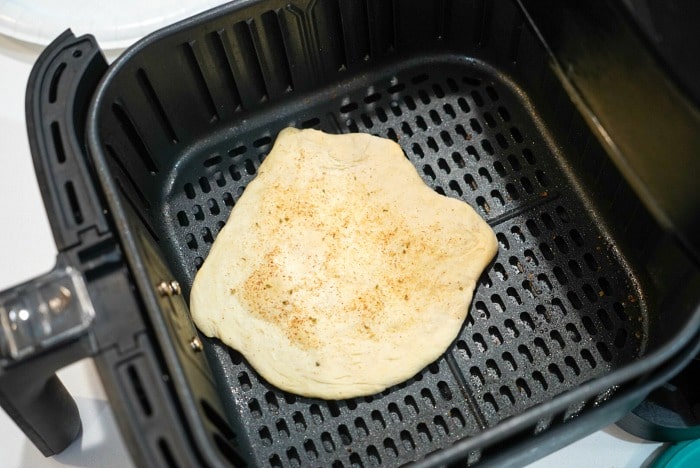 That is just if you want homemade tortilla chips. We wanted something for taco Tuesday. 😉 Tortillas with cooking them in this method is really simple. It is something even my teens can do.
When they're done you can smear butter on top and sprinkle some cinnamon and sugar on there too. Roll it up for a sweet treat we call tortilla mantequilla. Try out other few ingredient recipes as well as:
Then try our no yeast easy Irish soda bread recipe next!
After this try our air fryer pigs in a blanket, and sign up for our free newsletter!
Air Fryer Tortillas
3 ingredient homemade air fryer tortillas require no yeast and take only about 20 minutes from start to finish. Great for soft tacos or quesadillas.
Instructions
Mix together your flour and salt, then add your water and olive oil and stir until well incorporated.

Transfer it to a cutting board that is lightly floured.

Knead about 15 times using the palms of your hands, folding it in half every time. Add a bit of flour to board if it is too sticky.

Allow dough to rest for 10-15 minutes.

Then cut into 4-6 equal pieces and shape each one into a ball.

Use palms to flatten as much as possible. If you want traditionally thinner tortillas put flattened piece in between 2 pieces of wax or parchment paper and use a rolling pin to flatten into a thin circle (without it being so thin it gets holes in it).

Preheat air fryer to 380 degrees for 5 minutes.

If you want seasonings add them to both sides of tortilla now, pat gently with hand so they stick.

Spray inside of air fryer basket with non stick spray and put in 1-2 at a time without them overlapping.

Cook 2 minutes, flip, then another 2 minutes or until they're as browned as you'd like them.
Nutrition Facts
Air Fryer Tortillas
Amount Per Serving (1 oz)
Calories 214
Calories from Fat 63
% Daily Value*
Fat 7g11%
Sodium 390mg17%
Potassium 45mg1%
Carbohydrates 32g11%
Protein 4g8%
Calcium 9mg1%
Iron 2mg11%
* Percent Daily Values are based on a 2000 calorie diet.