Homemade taco shells in air fryer or Ninja Foodi are easy! Then brown ground beef or cook shrimp inside the basket to make the best air fryer tacos for dinner.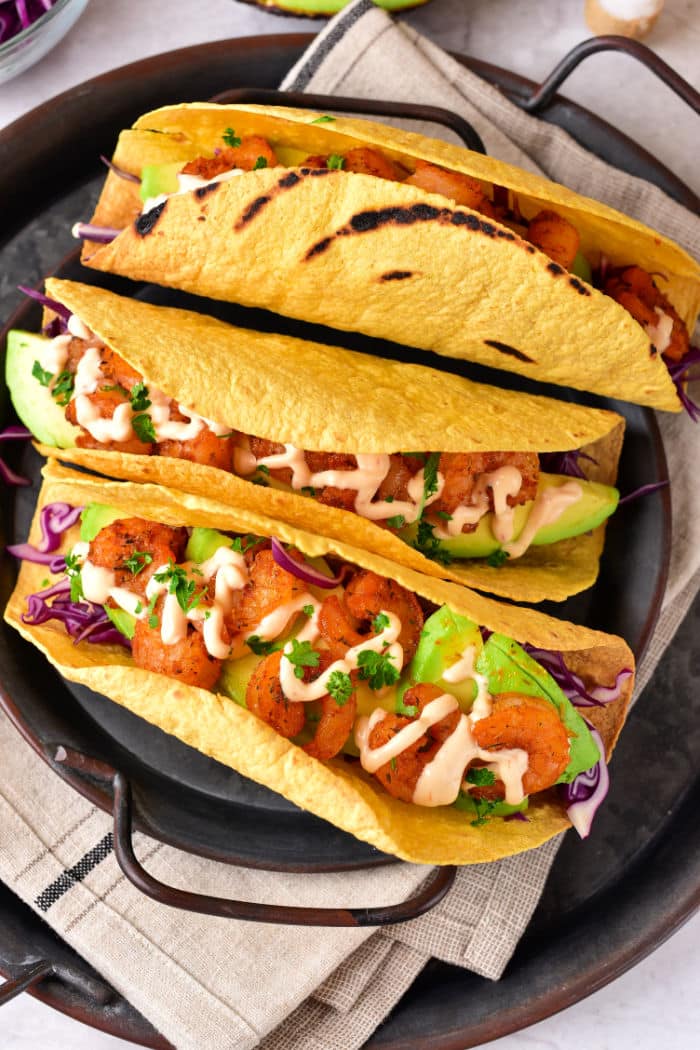 I have got to show you how to make taco shells in air fryer! If you like to cook from scratch this couldn't be easier. You can fill them with all sorts of things for dinner and kids just love them. Just one of our easy air fryer recipe for beginners even my teens can make. (affiliate links present, originally published 8/22)
Air Fryer Taco Shells
You literally just need small corn tortillas to make these. Hot air does all the work for you inside the forms. If you want homemade tostadas this will work too, just leave them flat inside the basket. Rolled up with meat inside you can crisp them into taquitos. The possibilities are endless.
If you're looking for a few of the best air fryer Mexican recipes, this one tops the list. New to this way? Don't worry, we will walk you thru it step by step.
FIRST – You should sign up for my free newsletter so you get new posts emailed to you twice a week and never miss out on anything! If you love air fryer recipes too, here are some resources to start with: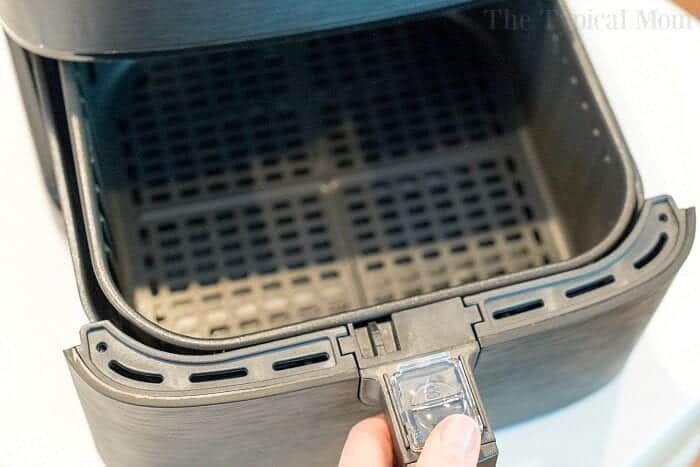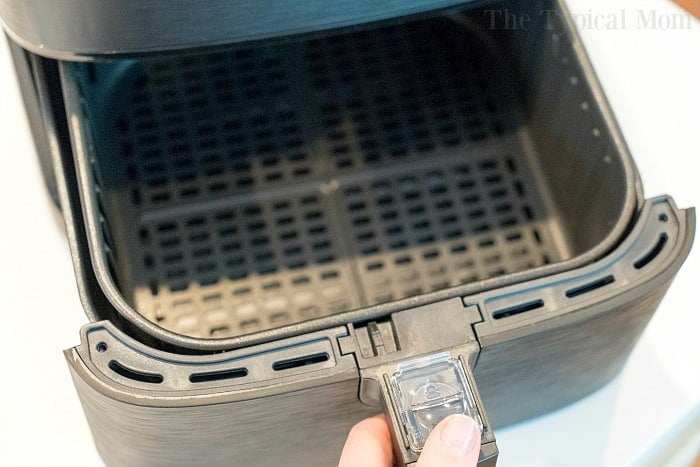 Ninja Foodi Taco Shells
It doesn't matter what brand you might have at home. With the Ninja Foodi air fryer you would use the air crisp setting for these. You can make your own flour versions of these and make air fryer tortillas yourself too. Those are great for soft tacos. Cut these corn versions into smaller pieces to make homemade chips too.
2-4 small corn or flour tortillas
That is all you need. There really isn't a need for cooking spray unless you wanted them really crispy fast. If you wanted to make tostadas you wouldn't need the racks. For taco salad bowls you'd need to use a bowl turned upside down to shape it.
How do you fry tortillas in air fryer?
If you want air fryer tortilla chips you'd cut them as desired and air fry for 4 or 5 minutes until hardened and golden brown. If you want to make taco shells you'd place into holder for about the same amount of time.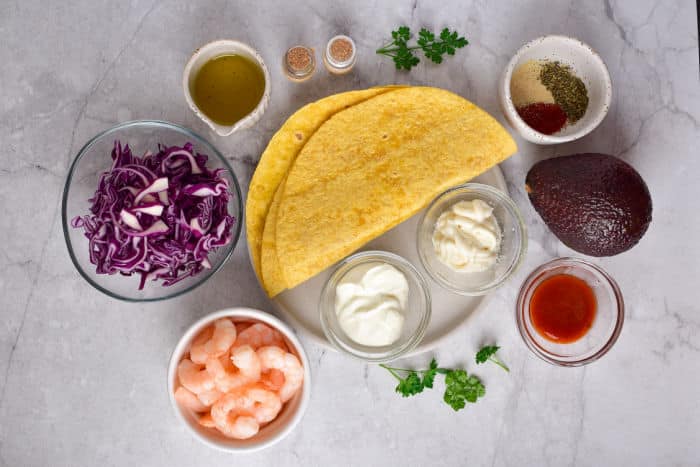 Homemade Taco Shells
What if you don't want to buy any other accessories? You could use aluminum foil wadded up into a wide piece to form these too. You just need to keep the two sides open enough to stuff the meat and cabbage inside. Just lay it in the basket on it's side with the foil "bar" in the middle to shape.
Cheese Taco Shells in Air Fryer
If you wanted keto shells instead you could do that. You will need a piece of parchment paper for this one. Shred about 2 cups of cheddar cheese and preheat machine to 380 F for 5 minutes.
Place parchment paper inside basket
Spread about 1/2 cup of cheese on to the paper and spread out so it's in a circular shape without a lot of bare spots in between.
Air fry for about 1-2 minutes or until it is melted and lightly brown
Remove basket and allow to cool about 1 minute or enough where it is slightly hardening but soft enough to bend into shape
Bend into a taco shape and hold until it hardens or set a piece of foil in the middle until it's hard.
It is best to do these one at a time. Just leave on the parchment as each cools and place another piece in with your next shell. This is how to make shrimp tacos after you have these made.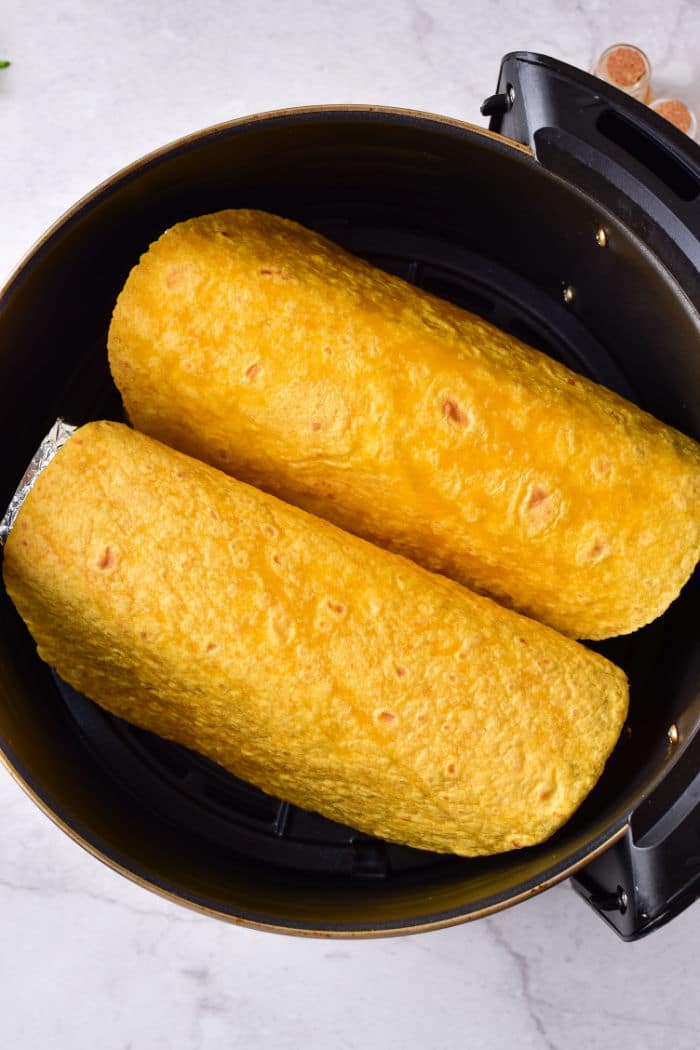 How to Make Taco Shells From Wraps
Now you can do this another way. If you already have the meat you want to fill these with already cooked you can fill, fold tortilla over and set into your machine that way. As it heats the shell will get hard and reheat the ingredients inside at the same time. The shell will somewhat curl around and hold everything in this way.
These are great if you want to make shrimp tacos. You can pull these out and then cook air fryer shrimp no breading next. Drizzle cilantro lime sauce for fish tacos over the top for added YUM. I have other options too using just this machine like
If you want to wrap it all up tight and crisp the outside like a chimichanga, follow these directions instead.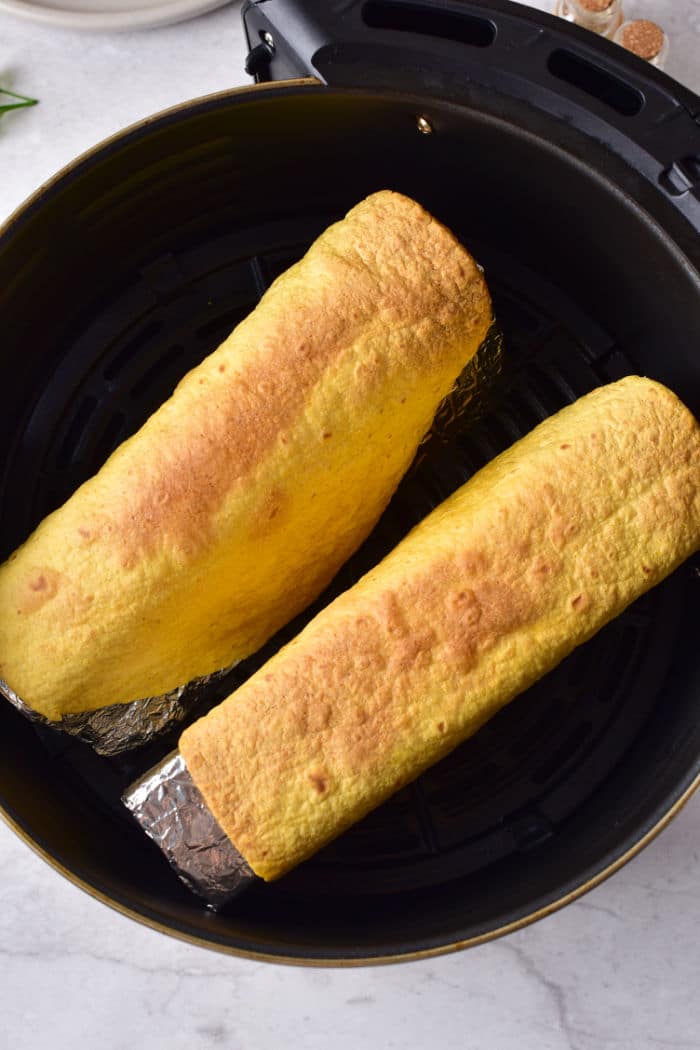 Hard Shell Tacos
Ready for an awesome taco Tuesday this week? Skip the store bought package that always has at least one broken inside and make homemade air fryer shells this way. You will taste and feel the difference. It only takes a few extra minutes to make so well worth it to eat from scratch.
Always start by preheating your air fryer. Set to 320 degrees F for 5 minutes.
Place flour or corn tortillas inside the taco molds and set inside air fryer basket.
Air fry for about 5-6 minutes or until they are as crispy as you'd like.
You can jump to recipe and print recipe below and get started. Let us know what your favorite fillings are!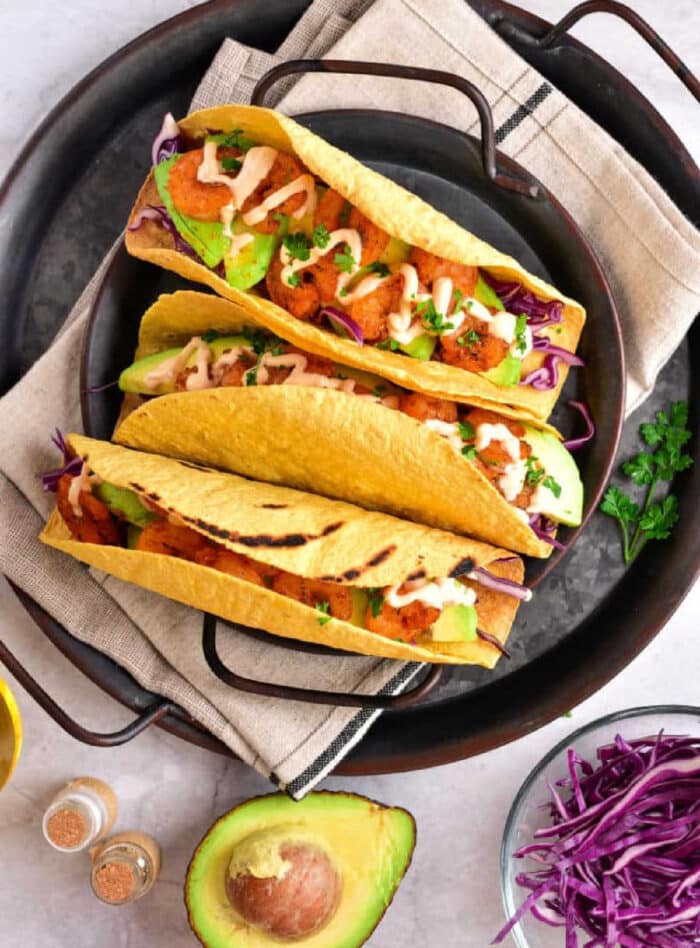 If you made too many but hate to throw them away, no problem. Just remember that air is the enemy when it comes to keeping them crispy and fresh. Think of them as tortilla chips. You want to suck as much air out of the bag you place them in or they'll start to get stale fast.
You can reuse as is with filling the next day or break into pieces and use as chips with dip as a snack later on. I hate wasting any food so if you're like me you'll appreciate this tip. I like small freezer bags personally because they are a lot thicker than sandwich bags and things stay fresh longer to me.
Want to see a few of my favorite things that I am totally obsessed with?? Take a peek and see how many you might already have…twinsies!
Looking for more easy family recipes and tips? LIKE The Typical Mom Facebook page?
Then sign up for my free newsletter, and follow me on Pinterest! 😉
***** If you LOVED this recipe give it 5 Stars below and let everyone know what you thought about it. 😉
Taco Shells in Air Fryer
Homemade taco shells in air fryer or Ninja Foodi are easy! Then brown ground beef or air fry shrimp to make air fryer tacos for dinner.
Ingredients
Instructions
Preheat air fryer to 320 degrees F for 5 minutes. Secure corn tortilla inside the taco mold and set inside. Air fry for 5-6 minutes or until they are as crispy as you'd like.
Nutrition Facts
Taco Shells in Air Fryer
Amount Per Serving (1 oz)
Calories 57
Calories from Fat 9
% Daily Value*
Fat 1g2%
Sodium 12mg1%
Potassium 48mg1%
Carbohydrates 12g4%
Protein 1g2%
Vitamin A 1IU0%
Calcium 21mg2%
Iron 0.3mg2%
* Percent Daily Values are based on a 2000 calorie diet.