Homemade air fryer chimichanga burrito recipe is here! Use chicken or beef to stuff it full and "fry" to get a crispy outside for dinner.
We made air fryer flautas the other day, which are kinda' like mini fried burritos and those were great. It was time to make the big daddies though this time with chicken instead of ground beef.
If you want that really deep fried crunch just use some olive oil spray and you'll never miss submerging it on oil ever again.
Air Fryer Burrito
This is kinda' a two for one. If you like you could make burritos with little to no oil sprayed on at the end, or lay it on heavy.
The difference is just how crispy crunchy you want the tortilla. Yes typically these are really done on the outside, I prefer a bit less. The beauty of this is you can make it JUST like you like it.
You can also make them as big or small as you want. Of course you need room to house all the goodies inside but using regular size they could be palm sized, large would make them more of a traditional burrito size.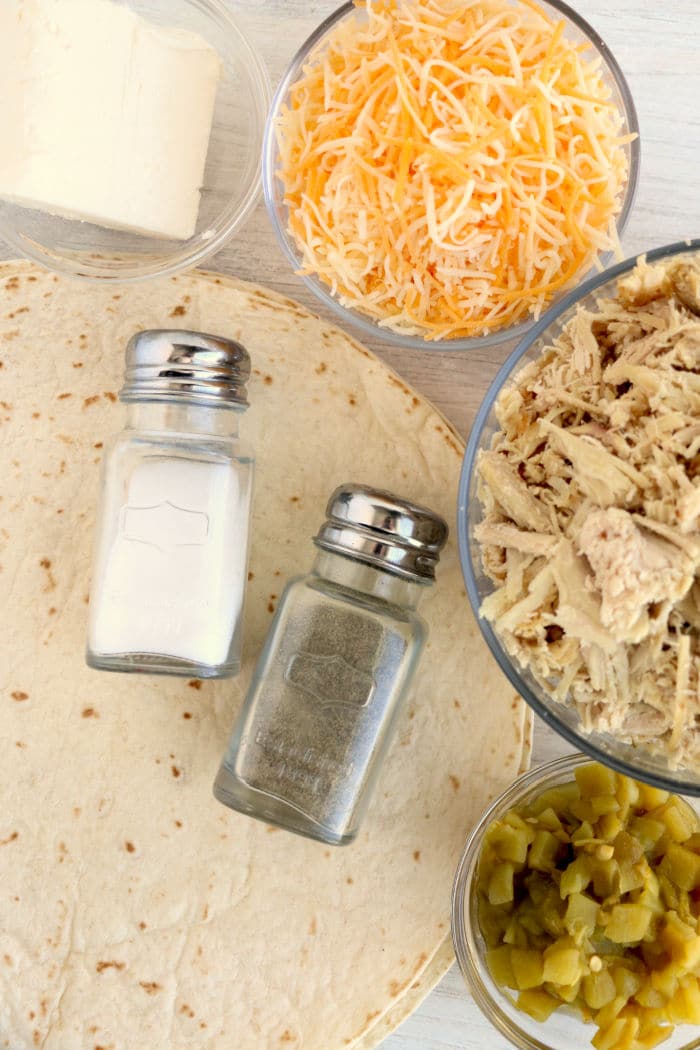 Chimichanga Air Fryer
This was what was used for this round. Of course you could use leftover pulled pork as an alternative meat, or shredded beef is fabulous too.
Large tortillas
Cheese
Precooked shredded chicken
Cream cheese
Diced chiles
Salt and pepper
Olive oil cooking spray to really crisp the outsides up
Then it's just a matter of mixing the ingredients together, spooning it inside, wrapping them up and air frying. You could alternatively stuff it with ground beef cooked with taco seasoning like Mexican restaurants offer.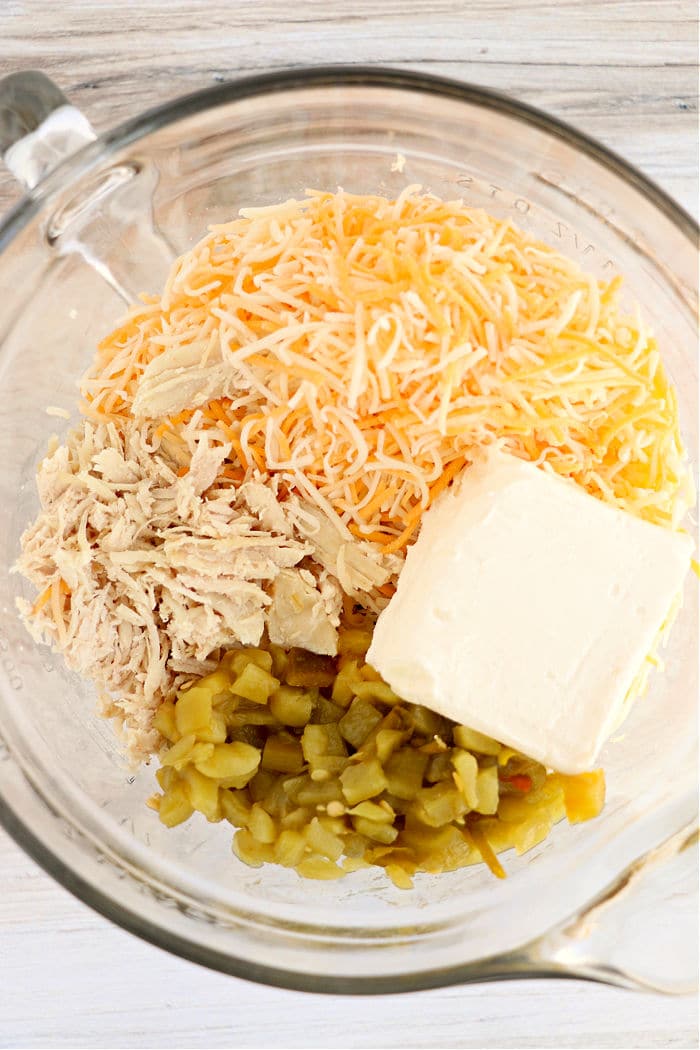 How do you wrap a chimichanga?
Get out a work surface like a cutting board and lay down a tortilla, fill in the middle. Then fold one end up and over, followed by 2 sides, and final end so it is tightly holding your chicken mixture inside.
There's not a real need for a toothpick to hold it together. If you just put the folded end facing down so it doesn't unravel during the first round of cooking it will stick when you want to turn it over.
I mean you really don't have to flip them over if you don't want to, it will work as is for the entire cook time.
This is the easiest way to secure the filling and keep it from oozing out…..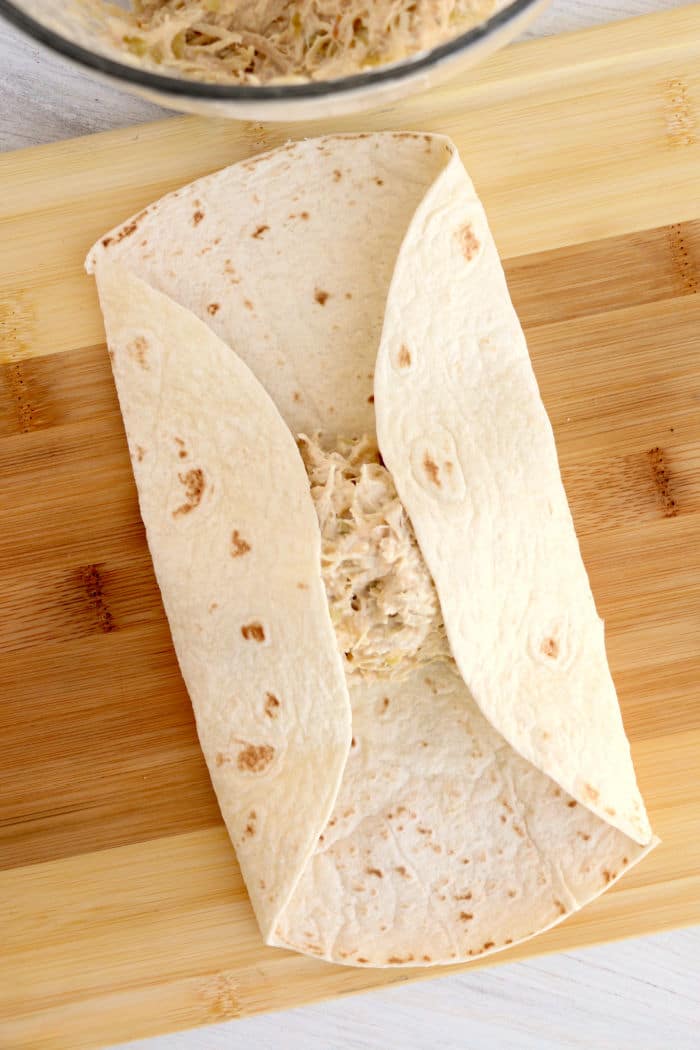 What is the difference between a burrito and a chimichanga?
The latter is typically deep fried in hot oil where as the other isn't usually cooked on the outside at all. This is a great way to make either one. I mean other than that they're basically the same and can use the same ingredients.
You may find refried beans inside burritos more often than the other, whereas most of the time their counterpart is more heavily meat based.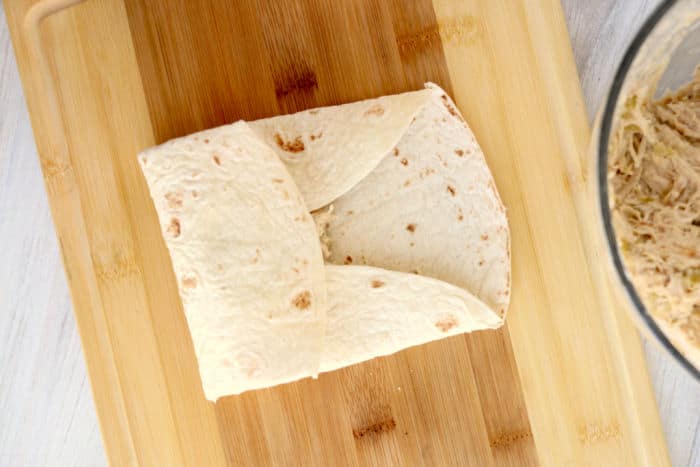 Burrito Air Fryer
How long do you cook burritos in air fryer?
There will be a slight variance in total cook times depending on how large each one is. So long as the insides are precooked you are merely warming that up. The outside isn't raw either so that just needs crisping.
Timing varies from 8-10 minutes for defrosted and/or homemade as you see here. Frozen is another thing and will take longer, similar to making frozen egg rolls in air fryer.
How long do you air fry frozen chimichangas?
These are closer to 18-20 minutes flipping halfway through that time. When we make a frozen burrito in air fryer I also like to leave it inside the closed basket for 5 minutes once it's done. That will ensure the inside is hot.
Depending on how large your air fryer basket is you'll probably be able to fit 2 in at a time. We have a 5 qt. which is great, I wouldn't need anything larger. A 3 quart will have it's issues as far as sizing goes, I wouldn't recommend that size.
When speaking about my preferences I will say that the Ninja Foodi and Cosori are my favorites. The latter has a nice large basket that is square, I mean how many foods are actually round like other brands??
Here is a quick step by step but there is also a printable recipe card at the bottom of this post.
Then of course you can top it with all the things when you serve these up with sour cream and all the things…..
What goes good with chimichangas?
My favorite is guacamole
Followed by chunky salsa
Diced tomatoes and lettuce brings some freshness to the dish
You could pour one of these sauces over the top to make it taste more like a deep fried burrito that is wet as they call it.
Create a Cinco de Mayo bar for the holidays with all the works spread out so people can dress their own creation.
How do you reheat leftover chimichangas?
Well in the air fryer of course! This will bring back the crispiness. For best results though I'd keep the leftover filling and tortillas separate and prepare again the next day so they aren't soggy inside at all. Best. Ever.
We have more super easy air fryer chicken recipes here to choose from too. If you're forgetful you might need to start with how to make air fryer chicken breasts. Then make these from there.
Jump to recipe below and let us know if you fill it with something else we hadn't mentioned. Maybe we will try it out on our next round! We make these often for Taco Tuesdays so we love new ideas that others rave about.