Easy Cosori air fryer recipes you can make for breakfast, lunch, dinner or dessert. Adults and kids love these easy one pot meals!
Cosori Recipes
I mean you can use these for any brand you have, but the Cosori electric air fryer square air fryer basket is the bomb I tell you. You can use any air crisp Ninja Foodi recipe in this machine as well.
Large enough to feed the 5 of us easily, I cook all sorts of things in it. There is nothing I've made that hasn't turned out delcious. You can buy my Favorite Air Fryer here!
Cosori Air Fryer Recipes Chicken
If you are still debating which one you want, let me tell you why I really appreciate this model. Whether I am making our air fryer chicken tenders no breading or Panko crusted they all fit well. With the nice square shaped basket you can cook a lot at once for a crowd.
Round pots are awkward to work with, I mean other than a personal pizza food isn't really circular. Even frozen french fries in the air fryer work much better with this shape so nothing is overlapping.
We have the 5.7 quart which is perfect, I have never thought I've needed the larger version. It's easy to clean and it cooks food crispy perfect every time.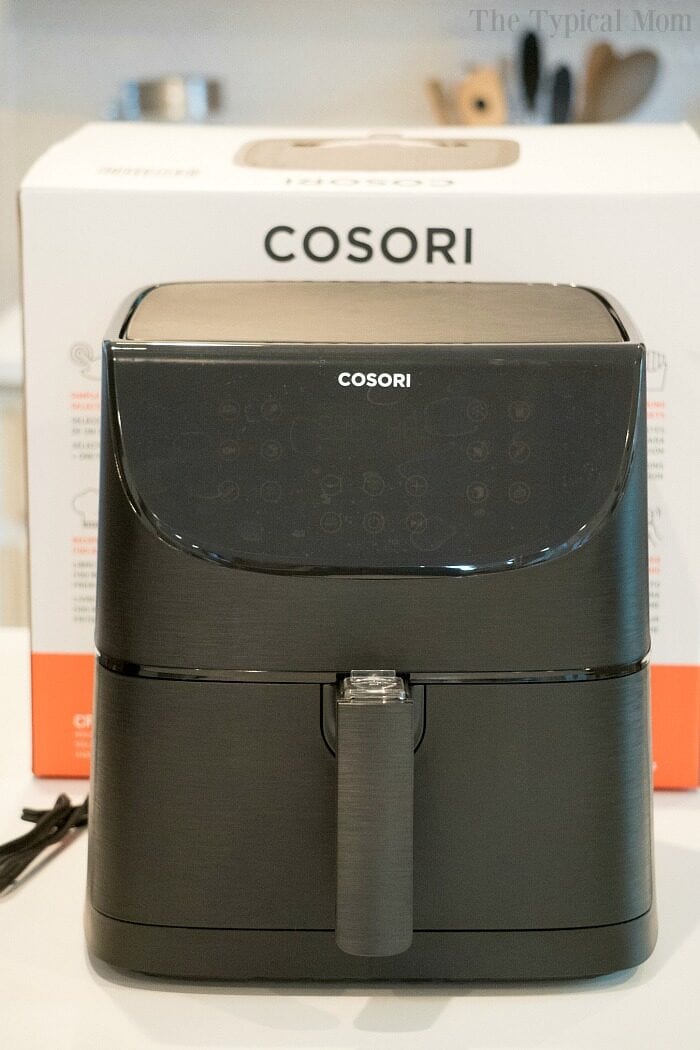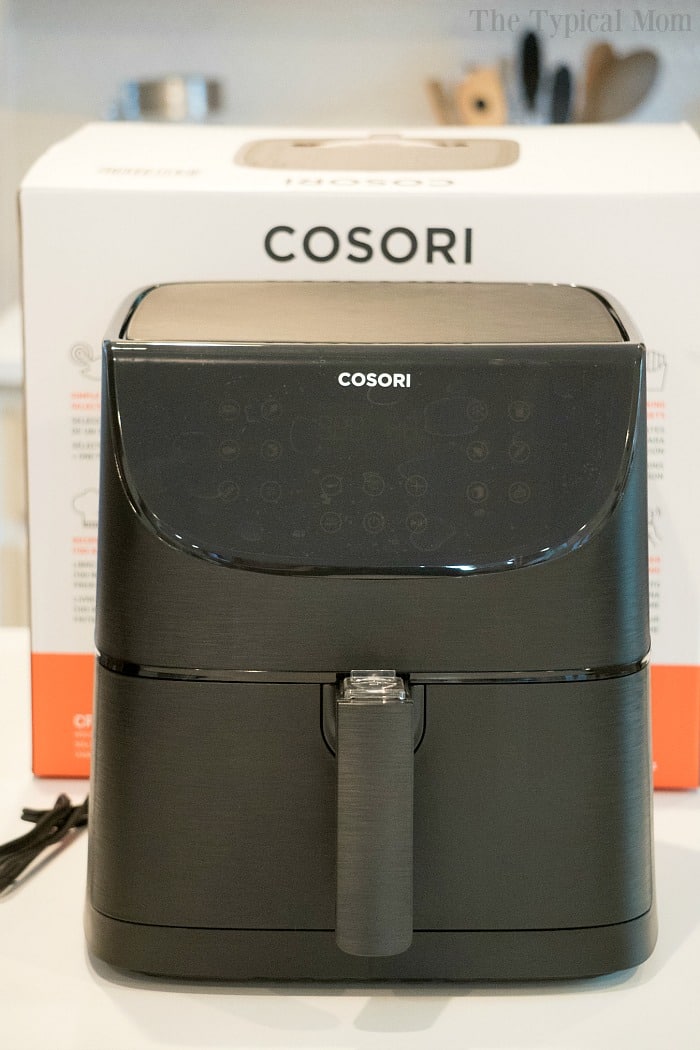 Recipes for Cosori Air Fryer
It does come in other colors as well but black is usually the least expensive choice. I will tell you that I've also used this large air fryer with shelves and have made a bunch of Ninja Foodi recipes too.
My go to for myself and girls is this one though. It's super simple to understand and has preset functions on the Cosori too with set times and temperatures as well. *Update* They just added a newer model from this, we have done an Dual Blaze Cosori Wifi Air Fryer Review as well if you want to check out that one.
I still would print out our air fryer cook times chart and keep that on the fridge for your reference.
I will try to break these choices into groups since there are so many. Like I said earlier though, I haven't found anything that hasn't turned out fantastic. Let's start out with:
Air Fryer Meat
Seafood is kinda' our "thang" so I will share a few things that swim around in the sea first for you to try out.
You can keep it simple with just olive oil spray and light seasoning, or some breading like you see here below. Both are amazing but our air fryer bang bang shrimp may blow everything else out of the water..
Serve it with a helping of air fryer potatoes and onions or salad for a complete meal.
Cosori Air Fryer 100 Recipes
Now let's move on to fish. I suggest buying fresh whenever possible when it comes to this. Yes I have cooked frozen and thawed out before but the texture isn't as good.
You can serve all of these with all sorts of side dishes. After the holidays we like to make air fryer potato pancakes, those are a great duo.
These are the best creations we've made thus far, and will continue to add more as time goes on so bookmark this page.
Best Cosori Air Fryer Recipes
You can pair it with some air fryer falafel if you like. A really healthy duo for sure.
Starting off with the simplest of them all, this is the most keto friendly and low carb way of cooking it. With just salt, pepper and a squeeze of lemon you'll love this white fish in the Cosori.
Cosori Air Fryer Healthy Recipes
If you are forgetful like me and need to know how to cook air fryer frozen fish, we have information on that too! You'll be surprised at how tender it still turns out to be.
Now let's go on to a bit of breading to add a bit of flavor and texture to it.
We have made Instant Pot fish quite a bit, before this, but prefer the texture when it's cooked this way now.
I guess we should move on to some red meat now. We do buy meat in bulk so we have a lot of this throughout the year. I used to use mostly ground beef but now steaks are probably my favorite.
I will start with my favorite one by far. If you love a great steak dry rub you've gotta' try ours on this and air fryer roast beef too!! Sweet with a bit of heat, we put this stuff on everything.
You can slice up a chuck roast, or any type of steak to make this. Served on a bed of rice it is out of this world tender in just 5 minutes.
Ok, I am here for your forgetfulness again. Yes, our bacon wrapped air fryer steak is amazing but what if they're still frozen? NO problemo friends.
Cook tender and perfect, then pour some teriyaki or steak sauce on top and nobody will ever know they were rock hard 15 minutes ago.
I cook ground beef in an air fryer all the time. Why? Well the grease drips away and you can just dump it out! Works great for ground sausage, chicken or turkey too. Make a batch of air fryer tortillas beforehand and you've got Taco Tuesday ready to enjoy together.
When done just throw it in some homemade spaghetti sauce and dinner is about ready. An air fryer ham is great during the holidays too.
Now chicken wings baked in the oven this way are great BUT air fried takes them to a whole new level! You just use our rub, put into a preheated air fryer and enjoy when done with some root vegetables on the side. OR lather on your favorite sauce like we did with these air fryer bbq chicken wings and enjoy as an appetizer or meal.
You can select the preheat function but I tend to use the temp. I want for 5 minutes before adding any food. You can also make frozen chicken wings in air fryer if you're a forgetful soul. 😉
Yep, we have more help if you want to cook air fryer frozen chicken breasts but they're frozen solid too! We have made Ninja Foodi chicken breasts that were defrosted too. Topped with bbq sauce those are fab too.
If you have leftovers you can dice them up and make air fryer chicken cordon bleu the next day too, or spread with a sauce and make air fryer pesto chicken.
You can even try air fryer turkey legs for a really cheap meal. With a veggie like air fryer radishes it makes for a cheap and easy meal.
This is by far our most popular one!! Mixing air fryer zucchini, squash and air fryer mushrooms together makes a great medley. If you want to try air fryer artichokes they are great too.
With some olive oil spray, Old Bay seasoning, garlic powder and anything else you love they come out tender with a bit of crispy edges. Set time to 10 minutes then press start, pause to toss them halfway thru and done!
If you just want to make one thing at a time, cauliflower in the air fryer is fabulous. We have made zucchini boats filled with taco meat as well, those are great for dinner.
Here is a new one we made with a topping of shredded parmesan cheese that took it to the next level.
OH yes how we love asparagus all year long if we can find it! Yes we live in a small town so I have to kinda' take what is on sale and looks good. When I find this at a decent price I buy bunches!
Just select the Cosori air fryer, adjust to 380 degrees to get them nice and tender. Longer to crisp the outside if you like, everyone is different so keep an eye on these babies as it doesn't take long.
This was our latest creation, since it's near the holidays. The girls thought they were fun to make and eat too. Set temperature to 320 so it cooks a bit lower and doesn't burn the edges. Let cool and enjoy after dinner.
But you can't stop there if you love chocolate all the things! We have made air fryer brownies too.
Did you know you could bake in an air fryer? You totally can y'all. It is fun and the possibilities are endless I tell you. These are chocolate chip but cake mix cookies can be made with peanut butter too.
We even made crinkle cookies for Christmas time and those came out great too. Last but certainly not least…..
Follow this temp. and timing to make any sort of easy muffin recipe you want. Serve them in the morning, for brunch, or dessert.
You can find more Ninja air fryer recipes here as well. Like I said, it doesn't matter what brand you have, they'll all work so long as the food fits in the basket.