If you're looking for the best large air fryer, the Power Air Fryer Pro is the best one on the market! With 3 racks it's a dehydrator too! If you're looking for something a bit bigger than your Ninja Foodi, check this one out with shelves.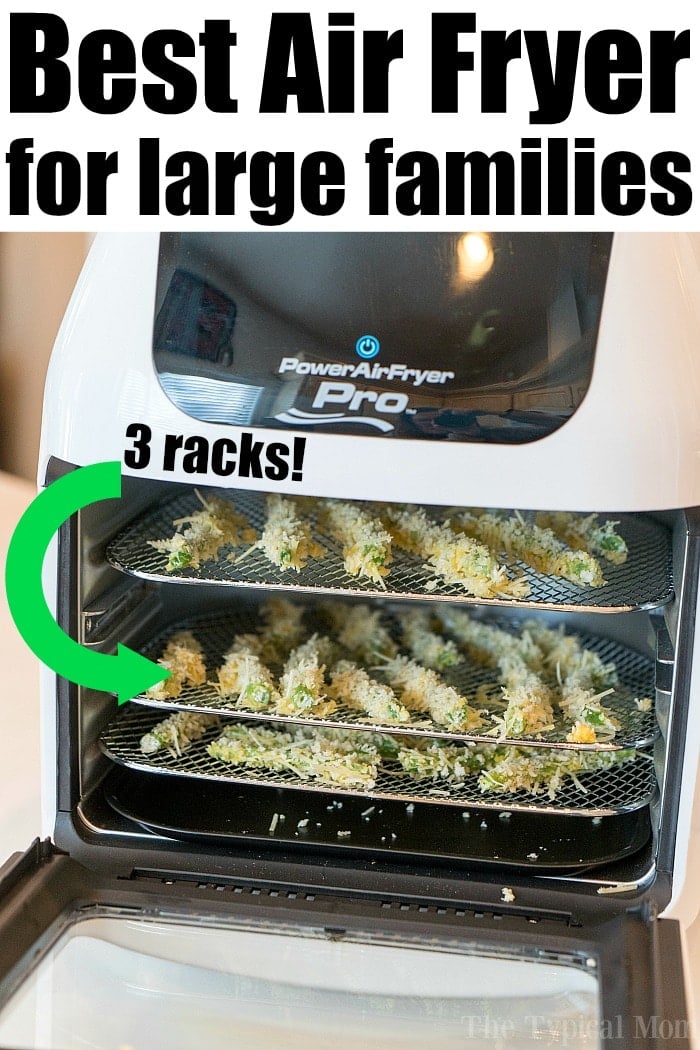 I've been creating a lot of new air fryer recipes lately. Problem is, most have a small basket and when I looked for the best large air fryer I found this PowerXL Air Fryer Pro and love it. Special thanks goes out to them for gifting this unit to me so I could share my review with you. (affiliate links present, originally published 12/19))
Power Air Fryer Pro Review
This is the Power Air Fryer Pro Plus I'm talking about! It's the best air fryer to buy if you want to cook everything all at once and not in smaller batches! If you love the crispiness of a deep fryer but don't want to add all the extra calories or fat, this is the answer.
Yes there are only 5 of us in the house but I don't want to spend more time in the kitchen than I have to.
With my Ninja Foodi and other electric air fryer I would typically make 3 batches in their frying baskets for every 1 I can make in this xl air fryer.
FIRST – You should sign up for my free newsletter so you get new posts emailed to you twice a week and never miss out on anything! If you love air fryer recipes too, here are some resources to start with: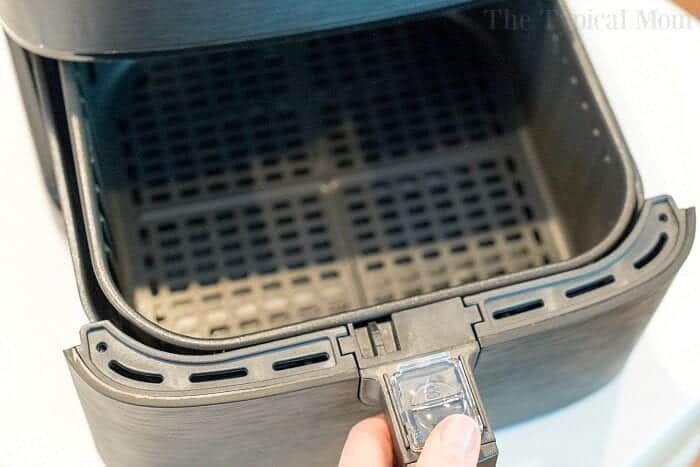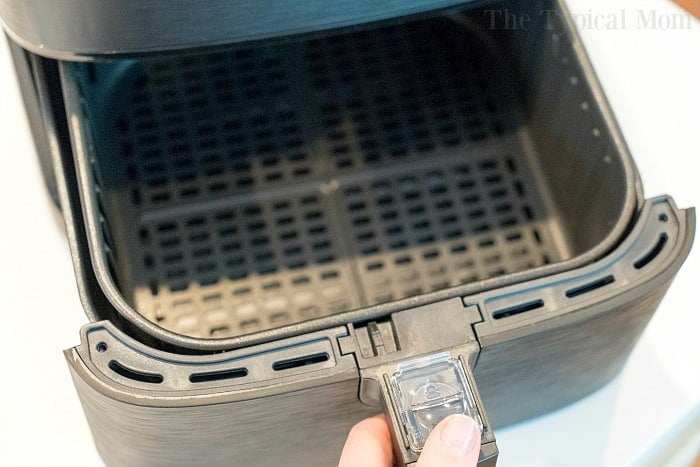 Best large capacity air fryer
I will say I love all of my kitchen appliances like this for different reasons. My Foodi can air crisp but also has the function to pressure cook. It is a pretty large device though and you may not have room for that. My Cosori is great however if you have more than 3-4 people you'll have to do multiple batches to get dinner ready.
If you have a larger family than we do or tend to serve a crowd regularly, this one is great. You can fit probably 3x the amount of food compared to it's air fryer drawer counterparts. Since this has shelves instead you can really load it up without overlapping pieces to do so.
That is one of the most important rules to follow, keeping everything in a single layer. Since you have 3 separate shelves you can spread meat and vegetables out well and the air has the opportunity to rotate around each piece well. It is taller than other brands too which means the footprint is smaller, but it fits a bunch.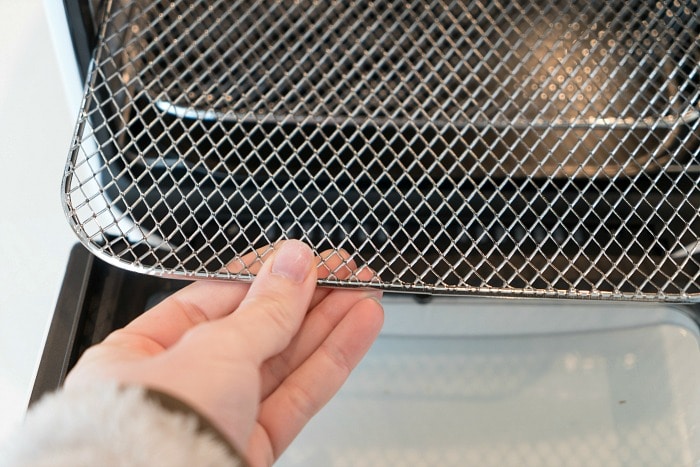 We started with a toaster oven with the air fryer feature. That doesn't work all that well. You need a digital air fryer like this. This large version has three shelves inside, as opposed to just one basket! This means you can load up each one and make a huge batch of zucchini chips all in one shot.
How does an air fryer work?
Instead of submerging battered food inside of oil, these machines use hot heating elements that circulate the air to crisp the outsides. That means it is WAY healthier than fried foods and I actually prefer the taste of this method. YOu can cook from frozen, fresh and it's the best way to reheat chicken wings and everything else.
You can make almost anything in it too including this tender salmon!
You can see how our air fryer grilled cheese sits on the shelves here. It is really handy for items like this that may fall apart when lifted in and out. That is harder to do with a basket. Now you can use a pot holder, slide it in and out and slide it right on to your plate when it's done.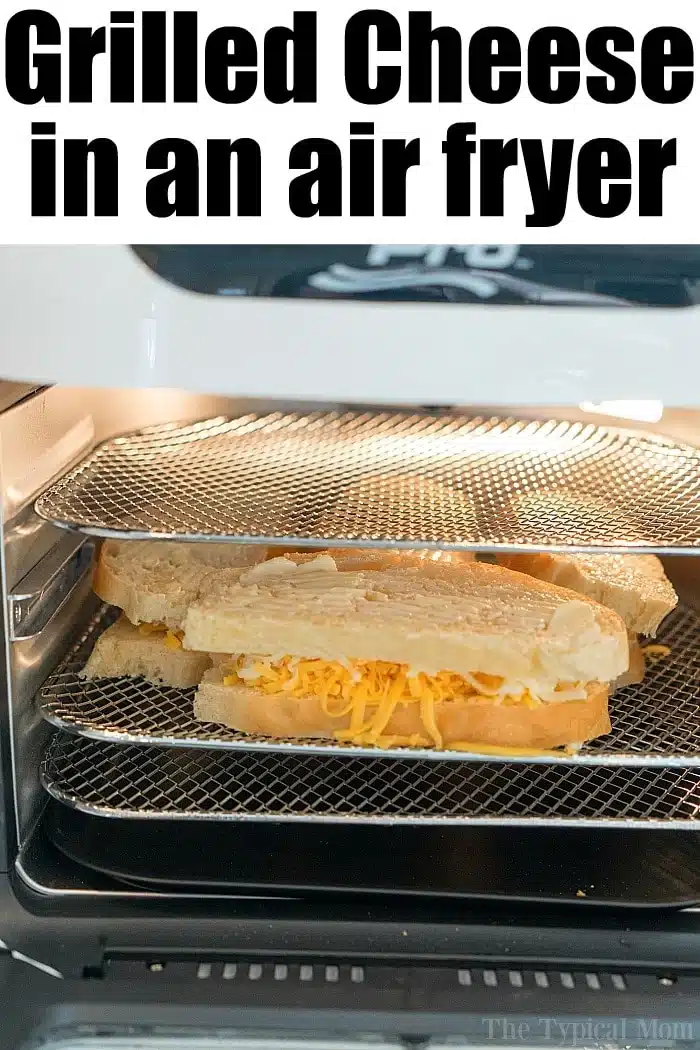 Do you put oil in an air fryer?
NO! Well, actually yes you can mix oil with your ingredients before putting them in the fryer but you're not submerging it like the typical "frying" method. If you do, it will add an extra crunchy layer to your food.
Spraying food with olive oil spray is commonly done. The reason I do this is to really crisp the outsides. If it is dry you won't get that fried chicken type of crunch on the outside layer.
I like an olive oil spray vs. any other type, some prefer avocado oil spray. Either is fine. You will see in the instructions that they don't recommend that. Well, it is a must for me and I have used these babies for years and years. Yes it will slightly discolor some of the silver metal possibly but the benefits highly outweigh that "issue".
Best Air Fryer 2022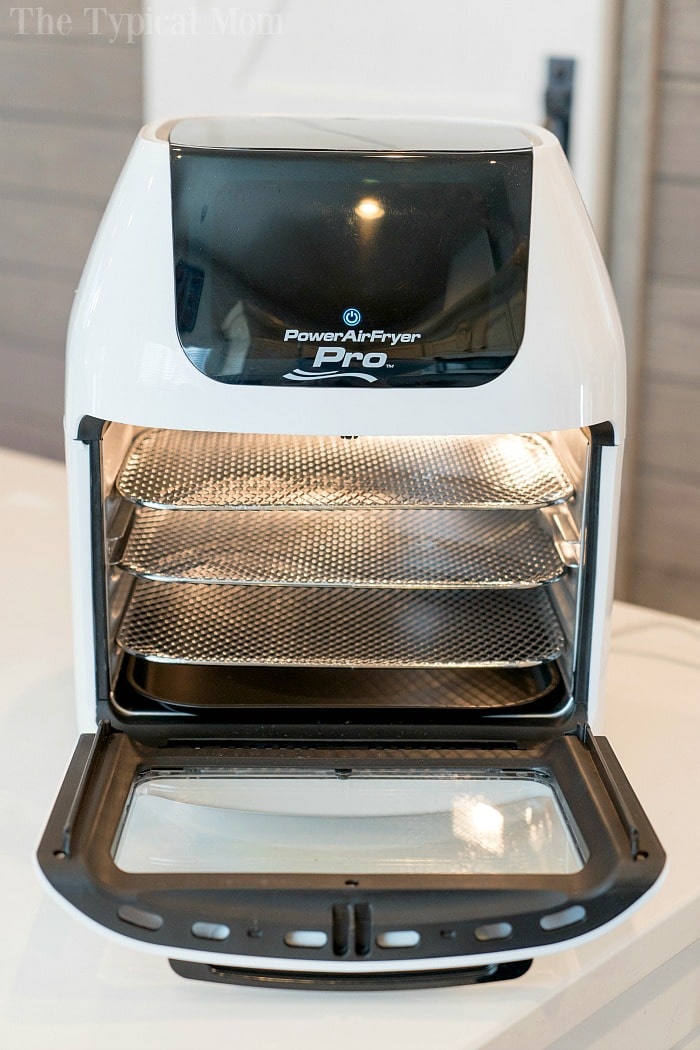 Best air fryer for a large family
We love this particular one too because it's a dehydrator as well! We have only made dehydrated apples so far but seriously they're my kids' favorite snacks ever!
What does the Power Pro come with?
First you can choose from 2 sizes; the 6 qt or the family sized 8 qt are available, they also come in 3 colors.

each comes with 3 air flow racks

10 stainless skewers

XL rotating mesh basket

a rotating rotisserie spit

an oil drip tray

as well as 3 cook books

State of the art touchscreen with eight cooking presets

Drip tray catches extra fat & oil for guilt-free air frying
You can also dehydrate fruits and vegetables in this baby, we love that added feature.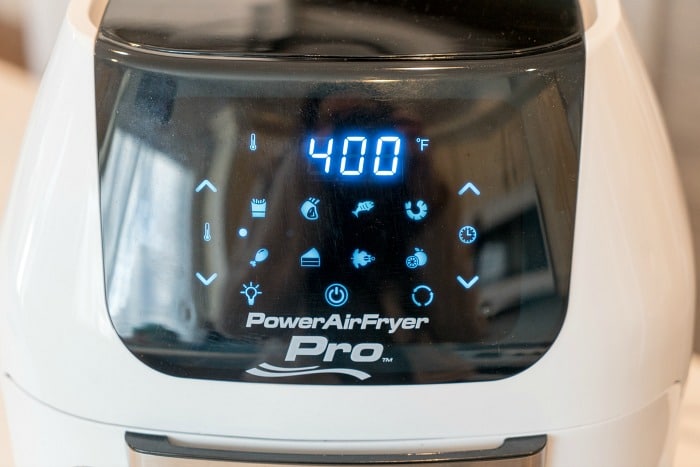 If you have never used one of these countertop appliances it is helpful to have preset buttons. What they do is make the cooking time guesswork easier.
If you are cooking crispy shrimp for example, you can just load it up and press the button you can see here.
Of course it isn't perfect depending on how large they are and what breading you use, but it's a great start. For one thing it will set the times and temperatures appropriately.
Then you just tweak the timing at the end if you want them crispier. Of course you can set the temperature to 400 degrees or less, and cook time too. Just use our air fryer cook times chart for crispy deep fried tasting foods.
After you make a few air fryer dinner recipes you will learn about how long each item takes. When you're new though it is a bit intimidating.
Tips when using an air fryer;
I like to spray the inside, or each shelf in this case, with non stick cooking spray. It makes for a much easier cleanup when you're done
Always preheat to the desired temperature for 5 minutes before adding your food. That will ensure that the entire cook time the food is cooking at an even temp.
Use a pot holder or spatula to remove food. Remember that the surrounding metal pieces will be VERY hot.
This is what we made in it first! A batch of air fryer green bean fries went in with some parmesan and Panko breadcrumbs and came out amazing. I actually ate the whole batch for lunch at my desk. 😉
Then we made frozen fish in air fryer for dinner!
Will post this recipe soon, try our wings with a dry rub first though.
Try making corn dogs and other frozen foods inside too, you'll be amazed at how much better they taste!
You can even make a cheesecake in this thing!
If you're looking for the best large air fryer on the market, this is it!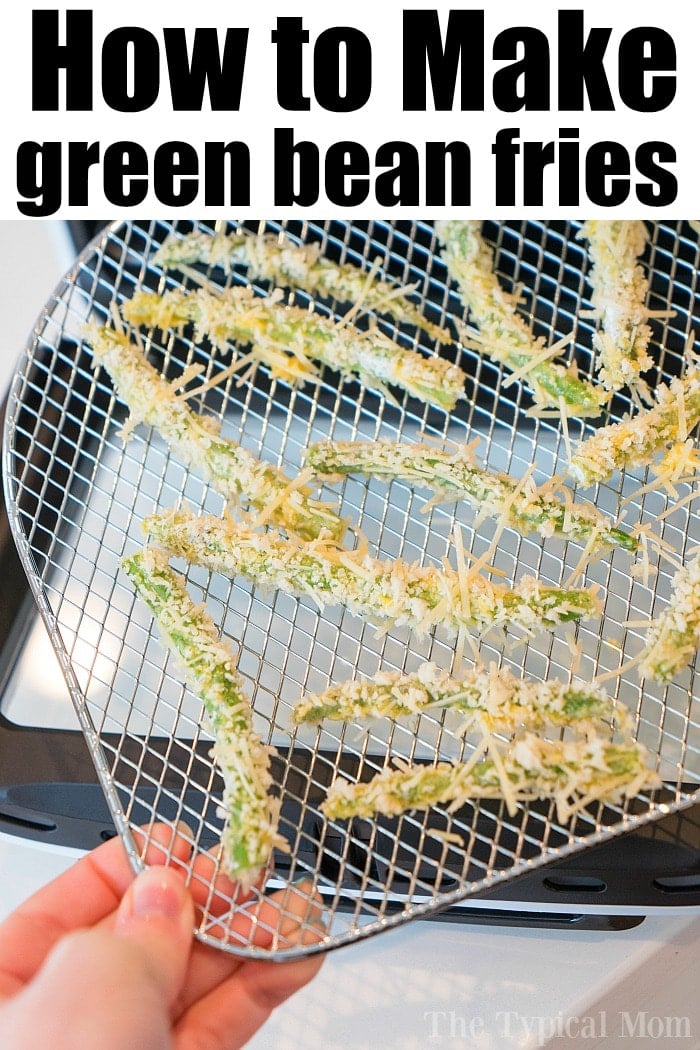 Want to see a few of my favorite things that I am totally obsessed with?? Take a peek and see how many you might already have…twinsies!
Looking for more easy family recipes and tips? LIKE The Typical Mom Facebook page?
Then sign up for my free newsletter, and follow me on Pinterest! 😉
***** If you LOVED this recipe give it 5 Stars below and let everyone know what you thought about it. 😉