Eagle Island tubing is the best winter time fun outside of Boise Idaho! If you're looking for where to go snowboarding and sledding with your family, this is it!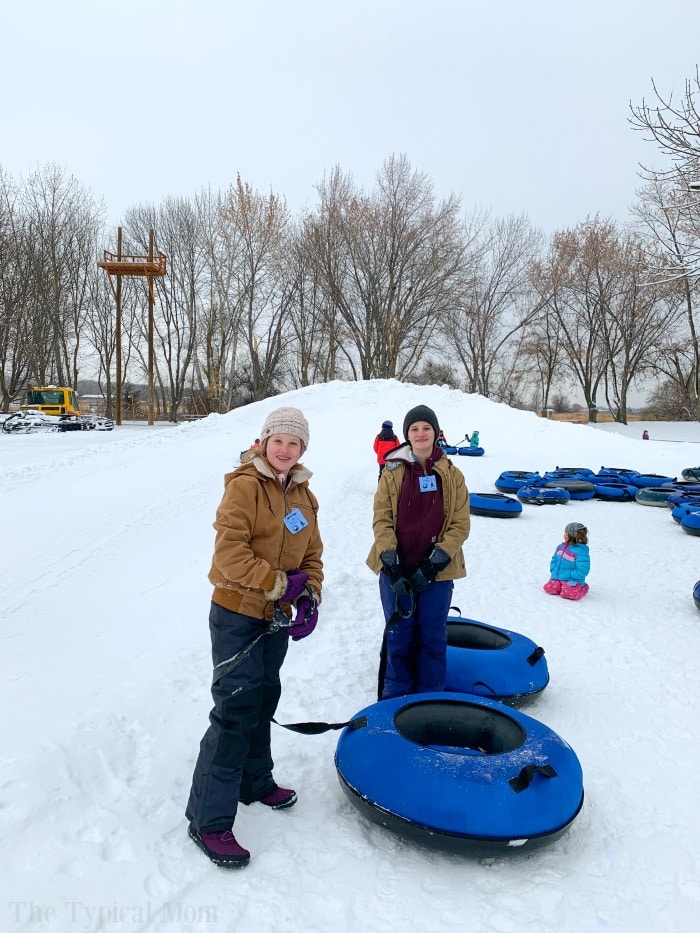 Ready for some fun in the snow with your family in Boise Idaho? Try the Eagle Island tubing hill today! We have done this two years in a row and my girls absolutely love it. With a walking sidewalk and hours of fun, it's fun for adults and kids to sled the day away. Just one answer to what to do in Boise Idaho during the wintertime. (affiliate links present)
Eagle Island State Park
We moved to the area from out of state about two years ago. Since we were new I was hungry to find things to do in Boise with my kids.
Of course during the summertime there are TONS of water activities, but once it started snowing it was a whole new ballgame.
Upon scouring the web, and Instagram, I stumbled across Gateway Parks and the fun they offer.
We bought tickets not knowing what to expect, and it was a big score!! Kids loved it and my husband and I had a relaxing afternoon huddled around the fire as we watched them.
Watch our video of tubing there HERE! Then read on for more details.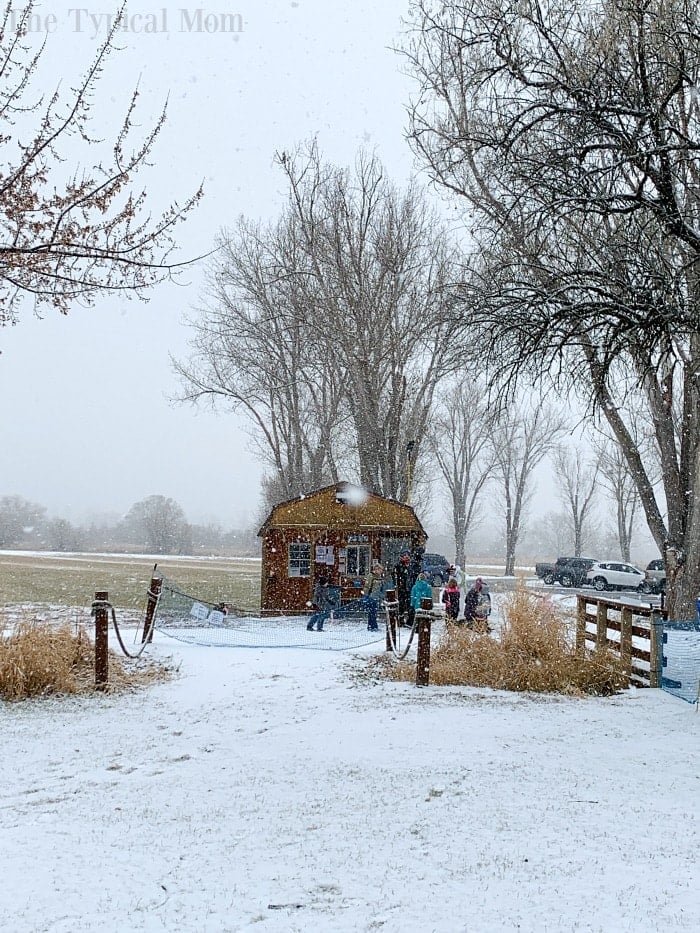 Sledding in Boise
If you haven't heard of this location you can find it here. Obviously, Eagle Island State Park is in fact in the city of Eagle, Idaho which is next to Boise and Meridian.
It is so pretty we actually took our family photos there last year and they're my FAVORITE ones ever. You can see them here at the top of the page, needless to say it's a great photo location.
I took a bunch of fun photos so you can see what this sledding location looks like, but a video is so much better! Check it out below!
Doesn't that look like a blast??!! I think there were just as many adults sliding down that hill as kids.
If you want to watch another GoPro tubing in Idaho video, check out our one at Two Ponds outside Mountain Home.
The price of admission includes the use of one of many tubes as well which I love.
You're able to snowboard down too if you bring your own equipment.
Keep in mind, this is a preseason look at things. The slope gets much wider the more snow that falls!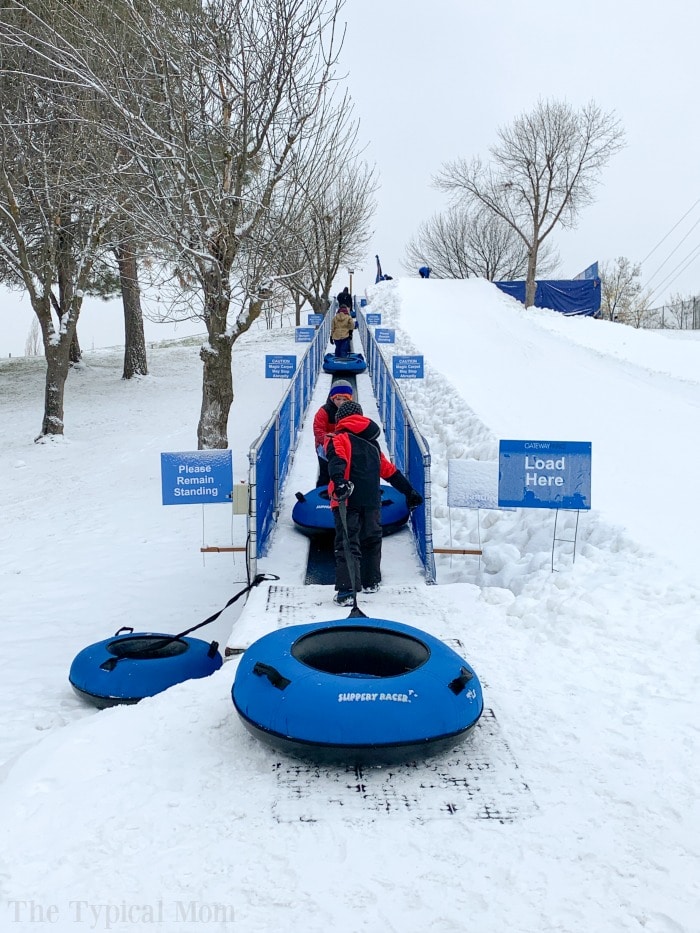 Best Things to do in Boise in Winter
Right now there is one tubing hill as you can see but it will eventually have two (one more to the far right) once there's enough snow to warrant that.
Keep in mind you cannot just show up!
There is a $5 fee to get into the state park but if you have the state parks passport you get in for free!
time slot is for a few hours and there are limited tickets for each time so it doesn't get too packed.
Things to do Boise Idaho Winter
Why do we love this terrain park so much?? It is super affordable, it's close to our house, and they have this "automatic sidewalk" to take you up the hill! My kids love that so they can keep going and going and not slow down a minute.
My girls always say that the staff at this Idaho state park is very friendly. They're open to them going down the hill backwards, spinning them, whatever.
Let's just say it is good old fashioned fun we remember as a child right??!!
Both times we have caught the owner who was a former world class US snowboard champion, Ryan Neptune and his wife on location.
What an amazing career he had and now he has created Gateway Parks to bring the opportunity to ski and snowboard + tubing to a younger generation.
What if you don't want to participate? I haven't yet, but there are plenty of picnic benches and always a nice fire at the park at Eagle Island. It's right by the lift to go to the top so you can keep an eye on your kiddos.
Make sure you wear waterproof pants even if you're going to watch because the benches are wet.
Here's the gear I bought this year and has been AMAZING so far!!
Carhartt lined overalls (women and mens sizes, I bought my girls XS so we all have a pair – they're amazing)
Sorel boots are the bomb!! (sizes for all ages and genders available)
Waterproof gloves are a must!
Try Gateway Parks Eagle Island Tubing this season and let us know what you think!