Here's a fun and free Road Trip I SPY printable scavenger hunt game will keep your kids busy on your next long road trip! Look out for the things on this road trip bingo game to see who wins. Tips on road trip busy bags and what to include in them are here too. You'll thank me later!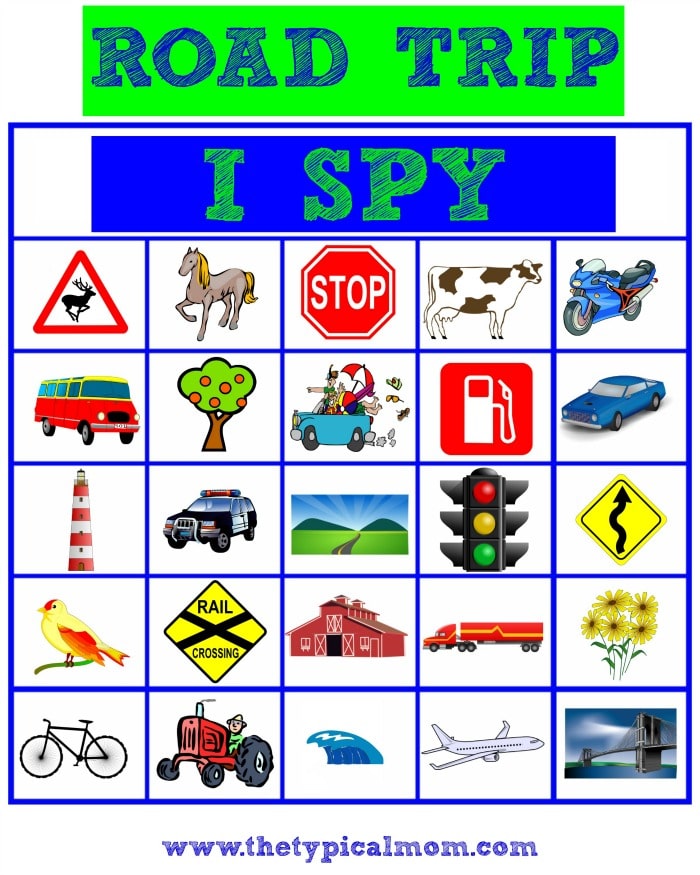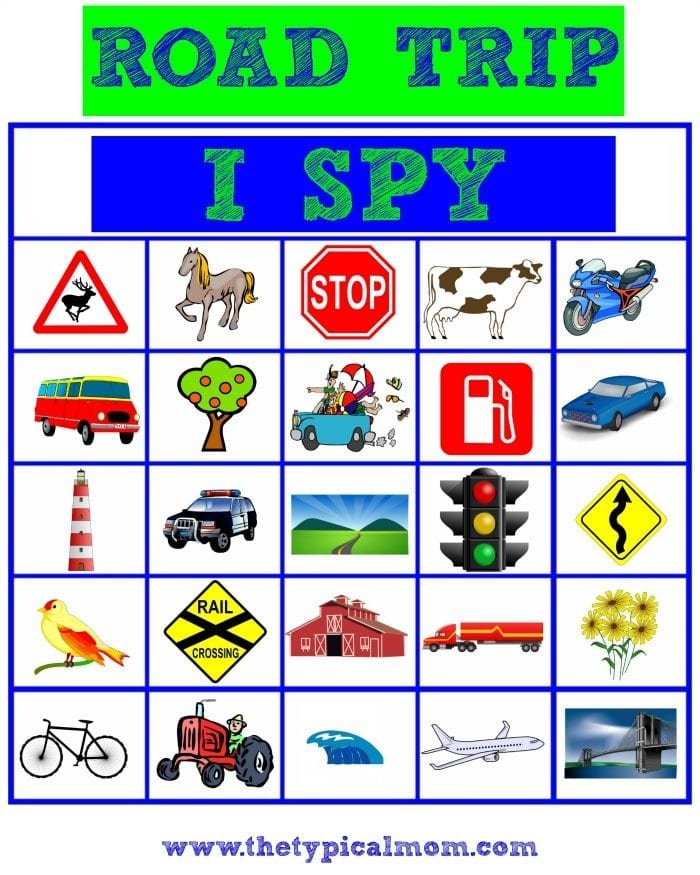 We always put together busy bags in preparation for our trip and in it we just made this road trip i Spy game to keep them busy! On our way they can keep their eyes open for all of these items. When they find them they can check them off or if they don't have a pencil or pen they can simply stick their finger thru the picture to show they found that one. Having road trip games are crucial to having a great trip together and not tearing your hair out hearing "how much longer?". (originally published 5/17)
You can also make this into a road trip bingo if you have several children. Just print a road trip i spy page for each of them (link below) and when they see one they yell it out. That person gets to mark off that spot using a highlighter pen or push their finger thru that picture to make a small hole and the first person who marks off in a row like bingo wins! You could bring small trinkets or treats with you or let them choose something at the next gas station or pit stop as a reward. Your choice.
Of course you can sing song, ask questions, look out the window, talk, and maybe read (if you don't get car sick) but when you have kids you need to be uber prepared with activities! I bought each child her own "special bag"  the first time we went on a long car ride packed with snacks she could eat whenever she wanted to, a book, word searches, doodle pad, and a lot more and this was a God send I tell you! I will never go on another trip without packing these for each child. It saves your sanity and keeps them happier…win win.
So when you're making your fun road trip busy bags make sure to include this road trip I spy printable scavenger hunt game.
Looking for more ways to keep your kids busy and happy on your road trip?
In preparation I created a free printable road trip packing list to help you make sure you don't forget anything when you're packing! Another helpful resource is this road trip checklist for your car to make sure it is in tip top shape before you leave…there is nothing worse than breaking down in somewhere remote and/or unfamiliar.
For more easy recipes, tips and crafts please LIKE The Typical Mom on Facebook and follow me on Pinterest! You can also sign up for my free weekly newsletter which is packed with goodies I know you'll love. 😉
Visit The Typical Mom's profile on Pinterest.