This pressure cooker fried rice recipe is great in your Instant Pot or Ninja Foodi. Packed with vegetables it's a great side dish or a main entree for dinner. Add chicken or beef and it's a complete meal we love.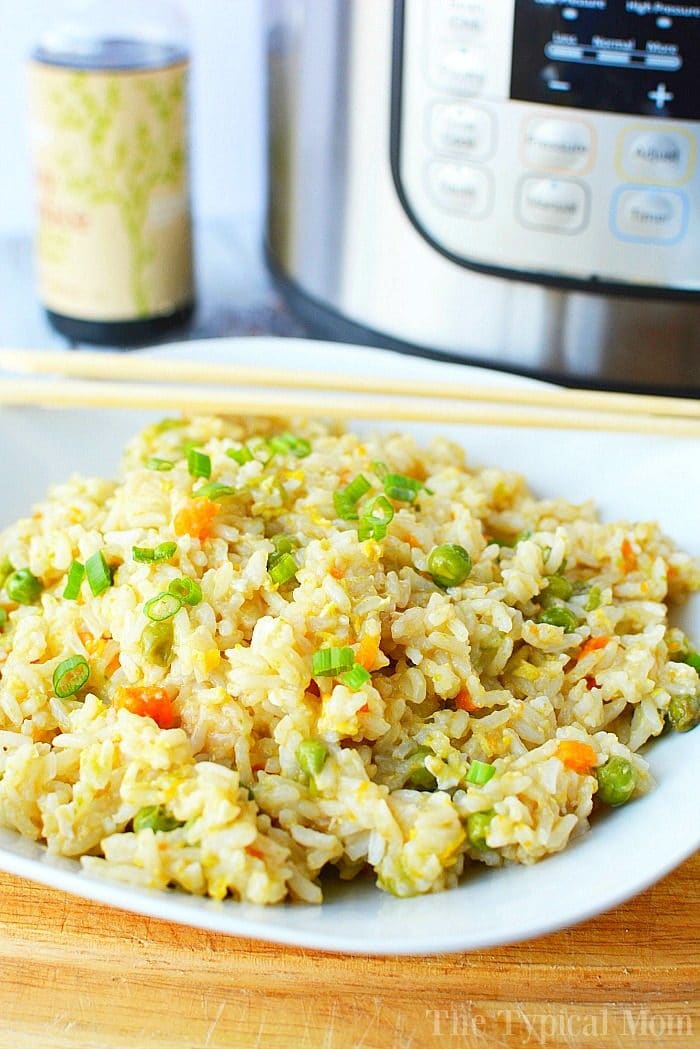 If you love fried rice like we do you will love this pressure cooker fried rice made in just a few minutes in your Instant Pot. Of course there are a variety of ways to this dish. So many things you can add into it. It's on the top of list when it comes to our favorite Instant Pot recipes here on our site. (originally published 6/18, affiliate links present)
Instant Pot fried rice
If there's an ingredient you think is a must please by all means add that too, but here is a great basic fried rice recipe you can make for dinner. Tweak it to add more eggs, green onions or even corn kernels. Make in any brand pot or Ninja Foodi you have and let's get started.
I love Asian foods of all kinds. We can't or shouldn't always go out to dinner to enjoy our favorite foods so it is nice to know how to make them. Since we make a lot of white rice using the same pot it was time to amp that baby up in our favorite way!
FIRST – You should sign up for my free newsletter so you get new posts emailed to you twice a week and never miss out on anything! Now let's start with a few basic tips:
Make sure to Bookmark our InstaPot recipes page. We add new ones each week!
Then PRINT this —–> Instant Pot cooking times cheat sheet that will help you understand how long meat, vegetables and beans take to cook in your pressure cooker.
For reference, this is the pressure cooker I have (a 6 quart) and use for all recipe creations.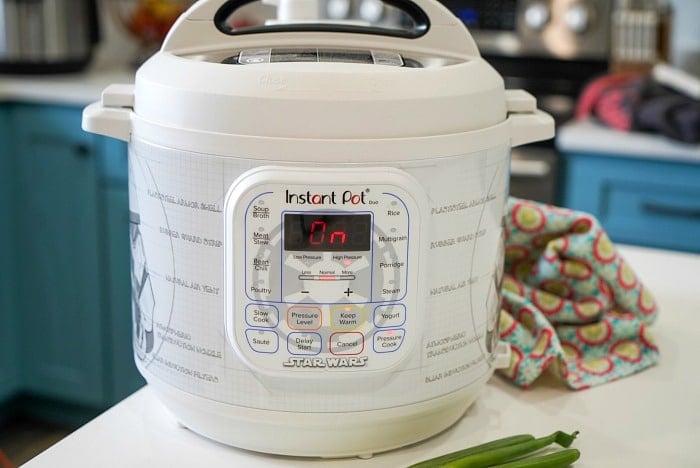 Ninja Foodi Fried Rice
Egg is a must for us but could be omitted if you have an allergy. Mixed vegetables work well since they are already diced for you and can be thrown in for a quick dinner. The easiest and cheapest way is to buy a bag, frozen. I think they hold up better than canned that are already softened. Rice is a given.
I like this one for many reasons but I love simple pressure cooker recipes where I do not have to precook the rice beforehand. Makes things a lot easier to just throw in everything raw, press the button and just let it go.
There is a debate as to whether or not you rinse the rice, I don't. Personally I feel like it stays stickier which I really enjoy. Makes it a bit like sushi rice in texture in a sense. If you do the grains will separate better and be a whiter color overall.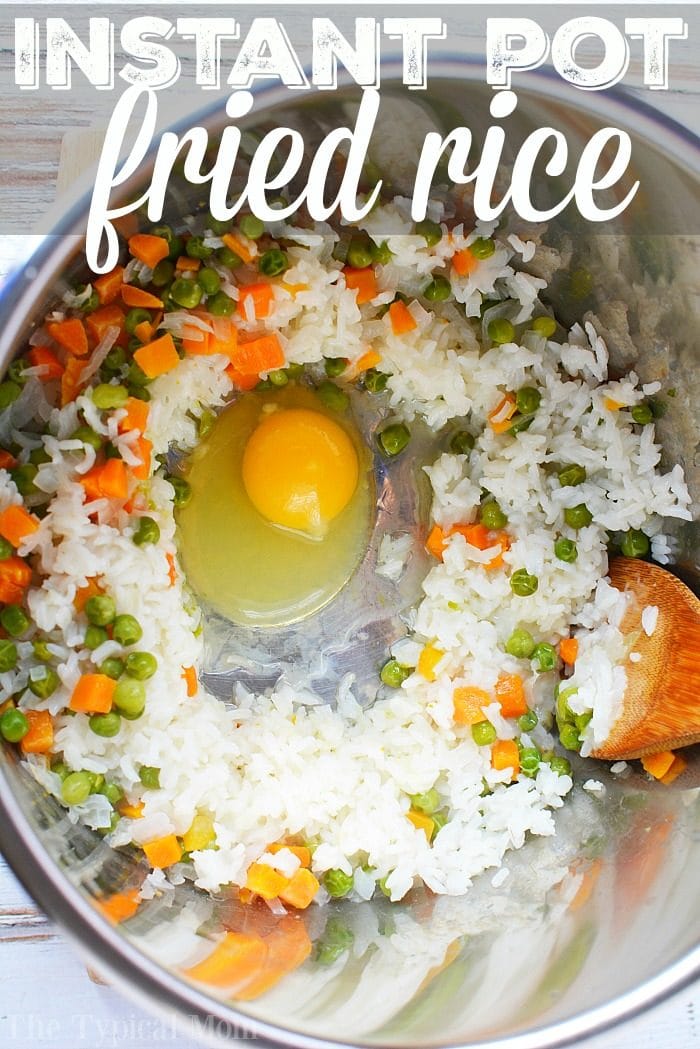 Fried Rice in the IP
In my opinion it also falls into the cheap Instant Pot recipes I make often because it doesn't require a lot of ingredients, and almost all of them I have at home. The only thing I sometimes have to grab at the store are the frozen veggies. Now that we started buying meat in bulk and have a large freezer.
So, I have been keeping that on hand too. Especially when it is chilly outside and the last thing you want to do is head out to the store. Now you can whip this together and have a delicious meal in no time at all.
If you like this at Panda Express let's say you may not have the scrambled egg inside. I am pretty sure that is just to reduce costs but at restaurants it is almost always there. Often times I will double up on the beaten eggs to add more protein and make it more of a complete meal.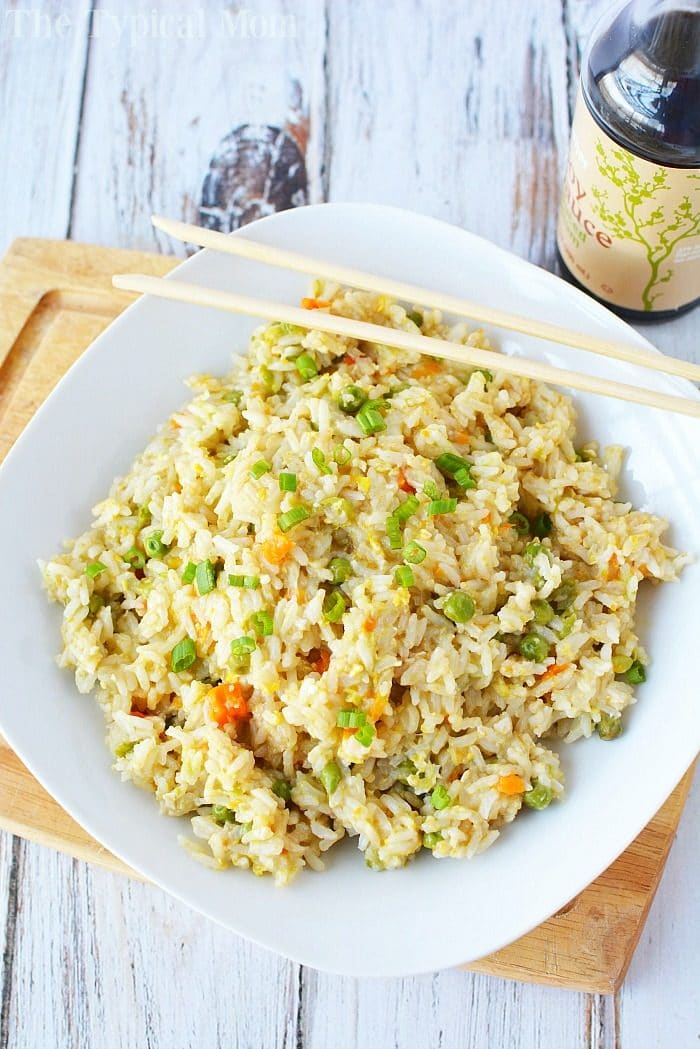 Instant Pot fried rice with Egg
Of course this works great as a side dish, but you could make it into a complete meal with some diced meat thrown in there too. Ham, beef and/or precooked chicken works well in this one. Heck, even after St. Pats day I have been known to add bits of corned beef.
Instant Pot – highly recommend having a non stick pot for easier cleanup
Uncooked fried rice – we like 1 cup of Jasmine rice ideally but long grain works too
Frozen peas and carrots are best, bagged, the one with green beans would work too
Soy sauce will add a lot of flavor and salt to the dish
Chicken broth or water
Egg is optional but is our favorite part
Onion diced finely is optional but gives it a bit of texture
Green Onions
Olive oil

sesame oil or vegetable oil could be used
Once you enjoy this fried rice in Instant Pot you should try a few of our other easy Instant Pot dinners using uncooked rice. You might also like: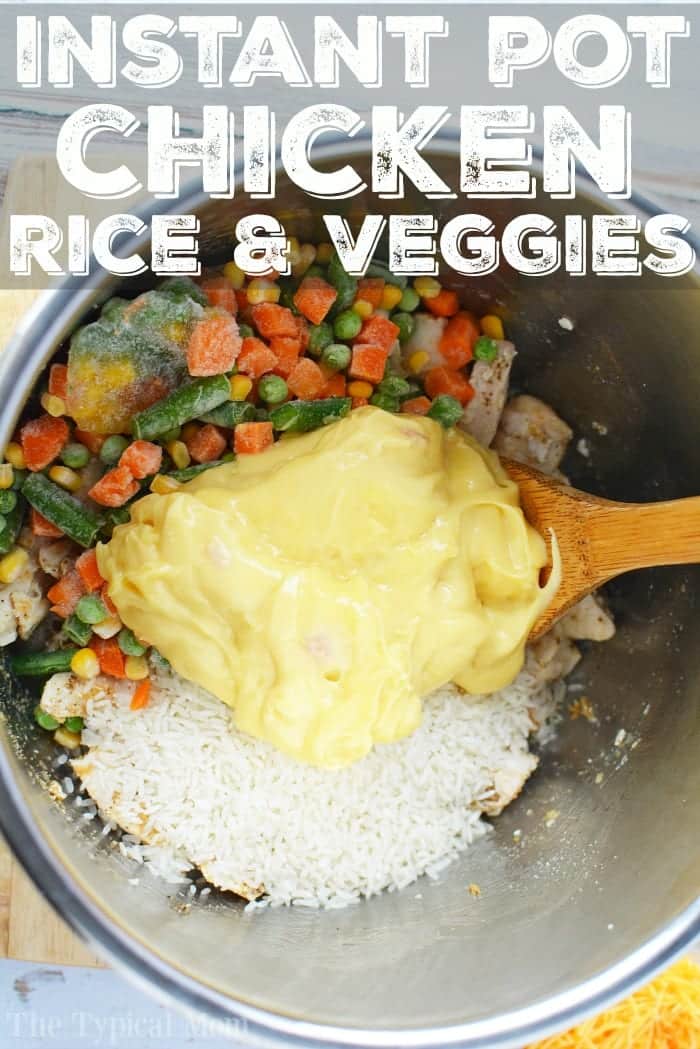 Instant Pot Fried Rice with Frozen Vegetables
If making chicken fried rice use precooked rotisserie chicken cubed. I have not made this with brown rice so unsure of the cooking time, it would take longer. Here are the basic steps for Instant Pot fried rice
Add your broth, uncooked rice, onion and frozen veggies to the pot. Stir.
Set to pressure cook on high for 8 minutes followed by a quick release at the end.
This will cook the rice and soften veggies. Set pot to saute. Now make a hole in the center of the cooked mixture and crack an egg inside.
Scramble the it with a wood spoon using a little oil.
If adding leftover chicken toss in some precooked diced rotisserie and stir. Once everything is cooked add your soy sauce and green onions. Serve!
What to add to fried rice to make it taste better?
Ok so we have already gone over how you can easily add precooked meat into this when done. I would first warm it up and add in at the end. Gently fold in and you're good to go. You don't want to add with the rice or the liquid grain ratio will be off and that won't get done properly. More soy sauce is another one that adds flavor.
You can use aminos for a gluten free option for this. You can find packets at the store that have more traditional seasonings in them too. Or shop at an Asian supermarket for those blends. You could steam additional fresh vegetables and enjoy those on the side or on the top of this. Tofu nuggets can be folded in too for protein.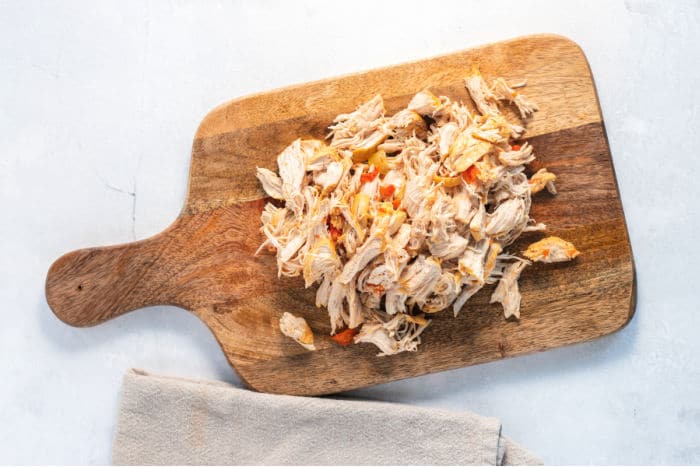 How do you jazz up leftover fried rice?
Ok so if you do have leftovers it saves quite well. You don't want air to get to it though so using a freezer bag is your best bet and then suck all of it out before zipping shut. Store in the fridge for up to 2 days ideally. Best way to reheat leftover rice is to add a bit of moisture to the top of it first. Broth or soy sauce work great for this.
Then put into a dish or bowl with a paper towel or plate on top to create a bit of steam. Microwave for 45 seconds, stir and add another 30 seconds until it is as hot as you'd like. Grains tend to dry out in the cold so it is best if you can create steam to soften it back up.
You can use a pot on the stove with a bit of broth too, with a lid on top. Over medium heat stir every minute or so gently to rotate it until it is as warm as you would like. Enjoy again for lunch with some chicken or just as is if you already added meat. It is easy to keep vegetarian too without the egg or meat.
Want to see a few of my favorite things that I am totally obsessed with?? Take a peek and see how many you might already have…twinsies!
Looking for more easy family recipes and tips? LIKE The Typical Mom Facebook page?
Then sign up for my free newsletter, and follow me on Pinterest! 😉
***** If you LOVED this recipe give it 5 Stars below and let everyone know what you thought about it. 😉
Pressure Cooker Fried Rice
If you love your Instant Pot you are going to love this easy pressure cooker fried rice recipe packed with vegetables and lots of flavor! Whether you serve it as a side dish or a main entree for dinner it is a great recipe my whole family enjoys. Add chicken or beef and it's a complete meal we love.

Instructions
Put uncooked rice, broth, onion, and frozen vegetables into the Instant Pot or pressure cooker and mix well.

Put lid on and close steam valve.

Set to manual, high for 8 minutes.

Do a quick release and open pot.

Stir and make a well in the center of the vegetable rice mixture. Add oil in middle and set pot to saute.

Add an egg to the middle and scramble.

Cook until egg is scrambled and cooked. Gently stir in with rice.

Add soy sauce, serve topped with green onions.
Nutrition Facts
Pressure Cooker Fried Rice
Amount Per Serving (4 oz)
Calories 245
Calories from Fat 36
% Daily Value*
Fat 4g6%
Cholesterol 40mg13%
Sodium 791mg34%
Potassium 187mg5%
Carbohydrates 42g14%
Protein 7g14%
Vitamin A 1780IU36%
Vitamin C 5.1mg6%
Calcium 37mg4%
Iron 1.2mg7%
* Percent Daily Values are based on a 2000 calorie diet.