Here's an easy chicken broth Instant Pot recipe for you! 2 in 1 meal where you can make shredded chicken + homemade chicken broth you can use and store for later.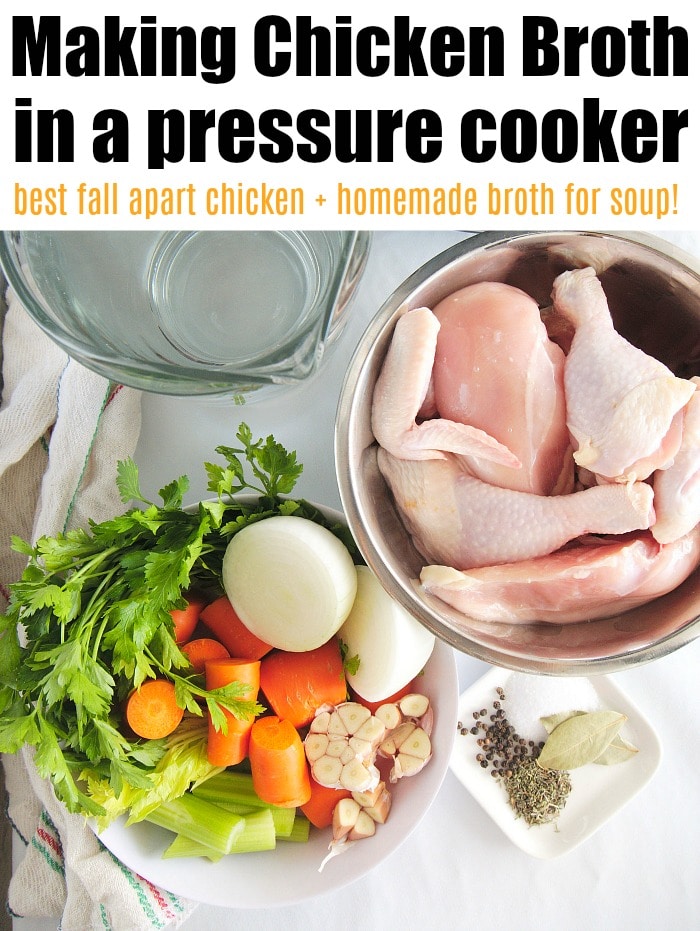 Chicken broth Instant Pot style is super easy! Not only do you get homemade chicken broth though, you get extra tender meat you can put into soup, or shred and serve for dinner too. An Instant Pot recipe that will be a great base for tons of other meals too.
How do you make chicken broth from scratch?
That is what we are going to teach you in this post! I bet it is a lot easier than you might think AND you can freeze it for future dishes as well. All you need are some chicken pieces, vegetables and some seasonings. Then you can make a batch of our Instant Pot chicken noodle soup and lots more!
I bet you can smell it right now huh?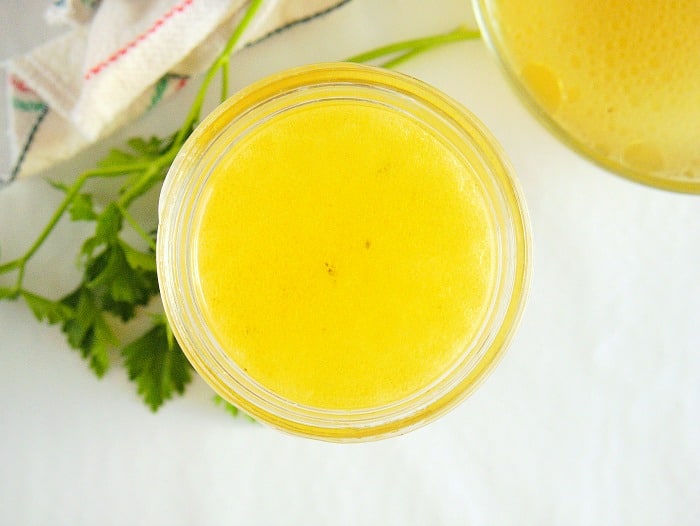 Is chicken broth and chicken stock the same? Instant Pot chicken stock is made from more chicken bones than the actual meat (chicken carcass). It is said to have a richer flavor. That is because of the gelatin that is released during the slow cooking process. The broth here uses actual meat from the bird.
I like this way personally because you can use the boiled meat in a recipe too, not just the juices.
The cheapest way to do this is to buy a whole chicken and cut it up yourself.
Use fresh garlic if you can find it, or minced if that is all that is available.
These are the ingredients you'll need to make homemade chicken broth
Whole chicken
Onion
Carrots
Celery
Water
Fresh garlic if possible
Parsley
Salt and pepper to taste
Thyme
Bay leaves
Large bowl and fine mesh strainer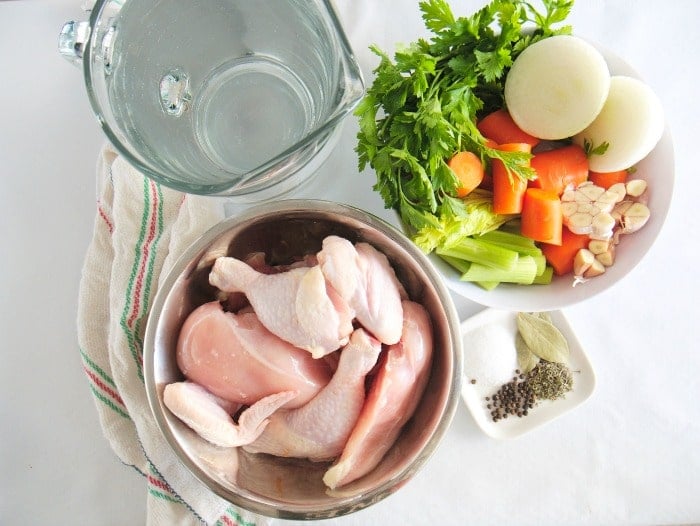 Of course you need a pressure cooker, it can be any brand really. A Crockpot Express or Ninja Foodi pot will work just the same way.
How can I make chicken broth taste better? The key is fresh vegetables like carrots and celery and lots of onions and garlic!!
In addition to that, seasonings are everything!!
Below in the recipe card is what we used but of course you can add others if you like.
Remember, when you make this pressure cooker chicken broth you'll get broth and fall apart meat better than rotisserie chicken. Cooked in about 30 minutes on high pressure.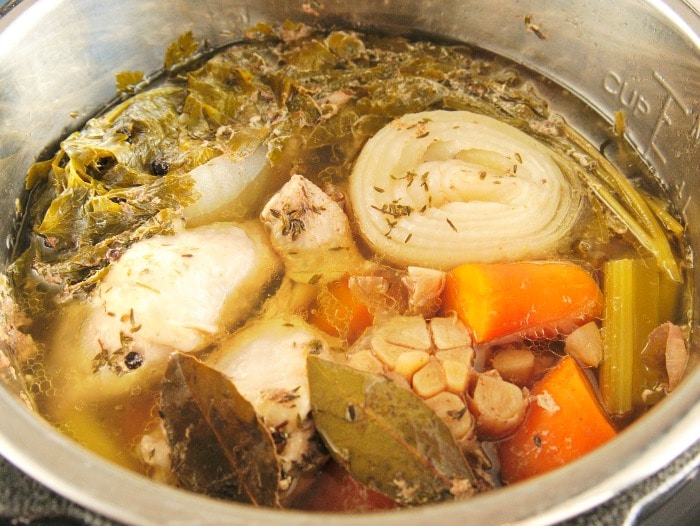 Yes of course you could do the same thing in a large pot on your stovetop or in your slow cooker, but pressure cooking it is so much easier!!
Just follow these steps and you'll have perfect chicken broth Instant Pot tonight!
Cut whole chicken up into pieces

2 chicken thighs, breasts, legs and chicken wings
I did not use carcass but if you broke it up it may fit too
Just make sure to not go over fill line or it won't come to pressure

Put meat into pot with vegetables, whole garlic clove (with top sliced off, see pic. above) and water
Add all seasonings, stir
Close lid and steam valve and set to high pressure for 40 minutes
Allow to naturally release steam for 15 minutes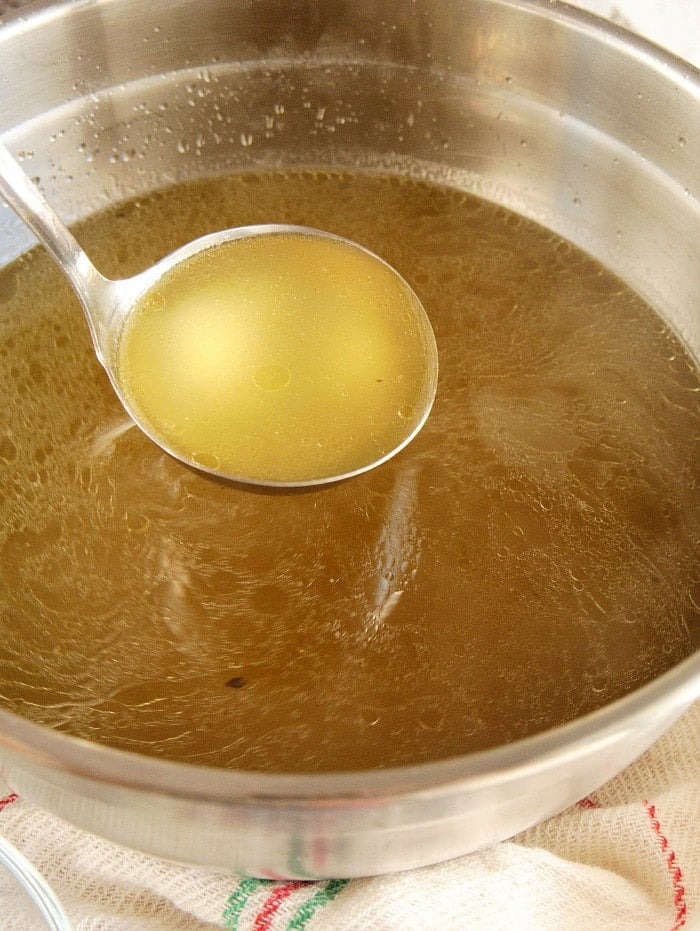 Then you're going to want to separate the Instant Pot homemade chicken broth from the chicken and other stuff.
This is where the fine sieve strainer comes into play.
If you're using the shredded chicken, just separate that from veggies (which will be too soft in my opinion to eat)

You can make chicken soup or:

and many more chicken broth recipes listed below

Now allow the liquid to cool to room temperature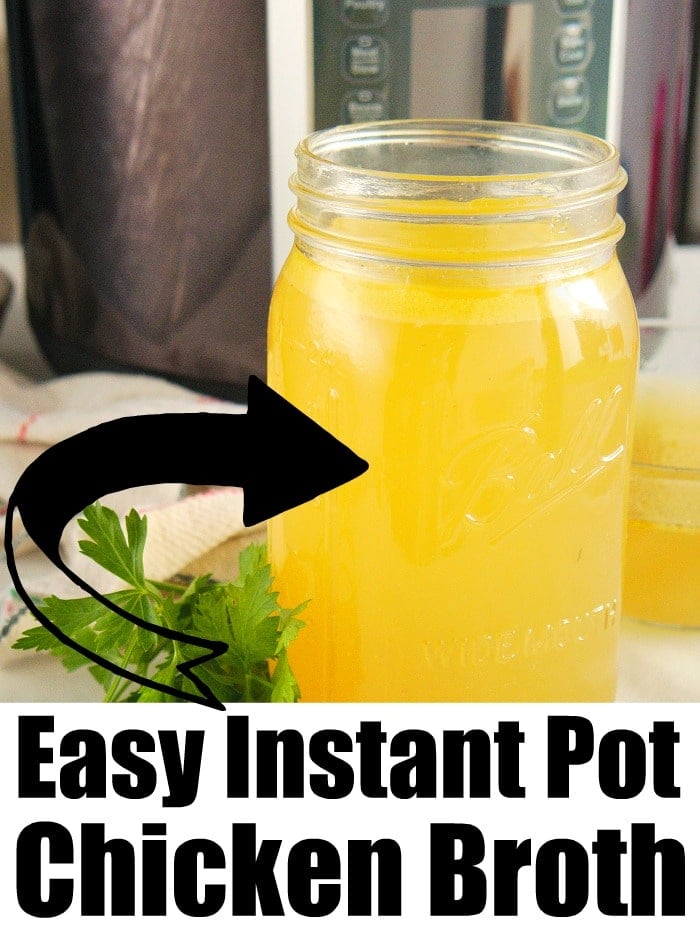 Now that you know how to make homemade chicken broth, you'll need to know how to store it! There are many methods out there, I explain two of them below. Canning chicken broth is a thing but I don't do it personally.
How long can you keep homemade chicken broth in the fridge?

Before putting it into jars you may want to use a spoon to remove the fat off the top layer. This will occur once it is cooled and easy to remove.
Properly stored in airtight containers in the refrigerator it will last 3-4 days easily.

Can I freeze homemade chicken broth?

Absolutely!
Pour into ice cube trays, freeze, and then transfer to a freezer bag.
These will last up to 6 months and in smaller quantities like this are easier to thaw out.
What if you want to store it for longer in larger quantities? You can! Can you freeze mason jars with soup? You sure can if you use wide mouth jars and allow it to cool before pouring it in. To make things easier use a funnel so it doesn't spill all over. Little tip you'll thank me for later.
Favorite leftover chicken recipes are: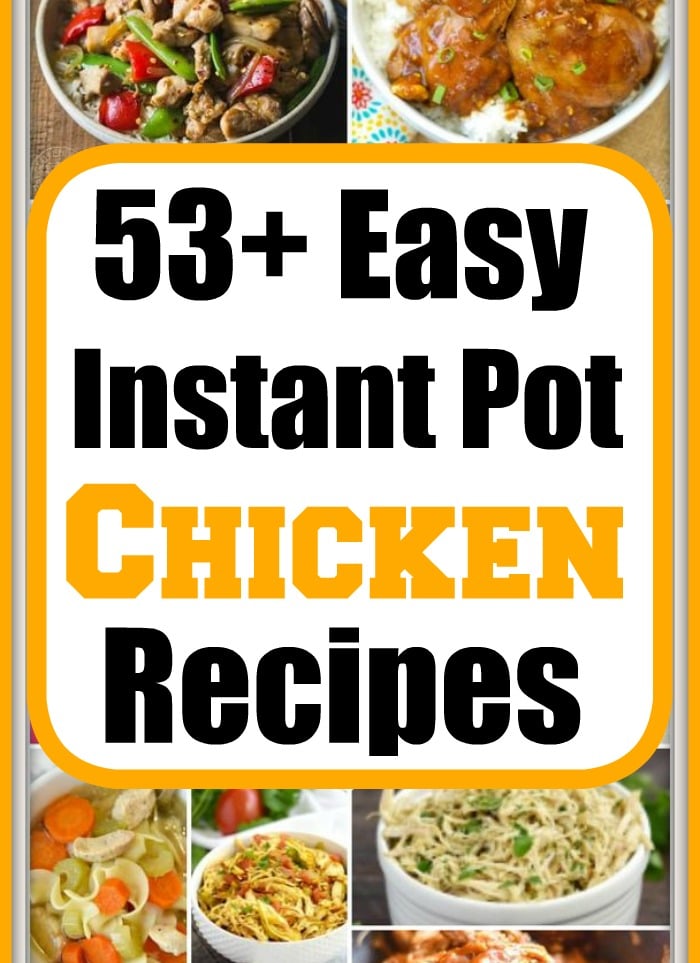 There are SO many things you can make with cooked chicken and Instant Pot bone broth. Together or separately the possibilities are endless!
Can you drink chicken broth? It is easily digested and sometimes it is prescribed as the best clear liquid recommended if you have digestive issues (such as diarrhea, nausea or vomiting).
How long is leftover chicken good for?
Whole cooked chicken or cut-up chicken parts should be eaten within 1 to 2 days. Patties or nuggets can last up to 4 days. You shouldn't eat any leftovers that have been sitting around longer than 7 days
Chicken Broth Instant Pot
Here's an easy chicken broth Instant Pot recipe for you! 2 in 1 meal where you can make shredded chicken + homemade chicken broth you can use and store for later.
Ingredients
Instructions
Cut whole chicken apart into 2 legs, breasts, thighs, wings. Do not debone. Put pcs. into pressure cooker. Then add all vegetables, whole garlic with top sliced off, and parsley into pot.

Pour in water, then add all spices.

Put lid on and close steam valve. Set to pressure cook high for 40 minutes.

When done allow to naturally release steam for 15 minutes. Use a strainer to remove chicken and vegetables from the pot leaving the broth inside.

Pour broth into mason jars and allow to cool before refrigerating.

Note: do not fill your pressure cooker pot over the max line inside.
Nutrition Facts
Chicken Broth Instant Pot
Amount Per Serving (2 oz)
Calories 15
Calories from Fat 9
% Daily Value*
Fat 1g2%
Cholesterol 1mg0%
Sodium 314mg14%
Potassium 99mg3%
Carbohydrates 3g1%
Protein 1g2%
Vitamin A 2129IU43%
Vitamin C 9mg11%
Calcium 23mg2%
Iron 1mg6%
* Percent Daily Values are based on a 2000 calorie diet.