This easy Instant Pot chicken and dumplings recipe is so yummy!i Takes just 20 minutes to make the best pressure cooker chicken recipe ever. The ultimate comfort food made in no time at all and a complete meal all wrapped up in one.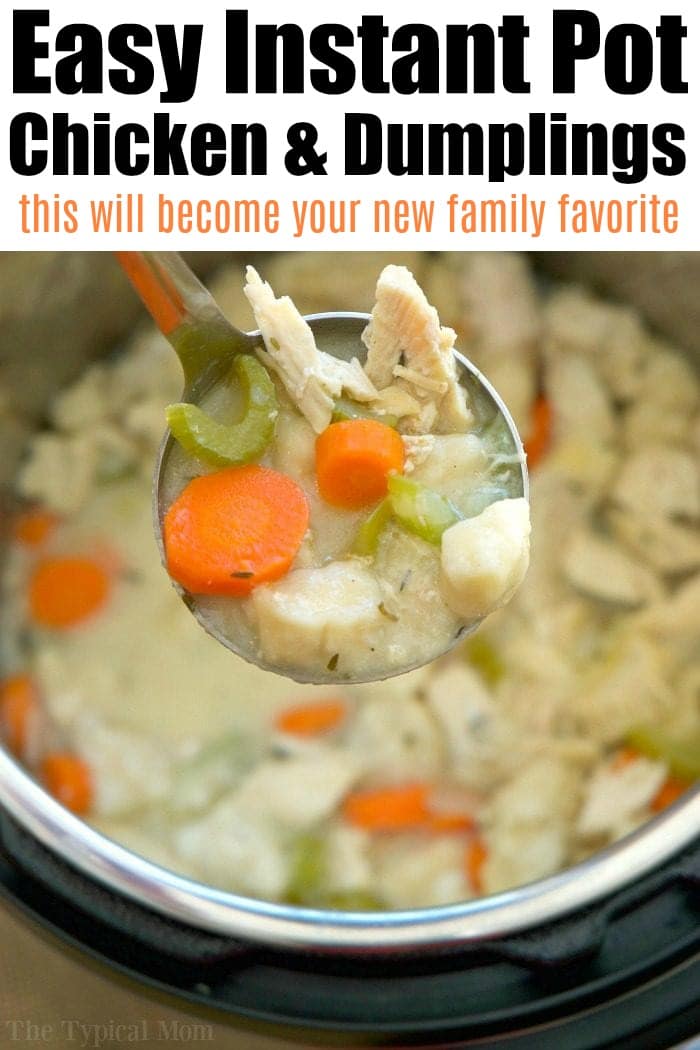 This Instant Pot chicken and dumplings recipe is probably our favorite, especially when it's chilly outside. One of our favorite Instant Pot recipes that reminds me of my childhood. (originally published 4/17, affiliate links present)
You can make it in your Ninja Foodi or any pressure cooker too if you have a different brand.
It's done in about 20 minutes and not only is the chicken super tender but the sauce is creamy and the biscuits are just the right consistency.
NO need to make biscuits from scratch, we are all about easy recipes here, and ready made refrigerated style works great!
Ever since I got my Instant Pot I make everything in there because everything cooks so quickly!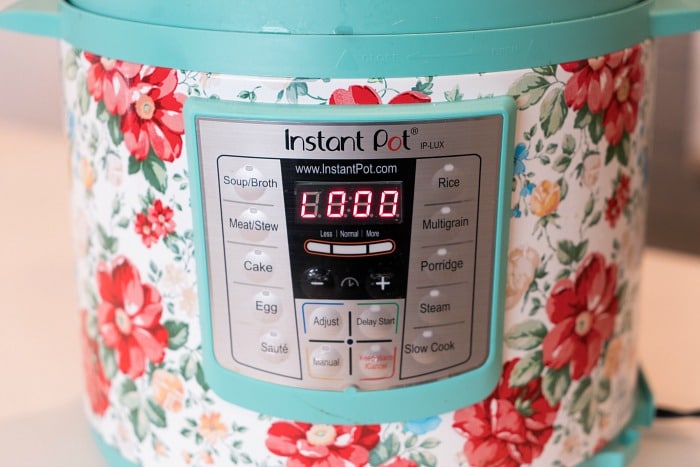 How do you make chicken and dumplings? Well there are a multitude of different cooking methods but this one focuses on a pressure cooker recipe.
I have made a multitude of Instant Pot soup recipes which I feel this one falls into.
This is what you'll need to make this Instant Pot chicken and dumplings recipe
Pressure cooker

I HIGHLY recommend getting this non stick pot

Chicken breasts
Carrots
Celery

Some like frozen peas too

Chicken broth
Milk
Refrigerated biscuits

if you can't find biscuits, you could try and make biscuit dough with Bisquick.
how do you make dumplings?

If you were making this on the stovetop you'd have to boil dumplings in a large pot 2/3 of the way with water.
Once you covered it and brought water to a boil over high heat, you'd add as many dumplings as can fit comfortably in a single layer in the pot.
Then you'd cook them until they floated + an additional two to three minutes.

I prefer THIS ready made way featured below though because it's easier. There is No baking powder or flour required

Seasonings listed below

poultry seasoning isn't listed but is another add in option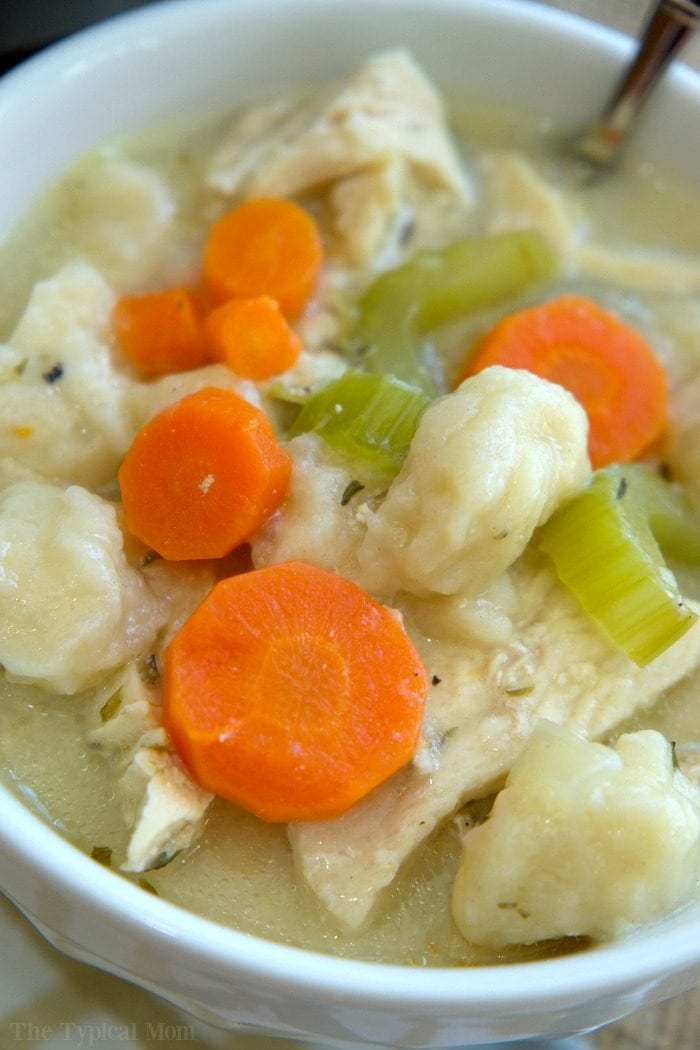 I have had some people outside the United States say they cannot find refrigerated biscuits at the store. To that I say you could try and make biscuit dough with Bisquick and add that at the end.
You could also just skip that portion and serve biscuits on the side. I wish I was more help with that but I have always had access to them. Just trying to think outside of the box if that's the case.
Yes you can make homemade dumplings and cut up the biscuit pieces. But if I can find a quicker way I'm all about it, so I used refrigerated biscuits. Of course you want a soft consistency and these do the trick perfectly. If you're looking for an easy way to make chicken and dumplings in your Instant Pot or Ninja Foodi you've got to give this one a whirl.
If you make a pressure cooker turkey this year you could easily use the leftovers instead of chicken. It's a quick meal done in 30 minutes which we love.
Can you make chicken and dumplings in a crockpot?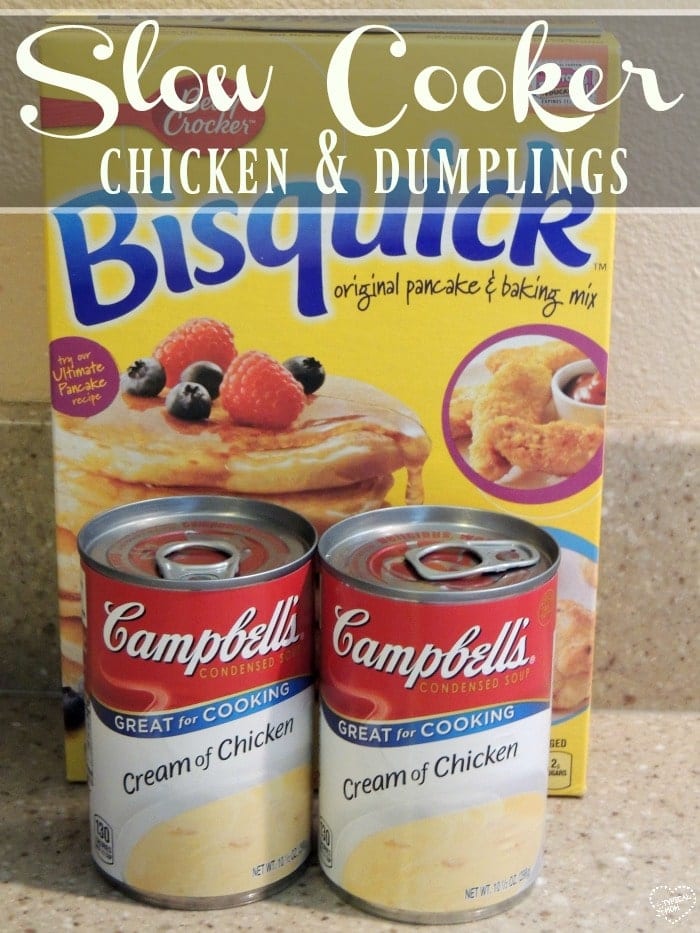 Here's how you make this easy chicken and dumplings recipe
Make sure your chicken breasts are boneless and skinless. Use pieces that are of a similar size so they cook evenly.

You can spray a bit of olive oil into the pot for nonstick purposes.
Add the chicken into your pot. Two or Three medium sized are great. Add all other ingredients except milk and biscuits.
Remember that the larger your vegetables are the firmer they will be. You don't want to dice them as they will become too soft. Large dials are great for carrots.

Close the lid and seal your pressure cook steam valve. Set to high pressure for 12 minutes. This is usually perfect for the amount of chicken I used.
Do a quick release, remove lid and turn pot off. Remove chicken and set pot to saute.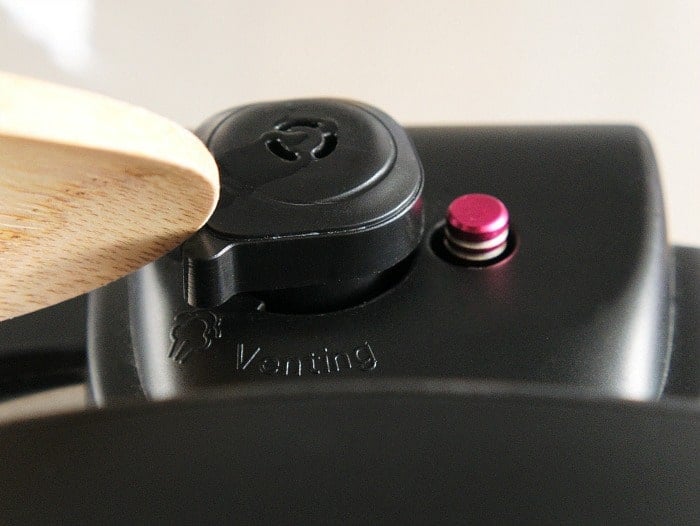 Cut up refrigerated biscuits and add them into your pot. Allow sauce to bubble and cook them slightly.

Then turn pot to off/cancel and put lid on again. Cook on high for 1 minute or low for 4 minutes.
What is the difference between noodles and dumplings?
Noodles are stringy strips of pasta while a dumpling is a ball of dough that is cooked and may have a filling and/or additional ingredients in the dough.
If you prefer to use noodles I'd make this pressure cooker chicken noodle casserole instead.
Do a quick pressure release.
How do you thicken chicken and dumplings?

Set pot to saute again and take some hot liquid out and into a bowl.
Whisk this and a few tablespoons of cornstarch together in a small bowl to thicken broth.
When this is smooth, add this into your pot as well as your milk. Allow to bubble. Shred your chicken and add back into your pot. Serve!
What exactly is a dumpling?
There is a pretty broad definition for these little buggers. Typically they consist of pieces of dough made from a variety of starch sources. The dough can be based on bread, flour or potatoes, and may be filled with meat, fish, cheese, vegetables, fruits or sweets.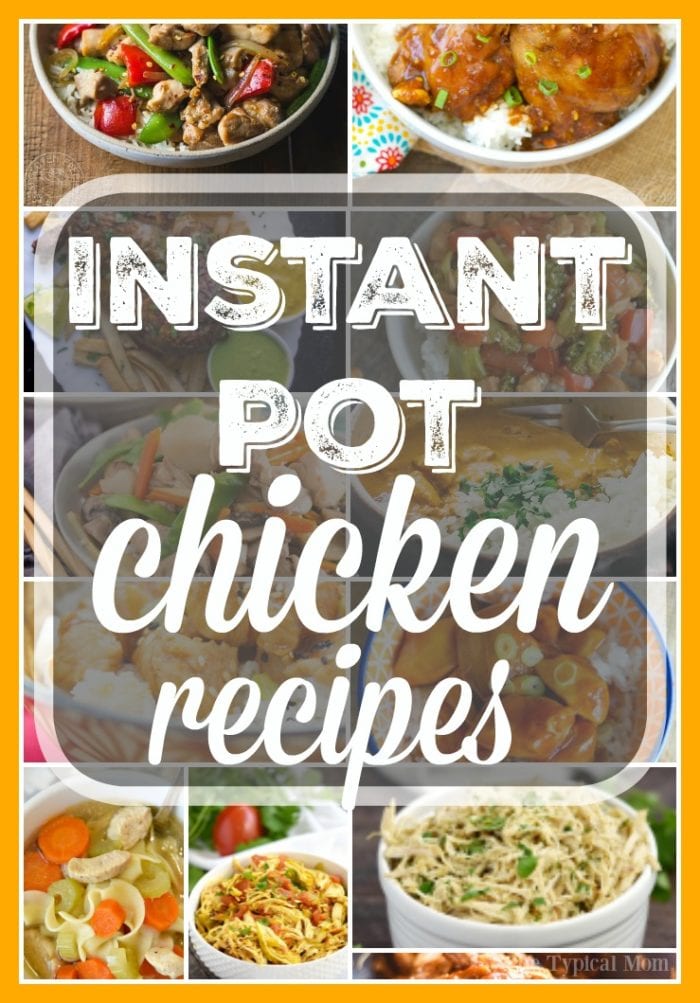 What sides go well with chicken and dumplings?
Looking for more Instant Pot chicken recipes ??
Here's a video showing you how we make pressure cooker chicken and dumplings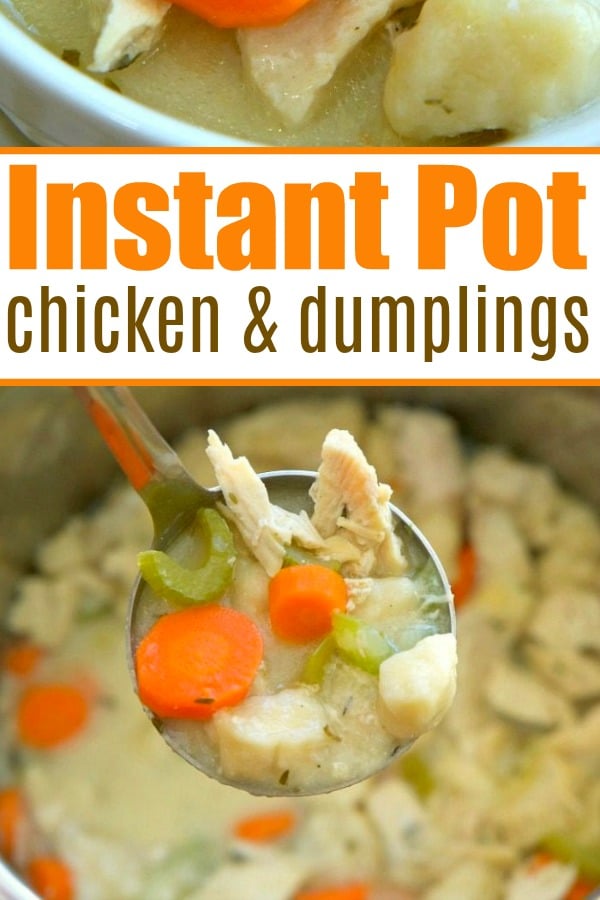 What should I serve with chicken and dumplings?
For us it is a one pot meal.
Could add more vegetables on the side though
Can you cook dumplings in the oven on their own?
Of course if you'd rather just make small biscuits in the oven be my guest
You can break them up into small pieces and put them into this dish before serving
Can I freeze chicken and dumplings?
I haven't done that with this particular recipe but I imagine you could. Just keep in mind when reheating that the dumplings will not be the same texture and may turn gummy.
Find more easy Instant Pot recipes too here!
Instant Pot Chicken and Dumplings Recipe
This Instant Pot chicken and dumplings recipe is incredible! Just 20 minutes to the best pressure cooker chicken recipe ever, and the ultimate comfort food.

Ingredients
1-1.5

lbs

chicken breasts

boneless skinless, medium size

3

carrots

large dials

2

stalks

celery

sliced thick so they don't get too muchy

1/2

onion

large chunks

1

c

chicken broth

(add more if you like a lot of liquid)

1/2

c

milk

(whole is best, add a bit more if you want more liquid)

3

refrigerated biscuits

Grands is what I used (cut into spoon size pieces)

1

tsp

salt

optional - we usually don't add any

1

tsp

oregano

1

tsp

thyme

1

tsp

pepper

1-2

tbsp

cornstarch

optional to thicken broth
Instructions
Put medium size chicken breasts, vegetables, seasonings and chicken broth in your Instant Pot or pressure cooker. Make sure breasts are of similar sizes so they cook evenly.

Put lid on and set at high pressure for 12 minutes. 

When done do a quick release and lift lid carefully.

Remove chicken and put in a bowl, cover to keep warm.

Set IP to saute and add cut up biscuits, put inside of liquid mixture.

Wait until it boils and allow to bubble for 1 full minute so it steams the biscuits. Turn pot off/cancel.

Put lid back on and set to manual, pressure, low, for 4 minutes. (if you don't have low function just use high for 1 minute)

Do a quick release when done and carefully lift lid. Set to saute again.

Pour milk in with liquid and stir slightly. Add 1 tbsp of cornstarch + a few tbsp of your hot broth into a bowl and whisk together until smooth ( if you desire it to be thicker) pour this mixture into your pot and stir gently. Can add another tbsp of cornstarch with same whisking if you want it even thicker.

Shred cooked chicken and add back into your pressure cooker. 


Allow IP to start to boil/bubble again for about 1 full minute to mix all liquids. Serve!
Nutrition Facts
Instant Pot Chicken and Dumplings Recipe
Amount Per Serving (4 oz)
Calories 262
Calories from Fat 72
% Daily Value*
Fat 8g12%
Cholesterol 76mg25%
Sodium 1180mg51%
Potassium 771mg22%
Carbohydrates 20g7%
Protein 27g54%
Vitamin A 7816IU156%
Vitamin C 10mg12%
Calcium 84mg8%
Iron 1mg6%
* Percent Daily Values are based on a 2000 calorie diet.
For more easy recipes, tips and free printables please LIKE The Typical Mom on Facebook and follow me on Pinterest!