The best Instant Pot chicken noodle soup with chicken breasts recipe takes just 5 minutes to cook! Super healthy pressure cooker soup with only a few fresh ingredients. Add vegetables, and it's a great comfort food when it is cold outside or you're not feeling well.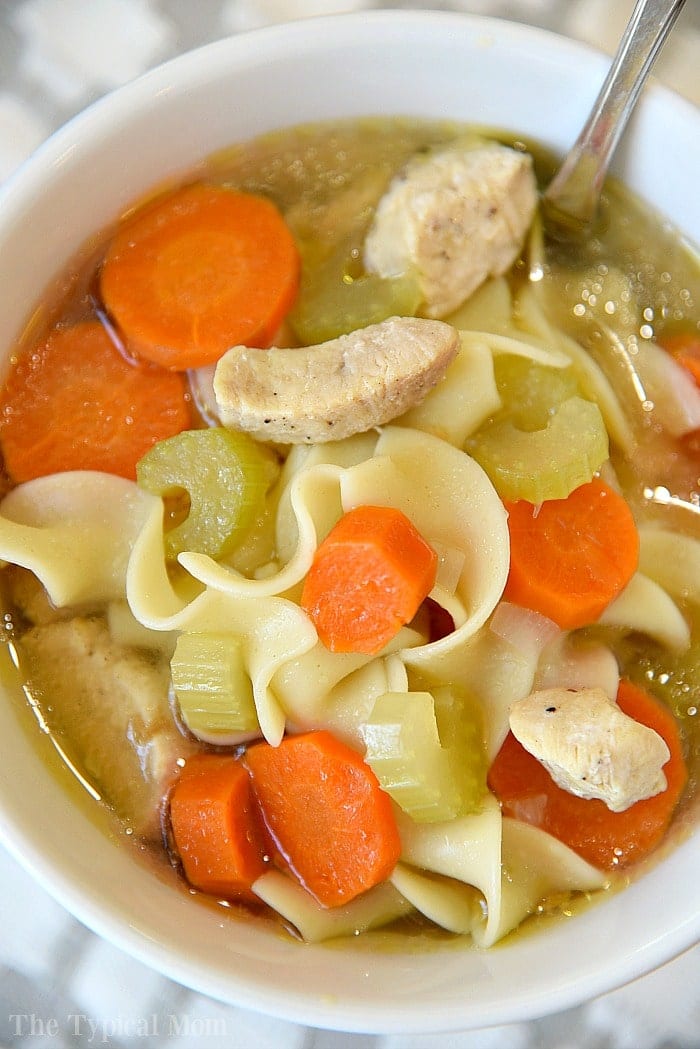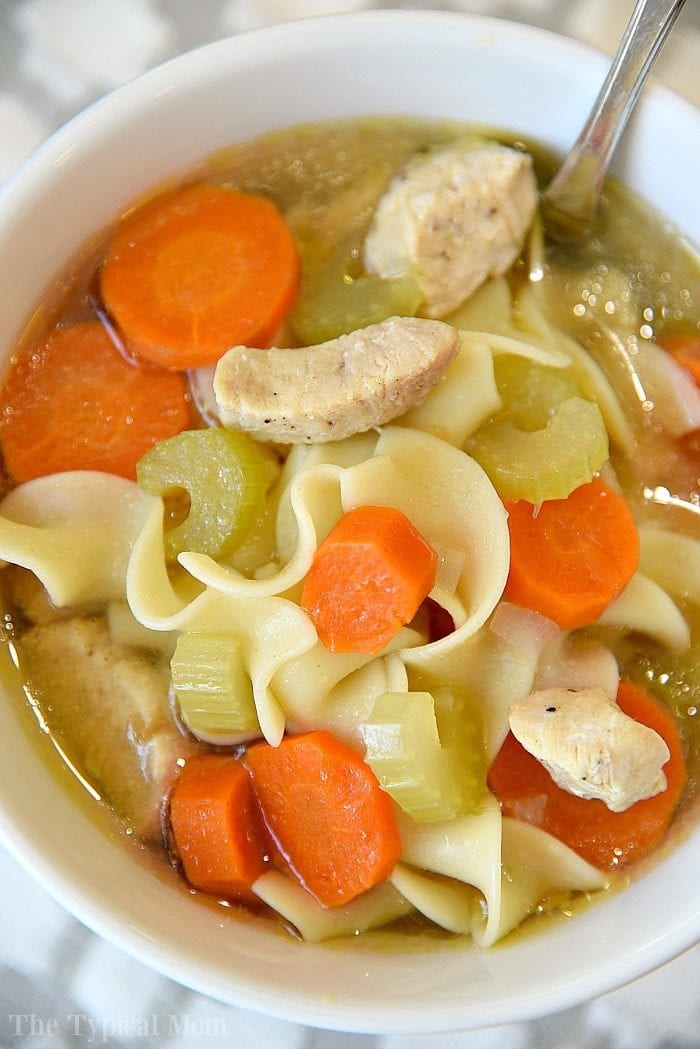 OH yes we love this Instant Pot chicken noodle soup!! No need to be sick to make this soup in your Instant Pot, it is the perfect meal any time of year as far as I am concerned. Really healthy, only requires a few fresh ingredients, and when cooked on high pressure in your pressure cooker it only takes 5 minutes to come out perfect! Just one of many Instant Pot recipes we've made and are adding more each and every day. 😉 (originally published 2/17, affiliate links present)
Include as many or as few vegetables as you'd like, serve with a side of rolls and you have the perfect meal, we all love this Instant Pot chicken noodle soup recipe.
We've made crockpot chicken soup many times but with the arrival of my new favorite appliance I knew I could make it much faster in my Instant Pot so I gave it a whirl and it worked perfectly the first time around (that doesn't always happen when I'm experimenting, lol).
I had celery, carrots, and onions at home so I went with those additions.
I added the 1 container of chicken broth I had but that didn't look like quite enough. So I used the remainder of vegetable broth I had from my Instant Pot potato corn chowder recipe which came out to about 48 ounces of liquid. A perfect amount for the noodles to absorb a bit of it and still have liquid to drink (or slurp) up.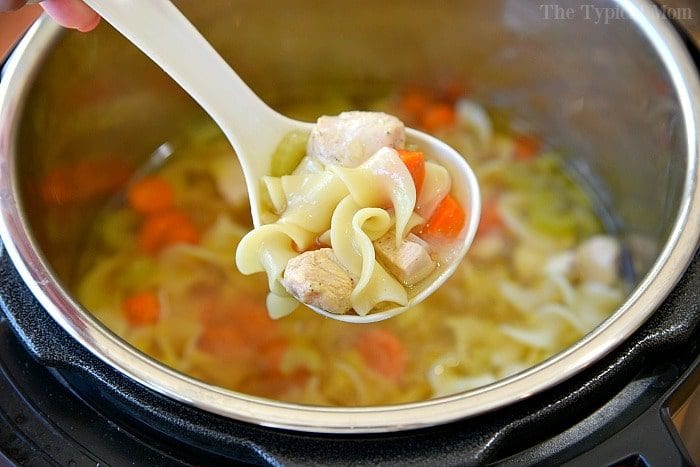 What kind of chicken is used for soup?
That depends on your preference really, but boneless skinless is necessary.
I use breasts for this but thighs could be substituted
Here's what you'll need
Boneless skinless chicken breasts (yes you put it in raw).

You could use diced chicken thighs
Or remove the chicken from a store bought rotisserie as well if you prefer.

Carrots
Celery
Egg noodles
Chicken broth – I use this one
Onion
Olive oil
Season with salt and pepper
What can I add to my chicken noodle soup for flavor?
Minced garlic
Add a bay leaf into the pot with the broth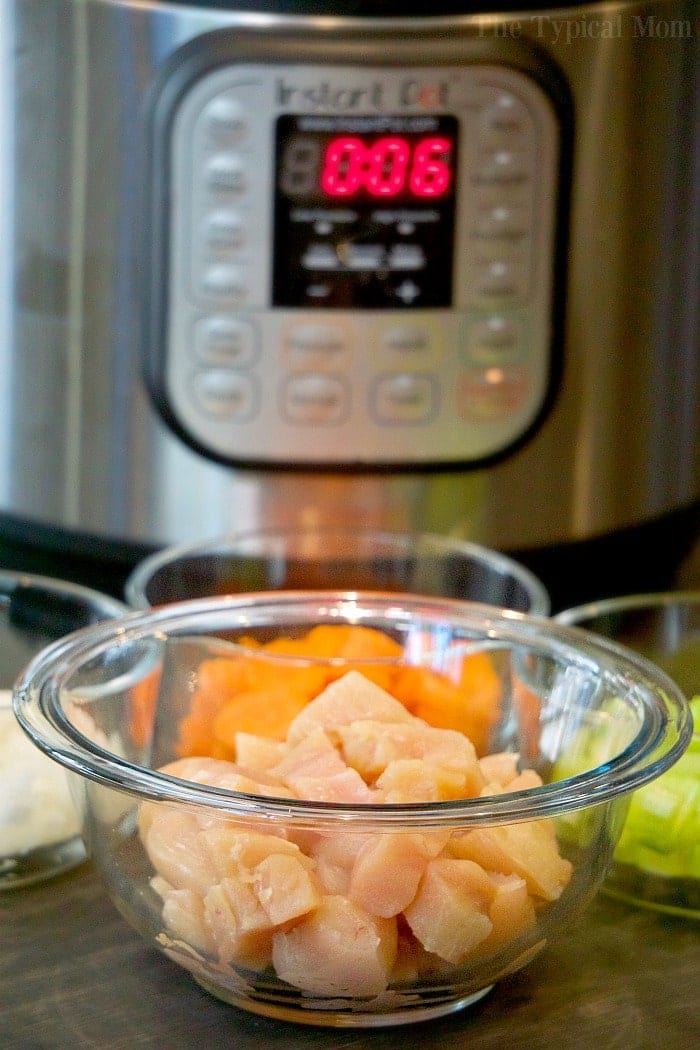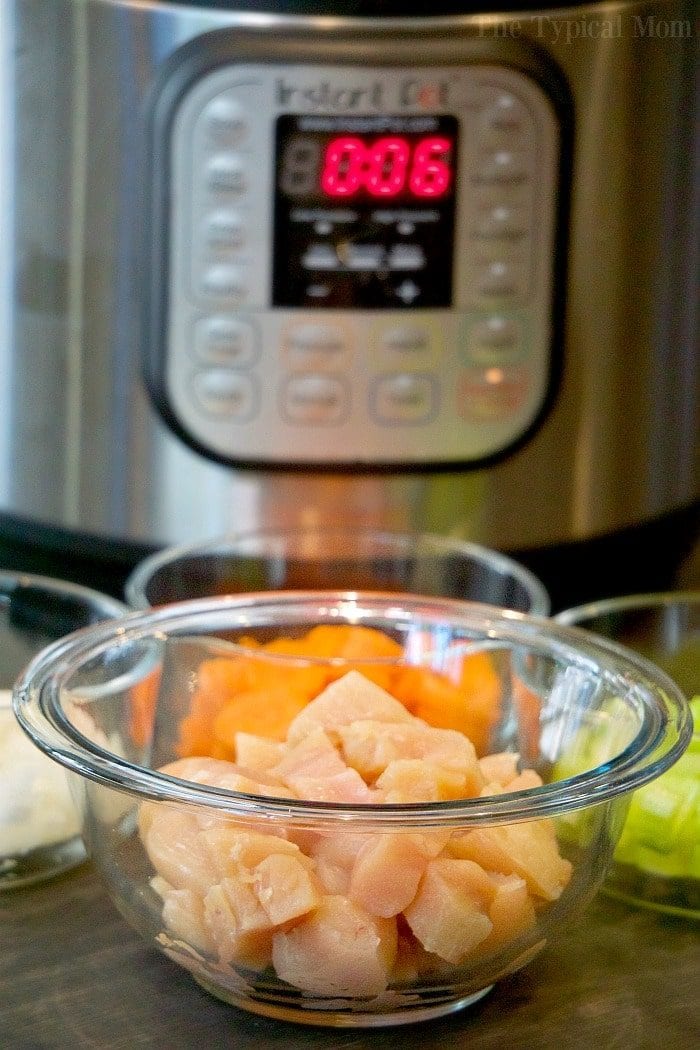 We are always trying to eat as healthy as possible and I will say that having Instant Pot recipes on hand really helped with that!
I can buy lots of fresh produce and brown my meat right inside the pot. It's a great meal cooks usually in less than 10 minutes. This is ideal for our busy family and this homemade chicken noodle soup is definitely one of our favorites.
Looking for more easy Instant Pot soup recipes or Instant Pot chicken recipes?
Our Instant Pot chicken stew is similar to this but creamy and with potatoes.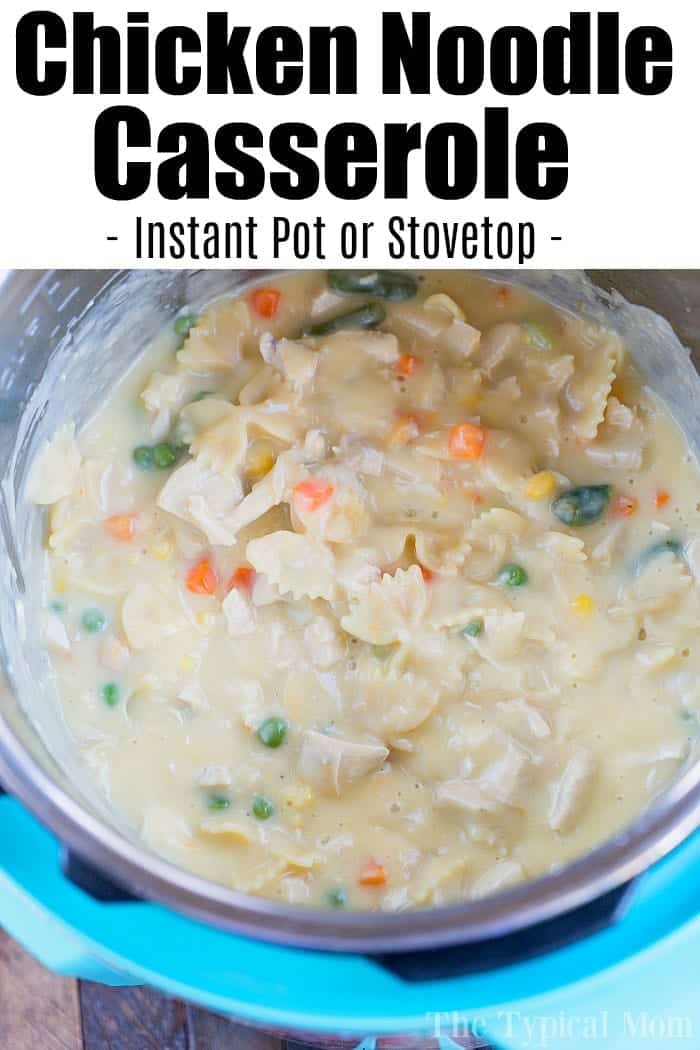 Tip: when cooking noodles in a pressure cooker you want to release pressure quickly. This is different than if you're cooking a dish with rice like our Instant Pot chicken and rice. With those it is best to give it about 3 minutes to naturally release and "puff up" the white rice.
Beef also needs a lot of time to allow the steam to release naturally. Using noodles though you definitely don't want them overcooked or they'll be mush.
If using egg noodles like we are here, they take the least amount of time. If you like them al dente aim for 2 minutes vs. 3. That comes down to preference really.
All in all I promise that you'll be changed after making chicken noodle soup in an Instant Pot. I didn't make homemade soups at all before this one and now I'm a believer.
Want to make chicken soup in the crockpot? We have that too.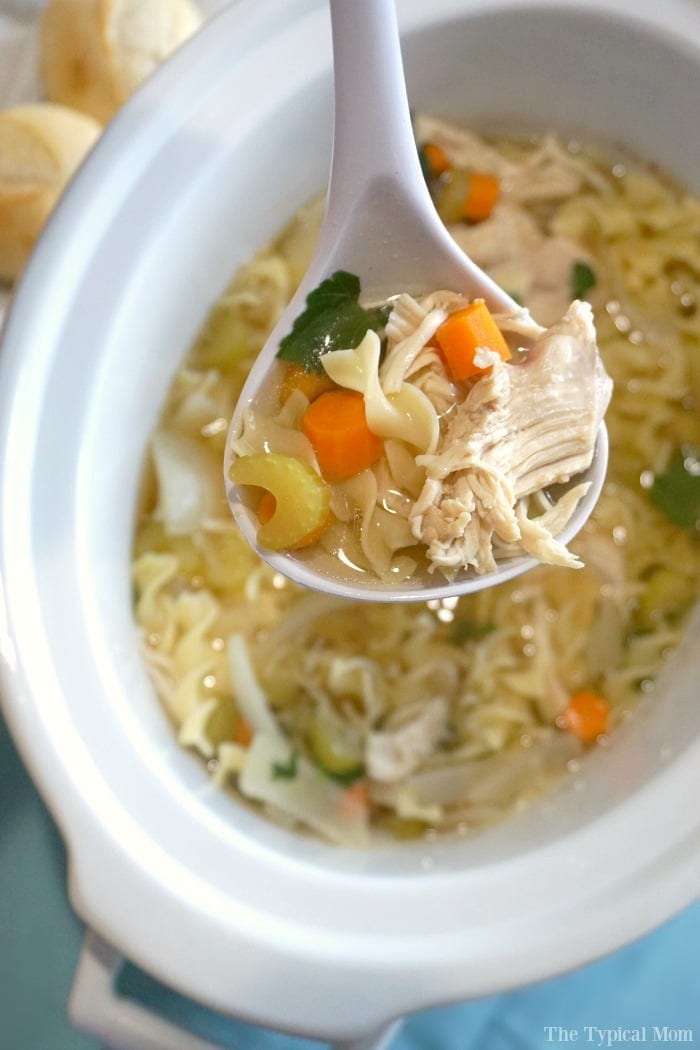 This has such a short cook time, just 3 minutes to pressure cook! You just lightly cook the chicken to begin with until it's no longer pink on the outside. Very quick and easy process. After you add the chicken you'll add diced veggies so they soften just a bit.
If you use pre cooked shredded chicken you'll skip this step of course. Do a quick release when done and serve immediately for best results.
How long can you keep chicken noodle soup in the fridge?
Properly stored in airtight containers, cooked chicken soup will last for 3 to 4 days in the refrigerator. In order to extend the shelf life you should freeze it. You will need covered airtight containers or heavy duty freezer bags to do this.
Can you freeze homemade chicken noodle soup?
Soups that contain pasta like chicken noodle or minestrone, won't hold up to the freezer very well unfortunately. If you're cooking soup specifically to freeze, just hold out on adding the pasta.
If you cook everything else, freeze, and reheat your freezer meal you can add freshly boiled noodles then. This is the best method to follow.
Here's a video showing you how we make pressure cooker chicken noodle soup:
Instant Pot Chicken Noodle Soup
Instant Pot chicken noodle soup recipe that is quick to make, needs only a few ingredients and a healthy pressure cooker recipe that is perfect year round.
Instructions
Put Instant Pot on saute low and add olive oil, chicken cut into spoon sized chunks, celery, onions, and carrots.

Cook for a bit so chicken gets just a bit cooked on outside and veggies soften just slightly.

Turn IP off and add chicken broth, uncooked noodles, salt, pepper, and spices if desired.

Put lid on IP, close valve and set to manual, pressure, high for 3 minutes.

When it beeps move the pressure valve just slightly to release the pressure clowly. Once steam is released carefully lift lid and enjoy!
Video
Nutrition Facts
Instant Pot Chicken Noodle Soup
Amount Per Serving (6 oz)
Calories 239
Calories from Fat 81
% Daily Value*
Fat 9g14%
Cholesterol 70mg23%
Sodium 1250mg54%
Potassium 717mg20%
Carbohydrates 15g5%
Protein 22g44%
Vitamin A 4175IU84%
Vitamin C 22.4mg27%
Calcium 41mg4%
Iron 1.2mg7%
* Percent Daily Values are based on a 2000 calorie diet.