This pressure cooker lemon chicken casserole is great! Using chicken thighs, mushrooms, and pasta you too can make this hearty meal for your family tonight. Get our your Instant Pot, Ninja Foodi or Crockpot Express y'all!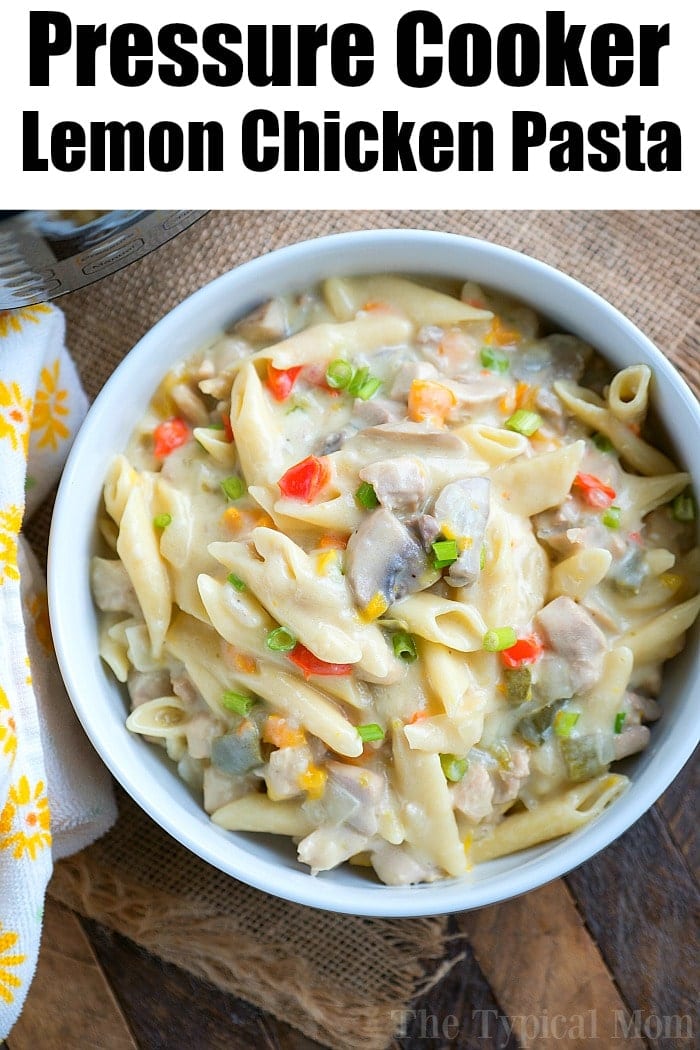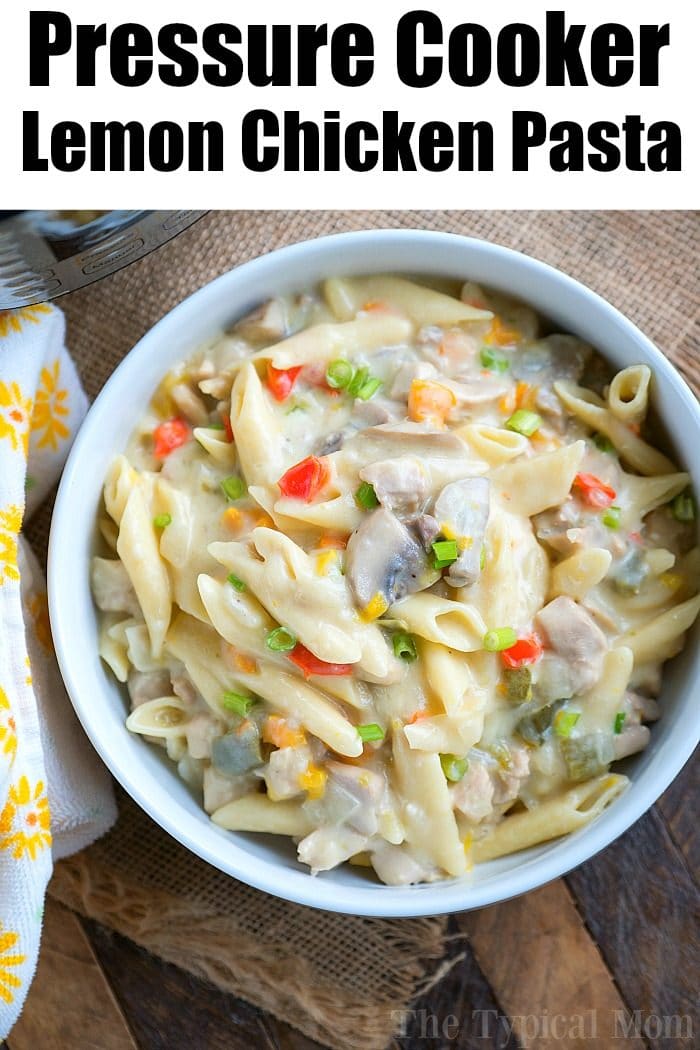 Do you love casseroles AND lemon chicken?? Us too! I thought, why not make a pressure cooker lemon chicken casserole with everything we love inside. Bonus that it's a one pot dinner and made in less than 10 minutes. I'm serious, it's that quick and easy my friends. Find this and 100 more Instant Pot recipes here on The Typical Mom blog.
Yes we are a bit obsessed with Instant Pot casseroles. If I can throw everything in all at the same time and come out with a bowl of comfort food, I'm all about it!
You can make this in your Ninja Foodi machine too.
The great thing about pressure cookers is that you don't have to cook the noodles separately. That is a game changer for me. No precooking required means less prep work and a faster meal.
That makes family dinner night a lot easier to do regularly.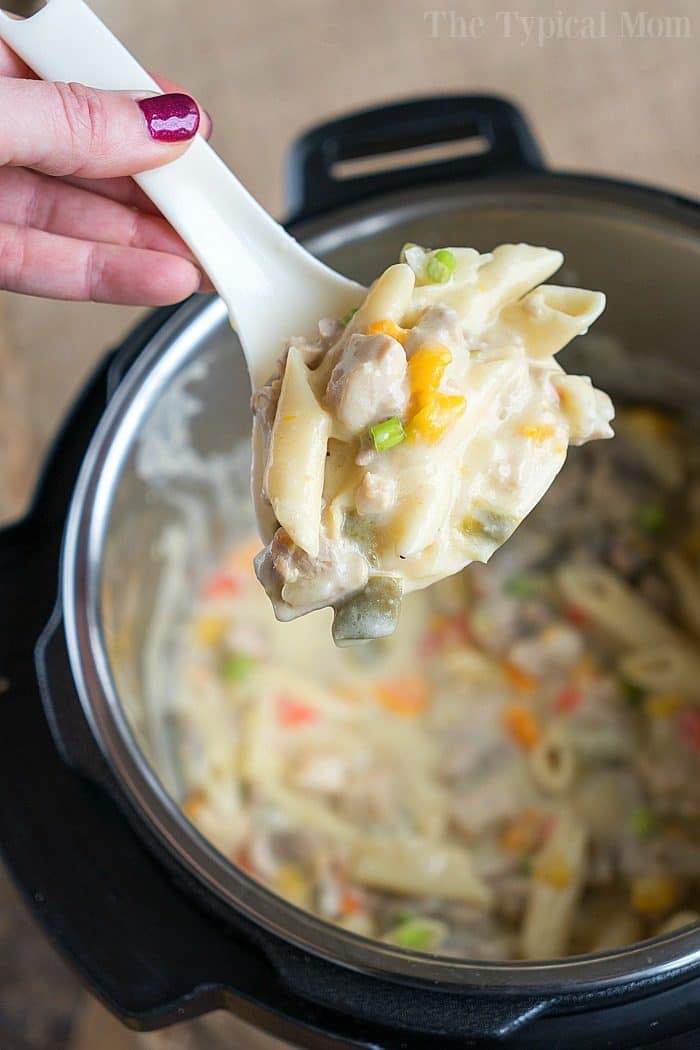 Similar to our pressure cooker chicken and rice dish, you could use chicken breasts or thighs really. You can also choose which style of small noodles you prefer. I generally choose what's on sale.
I haven't tried this with whole grain or gluten free noodles yet, so I don't have timing recommendations for those. If you make it and can share how long it took for you to make the noodles tender, please share.
Ingredients needed for pressure cooker lemon chicken casserole:
Pressure cooker

If you have an Instant Pot I HIGHLY suggest this non stick pot

Boneless skinless chicken thighs – diced into bite size pieces
Pasta – we used these noodles
Bell peppers – diced
Mushrooms – I love baby bellas if I can find them
Onion
Garlic
Garlic salt
Lemon – freshly squeezed is best
Salt and pepper
Chicken broth
Heavy whipping cream
Cornstarch to thicken sauce at the end
It's been one of our favorite October Instant Pot recipes.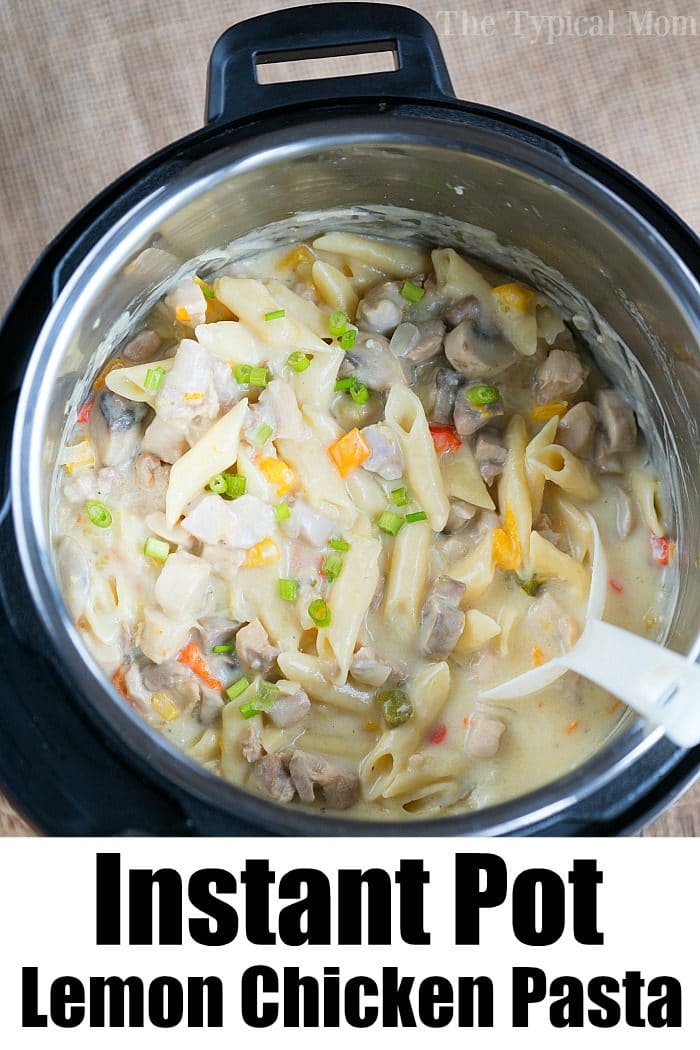 Differences between Instant Pot vs Ninja Foodi when cooking this pressure cooker recipe.
Literally there's no difference if you have a Crockpot Express or Ninja Foodi other than the first says brown on the button instead of saute.

If you've been using your pot for a while you know that all Instant Pot recipes will work just the same.
Never made a casserole in your pot yet?? You may be asking; Can you put a casserole dish in an Instant Pot?
You don't need to!!
All you need is the inner pot.
Just throw all the ingredients in and it's done in just a few minutes!
Can you put frozen chicken in the Instant Pot?
You can but I wouldn't recommend it for this recipe in particular.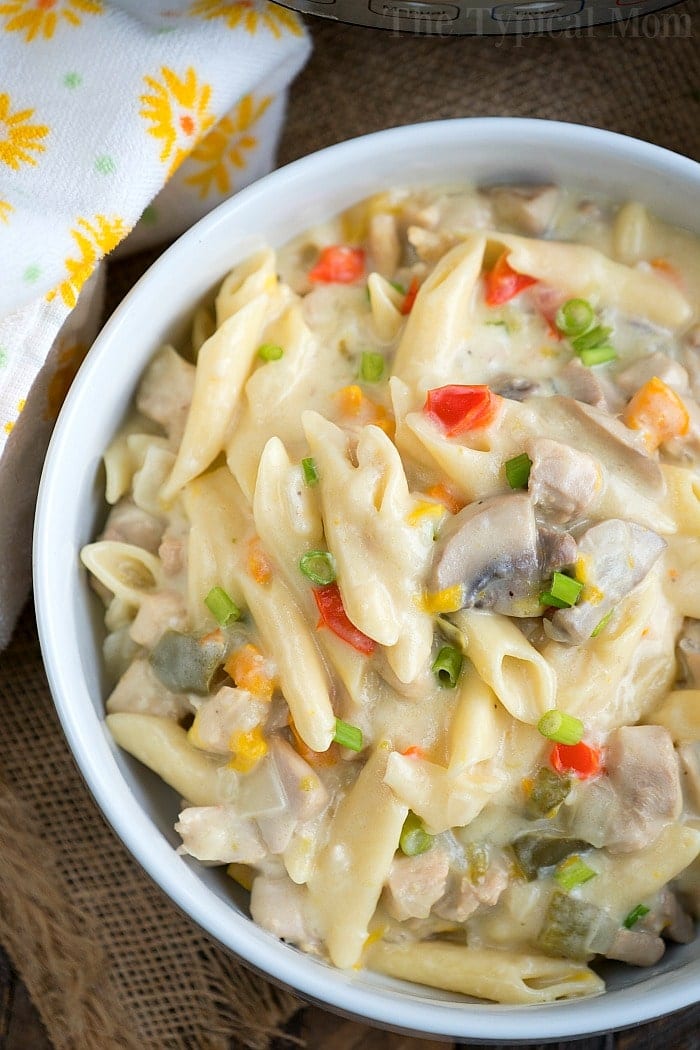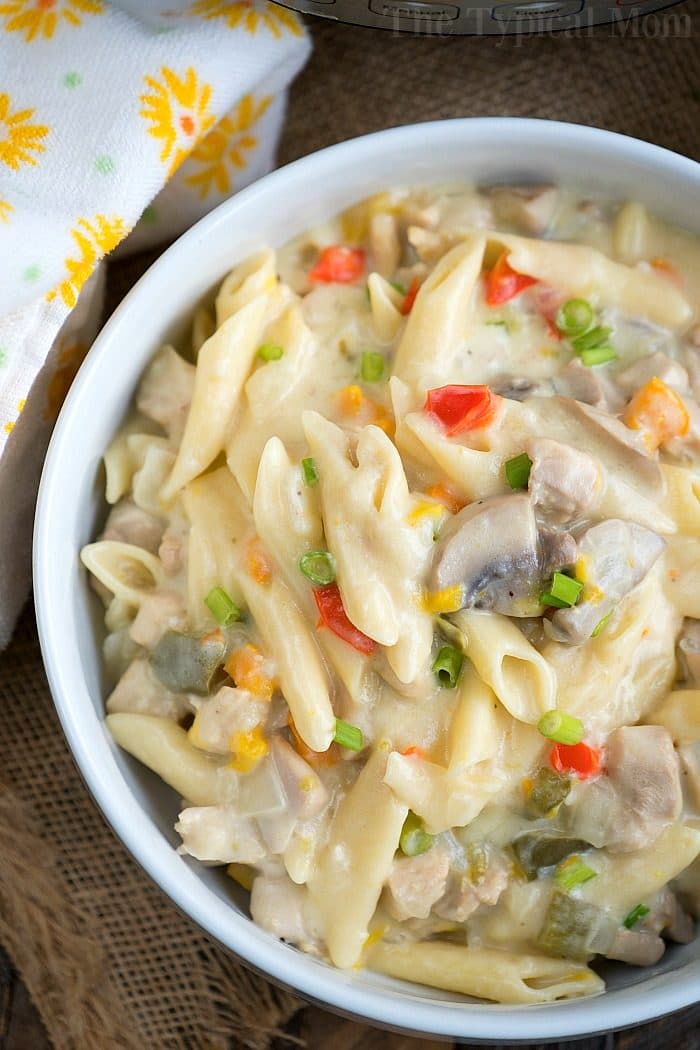 Steps to follow when making this Instant Pot lemon chicken pasta:
Add the olive oil or butter into your pot and press the saute function. Then add the chicken that's been diced inside.
Pour diced onion and bell peppers at this time so they can soften together. Cook for 1 minute with these.
Brown the chicken on the outside, then turn pot off.

Don't overcook it, you want it to be tender, juicy and full of flavor when done. I just saute 2-3 minutes until outsides of chicken pieces are no longer pink.

Juice half of lemon on top, then sprinkle in quartered mushrooms.
Uncooked noodles go on top with broth poured on top. Submerge pasta as much as possible but do NOT stir.
Close lid on Instant Pot and set to high pressure for 4 minutes followed by a quick release.
Open, stir, set to saute again and in a small bowl whisk together cornstarch and heavy cream.
Pour in and stir. Allow to bubble and thicken. Turn off and let sit so it continues to thicken sauce.
Serve with a bit of lemon zest and lemon juice squeezed on top of each bowl full!
Looking for more easy Instant Pot chicken recipes?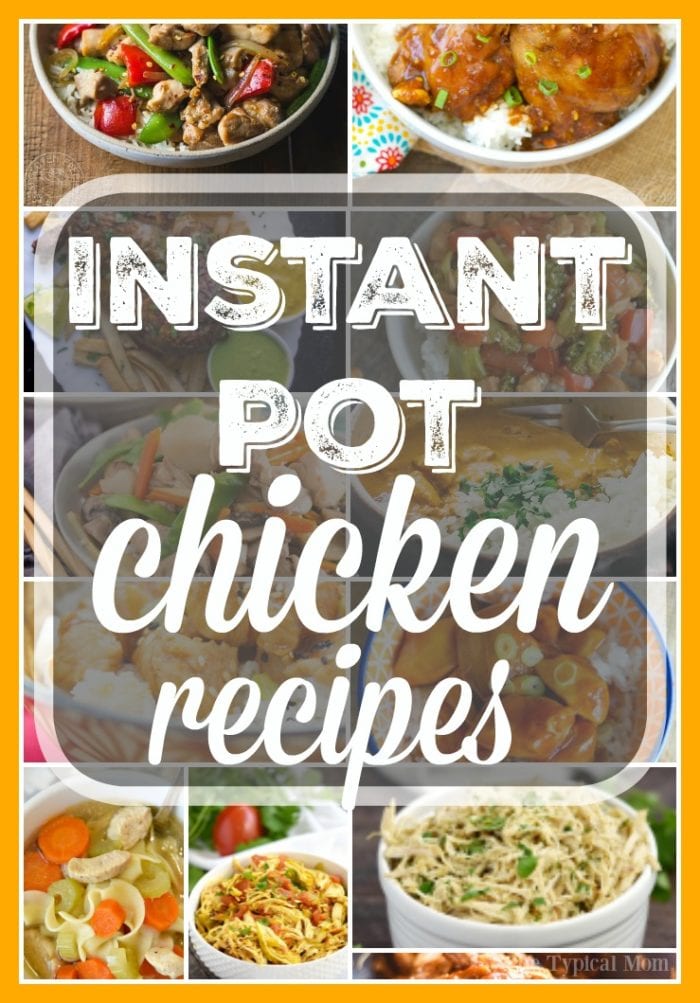 And that is our complete Instant Pot dinner done in less than 30 minutes flat people!
Want to make Instant Pot lemon chicken or Crockpot lemon pepper chicken that's keto friendly too? Do it!! They're a bit different from one another but delicious just the same.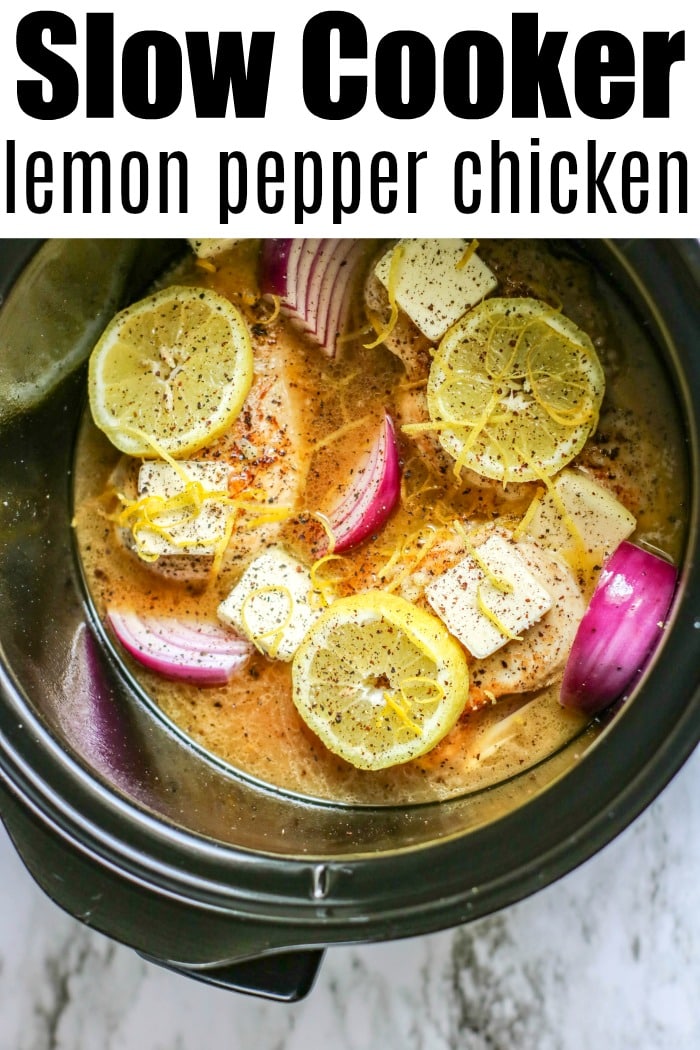 What do you eat lemon chicken with?
Well if you're making our pasta dish it's kinda' all encompassing. I don't serve a side dish with that. If you're making the other version though without the noodles I would suggest vegetables and rice all the way.
Greens are great like some spinach, Swiss chard, or kale
Green beans steamed or cooked with some butter work
Served on top of some roasted or mashed potatoes is my husband's favorite
My favorite is white rice, purely simple and naturally gluten free
Either one you choose to make I guarantee your family will smile. I just love an easy Instant Pot chicken pasta dish with all the ingredients cooked together personally.
Make sure to follow recipe notes carefully when it comes to stirring, when to do so and when not to avoid burn notice.
Pressure Cooker Lemon Chicken Casserole
This pressure cooker lemon chicken casserole is great! Using chicken thighs, mushrooms, and pasta you too can make this hearty meal for your family tonight.
Instructions
Add your butter to the pan, set pressure cooker to saute, then add your diced chicken thighs.

Once pan is hot add your diced onions and bell peppers and saute until outside of chicken pieces are no longer pink.

Add minced garlic and stir, turn pot off/cancel.

Squeeze 1/2 of your lemon into mixture, pour in quartered mushrooms and sprinkle in your garlic salt (and pepper if you're adding that).

Pour in your uncooked noodles and pour your broth on top of them, do NOT stir.

Gently push your noodles down until some are submerged in the liquid (it's okay if not all of them are).

Close lid and steam valve and set to pressure high for 4 minutes.

Do a quick release, turn off/cancel and then hit saute again if you want to thicken your casserole.

In a bowl whisk together your whipping cream and cornstarch until smooth.

Pour this into your Instant Pot and gently stir allowing mixture to bubble and thicken. Squeeze in your remaining 1/2 lemon juiced. Turn pot off once achieved so it doesn't continue to cook.

Will continue to thicken as it sits. Serve with a bit of parmesan cheese on top if you like.
Nutrition Facts
Pressure Cooker Lemon Chicken Casserole
Amount Per Serving (3 oz)
Calories 553
Calories from Fat 288
% Daily Value*
Fat 32g49%
Cholesterol 153mg51%
Sodium 596mg26%
Potassium 559mg16%
Carbohydrates 38g13%
Protein 25g50%
Vitamin A 1800IU36%
Vitamin C 66.4mg80%
Calcium 48mg5%
Iron 1.7mg9%
* Percent Daily Values are based on a 2000 calorie diet.