Crockpot lemon pepper chicken breasts are easy to throw together, healthy, and a favorite meal served over rice at our house. Tender and packed with flavor!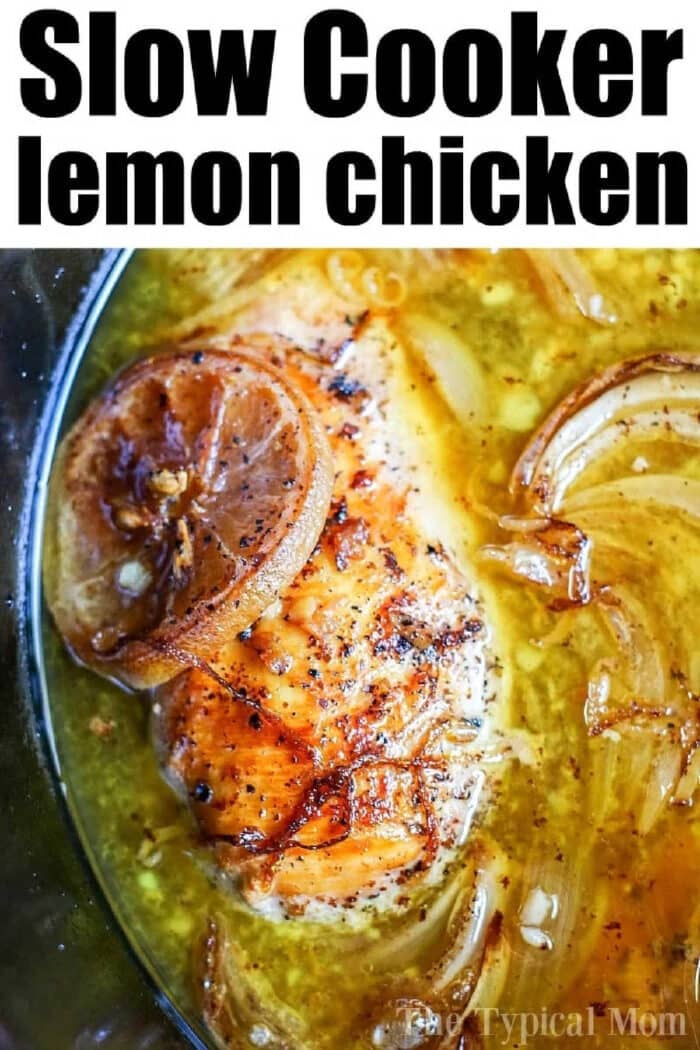 Do you love healthy meals that cook all day without much effort on your part? That's where this Crockpot lemon pepper chicken comes into play. Try this and our other easy crockpot recipes here on The Typical Mom blog, let us know which one you like best. (10/19 originally published, affiliate links present)
Slow Cooker Lemon Pepper Chicken
This has TONS of flavor and only a few natural ingredients. If you want bold flavors with little to no effort from you, this is it. You can use chicken breasts like we did here or thighs if you prefer dark meat. A healthy slow cooker recipe that even your kids will love, give this a whirl tonight.
Now you may have used a lemon pepper chicken marinade before grilling, and that was good. Now think about the meat actually cooking in that sauce all day long. How much more intense and vibrant those flavors would become, I know right? Game changer you have to try.
FIRST – You should sign up for my free newsletter so you get new posts emailed to you twice a week and never miss out on anything! Let's talk a little bit about slow cooking shall we?? First off I have a few different varieties and I love them all. Each one has an occasion to be used like….
This is my favorite 6 quart programmable one with a locking lid so it's great for bringing to a potluck too.
If you just want to serve a few appetizers you should get this one that sit side by side one another.
I prefer not to use liners, but rather just spray olive oil inside before adding my food for easier cleanups.
Let me give you a peek of my pretty thang I bought recently. It goes with my kitchen so I can just leave it out on the countertop all the time. 😉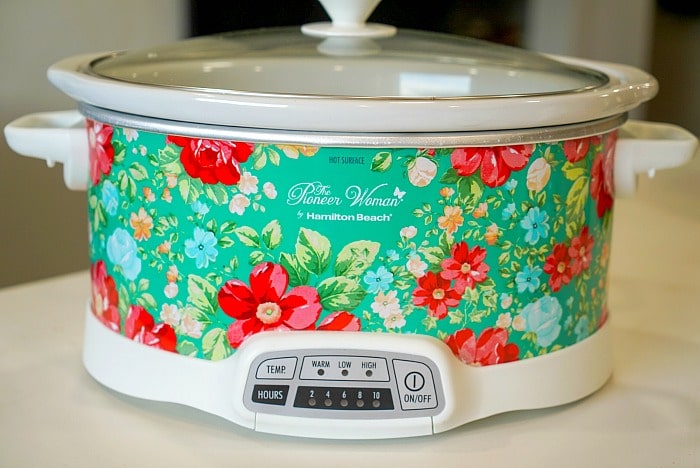 Frozen Lemon Chicken in a Slow Cooker
All. Fresh. Ingredients is the key. Okay well if you can't find good looking lemons in your produce section then I give you permission to buy it bottled, but they should easy to find too. Found on our easy cheap crockpot meals post it is just that. Inexpensive and hearty!
Slow Cooker Lemon Pepper Chicken Thighs
Like I said, either cut works great for this one. Now if you are using skinless boneless thighs or breasts your dark meat will be smaller, thus take less time overall.
Surprisingly enough you can even start with your meat right out of the freezer too! Another shocker, the timing doesn't change! Seriously, slow cooker frozen chicken thighs are minute for minute the same.
The one thing you will need to do if yours isn't defrosted yet is to run under cool water. You want the pieces to be separated from one another or else the middle won't be cooked thru. Once you pull them apart and stack staggered in your pot you are good to go either way.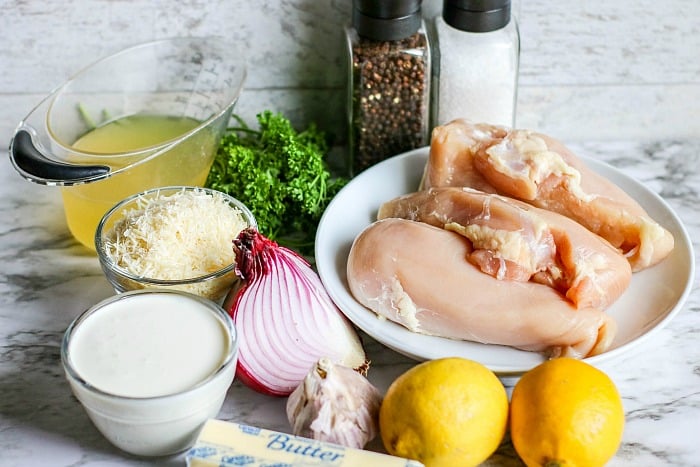 Easy Lemon Chicken Crockpot Recipe
I have a 6 and an 8 quart pot for this. Use the smaller one if it is just the 4 of us eating, that is plenty big. You could easily double this if you had a really large one. You just don't want the meat overlapping a ton. Here is an ingredient list;
Boneless skinless chicken breasts

could substitute for chicken thighs
cooking time may be a bit less for them depending on how many were added

Butter
Chicken broth
Red onion
Heavy cream
Parmesan cheese

add another 1/2 cup to sprinkle on top when done too

Salt and pepper
Garlic
We serve this over Instant Pot white rice or wide egg noodles. These are cooked separately. Ready to start throwing this easy slow cooker recipe together?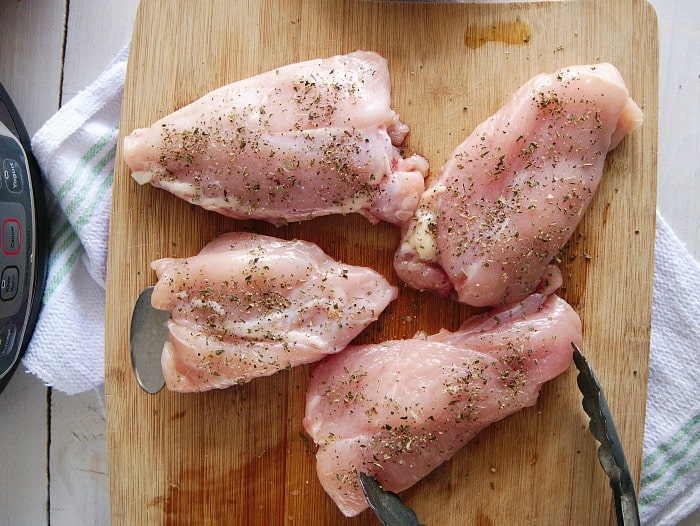 Slow Cooker Lemon Chicken
You could omit the pepper all together too if you would rather. There wouldn't be any changes beyond that, just know it will be more tangy. Now get out your crock. I have several but my 6 quart is probably what I use most often. I use this to make crockpot crack chicken often, and Crock pot pizza just for fun.
Now lots of lemon pepper chicken marinades call for a jarred seasoning, we aren't using that here. You could if you'd like a more intense lemon and pepper flavor. I would rather use non processed ingredients if and when possible.
Yes I have used this in the past when I have forgotten to pick up lemons and I want to make this chicken recipe.
However, I will tell you it is SO much better the way we explain it to you below.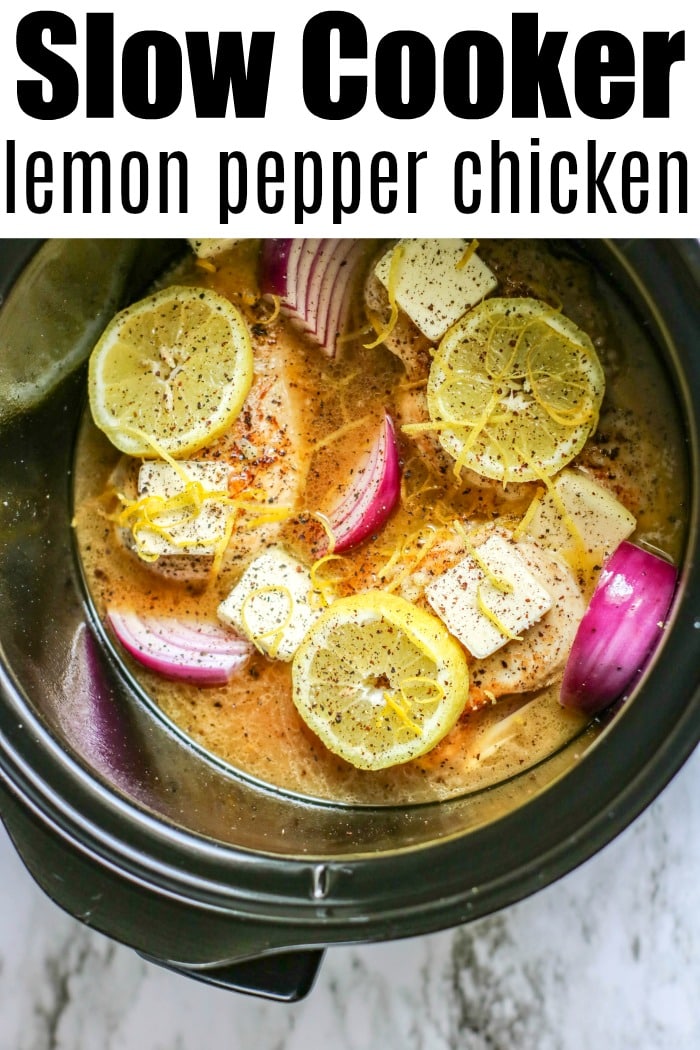 Here are a few questions you might have before you get started on this one:
What can I use instead of lemon pepper?
What we share below. Fresh lemon juice, zest, and ground pepper far better! Fresh ingredients are always better than bottled dry if you have access to them.
What is lemon pepper seasoning made out of?
It is essentially granulated lemon zest and cracked black peppercorns. The lemon zest is mashed with the pepper to allow the citrus oil to infuse into the pepper. Like I said, I do have this in the cupboard for "OH NO I forgot" moments.
Does lemon pepper have sodium?
Actually most of them include the flavors you love without the added salt. This makes it perfect for individuals following a low-sodium diet.
Crockpot lemon pepper chicken
First get out your slow cooker and spray the inside with a bit of non stick spray (makes it easier for cleanup). I should just buy this olive oil spray by the case full because I use it ALL the time!!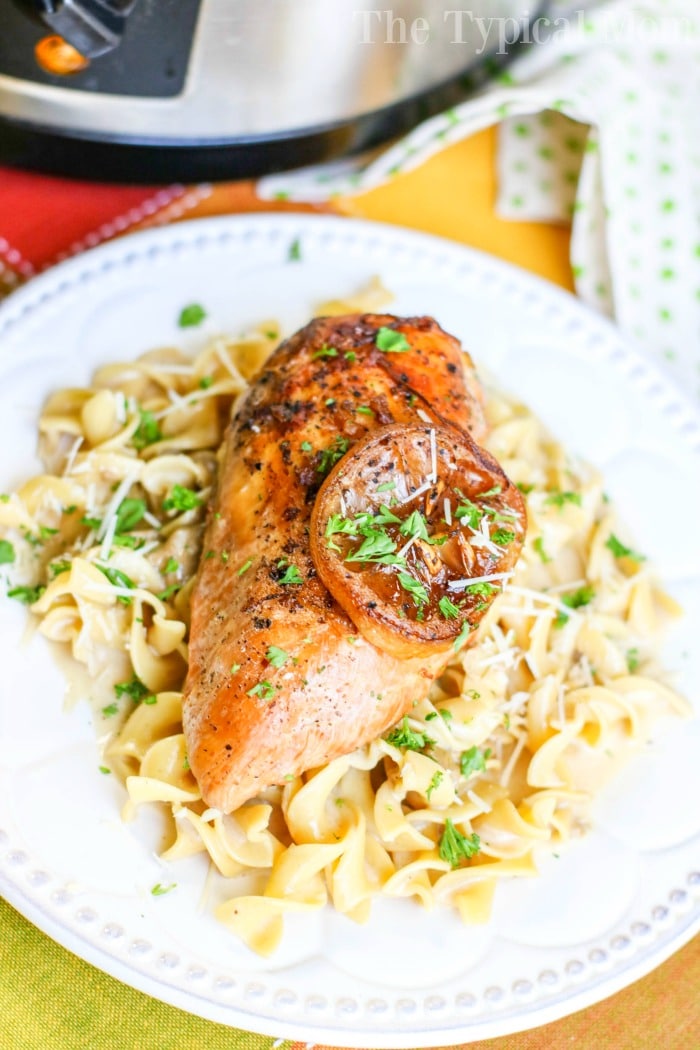 Crockpot Lemon Pepper Chicken and Potatoes
Below is a quick step by step but there's a printable recipe card at the bottom as well. In a skillet on your stovetop add seasoned chicken breasts and butter. Sear/brown on both sides (insides will not be cooked at this time, just outside)
Into slow cooker put chicken and add chicken broth or stock in your skillet.
Scrape bits of stuck on meat off pan then add lemon juice
Pour this liquid into your pot on top of your meat.
Put onion pieces, quartered potatoes (if adding) around chicken, zest lemon, add minced garlic and cube rest of butter on top of everything.
Cover and cook on high for 3-4 hours or IDEALLY on low for 6 hours for best results. Ensure meat is cooked to the correct internal meat temperature before taking out.
Place meat on a plate and cover to keep warm. Pour liquid from crockpot into pot on stove and whisk in parmesan and heavy cream until it is reduced and thick! Serve!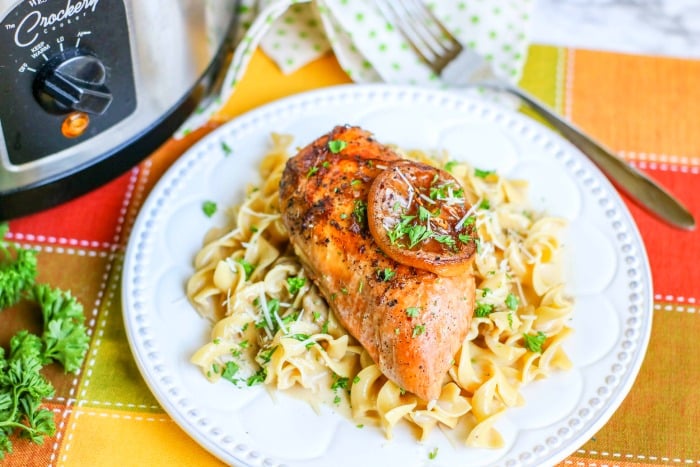 Can you marinate chicken in lemon overnight?
First off, you never want to marinate with lemon in a metal container. The acid can react with the metal. Instead, marinate chicken in a lemon marinade for up to 2 hours in an airtight container or gallon freezer bag.
Longer than 2 hours in lemon juice can break down which will ruin the texture of the cooked meat. You won't like it believe me. Take out, follow step one below, and then discard the leftover marinade.
Want to make something quicker but with the same great flavors? Try our Instant Pot lemon garlic chicken recipe too.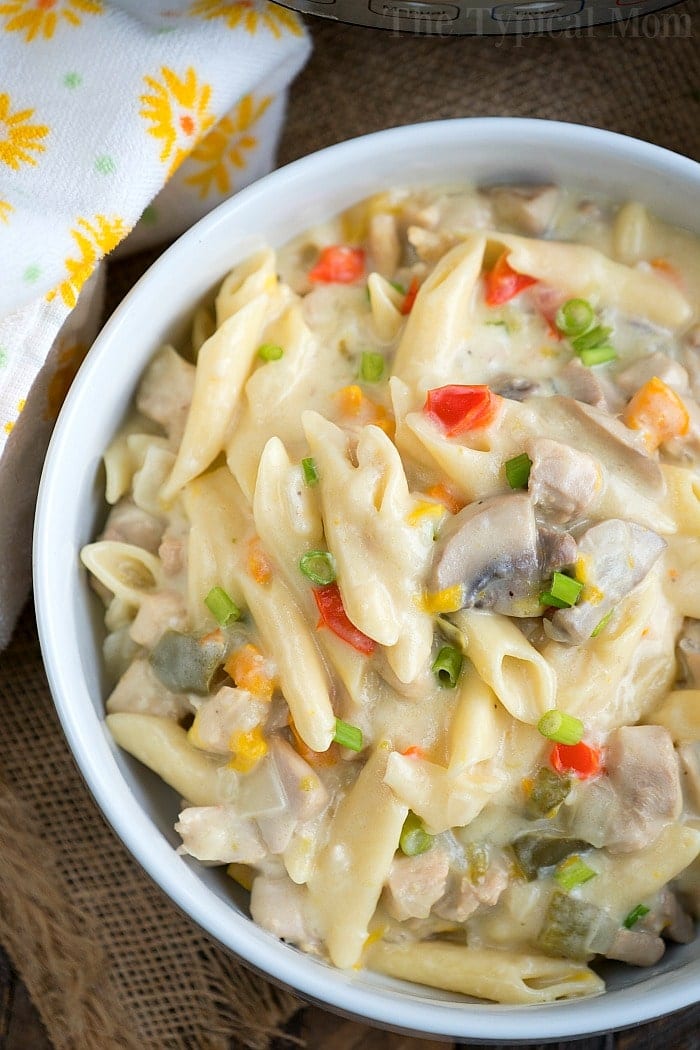 What makes chicken tough and chewy?
If you've ever cooked a chicken breast and had it turn out tough and chewy, it might not have been your fault. Some chickens are affected by a condition called woody breast which are hardened muscle fibers. To lessen the chance of getting a batch with this buy your chicken from smaller farms.
I have had the best luck buying organic free range chicken. Never have I had this experience in doing so.
I'm not always as picky when it comes to beef, but organic chicken is the way to go for tender fall apart meat.
Over-marinating may also be a culprit so do so in short durations. Looking for more slow cooker chicken recipes like this Crockpot cheesy chicken and rice dish.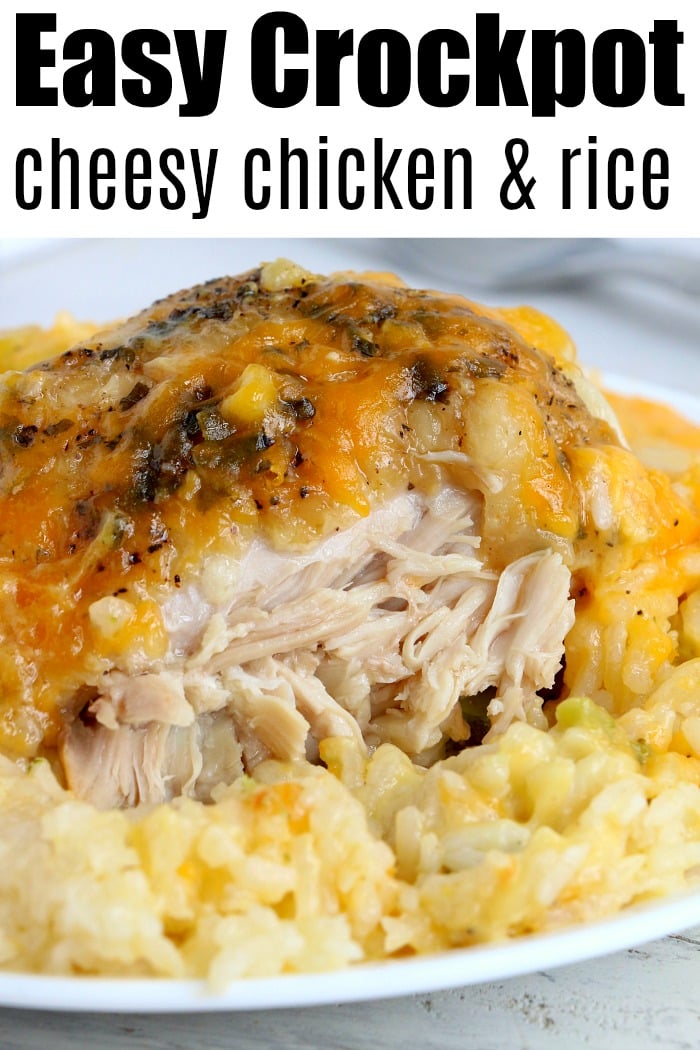 Slow Cooker Creamy Lemon Chicken
If you wanted the sauce to be a bit toned down and creamier you could add 1/2 cup or so of coconut milk. This will add a bit of sweetness to the liquid and lessen the tartness.
We will start with our most popular Crockpot recipes! There are 5 of us at home and we are all about comfort foods, especially when it's chilly outside. That doesn't always mean heavy in calories too though. Here are a few you should try next. Let us know what you think in the comments below!
Below you can print recipe and keep it handy, or just come back here and grab it. 😉 Nutritional information is displayed below too. Calories, saturated fat etcetera are calculated by the recipe card. I cannot guarantee accuracy but on the whole this is a healthy slow cooker recipe for sure.
Want to see a few of my favorite things that I am totally obsessed with?? Take a peek and see how many you might already have…twinsies!
Looking for more easy family recipes and tips? LIKE The Typical Mom Facebook page?
Then sign up for my free newsletter, and follow me on Pinterest! 😉
***** If you LOVED this recipe give it 5 Stars below and let everyone know what you thought about it. 😉
Crockpot Lemon Pepper Chicken
Crockpot lemon pepper chicken breasts are easy to throw together, healthy, and a favorite meal served over rice at our house. Tender and packed with flavor!
Instructions
Season chicken breasts generously on both sides with salt and pepper

In a skillet melt 1/4 c butter, sear pieces of chicken on both sides. Remove

Spray inside of crockpot with non stick spray. Put chicken breasts at bottom of the pot.

Add chicken broth or stock into skillet and scrape with a wooden spoon to remove stuck on bits. Add lemon juice to skillet.

Pour this mixture over your chicken pieces.

Put sliced or wedges of red onion around the chicken in pot. Top with lemon zest, minced garlic, a bit more ground pepper, and remaining butter cut into small cubes.

Cook on high for 3-4 hours or low for 6 hours. I recommend low setting for this.

Remove chicken. Keep warm on a plate.

Pour broth from pot into a pot on the stovetop over medium heat. Add parmesan cheese and whisk together. Then add heavy cream and cook until reduced by half whisking along the way.

Serve chicken on plate with this cream sauce poured on top topped with fresh parsley if desired.
Nutrition Facts
Crockpot Lemon Pepper Chicken
Amount Per Serving (3 oz)
Calories 549
Calories from Fat 369
% Daily Value*
Fat 41g63%
Cholesterol 208mg69%
Sodium 784mg34%
Potassium 769mg22%
Carbohydrates 8g3%
Protein 39g78%
Vitamin A 1271IU25%
Vitamin C 26mg32%
Calcium 180mg18%
Iron 1mg6%
* Percent Daily Values are based on a 2000 calorie diet.