Crockpot cheesy chicken and rice casserole is a family favorite! Tender chicken thighs, broccoli and perfectly cooked rice smothered with cheese of course. If you loved our creamy Crockpot chicken dish this will be a hit too.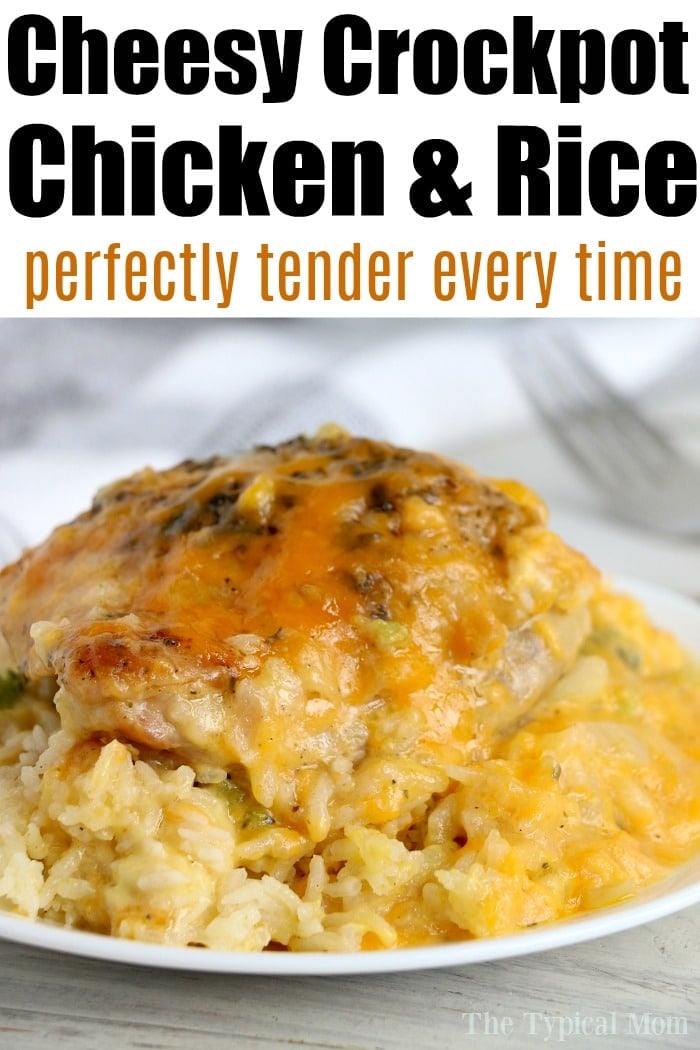 If you loved Campbell's chicken and rice casserole you'll love our crockpot cheesy chicken and rice dinner! Here's one of our favorite chicken crockpot recipes here on The Typical Mom blog. (originally published 9/19, affiliate links present)
Cheesy Chicken and Rice Crockpot
This is super inexpensive using chicken thighs, and cooks by itself so it's ready when you are. You could use white meat with breasts if you would rather but the other has more flavor and moisture. I guarantee this will become a new family favorite and you'll add it to your monthly meal planning.
You may have had this growing up, it's a Campbells staple a lot of our mothers used to make. Typically it was done on the stovetop or oven though, but slow cooking is so much better. You can do a dump it and go method in the morning and enjoy after a long day together.
FIRST – You should sign up for my free newsletter so you get new posts emailed to you twice a week and never miss out on anything! Let's talk a little bit about slow cooking shall we?? First off I have a few different varieties and I love them all. Each one has an occasion to be used like….
This is my favorite 6 quart programmable one with a locking lid so it's great for bringing to a potluck too.
If you just want to serve a few appetizers you should get this one that sit side by side one another.
I prefer not to use liners, but rather just spray olive oil inside before adding my food for easier cleanups.
Let me give you a peek of my pretty thang I bought recently. It goes with my kitchen so I can just leave it out on the countertop all the time. 😉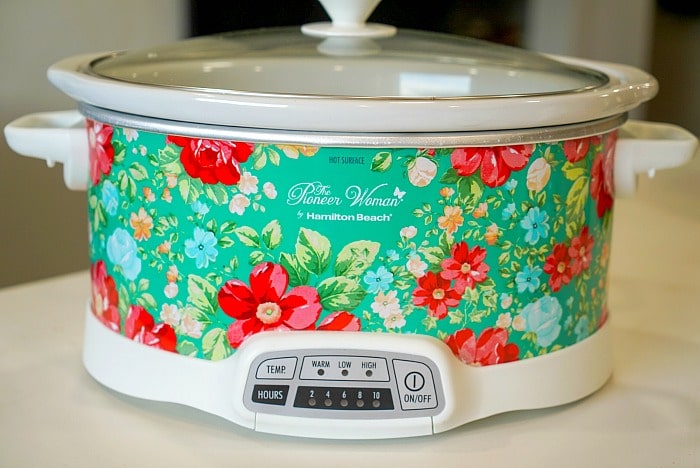 Chicken and Rice in Slow Cooker
But for those of you who LOVE your slow cooker, we will show you how easy crockpot chicken and rice is to make too. 😉 "Old fashioned" sometimes is just your go to, I get it. My mom did get an Instant Pot last year and does like it but she still goes back to her classic favorite meals made low and slow cooked all day long.
I guess it is what you are used to. Since I grew up with Crockpot everything that was what I did for many years when I first had kids. Then came other methods and although I do love them it took me years and years to train my brain to think and cook differently. Now I use all of them, all the time.
These are the basic ingredients you will need. You likely have it all already in your cupboard and/or refrigerator so try it this weekend and let us know what you think!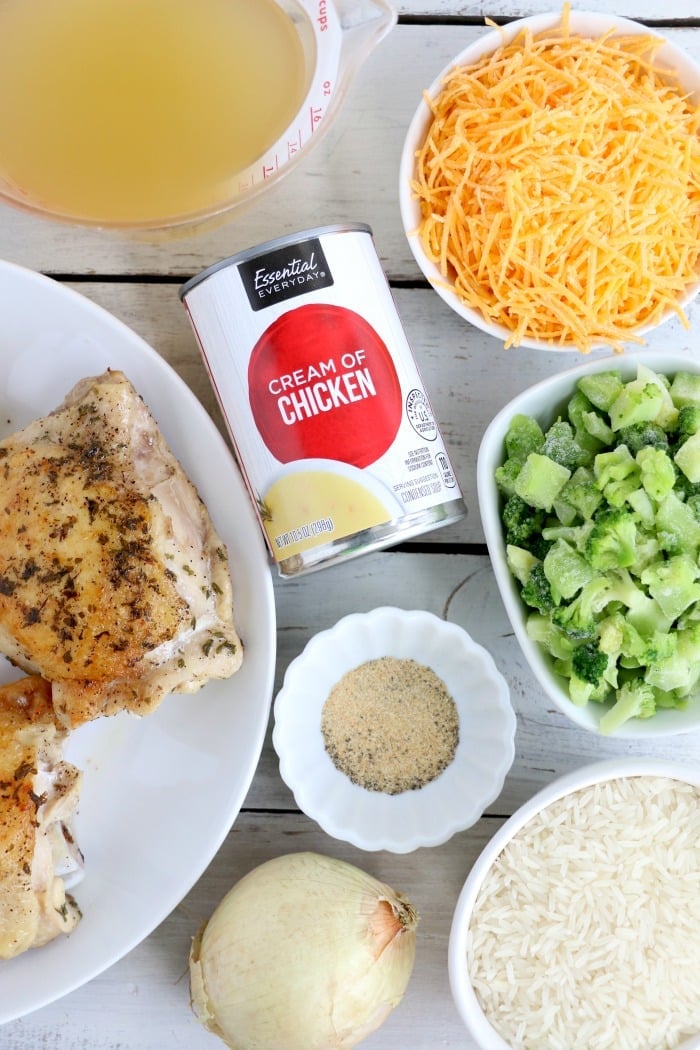 Slow Cooker Cheesy Chicken and Rice
Of course you can omit the vegetables entirely but really it is a great add in, and I bet your kids will love it too. If you prefer fresh green beans you could substitute those instead. Just cut the ends off and cut them into thirds so they are bite size.
I love ways to incorporate frozen or fresh vegetables into every meal. We started this when the girls were little and now they'd actually prefer them than a plate full of meat.
Really, it took some time but it is totally true.
Do it early, you'll have a lot more luck that way for sure.
"Just one bite" was always required, and they gained an appreciation for the tastes that way.
When I find chicken on sale I make this every time. I have used it all too. From thighs to breasts and even chicken quarters work but take a bit longer. Easier with those to cut the two pieces apart and add them. Negative is they both have bone in which means more work once it is done at the end.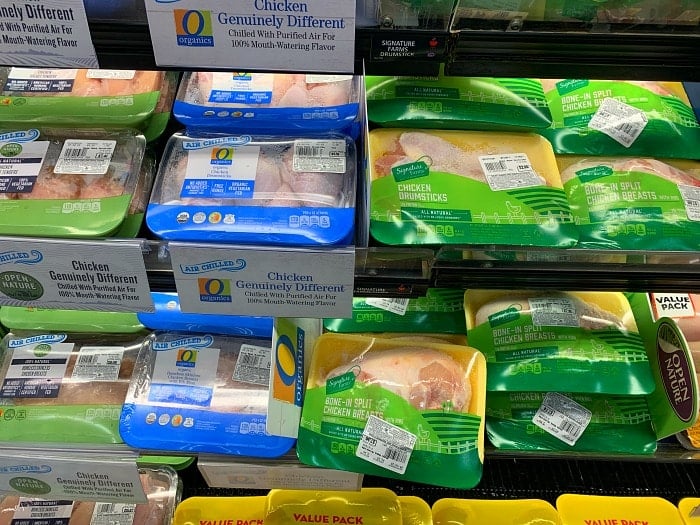 Cheesy chicken and rice Crockpot Recipe
For the condensed soup you really could use any variety you prefer. Chicken is the most popular of course but I have used mushroom when that was all I had on hand and it was amazing too. I imagine potato and/or celery would offer different flavors but still great ones.
Chicken thighs – with skin on and bone in chicken thighs is great
White rice – uncooked, Jasmine is preferred
10 oz. cream of chicken soup – or make your own
Chicken broth

boxed or make this homemade chicken broth Instant Pot recipe
We like a lot of cheese – shredded sharp cheddar is probably our favorite but a mix of this and pepper jack is pretty awesome too. Often times if I find a Mexican or taco blend with some seasonings in there I will buy that. As for the seasonings use your faves.
Onion
Broccoli florets
Garlic powder
Parsley
Salt and pepper
You'll need a pan like you see here and a slow cooker of course. Sauteeing or searing the meat at the beginning will make it more moist in the end. Think about it, if you cook just the outsides, as it cooks the drippings will not be able to escape vs. skipping this step.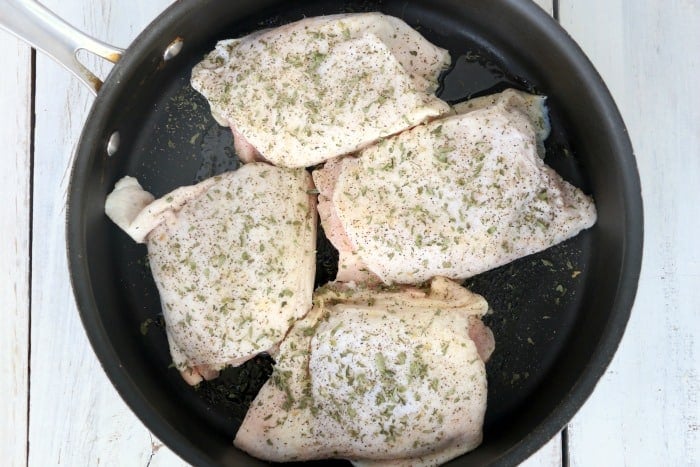 Slow cooker chicken and rice
Yes, we love all things CHEESY!! Like our slow cooker cheesy potatoes and crockpot hamburger casserole dishes, cheese is just something nobody can resist right??!! Now that my husband needs dairy free recipes I have found great shredded selections at the store as well. (and my kids can't tell the difference)
Brown outsides of chicken beforehand just to get some browning on the skin. Use a skillet on your stovetop for this.
Inside your slow cooker add in your broth, cream of celery or chicken soup and garlic powder. Whisk this together.
Sprinkle in your uncooked rice on the bottom. I haven't used brown rice yet for this but imagine it would be fine, just may take a bit longer to get tender.
Broccoli and cheese are added in next in layers, followed by your chicken thighs.
Cover and cook on low 5-6 hours or until rice is tender and chicken is done all the way through. Cooking times will vary slightly depending on how thick your meat pcs. are.
Could add more cheese on top the last 30 minutes if you wanted it to. In our house you just can't have too much dairy in your diet so we go all out. 😉 This is a great recipe for families, slow cooked all day and ready when your busy day slows down to eat!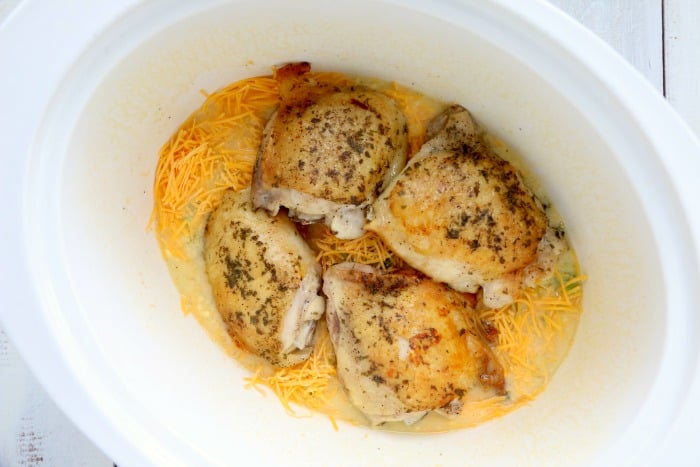 Serve with 1 piece of chicken add in cooked rice or on the side of your plate. I do like to pair it with a side of some sort of veggie too if I have something. Freshly steamed is best but many times all I have is canned or frozen. Whatever is better than nothing.
We have a lot of easy slow cooker recipes but this crockpot chicken and rice is on constant rotation here. Served at least every other week we just never seem to get tired of it!
Can you put raw chicken in a slow cooker?
Yes! We have browned or seared the outsides of our thighs here, but the insides are still quite raw when we put them inside the pot.
That is okay! With this many hours in your crockpot your chicken is cooked and will surely become fall apart tender when time is up.
Why is my chicken tough?
When chickens have been bred to get as big as possible as quickly as possible they tend to remain tough no matter how you cook them.
To avoid this I always buy organic chicken. There is a HUGE difference between the two and I'm willing to spend a bit more to get tender chicken every time.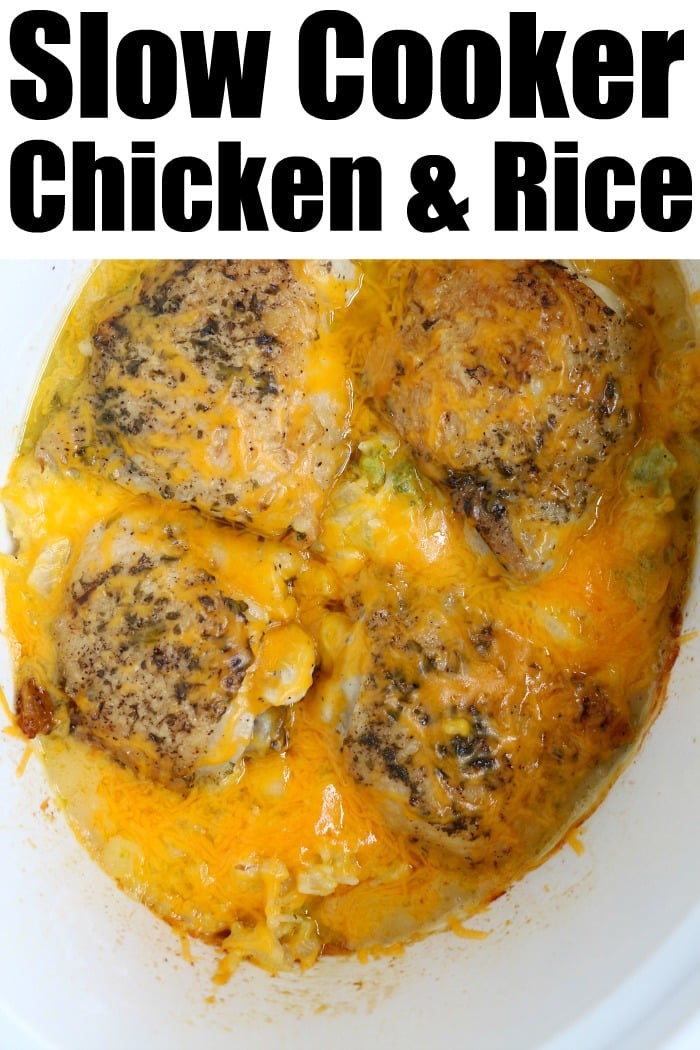 Of course you could make this like Campbell's chicken, broccoli and rice recipe without the cheese but who would?? Ok when my husband was testing out a dairy free diet I did do this once or twice. BUT luckily he didn't stick to it because it's so much better with a wallop of sharp shredded cheddar cheese.
How much chicken can you put in a crockpot?
Well it depends on what you're making I guess. We used 4 but you could easily add 6 chicken thighs to make chicken and rice casserole too.
If you're making a whole chicken crockpot recipe then of course you'd just use one whole bird.
Can you overcook in a slow cooker?
On high, it will reach the overcook point sooner. After it reaches this simmer point, the remaining time your needs to depend on the weight and cut of meat. For large cuts of meat cooked on their own this is more likely vs. a casserole such as this one.
I always recommend setting the time for the minimum listed and then check at that point to avoid overcooking.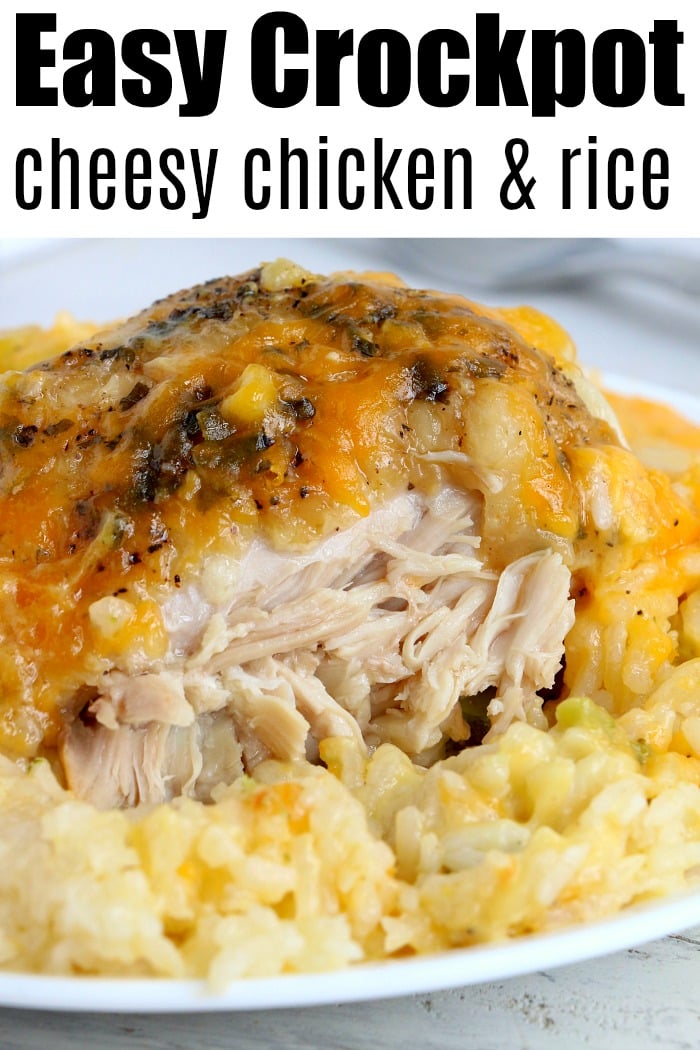 Should you stir a slow cooker?
There is really no need to stir the food unless it specifically says to in your recipe. In fact, taking the lid off to stir food causes the crockpot to lose a significant amount of heat.
This may extend the cooking time required. I would recommend not doing this. You wouldn't want to do this for our Instant Pot teriyaki chicken and rice either. Constant consistent heat is key.
Want to see a few of my favorite things that I am totally obsessed with?? Take a peek and see how many you might already have…twinsies!
Looking for more easy family recipes and tips? LIKE The Typical Mom Facebook page?
Then sign up for my free newsletter, and follow me on Pinterest! 😉
***** If you LOVED this recipe give it 5 Stars below and let everyone know what you thought about it. 😉
Easy crockpot recipes you might enjoy:
If you have a pressure cooker you can try our Instant Pot chicken broccoli rice dish, Instant Pot Mexican chicken and rice or a few of our easy Instant Pot chicken recipes too!
Crockpot Cheesy Chicken and Rice
Crockpot cheesy chicken and rice casserole is a family favorite! Tender chicken thighs, broccoli and perfectly cooked rice smothered with cheese of course.
Instructions
Season chicken thighs with salt, 1/2 tsp pepper and parsley flakes. Brown the outsides in a pan on the stovetop. Insides don't need to be cooked, that will occur in your slow cooker, just brown skins.

Pour chicken broth, cream of chicken soup, garlic powder, and remaining pepper into your crockpot. Whisk together.

Pour in uncooked white rice so it is evenly spread out on to the bottom of your pot.

Then pour in your diced onions, then broccoli florets, and cheese on top of that so it is spread out evenly in layers.

Lay browned chicken thighs on the very top and close lid.

Cook on low for 5-6 hours, or until rice is as tender as you'd like it to be and chicken is cooked through to the center.

Remove chicken thighs and plate, stir rice mixture and add to plate. Can sprinkle more cheese on top of everything if desired too.
Nutrition Facts
Crockpot Cheesy Chicken and Rice
Amount Per Serving (3 oz)
Calories 417
Calories from Fat 198
% Daily Value*
Fat 22g34%
Cholesterol 98mg33%
Sodium 1142mg50%
Potassium 361mg10%
Carbohydrates 32g11%
Protein 21g42%
Vitamin A 488IU10%
Vitamin C 20mg24%
Calcium 172mg17%
Iron 2mg11%
* Percent Daily Values are based on a 2000 calorie diet.