White rice in slow cooker instructions are here. We will show you how to cook Crockpot brown rice here as well so it's fluffy and buttery every time.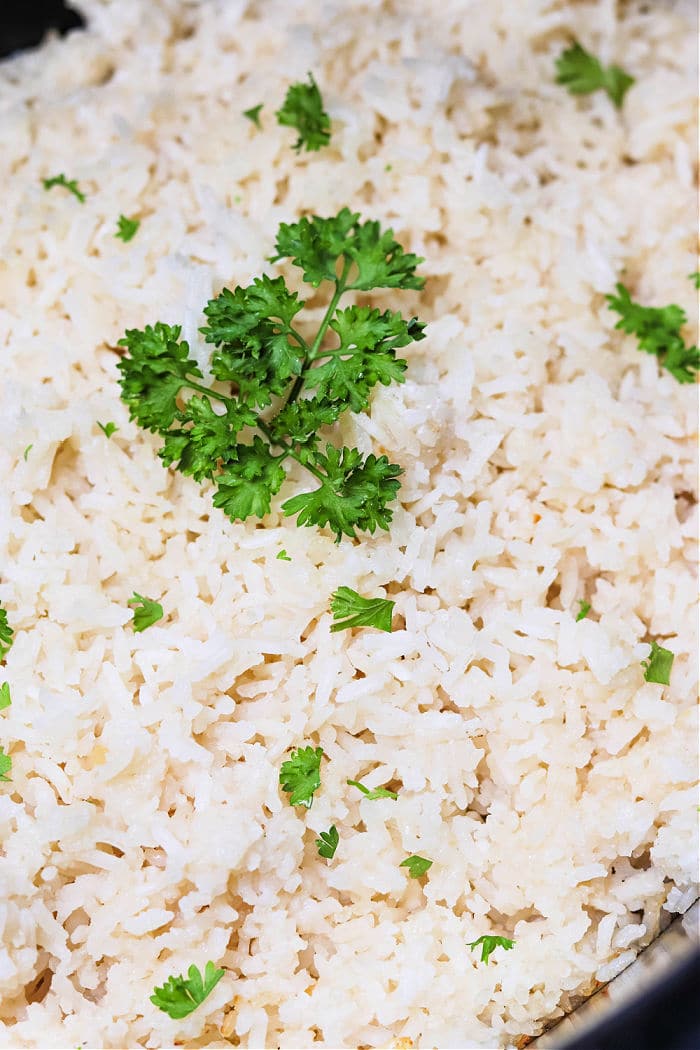 Have you ever tried to cook rice in a slow cooker, or thought about it? There's a trick to getting it tender and we will show you what it is. An easy gluten free side dish you'll love for sure. One of many easy Crockpot recipes on our site. (affiliate links present)
Slow Cooker White Rice
Of course we have cooked pressure cooker white rice often. If you don't have that pot I wanted to share how it is done this way too. Of course the "old fashioned" way would be on your stove top but you have to really pay attention to it while cooking. A rice cooker would be the 4th method which I do like too.
I like having a variety of ways because we eat this as a side dish a lot. Meaning at least twice a week I serve it with our main dish. Growing up in HI this was everywhere and at every house we visited, I guess it is just ingrained in me to love it.
FIRST – You should sign up for my free newsletter so you get new posts emailed to you twice a week and never miss out on anything! Let's talk a little bit about slow cooking shall we?? First off I have a few different varieties and I love them all. Each one has an occasion to be used like….
This is my favorite 6 quart programmable one with a locking lid so it's great for bringing to a potluck too.
If you just want to serve a few appetizers you should get this one that sit side by side one another.
I prefer not to use liners, but rather just spray olive oil inside before adding my food for easier cleanups.
Let me give you a peek of my pretty thang I bought recently. It goes with my kitchen so I can just leave it out on the countertop all the time. 😉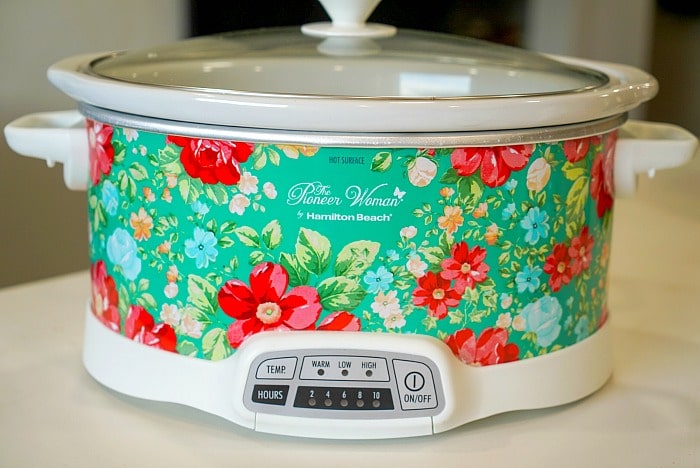 Crockpot Rice
For a heartier type of rice I would suggest using your pressure cooker to make Ninja Foodi wild rice recipe or the most firm I would cook black rice in Instant Pot. You'd need high pressure for those so I wouldn't suggest slow cooking. Just white and brown work well using this same method.
Is slow cooker good for rice?
I will say that in an Instant Pot or rice cooker works best of all. If you don't have either of those you can cook rice in a Crockpot this way. It takes a lot longer than other methods but with this trick you can get grains to be fluffy as all get out.
This is for 2 cups of uncooked long grain white rice. That means it will kinda' double in size so 4 cups cooked will feed 5 – 6 people in our house. Depends on how many teenage boys you have I suppose 😉 but that is the general rule of thumb.
2 cups of rice, white, uncooked – long grain
Chicken broth is way better than just using cups of water
Melted butter
A pinch of salt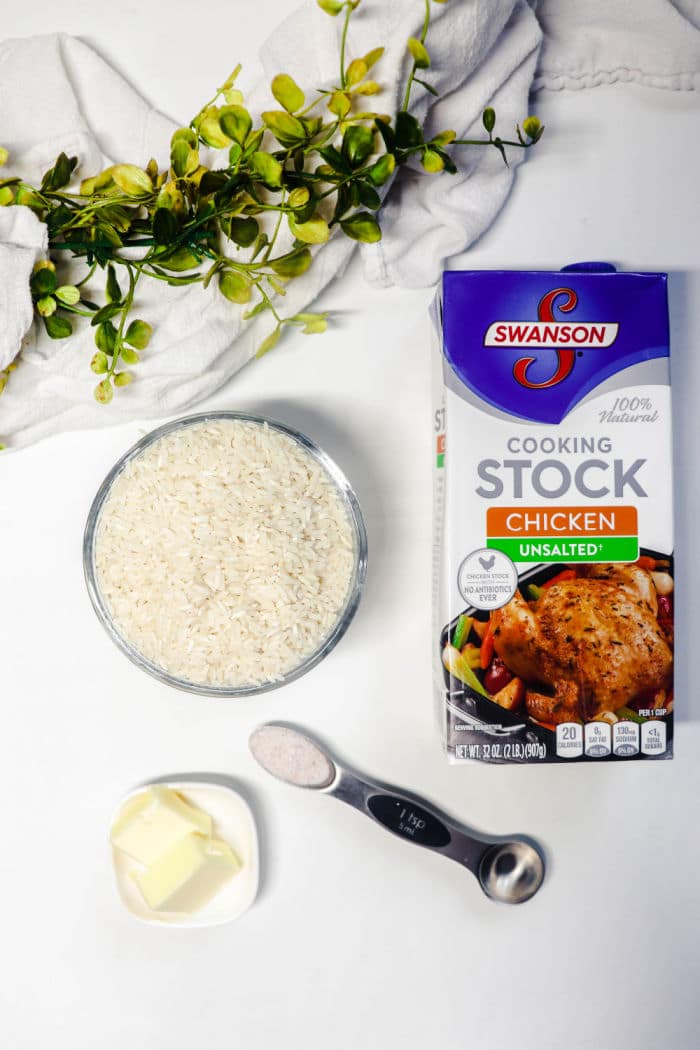 How Long to Cook Rice in Slow Cooker
Keep 2.5 hours cooking time (or so) aside to get this done in your Crock pot. I would not recommend doubling this recipe and do NOT cook it on low either. I know that totally contradicts every other slow cooker recipe I have ever written but this is the one that is a must on the highest setting.
I mean it makes sense if you think about it. You don't want your grains to sit in liquid any longer than necessary or it will make it mushy. Texture is everything when it comes to cooking white rice. If you were to combine it with meat and other ingredients, like our slow cooker hamburger casserole you'd use low.
With those you want it to be on the softer side of things. Same goes when you are making a batch of Crockpot rice pudding. You don't really want the pieces to be separate, rather you want it to be smooth and creamy.
Should you rinse rice before cooking? I'm not a firm believer that it is necessarily a must to do this but if I think about it I will do it. What I have found is that if I don't it is more of a sticky rice consistency rather than the pieces separated from one another.
Can a Slow Cooker be Used as a Rice Cooker
Kind of. Here we share white and how to cook arborio rice this way. I do have a printable recipe card at the bottom of this post for you too. Here is a quick step by step of how we do it to show you how.
Set slow cooker to high and melt your butter. Or you can melt it in microwave and pour inside but still set to high setting now.
Add the rice in your strainer and run cool water over it to soak. When water runs clear drain.
Place rice water and salt into your pot and stir in with your liquified butter.
Cover and allow to cook on high for 10 minutes. Stir in salt and broth.
Cover and cook on high heat for 2.5 hours.
Use a fork to fluff it up when done. If you think it is still a bit too wet, add a bit more time but check every 15 minutes or so until it is the texture you want. Served with baked chuck roast in oven, it's a great duo.
Rice in slow cooker on high
And that is how it's done ladies and gentlemen. 😉 If you love this as much as we do you might want to know how to cook other varieties too. I shared wild and black above. This is how to cook fluffy Jasmine rice too. That one needs high pressure with quite a bit of natural release to fluff it up.
If you want to transform this into more of a main dish you can. Just saute up some spicy ground sausage or beef and make ground beef and rice together. With a bit of soy sauce on top it is an easy Crock pot dish we make quite often too.
For chicken thighs and rice just dice meat into bite size pieces, add some teriyaki sauce, saute until cooked and fold that in too for another option.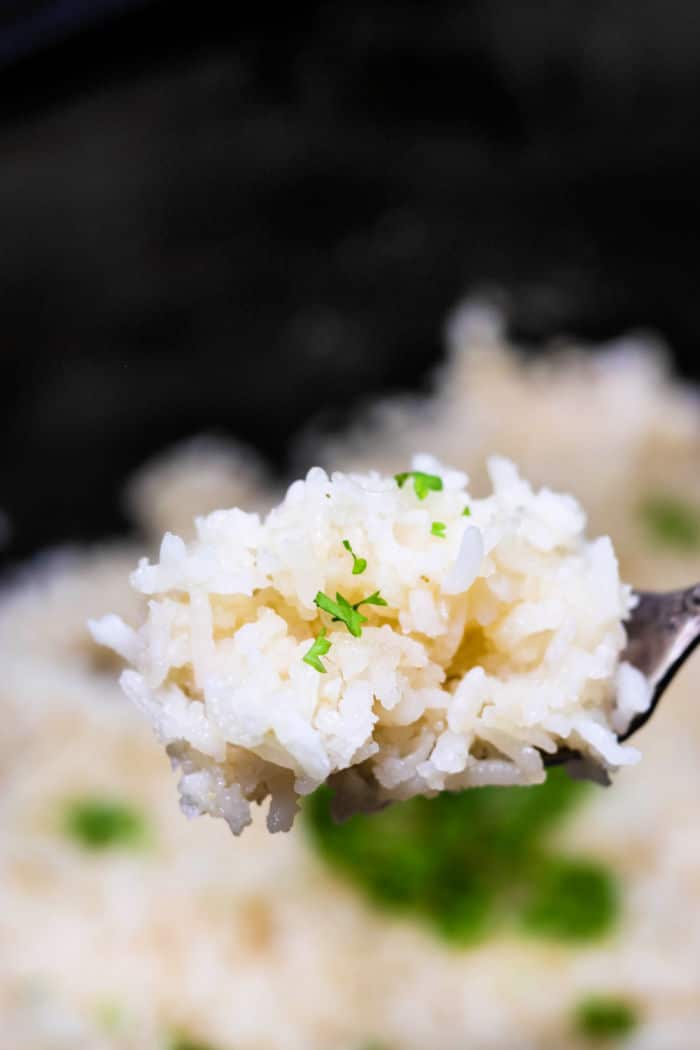 Want to see a few of my favorite things that I am totally obsessed with?? Take a peek and see how many you might already have…twinsies!
Looking for more easy family recipes and tips? LIKE The Typical Mom Facebook page?
Then sign up for my free newsletter, and follow me on Pinterest! 😉
***** If you LOVED this recipe give it 5 Stars below and let everyone know what you thought about it. 😉
Rice in Slow Cooker
White rice in slow cooker instructions are here. We will show you how to cook brown rice in Crockpot here as well so it's fluffy and buttery.
Instructions
Set slow cooker to high and melt butter. (or melt in microwave and pour inside) Pour white rice in strainer and run water over to soak. Drain.

Place rice in slow cooker and stir in with butter. Cover and allow to cook on high for 10 minutes. Stir in salt and broth. Cover and cook on high heat for 2.5 hours. Fluff with a fork.
Nutrition Facts
Rice in Slow Cooker
Amount Per Serving (1 oz)
Calories 265
Calories from Fat 36
% Daily Value*
Fat 4g6%
Cholesterol 12mg4%
Sodium 820mg36%
Potassium 92mg3%
Carbohydrates 50g17%
Protein 5g10%
Vitamin A 119IU2%
Calcium 23mg2%
Iron 1mg6%
* Percent Daily Values are based on a 2000 calorie diet.