Slow cooker brown rice comes out fluffy and is a cheap side dish we all love. Will share when to add brown rice to slow cooker for a perfectly tender side dish.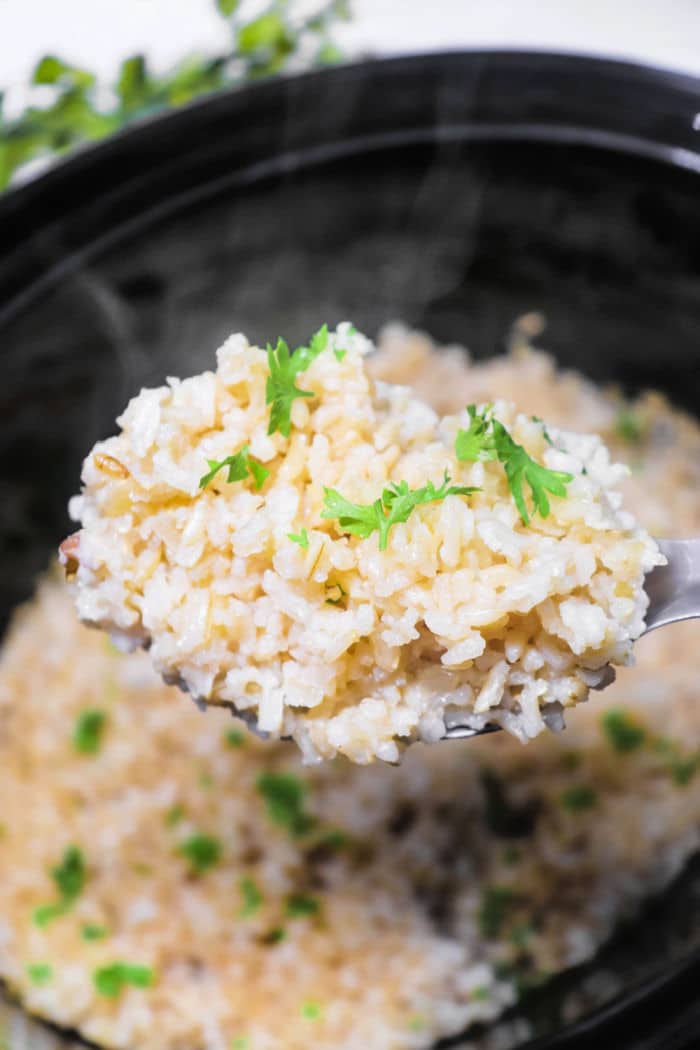 Love a good Crockpot side dish? Well this slow cooker brown rice is going to surprise you. Didn't think you could make grains fluffy in this thing did you? We will show you the trick of how it's done, and done right. Just one of many Crockpot meals we have on our site. (affiliate links present)
Crockpot Brown Rice
This is specific to brown vs. the white variety of this grain. More nutritious than it's counterpart you can add quite a bit of flavor by using broth instead of water. Using a bit of butter, and salt is great too. We do the same thing when making our Ninja Foodi brown rice. I make this with chicken and vegetables.
When making our slow cooker rice pudding, white is much better for sure. With dinner I prefer this since it offers more fiber with the husk still in tact. Toss with some vegetables and diced meat for a sort of stir fry is great too.
Let's talk a little bit about slow cooking shall we?? First off I have a few different varieties and I love them all. Each one has an occasion to be used like….
This is my favorite 6 quart programmable one with a locking lid so it's great for bringing to a potluck too.
If you just want to serve a few appetizers you should get this one that sit side by side one another.
I prefer not to use liners, but rather just spray olive oil inside before adding my food for easier cleanups.
Let me give you a peek of my pretty thang I bought recently. It goes with my kitchen so I can just leave it out on the countertop all the time. 😉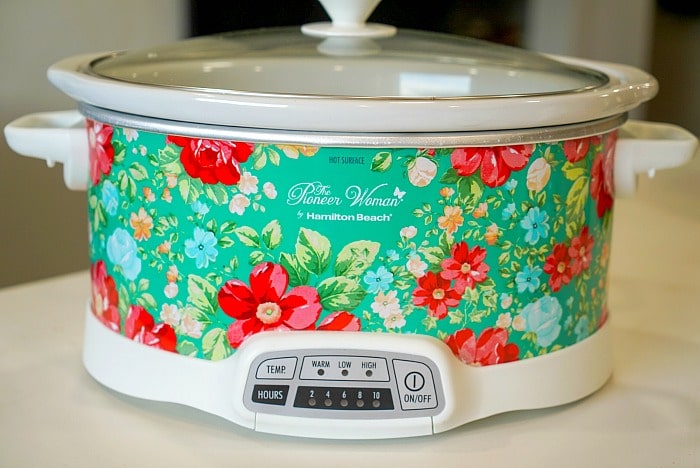 Slow Cooking Brown Rice
There is a trick to getting the texture just right. Grains typically are best made in a pressure cooker or stovetop, we have figured this one out after many trials though. We have done this with brown as you'll see here and white rice in slow cooker too.
I'd say how to cook pearl couscous is not a go slow cooked, just saying. We share above how to make that the best way, we wouldn't want to disappoint you.
What is the correct water to rice ratio?
That is a big question, it depends on how you are cooking it. In a rice cooker or pressure cooker it is a bit more than 1:1 cups of liquid or so. Rice in a slow cooker is more than that, closer to almost double the water but not quite. Brown, wild and black need more than a white rice recipe.
When cooking rice; white, brown or black rice I highly recommend using broth instead of water because otherwise it won't have much flavor. Especially if you are serving this to kids you need it to taste good. They aren't going to appreciate it just because it is good for them, just sayin'.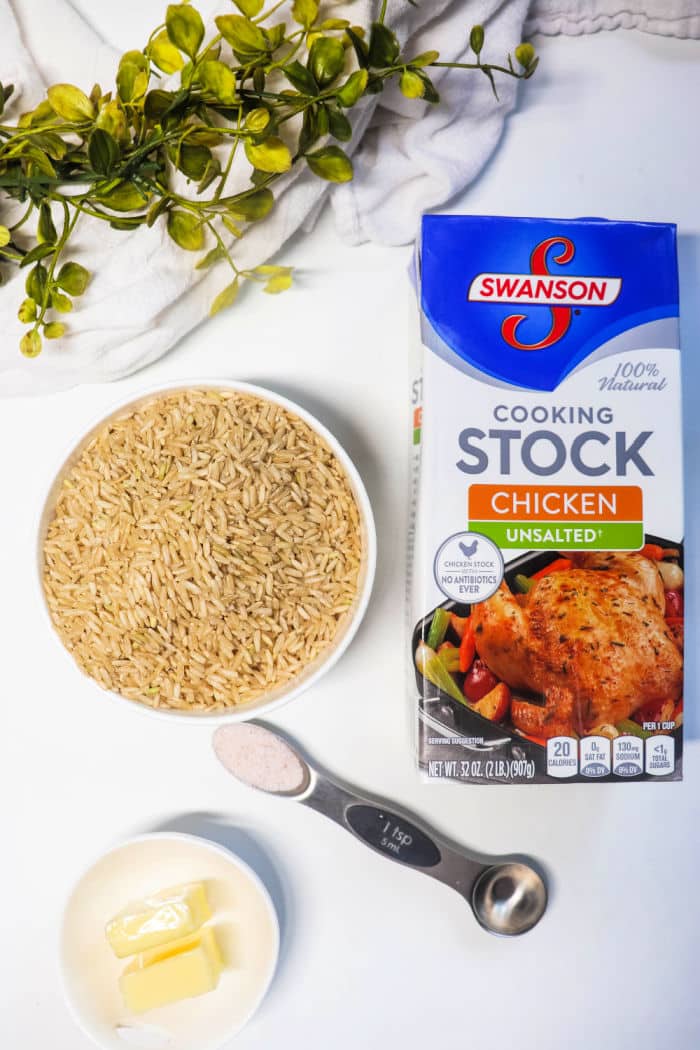 How to Make Brown Rice in Slow Cooker
Another great add in is butter, I mean that makes everything better. This is the hack I was talking about. This initial step isn't used in any other method of cooking this grain, but is needed here. You can melt it in the microwave or set to high to get it to liquid. Then toss to coat and let it sit, for like 10 minutes.
This allows it to soften just a bit and soak up a bit of the creaminess in the pot. Seasonings like salt and pepper could be sprinkled in at this point as well, your choice.
You first set your slow cooker to high and melt the butter.
Pour 2 cups rice into a strainer and run water over it to rinse.
Shake off to let the excess water drip off. Pour into your pot.
Stir with butter, cover and allow to sit for 10 minutes on the high setting.
Stir in broth and salt.
Recover crock pot and cook on high for 2.5 hours cook time.
When done use a fork or large spoon to fluff. Can dice fresh parsley on top, then serve with your meal.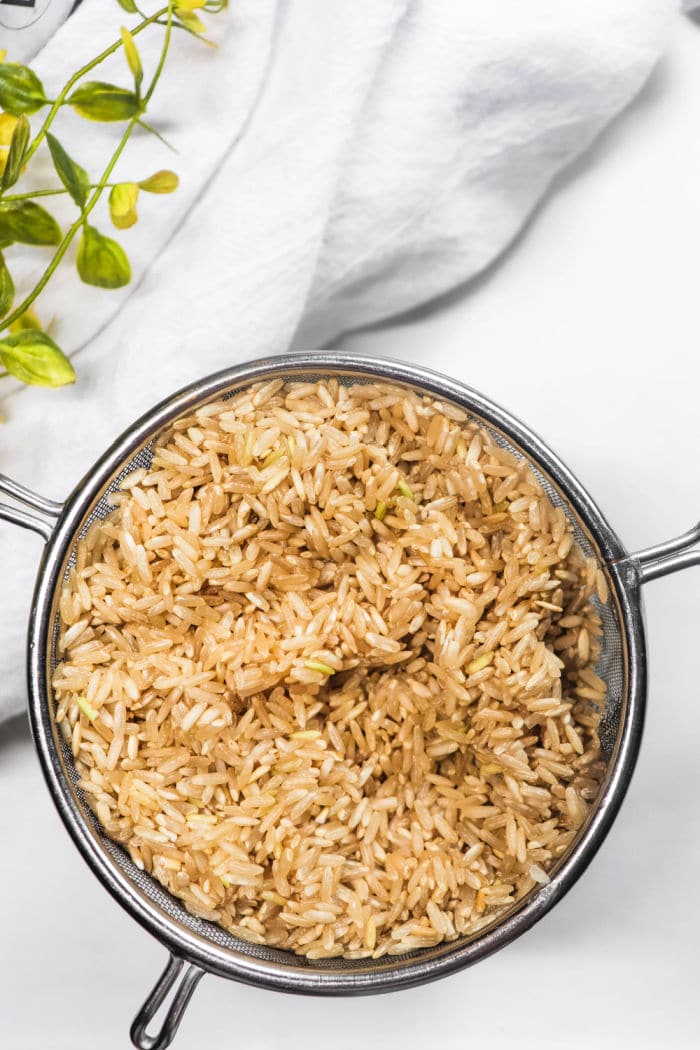 Slow Cooker Brown Rice and Beans
Want to make this a bit heartier?? You could drain and rinse a can of black beans and add that in + I'd add 1/4 c. more amount of water. Stir and use the same directions as below. It would come out a bit like our Instant Pot red beans and rice. We use kidney for that but any variety would really do. Reason you rinse is if you don't it will change the dishes color.
I mean not a huge deal but seriously the liquid will make your dish black or red depending on which type you add. Alternatively you can just warm your drained can and fold together when this is done. Note that if you add into the pot the grains will be a tad bit drier since the beans will soak up a bit of the liquid.
To counterbalance that I would add an additional 1/4 cup cold or boiling water with your cups of brown rice. If you make a large batch you would need to adjust the heat to a bit more but not double. Increase time by 30 minutes and check.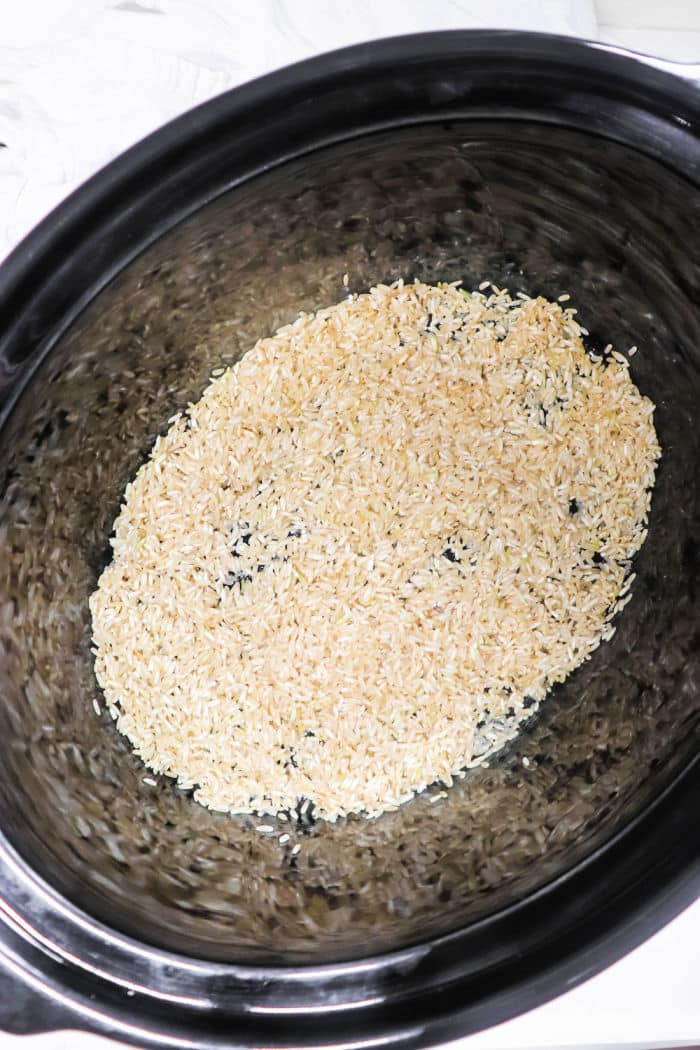 Slow Cooker Side Dish Recipe
If you want to make other gluten free options alongside your long grain rice I would suggest glazed Crockpot carrots for sure. If you haven't tried making baked potatoes in slow cooker they turn out super fluffy and can sit in there for hours on warm if you have guests over.
Can you save leftover cooked rice? Um technically yes you can save it and reheat the next day but it really doesn't save well. It is the one thing I do not save and yes I feel guilty throwing it away. I've tried a bunch of methods and the only one that is halfway decent is in a freezer bag with air sucked out.
To reheat cooked rice you really need to add moisture, butter is best for this. You can find a dairy free plant based variety that is almost as good as the real thing if needed. 1 Tbsp. on top of about 1 cup will do it. Microwave for 45 seconds or so until it melts, toss to moisten and enjoy.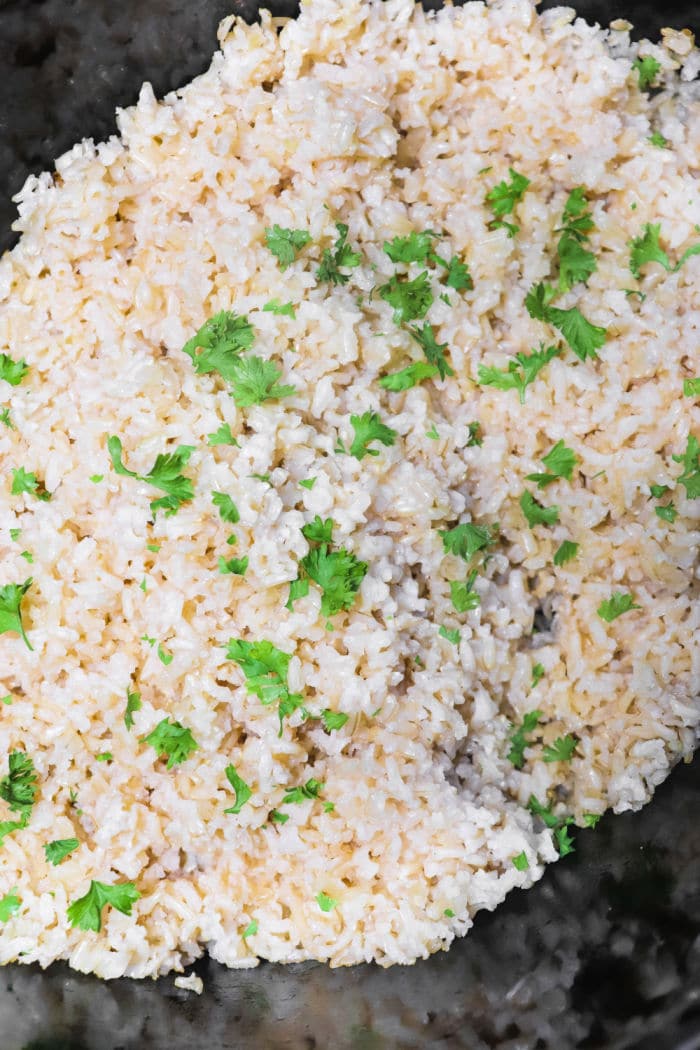 Want to see a few of my favorite things that I am totally obsessed with?? Take a peek and see how many you might already have…twinsies!
Looking for more easy family recipes and tips? LIKE The Typical Mom Facebook page?
Then sign up for my free newsletter, and follow me on Pinterest! 😉
***** If you LOVED this recipe give it 5 Stars below and let everyone know what you thought about it. 😉
Slow Cooker Brown Rice
Slow cooker brown rice comes out fluffy and is a cheap side dish we all love. Will share when to add brown rice to slow cooker for perfection
Instructions
Set slow cooker to high and melt butter, or microwave and pour inside pot. Pour rice into a strainer and run water over it to rinse. Shake off to let the excess water drip off. Pour into pot.

Stir with butter, cover and allow to sit for 10 minutes on the high setting.

Stir in broth and salt. Recover and cook on high for 2.5 hours. Fluff with a fork and serve.
Nutrition Facts
Slow Cooker Brown Rice
Amount Per Serving (2 oz)
Calories 271
Calories from Fat 54
% Daily Value*
Fat 6g9%
Cholesterol 13mg4%
Sodium 929mg40%
Potassium 196mg6%
Carbohydrates 49g16%
Protein 6g12%
Vitamin A 119IU2%
Calcium 28mg3%
Iron 1mg6%
* Percent Daily Values are based on a 2000 calorie diet.