How to cook pearl couscous perfectly on the stovetop or pressure cooker. A healthy side dish you can enjoy plain, as a salad or with lemon.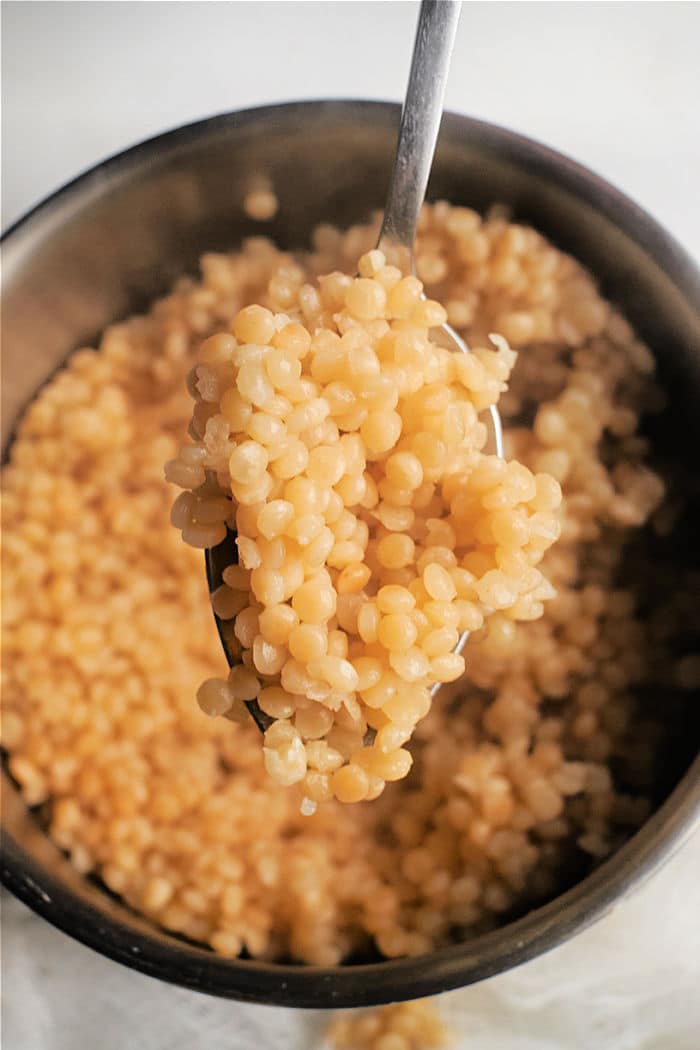 Looking for how to cook couscous on the stove because you had it at a restaurant and it was killer good? It is quite simple and when homemade you can jazz it up with other flavors too. A simple side that's great with fish, chicken, or as a vegetarian dish. (affiliate links present)
How to Cook Couscous Pearls
We're going to talk specifically about boiling it in a pot on your stove here. Later I will explain how to make Instant Pot couscous as well. Since everyone has a burner in their house we will go with the majority of our clan first. The biggest thing you need to remember is this needs to sit in the heat at the end to plump up.
Very similar to how to make quinoa actually. You will need to remember that when timing out your meal. Yes you need 20 minutes at a gentle rolling boil but another 10 minutes beyond that so it gets "fluffy" or plump if I had to explain it.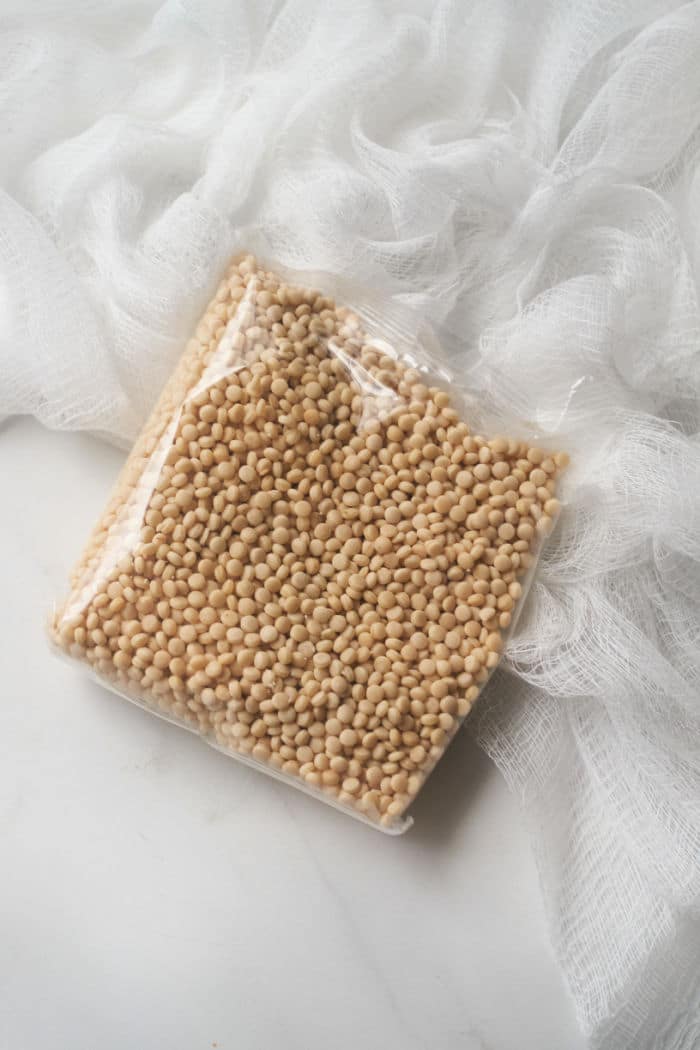 What is the difference between couscous and pearl couscous?
Pearl is larger than it's counterpart. Think of it as tapioca. If you have ever had that inside pudding the "beads" are quite small but if you've ever had a boba drink (my fave) they are substantially larger. The same texture but just bigger overall. This is about the size of a green pea if you wanted a comparison.
Couscous How to Cook
All you need to make this is the bag of pasta beads themselves and some sort of liquid. Water works just fine but if you wanted to add flavor to this otherwise bland side I'd use chicken broth or bone broth even. It depends on what you're making with this. If you were making a lemon herb couscous you could add lemon juice to the water.
You're going to start by combining the pasta with water or broth in a medium saucepan
Set on the stove over low / medium heat until it becomes rolling boiling water that doesn't stop
Once it does just reduce heat so the bubbles are continuous but not as big
Cover so it can boil and somewhat steam for 20 minutes
At this point the liquid is absorbed so when you leave the lid on it will continue to get more tender and plump up more. Fluff the couscous when done and add flavoring if you like or leave plain with salt and pepper. Quick and easy way of how to cook pearl couscous for sure.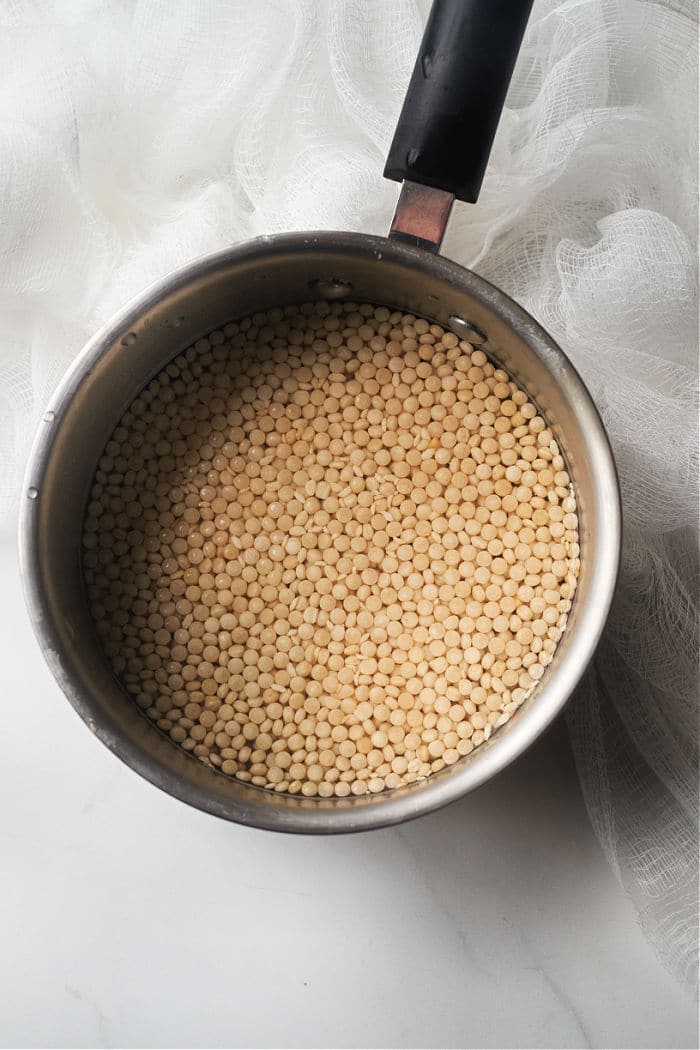 Is pearl couscous pasta or grain?
It's actually a pasta, kinda' tastes like it but is on the edge of HUhhhhhh. I get it. It is made of semolina flour and water it's actually quite simple but packed with fiber so it's great for you. That being said it is not gluten free, sorry to tell you that if that is a must in your home.
Is pearl couscous healthier than rice?
The calories between this and white rice are basically the same, but other factors are better. There are more vitamins and minerals as well as it's higher in protein too. SO yes it would be a better choice if you had to choose one over the other.
Below in the printable recipe card is from homemade. If you need instant couscous you can buy that online that will cut your cook time by a lot.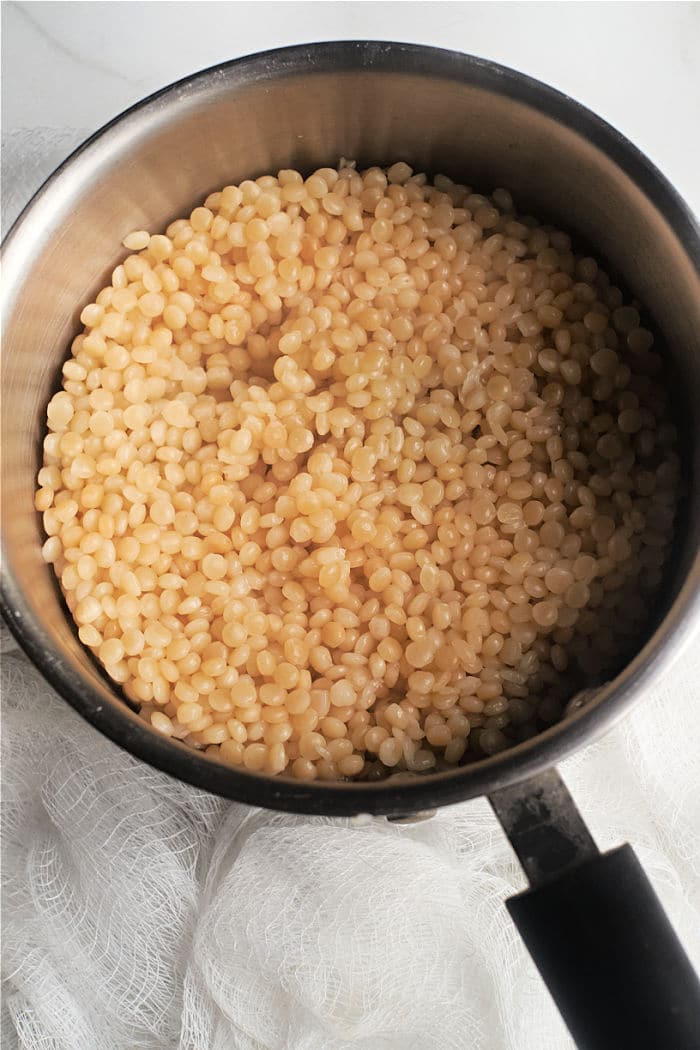 How do you make pearl couscous in an Instant Pot
You'll use the same basic ingredients with a bit of olive oil to make couscous in a pressure cooker. With this method it only takes 5 minutes too! A huge difference and time saver for sure so if you have a Ninja Foodi or as an easy Instant Pot recipe I would give this a whirl for sure.
Add 1 cup couscous + 1 1/4 cup liquid of your choice
1 Tbsp extra virgin olive oil
You could add 2 slices of fresh lemon into the mix if you want to infuse that flavor
For a more savory choice, sprinkle in some salt and dill instead of fruit
Once you seal the lid and steam valve, just set to high pressure for 5 minutes with a 1 minute natural release at the end. Then fluff and enjoy!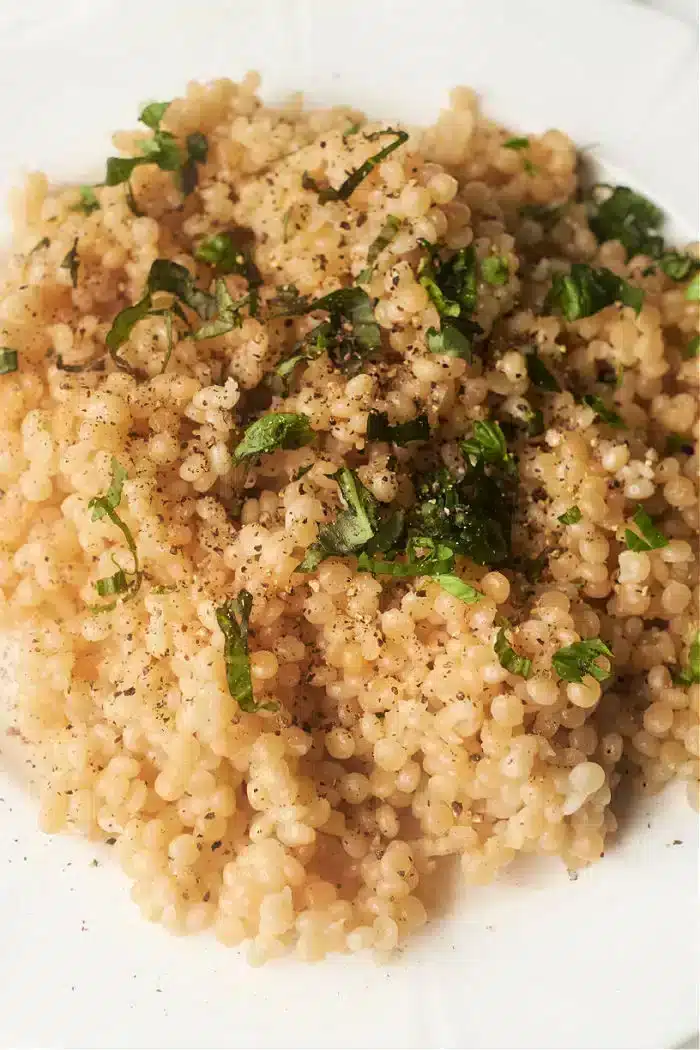 Instant Pot CousCous
There are two different sets of directions below. Any pressure cooker will work, we have made below as Ninja Foodi couscous as well.
Want to see a few of my favorite things that I am totally obsessed with?? Take a peek and see how many you might already have…twinsies!
Looking for more easy family recipes and tips? LIKE The Typical Mom Facebook page?
Then sign up for my free newsletter, and follow me on Pinterest! 😉
***** If you LOVED this recipe give it 5 Stars below and let everyone know what you thought about it. 😉
How to Cook Pearl Couscous
How to cook pearl couscous perfectly on the stovetop or pressure cooker. A healthy side dish you can enjoy plain, as a salad or with lemon.
Instructions
Pour couscous and water into saucepan. Place on burner and turn to low/medium heat until it reaches a slow rolling boil. Turn to low, then cover.

Boil covered for 20 minutes until it becomes almost tender. Turn burner off and leave in pan covered for 10 minutes to continue to soften.
Nutrition Facts
How to Cook Pearl Couscous
Amount Per Serving (1 oz)
Calories 108
Calories from Fat 9
% Daily Value*
Fat 1g2%
Sodium 7mg0%
Potassium 48mg1%
Carbohydrates 22g7%
Protein 4g8%
Calcium 9mg1%
Iron 1mg6%
* Percent Daily Values are based on a 2000 calorie diet.