If you hate wasting food, but had a bunch of Ninja Foodi meatloaf left over from last nights meal we have the answer! Leftover meatloaf recipes are key to making another dinner out of what wasn't eaten the night before.
Love this old fashioned meal but usually have some left at the end of your meal? NO worries, we have a bunch of easy leftover meatloaf recipes to make the next day. Just use it like precooked hamburger and transition into a casserole, soup or tacos next! (affiliate links present)
What To Make With Leftover Meatloaf
In need of some leftover onion Lipton soup meatloaf recipes after last night's meal? We have a bunch of easy delicious ideas to make so you don't waste an ounce. These are my absolute favorite meals to make with leftover meat.
From crockpot to instant pots and even oven baked, this is the ultimate comfort food list. As a busy mom with hungry mouths to feed I know a thing or two about easy delicious cooking and I want to share them with you! Last week I shared 22 leftover taco meat recipes which could also be used as well, but these are specific to this dish.
Two I whip up together often are making meatloaf tacos with chopped up meat or make meatloaf chili out of it. Super cheap second meal and pretty healthy too.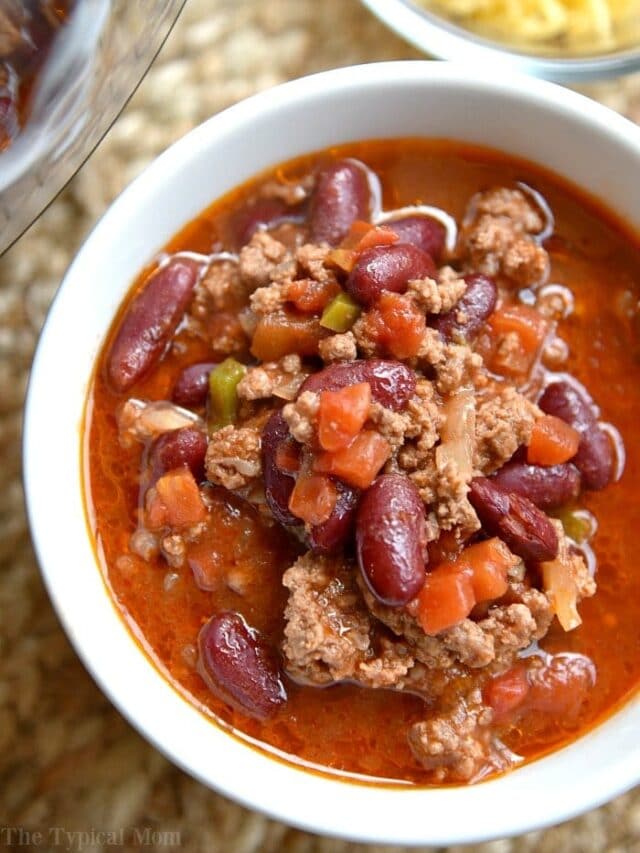 Recipe Leftover Meatloaf
Let's keep going with a few others we have made recently. Think outside of the box really. Anything you'd add hamburger into you could substitute in this. Think meatloaf spaghetti instead of using fresh meat and skip the sauteeing and browning. Meatloaf stuffed peppers work great = less prep.
Throw some of your meatloaf without breadcrumbs into a sandwich like meatloaf grilled cheese sandwich, mac and cheese with some added protein is delish. Instead of pepperoni dice up a slice of meatloaf and make meatloaf pizza some night!
If you made Instant Pot turkey meatloaf to begin with you'd have it out already so you should try this the day after.
It's nutritious and full of flavor. Just break up your leftovers in with the other ingredients and you have tender hearty soups in just a few minutes.
Serve it with a slice of cornbread or Hawaiian rolls and you have a favorite family meal! All you really need is chicken broth, dced tomatoes, potatoes, carrots, celery, onion, beef, green beans, and corn!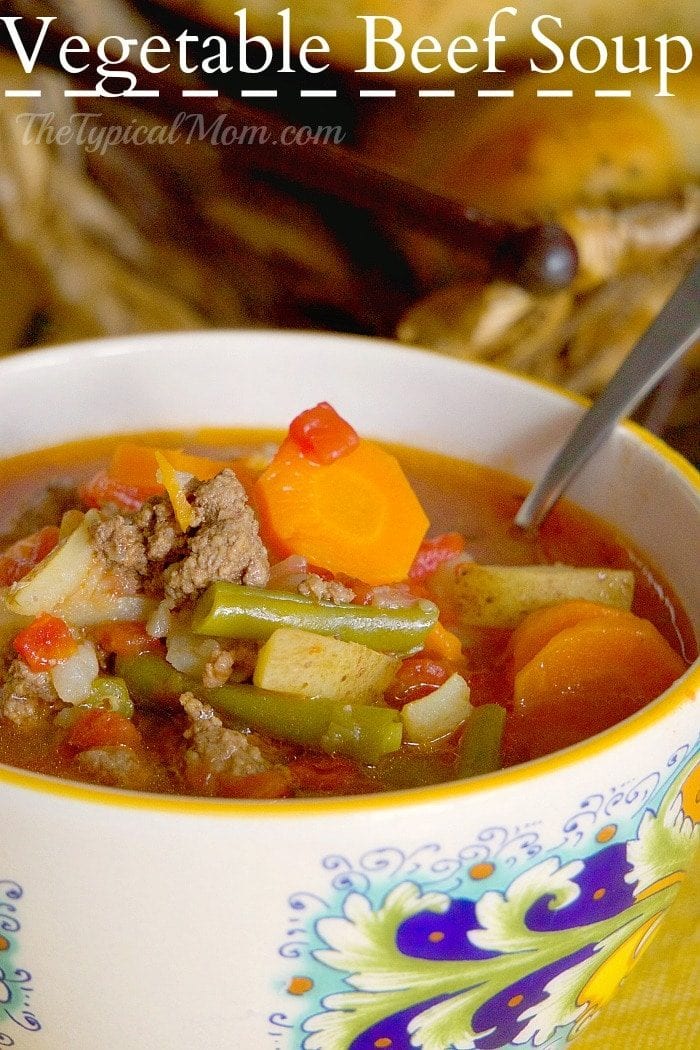 What To Make With Leftover Ground Beef
I mean there are tons of ways of what to cook with ground beef like transforming an otherwise boring meat into meatloaf burgers in general but this would be already cooked. Once done you might have some left over, adding it into a second weeknight dinner makes things even easier.
Ground beef egg rolls are super affordable and can be cooked multiple ways! I like to add some shredded cheese to make my favorite cheeseburger version too.
If you're ready to make something super fun make these egg rolls with all sorts of filling! What I used for the particular recipe was: beef, wrappers, onion powder, cheddar cheese, dill relish, Worcestershire sauce, a small mixing bowl, a baking sheet, and olive oil spray.
Heat up your leftover meatloaf in your air fryer easily and quickly. Break up the larger beef chunks to use inside your taco bowls or shells. Serve it inside like a salad with loads of vegetables, sour cream avocado and all the fixings. Great especially when I'm eating low carb.
If you love asparagus and Parmesan cheese as much as I do then you will adore this pasta dish. It's super tasty hot or cold and packed with your favorite flavors like beef, vegetables, and noodles. Specifically you will need
asparagus, beef, oil, shallots, garlic, parmesan, and spices. Make it super simple by just crumbling up your leftover meatloaf rather than cooking ground beef from scratch.
5. Tater Tot Casserole With Ground Beef
This potato tot casserole with ground beef will delight your senses. Add some of your favorite vegetables like broccoli for some extra fiber. My kids adore this baked dish with crunchy bite sized taters. It's easy to make and the family gets full bellies every time.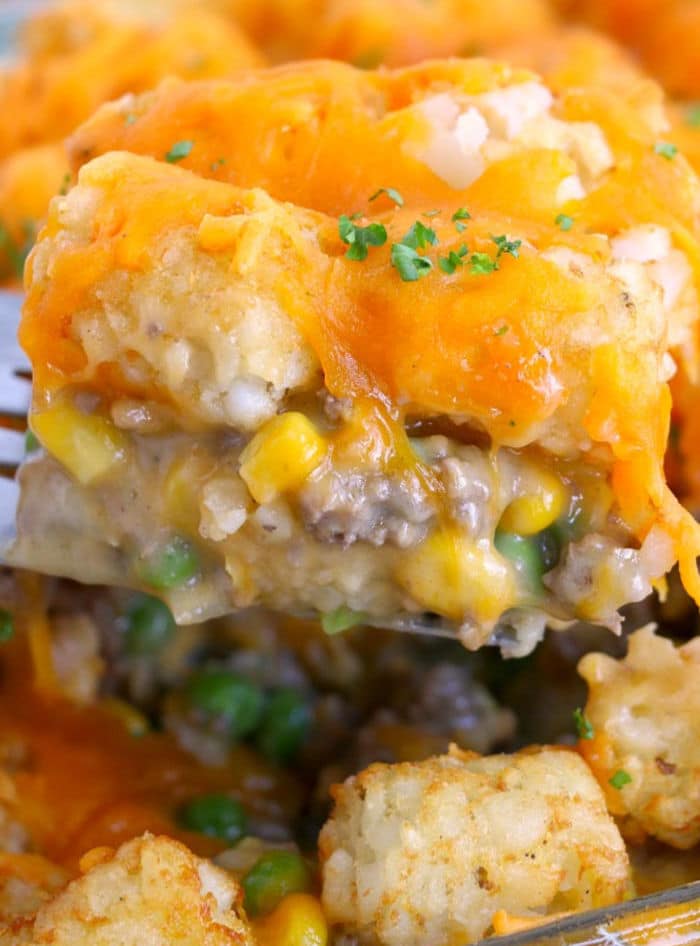 If you love making a "cheese pie" you could add protein by chopping up what is left, adding that into the mix, and making a meatloaf quiche.
Leftover Meatloaf Casserole
Simple Shepherd's pie with meat & vegetables is your go to dinner! Looking for comfort food in a bowl? You absolutely must try this with creamy fluffy mashed potatoes on top.
This sort of meatloaf casserole is so quick and simple to throw together in no time! If you enjoy a hearty recipe with heavenly gravy, tasty vegetables and fluffy potatoes then this is the meal for you!
7. Ground Beef Casserole With Potatoes
Cheesy ground beef casserole with potatoes is perfect for any meal or get together. When I made this for a potluck it was the first thing to go! Other occasions this recipe is great for include BBQs, Easter brunch, and birthday breakfasts!
Instant Pot taco bowls with meat and rice are so satisfying! I always love to add cheese with all the other heavenly ingredients or a main course meal even your kids will devour.
Have you tried Instant Pot taco bowls yet? It's a great tweak to the traditional style inside a tortilla or taco shells. A cheap and easy InstaPot recipe you can load up with toppings.
When you make this cheesy taco dip with ground beef everyone wins. Made in your skillet for easy one-pan cleanup, and it's just so tasty. Serve it up for a snack or at dinner time with some taco shells for a simple quick dinner.
Leftover Meatloaf Pasta Recipes
If you love easy oven baked dishes and enchiladas then this is the recipe for you and your family. It's cheesy, meaty, and full of your favorite Mexican flavors. Layered with corn tortillas and heavenly flavors, everyone will be licking their plates. I love to top with sour cream and a sprinkle of Parmesan.
11. Instant Pot Hamburger Stroganoff
This beef stroganoff casserole recipe is so flavorful, easy, and satisfying. Pressure cooker dinners like this make my kids happy and full which means mom is happy too. It's even easier when you use your leftover meatloaf instead of fresh and baking from scratch.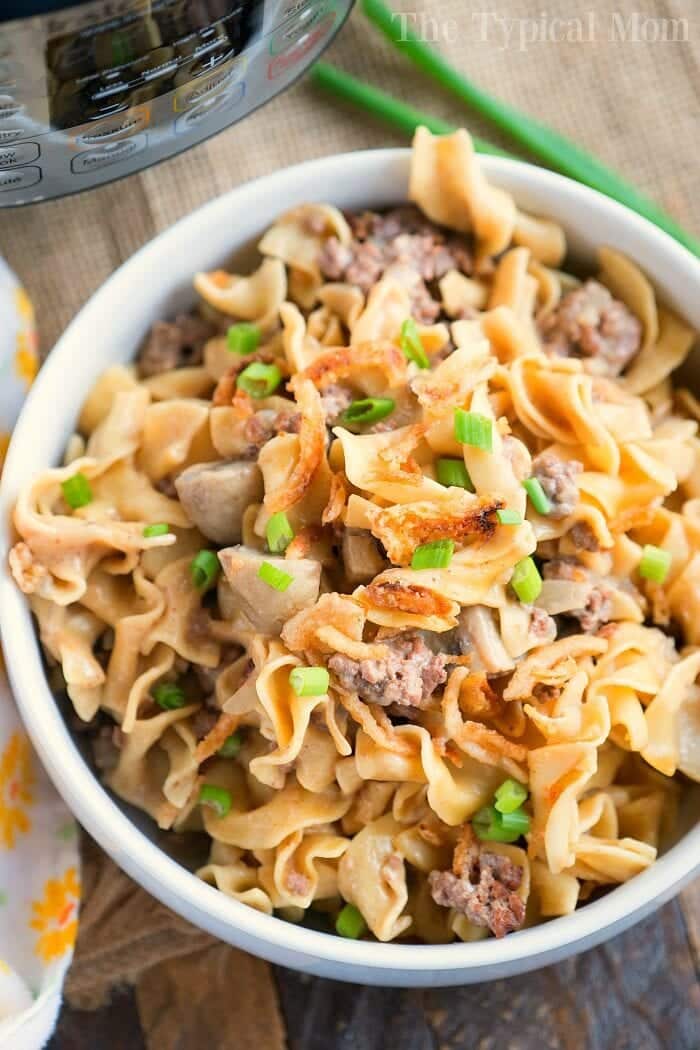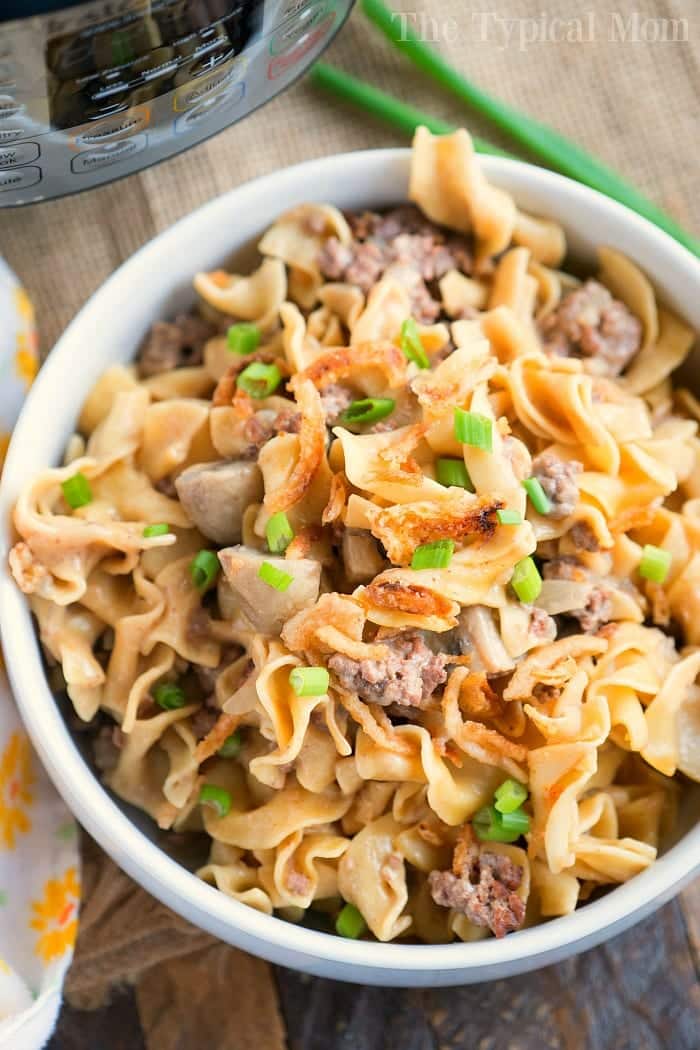 Instant Pot enchiladas are amazing smothered with cheese. They're so good they'll make your mouth water every single time. So if you're looking for a delicious Mexican meal you can make in a pressure cooker these enchiladas are all you need.
Using easy ingredients like canned diced green chiles, shredded cheese, tortillas, sauce, onions, and meat. Instant Pot Ground Beef Recipes are plenty on our site.
Instant Pot Korean beef is so fun and flavorful to make with leftover meatloaf. The sweet and savory sauce adds that special touch that really makes a classic favorite. Plus it's a cheap meal and so tasty served over rice. It makes a great summer time lunch or easy family dinner.
This simple vegetable beef soup is a mouthwatering dish that's also healthy! It is also super economical as it costs less than $20 for the whole recipe. It feeds all 5 members of the family and they love it with a side salad and dinner rolls.
Casserole Using Leftover Meatloaf
15. Instant Pot Cheesesteak Pasta
Instant Pot cheesesteak pasta is the comfort food one pot meal you will adore. Plus you can make it in any pressure cooker or Ninja Foodi! Its absolutely fabulous when you add cheese and
noodles especially for the kids. It's certainly a favorite in my household due to its affordability and flavor!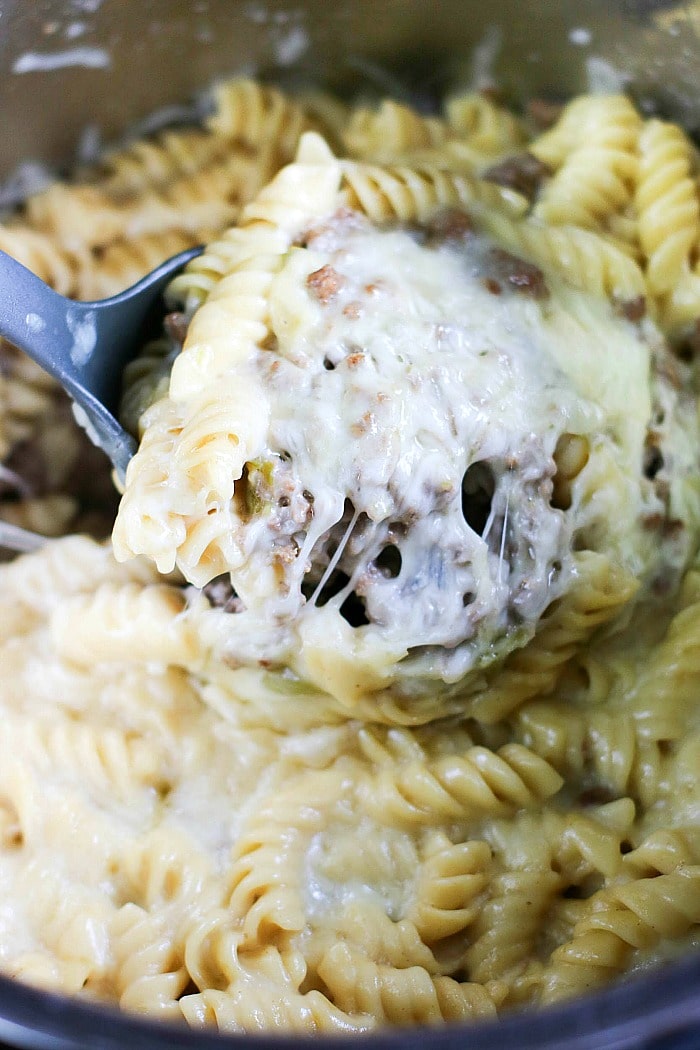 Leftover Ground Beef Recipes
16. Instant Pot Ground Beef And Rice
Pressure cooker ground beef and rice is a healthy comfort meal that can be an appetizer or main. It's sometimes called dirty rice because of the brownish color but trust me it's absolutely delicious. You can substitute the meat anyway you want too.
You can also make this stew with your leftover meatloaf. This simple unstuffed IP or slow cooker cabbage soup recipe is a Ninja Foodi or Pressure cooker favorite of mine. Once you have a taste it just might become your favorite dish too! I also love how it's gluten free and low in carbs!
We have other resources too though like if you want to find recipes with leftover brisket you can find them here too.
Leftover Meatloaf Recipes
Lots of easy leftover meatloaf recipes. Use leftover ground beef to make casseroles, pasta dinners, with rice and others.
Instructions
Turn pot to saute and add your ground beef, onions, and bell peppers. Cook until meat is no longer pink and onions have softened. Then turn off and deglaze the pot with a bit of your broth.

Add rest of broth and seasonings and stir. Sprinkle in rice, do not stir, and gently submerge into liquid. Close lid and steam valve, set to high pressure for 12 minutes, or just press the rice button if you have one.

Allow to naturally release steam for 3 minutes. Do a quick release when done. Fluff contents, season with salt and pepper and serve.
Nutrition Facts
Leftover Meatloaf Recipes
Amount Per Serving (1 oz)
Calories 339
Calories from Fat 72
% Daily Value*
Fat 8g12%
Cholesterol 27mg9%
Sodium 695mg30%
Potassium 233mg7%
Carbohydrates 54g18%
Protein 11g22%
Vitamin A 750IU15%
Vitamin C 14mg17%
Calcium 30mg3%
Iron 1mg6%
* Percent Daily Values are based on a 2000 calorie diet.
Want to see a few of my favorite things that I am totally obsessed with?? Take a peek and see how many you might already have…twinsies!
Looking for more easy family recipes and tips? LIKE The Typical Mom Facebook page?
Then sign up for my free newsletter, and follow me on Pinterest! 😉
***** If you LOVED this recipe give it 5 Stars below and let everyone know what you thought about it. 😉