How to make a taco salad bowls with a muffin pan! Bake in your oven or air fryer this week. Fill with fresh produce and one of our taco meat recipes to make a healthy and fun meal kids and adults will love.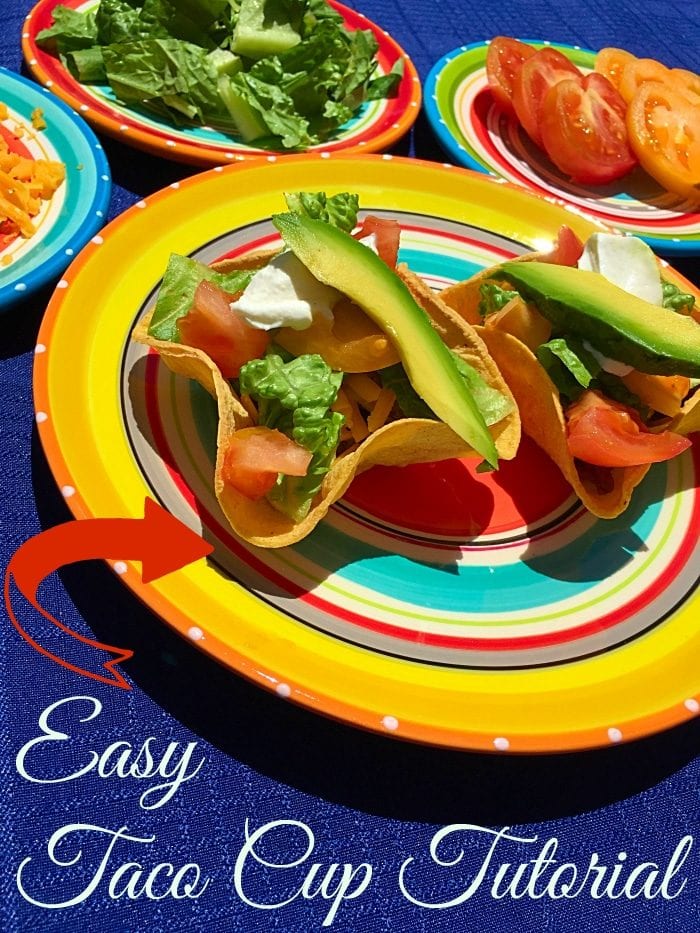 Who doesn't like tacos? They're great right??!! Well we usually have "taco night" a few times a month, and especially when we have an order of fresh produce delivered to our door from Farm Fresh To You. They have almost everything we need in there! Let me show you just how easy it is to make a taco salad bowl at home. Special thanks goes out to Farm Fresh To You for sponsoring this post. (originally published 4/16, affiliate links present)
How to Make Taco Salad Bowls without Mold
If you're anything like me (a busy Mom with kids and more to do than there are hours in the day for), you want easy dinner recipes that your kids will love to. This will definitely become one of those!
I try my best to incorporate it all: recipes that are easy, healthy, and everyone thinks they're delicious (seems impossible right).
This is one of the reasons we first signed up for Farm Fresh To You several months ago. You see, it is super convenient since they deliver produce to your door. I know, awesome right??!! You can customize what will come in your box (I have done that when I have a specific meal in mind), or let them choose (which I did this time, wanted what they considered to be the BEST fruits and vegetables for this season).
Taco Salad Bowl Recipe
The kids think it is fun, I love the surprise of finding "what's in the box" that day, and it gives all of us an opportunity to try new fruits and veggies that we normally wouldn't buy in the store…..and the fact that everything is organic is super important to our family.
As a special treat you can get $10 off your first box just by entering the promo code JUST5947 when you try Imperfect Foods!;) Let me show you how easy this recipe was for me to put together since I already had the produce delivered!
Great thing about these is they are fresh and you could buy gluten free tortillas if necessary. Corn is best but taco shells could be either one.
What is a taco salad bowl made of?
A tortilla y'all. I mean you can kinda' tell that is the case but it is crispy and crunchy formed into a bowl shape so nothing falls out. You can use a form or just a muffin pan for individual mini taco bowls. Bake in the oven or air fryer.
Air Fryer Taco Bowls
Follow the same instructions below as far as preparing them but instead of a muffin tin push them into small oven safe bowls that fit into your basket. Preheat your air fryer to 400 degrees F and cook for 3-4 minutes until crisp.
Taco Bowls
Here's a quick look at how you make the shells. 😉 All you need are small corn tortillas, olive oil, a paper towel, and a muffin pan. If you had small oven safe bowls you could press them inside those too if that's what you had on hand.
Time needed: 15 minutes.
Taco Salad Bowls
Bake

1. Get 2 large or 3 small paper towels (keep them attached in a long string) and slightly wet them in the sink
2. Wrap 4 (soft taco size tortillas) corn or flour tortillas in the damp paper towels and put them in the microwave for about 20 seconds
3. Rub olive oil on both sides of the tortillas (one at a time), or use olive oil cooking spray
4. Push the softened tortillas in the crevices of the muffin tin that is upside down. Place tin on top of a baking sheet so it's easier to remove. Could push into oven safe bowls alternatively.
5. Bake tortilla bowls in the oven at 375 degrees for about 13 minutes or until just barely golden brown.

Fill

Remove taco bowl shells from the oven and allow to cool to room temperature so you can pick them up and off the pan. Fill with lettuce, cheese, avocado, meat and all things taco related.

Save

If you have leftover tortilla shells you should store them in a freezer bag with all of the air sucked out.
Fillings are up to you but I am sure you have favorites already, I don't think I need to tell you how to fill them once they are done.
Homemade Taco Bowl Shells
Now it's time to make the taco filling. I usually have a few packages of ground beef or ground turkey in my freezer, so it's handy for meals like this one.
You can use a packet of taco seasoning from the store but we prefer to season our own meat with a teaspoon of minced garlic and some seasoning salt. We like simple, and we like to know exactly what is in our food. 😉 Open and drain a can of black beans and/or corn kernels too.
Make a taco bar for your family to add to the fun of it. Have everything prepped and ready to go out on the counter so everyone can make and fill their own.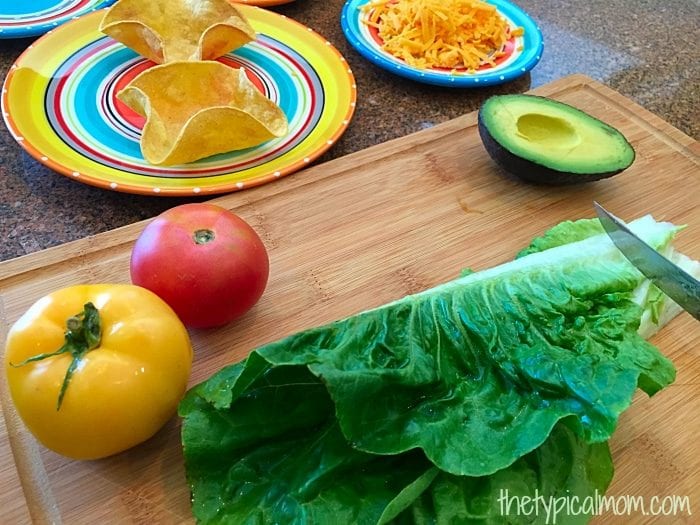 Taco Salad Shells
Now get out the fresh produce for your tacos!! We like a lot of things to load them up. In our Farm Fresh To You delivery today we had some gorgeous tomatoes, lettuce, and a cucumber so we decided to use two out of three for this taco salad recipe (I'll snag the cucumber for a salad tomorrow).
Just cut up your veggies, shred some cheese, add some avocado and/or sour cream to the mix and you have yourself a really yummy (and don't forget FUN – for the kids) recipe for dinner or lunch! Enjoy the warm summer weather outside or lay out a blanket and have a picnic!
It is easy to transform a "regular" dinner into something fun by thinking outside of the box, that is how memories are formed. It's easy to make more if y'all gobble them up faster than you may have initially thought. Teach your teens how they are done so they can help you out if younger kids want seconds.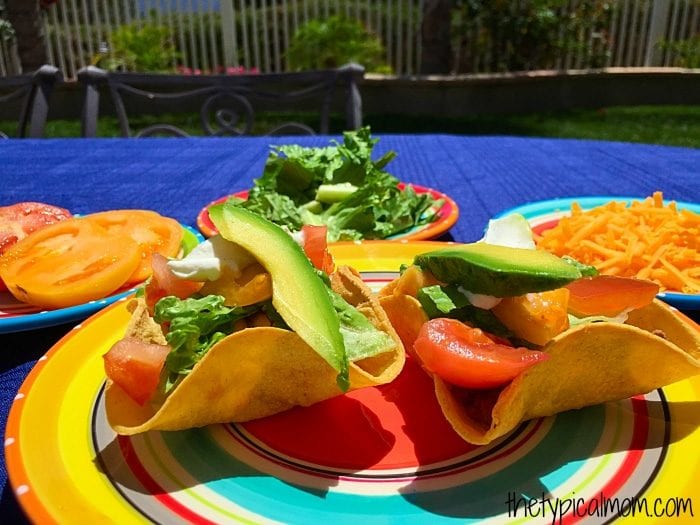 You can save these if you made too many as well. I wouldn't expect them to save great beyond 1 day after. You can crisp again in your air fryer though. Removing all the air is key to them not getting soft again. Store in freezer bags, suck the air out and zip closed to store on the countertop.
Want to see a few of my favorite things that I am totally obsessed with?? Take a peek and see how many you might already have…twinsies!
Looking for more easy family recipes and tips? LIKE The Typical Mom Facebook page?
Then sign up for my free newsletter, and follow me on Pinterest! 😉
***** If you LOVED this recipe give it 5 Stars below and let everyone know what you thought about it. 😉