22+ leftover taco meat recipes for the day after. Use your leftover ground beef in another meal the next day for another meal and save money. You can make any of our Instant Pot ground beef recipes, or find more below.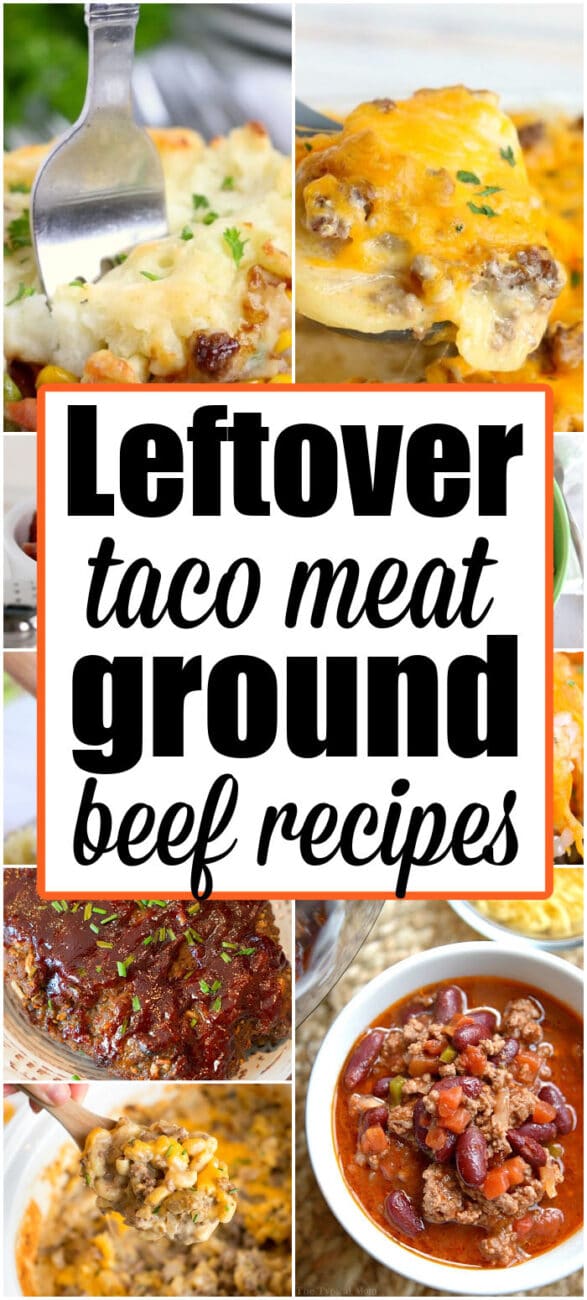 Are you wondering what recipes with leftover taco meat there are out there? All too often I overestimate how much beef we will need on taco Tuesday! I am left with so much leftovers and I just can't let it go to waste. (affiliate links present)
I mean, it's just so super tasty in so many other recipes. That's why I love all these meal ideas to cook for the next few days afterwards. Like nachos, soup, empanadas, stuffed peppers, casseroles, and more. You have to see them to believe how tasty and easy they are.
Leftover Ground Beef Recipes
Whether you initially made a quick pot of Instant Pot taco meat or used the low and slow slow cooker taco meat method, saving what is left is a no brainer. Then make a second meal the next day(s) to save money.
Stuffed Air fryer Zucchini Boats
Taco Stuffed Avocado Boats are a mouthwatering low carb twist on tacos. So if you're looking for something tasty and healthy to make with your leftover beef try stuffed avocados! Only 7 grams of net carbs per serving too. Plus I just love creamy ripe avocado with my meat and cheese, don't you?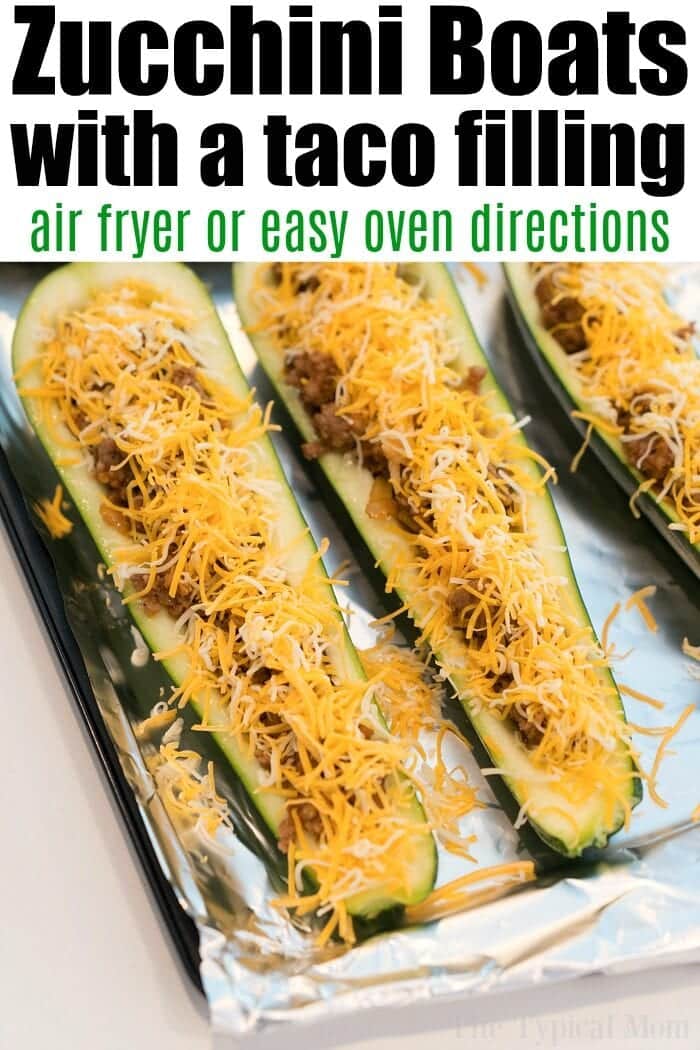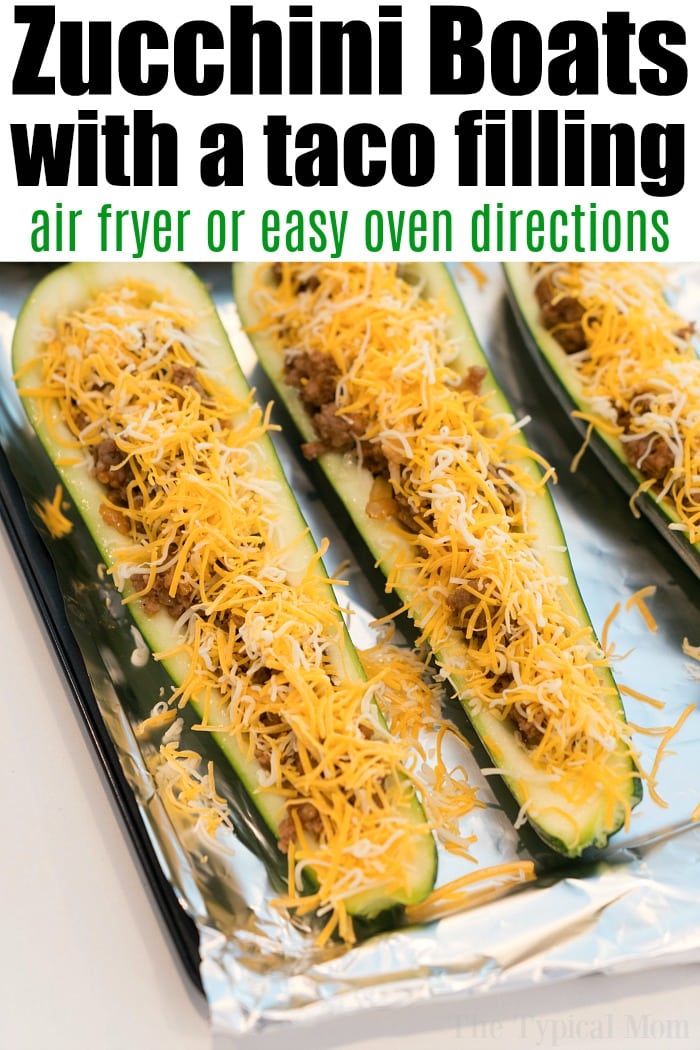 How to reheat leftover taco meat
If you have some store bought or homemade taco seasoning on hand you might want to add a bit more with a bit of broth or Worcestershire sauce to reheat. That will add moisture and extra flavor before continuing on to make beef Shepherds pie or other choice below.
Dorito Nachos
You have to try these loaded Doritos nachos using ground beef because they're so scrumptious. My favorite Doritos to use are Cool Ranch but when I'm feeling spicier I'll use Nacho Cheese.
The whole family will be excited to see this on the dinner table. They're also the perfect game day dish for a crowd. With tons of wonderful toppings you will want to lick the plate.
Just warm the meat and add slices of avocado with some sour cream and cheese, done!
Do you have leftover taco meat and some crescent roll dough in the fridge? If so you will want to see this recipe idea. Stuffed crescent rolls are a dinner or lunch that will be your family's new favorite! A simple utensil-free dish with minimal ingredients! I love to dip them in salsa, sour cream, and even Ranch dressing.
This hearty soup recipe is the perfect idea to make. It's easy with only a few ingredients and you'll have a tasty stew in no time at all! Have yourself a taco Tuesday followed by a no-waste Wednesday when you make this soup. The total cooking time is only 15 minutes and it makes 6 servings.
Here's a peek of that one complete with black beans, corn and veggies galore. Want another version with the same great flavors? Stuff inside tortillas and make air fryer tacos some night.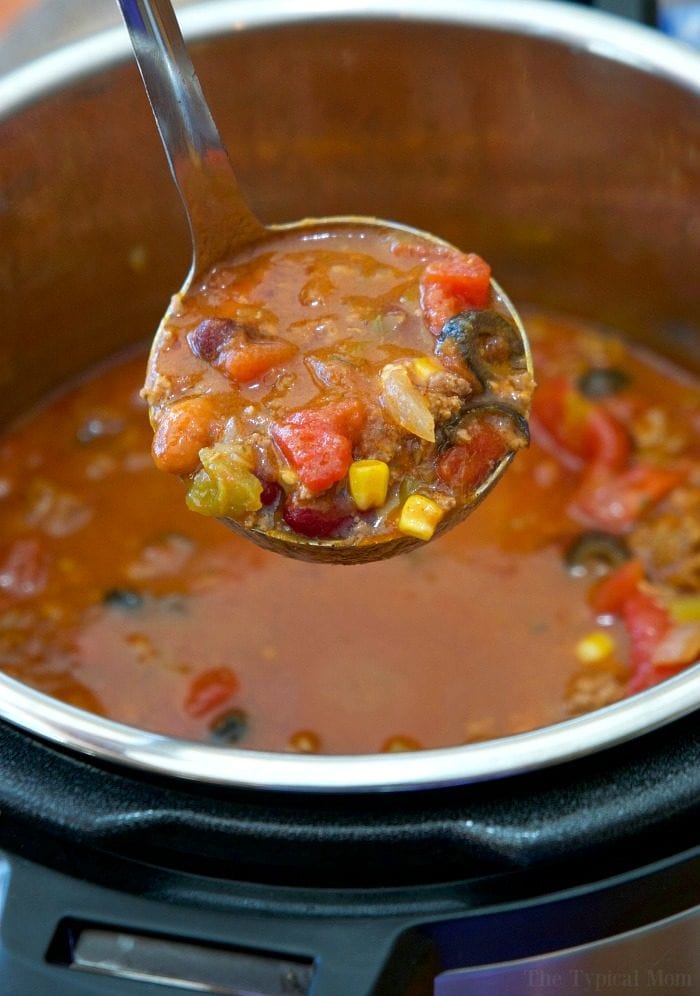 Leftover Hamburger Recipes
All of these could be made as a leftover meatloaf recipe too. If you are cooking for a get together you can throw a dip together with leftover ground beef from tacos too though like;
Want something low carb friendly for your next party or gathering? This layered dip is always one of the first snacks to disappear. With only 5 ingredients needed this dip will become a family favorite too.
You can also make it for a celebration like a game day, party, or BBQ. Your guests and family will be so impressed when they have a taste.
Taco stuffed empanadas are scrumptious and mouth watering with a flaky pastry crust and cheesy beefy filling. This recipe is so versatile too you can add vegetables like corn on the inside or a side of guacamole. They are easy to store in the refrigerator too for a few days of meals.
Easy Mexican Pizza
This simple air fryer Mexican pizza recipe is a scrumptious main or appetizer to spice up your regular menu. So if you would enjoy a copycat Taco Bell Mexican pizza at home with the help of your air fryer this is the one to try. My kids just love it when I make these for lunch and dinner.
Quesadillas are perfect to make with leftover taco meat. Traditionally in Mexico quesadillas are made with corn tortillas, not wheat flour tortillas, so that's how I make them too.
For best results, shred your own cheese. It melts better. I recommend ounces of pepper jack and 4 ounces of colby jack. But of course you can use any cheese you want!
If you have leftover beef make this one pot cheesy taco pasta. It's ready in about 30 minutes with all your favorite taco flavors and is seriously delicious and nourishing! I prefer to use whole grain macaroni or shells but you can use any kind of pasta like rigatoni or bow tie noodles.
This is one of our taco Tuesday favorites when we are thinking out of the box. You could easily use leftover ground turkey or sausage for this one as well.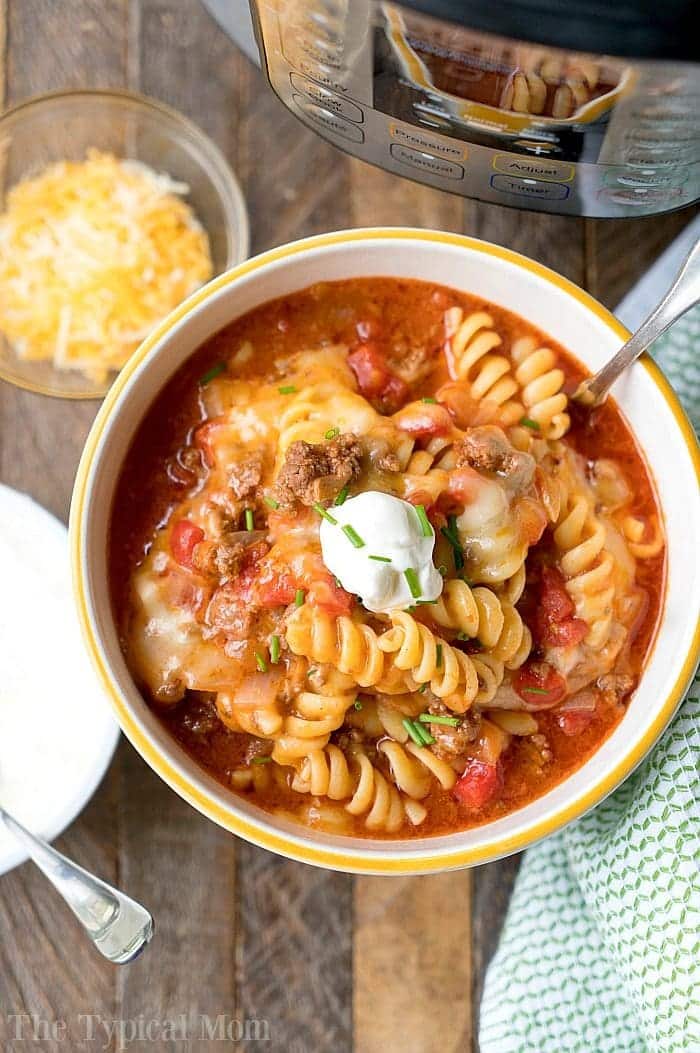 Taco Meat Leftovers Recipe
Now here is something new you may not have heard of but you should!
Mulitas de Asada are made of two crispy tortillas stuffed with beef and yummy melty cheese. Serve with your favorite guacamole or sour cream and enjoy! They're so super easy to make and serve up for a crowd. I always use corn tortillas but flour ones work fine as well.
Make a Burrito
If you have leftover meat from tacos this is the recipe to make! California Burritos can be loaded with guacamole, beans, sour cream and even french fries! It's amazingly fabulous and absolutely heavenly! These are the ingredients
My family loves eating these easy taco stuffed peppers for dinner any night of the week. They're stuffed with flavor and great for lunch too. Not to mention they're low in carbs and high in protein. Cooking tip: For crisper peppers, slightly reduce cooking time. in order to make softer peppers just increase the cooking time by 15 minutes.
Taco roll-ups are incredibly handy and tasty to have as a quick snack or an easy on the go meal. I always make these on busy weeknights because you only need 5 simple ingredients to make them. Plus it is helpful to just have something that you can grab as you're out the door.
I mean who doesn't love finger foods for dinner right??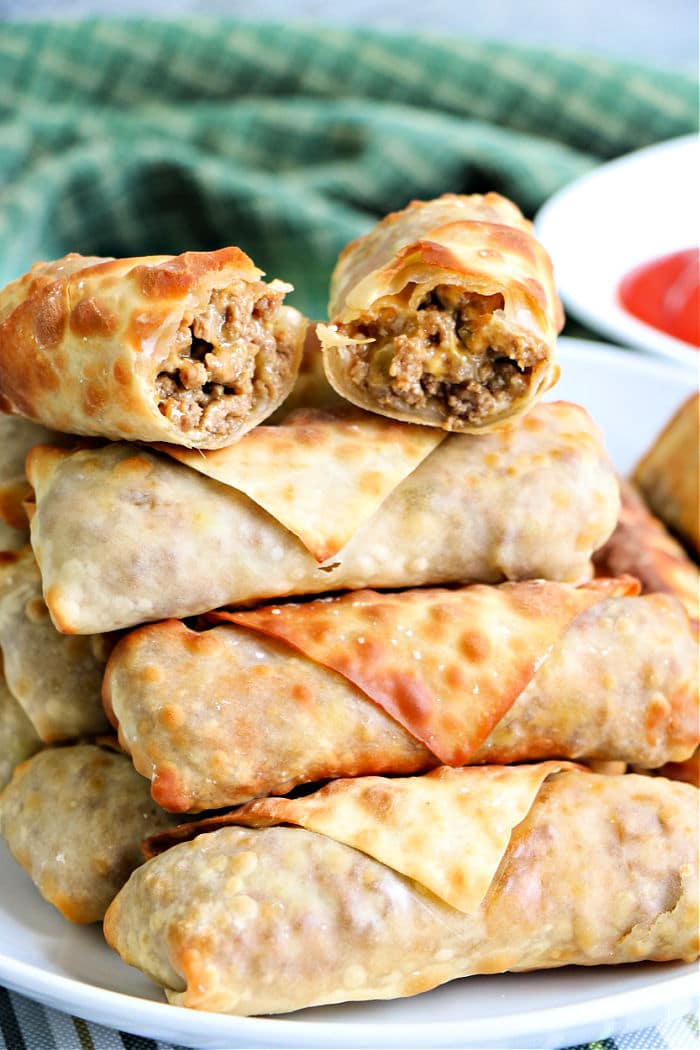 How do you stretch leftover taco meat?
If you have a bunch you can easily divide into 2 different meals on the days after. Including it into other ingredients allows you to stretch it further, like our sauerkraut recipe with meat dish. On the lighter side if you are looking for a low carb keto friendly option, make a salad y'all.
Learn how to make taco salad in just 20 minutes with common household ingredients! Your entire family will adore homemade taco salad bowls filled with ground beef. Leftover taco meat is the way to go too – browned ground beef with chili, garlic powder, salt and pepper simmered with a little bit of water to distribute all the flavours and you're good to go.
What is Frito Pie? It is one of New Mexico's most famous comfort foods! Frito Pie was invented by the chef at the Santa Fe Woolworth's lunch counter in the 1960s.
Her name was Theresa Hernández, who served a simple style of chile con carne in a bag of Fritos corn chips. Make it into a casserole bake and you've got the winning lunch or dinner of the year.
This easy homemade salad bowl is amazing with your leftover taco meat. Plus it's keto friendly, gluten free, and grain free. My favorite cheeses to use are mozzarella
and cheddar. I just love it topped with avocado and sour cream. If I'm really feeling creative I'll add some diced black olives too.
Try these air fried Chimichangas for a tasty yet healthy version of your favorite Mexican meal. With your favorite fillings and condiments you will have a quick and easy weeknight dinner everyone will love! All you need is flour tortillas (burrito size), cooked meat, beans, diced green peppers, salsa, sour cream, shredded cheese, avocado slices, and sliced jalapeños- yum!
Leftover Taco Meat Casserole
All your favorite taco flavors are stuffed into a simple to make ground beef skillet! This family-friendly meal is ready to serve in 30 minutes or less with only 9 ingredients such as diced tomatoes, bell peppers, and cheese. In order to avoid added sugar, fillers, and preservatives in the taco seasoning, I recommend organic Taco Seasoning from Mountain Rose Herbs.
Slow cooker lasagna is a comforting and scrumptious recipe that everyone at the table will adore. With layers of pasta, leftover taco meat, corn, sauce and cheese it will instantly become a family favorite. Cooks all day on it's own and is ready when you get home.
If you haven't made a tex mex deconstructed taco lasagna of sorts with hamburger yet you're in for a treat.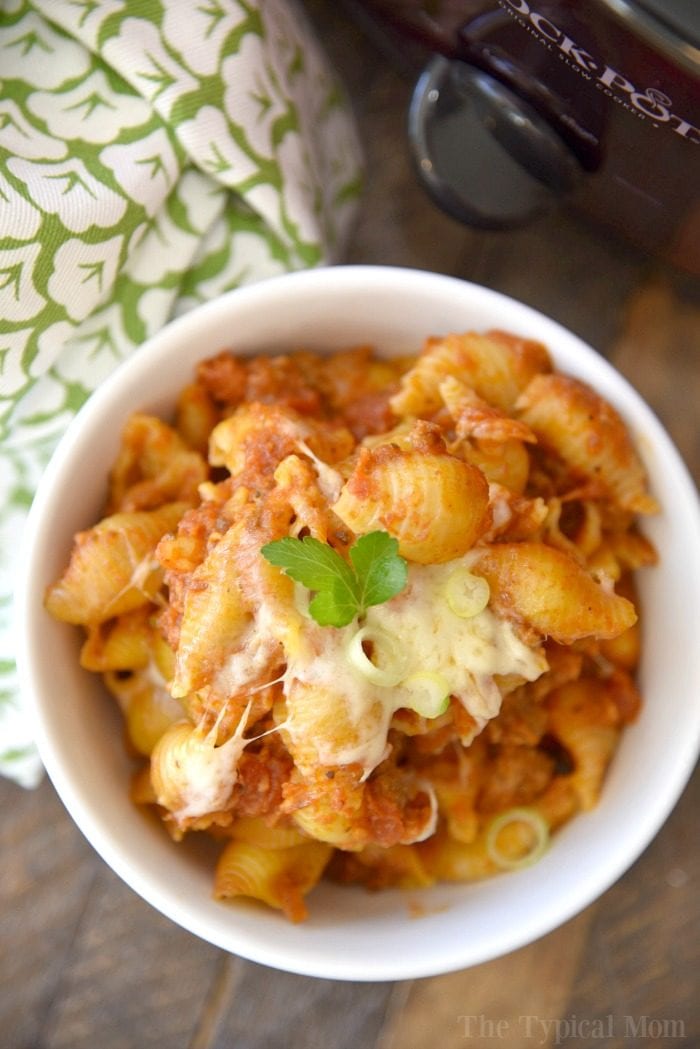 Leftover Recipes with Ground Beef
Using leftovers cuts down on the cook time for spaghetti for sure. You just then need to heat the sauce, boil the noodles and you're done.
My garden is filled with more zucchini than I know what to do with every summer. That's what started me on my best zucchini meals recipe rotation. This one is so savory and healthy with vegetables and protein to truly hit the spot! Plus it's gluten free and easy to cook.
All you need for these taco meat sliders is cooked beef, mozzarella cheese, jalapeños, diced tomatoes, green chilis, tomato sauce, taco seasoning, butter, and bread! It's one of our family's favorite recipes with Hawaiian rolls. It only takes 8 minutes to prep and 30 minutes to cook!
These homemade Taco Bell crunch wraps are so simple to make at home. They're a fun dinner to cook up and are packed with beefy and cheesy heaven! So if you want to add something different to your meal schedule try this dish.
The first crunch wrap I made didn't turn out that pretty but after little practice I got the hang of it. These are perfect if you have a griddle but if not, a simple skillet will work.
And there you have it! The best list of recipes to make with your tasty leftover taco meat. From salads, soups, and bowls to casseroles, empanadas, and chimichangas. It's everything you need to make use of that tasty ground beef or carne asada while also feeding your family or a large crowd.
But wait, we have more because we hate to waste. Eat beef often and want recipes with leftover brisket too? We have 'em!
Want to see a few of my favorite things that I am totally obsessed with?? Take a peek and see how many you might already have…twinsies!
Looking for more easy family recipes and tips? LIKE The Typical Mom Facebook page?
Then sign up for my free newsletter, and follow me on Pinterest! 😉
***** If you LOVED this recipe give it 5 Stars below and let everyone know what you thought about it. 😉
Leftover Taco Meat Recipe
We have tons of Leftover Taco Meat Recipes here but this one is 5 ingredient chili using leftover ground beef.
Instructions
In a pot on the stovetop over medium heat add all of your ingredients together and stir together.

Allow to reach a slow rolling boil, cover and heat for 5 minutes. Stir and test to see if you want to adjust seasonings.

Close lid and cook for another 5 minutes to further soften beans. Serve when it is as hot as you'd like topped with cheese, green onions and jalapenos if desired.
Nutrition Facts
Leftover Taco Meat Recipe
Amount Per Serving (1 oz)
Calories 33
Calories from Fat 9
% Daily Value*
Fat 1g2%
Sodium 286mg12%
Potassium 357mg10%
Carbohydrates 8g3%
Protein 2g4%
Vitamin A 629IU13%
Vitamin C 12mg15%
Calcium 30mg3%
Iron 1mg6%
* Percent Daily Values are based on a 2000 calorie diet.