Have you ever had a Frito pie??!! Well if not you're in for a treat because we made this Instant Pot Frito chili pie recipe last night and it was the bomb! With crunchy chips on top or poured over the top this is a family favorite meal of all time.
If you loved our 5 ingredient Instant Pot chili this takes it a step further and is a Southern dish you will surely add to your meal planning.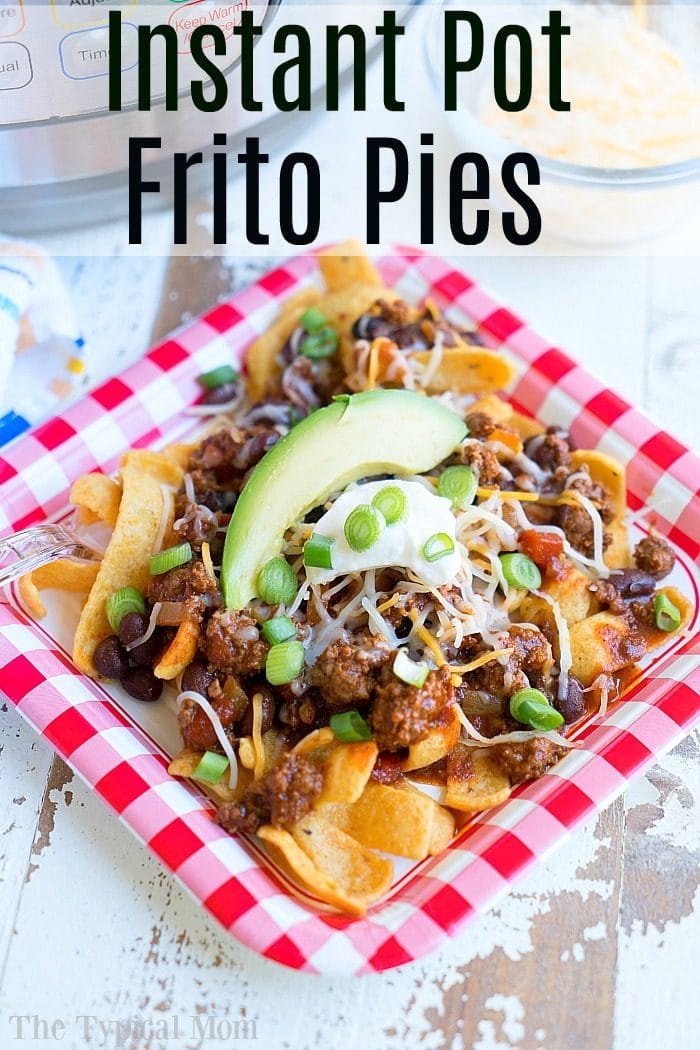 If you've never tried this you aren't totally alone. I will say you're missing out though!! Oh yes you NEED to make this easy Instant Pot Frito pie recipe on the stovetop or in your Instant Pot!! Definitely a favorite amongst all of our easy Instant Pot recipes. (affiliate links present, originally published 6/18)
Instant Pot Frito Pie
Think about total comfort food with a bit of a kick, this is it! We started with our Instant Pot chili and created this oldie but goodie dish. You could make Ninja Foodi chili too, it doesn't matter what brand of pressure cooker you have at home.
Load this up with all the toppings you love like sliced avocados, jalapenos and/or cheese and OMG. Paired with these crunchy crispy corn chips your kids will definitely ask for seconds.
FIRST – You should sign up for my free newsletter so you get new posts emailed to you twice a week and never miss out on anything! Now let's start with a few basic tips:
Make sure to Bookmark our InstaPot recipes page. We add new ones each week!
Then PRINT this —–> Instant Pot cooking times cheat sheet that will help you understand how long meat, vegetables and beans take to cook in your pressure cooker.
For reference, this is the pressure cooker I have (a 6 quart) and use for all recipe creations.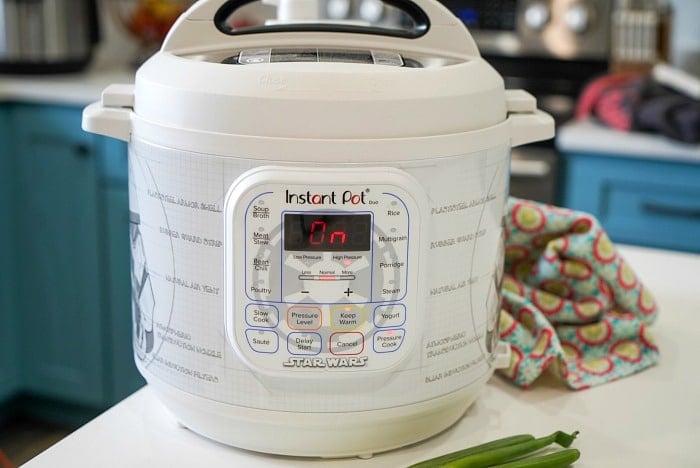 Instant Pot Frito Pie Recipe
You can totally make it either way but I'm a bit obsessed with my fancy pressure cooker so we are going to go with that….but I'll explain both ways to you…..
I had it for the first time when I lived in Texarkana and went to a local fair. I had no idea when I got there what that even meant since in Ca. that just wasn't a thing. Since I already loved the chips I thought I'd give it a whirl and OMG was it so good.
Transitioning it into something for a fun dinner idea with my own kiddos I thought I would use my pressure cooker this time. You could certainly use a pot on your stovetop instead but I love this multi cooker.
Ninja Foodi Frito Pie
These are the basic ingredients we used. Keep in mind there is an array of musts depending on where you are in the country and whom you talk to. Typically. people will have a family hand me down recipe that may have onions, insist on no beans or others that have to use cheese. Add what you love.
Bag of Frito corn chips – I used the traditional smaller size, not dip size

This is a GREAT camping recipe too, cook over a campfire, pour chili into small Frito bags, topped with toppings and serve in bag!!

Black beans
Enchilada sauce – I used mild and it still had quite a bit of kick to it
A great Ground beef recipe – you could use ground sausage too and I think that would be pretty killer
Onion – just adds lots of flavor to everything
Taco seasoning – you can make your own but I'm too lazy for that and buy one in the packet
Diced tomatoes – I like petite diced in the can personally
Chili powder or diced roasted jalapenos will make it spicy if you like
Toppings
Load on the toppings I say…….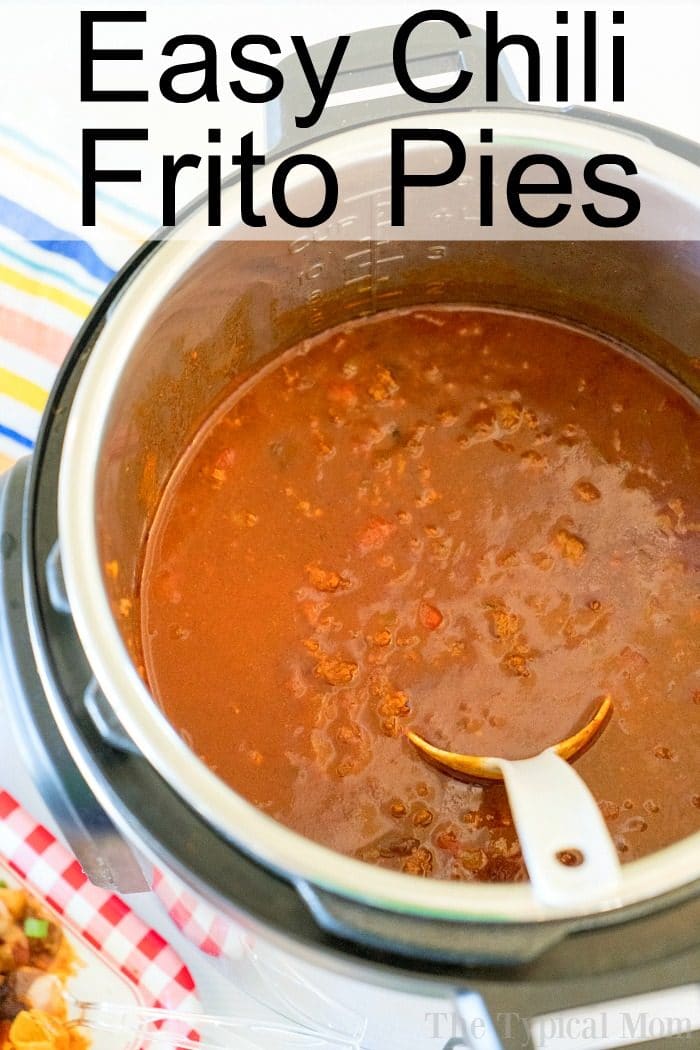 Frito Chili Pie Recipe
Like I said, you can make this Instant Pot Frito chili pie style or on the stovetop. Just use a pot with a lid. Once it is done you can cover and keep warm so people can enjoy it over the next few hours. Another option is to pour it into a slow cooker and set to keep warm for longer. If you're making it on the stovetop make it like this:
Use a medium size pot on medium heat
Add olive oil
Put in ground beef and break up
Add diced onion
Cook until ground beef is cooked and onions are softening
Turn heat to low
Add packet of taco seasoning and stir so meat and onions are coated
Add enchilada sauce, diced tomatoes (or tomato sauce for less of a chunk) and can of black beans
Stir
Allow mixture to come to a slow simmer and then turn off heat
For Instant Pot frito chili pie recipe; Put Fritos on plate + scoop of meat + some Fritos + all the toppings you want. There really isn't any pressure cooking necessary for this one. You just need to use the saute feature so no waiting for it to come to pressure which makes it a lot faster indeed.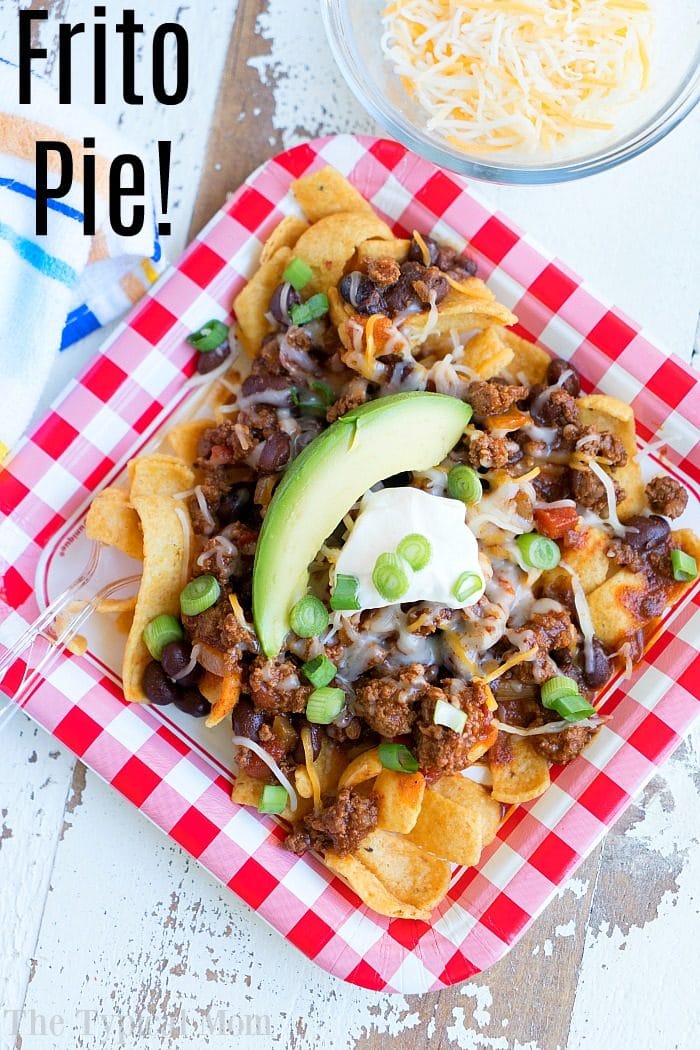 Instant Pot Chili Frito Pie
You can use lots of other options to make our Instant Pot frito chili pie recipe as well if you run out of these chips!! Tortilla types are just fine but will have a different flavor since those are made from the flour vs. corn versions. Another one we love is to pour this over crisped tater tots y'all. I know, you have got to try this option too right???
With that said if you do have any leftovers you can totally save it and use what you have to create a whole new dish the next day. You'll need to wait until it cools down completely first and then pour it into a bowl with a lid.
Put into the fridge and warm within the next 3 days. It is even good just eaten as is really, just like a thinner chili. Jump to recipe and get started friends!
Want to see a few of my favorite things that I am totally obsessed with?? Take a peek and see how many you might already have…twinsies!
Looking for more easy family recipes and tips? LIKE The Typical Mom Facebook page?
Then sign up for my free newsletter, and follow me on Pinterest! 😉
***** If you LOVED this recipe give it 5 Stars below and let everyone know what you thought about it. 😉
Instant Pot Frito Chili Pie
Have you ever had a Frito pie??!! Well if not you're in for a treat because we made this Instant Pot Frito chili pie recipe last night and it was the bomb!
Instructions
If using Instant Pot set to saute and add ground beef and onions, cook until pink is gone, if making on stovetop do the same on low in a pot on the stovetop.

Turn Instant Pot off or leave on low on the stovetop and add taco seasoning packet, mix until meat is covered with seasoning.

Add can of black beans, enchilada sauce, and diced tomatoes and stir. Put lid on Instant Pot and close steam valve. Set to pressure high for 3 minutes or if using stovetop allow to heat up until it simmers nonstop while stirring consistently and then turn off stove and serve as directed below.

Do a quick release on Instant Pot and serve as follows:

Put a layer of Fritos, then a scoop of chili mixture, then fritos, a layer of cheese, slices of avocado, a dollop of sour cream and chives on top if desired. Serve!
Nutrition Facts
Instant Pot Frito Chili Pie
Amount Per Serving (3 oz)
Calories 629
Calories from Fat 369
% Daily Value*
Fat 41g63%
Cholesterol 84mg28%
Sodium 1222mg53%
Potassium 743mg21%
Carbohydrates 42g14%
Protein 25g50%
Vitamin A 1355IU27%
Vitamin C 11.2mg14%
Calcium 316mg32%
Iron 3.9mg22%
* Percent Daily Values are based on a 2000 calorie diet.