Here are lots of easy camping recipes and a free camping meal planning printable to help you organize what you're going to bring with you to eat while you're camping! Easy campfire meals to choose from for 7 days of camping.
We love to travel as a family and when you're planning a camping trip in a tent using only a campfire or grill to cook you need a lot of easy camping recipes to choose from! A lot of camping foods are obvious (like s'mores and hot dogs), but there are lots of other things that are simple to cook over a campfire that you may not have thought about. Of course having the right items to cook with and eat with make a difference too. I will share with you what food to take camping, and the easiest way to cook over the campfire too! I hope this helps make your camping experience great. If you're looking for more family travel resources check out our road trip blog too.(originally published 3/17)
Camping Meals for a Week
If you have an RV you have a lot more options and can use just about any of my Instant Pot recipes for meals and we have 19 easy rv meals here. Great to prepare after a long day of hiking and exploring a new area with your kids.
If you are staying in a tent with just a campfire, Blackstone 22 grill to cook on it requires a bit more creativity and planning. The above checklist gives you an option for breakfast, lunch, dinner, and a few desserts. Camping dinners need to be easy, can be prepped before leaving in plastic bags for simple dump and go meals.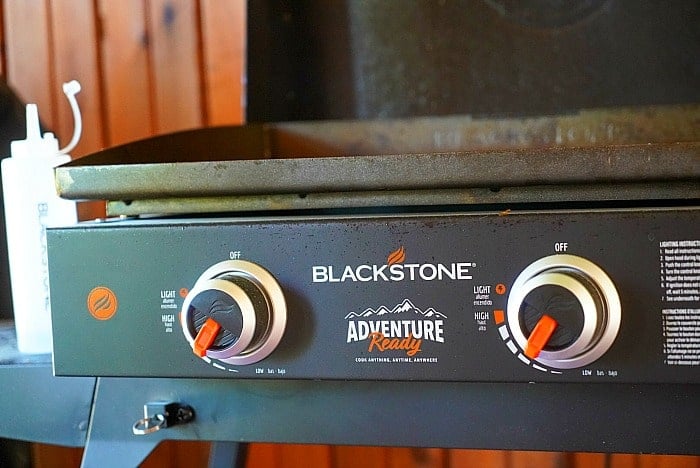 Camping Grocery List
You can check off which meals you want to plan on, or use it to mark off when you've packed the ingredients to make that meal. Whatever way you use this printable easy camping recipes meal planning sheet I hope it is helpful!
** Here are a few items to cook with that will make cooking over the campfire easier, and you will need to make the easy camping recipes below:
Dutch oven (HUGE help and you can use this for almost all of your cooking)
Aluminum foil
Here is a free printable grocery list for camping you can use.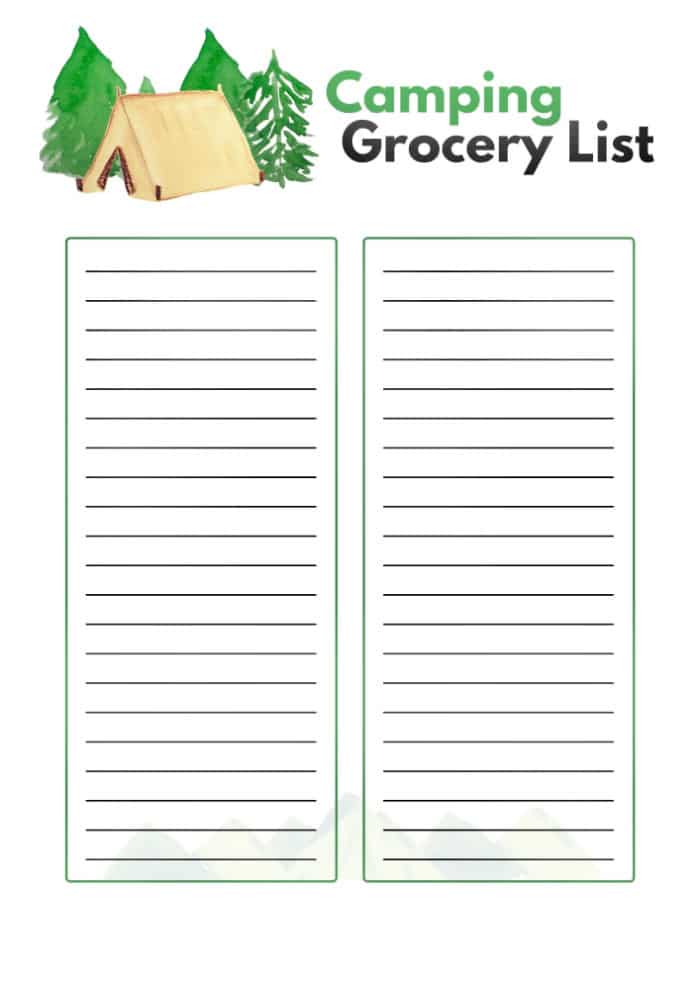 Camping Recipes Easy
If you want to prepare a meal you love that is highly perishable like grilled chicken or a dish with sour cream prepare to make that on the first day. Dry ingredients can wait for later days and think of ideas to make with larger leftovers you may have.
Day 1
Cinnamon rolls cooked in orange rinds
Chicken salad sandwiches
Dutch oven stew or here are tons of other dutch oven recipes
Mini cakes cooked in orange rinds
Day 2
3rd Day
Instant oatmeal over the campfire, or make your own oatmeal (can be used for snacks too)
Peanut butter and jelly (no cooking required, always a good backup and snack)
Use this free camping meal planning printable so you can organize what you're serving each day. I always have a few ideas for possible leftover days too. Every 3rd day or so you'll likely have enough for a meal like that. Bread with peanut butter and jelly is always a must for exhausted days since everyone loves those.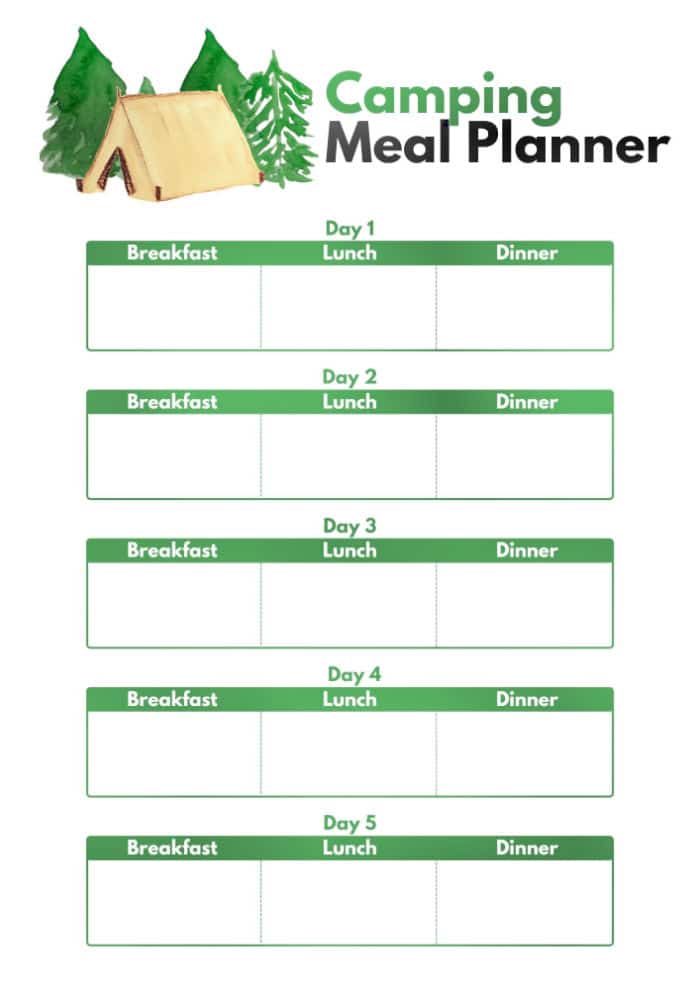 Day 4
Blueberry breakfast bake foil packets
Hot dogs using skewers
5 ingredient chili (cooked in 1 pot over campfire instead of slow cooker)
Sausage and vegetable foil packets or Mozzarella Stuffed onions
5th Day
Pancakes (that only need water) or Dutch Oven Biscuits
Foil packet potatoes (use leftover chili from yesterday on top)
Day 6
Oatmeal
Sandwiches (use up leftover meats from other days, pb&j, or try pizza sandwiches)
Skillet bbq and bacon beans (could substitute bacon for hot dogs)
7th Day (using up what is left over today)
Campfire muffins (or can use pancake mix, above, and just add fruit and a bit of sugar)
1 pot spaghetti (on campfire instead of stove, can omit meat)
Leftover meal
** Tips on keeping your perishables cold
Freeze all of your meats and do not load them into your cooler until right before you are leaving
Pack your cooler last and do not open it unless you are taking perishables out
Freeze all the water bottles you are taking with you and use those as your ice packs in your cooler(s) with the perishables
Most campsites sell bags of ice, or find one at gas stations and/or small stores if out and about – replenish daily if able
Recipes for Camping
On the checklist above I made spots to mark off what you plan to bring or what you have already made. Of course you probably won't be cooking 3-4 times a day but it gives you more choices for easy camping recipes you might want to try and bring along the ingredients for.
Whether you're camping for just a few days or an entire week its nice to have lots of options and try something new!
Looking for more camping resources?
We have a bunch of foil packet meals for camping too.
Want to see a few of my favorite things that I am totally obsessed with?? Take a peek and see how many you might already have…twinsies!
Looking for more easy family recipes and tips? LIKE The Typical Mom Facebook page?
Then sign up for my free newsletter, and follow me on Pinterest! 😉
***** If you LOVED this recipe give it 5 Stars below and let everyone know what you thought about it. 😉