Here's a list of what do you pack for camping! I also made a free printable camping checklist to download in order to make sure you don't forget anything. Traveling with kids can be fun when you have what you need. Find FREE places to camp and start planning today!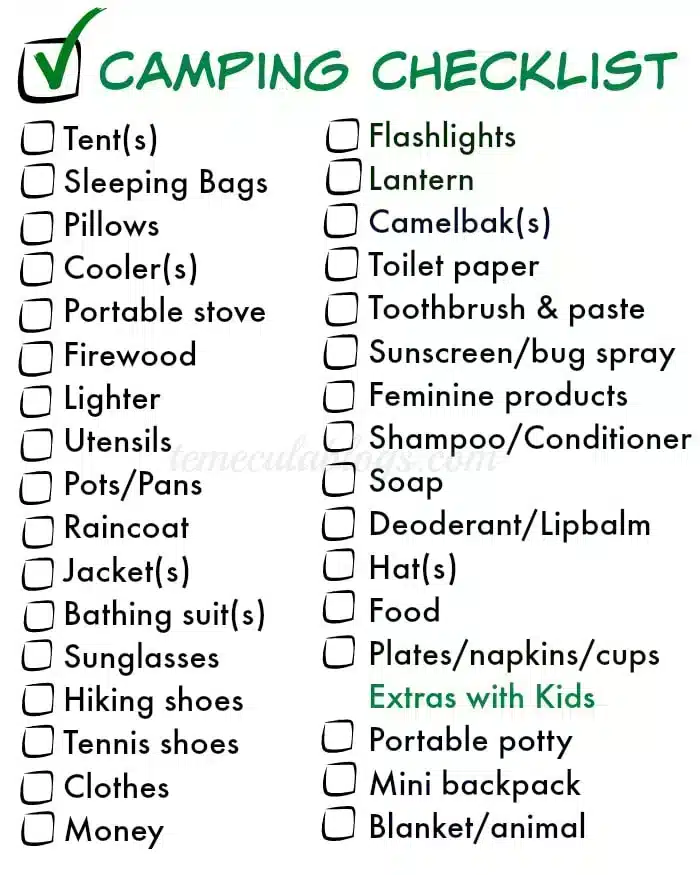 I am Big on checklists (maybe it's the teacher in me)!! Making sure I have everything when I'm off to an amusement park, a road trip, or camping trip is a must. Here's a checklist of things to pack for camping you can use in preparation for your next adventure! Find many more road trip blog tips here too. (originally published 4/16, affiliate links present)
Camping Checklist
If you're camping with kids this is especially important. There are a few extra things you can pack to make your trip oh so much easier and more pleasant. You can print the image above with a link below….
These are just the hard things to pack for camping. Maybe you can get away with a little less if you are in an RV that has a somewhere to cook. BUT I came up with an RV checklist for those times as well.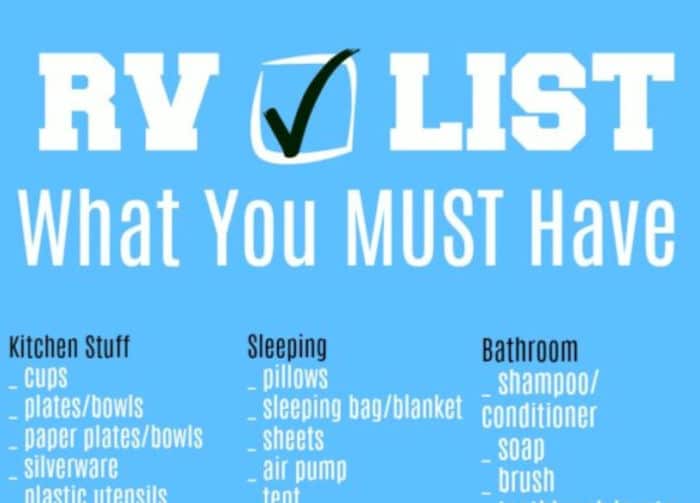 Free Camping Checklist Printable
The little things like lip balm, a hat, and flashlights can make all the difference. If you forget them it can make your camping trip pretty miserable. 🙁 We love taking road trips with our 3 girls.
Now that our kids are a bit older and we don't have diapers or big pieces of equipment to bother with, we have added camping to our list of fun things to do together.
Our last adventure was just outside Yosemite National Park. We tent camped with sleeping pads (a must), had a great time, but forgot a few things. That's why I listed these camping essentials out for myself and to share with you!
If you too are taking a long drive to your destination check out our tips on packing for a road trip too. They'll save your sanity!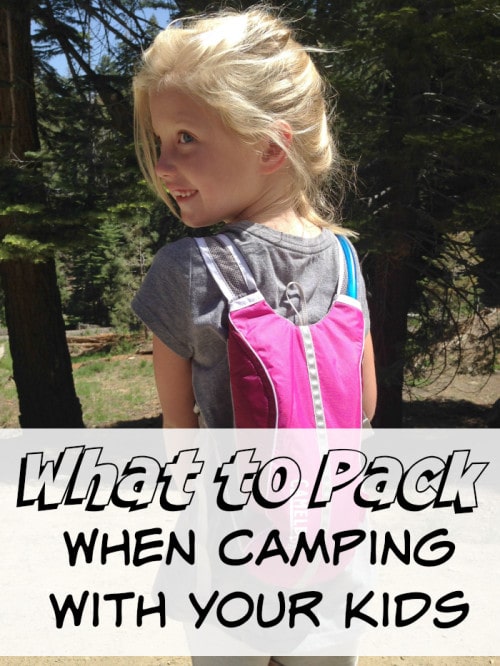 Camping Checklist PDF
Here are a few things we've learned along the way that have helped make the kids happier. In turn this make us a little less frustrated too. Camping with kids should be fun. I will say it isn't the easiest especially if you aren't well versed in camping initially.
The first time exploring the great outdoors will be a learning experience. Don't let a possible tough initial outdoor adventure discourage you from doing it more often. It does get easier!!
Learn from our experiences and pack well. That doesn't mean you need to pack the kitchen sink. Bringing way too much stuff isn't helpful in my opinion. But bringing the right items make everyone more comfortable.
Take it from a mom who isn't a huge lover of camping when I share some items that have helped us out below. Beyond your camping gear think of things like rain jackets, camping stove, hiking boots, first aid kit…….
** You can download and print a copy of your camping trip checklist here.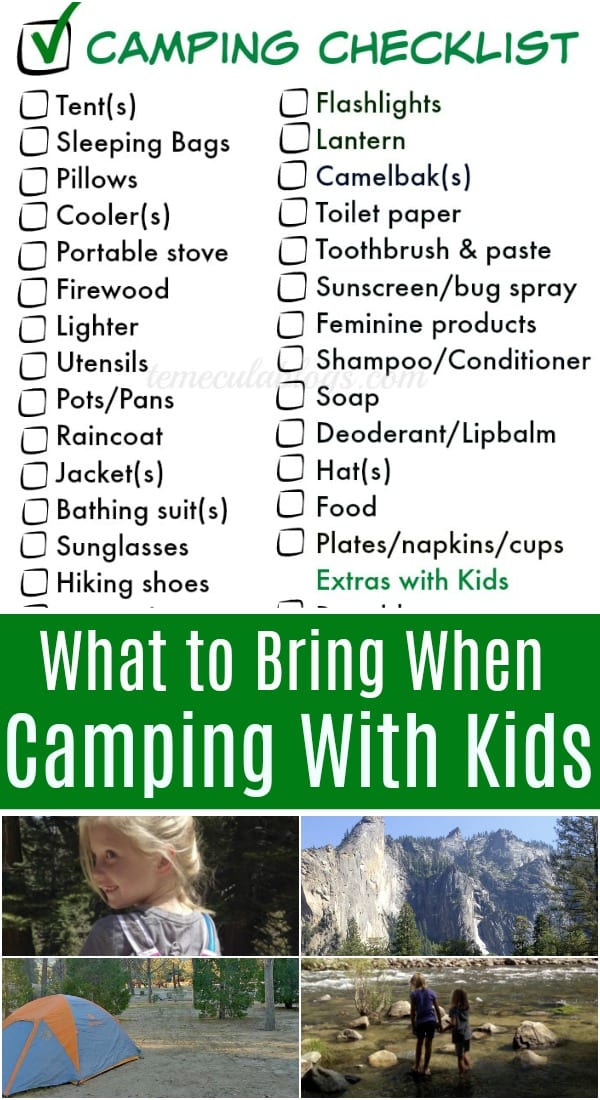 Camping Checklist Printable
Here are a few more tips that will really help you have a great trip.
#1 is we got each child a Camelbak like you see above. My husband and I always had one ourselves to make it easier to hydrate ourselves while we were out exploring for the day. Better than water bottles!

When there are runny noses or you don't feel like stopping 10 times an hour to bend down and give your little one a drink, it's nice if everyone just had their own!

#2 Essential on the list when camping with kids is a portable potty!! My kids have been potty trained for years now, but when you're on the road with miles and miles from the nearest restroom, or in a campsite where the nearest bathroom is too far for them to walk by themselves, it is a lifesaver.

Grab a portable potty along like this one with some biodegradable toilet paper.

Another great item for kids is a mini backpack, similar to yours. These are great so they can carry their OWN trinkets, and items they find.

It makes it so you aren't carrying everyone else's things and they can access their goodies any time they'd like.
This gives them a little sense of responsibility too as it is Their backpack. We have one small backpack for each child where they can store their treasures.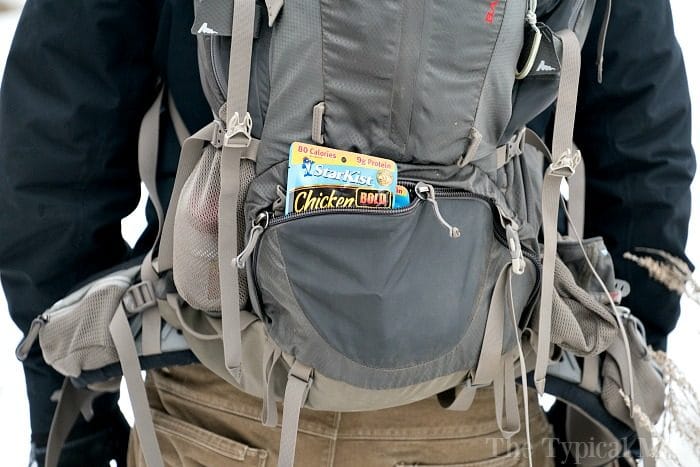 Family Camping Checklist PDF
Last but definitely NOT least things to pack for camping is a comfort item!! Make sure, especially if it is your child's first time camping, to bring along their favorite blanket or stuffed animal.

You can even purchase a new "stuffed friend" and surprise them with it on the first night.
It will help with the really dark nights in a tent and give them the security they need in a strange place.
If you're a bit nervous about how they will do in a tent and outdoors you can always plan a fun backyard camping trip.

Their own sleeping bag is nice to have and tend to be a bit more inexpensive than an adult size.

They come in really FUN shapes and sizes too. This will get them excited about camping too.
You could also allow them to "car camp" by folding the seats down, makes for a fun night if you can park close by.

Now that you have the essential things you need for camping, you need a bunch of easy camping recipes.
Meal plan things simple to cook in a camp kitchen or without any heat so nobody is hungry (don't want that). We have foil packet meals for camping to refer to as well.
Here are some tips when hiking with kids.
I hope you have a great trip. You can find FREE places to camp at the top of this post too which will help. Now get started on your next camping trip!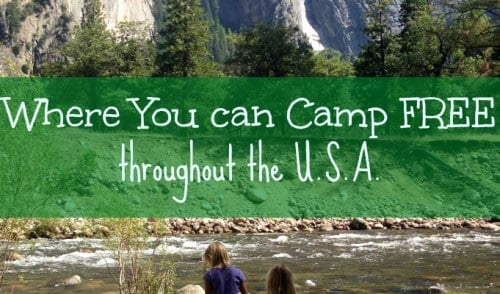 Want to see a few of my favorite things that I am totally obsessed with?? Take a peek and see how many you might already have…twinsies!
Looking for more easy family recipes and tips? LIKE The Typical Mom Facebook page?
Then sign up for my free newsletter, and follow me on Pinterest! 😉
***** If you LOVED this recipe give it 5 Stars below and let everyone know what you thought about it. 😉