Try the best muffin recipes with fresh fruit, pumpkin, chocolate, zucchini or anything else inside! They all make breakfast or dessert delicious.
Unique Muffin Recipes
Yes of course you can buy them already baked at your local grocery store bakery section. They are even sold packaged, but filled with preservatives is no good. We will share with you here from as simple as our 3 ingredient blueberry muffins to totally homemade from scratch.
Making from the start means you can adjust the sugar, add ins, and even add a crumb topping for muffins if you want. Don't want sweetness at all? Try our veggie muffins instead.
We do love a quality muffin mix where you just add eggs and milk but sometimes homemade is best. There are many ways to bake muffins beyond the oven too, we will share a few of them below. Want to make a double batch and gift some too? Use our cute Teacher appreciation tags here and they'll be a hit on that day.
Blueberry Muffins
What is the best temperature to bake muffins you might ask? Well I have two answers. I like and share How Long to Bake Muffins at 350 here. If you really want that high peak at the top though you need to start with 425 for the first 5 minutes and then decrease to 350.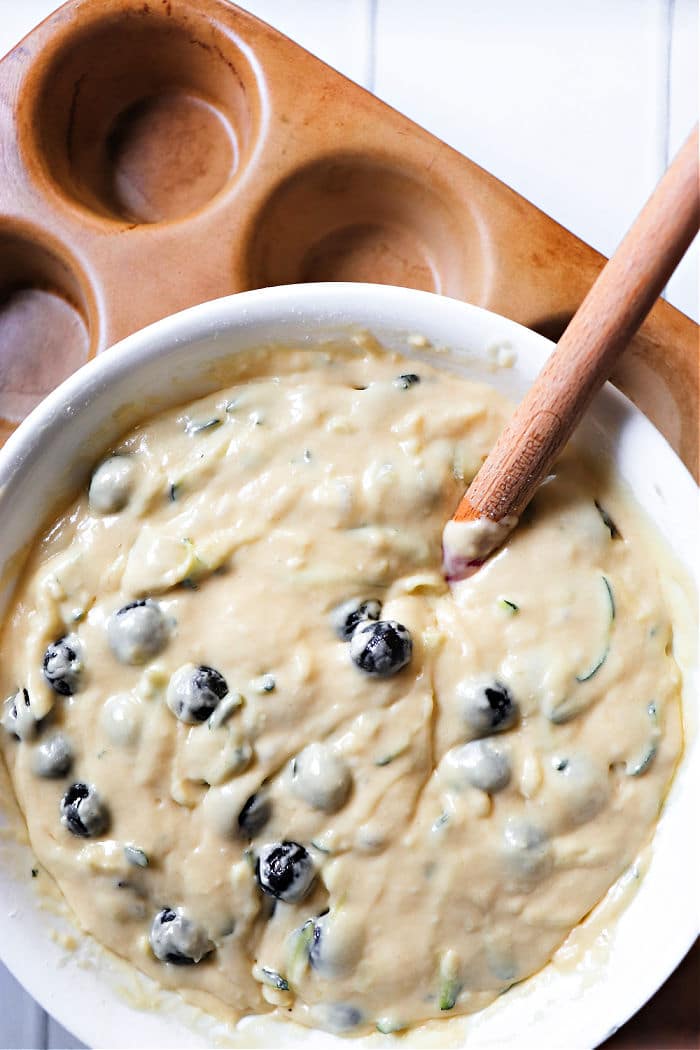 What is the most popular muffin?
Of course it is in fact this little blue fruit. They are easy to find typically, somewhat inexpensive, juicy, and sweet. We do love blueberry picking together and have for years. Made regular or this is how long to bake mini muffins so you can pop them in a few at a time.
After an afternoon together we would get to baking with them. Well we would use what was left after we ate them as a snack that is….. Beyond that we have come up with a bunch of other blueberry recipes.
Here are a few more of our favorites starting with zucchini blueberry muffins that adds some veggies into the mix too.
Did you know you could make air fryer muffins?? You can use boxed mix or this is how to make blueberry muffins from scratch. Instant Pot blueberry muffins are even a thing y'all!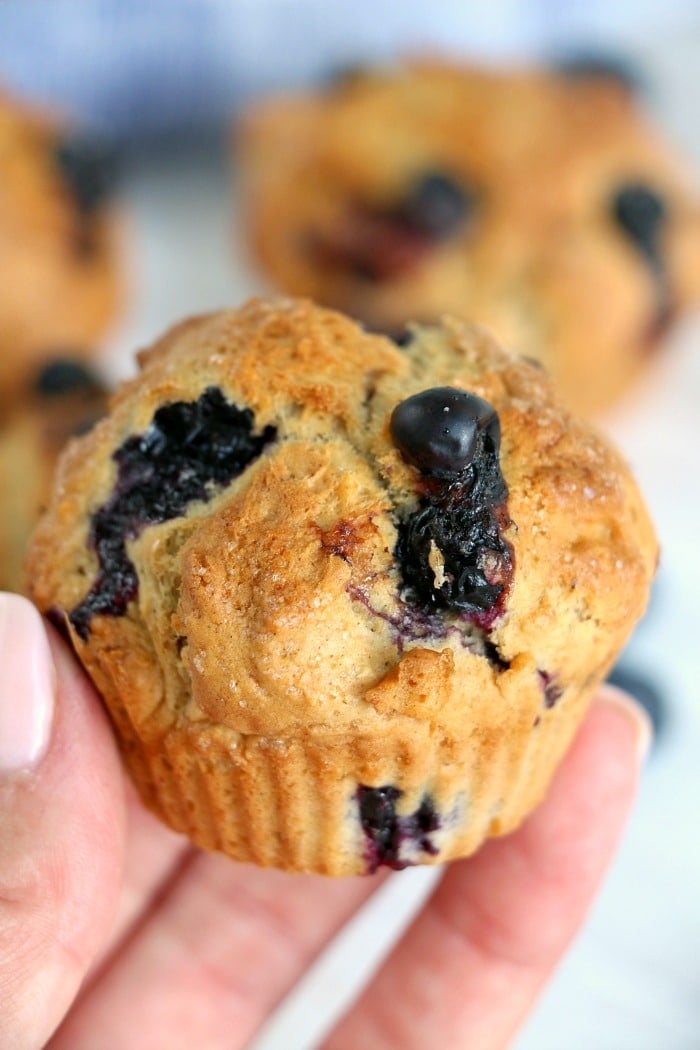 What makes a muffin different than a cupcake?
Well there is generally more sugar in the latter, you probably noticed that. The popular dessert usually has frosting on top too while muffins are typically left plain unless you add a crumb topping or streusel topping. Some are just as sweet though, like our coconut muffins that almost taste like cake.
Are muffins healthier than cupcakes?
That is what is assumed which is why they are an acceptable breakfast food. Generally there is more calories and fat in cupcakes but not always. If you add veggies like our zucchini carrot muffins or sweet potato muffins they're a bit better. Monkey bread muffins are about the same though….
Basic Muffin Recipe
There is a way you make basically any style you want. With a simple batter that you can mix up at home you will be able to add all sorts of things. Love chocolate chips inside, add those. Berries on sale, add those!
You just mix up the ingredients in this easy muffin recipe and try new mix ins like making chocolate chip muffins, adding fresh cranberries, adding 1/4 cup orange zest inside your muffin batter etc… the possibilities are endless.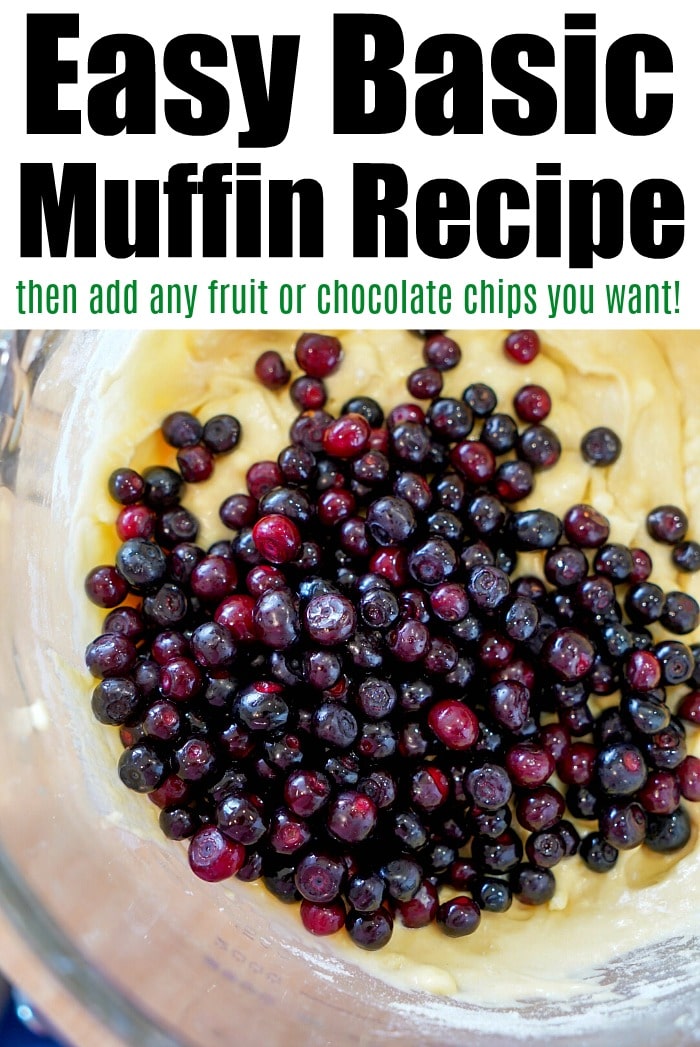 Zucchini Muffins
Another thing to remember is you can make muffins out of any sweet bread recipe. Meaning, if you used our moist zucchini bread recipe you could bake them faster with muffin liners.
We do this all the time. Not only do I appreciate a shorter cook time but they're easier to eat and store too. Often times with a few of our favorites I will make a double batch. Bake and freeze half of them for later.
How do you freeze fresh muffins?
You can use these steps for any of these. Our healthy cranberry muffins all the way to moister varieties like our lemon muffin recipe. It's quite simple but you should follow these steps for best results:
Allow them to cool completely on a cooling rack.
Wrap what you want to freeze in aluminum foil.
Then slide that into a gallon freezer bag.
Suck all the air out of the bag.
Sit flat in your freezer.
Take out one at a time and allow to defrost on your countertop and enjoy!
Same goes for "regular" or blueberry muffin tops.
OR here's how to half a recipe if you want to make less than it calls for.
Our favorite one to do this with would probably be our pumpkin zucchini muffins. We love them so much that I will make 2 to 3x the amount so we can enjoy this Fall treat year round. Banana zucchini muffins rock too.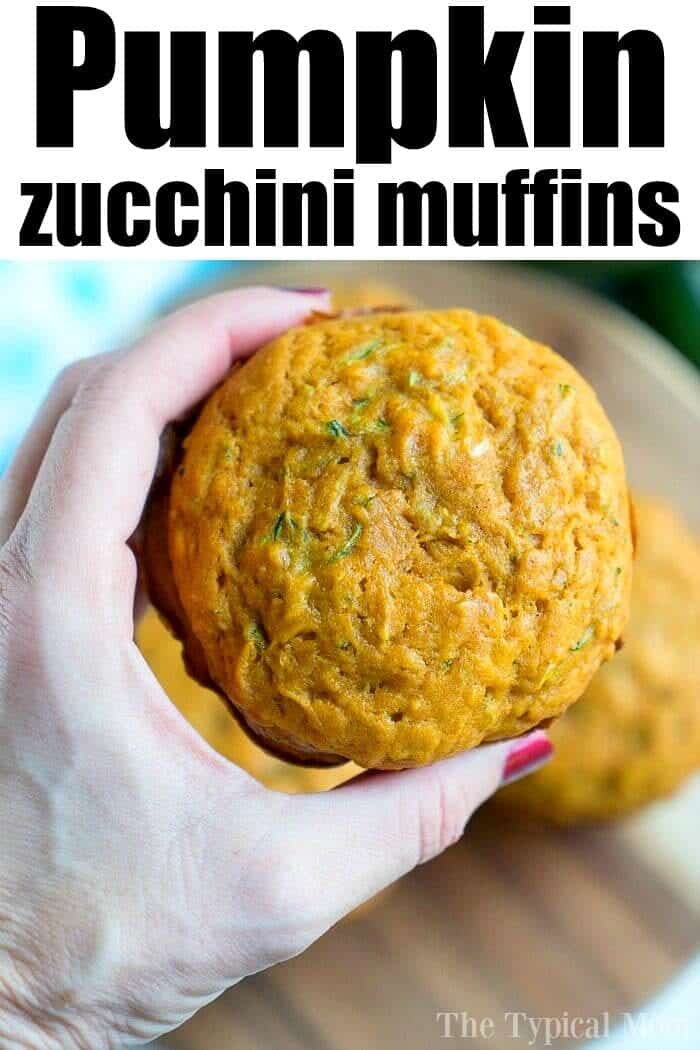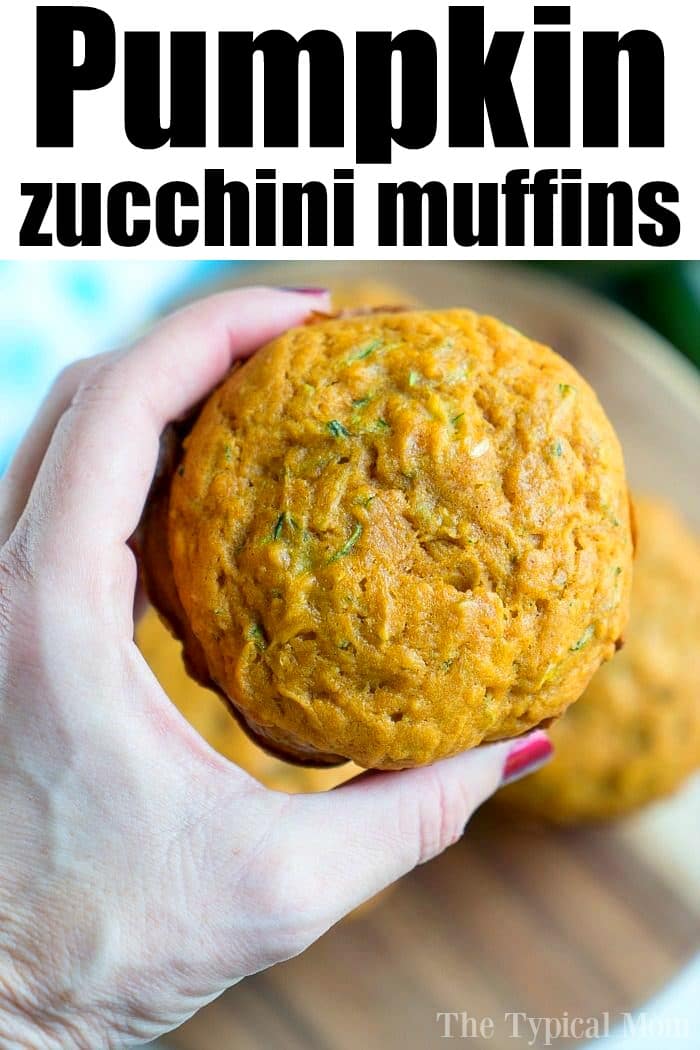 If you just want the Fall flavor without any other add ins you can do that too. We have a homemade version of our Libbys pumpkin muffins here. You can make a loaf out of that too but smaller is just more fun.
Cake Mix Muffins
If I don't have as much time for this I will use this cake mix recipe to make 2 ingredient pumpkin muffins. In regular or as mini pumpkin muffins with chocolate chips they're a real treat. Those are SO easy and surprisingly taste like homemade even though they aren't.
Never doctored up cake mix before? You will be amazed at how different it makes it taste.
Using spice cake mix you can make gingerbread muffins easily too. With just a dollop of cream cheese frosting you can have a quick treat.
Only have pancake mix on hand at the time? You can make pancake mix muffins with blueberries too! These make great mini muffins for little hands too.
Bisquick muffins can be made a variety of ways.
It's basically a great way to transform a once ehhhh box into YUM. You can make homemade cake mix yourself too.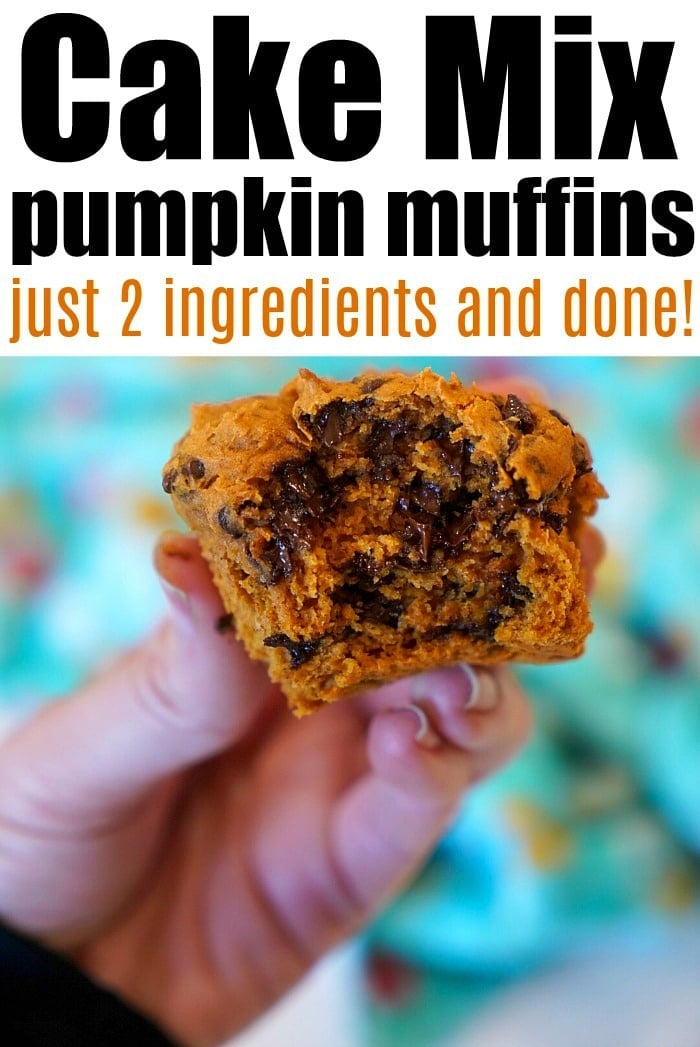 Banana Muffins
Now I bet you have made a few overripe banana recipes over the years right?? But have you made chocolate banana muffins yet? I mean you can't go wrong adding that Hershey's ingredient.
Of course you can just make a loaf of banana bread with mayonnaise and add chocolate chips. We do that often. Why add mayo? Because it adds uber moisture to it, easily made into muffins with liners. You can add chocolate too with our banana nutella muffins recipe.
What is the secret to making moist muffins?
Well the ingredients make a big difference of course. Mayo or sour cream is a great tip. Using fresh blueberries or fruit vs. frozen blueberries is better too. When defrosted, frozen will lose a lot of needed moisture.
The biggest tip overall is to NOT over-bake them!! As soon as the top bounces back when gently touched at the top you should remove from oven AND the muffin pan.
If not they'll continue cooking and drying out.
In a hurry? Make our most popular in this category which we call 4 ingredient banana bread. Seriously, make muffins in a muffin tin out of this batter and they're amazing.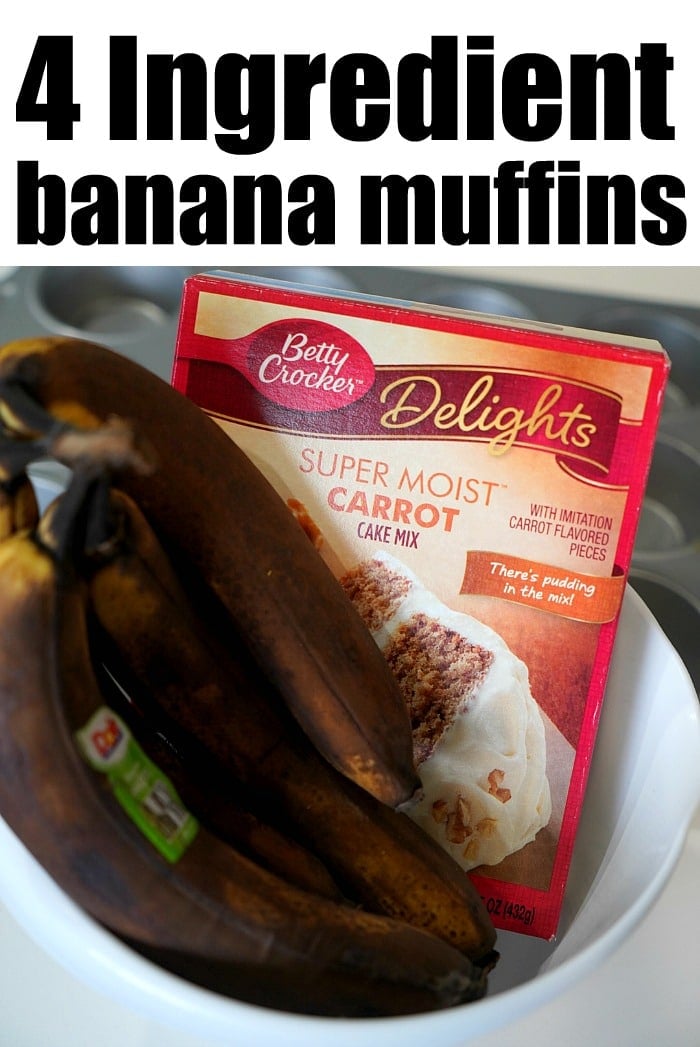 Best Muffin Recipes
Here are a few other more unusual flavors we have made before that we love too. To switch up any of the ones above you can always add 1/2 cup crushed nuts or chocolate chips.
Apple carrot muffins combine fruit and veggies in one moist bite. We have also made apple zucchini muffins that are great.
For a savory twist you can give our breakfast muffins or cheese muffins a whirl some night.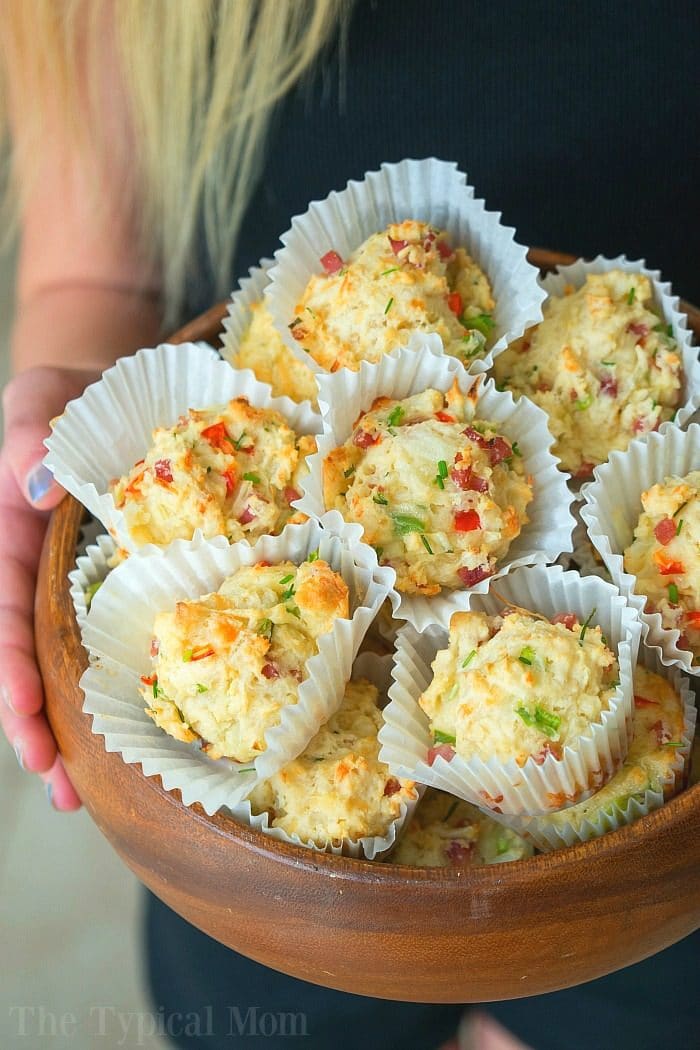 What is the best way to store muffins?
I have done this many ways and this is best: Allow them to come to room temperature. Place a paper towel inside a gallon freezer bag with the muffins on top in one layer. Seal the bag except for the corner.
Use a straw or otherwise to suck all of the air out of the bag so it is sealed all the way. Keep on the countertop for up to 5 days. Each time you remove one, suck the air out of the bag again. They will keep longer in the fridge but will dry out a bit faster.
This is the case with cinnamon roll muffins, coffee cake muffins, and any other variety.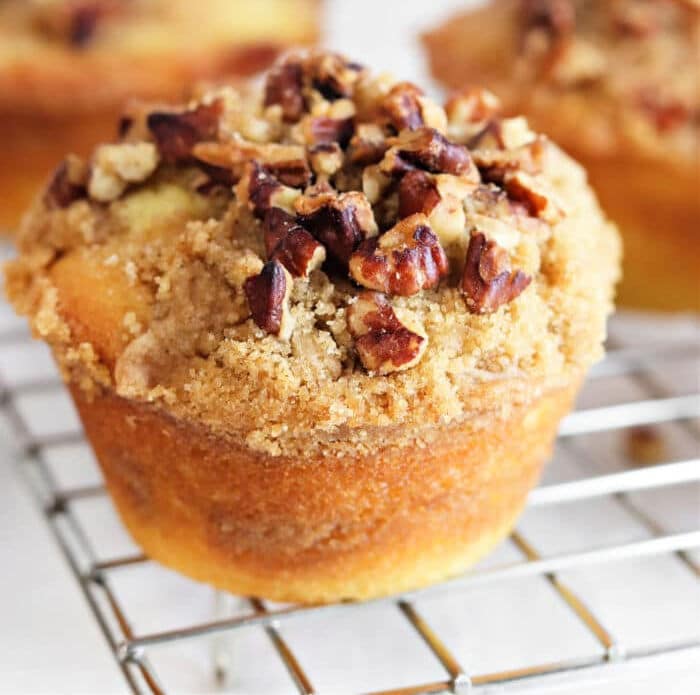 How do you make muffins from scratch?
Click on any of the blue links above to get exact ingredients and instructions. Basically what you need to get started on most of these though is:
Baking powder
Salt
Sugar – sometimes some brown sugar
Milk
Eggs
Butter
Occasionally vanilla extract
All purpose flour – make sure you know how to measure flour properly
If you want to use whole wheat flour, make zucchini applesauce muffins instead. This isn't for sweet versions either. Our pizza muffins use many of the same items but with "regular" pie ingerdients.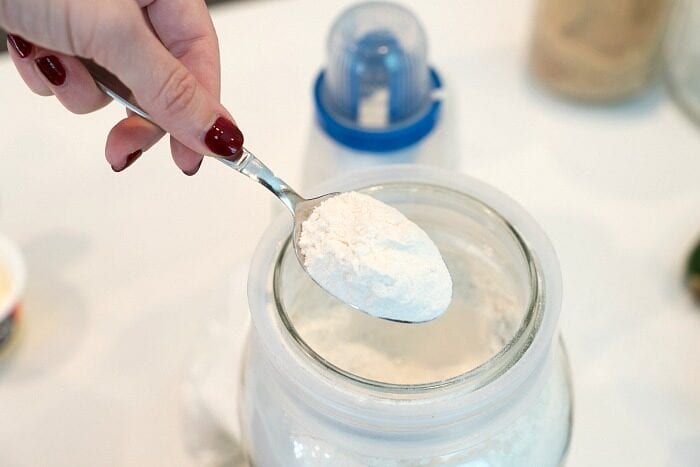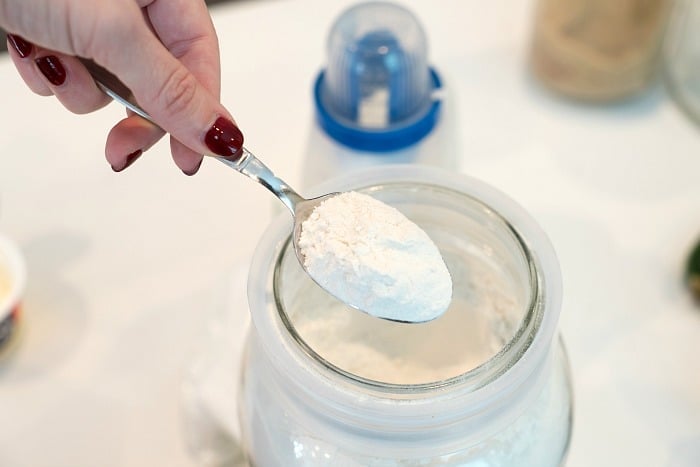 What makes a good muffin?
#1 tip is above. If you scoop this main ingredient instead of spooning it into your measuring cup properly you'll likely have a dense bakery item. NO good. Using fresh fruit inside is best as well if you have access to it.
Always use 2 separate bowls to mix wet and dry ingredients together separately. Then incorporate them together in your larger bowl until well blended.
Do not use a mixer. Muffin mix just needs to be combined so that there is no powder left.
Always add your mix ins last! Nobody wants broken down fruit. To keep them nice and whole full of juice inside, just gently fold them in at the end.
Use a 1/4 cup or ice cream scoop to fill the muffin pan so each one is the same size.
Only fill each hole 3/4 of the way full.
I like using paper muffin cups but you could spray with non stick spray. It is easier to lift them out with papers I think.
Last but not least, do NOT bake them too long!! Remove immediately from oven once the middle springs back when touched gently. Then take out of muffin pan and cool on a cooling rack.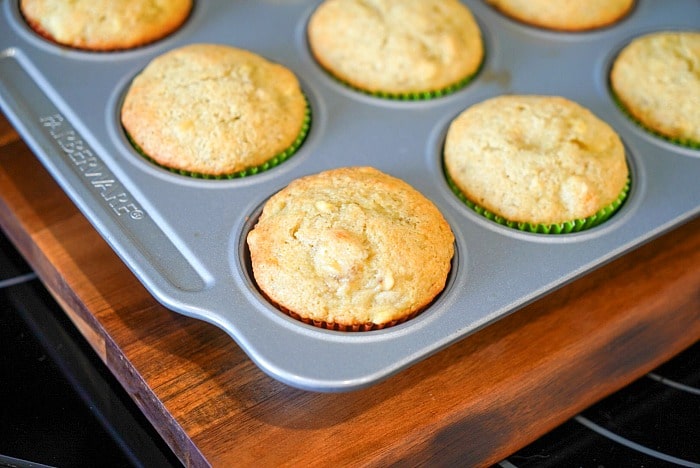 What can I add to my muffins?
Berries of all kinds are typically what is thought of. If you find raspberries I would try that with some orange zest on top. During the Winter go with raisins (always in season) like our oatmeal raisin muffins.
You can also add orange, lemon, lime zest into the mix itself.
Put a dollop of cream cheese in the center once the holes are filled. It is easier to do this if it's cold. Cut a cube and push into the center before baking.
Add a teaspoon of fresh jam into the middle this same way too. OR wait until they are done, cut a hole in the top and put jelly in the center.
For savory types like cornmeal muffins you can add diced chiles.
I mean you can fill the center with all sorts of fun things really. You'd use the same technique as we shared with our pinata cupcakes recipe.
You can find a bunch of things in the baking section. Any and all nuts could be crushed and added into your batter. Chocolate is not the only flavor available in chips either. There are several others like peanut butter and butterscotch that are great.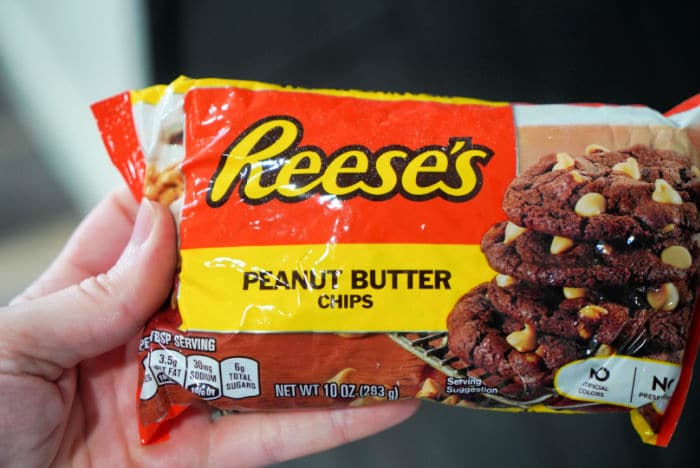 How do you freeze fresh muffins?
The same method holds true for any baked goods. Make sure they come to room temperature and then wrap tightly in plastic wrap or foil. Then slide that into a large freezer bag and lay flat in freezer. They will stay for 3 mo.
What is your favorite muffin and what should we try next? I bet you have a family recipe you swear by or a combo of ingredients that maybe nobody knows is amazing. We'd love to know what makes everyone in your house go WOW in the morning.
Want to use any of these to make free teacher appreciation tag <—— you can download and print this tag here and use them as gifts too.