Easy muffin recipe you can use to make just about any type! Add berries or chocolate chips and the possibilities are endless. Basic, simple and versatile.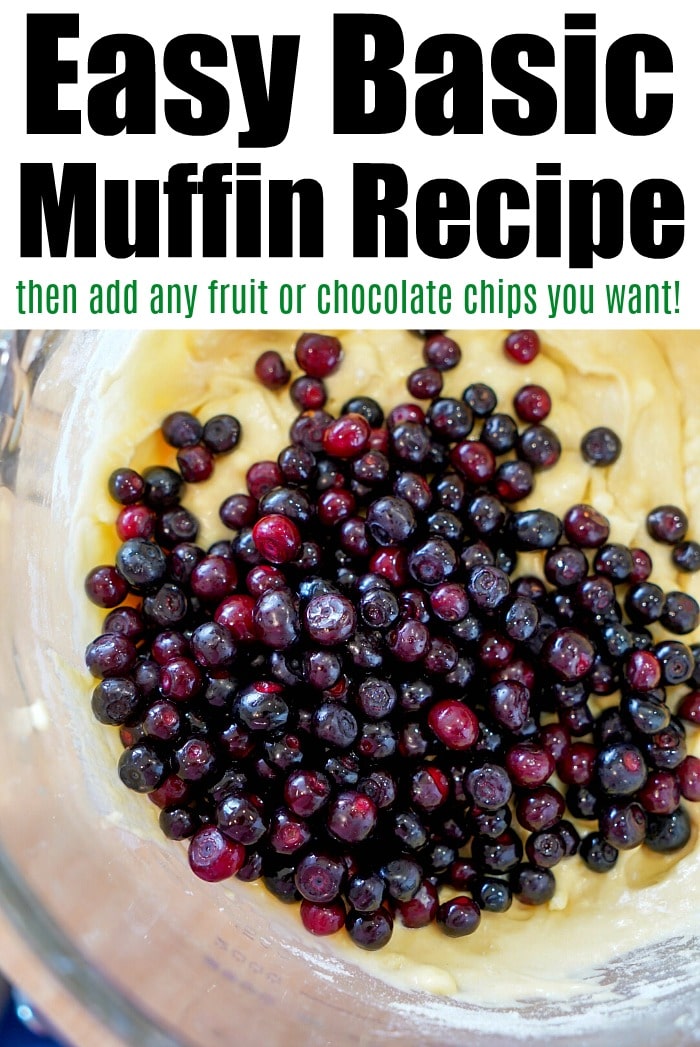 This easy muffin recipe will create batter that can then be used for hundreds of different muffins! Add blueberries, huckleberries, chocolate chips or nuts to make the best muffin recipe for breakfast or dessert. (affiliate links present, originally published 6/20)
Basic Muffin Recipe with Variations
We have used this basic muffin batter a bunch of times. Using fresh fruit or peanut butter chips, either way they turn out delicious! Once you have this down pat you too can play around with it and figure out your favorite add in. Make as "regular" or muffin tops, either way they're delicious.
If you like to tweak things depending on what your family is craving that morning, this is great. Throw in some chocolate chips, frozen blueberries, nuts, you know what I mean…..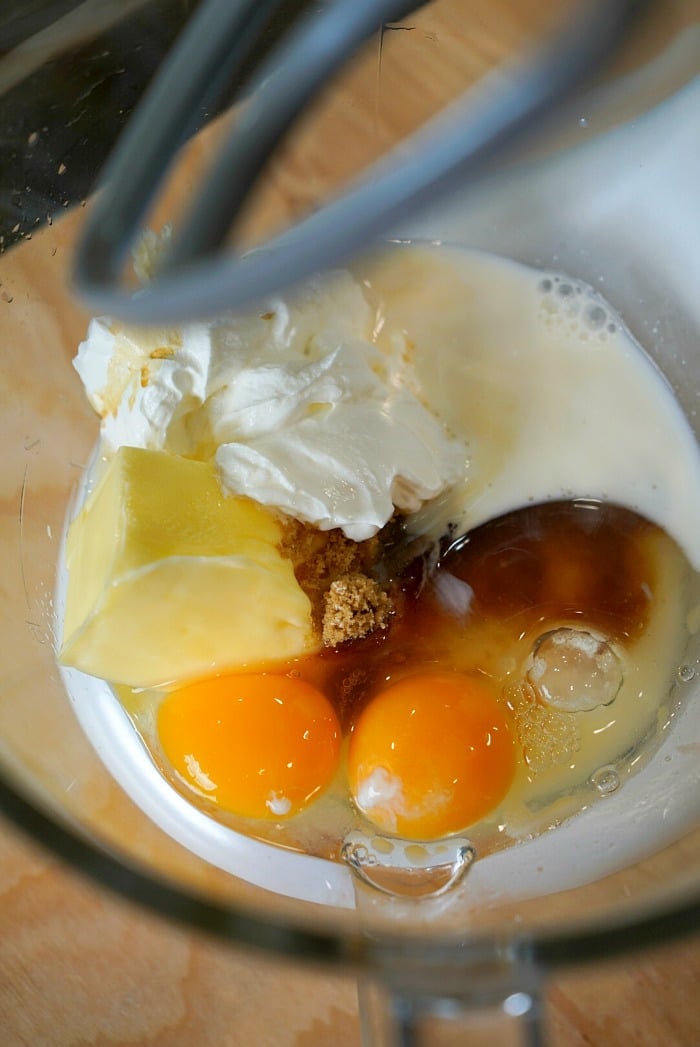 Easy Muffin Recipe for Kids
I started with this recipe and tweaked it a bit to come up with the base you see here.
The ingredients for this easy muffin recipe are quite simple. The biggest tip to take away is to make sure your butter and eggs are room temperature before you begin. In particular if you use cold butter your batter will be a bit chunky. Smooth is always best for consistency and looks.
How do you make easy muffins from scratch?
Follow the usual rules of baking where you mix dry ingredients in one bowl and wet items in another. Then slowly combine the dry into the wet ingredients stirring only enough to dampen the flour.

The muffin batter should not be completely smooth. Gently incorporate your add ins and fill muffin tins 3/4 of the way full.
What type of flour is best for muffins?
I always use all purpose flour. It will give you a sturdier muffin while pastry flour will create a lighter more delicate piece. Make sure to measure flour properly so it isn't dense.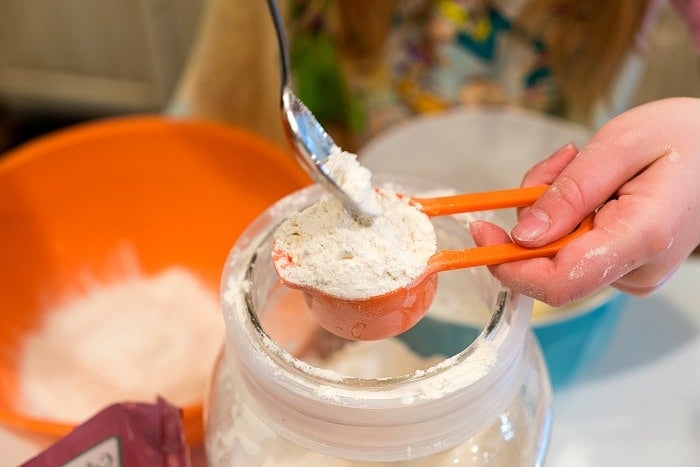 What can I use if I don't have all purpose flour?
Bread flour and/or cake flour on their own or mixed together can substituted if that is all you have. It may create a different texture though. Use this flour substitute chart.
If you want to know how to half a recipe to make less, read this post. Tip: Spray your pan with non stick spray to clean a pot.
Using good ol' fashioned elbow grease that is fine too. A mixer isn't entirely necessary but it sure makes the job quick and easy.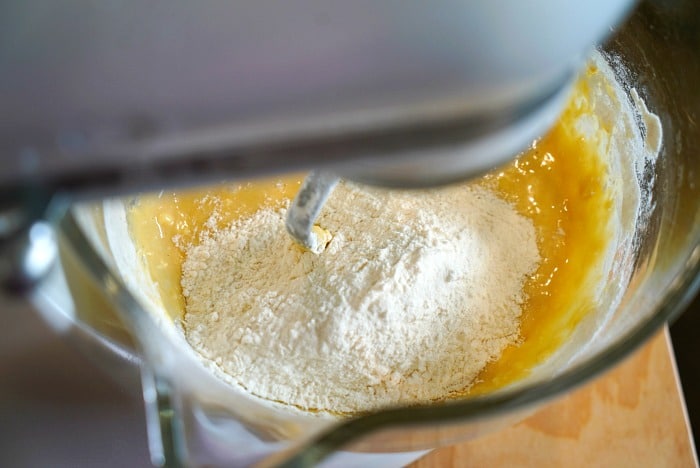 I like to use my stand mixer to make things easier on me. When incorporating my berries or chips though I use a soft silicone spatula so they don't break apart.
What can I add to muffin mix?
Or homemade muffin batter in this case? There are a world of possibilities, you can look in the baking aisle to get some ideas but here are a few fun ones:
Fresh berries
Chocolate chips

peanut butter chips
butterscotch chips
crushed Andes mints

Crushed nuts
Lemon or orange zest
Poppy seeds
You can add more than one too like in our apple zucchini muffins.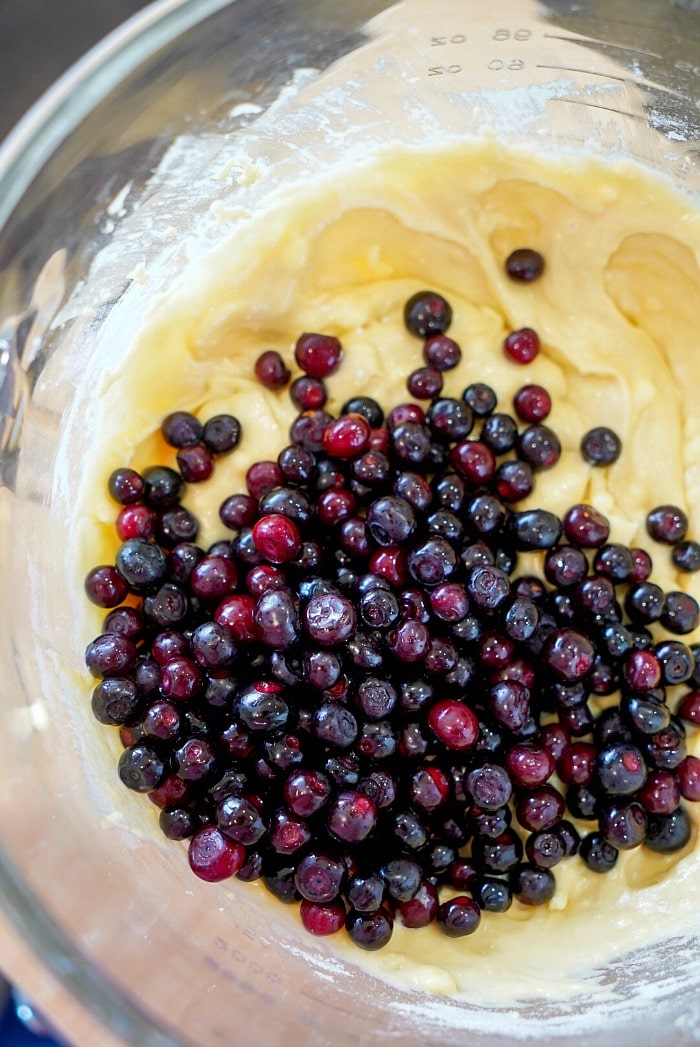 Easy blueberry muffin recipe
You can see above we added huckleberries, but have used blueberries just the same. 2 cups max is great and not overwhelming but makes them very moist and flavorful.
In this base it also calls for sour cream. If you don't have that on hand, you can use Greek yogurt instead. I had a coconut style once and that works with all other flavors!
Get your muffin pan ready and preheat the oven to 425 and follow along. 😉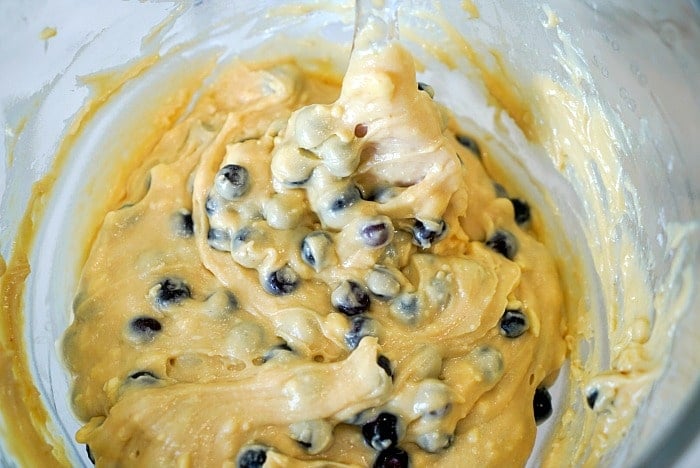 Easy Muffin Recipe From Scratch
Time needed: 17 minutes
Easy Muffin Recipe From Scratch
Preheat

Preheat oven to 425 degrees F.

Mix ingredients

In a bowl mix dry ingredients together. A large bowl will be needed to mix wet ingredients together.

Make sure butter and eggs are room temp. before adding those in. Add 1 egg in at a time.

Incorporate add ins

Gently incorporate your berries or chips into the batter.

Bake

Fill 3/4 cup full in each muffin hole. Bake at 425 for 5 minutes, then turn down to 350 and continue baking for approx. 12 minutes. You do not want to over bake them.

Take out when muffin springs back when gently touched in the middle.
If I am using berries I generally add in vanilla extract. If I am using chips I don't. That is personal preference really but I think fruit calls for it, not chocolate.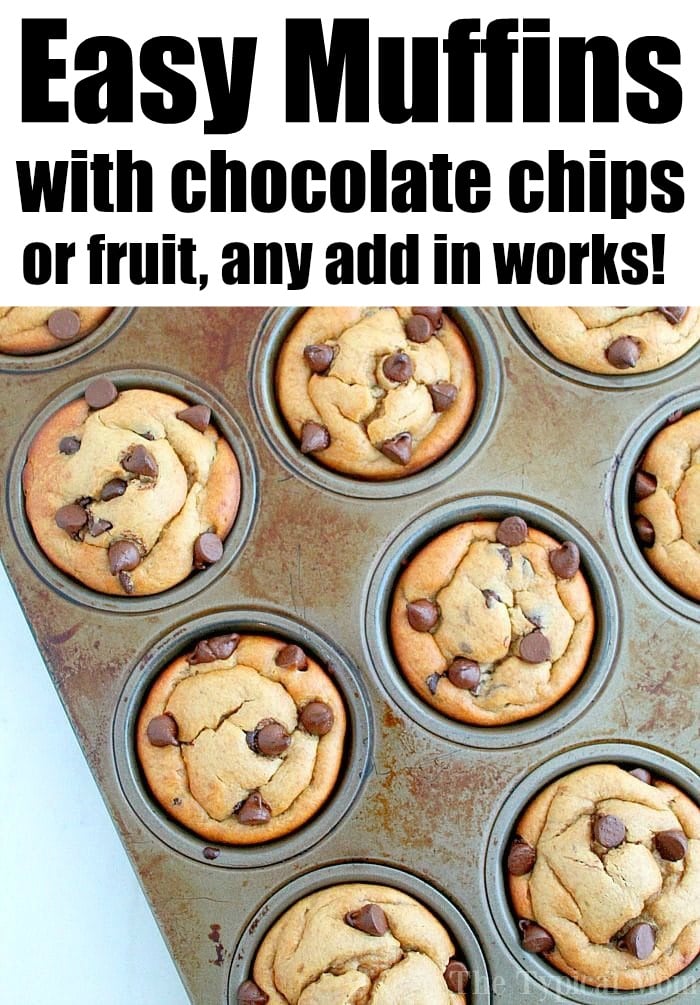 1 cup is usually just right no matter what flavor chips you want to use, or mix them up like chocolate AND peanut butter!
Easy chocolate chip muffin recipe
Take note that I have never used whole wheat flour to make these. I am sure that would alter the timing, texture, and may not bake properly at all if you swapped this out. Stick with all-purpose y'all.
There are some things I do not add, like shredded zucchini or carrots. This tends to add a bit more moisture than I'd like so I follow more specific recipes for those like our moist zucchini bread recipe in muffin form.
A key to this is to shred it over a wad of paper towels. That way they can absorb the liquid that comes out when you shred.
In addition to that I wrap it up and squeeze over the sink to get almost all the water off of it.
That way you get the taste and a bit of moisture in your sweet bread, but it won't weigh it down.
The same goes for our pumpkin zucchini muffins. Just use this easy muffin recipe for nut, chocolate, or berry add ins. Just with those combinations there are hundreds of variations to be had!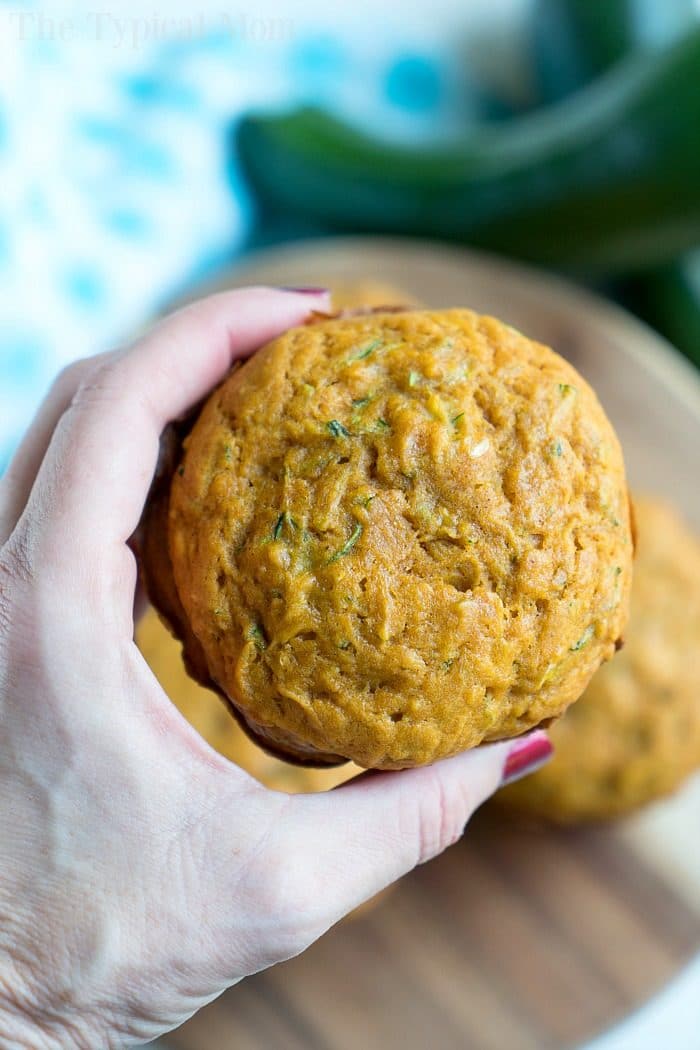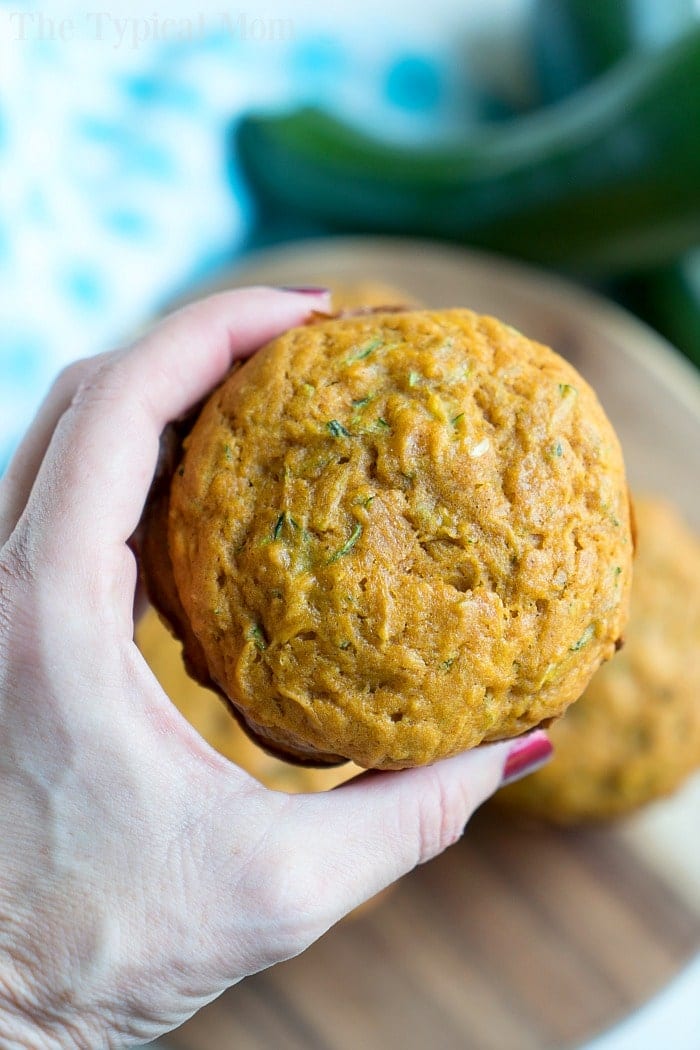 Muffin topping ideas
The possibilities are endless for this too. Unlike cupcakes, muffins really don't need a topping BUT it can take them to the next level if they do!
You can make 1/4 cup of streusel muffin topping to go on top
Or just sprinkle cinnamon and sugar on the top for some texture and added sweetness.
If you're making a blueberry muffin in a mug you can add a crumble topping of:
1/2 cup brown sugar
1/4 c. quick oats
1 tsp. cinnamon
Spoon 1 tsp on top of each one before baking, pat down with back of spoon so it doesn't fall off and voila as you see here!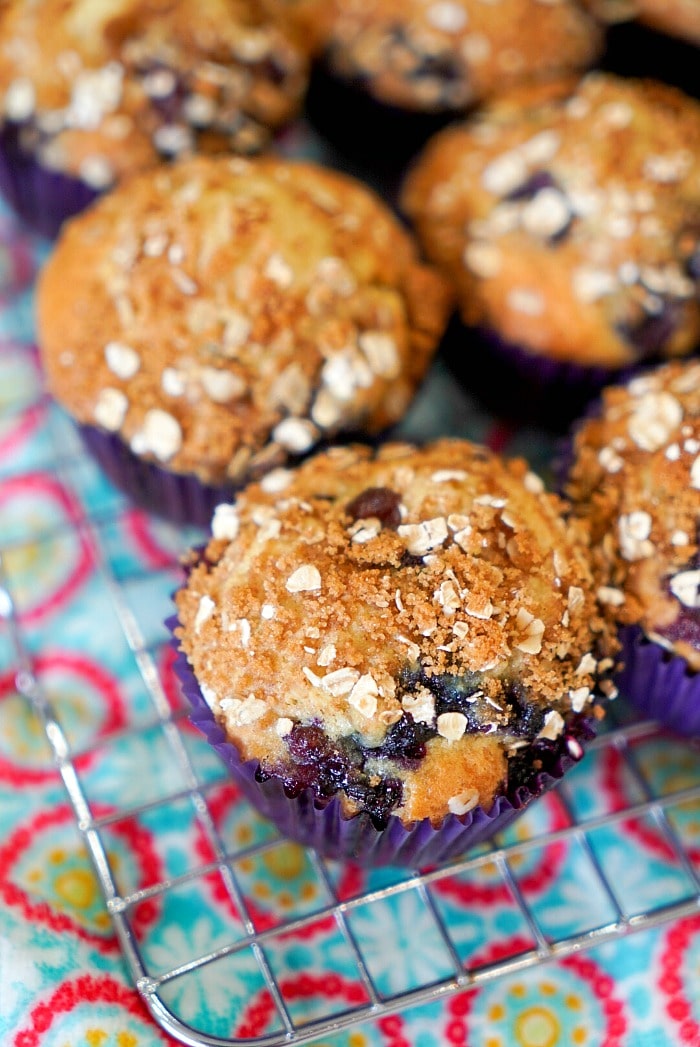 Muffin Recipes
We have a lot of easy muffins on The Typical Mom blog and are always adding more each month. I really prefer grab and go instead of making an entire loaf. I also feel like it cooks more evenly.
Here are a few of our favorites:
Nobody in my house likes the heels or ends of loaves so hand held breakfasts are really the way to go around here.
Ready to make these and have an idea in mind? Let us know if you create a new combination you love so we can try it too!
Want to see a few of my favorite things that I am totally obsessed with?? Take a peek and see how many you might already have…twinsies!
Looking for more easy family recipes and tips? LIKE The Typical Mom Facebook page?
Then sign up for my free newsletter, and follow me on Pinterest! 😉
***** If you LOVED this recipe give it 5 Stars below and let everyone know what you thought about it. 😉
Easy Muffin Recipe
Easy muffin recipe you can use to make just about any type! Add berries or chocolate chips and the possibilities are endless. Basic, simple and versatile.
Instructions
Mix dry ingredients in a bowl.

Using a stand mixer, add wet ingredients and blend until smooth. Then slowly incorporate with flour mixture. Gently fold in 1.5-2 c. fresh berries or 1 c. chocolate chips, whichever you desire.

Preheat oven to 425 degrees F.

Spoon batter into muffin cups 3/4 of the way full. (if you want to add a crumble to fruit muffins mix together 1/2 c. brown sugar + 1/4 c. quick oats and 1 tsp cinnamon and spoon that on top of each one.)

Bake at 425 degrees F for 5 minutes, then adjust temp down to 350 degrees F for 12 minutes or until lightly golden brown on top and top springs back when gently touched in the middle. Do not over bake.
Nutrition Facts
Easy Muffin Recipe
Amount Per Serving (2 oz)
Calories 147
Calories from Fat 63
% Daily Value*
Fat 7g11%
Cholesterol 35mg12%
Sodium 164mg7%
Potassium 73mg2%
Carbohydrates 19g6%
Protein 2g4%
Vitamin A 229IU5%
Vitamin C 1mg1%
Calcium 37mg4%
Iron 1mg6%
* Percent Daily Values are based on a 2000 calorie diet.