Slow cooker black beans cooked to tender using dry beans. Healthy and flavorful Crockpot side dish, perfect with Mexican food for dinner. If you want to cook a really large batch of our pressure cooker black beans this is an easier way to cook for a crowd.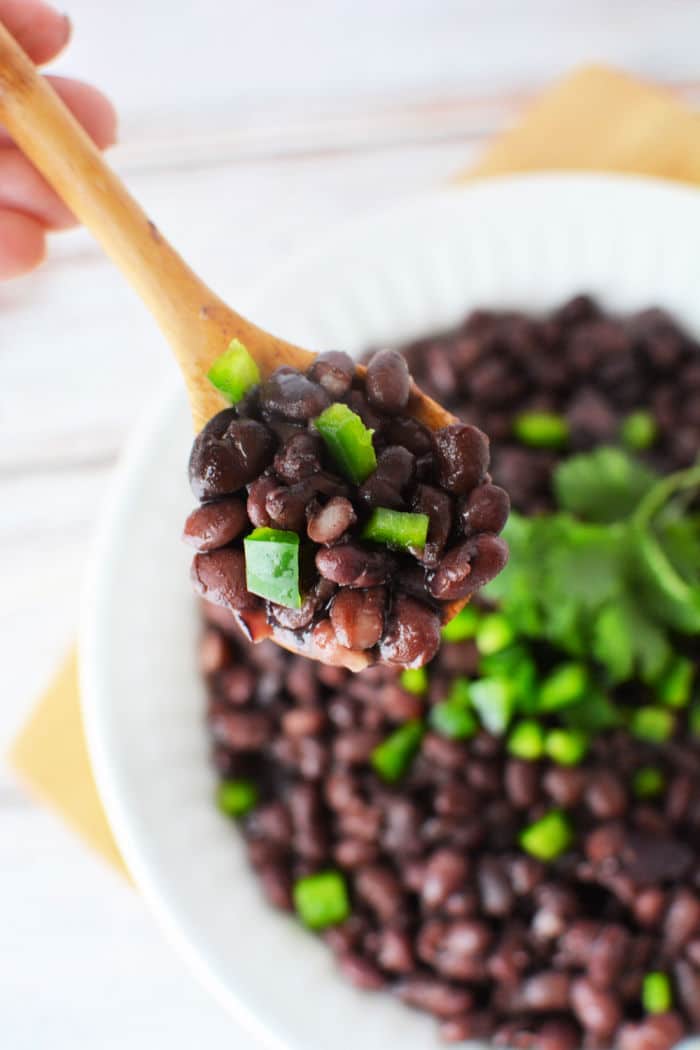 How to make slow cooker black beans is the question right? Going from a bag of dry beans to tender Crockpot beans is quite easy really. We will show you how to make this easy Crockpot recipe so you can make it for Cinco de Mayo this year! (affiliate links present, originally published 4/22)
Black Beans Slow Cooker Recipe
We have made a batch of these in our Ninja Foodi before and those turn out great. I realize that not everyone has a pressure cooker so I wanted to share the "old fashioned" method as well. Never had I ever done anything with a bag of dry beans until recently. Probably like yourself it seemed too hard to cook them just right.
I was so wrong. After making Instant Pot baked beans from scratch I was totally hooked. Guests are always asking me for the recipe for that too and say it is amazing. Couldn't believe how much better than canned they were. Same goes for these.
FIRST – You should sign up for my free newsletter so you get new posts emailed to you twice a week and never miss out on anything! Now let's start with a few basic tips:
Make sure to Bookmark our InstaPot recipes page. We add new ones each week!
Then PRINT this —–> Instant Pot cooking times cheat sheet that will help you understand how long meat, vegetables and beans take to cook in your pressure cooker.
For reference, this is the pressure cooker I have (a 6 quart) and use for all recipe creations.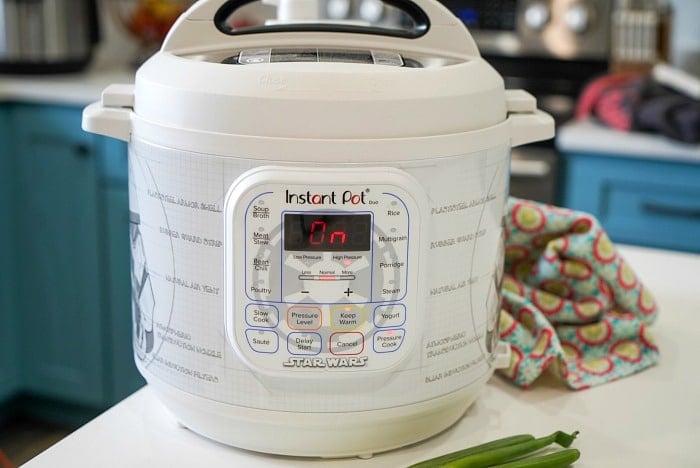 How to Cook Slow Cooker Black Beans
I know you have seen them at the store piled upon one another and thought uh no way. Grab a bag of those and all you need to do is use our pressure cooker bean cook times or cook them all day in your Crock. Yes, not only are these amazing but Pinto, Northern, Navy and all the others are just as easy to get nice and tender.
Then once you do you can make all the things where you may just add seasonings or puree for refried beans! First thing when you cook them from fresh is to rinse in a strainer. It's a must because many times there are little rocks mixed in there that didn't get caught and discarded in the processing steps in the factory.
Do you need to soak beans before slow cooker?
Nope! No need to do that with these or any others EXCEPT red kidney beans. In order for those to be easier to digest you really want to soak for at least 25 minutes before cooking. Makes for a really quick prep time for sure.
Can I use a slow cooker for beans?
For sure. Next to a pressure cooker this is the best way to get them nice and tender with tons of flavor to them. Just add some liquid, salt, seasonings and let it cook on high for most of the day. Then they're ready to serve as a side dish or vegetarian meal.
Crockpot Black Beans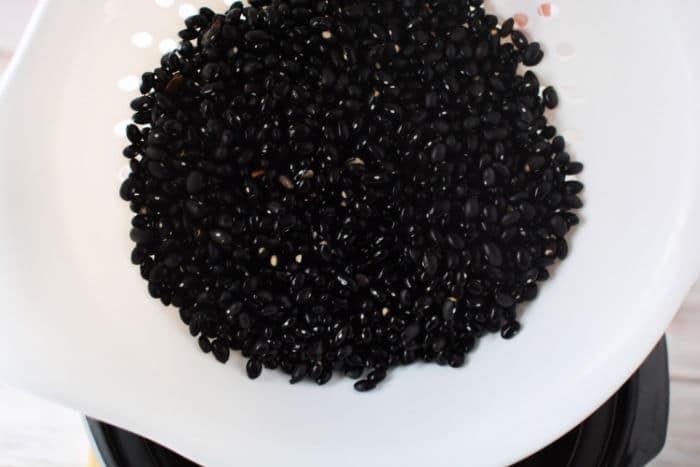 Black Beans and Ham in Slow Cooker
This is a great way to use up some of your leftover ham after the holidays. If you wanted to use white or Northern beans instead, you can follow our slow cooker ham and beans recipe instead. Both are really cheap and will make a second meal out of the meat you have in the fridge.
I hate to waste food, especially one that is so tasty right? If you are like me you will appreciate lots of ideas for it after that special day is over.
Black Beans From Dry
Bag of dry black beans
Some broth or water for liquid
Salt
Minced garlic
Diced onions are a great add in, bell peppers too if you want
Want to make them a bit spicy? Finely dice a jalapeno and throw that in too!
As for the meat you could use all sorts of things. I even like precooked ground spicy sausage from Jimmy Dean in there too. OH Yes!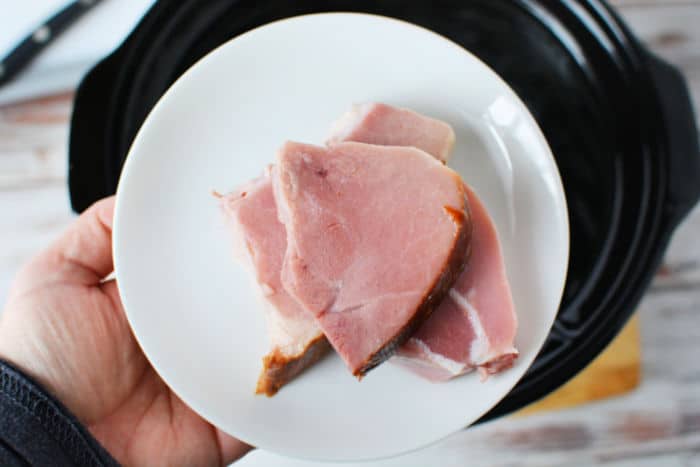 Crockpot Black Beans and Ham
Once these are done you could add them into another dish or enjoy them as is as an easy side dish. Instant Pot black beans and rice is a great one to start with. It can easily be a complete meal with some protein thrown in there too.
If you want a vegetarian option of course you would omit that portion. I would highly suggest you use broth instead of water to cook them. It adds a lot more flavor to the overall dish. I prefer chicken or vegetable broth for that. If sodium is an issue you can choose a lower sodium option or just don't add additional salt to the seasonings.
Serving a crowd? Just leave these right in the pot when done and set to keep warm for most of the day. Yes they will continue to soften just a bit but not much and it's easier for people to just serve themselves throughout the day if all the Crocks are set out to serve from. A slotted spoon is a must for serving these though, for sure.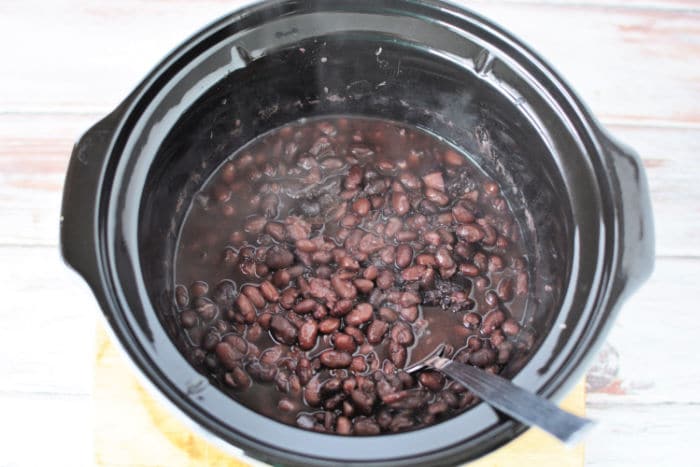 How Long to Cook Canned Black Beans in Slow Cooker
You would only need an hour or two on high for this. All you would be doing in this case would be warming them up since they are already cooked, and softening a bit too. Low setting would work as well for 3-4 hours, great if you want them to keep warm for a long time.
How to Cook Dry Beans in a Slow Cooker
I show you how to cook Great Northern beans this way too. You can choose your favorite variety and get them tender in this pot.
First as I stated you should rinse beans under some water in a colander.
Pour into slow cooker and cover the beans with water or broth, salt, onion, garlic, ham if you desire.. Mix together.
Close lid of Crock pot and cook on high for 6-8 hours or until they are as tender as you'd like them to be.

if you added bay leaves remove before serving of course

Serve once tender with diced jalapenos and/or feta cheese on top.
If you don't want the meat to permeate the entire dish you could fold it in about 30 minutes before it's done cooking. Want to make this more into black bean soup? Just add a few more cups of broth 20 minutes before serving to thin it out.
How to store leftover beans – This is easy. Just like other foods allow it to reach room temperature first. Then use a slotted spoon to transfer into a sealed container. Spoon enough of your liquid into the container to barely cover them so they don't dry out. Store in fridge and reheat in microwave for 2 minutes stirring halfway thru time.
How to Cook Dried Black Beans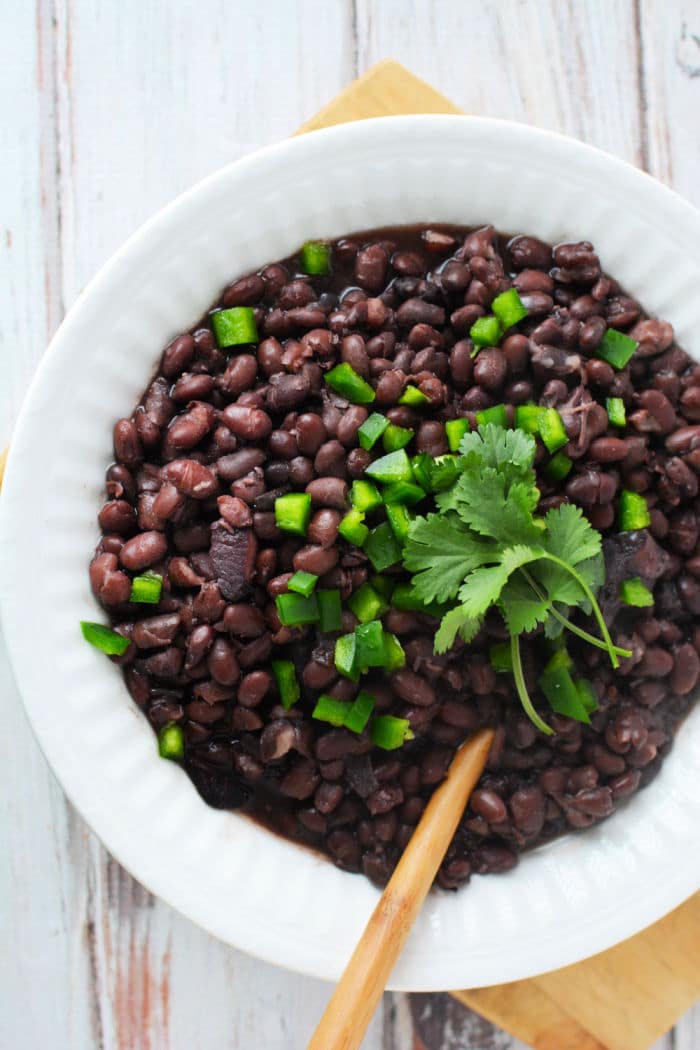 How to Cook Black Beans on the Stove
If you want to try this method it is a bit faster, but you need to pay more attention to it. You'll add the same ingredients into a large pot on the stove top except increase the liquid so beans are covered with 4″ of liquid above them. Bring to a low boil, cover and simmer for 1.5 to 2 hours or until they are tender.
Whichever black beans recipe you choose they are a healthy choice filled with fiber and nutrients. Most enjoy these whole but I suppose you could mash them too for a smoother texture.
I would not freeze these if you have any left over. When they thaw out and are reheated they will have a kinda' strange texture to them I think. You can easily half this amount, or double it if your pot was larger and could handle that amount. It may take longer if you do that though since they are stacked and a thicker amount to soften.
Want to see a few of my favorite things that I am totally obsessed with?? Take a peek and see how many you might already have…twinsies!
Looking for more easy family recipes and tips? LIKE The Typical Mom Facebook page?
Then sign up for my free newsletter, and follow me on Pinterest! 😉
***** If you LOVED this recipe give it 5 Stars below and let everyone know what you thought about it. 😉
Slow Cooker Black Beans
Slow cooker black beans cooked to tender using dry beans. Healthy and flavorful Crockpot side dish, perfect with Mexican food for dinner.
Instructions
** Soaked ** It is recommended to soak in water overnight before cooking to help with digestion and shorten the cook time. To do this rinse beans, pour into a bowl with twice as much water, so at least 3" above top of beans and sit on countertop overnight or for at least 6 hours. Then proceed with rest of steps.

Rinse beans and pour into slow cooker with water or broth, onion, ham, ham hock if you desire. Add a pinch of salt and garlic. Mix together.

Close lid and cook on high for 6-8 hours or until they are tender to your liking.

Serve once tender with diced jalapenos and/or feta cheese on top.
Nutrition Facts
Slow Cooker Black Beans
Amount Per Serving (1 oz)
Calories 97
Calories from Fat 27
% Daily Value*
Fat 3g5%
Cholesterol 9mg3%
Sodium 407mg18%
Potassium 213mg6%
Carbohydrates 11g4%
Protein 7g14%
Vitamin A 18IU0%
Vitamin C 2mg2%
Calcium 19mg2%
Iron 1mg6%
* Percent Daily Values are based on a 2000 calorie diet.