The most amazing no soak Instant Pot baked beans you'll ever eat! Perfectly cooked in your pressure cooker with no pre soaking required. They're a great sweet and savory side dish for Fourth of July or any barbecue.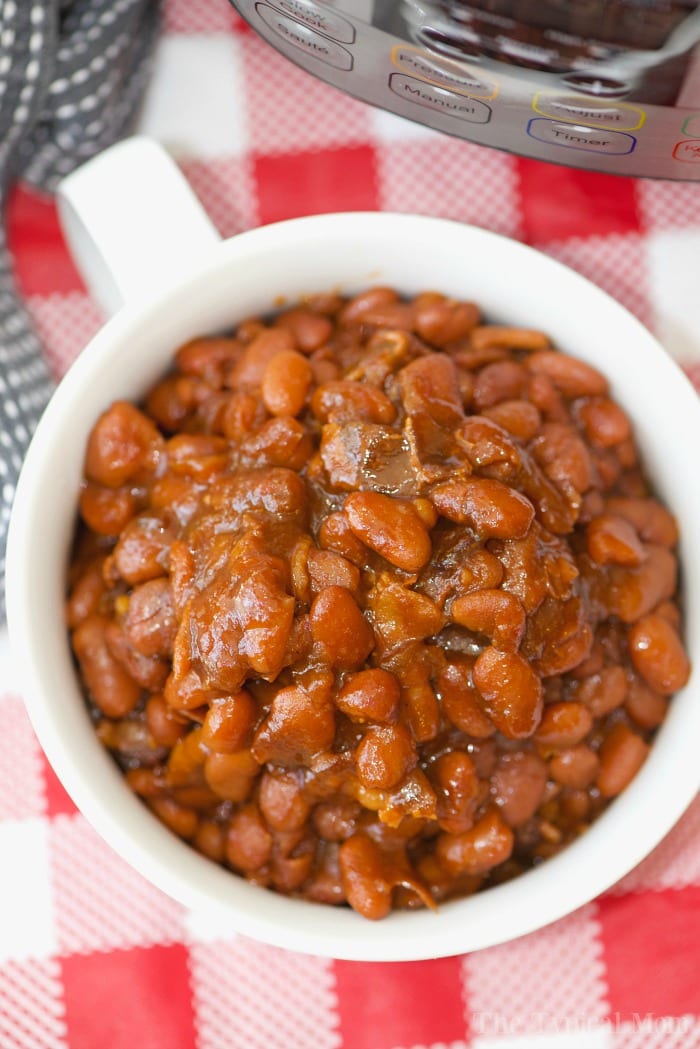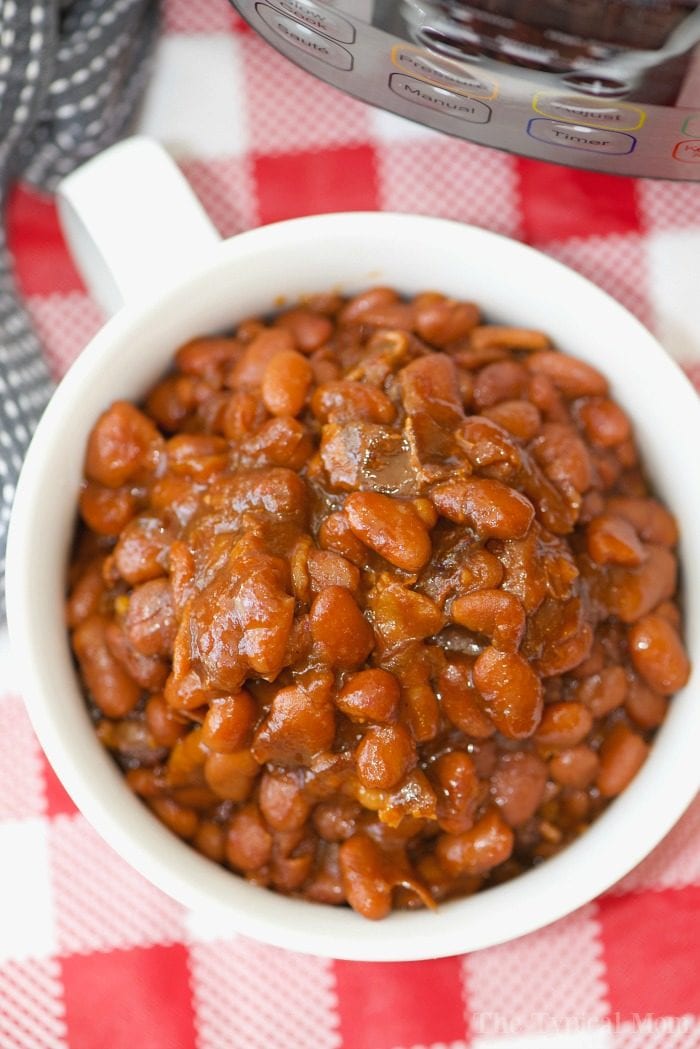 Yes you can buy canned baked beans, and they're pretty good, but these are the most amazing no soak Instant Pot baked beans you will ever make! It's one of our favorite side dish Instant Pot recipes I tell you. You've got to try them. (originally published 6/17)
We love homemade baked beans with burgers during the week when we don't have people over too. It's an easy and delicious side dish. This is just one of our many Instant Pot bean recipes you can choose from. 😉
Let's start with a few basic tips: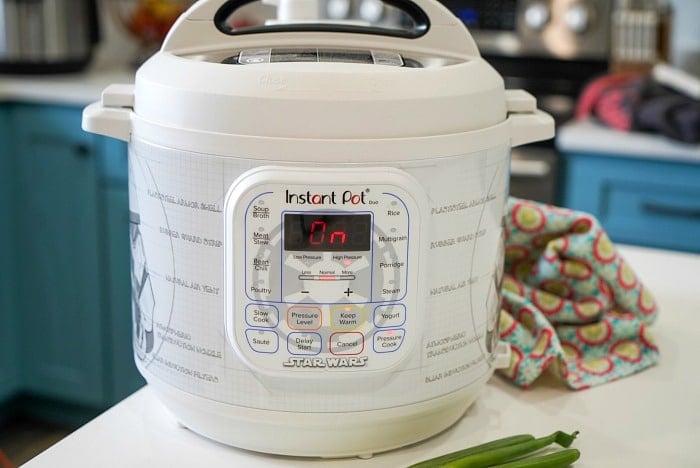 Instant Pot baked beans
Without the need to soak your beans overnight it just takes about an hour and a half start to finish!
If you're looking to wow guests without slaving over the stove This. Is. IT. You can load them up with bacon and/or give them a little kick with some chili powder.
This recipe has raving reviews and has been taken to countless potlucks where others have asked for the recipe. Please do share. 😉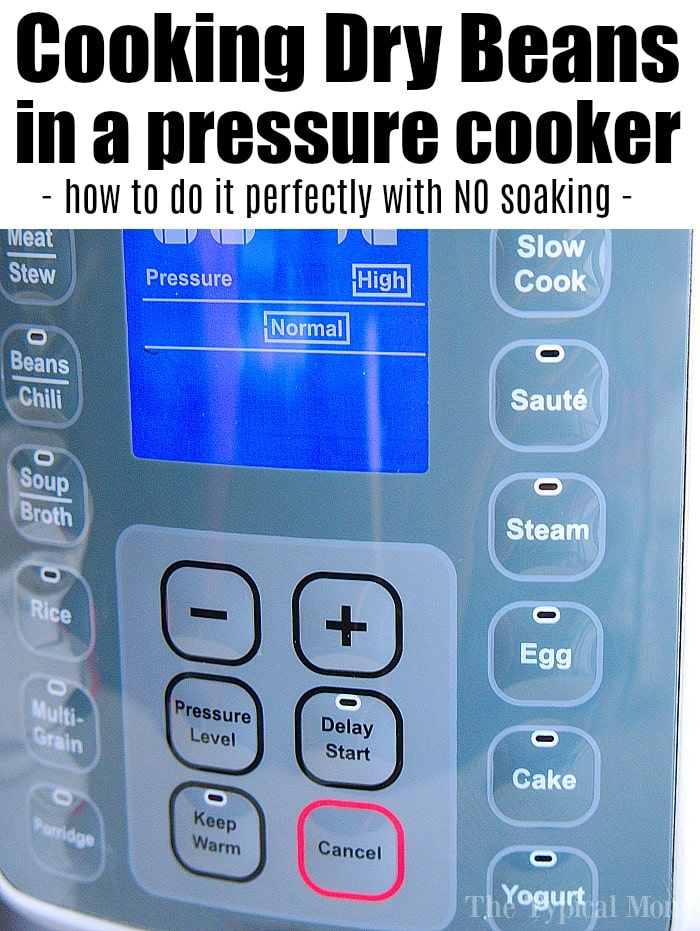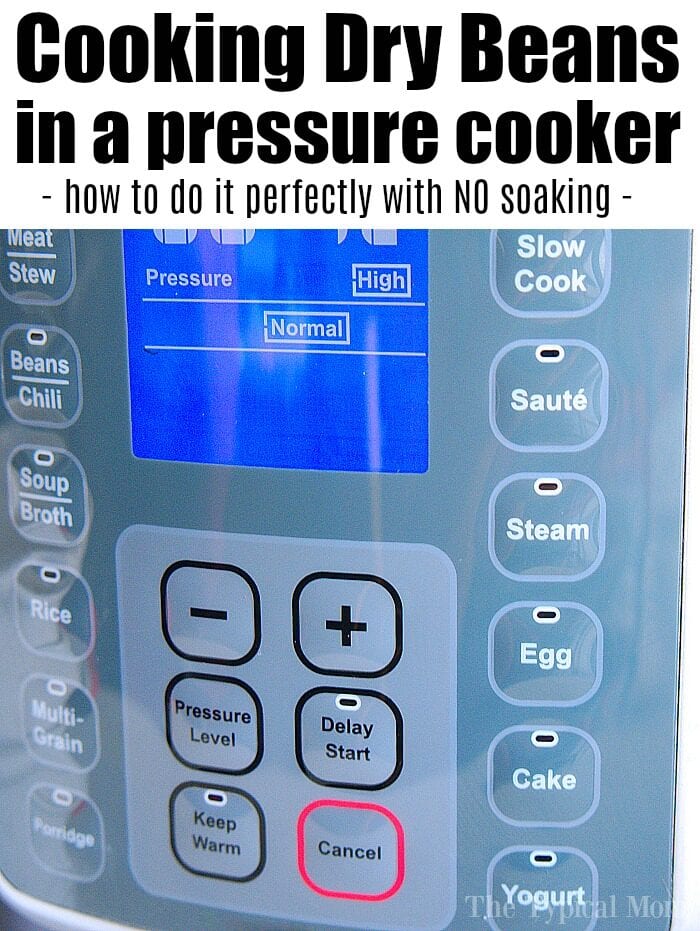 Cooking beans in a pressure cooker is easier than you might think. I have done it many times and each time they come out tender and full of flavor.
Homemade baked beans
Homemade is always best because you know EXACTLY what is in the recipe you're eating
When cooking dry beans in a pressure cooker you can control how soft they turn out. I don't like mushy baked beans personally
You can adjust how sweet your beans are
The heat level can be tailored for your liking, make mild or add tons of spice if you like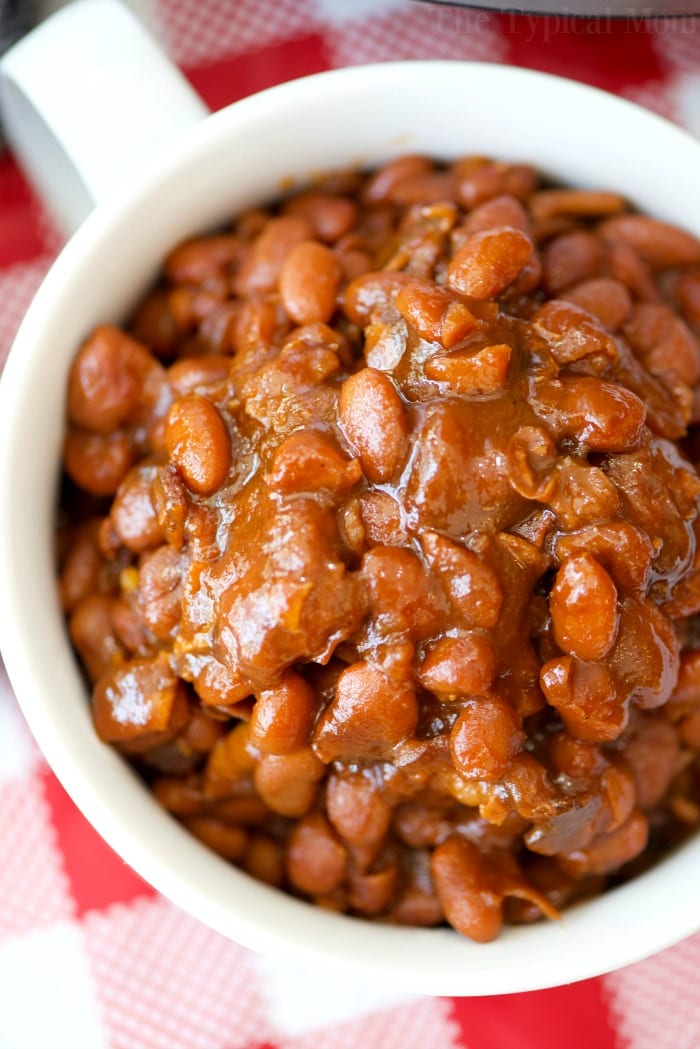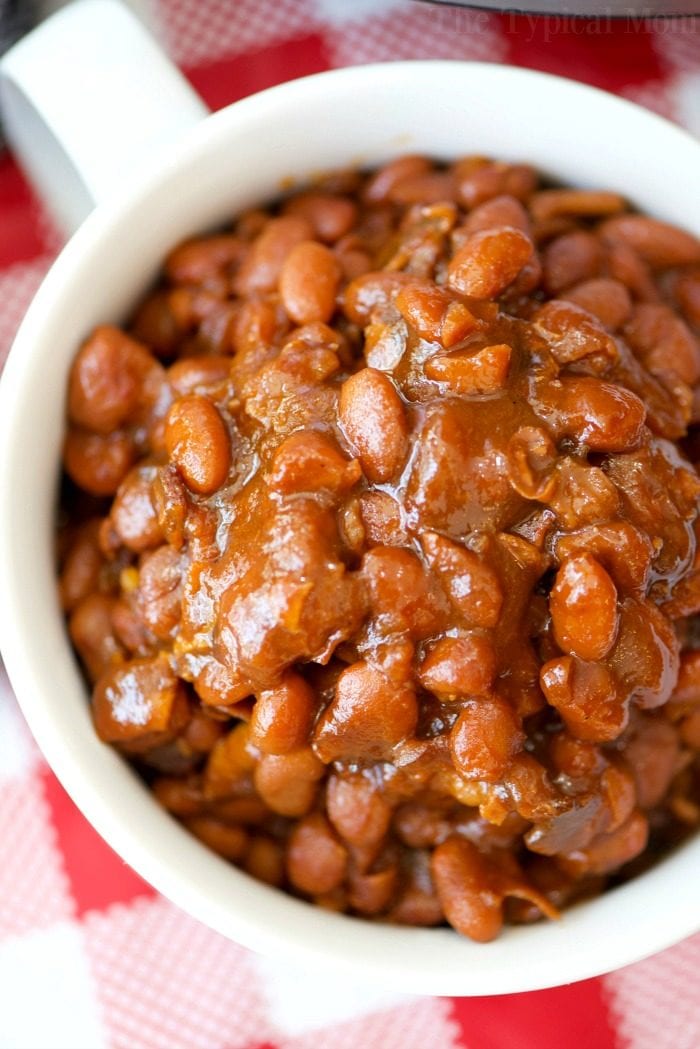 You can adjust the spice level but I keep ours on the milder side. I do add a bit of chili powder just because it adds a great flavor to the homemade baked bean sauce I use to make these.
You could definitely kick it up another notch and almost double the amount of that to give it a spicier flavor. Either way the beans turn out tender, the sauce is thick, sweet, and with chunks of bacon inside they are just….oh my goodness good!
If you don't have an Instant Pot I HIGHLY recommend one.
I was hesitant at first and stuck with my crockpot but once I got the hang of it I couldn't stop creating new, quick, and delicious meals that were done in usually under 30 minutes!
A pressure cooker will work for this recipe as well if you are attached to yours, but from mom to mom this 7 in 1 device has made making dinners SO much easier.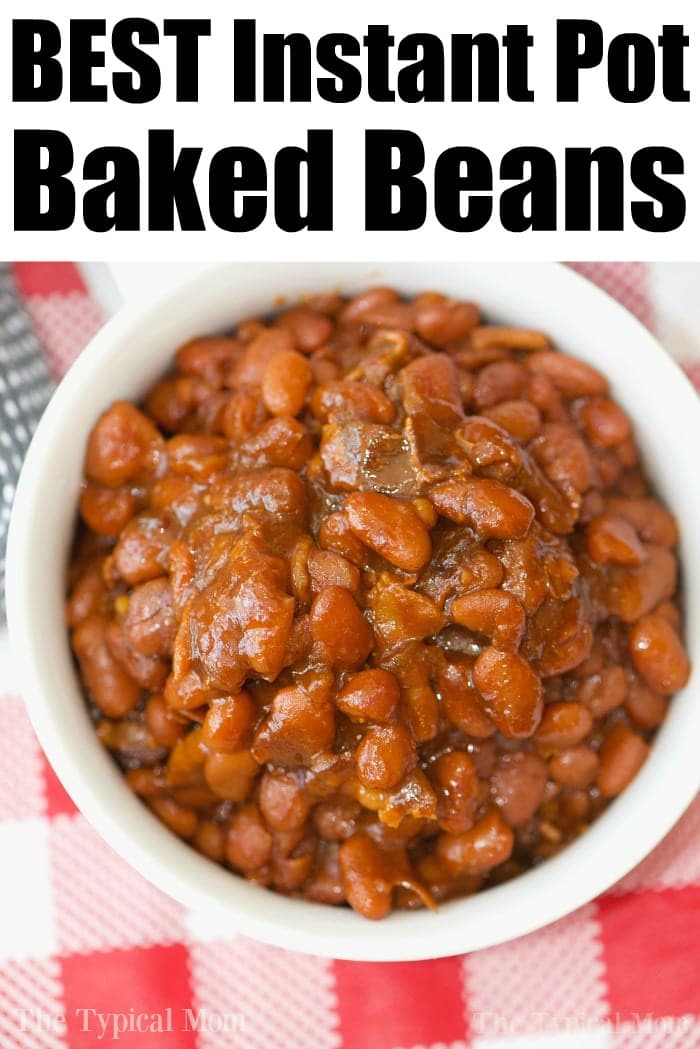 Baked beans in Instant Pot
Cups of water to soften dry beans

I tend to use room temp. vs. cold water

Bacon – optional
Onion
Molasses
Brown sugar
Dry mustard
Ketchup
White wine vinegar – this is the one I have
Spices
Some have added a touch of maple syrup, optional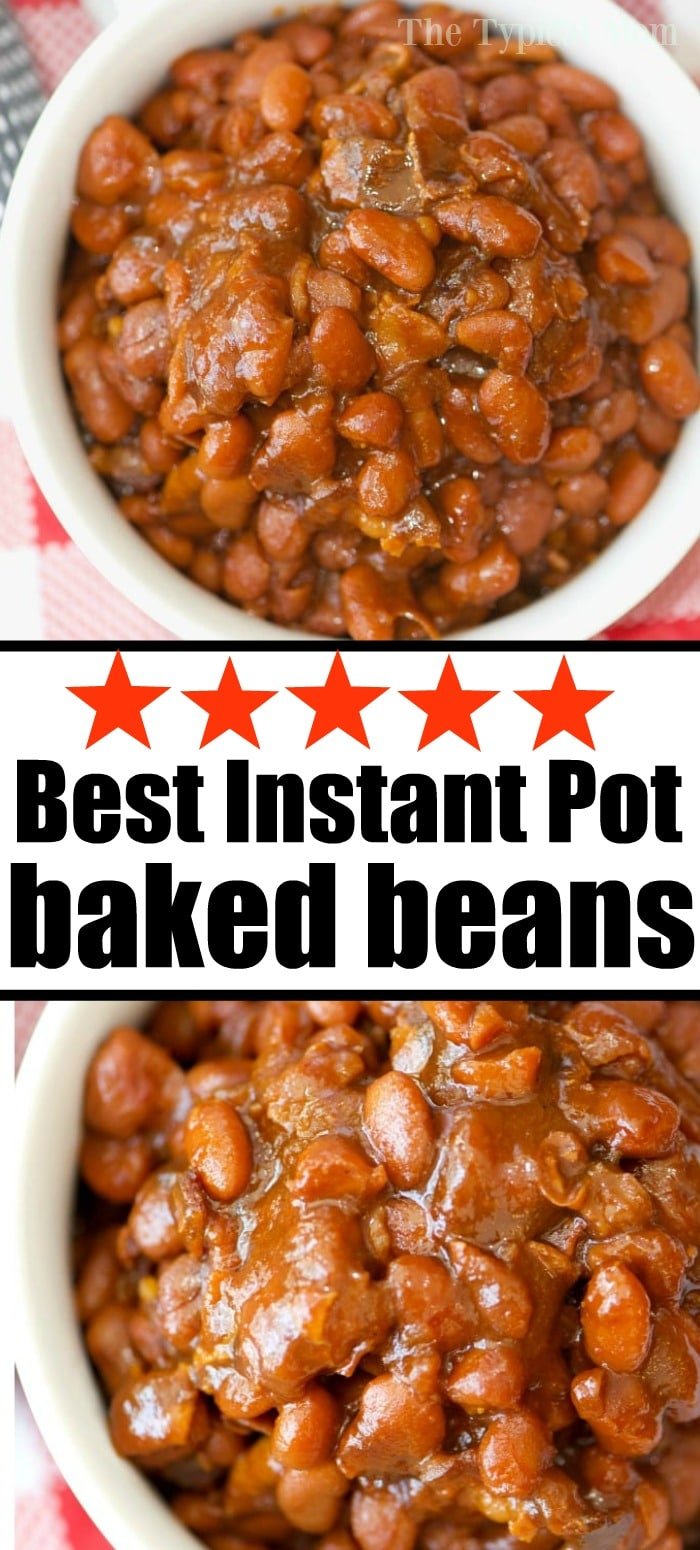 Which beans are used in baked beans?
Typically navy beans are used in those you would buy in a can and already made. You just need to heat those up before eating. Pinto beans are also used, it is up to you which you prefer.
How do you make baked beans from scratch?
We are here to show you how to do just that. Ours are sweet and savory using molasses, brown sugar and some bacon and ketchup to cut the sweetness. Our Instant Pot baked beans are to die for!
Can you make baked beans without soaking overnight?
When using a pressure cooker there is no soaking required. If you use your stovetop, oven, or Crockpot you'll want to soak for 12 hours or so beforehand.
Add hot dogs at the end and follow our Instant Pot beans and franks recipe for another family winner for dinner too!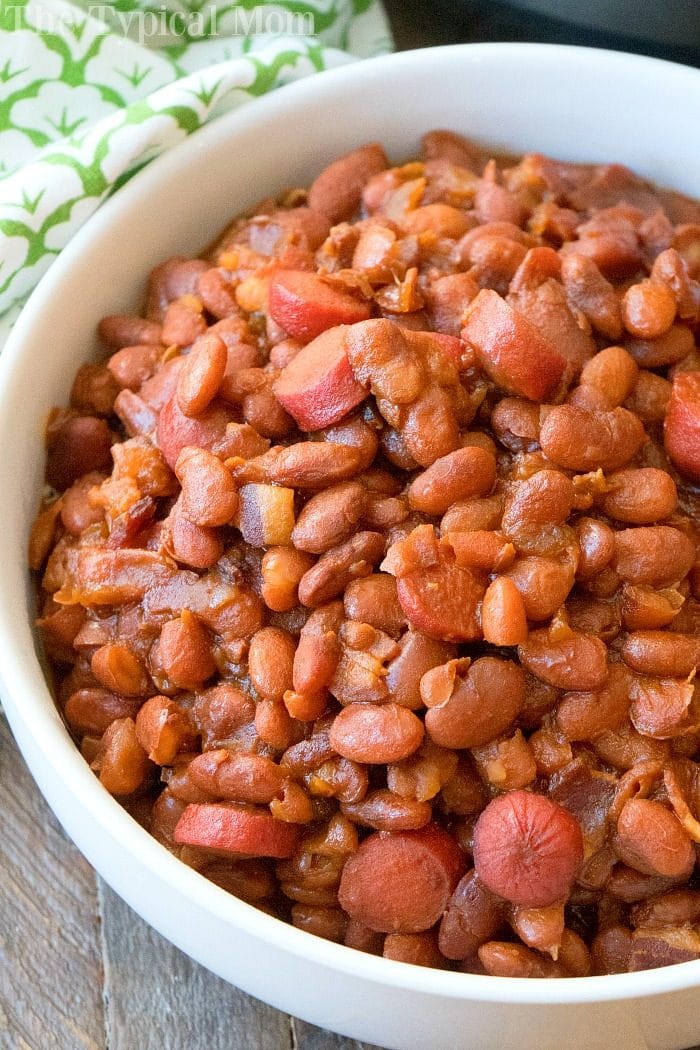 Why is pressure cooking better than making homemade baked beans on the stovetop or slow cooker?
They turn out perfectly every time
Cooking and softening dry beans in the Instant Pot is MUCH faster. Use this Instant Pot cooking times for beans for times

no soaking overnight
beans go from dry to perfectly soft in about 60 min.
you can see here what we mean, as well as peeking at our Instant Pot black beans from dry to perfect

NO need to stand at the stove to cook them

cooking the beans this way you just throw all the ingredients in and walk away
BUT if you love your crock here is our Crockpot baked beans recipe to try too!
Read the reviews below, everyone says this is a great recipe!
Want more easy recipes and tips from The Typical Mom blog? Sign up for my free newsletter, and follow me on Pinterest!
***** If you LOVED this recipe give it 5 Stars below and let everyone know what you thought about it. 😉
No Soak Instant Pot Baked Beans
These are some of the most amazing no soak Instant Pot baked beans you'll ever eat! Perfectly cooked in your pressure cooker with no pre soaking required. They're a great sweet and savory side dish for any barbecue and you can add a bit of heat to them too if you want.

Instructions
Rinse your beans, put inside your Instant Pot or pressure cooker with 6 cups of water and 1 tsp. salt.

Put lid on, close steam valve and set Instant Pot to the bean setting, normal, for 60 minutes.

Do a natural release when done and lift lid carefully.

Drain beans and set aside.

Mix together all other ingredients except for bacon and onions and set aside.

Dice onion and bacon. Set Instant Pot to saute, normal setting.

Pour a few tbsp. olive oil into Instant pot and add your bacon and onion.

Cook until onions have softened. Turn pressure cooker off (important step so it doesn't say burn when you put it on pressure setting again). Deglaze pot (meaning scrape bacon bits off bottom, can add a bit of water to get bits off so burn notice doesn't appear)

Add your beans back into your Instant Pot or pressure cooker.

Whisk sauce again (sugar will settle to the bottom), and pour over bean mixture.

Put lid on, close valve, and set Instant Pot to bean, normal setting for 30 minutes (if you want them REALLY soft set to a bit longer but we think this is perfect).

Do a natural release and lift lid carefully. Can serve immediately or if you want sauce to thicken set to saute normal again and stir slowly as it boils for 4-5 minutes, then let it sit for about 10 minutes for sauce to become thick! Leave in IP to stay warm with top ajar.
Nutrition Facts
No Soak Instant Pot Baked Beans
Amount Per Serving (5 oz)
Calories 210
% Daily Value*
Sodium 449mg20%
Potassium 675mg19%
Carbohydrates 47g16%
Protein 4g8%
Vitamin A 130IU3%
Vitamin C 2.2mg3%
Calcium 94mg9%
Iron 2.5mg14%
* Percent Daily Values are based on a 2000 calorie diet.