Homemade pressure cooker pinto beans make a great side dish for Cinco de Mayo or any time of year. Use charro beans inside burrito bowls for a great meal! Works in your Instant Pot, Crockpot Express or Ninja Foodi.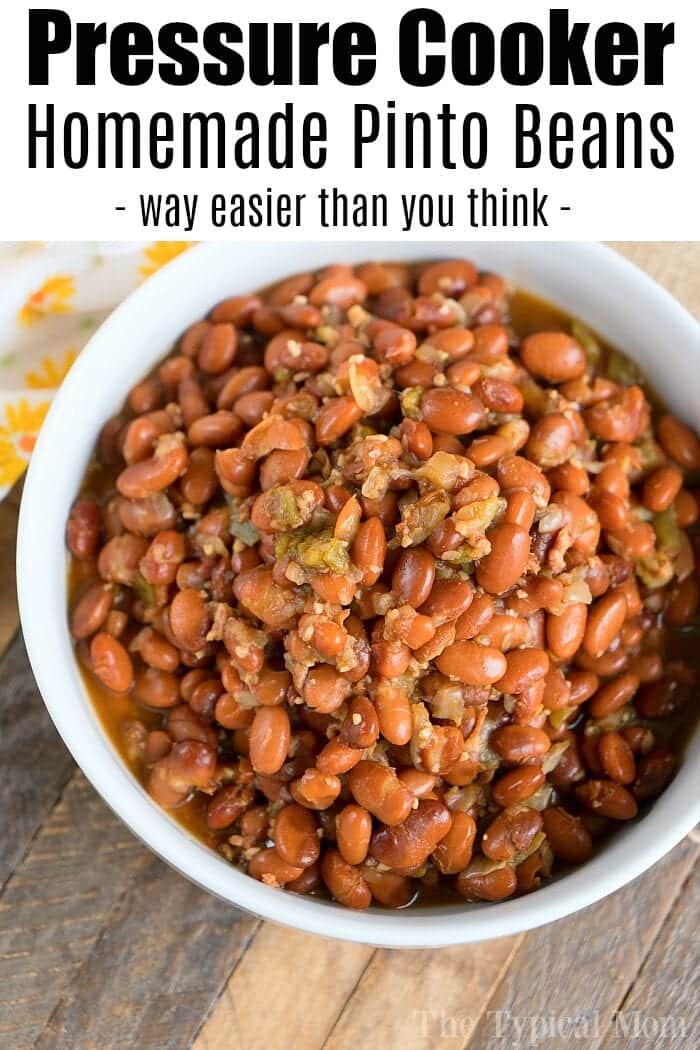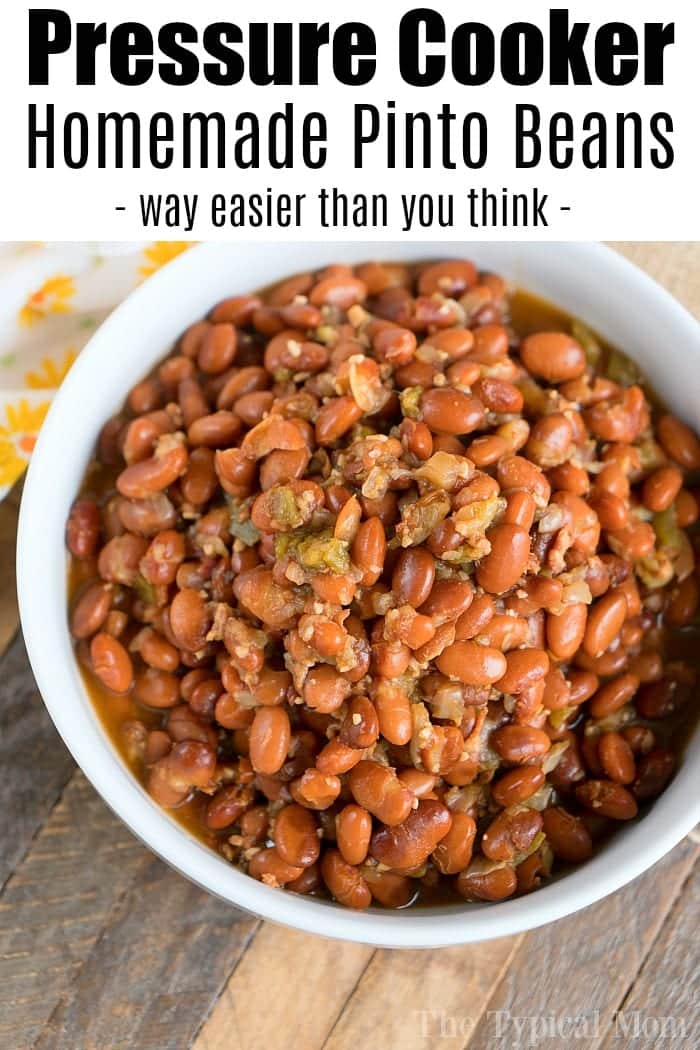 Love homemade pinto beans but hate the time it takes to start from dry beans? Well making pressure cooker pinto beans there's NO soaking required and they're done start to finish in about an hour and a half! One of our favorite Instant Pot recipes. (affiliate links present)
We've added it into our list of Ninja Foodi recipes too because that's our new favorite appliance!
If you want to know how to make perfectly tender dried pinto beans we have instructions for you! Then add them to your taco Tuesday buffet or just make some quick burritos for dinner.
Let's start with a few basic tips:
For reference, this is the pressure cooker I have and use for all recipe creations.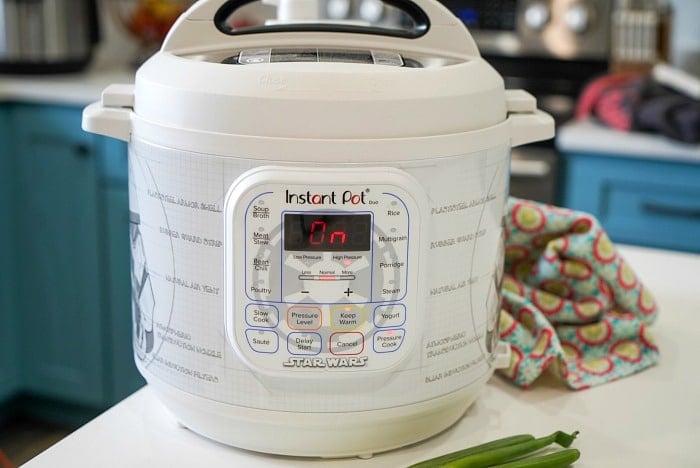 Talk about a great side dish or make burrito bowls with these pressure cooker pinto beans for a delicious dinner.
The possibilities are endless once you understand how to pressure cook dry beans. Bagged they are super cheap, you can make a ton at a time, and they feed a crowd for next to nothing. Keep them whole or mash to change their texture and consistency.
Then enjoy as you wish. You can even make a great bean soup with them once they're as tender as you'd like them to be.
This way you can control the sodium levels too which is nice. Especially if you have high blood pressure you might be interested in learning how to do that. Canned foods can be quite high in salt for sure.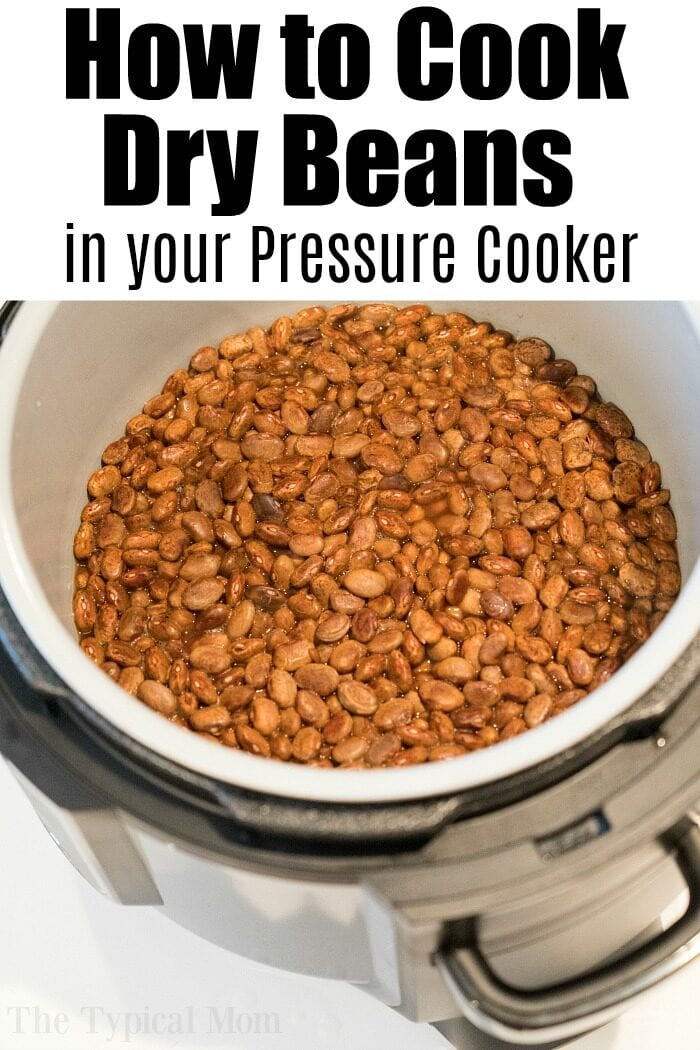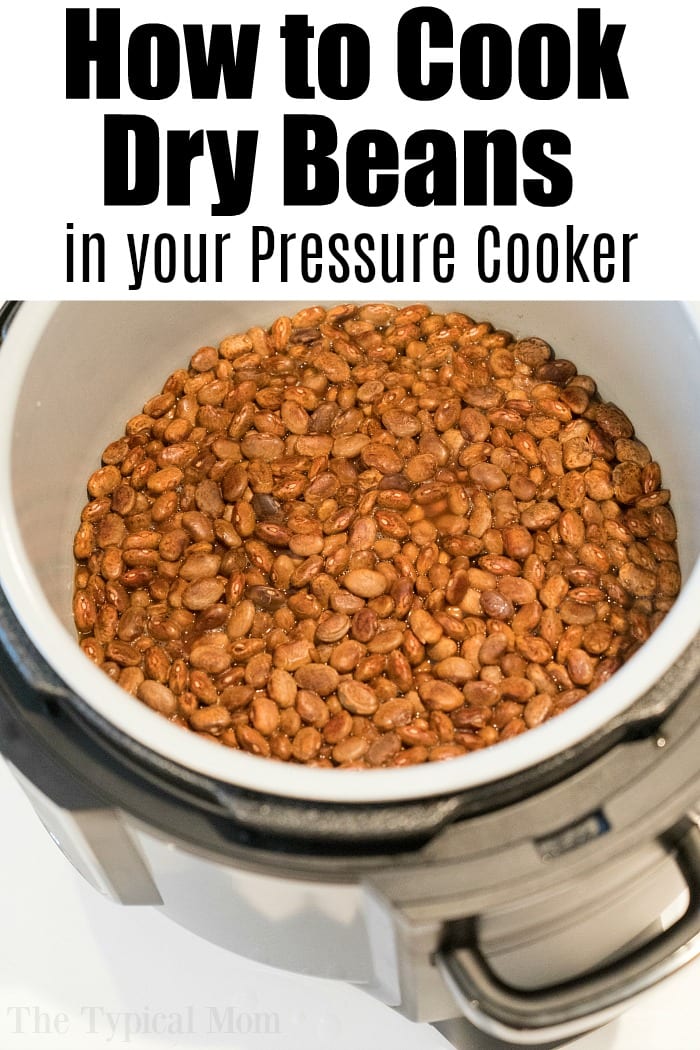 Ninja Foodi Pinto Beans
I never need to pre soak the beans ever again now that I have an Instant Pot and Ninja Foodi pressure cooker!
We have made a few recipes using dry beans so far like:
Now we're ready with homemade pinto beans. You can call them charro beans too.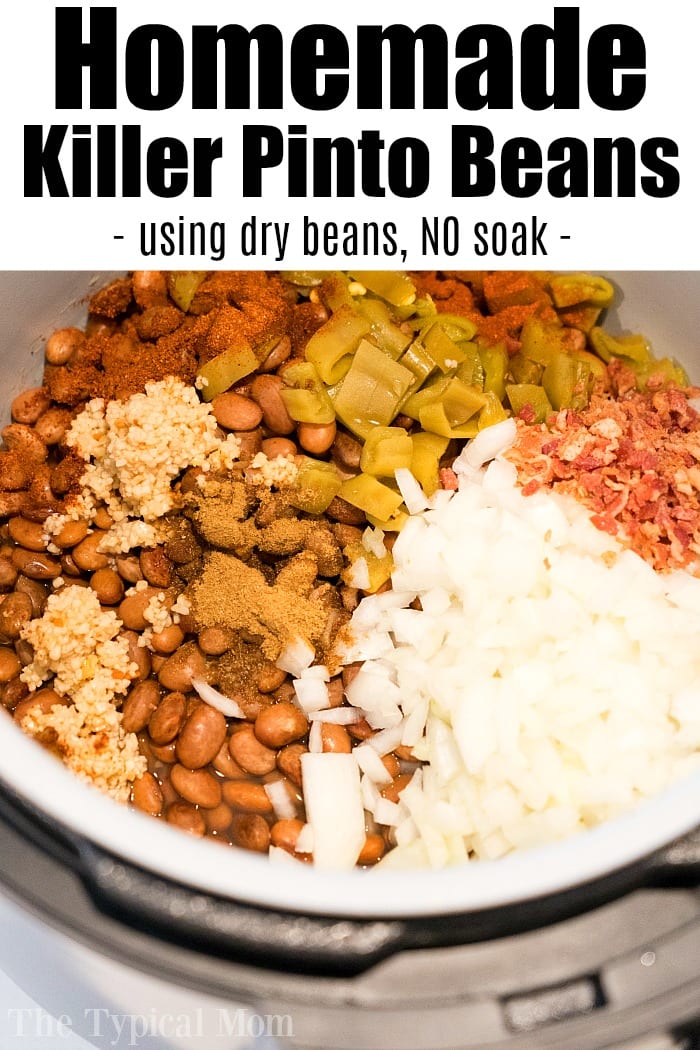 Cooking beans in a pressure cooker
Always wash your dry beans to remove any dirt or debris (small rocks may be hidden).
Timing depends on how soft you want your beans to be and how many you want to cook (I tend to stick with 2 c. dry beans at a time)
Twice as much water is needed for the amt. of dry beans you're cooking
Use this Ninja Foodi cooking times sheet or Instant Pot cooking times for beans printable charts to determine cook time (they're very similar)
Use high pressure
Allow pot to naturally release steam

Check beans, if you'd like them softer you can easily add a bit more water and set it for another 10 min. or so to soften even more
Drain beans and eat or doctor up (like we did here) and continue cooking a dish like these pressure cooker pinto beans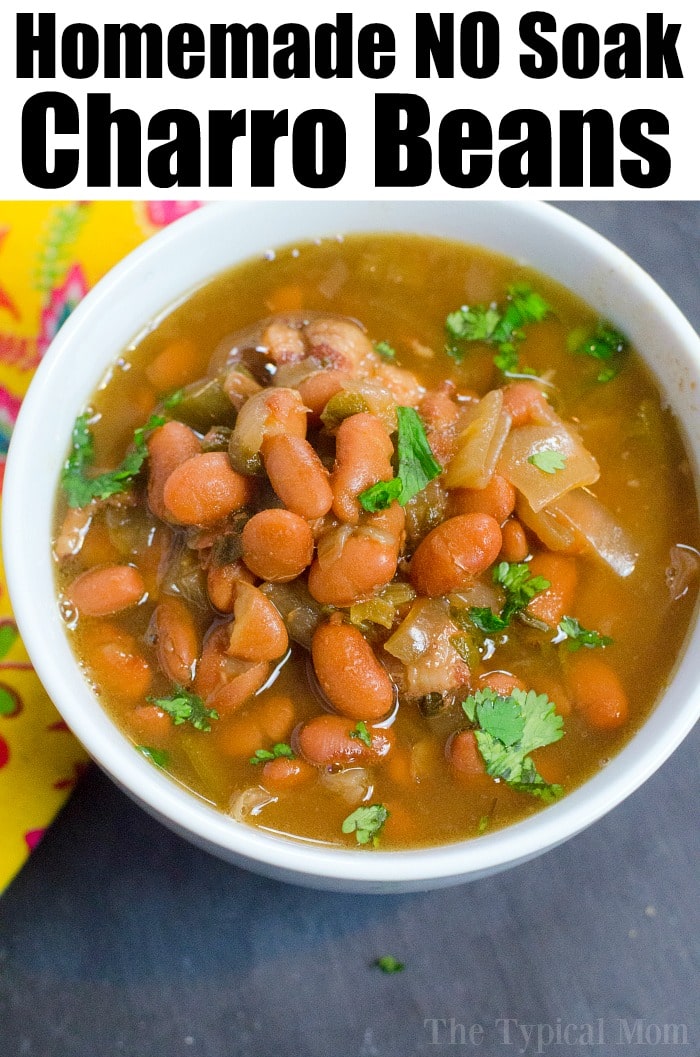 What you'll need to make homemade pressure cooker pinto beans:
2 cups of pinto beans

pressure cooking time below is for this amount
find pounds of beans in the rice aisle at the grocery store or online

Cups of water or vegetable broth could be used
Beef broth
Onions and garlic
Spices
Bacon bits are optional
If you use other spices to make charro beans by all means add them in there too in the 2nd cooking step after the quick release. If you use more than 2 cups of dry beans you may want to increase 2nd pressure cook time to 30 minutes to 45 minutes.
Timing is subjective because some like them much softer than others.
Then make our pressure cooker Mexican rice with these!
Pressure Cooker Pinto Beans
Homemade pressure cooker pinto beans make a great side dish for Cinco de Mayo or any time of year. Use charro beans inside burrito bowls for a great meal!
Instructions
Rinse your dry beans and put them into your pressure cooker. Add your water. Close pressure cooker lid (one not attached on the Ninja Foodi), close steam valve.

Set to pressure high for 60 minutes. Do a quick release.

Drain beans and put beans back into your pot.

Add all other ingredients and stir together.

Close your pressure cooker lid again and set to high pressure for 20 minutes. Allow to naturally release steam for 10 minutes, then release remaining.

If you want more liquid in your beans before serving add a bit more broth.
Nutrition Facts
Pressure Cooker Pinto Beans
Amount Per Serving (3 oz)
Calories 78
Calories from Fat 9
% Daily Value*
Fat 1g2%
Cholesterol 2mg1%
Sodium 554mg24%
Potassium 243mg7%
Carbohydrates 12g4%
Protein 4g8%
Vitamin A 455IU9%
Vitamin C 17.9mg22%
Calcium 30mg3%
Iron 1.2mg7%
* Percent Daily Values are based on a 2000 calorie diet.