Cooking beans in a pressure cooker has never been easier! There's NO soak beans become tender in your in a Ninja Foodi, pinto, kidney, black beans in pressure cooker Instant Pot or Crockpot Express.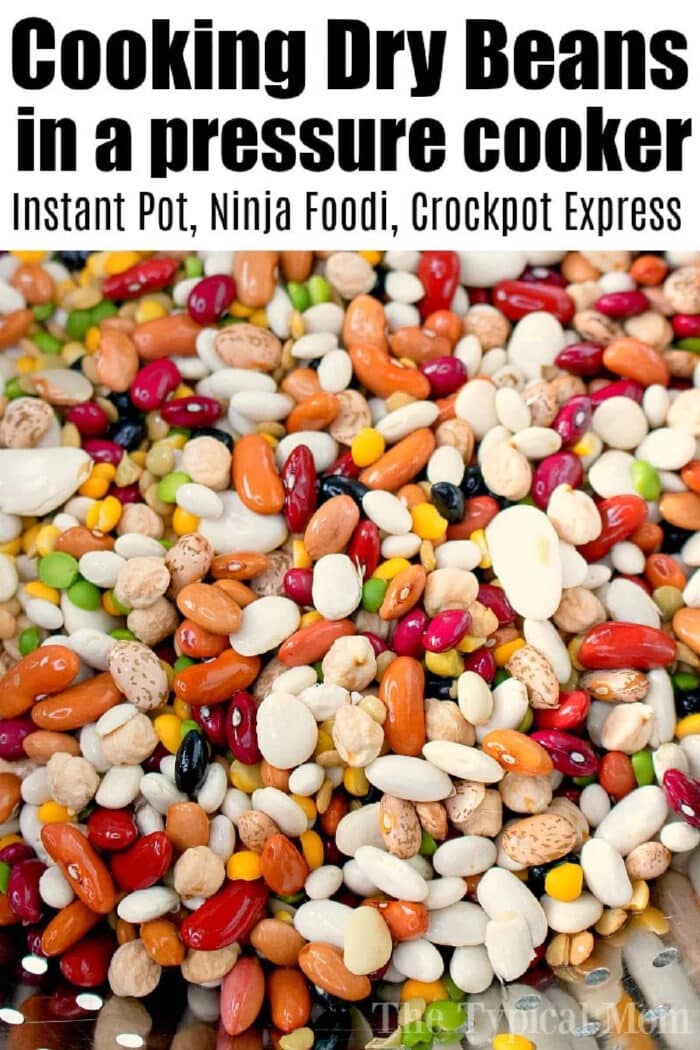 This is how cooking beans in a pressure cooker works to get them nice and tender. If you've never cooked dry beans before, you're in for a treat. Then you can make homemade side dishes and meals more often. One of many tips in our Instant Pot section of The Typical Mom blog. (affiliate links present, originally published 1/20)
Instant Pot Dried Beans
To get started you should print out our free Instant Pot beans cook time sheet. This is a good starting point as far as how long each one will take to become tender. No matter which type you want for the recipe you want I have them all listed in that chart. I will explain some things to remember to put your mind at ease here too.
No matter what brand you're using this timing will basically be the same. Crockpot Express and Ninja Foodi both have the pressure cook function which is what you'll need.
FIRST – You should sign up for my free newsletter so you get new posts emailed to you twice a week and never miss out on anything! Now let's start with a few basic tips:
Make sure to Bookmark our InstaPot recipes page. We add new ones each week!
Then PRINT this —–> Instant Pot cooking times cheat sheet that will help you understand how long meat, vegetables and beans take to cook in your pressure cooker.
For reference, this is the pressure cooker I have (a 6 quart) and use for all recipe creations.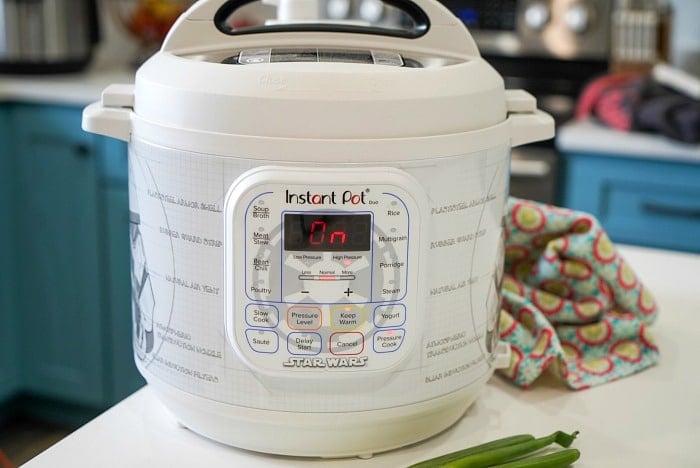 Dry Beans in Ninja Foodi
As it states you'll need plenty of water and a bit of time, followed by a natural release of steam. The reason for this last step is to get more and more tender, don't skip it.
Variations in time will occur depending on how much you add and just how tender you want them. However, using this chart will be your first step in understanding how to cook beans in a pressure cooker.
You can enjoy them plain as a side dish with just salt and pepper or as a complete meal like our Instant Pot 15 Bean Soup here. We even share here how to cook red lentils Instant Pot style.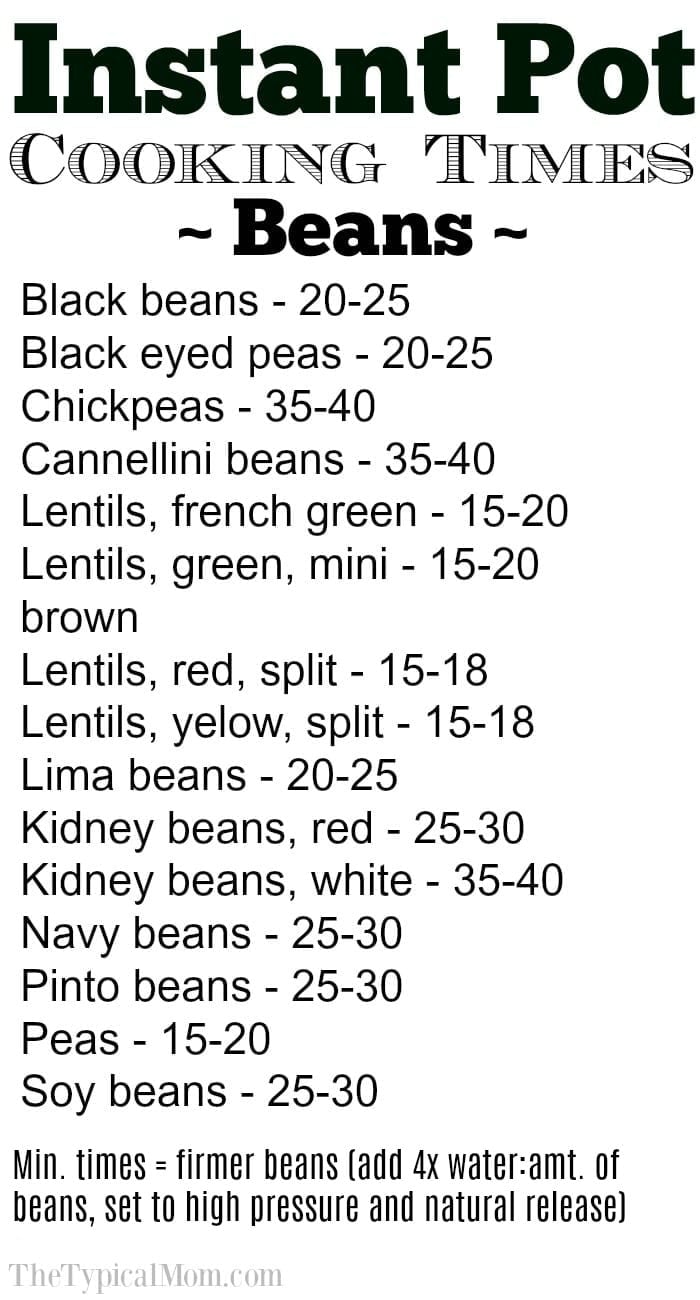 How do you Cook Beans in a Pressure Cooker
If you're making 1 bag of dry beans (16 oz. is typical), this is what you do:
First rinse your dry beans in a colander to get any debris off of them
Pour them into your pressure cooker now
Add your cooking liquid = 4 times the amount of beans (so 1 bag needs 8 cups of water or broth)

do I need to soak beans before pressure cooking? NO, there is no need to soak your beans beforehand.
how much water do you put in a pressure cooker for beans? It doesn't matter whether you're making kidney beans, black beans, or Northern beans

you will always need at least a 1:4 ratio of beans to liquid

do not fill past 3/4 line inside pot or it won't reach pressure

Look at Instant Pot cook chart above and determine your pressure cooking time

remember if it finishes and you decide you want them more tender you can just put the lid on and cook for longer, NO problem with that
15 – 30 minutes is typical to get tender cups of cooked beans

Close lid and steam valve and set to high pressure for the designated cook time. I suggest starting at the lowest time above if you like them a bit firmer.
When done do not release the pressure!! This is called a natural release.

That means you don't touch the steam valve. Do not do a quick release when cooking beans in a pressure cooker.
How to cook beans in an electric pressure cooker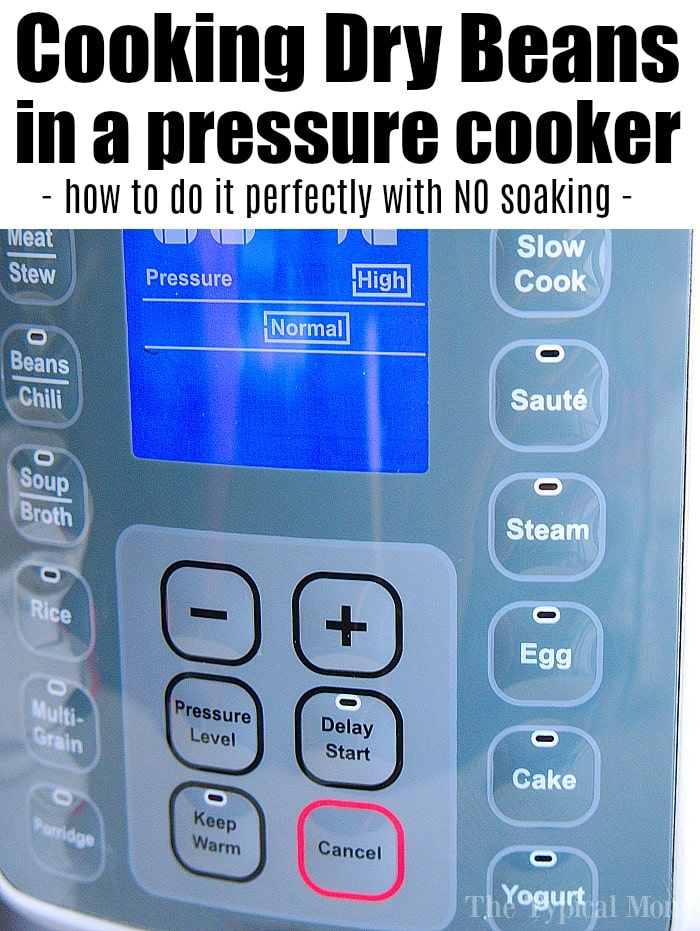 Do beans double in size when cooked?
Pretty much is the basic answer. Keep this in mind; 1 cup dry beans yields approximately 2 1/2 cups cooked beans so it's like they double plus a bit. 😉
Instant Pot Bean Recipes
Let's start with our Instant Pot ham and beans recipe. I begin here because this one is very simple, with few ingredients, and is really healthy.
Here are some Instant Pot pinto beans from scratch. I add lots of diced chiles to add a bunch of flavor. They're a great side dish or addition to burritos or taco bowls.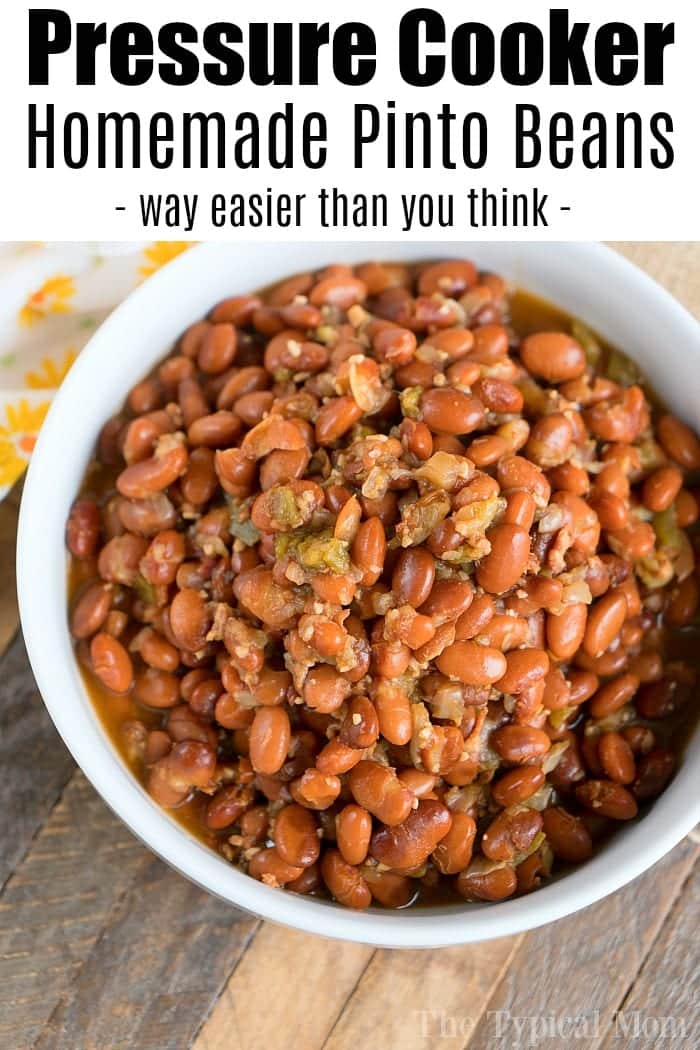 Ninja Foodi Beans No Soak
Just remember the beans to water ratio pressure cooker directions and you really can create anything in your "magic pot"!
Beans don't have to be made plain, we hardly ever do. Even if we're using them as a side dish I still always amp them up with diced chiles and seasonings.
Add some chili powder for a bit of spice, dry Sriracha is another one of my favorite sources of heat.
What can I make with beans? Our favorite Instant Pot side dish is probably our homemade baked beans!
Red bean curry is pretty darn yummy
Add them to stuffed zucchini boats
Chill them and add to some Greek chopped salad
Navy bean pesto
Cold 3 bean salad is always a winner of a side dish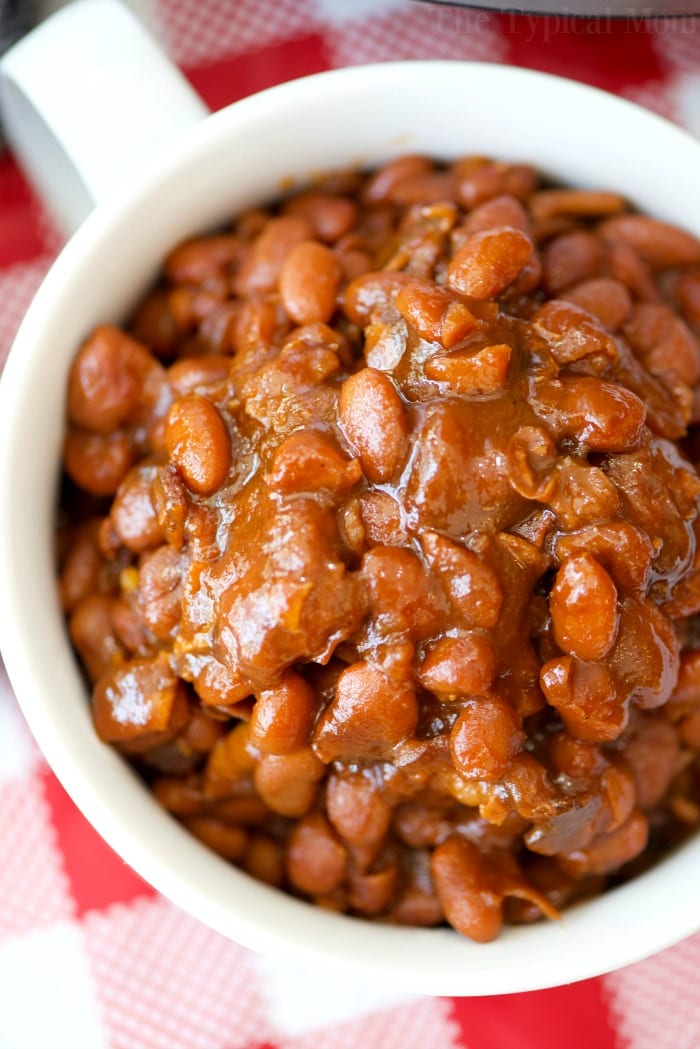 What is a serving size of beans?
Half cup of cooked beans is an average serving size for an adult. This goes for most legumes and grains. To put that in perspective; a can of beans contains about 1 and 3/4 cups which is over triple this serving size!
How much is a serving of dry beans?
As a general rule you should allow between 1/2 and 1 cup of dry beans person. So if you're cooking 5 to 10 pounds of dried beans it would feed about 50 people.
A one-pound bag of dried beans provides 10 servings of 1/2 cup.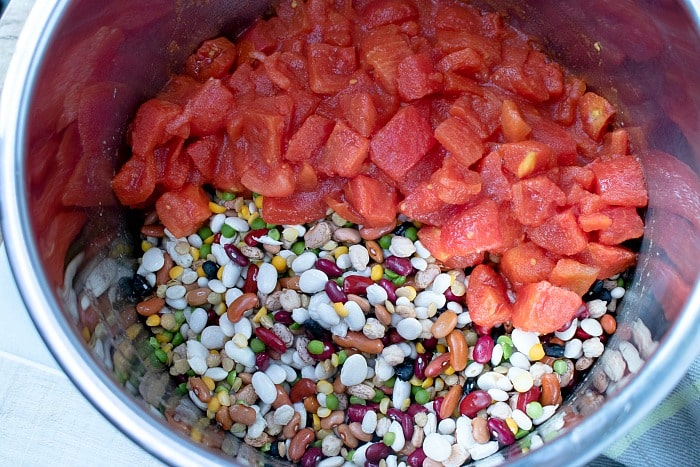 How Long to Cook Dry Beans in an Instant Pot
Now we have a NEW Instant Pot beef bean chili to share with y'all. Here's a look at it at the beginning. You know what is different about this?? ALL the ingredients are cooked together.
When you do it this way you don't need quite as much liquid as you would with just water. Until you get the hang of the ratio method for something like this, I suggest following a recipe.
This is similar to our pressure cooker chili with dry beans however this was all cooked together.
It is a bit like baked beans but heartier since it has stew meat inside. Cooking it for 40 minutes means the beef comes out super tender, and the dry beans will too.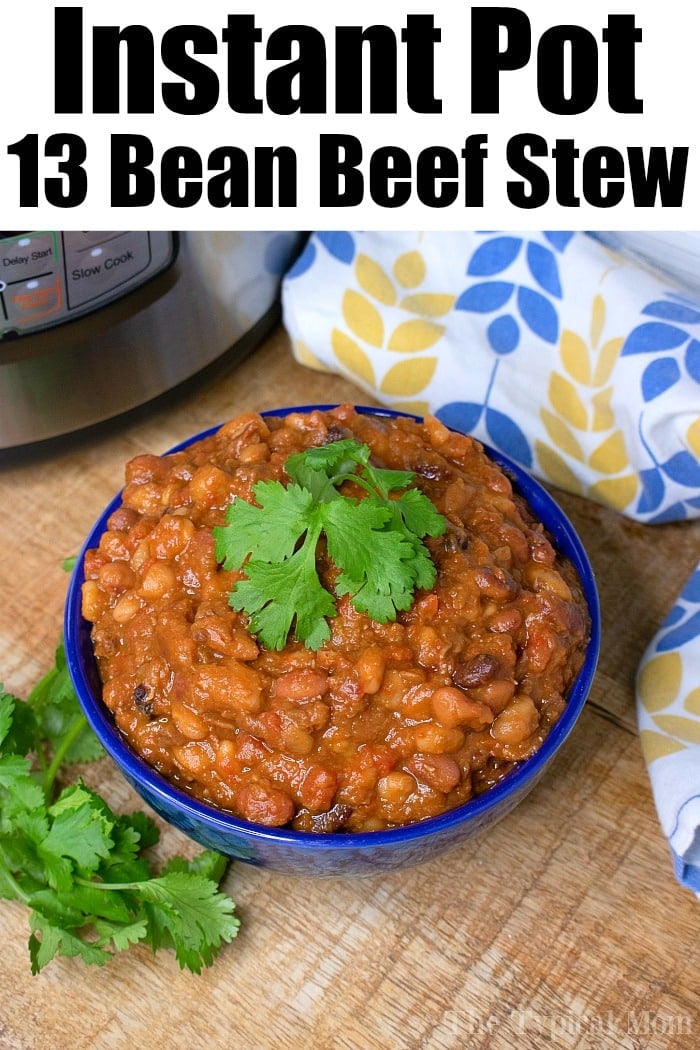 Pressure Cooker Bean Beef Chili
Here's what you do to prepare this pressure cooker bean beef chili
Set pot to saute and add your olive oil, diced onions and stew meat. Brown meat on all sides, then turn pot off.
Add a bit of your broth just so you can deglaze your pot properly.
Then add all other ingredients and stir together.
Close lid and steam valve and set to high pressure for 40 minutes
Allow steam to naturally release steam completely before lifting lid off.
Stir and serve. We like to serve this over white rice, and add some feta cheese on top too.
This is one of our newest January Instant Pot recipes you should try. You can cook with dry beans in your slow cooker too like with our Crockpot black eyed peas recipe but of course it will take all day.
Want to see a few of my favorite things that I am totally obsessed with?? Take a peek and see how many you might already have…twinsies!
Looking for more easy family recipes and tips? LIKE The Typical Mom Facebook page?
Then sign up for my free newsletter, and follow me on Pinterest! 😉
***** If you LOVED this recipe give it 5 Stars below and let everyone know what you thought about it. 😉
Cooking Beans in a Pressure Cooker
Cooking beans in a pressure cooker has never been easier! There's NO presoaking required for dry beans to become tender to make your favorite recipes.
Instructions
Turn pressure cooker to saute mode and add olive oil, onions and beef.

Saute until beef outsides have browned, then turn pot off. Add a bit of your broth and scrape bottom of pot to remove all stuck on meat pcs.

Then add all other ingredients including remaining broth into your pot, stir.

Close pressure cooker lid and steam valve and set to high pressure for 40 minutes.

Allow a natural release for steam.

Stir, add more broth if you want it thinner.
Nutrition Facts
Cooking Beans in a Pressure Cooker
Amount Per Serving (3 oz)
Calories 77
Calories from Fat 45
% Daily Value*
Fat 5g8%
Sodium 1267mg55%
Potassium 274mg8%
Carbohydrates 5g2%
Protein 3g6%
Vitamin A 215IU4%
Vitamin C 7.8mg9%
Calcium 39mg4%
Iron 1.3mg7%
* Percent Daily Values are based on a 2000 calorie diet.