This Instant Pot 15 Bean Soup is a great way to use up those dry beans and evenly cook them up fast! Pressure cooker dry beans makes everything easier so you can make this one pot meal in a Ninja Foodi too from scratch.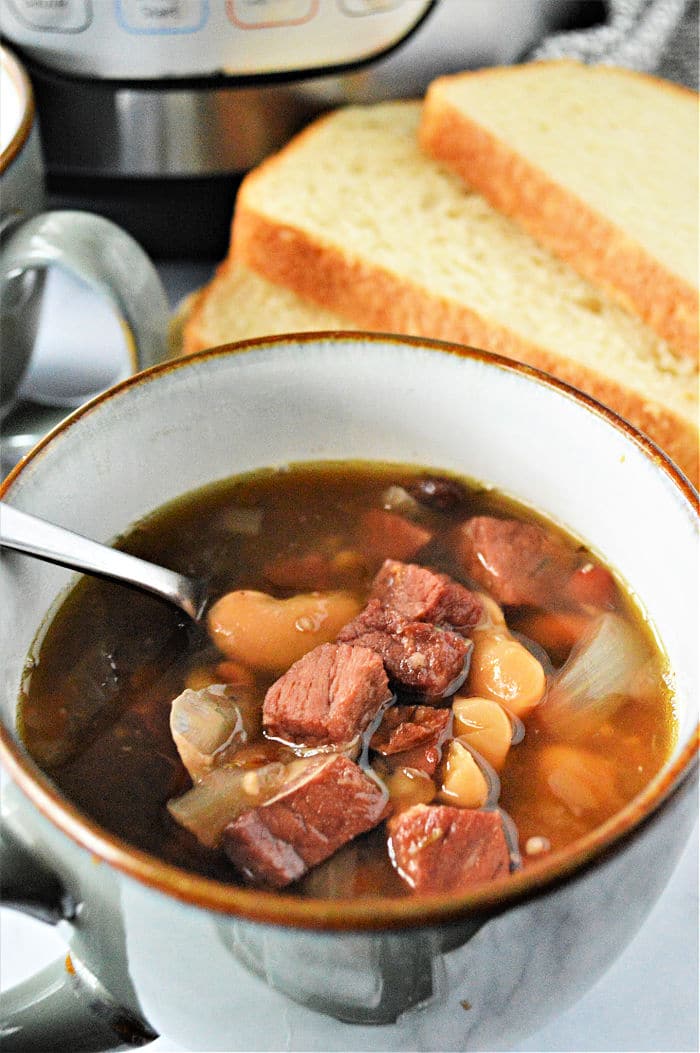 I know what you're thinking…how many beans does one soup really need? I can assure you that every bean in this Instant Pot 15 bean soup has its place. Just one of the quick Instant Pot recipes on our site. (affiliate links present, originally published 9/22)
Ninja Foodi 15 Bean Soup
I was amazed too the very first time that I made this soup because every bean literally had it's own flavor, texture, and taste. You can make it in a Crockpot Express pot or as an easy Ninja foodi recipe like we do. Any pressure cooker will do y'all, they are all basically the same with high pressure.
If you're worried about the time it's going to take to cook up your beans, you can plan on the maximum time being 45 minutes or so. You could use canned as well which would cut it down to 10 if you'd rather but if you haven't been cooking dry beans in Instant Pot yet it is WAY easier than you'd think.
FIRST – You should sign up for my free newsletter so you get new posts emailed to you twice a week and never miss out on anything! Now let's start with a few basic tips:
Make sure to Bookmark our InstaPot recipes page. We add new ones each week!
Then PRINT this —–> Instant Pot cooking times cheat sheet that will help you understand how long meat, vegetables and beans take to cook in your pressure cooker.
For reference, this is the pressure cooker I have (a 6 quart) and use for all recipe creations.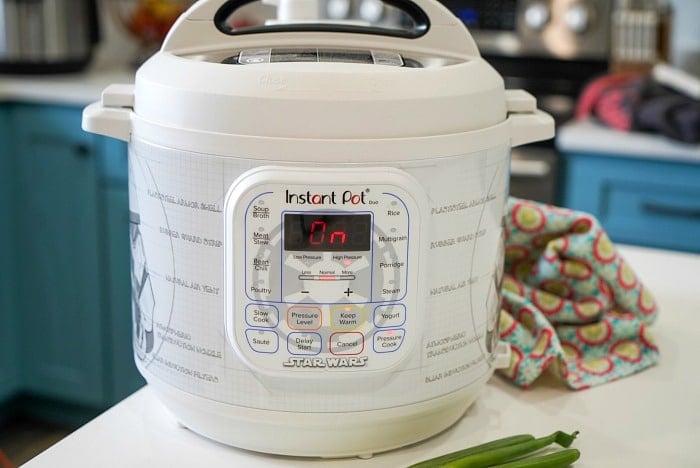 Instant Pot 15 Bean Soup with Ham Hock
Using your Instant Pot really cooks those beans fast and gives them a great texture that is enjoyable without having them be mushy.
I've made this in the slow cooker before and it's so hard to get them to cook evenly at that slow of a pace! You can use sliced kielbasa sausage, it's a great leftover ham recipe or ham hock recipe too. Leaving it vegetarian is also an option but I love adding meat for us.
If you use ham hocks you won't need to add any other seasonings. Smoked versions have a TON of flavor in them already, and sodium so that is all you need. I just dice up the meat and discard the bones right before enjoying this dish and it works fantastic.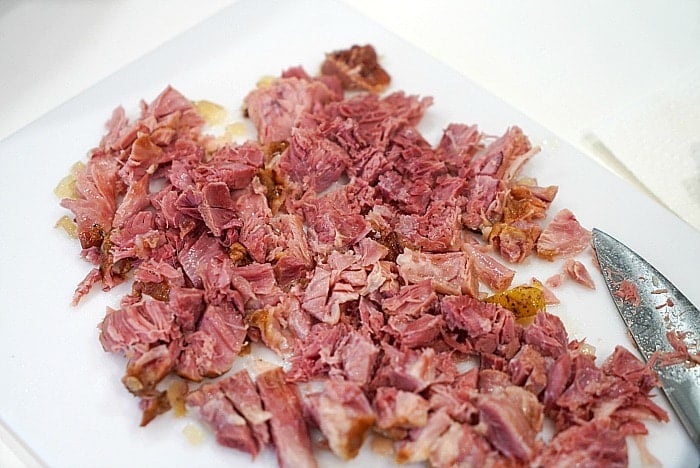 One of the best parts about making this pressure cooker soup is that you can easily alter the flavor and taste. Because we all know that it's fun to take an already great recipe and find ways to tweak it to make it even better. Here are some questions you might have before you get started:
Do you have to soak 15 beans before cooking?
Not if you use your pressure cooker! You can rinse, throw them right in with some water or broth and let them soften in about an hour. We share how to cook beans in an Instant Pot right here.
How do you make 15 bean soup from scratch?
We will show you here! It is easiest cooked under high pressure, other than that you'd need to soak overnight and cook for several hours on the stovetop.
How do you cook dry beans in an Instant Pot?
It just takes some liquid. To make things easier I have created this free printable Instant Pot beans cook time sheet. It lists all different types of dry beans and how long it takes to soften them.

Timing will be slightly subjective according to how soft you want them but it is a good gage to start with. Always naturally release at the end for best results.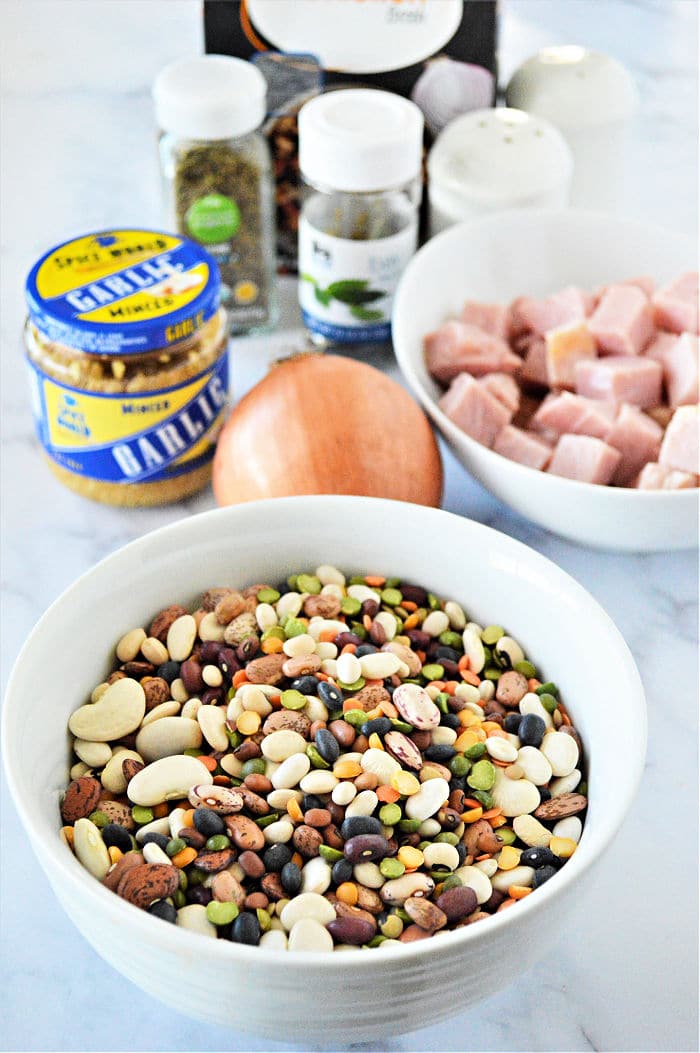 Here are the ingredients you'll need, seen below. As for seasonings use what you like. If adding meat I wouldn't add a lot, easier to add later than try to take too saltiness away. 😉
15 Bean Soup Instant Pot
Dry bean mix makes things easier and cheaper vs. buying multiple types and just using some of each.
You could make it as a ham hock recipe, just throw that in the center and cut meat off at the end
I like to use chicken or homemade beef broth or water could be used, but it won't have as much flavor.
Onion I use in almost everything because it is a really cheap way to add a lot of flavor and texture to a dish.
Garlic of course I buy and use in bulk

Seasonings like thyme, salt and pepper etc.. should be used sparingly at the beginning
I don't add a lot of this if I'm adding ham since that has enough natural salts in it
Honestly, it never fails that whomever you're making this far, they're certain to add their own salt and pepper to taste once they fill their own bowl. Don't take offense and just remember that everyone's tastes and preferences vary.
I've been guilty of even adding in a seasoning packet or two to see how much of those unique flavors get soaked up by the beans. (Let me tell you that the beans really latch on to all added seasonings and chicken broth as well!)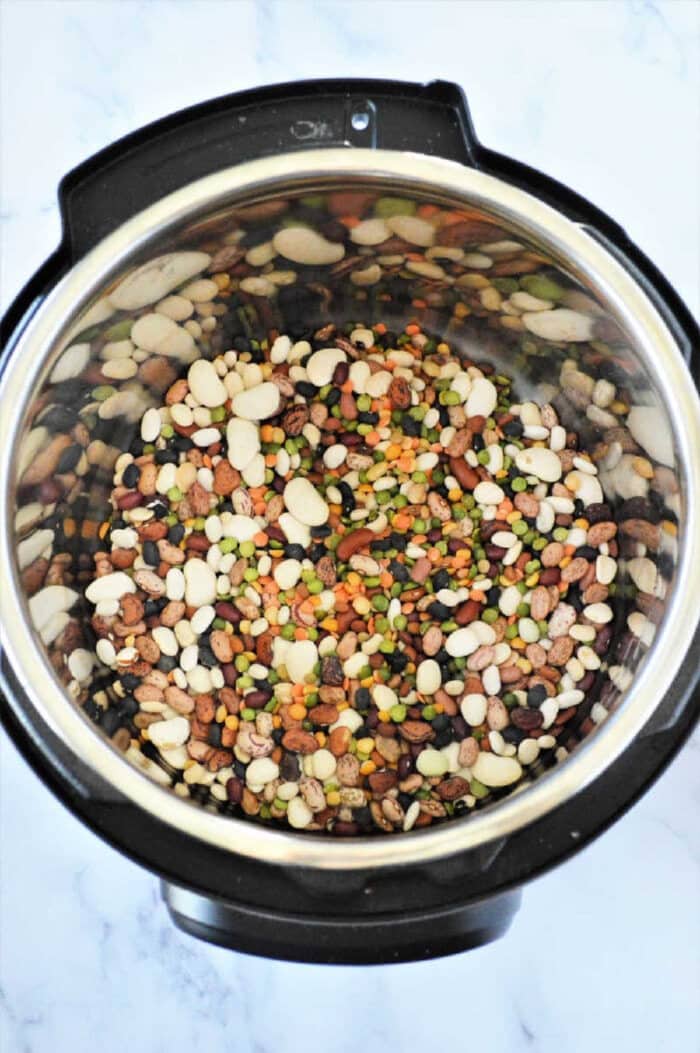 This 15 bean soup mix isn't hard to make at all which is probably why it's one of my family-favorite soups to make.
Instant Pot Bean Soup No Soak
Anytime I can take a recipe that's loaded down with healthy beans and ingredients and get the kids to eat it as well, I'm counting that as dinnertime win.
I also like to add in some diced tomatoes and a ham bone or leftover ham from the night before to make the flavors and texture even more hearty than it already is. (and if you add in those ingredients, this is the perfect excuse to whip up some homemade cornbread, too!)
My favorite brand of beans to use is Hurst Beans as they just do really really well when they're cooked up in the Instant Pot. (and if you add in a dash or two of lemon juice, it really adds a fun zest to this soup recipe as well)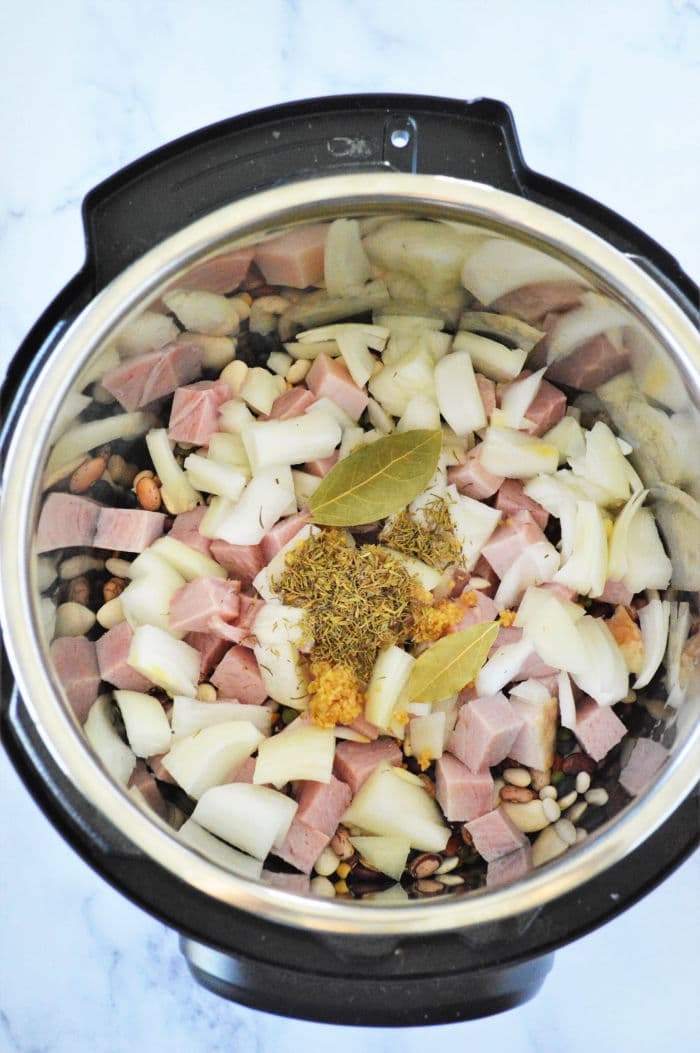 15 Bean Soup Instant Pot Sausage
If you're worried about cooking your beans in the Instant Pot, don't be. I promise it's a crazy-simple recipe to make. I've been using my pressure cookers for YEARS and it's never let me down on this recipe yet.
Just like with any Instant Pot or Ninja Foodi recipe, know the correct minute cook time before getting started so that you can plan accordingly.
Then follow the simple directions (listed below), add the ingredients, lock the lid and let the Instant Pot take over, and create dinner for you!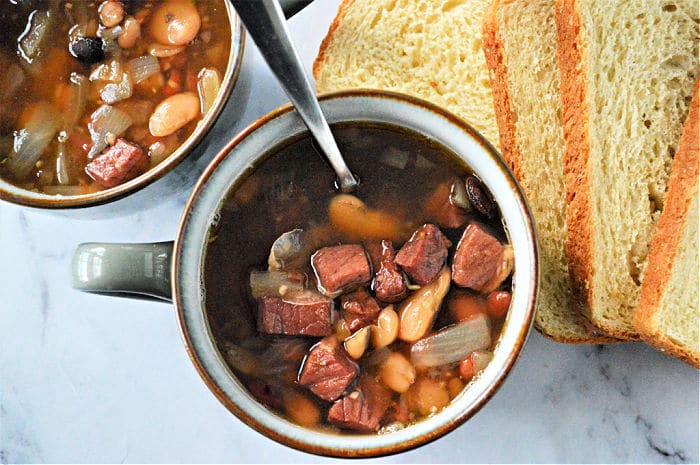 Pay close attention to when to remove the lid and also when to do the quick release. As the Instant Pot releases pressure, you don't want to rush the process. If you do this might affect the outcome of the texture of the beans.
Hillbilly Bean Soup
Keep in mind that even though this might be a "bean soup" in the title, you can easily add in meat. This is one of the reasons that I LOVE this recipe. It is super versatile and I can use what I have on hand at the time.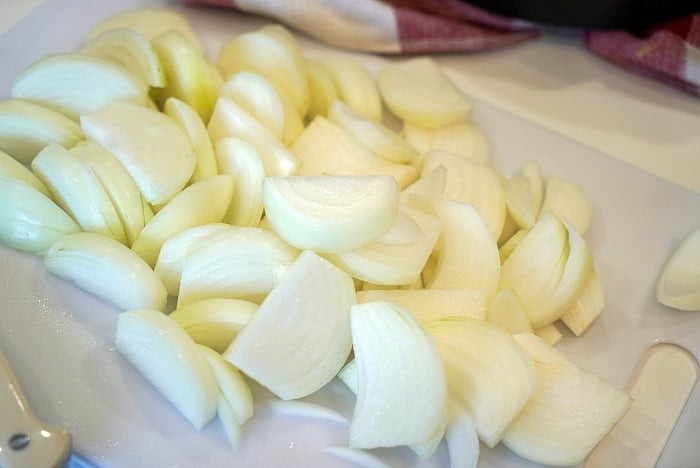 Instant Pot Soup with Dry Beans
I also like to add on fun toppings as well. Soup toppings that tend to go really well with this soup are:
Diced or sliced onions, raw will add more texture
Shredded Cheese, sharp cheddar is probably our favorite for this
Chives can be diced up
Fresh Cilantro is always better than dried, and prettier
Chopped Jalapeños can add some real heat to the dish. Add in when cooking or at the end as a topping.
Hot Sauce like Tobasco or Sriracha can make this spicy vs. mild.
And anything else that you're craving and wanting to add. Just set these ingredients out so that everyone else can dress up their own bowl.
If you're ready for a simple soup recipe this is it. You can easily make in time for your dinner table tonight. Healthy, hearty, and delish, this Instant Pot 15 Bean Soup needs to be on your radar now.
Then try our easy Crockpot soup with lots of beans too or our Instant Pot chili with dry beans recipe.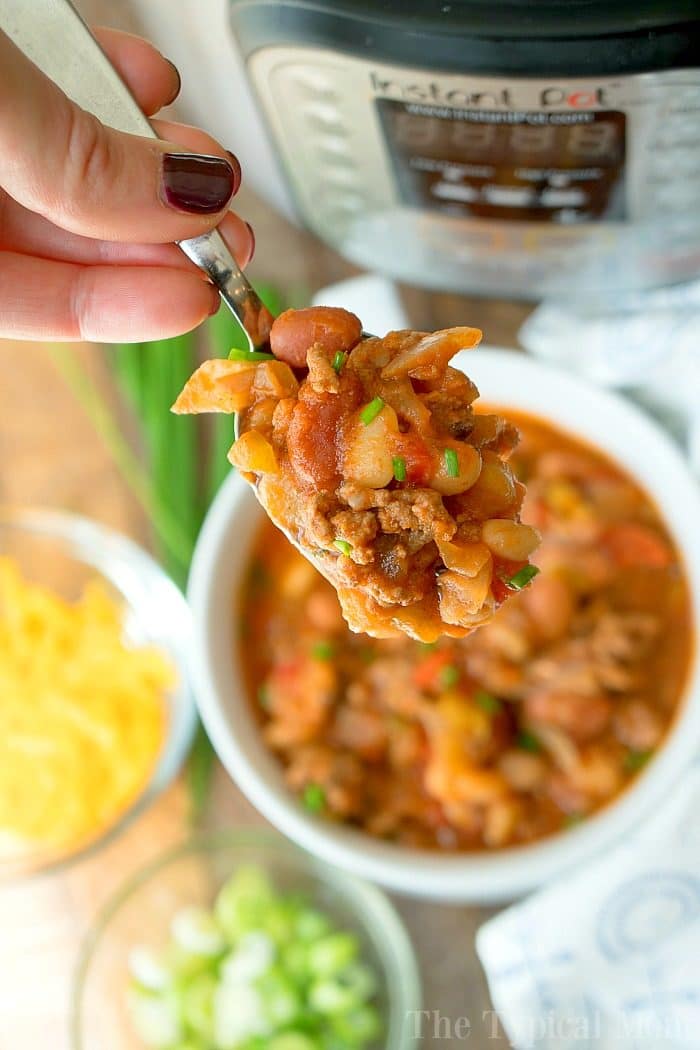 Not only is it perfect for the cold weather, but it really does warm your your belly right up. My kids love it no matter what proteins I throw in there. Since I hate wasting food I have tried it all. Diced up steak and/or ham are our favorites though.
How long can you keep leftover soup?
One last tip; If you find out that you have too much of this delicious soup to eat within a couple of days. Go ahead and toss it in the freezer for later.
Just add a freezer-proof container with a lid. Mark down the date that you're freezing it so that you know when you need to consume it.
Then, when you're craving any of our Instant Pot soup recipes again, just unthaw and enjoy! There is a chance that the beans might be a bit mushy at this point but it doesn't affect the flavor at all!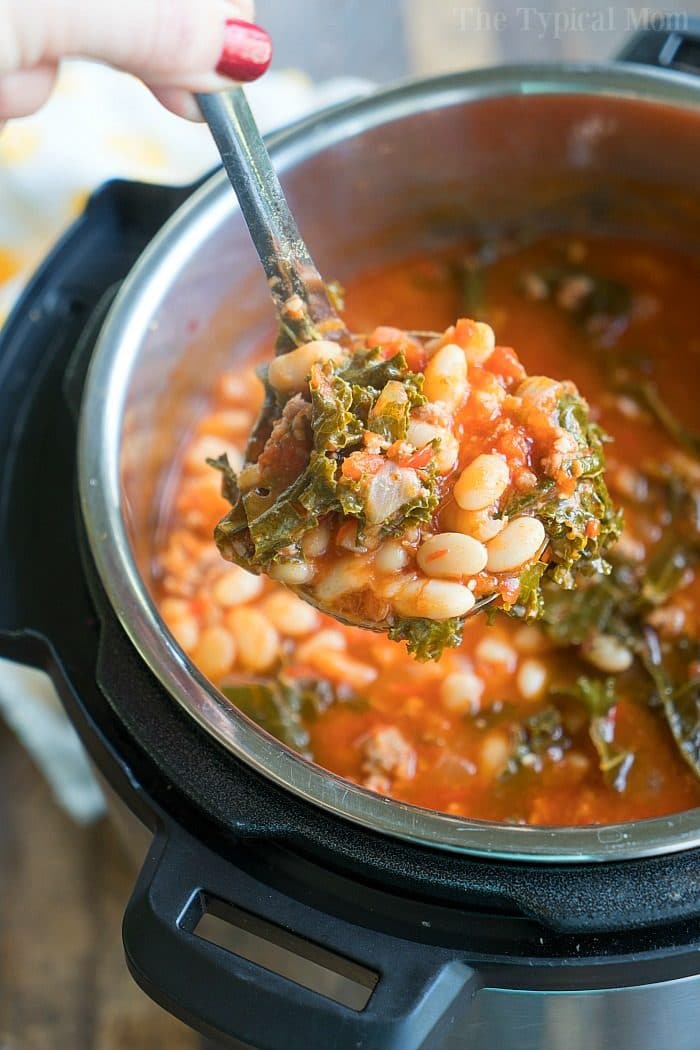 Pressure Cooker Soup with Dry Beans
Here are a few more pressure cooking recipes that take no time at all compared to the stovetop. Or Ninja Foodi soup recipes you'll enjoy because all the brands basically work the same way;
The one above is our pressure cooker sausage soup. With some softened kale and northern beans, it's full of awesome flavors.
It only takes 17 minutes to make homemade Instant Pot split pea soup. From dry to creamy and smooth for dinner, it's great with homemade rolls.
Then try our Crockpot loaded baked potato soup. If you have any more meat after the holidays that needs to be used up this is a great one to add all the things into.
Looking for other ideas to make this week while it is chilly outside? We have tons on our site like Instant Pot black bean soup too! Whoever said that soup was just a side dish was and is crazy. We serve it as a hearty dinner all the time I tell you.
Want to see a few of my favorite things that I am totally obsessed with?? Take a peek and see how many you might already have…twinsies!
Looking for more easy family recipes and tips? LIKE The Typical Mom Facebook page?
Then sign up for my free newsletter, and follow me on Pinterest! 😉
***** If you LOVED this recipe give it 5 Stars below and let everyone know what you thought about it. 😉
This soup recipe is one that is perfect any time of the year. It can be the real MVP during those cold, winter days!
Instant Pot 15 Bean Soup
Instant Pot 15 bean soup no soak is a healthy and hearty meal. A great leftover ham recipe that cooks in no time in your pressure cooker.
Instructions
Rinse dry beans in a strainer, add into pot.

Pour in ham, seasonings, onions and broth.

Secure lid and close steam valve. Set to 40 minutes high pressure followed by a natural release of pressure. If you use more than 12 oz. dry beans it would take longer to soften.

Stir, season with salt and pepper to taste when serving.
Nutrition Facts
Instant Pot 15 Bean Soup
Amount Per Serving (2 oz)
Calories 203
Calories from Fat 117
% Daily Value*
Fat 13g20%
Cholesterol 47mg16%
Sodium 1758mg76%
Potassium 433mg12%
Carbohydrates 3g1%
Protein 18g36%
Vitamin A 23IU0%
Vitamin C 18mg22%
Calcium 25mg3%
Iron 1mg6%
* Percent Daily Values are based on a 2000 calorie diet.