Best Instant Pot shrimp recipes you'll love. Simply steamed with butter and garlic, shrimp boil, or cooked with pasta. All one pot meals you can make in your Crockpot Express or Ninja Foodi too.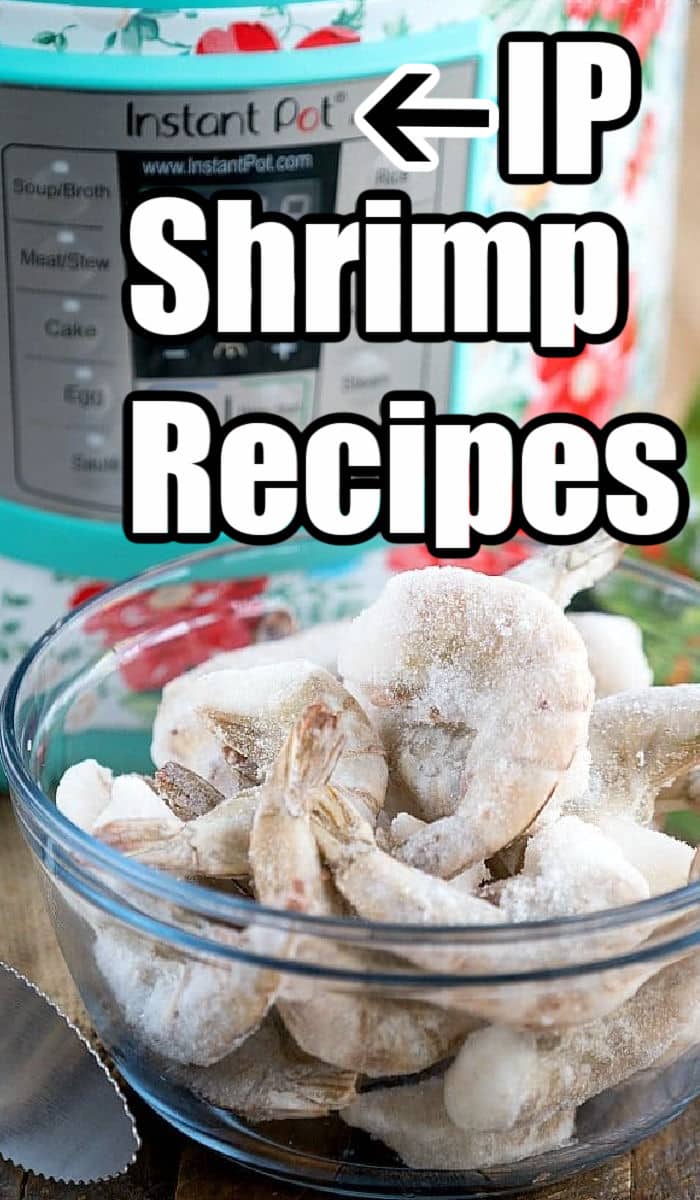 We make a lot of Instant Pot shrimp recipes because seafood is our favorite thing to eat! From simply steaming them to adding pasta for a complete one pot meal, they're all easy Instant Pot recipes you should try. (affiliate links present, originally published 2/21)
Instant Pot Frozen Shrimp Recipes
You don't have to use this brand of pot though. We use our Mealthy and make a lot of Ninja Foodi recipes a lot too. They all work basically the same with just a few variations on what they might call their buttons. All of these use just the saute and high pressure functions.
The funny thing about using this high pressure pot is that it doesn't matter whether the food you add is frozen or defrosted, the timing doesn't change.
FIRST – You should sign up for my free newsletter so you get new posts emailed to you twice a week and never miss out on anything! Now let's start with a few basic tips:
Make sure to Bookmark our InstaPot recipes page. We add new ones each week!
Then PRINT this —–> Instant Pot cooking times cheat sheet that will help you understand how long meat, vegetables and beans take to cook in your pressure cooker.
For reference, this is the pressure cooker I have (a 6 quart) and use for all recipe creations.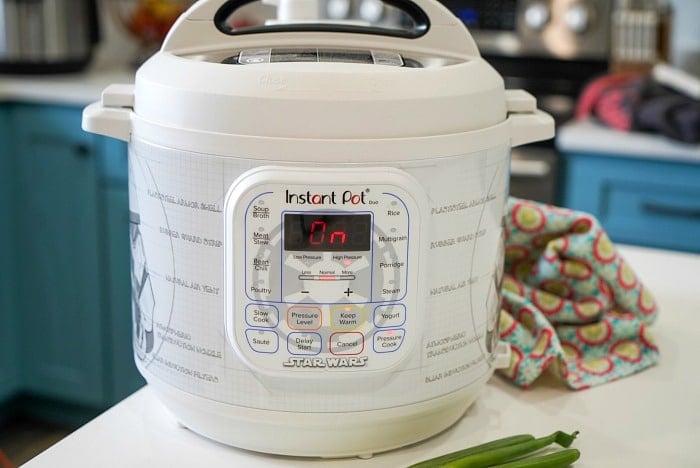 Instant Pot Shrimp and Vegetables
I started this journey by starting simple. Using a bag of jumbo frozen shrimp and wanted to see how long it would take to "defrost" them. Surprisingly 0 minutes was perfect. Yeah, seriously. You can add fresh broccoli florets with it and increase to 1 minute and have a healthy dinner with veggies and seafood.
For the most part I use this same type here because they are always available in the freezer section of the grocery store. I can take out a few at a time and make all sorts of things with them.
If I remember to defrost them beforehand I'll throw them in with some alfredo sauce and noodles which we all enjoy. I will share all of these ideas below. Here's my favorite size.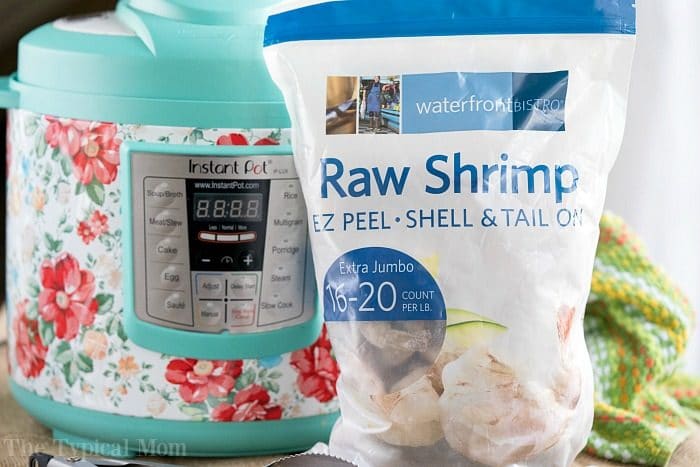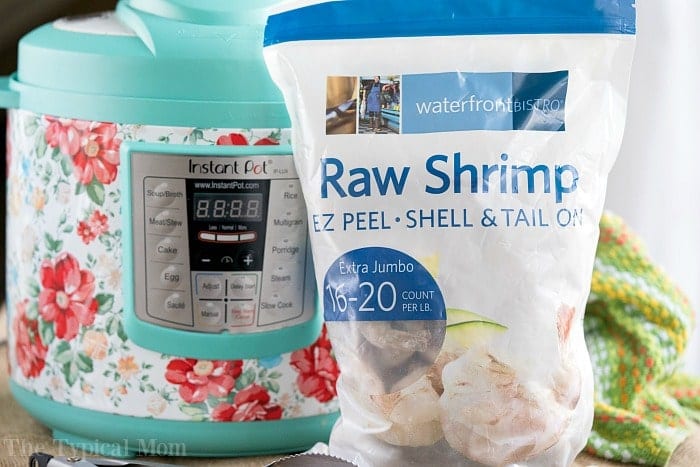 How to Cook Shrimp in a Pressure Cooker
If you want to steam shrimp in Instant Pot you can do that with a vegetable steamer basket. You just need a bit of water in the bottom and don't walk away.
You set your pot to 0 minutes with a quick release at the end. If you leave them in much longer they will be overcooked. That is why I say stay near.
Follow directions in my Instant Pot shrimp recipe here for that method. They go from rock hard to perfectly pink in no time.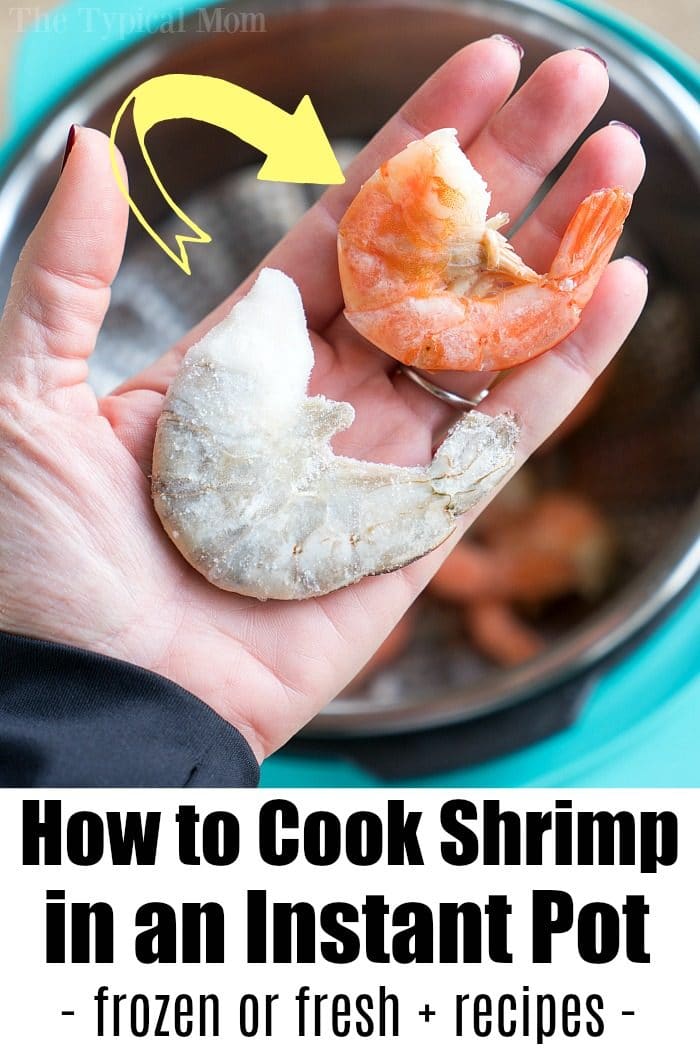 From there there is so much you can do with them really. They're great to just dip into cocktail sauce, serve on top of rice or with butter and garlic. You can make an Instant Pot pasta recipe and serve them on the side.
It's a low fat protein source so I'm all about that. Plus we love seafood of any kind. Next to these below, we make all different types of Instant Pot fish recipes. They're all just so versatile. You can even cook meat and vegetables in an Instant Pot together like this:
Instant Pot Shrimp and Broccoli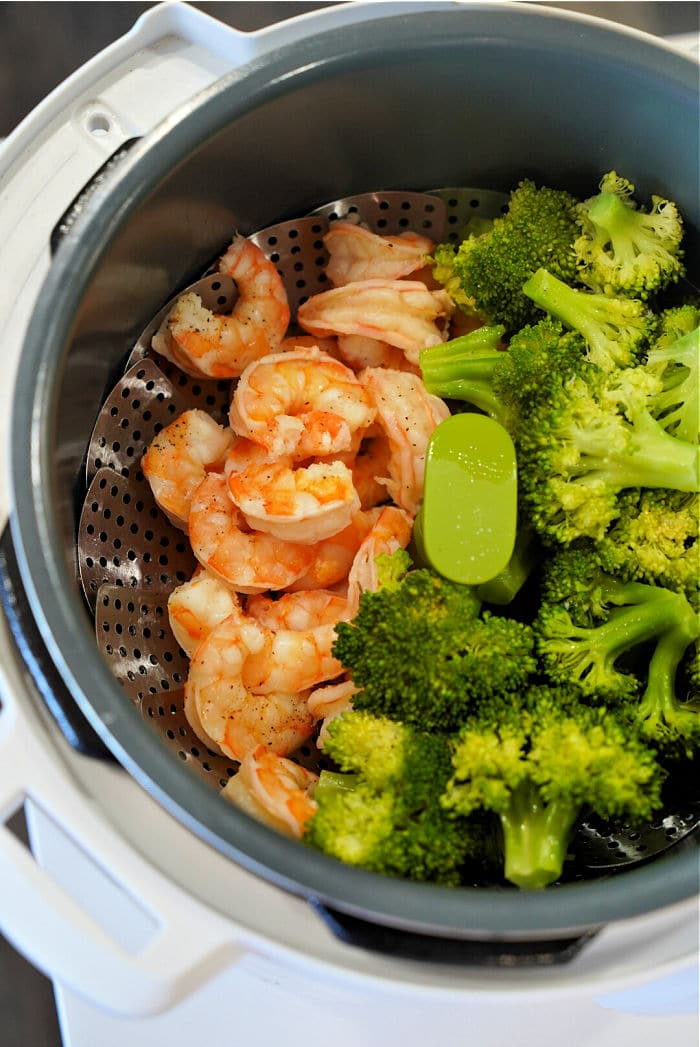 Want to see a few of my favorite things that I am totally obsessed with?? Take a peek and see how many you might already have…twinsies!
Looking for more easy family recipes and tips? LIKE The Typical Mom Facebook page?
Then sign up for my free newsletter, and follow me on Pinterest! 😉
***** If you LOVED this recipe give it 5 Stars below and let everyone know what you thought about it. 😉
Instant Pot Shrimp Recipes
Many Instant Pot shrimp recipes like alfredo, fajitas, cocktail, or cook Instant Pot shrimp and broccoli together in one pot.
Instructions
Place steamer basket in pot and pour water in. Remove shells and tails on shrimp and set on one side of basket.

Rinse and cut broccoli into florets, the smaller the softer they will be. Place in other side of basket.

Slice butter into 4, 1 tbsp pieces and place on top. Sprinkle on seasonings and close lid and steam valve.

Set to pressure cook high for 1 minute with a quick release when done.

Lift lid and remove from basket and serve immediately.
Nutrition Facts
Instant Pot Shrimp Recipes
Amount Per Serving (1 oz)
Calories 152
Calories from Fat 108
% Daily Value*
Fat 12g18%
Cholesterol 31mg10%
Sodium 738mg32%
Potassium 484mg14%
Carbohydrates 10g3%
Protein 4g8%
Vitamin A 1297IU26%
Vitamin C 136mg165%
Calcium 78mg8%
Iron 1mg6%
* Percent Daily Values are based on a 2000 calorie diet.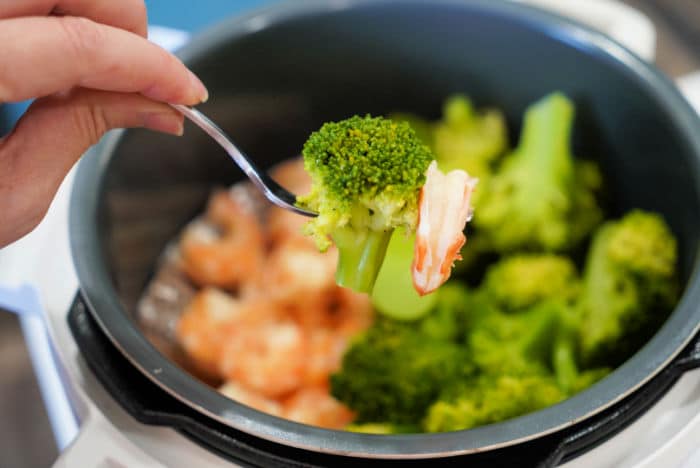 Is it bad to eat the black vein in shrimp?
It won't hurt you. It is just their digestive tract and doesn't look very appetizing so most people choose to remove it. Many times you can buy them already deveined too to make things easier.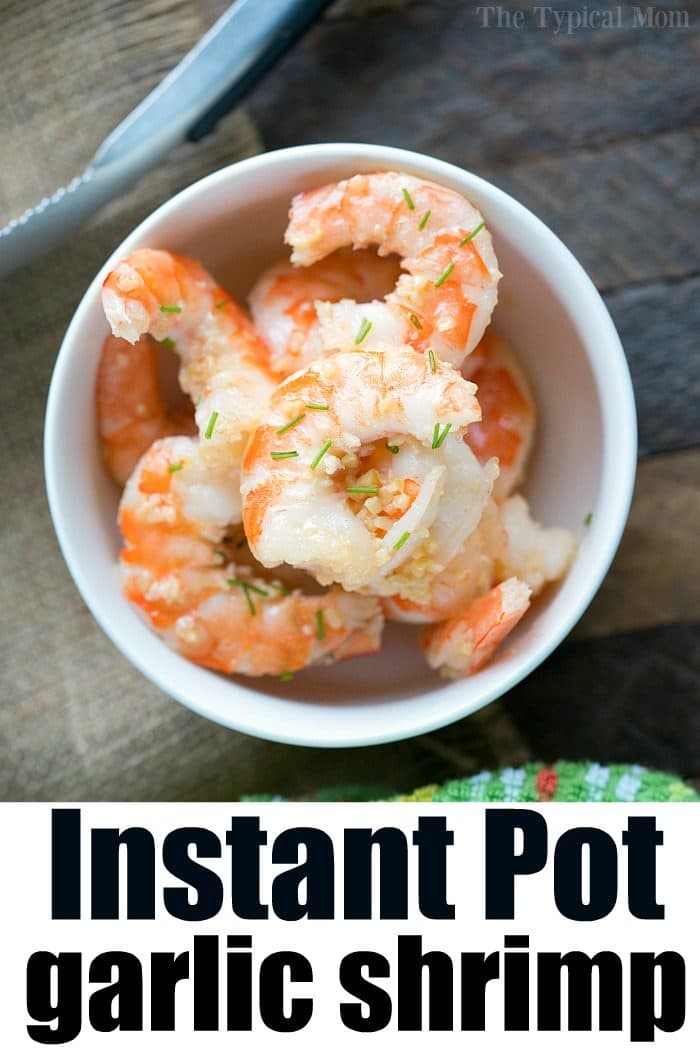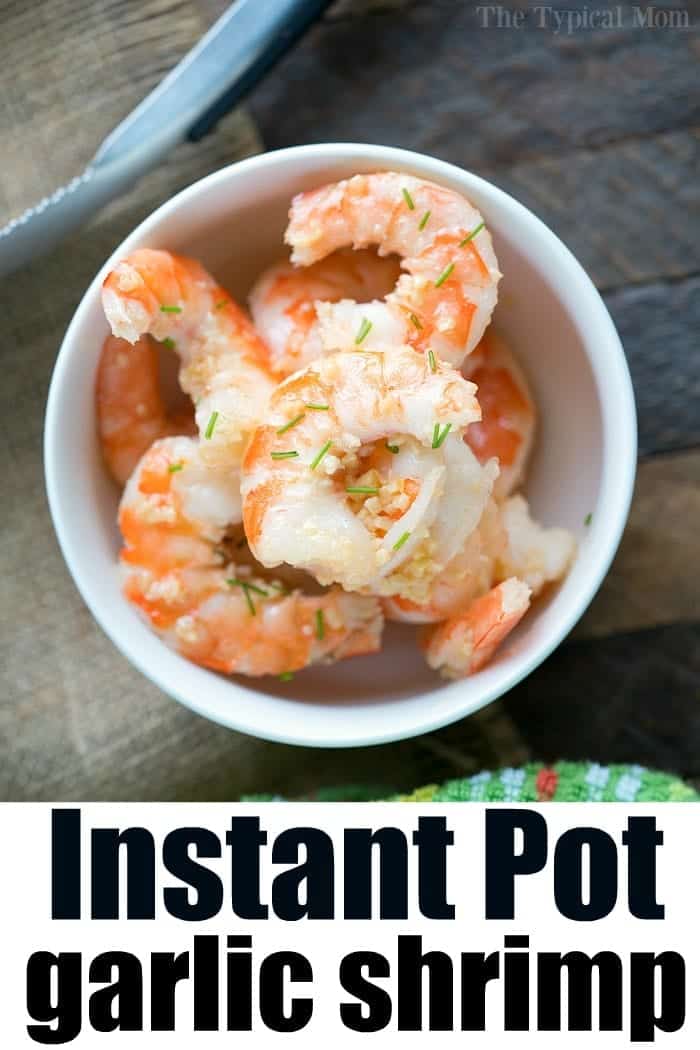 From the South or just love a good seafood boil? Us too!! Of course you can cook everything separately but a one pot meal is the ticket when you're a busy family.
This is probably my favorite Old Bay recipe of all time. Using petite potatoes, corn, sliced onions are great and your shrimp you can make this amazing dish.
I mean look at this shrimp boil y'all! You can amp up the spice if you want heat or leave it mild like we do. Melt some butter with garlic mixed in and OH MY you're gonna' want to make this weekly.
Pressure Cooker XL Shrimp Recipes
How do you steam shrimp in Instant Pot?
You'll need a vegetable steamer basket and some water. I like using jumbo tail on because they cook so fast. I don't like them overcooked so bigger is better. 0 minutes high pressure is all you need!
Can you immediately cook frozen shrimp?
You betcha! If you use your pressure cooker it is possible and comes out better than you might imagine. In about 8 minutes start to finish they'll be perfectly pink and tender.
These are all quick and easy recipes. If you want super easy and gluten free just skip the carbs and steam with salt and pepper with a squeeze of lemon juice. That is great with just some quinoa.
Want to add angel hair pasta though? Try our Instant Pot shrimp alfredo recipe with 1/4 cup shredded parmesan cheese on top!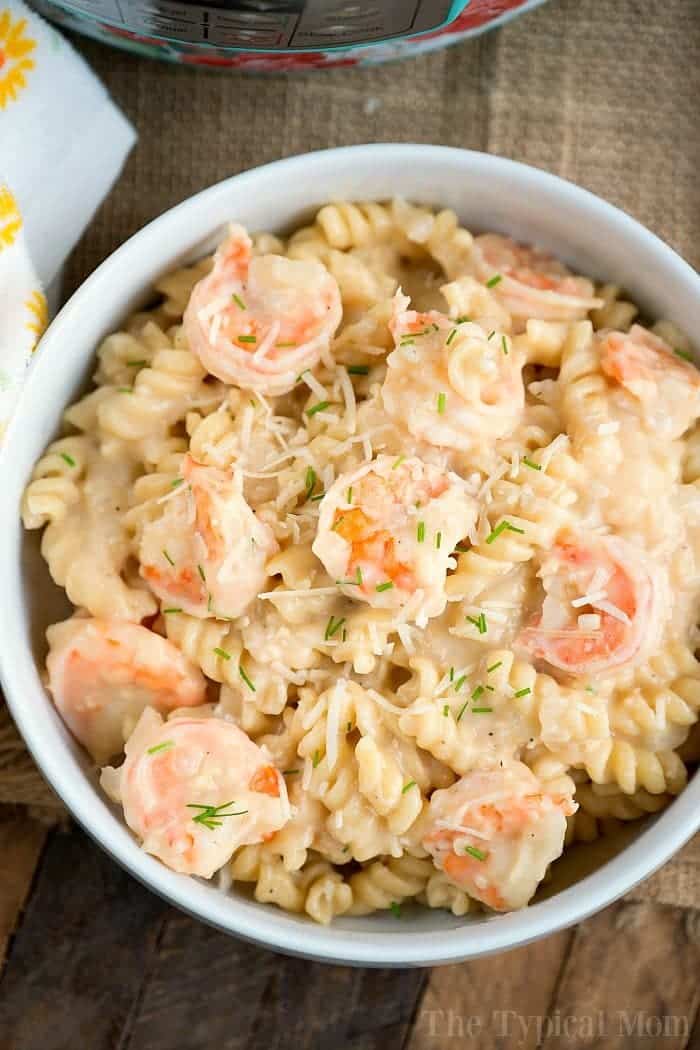 We used large instead of jumbo for this one. It gets five stars from everyone who has made it in their pressure cooker. They say it turns out great as is. Some cook the shrimp as we did, others use mini pcs. and add at the end to warm.
Another one with noodles and these pink guys cooked together is this Instant Pot bang bang shrimp with pasta recipe!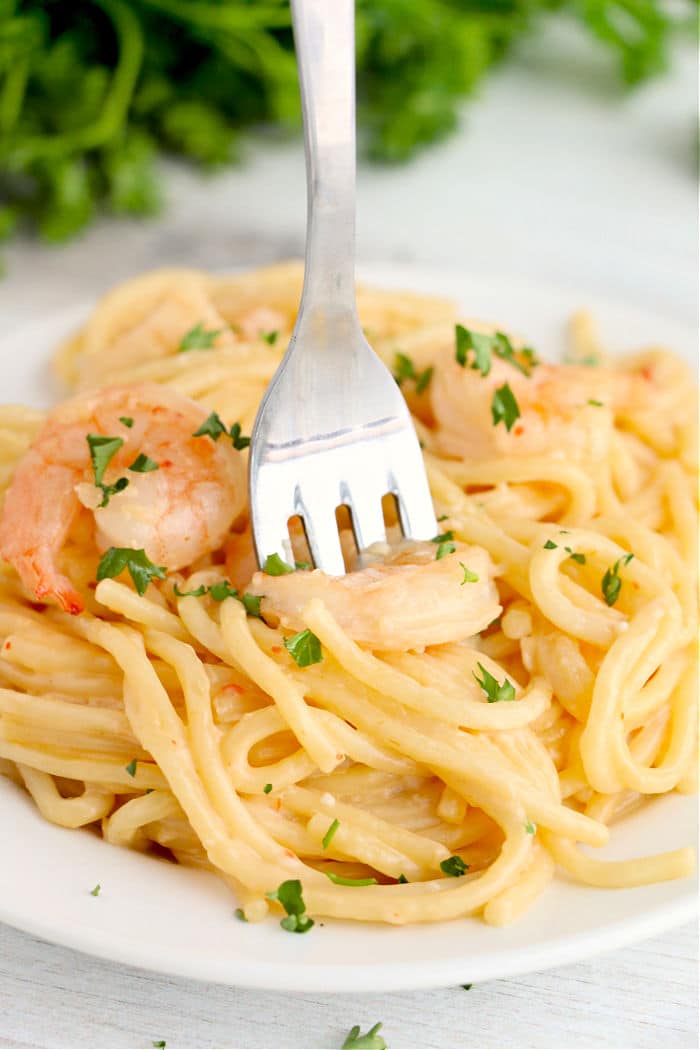 Click on any of the blue links you want to see in order to print recipe right then and there. As we make more we will continue to add it to this round up so bookmark it and come back in a bit for more.
If you have the CrispLid you can turn your Instant Pot into an air fryer and make even more though!
Cooking Raw Shrimp in Instant Pot
We love the recipes you can make with this device! From air fryer fried shrimp to frozen shrimp in air fryer and more, it's a game changer.
If you have an air fryer and pressure cooker called the Foodi you can do all of it! Or just pressure cook and then crisp at the end. The possibilities are endless.
Here's a great example. We made these air fryer fajitas with a medium defrosted bag of shrimp and bell peppers in our air fryer. You could do the same with the CrispLid too though. It transforms your Instant Pot.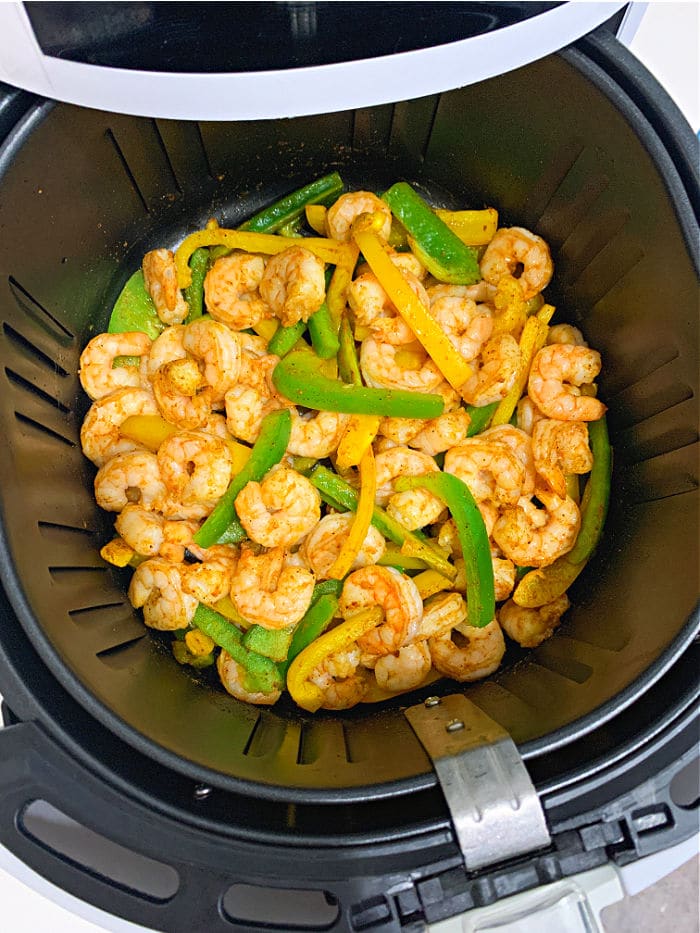 Shrimp Recipes Instant Pot
But the list goes on and on….. If you love bold flavors you can try the following meals like:
Shrimp paella with rice and chicken broth used as the liquid.
This shrimp curry sounds amazing too if you love those wild flavors.
You can make Instant Pot shrimp fried rice using our recipe. Just follow directions and add mini thawed shrimp at the end. Put lid on so they can steam a bit until they're warmed and serve.
And I love cooking multiple things at the same time like broccoli and shrimp together!
You could try this Instant Pot stir fry too and add some frozen peeled tail off shrimp instead of chicken. Easy swap out.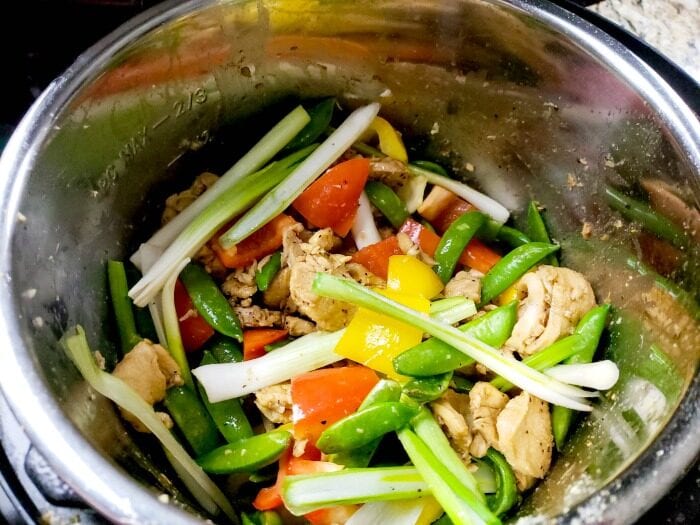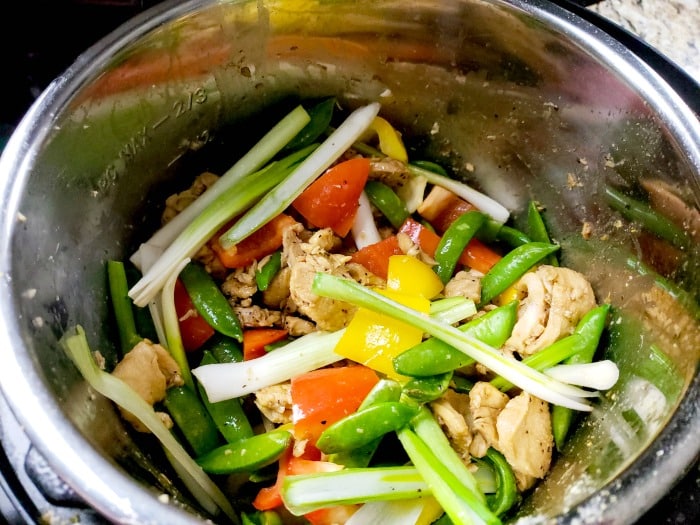 Want to try something new after you've enjoyed these?? We have a bunch of other ideas that come from the sea like:
You can try our oven fried fish that tastes like fried but with NO oil needed.
Our air fryer fish recipe shares all different types like tilapia, cod and salmon. All are great. You can even cook frozen fish in an air fryer!
Tender and delicious you can make Instant Pot fish with vegetables at the same time too. It's a great healthy duo even my kids love.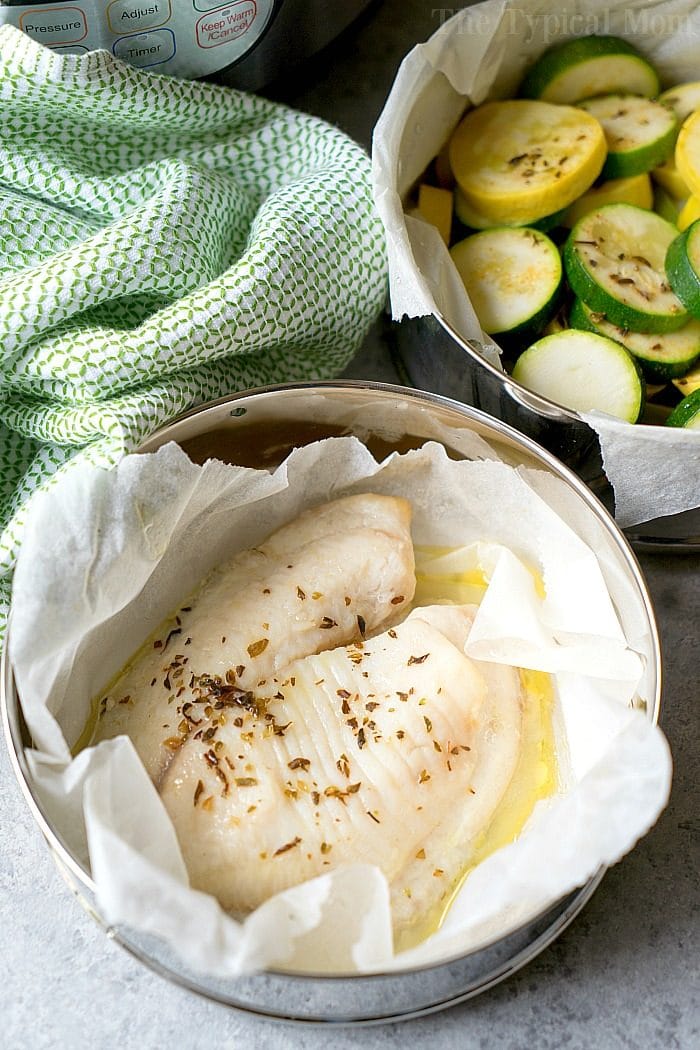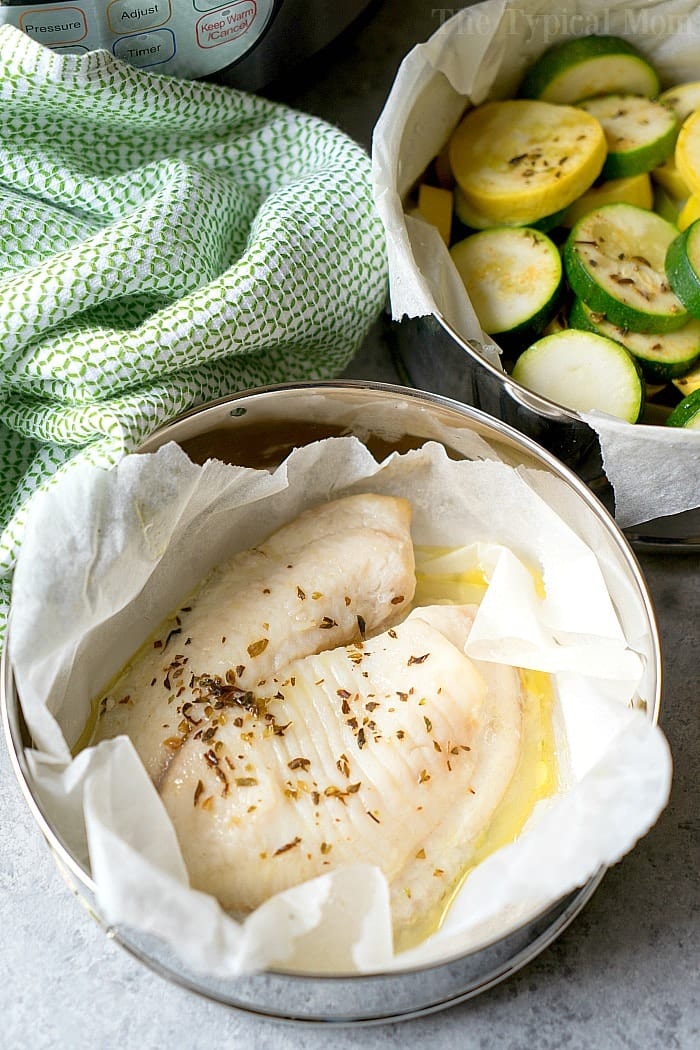 Have something else you make with these pink babies that we should try? Let us know below so we can give it a whirl this week. If it's a success I will link it here. 😉
Want to see a few of my favorite things that I am totally obsessed with?? Take a peek and see how many you might already have…twinsies!
Looking for more easy family recipes and tips? LIKE The Typical Mom Facebook page?
Then sign up for my free newsletter, and follow me on Pinterest! 😉
***** If you LOVED this recipe give it 5 Stars below and let everyone know what you thought about it. 😉