Instant Pot bang bang shrimp pasta is the best one pot meal your family will love. Made with a sweet and spicy killer sauce. Tender bites of seafood with noodles will be your next favorite pressure cooker meal. You can use your Crockpot Express or Ninja Foodi to make this too.
Once you make our bang bang shrimp sauce you not only will make it with this but as a dip later on too. Creamy and tangy with a little spicy if you want it is beyond delicious.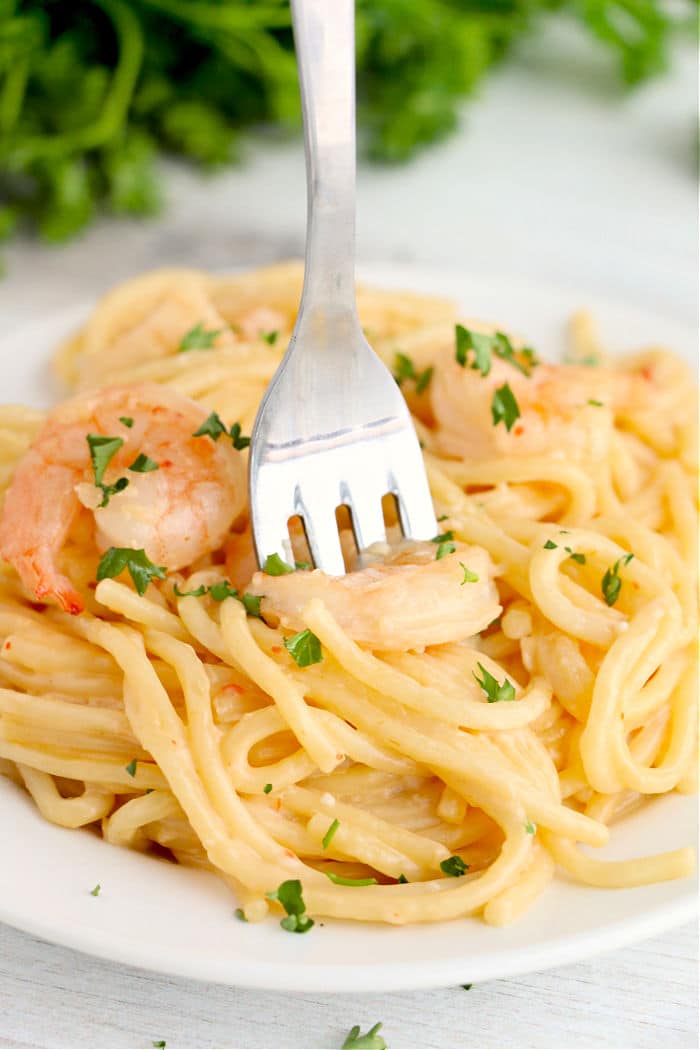 This Instant Pot bang bang shrimp recipe has become a new family favorite. Cooked all in one pressure cooker pot I can throw together a complete meal in no time. One of 101+ easy Instant Pot recipes here on the blog. (originally published 2/21, affiliate links present)
Ninja Foodi Bang Bang Shrimp
We have shared a bunch of Instant Pot shrimp recipes throughout the years. When you can add pasta into the mix that means one pot to clean and dinner cooked in under 20 minutes.
You can use your Ninja Foodi or other brand pot too to make this. With this homemade bang bang sauce you're surely want seconds…and maybe thirds….
FIRST – You should sign up for my free newsletter so you get new posts emailed to you twice a week and never miss out on anything! Now let's start with a few basic tips:
Make sure to Bookmark our InstaPot recipes page. We add new ones each week!
Then PRINT this —–> Instant Pot cooking times cheat sheet that will help you understand how long meat, vegetables and beans take to cook in your pressure cooker.
For reference, this is the pressure cooker I have (a 6 quart) and use for all recipe creations.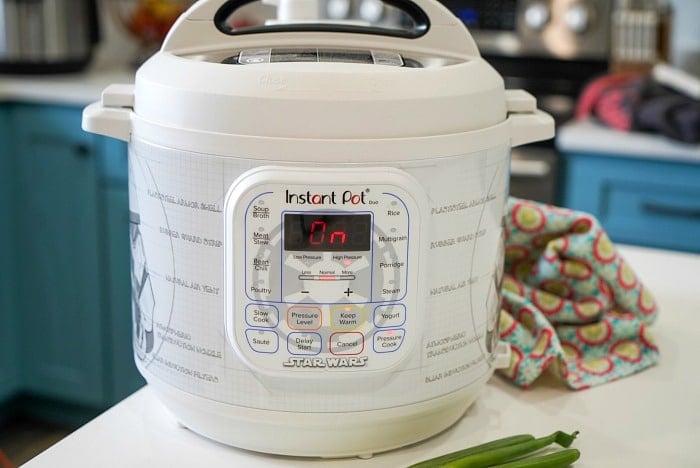 Instant Pot Bang Bang Shrimp no Pasta
You don't have to make noodles to mix this with if you didn't want to. Yes you can make just plain Instant Pot shrimp by itself. That is great if you need a gluten free meal, or just straight protein. We love bold flavors though!! You'll get that with this kick butt sauce I tell you. 😉
What is bang bang sauce made of?
Mainly it is mayonnaise, sweet chili sauce and some add hot sauce into the mix. Adjust that as needed depending on how spicy you want to make it. In a pressure cooker this comes out amazing!
Why is it called bang bang shrimp?
I mean it is just a fun name that means WOW to me. With a kick of Sriracha to amp up the heat it may just knock your socks off with every bite. Bonefish Grill made up the name originally.
Frozen Shrimp Pasta Instant Pot
Frozen shrimp, deveined with tail off shrimp were used and that is recommended to get them perfectly tender. There's nothing worse than overcooked shrimp.
Bang Bang Shrimp Instant Pot
You'll want to get the sauce ready while your pasta and meat is cooking. This will only take a few minutes and then you can set it aside until it's ready to stir together.
If you want it just sweet and tangy then omit the hot sauce all together. If you want a spicy sauce add 1 tbsp of Sriracha at a time, stir, taste, and adjust until it is perfect for YOU. Red pepper flakes are another option.
Beyond that you just need:
Mayonnaise

is the base of it. I do not recommend using Miracle Whip, reduced fat or fat free. Just go with the real stuff for the best flavor.

Sweet chili sauce

is so good. We use it to dip our egg rolls in, and make our Instant Pot grape jelly meatballs too.
Some like a squeeze of lime juice in it as well. If you haven't tried this add in give it a whirl on the side. If you like it add 1 tsp at a time until it is just right for your taste buds.
Pressure Cooker Bang Bang Shrimp
Just mix your mayo, sweet chili sauce, lime juice and Sriracha together until smooth. This is what it looks like. You will need a few other items of course. I add jarred minced garlic to just about everything I make. Of course that would be optional but is a must for me. A bit of olive oil will help noodles not stick together too. Just a tad.
Spaghetti noodles

broken into three equal parts so it gets nice and tender is necessary. If this is "against your religion" Just use something smaller like medium size shells that don't need to be broken.

Garlic

, I already expressed my obsession with this ingredient above…I could go on and on but I won't…

Olive oil

Broth

of any kind can be used. For this I think vegetable is great.
I recommend frozen large deveined tail off shrimp personally. Defrosted will get a bit more done and I don't like tough meat.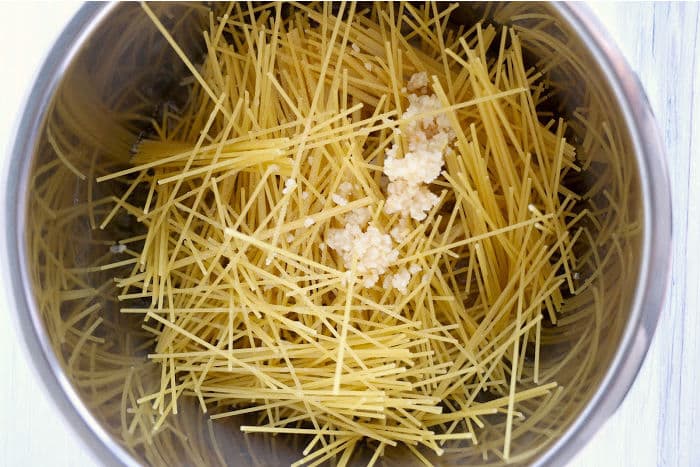 Instant Pot Bang Bang Shrimp Pasta
Now for adding noodles in an Instant Pot. There is a trick to this ladies and gentlemen. 😉 Just like when we explained our Instant Pot spaghetti to you, the rule stays the same.
You need to break noodles into thirds, don't cry Italians. You need them shorter in order to be submerged into the liquid and get tender. Then the broth goes in with the garlic, shrimp and salt and pepper.
I got a lot of flack over this when I first shared this method years ago. People said it wasn't right to break noodles, ever. Well when you're making just about any of our Instant Pot pasta recipes you'll need to.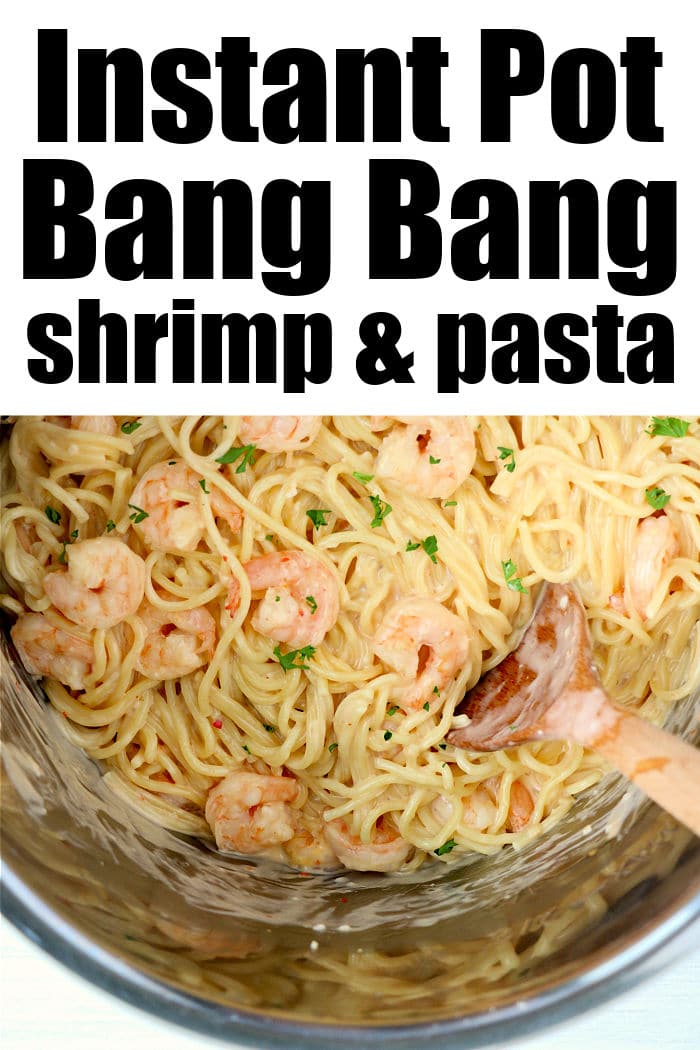 If you are totally opposed to the idea of breaking noodles, then use something like medium size shells or penne. Here's how you make this pressure cooker pasta dish:
Break spaghetti noodles 3rds and put into the pot. Make sure to sprinkle them in so they go in at different directions so they won't be sticking together.
Pour vegetable broth over noodles. Add frozen shrimp, garlic, olive oil, salt and pepper on top of that.
Seal pressure cooker lid and steam valve. Set to high pressure for 4 minutes cook time with a quick release when done.
While cooking whisk together mix the sauce together in a medium bowl. Mayonnaise, chili sauce, and add Sriracha if you want heat in the bowl well.
Open lid, stir contents to separate noodles, then pour your mayo sauce on.
Stir together to coat everything in the pot nicely. Serve with some shredded parmesan cheese on top.
Top with green onions and serve in bowls! I mean you don't need a side. You have your carbs and protein together but broccoli is a good
How to you reheat bang bang shrimp?
If you aren't making a dish that includes pasta like this one you might want to use your oven. My air fryer fried shrimp using this same sauce is amazing, and best eaten fresh for sure. BUT can be reheated at 400 F. In case of this one with noodles I would freeze in souper cubes. Then you can reheat just one serving at a time.
Pop out into an oven safe dish. Reheat in your microwave in 30 second intervals stirring in between. Top with additional parmesan before the last cook time so it melts and serve!
Ideally it is best if you make more bang bang sauce and toss with some more at the beginning. It will get a bit drier in the fridge but this will help moisten it back up.
Want to try another favorite shrimp recipe?? Give our Instant Pot shrimp alfredo a whirl this week too!!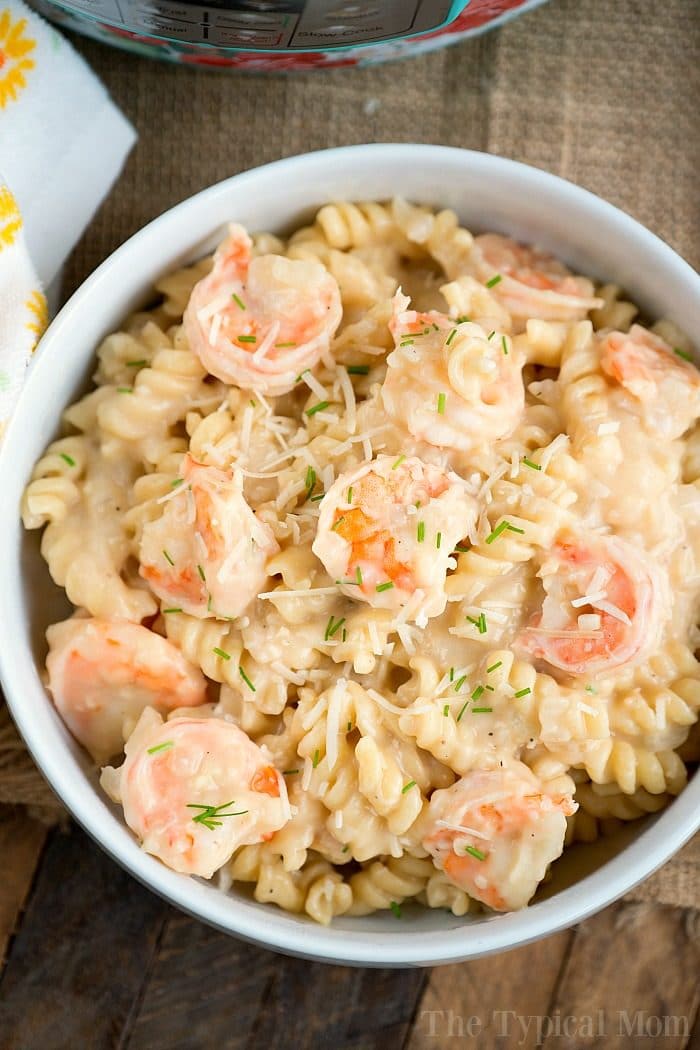 Who has Bang Bang Shrimp?
If you don't want to make it yourself, or you want a different version then visit Bonefish Grill. We have one in Boise but you can search their website to see if there is one near you too. OR make this copycat air fryer bang bang shrimp at home.
Nowadays it is kinda' easier to make a copycat recipe right at home though. With the right ingredients you can tweak the spiciness to your liking and enjoy dinner together for a lot less money. Let us know what you think!
If you do happen to have leftovers they save quite well, just remember to keep all of the sauce in that pot. Let it cool completely and then move it to a container with a tight lid on top. Transition to a microwave safe bowl when reheating and warm for about 1 minute. You don't want to overcook shrimp or it will become rubbery.
Want to see a few of my favorite things that I am totally obsessed with?? Take a peek and see how many you might already have…twinsies!
Looking for more easy family recipes and tips? LIKE The Typical Mom Facebook page?
Then sign up for my free newsletter, and follow me on Pinterest! 😉
***** If you LOVED this recipe give it 5 Stars below and let everyone know what you thought about it. 😉
Instant Pot Bang Bang Shrimp
Instant Pot bang bang shrimp and pasta cooked together is the best one pot meal for your family. Made with a killer sauce and tender seafood.
Instructions
Break spaghetti noodles into thirds and put into the pot sprinkling them in so they're in different directions to avoid sticking together.

Pour broth over noodles, add shrimp, olive oil, garlic, salt and pepper on top.

Seal pressure cooker lid and steam valve. Set to high pressure for 4 minutes with a quick release when done.

While cooking whisk together the sauce with mayo and chili sauce in a bowl. When noodles are done open lid, stir to separate noodles, pour mayo sauce on and stir together to coat everything in the pot nicely.

Serve with some shredded parmesan cheese on top.
Nutrition Facts
Instant Pot Bang Bang Shrimp
Amount Per Serving (2 oz)
Calories 619
Calories from Fat 207
% Daily Value*
Fat 23g35%
Cholesterol 202mg67%
Sodium 2024mg88%
Potassium 237mg7%
Carbohydrates 74g25%
Protein 26g52%
Vitamin A 311IU6%
Vitamin C 3mg4%
Calcium 129mg13%
Iron 3mg17%
* Percent Daily Values are based on a 2000 calorie diet.