This air fryer fried shrimp recipe is amazing! With a light breading & tons of flavor they're crispy to perfection in just a few minutes with NO frying required.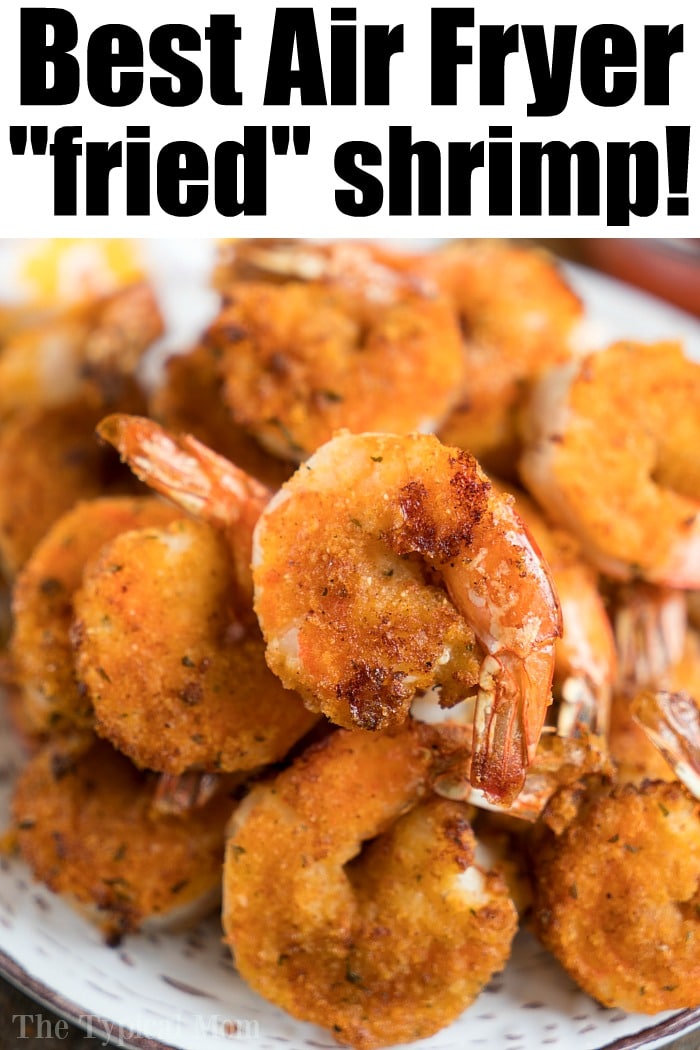 We are kinda' obsessed with seafood so air fryer fried shrimp was on our list to try this week. It came out more amazing than I had imagined! If you love air fryer recipes we have a lot on The Typical Mom site to try beyond this one.
Here are a few resources to start with:
I made air fryer fried shrimp two ways, the second way was over the top YUM!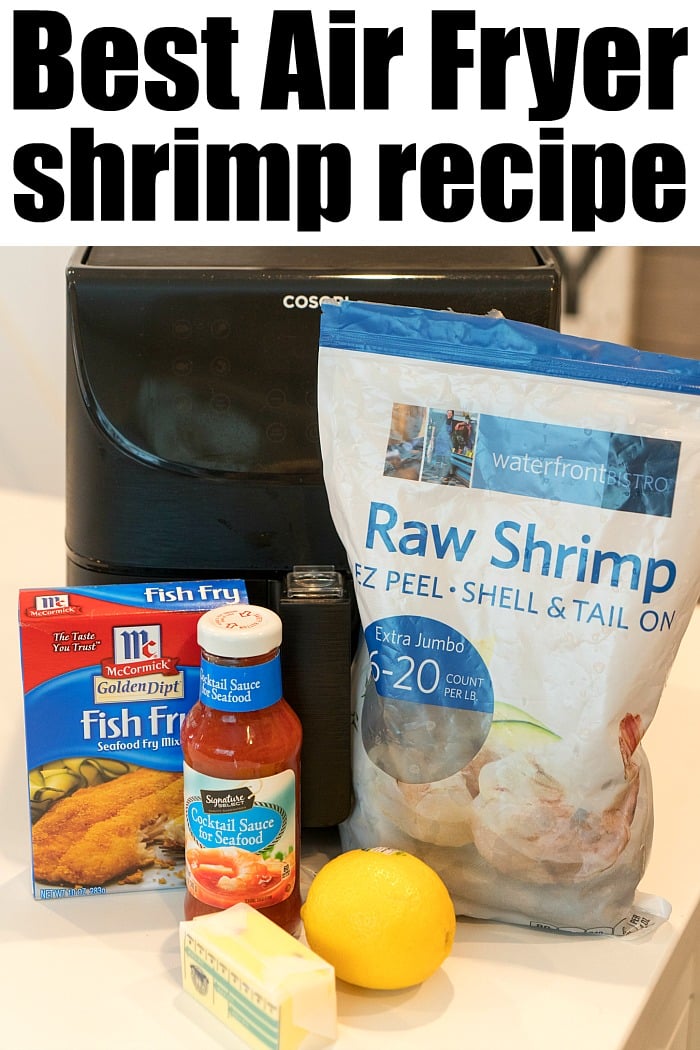 Can you put shrimp in an air fryer?
YES! We will show you how here.
I started with this boxed fish fry mix which turned out okay, but bread crumbs with seasonings I threw in turned out much better. The only thing I didn't like about this one was it tasted a bit grainy. Even after being sprayed with olive oil the Italian bread crumbs worked better. Lesson learned.
Like I said, we LOVE anything that comes out of the sea.
Like our air fryer wings and air fryer zucchini chips, this air fryer shrimp recipe is quite healthy as it isn't deep fried. BUT it sure does taste like they have been! The outside comes out super crispy, yet the meat inside is still tender.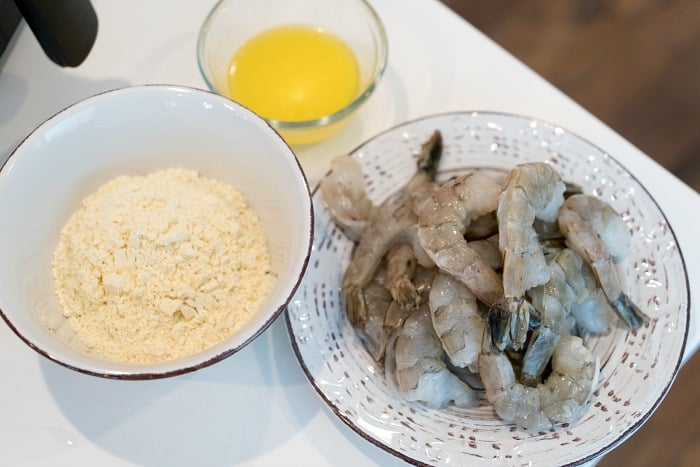 This is what you'll need to make the 2nd AMAZING version of air fried shrimp.
Shrimp – We used Jumbo so timing is appropriate for that size. Shrimp were defrosted, shells removed, and deveined before being battered.
Italian bread crumbs
Taco seasoning – seriously!
Garlic salt
Butter
Salt and pepper to taste
I know, sounds kinda' funny to put taco anything on shrimp but wow did it ever give it a wonderful flavor. I asked my husband (who says he doesn't like taco seasoning period, even for tacos) after he finished an entire plate of these what he thought. He said "they were so good!", then I told him what I used to make them. Yep, had to admit he may be wrong about that spice. 😉
As you can see above I bought a bag of frozen jumbo shelled shrimp. They sat in the freezer for quite some time and really needed to be cooked. That is when I thought of creating some sort of air fryer shrimp recipe.
Keep in mind that shrimp shrink quite a bit when they're cooked. Jumbo really becomes a medium size so they're ideal.
A perfect bite size for everyone in our family. I wouldn't use a smaller size.
How do you know when fried shrimp is done?
The exterior should be pink with red tails. Flesh will be slightly opaque and white in color.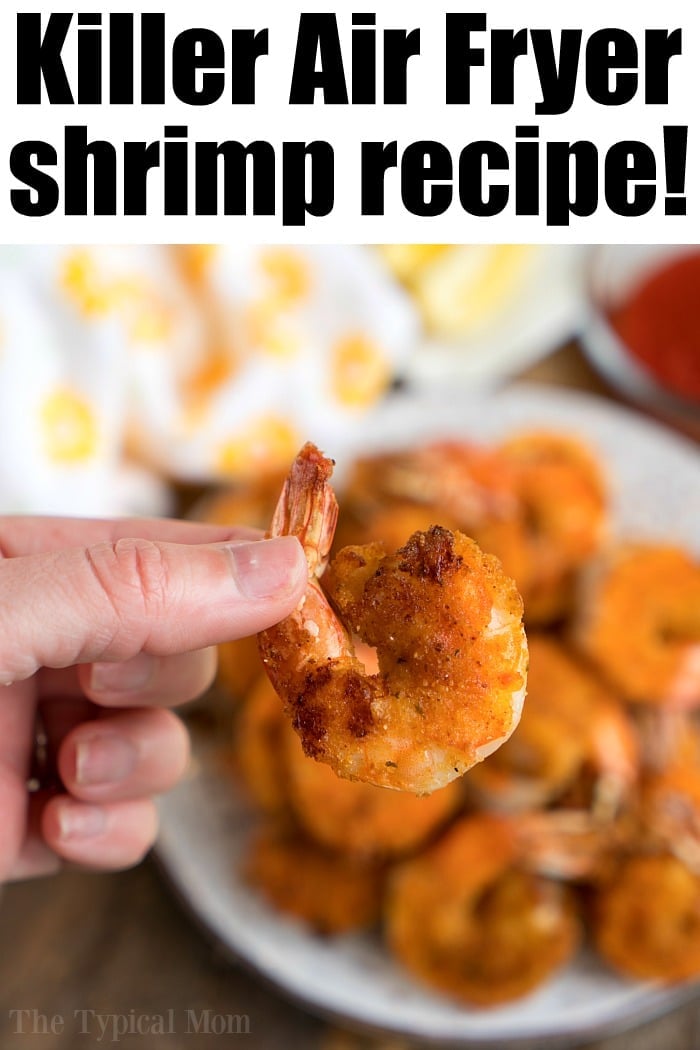 How do you cook pre cooked shrimp in an air fryer?
Place a single layer of frozen popcorn shrimp into your air fryer basket.
Cook at 375 degrees for 7-9 minutes, flipping halfway through the cook cycle
Eat immediately for best results
Can you cook air fryer frozen shrimp? <—— YES we show you how here.
Cooking any sort of breaded frozen shrimp in an air fryer would follow this same timing with slight variations depending on the size of them.
If you're trying to figure out how long to cook a variety of foods in your air fryer, use this printable air fryer cook times sheet.
It helped determine how long to cook air fryer frozen chicken nuggets and more.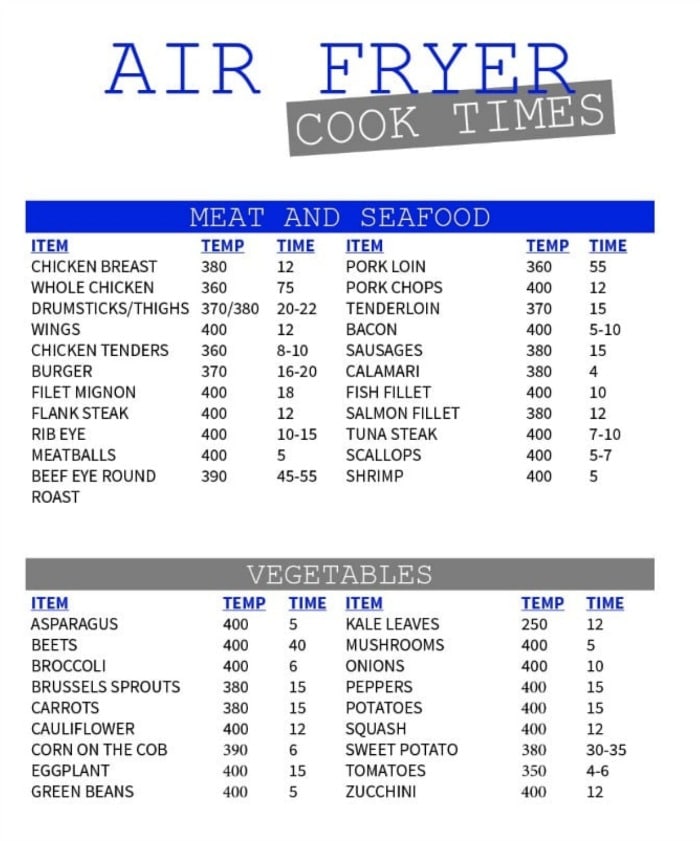 What goes with fried shrimp?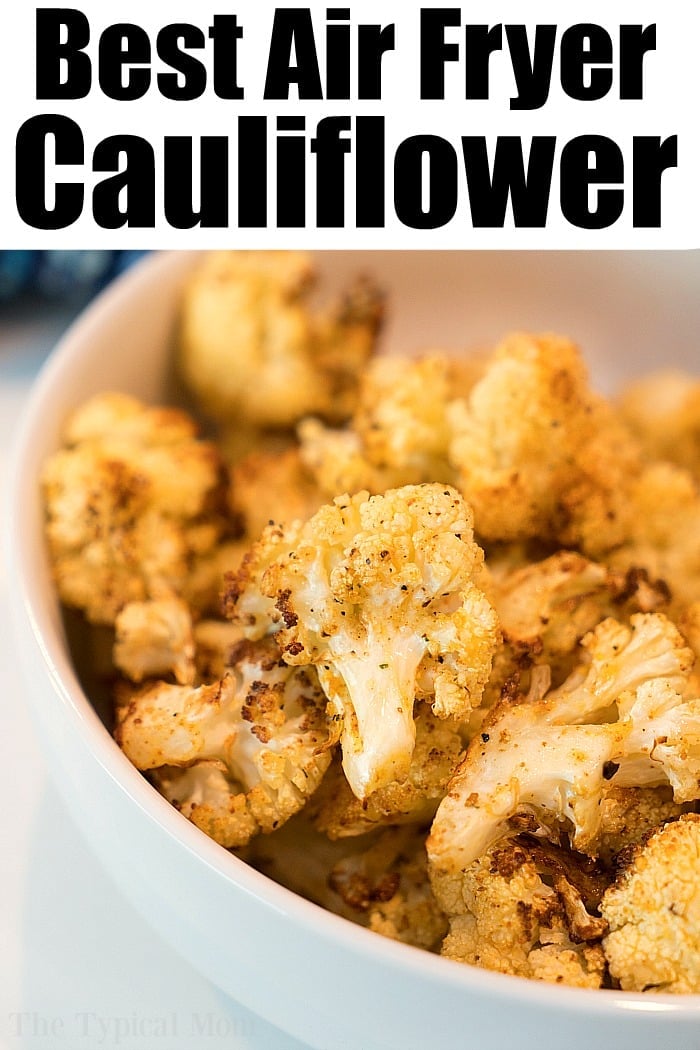 Steps to follow:
Prepare shrimp like you see here, I prefer leaving the tails on
Melt butter in a bowl and mix dry ingredients in another
Dip shrimp in the butter, then dredge in bread crumb mixture
Shake off excess and add shrimp into air fryer basket and cook in one layer
Spray with olive oil and set air fryer to 400 degrees for 5 minutes!
Shrimp cook to perfection, enjoy immediately.
For more easy recipes, tips and free printables please LIKE The Typical Mom on Facebook and follow me on Pinterest! You can also sign up for my free weekly newsletter which is packed with goodies I know you'll love. 😉
Best recipe for air fryer breaded shrimp below.
Air Fryer Fried Shrimp
This air fryer fried shrimp recipe is amazing! With a light breading & tons of flavor they're crispy to perfection in just a few minutes with NO frying required.
Instructions
Melt butter in a small bowl in microwave for about 30 seconds. Take shells off shrimp, devein them and pat dry with paper towels.

In a bowl mix bread crumbs and seasonings. Preheat air fryer now for 3 minutes at 400 degrees.

One at a time dip your shelled deveined jumbo shrimp into the butter, then into the bread crumb mixture. Use a spoon to completely cover the shrimp (keep tails out of mix). Carefully shake off excess crumbs and put into preheated air fryer.

Fill basket with as many as possible without overlapping them. Spray all of them with olive oil spray.

Close lid or push in basket and cook at 400 degrees for 5 minutes (for jumbo, smaller would not take as long). I did a round flipping them and one where I didn't. I think not flipping came out better as breading stayed in tact better.

Enjoy immediately for best taste.
Nutrition Facts
Air Fryer Fried Shrimp
Amount Per Serving (3 oz)
Calories 188
Calories from Fat 99
% Daily Value*
Fat 11g17%
Cholesterol 76mg25%
Sodium 1836mg80%
Potassium 59mg2%
Carbohydrates 16g5%
Protein 7g14%
Vitamin A 334IU7%
Vitamin C 1mg1%
Calcium 72mg7%
Iron 1mg6%
* Percent Daily Values are based on a 2000 calorie diet.