Air fryer frozen chicken nuggets in your Ninja Foodi or any other brand so they're tender inside and really crispy on the outside. Once you try it this way you'll never ever go back to the oven or microwave!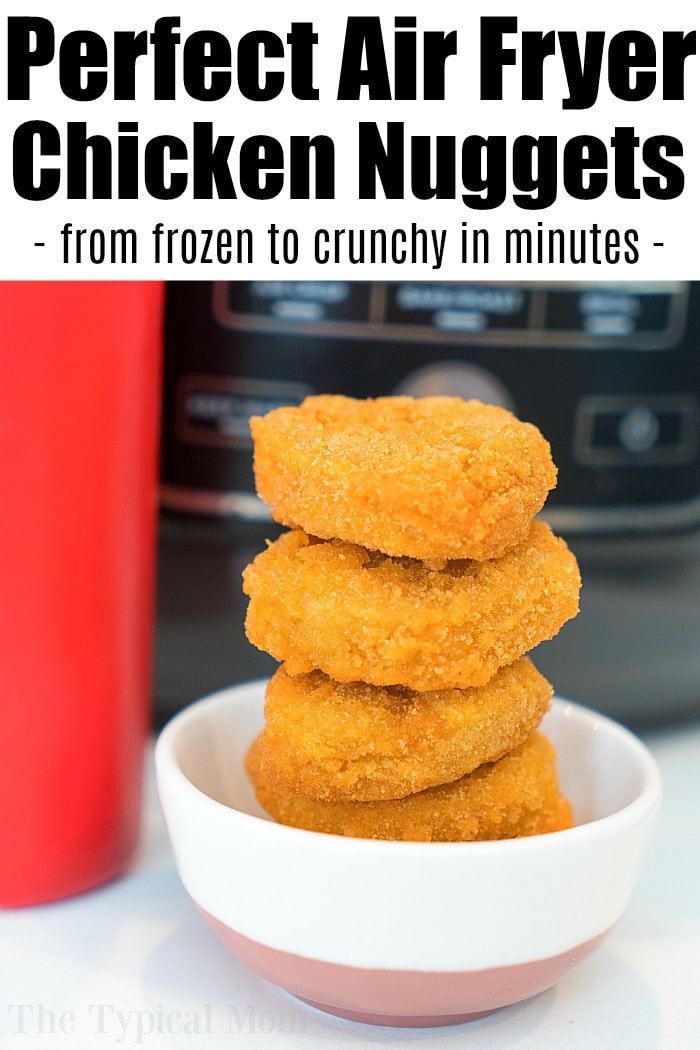 You might also wonder why you'd want to use this method versus throwing them into the oven. Let me tell you that air fryer frozen chicken nuggets are WAY better than the "old fashioned" way. This and more listed on our list of easy air fryer recipes. (originally published 5/19, affiliate links present)
Ninja Foodi Frozen Chicken Nuggets
Yes you can make homemade chicken nuggets or air fryer popcorn chicken but when you're in a hurry this kitchen hack is the best. You get really tender chicken with the perfect crispiness on the outside. It is as crunchy as frying chicken without the oil. It is a game changer for sure.
Fast forward a few years since I first made these and now several brands have instructions on the back of the package. If yours doesn't no worries, we have you covered. 😉 So simple even my teenagers will make these all on their own after school, and before dinner.
FIRST – You should sign up for my free newsletter so you get new posts emailed to you twice a week and never miss out on anything! If you love air fryer recipes too, here are some resources to start with: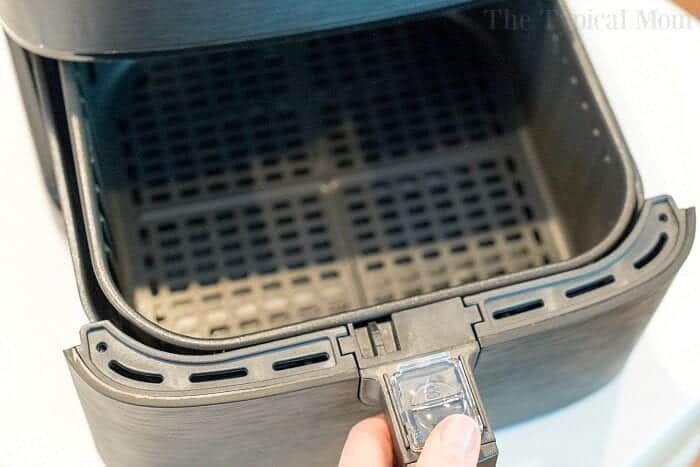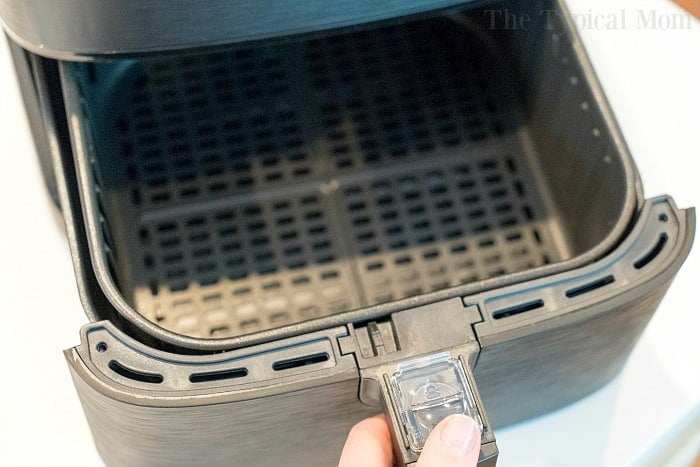 Air Fryer Chicken Nuggets
Are you obsessed with this new air fry kitchen appliance too?? I am! We've been making Ninja Foodi chicken nuggets for weeks now and can't get enough. We even made frozen salmon in air fryer and that was amazing. If you were ever hesitant to cook something right out of the freezer you're in for a real treat.
We made homemade ground chicken nuggets using bread crumbs the other day, then tackled our bag in the freezer! Yes from scratch is delicious right, but we are busy so let's get real. I don't always have time to do all the things so ready made does come in really handy on those days (which are many).
Air Fryer Dino Nuggets
These would take about the same time. They are slightly larger but misshapen so not that much wider and certainly not thicker. I would use the same timing listed below. The only real difference between all of these is how crispy and golden you want the outsides. A spray of olive oil will intensify this as well as more time.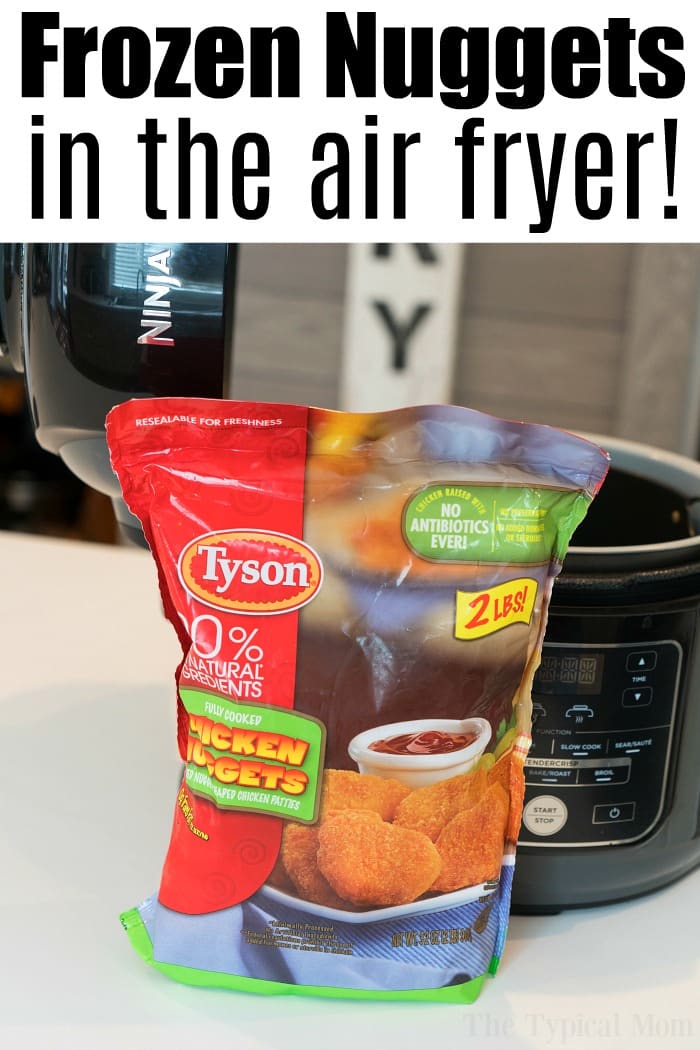 What is the best brand of chicken nuggets?
That depends on who you ask. I prefer one like this that uses no antibiotics. More importantly I look for a brand that uses all white meat from chicken breasts. I think it is less processed tasting.
Honestly I am a very frugal shopper HOWEVER, you can taste the difference in nuggets if you spend a bit more to get the better stuff.
Tyson and Applegate Naturals are great choices for us.
How long to air fryer dino nuggets
About the same time as the oval type. Tyson is who offers these fun shapes. They are a bit larger than the ovals but narrower in different spots which means it evens the timing out. I wouldn't change a thing from what is listed below in the recipe card if you have these.
What are the healthiest chicken nuggets?
They are all going to have fillers but you can make them healthier by NOT frying them. That's where this recipe comes in handy. You'll find this and how long to cook other foods on our air fryer cook times chart.
Ninja air fryer frozen chicken nuggets
Why are chicken nuggets better in the air fryer versus the oven?
First of all I don't like turning on my oven during the summertime. Let's save on the cooling bill shall we. 😉
It's a fun food for kids that cooks lot faster using this method, no need to heat up the oven.
Nuggets get a crunchier outside this way, with the middle remaining tender.
It's a great method if you have older kids so they can make an after school snack quickly by themselves.
Sometimes I just want a little something too and feel guilty heating up the oven for just a handful. This way I can throw in some just for myself and be done in just 12 minutes flat!
Seriously…this and frozen mozzarella sticks in air fryer are game changers. We don't make them any other way now!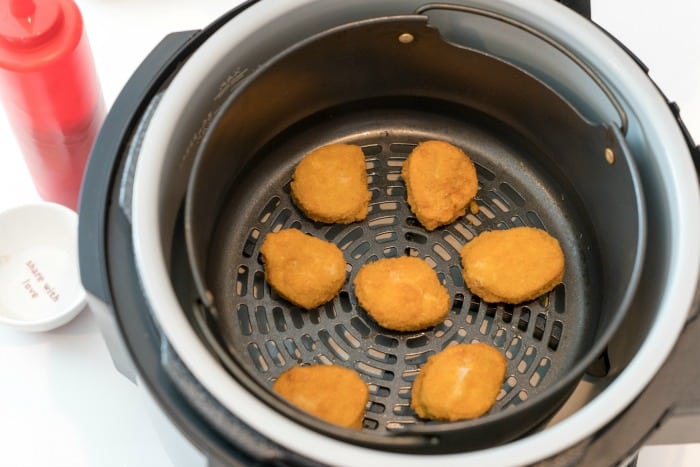 How do you cook frozen chicken nuggets in an air fryer?
Step 1 – Get out your bag of frozen nuggets and put as many as you'd like into your air fryer basket (there's no need to preheat the air fryer for this). If you want them very crispy do not overlap them.
Close your lid and set to air crisp at 400 degrees for 12 minutes.
Now don't walk away because you're going to want to flip them halfway through to get them as crispy as possible.
Then flip each one over after minute 5 and close lid again until the timer is up.
If you want even crispier add an additional minutes or just leave them in for a few minutes instead of immediately removing them.
If you spray the chicken nuggets with a bit of olive oil during the last 2 minutes it makes your chicken pieces extra crispy too
12 min. total has worked great for us though
Once done remove, put on a plate with some dipping sauces, and enjoy your air fryer chicken nuggets.
Reheat Chicken Nuggets in Air Fryer
If you made too many or have leftovers from McDonalds and want to eat them the next way, make sure to throw them in to crisp again! 400 F for 3 minutes should do the trick for ya'.
What do you dip chicken nuggets in?
Ok so I had so many questions about this that I made an entire lineup of possibilities. My little ones always liked lots of choices and I would add a few to different mini Dixie cups and they loved it. Try this with a few of our chicken nugget dipping sauces.
Ketchup is a given for these and chicken tenders
Fry sauce is the bomb!
Barbecue sauce – this is our favorite
I save our extra Chick Fil A sauce packets and use them at home when I make these!
Thousand Island dressing
A light sprinkle of parmesan cheese on top of them is yummy too. I will admit that many times I will just eat them plain wrapped in a paper towel as I jet out the door to pick up kiddos. Take your pick, any way you slice it they're great this way.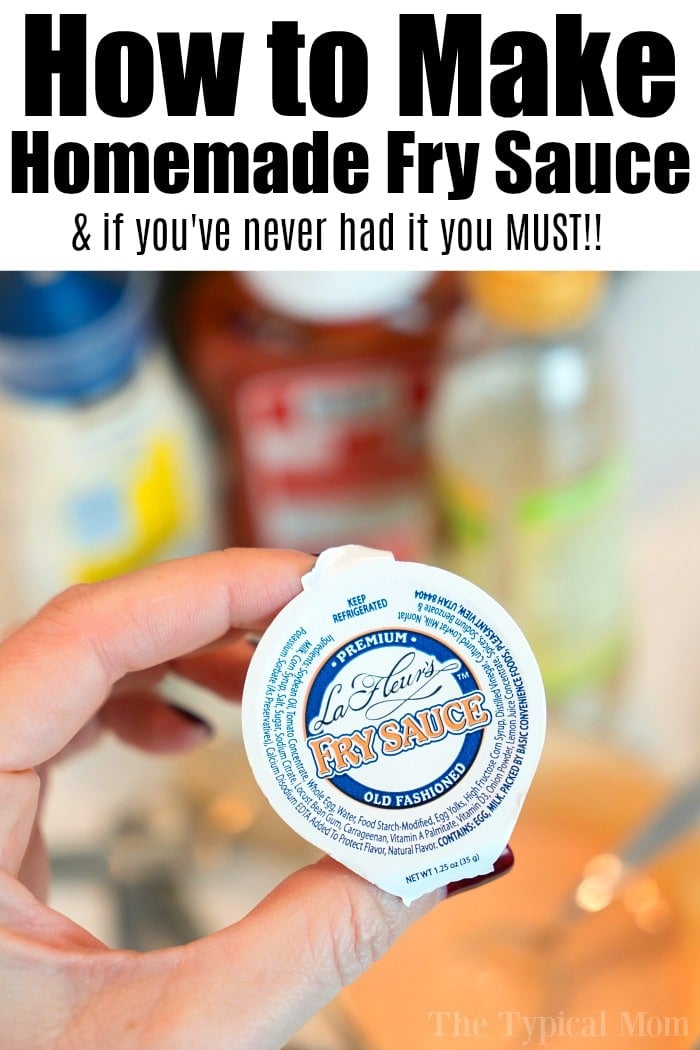 Other air fryer recipes you'll love after making these are many. A few of our favorites are below though:
Air fryer frozen chicken nuggets
Homemade air fryer stuffed chicken breast or frozen chicken wings in air fryer should be next! Once you get the hang of using this machine you can kinda' figure out yourself how long each thing will take to your liking and go from there.
How long to air fry chicken nuggets?
You'll want to preheat air fryer to 200 C or 390/400 f for best results overall. We answer all your questions below and explain step by step how this is done. I assure you that you'll love them more than any other method after trying this!
Want to see a few of my favorite things that I am totally obsessed with?? Take a peek and see how many you might already have…twinsies!
Looking for more easy family recipes and tips? LIKE The Typical Mom Facebook page?
Then sign up for my free newsletter, and follow me on Pinterest! 😉
***** If you LOVED this recipe give it 5 Stars below and let everyone know what you thought about it. 😉
Air Fryer Chicken Nuggets
Air Fryer Frozen Chicken Nuggets
Air fryer frozen chicken nuggets in your Ninja Foodi or any other brand so they're tender inside and really crispy on the outside. This is it!
Instructions
Arrange your frozen chicken nuggets in your air fryer basket so they are not overlapping. This will make them the crispiest.

Close air fryer lid and turn machine on. Press air crisp at 400 degrees for 12 minutes.

At minute 5 lift lid and flip nuggets over.

After time is up enjoy immediately for best results.
Nutrition Facts
Air Fryer Frozen Chicken Nuggets
Amount Per Serving (3 oz)
Calories 283
Calories from Fat 171
% Daily Value*
Fat 19g29%
Cholesterol 100mg33%
Sodium 1449mg63%
Carbohydrates 6g2%
Protein 21g42%
Vitamin A 500IU10%
Vitamin C 2mg2%
Iron 1.2mg7%
* Percent Daily Values are based on a 2000 calorie diet.