Frozen chicken wings in air fryer machines actually turn out great! Tender meat on the inside with a crispy skin and smothered in sauce. It's the way to go when you forgot to defrost dinner!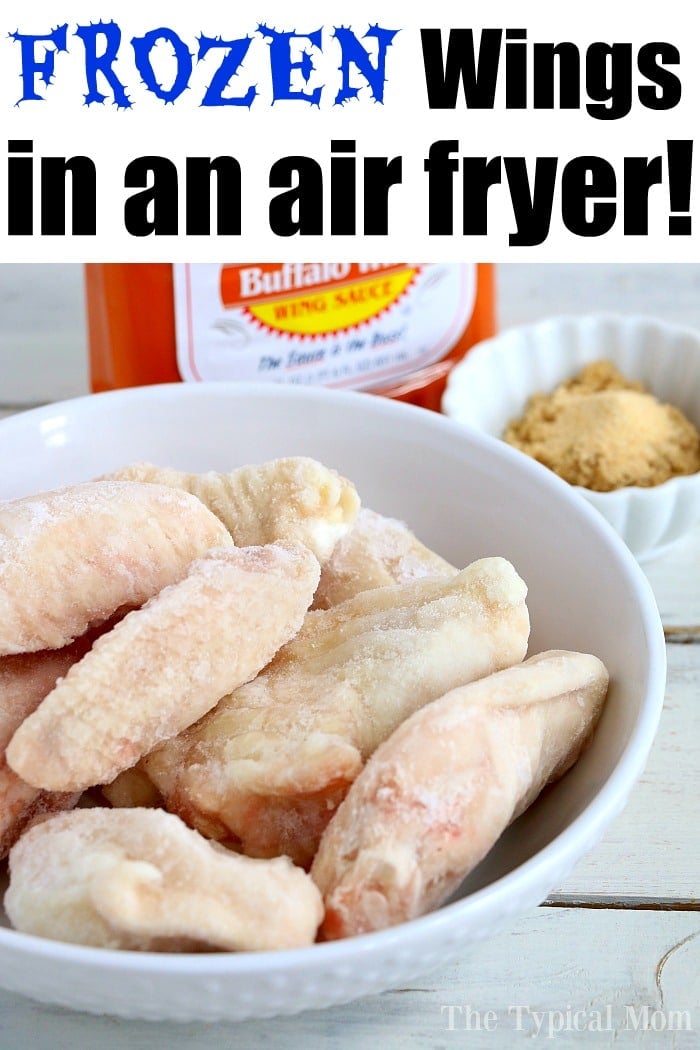 Are you forgetful like me? Or are there occasions when you need a quick appetizer? This frozen chicken wings in air fryer recipe is just for these occasions! It's one of our favorite air fryer recipes here on The Typical Mom blog. I bet your family will love it as much.
Before you had to cook them, then pop them under your broiler. Not anymore! With a hot air fryer you can make crispy chicken skin on the outsides too!
Wondering can you cook frozen meat in an air fryer?
Yes!! Frozen meat can take a long time to cook when normally, however thanks to air fryer technology you can now cook a variety of frozen meat products in no time at all!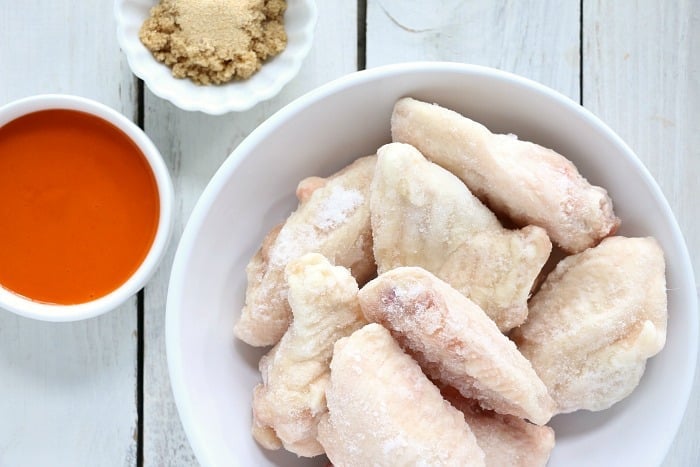 Can you cook frozen chicken in an air fryer?
AND there's NO prep work for these babies! That means when I'm having a blonde moment and totally forgot to defrost my meat for dinner, I can still save the evening.
Now if you do remember it is a bit better in my opinion.
This is what you'll need for air fryer frozen chicken
Ninja Foodi or other electric air fryer
Bag of frozen chicken wings

that is it if you don't want sauce
naked wings are quite good with just some salt and pepper

Brown sugar
Garlic powder
Olive oil spray
I like my wings both ways, sauced, dipped in fry sauce, or with a dry rub. If you have defrosted meat you can follow the air fryer wings recipe with the best dry rub ever and enjoy. If they're frozen that won't work though, you'll have to use a bottled teriyaki sauce, or use the recipe below for something a bit sweet and spicy.
How long do you cook frozen chicken wings in the air fryer?
The short answer is about 25 minutes for 1 batch. Of course times will vary depending on whether you preheat it first, and how crispy you like your skin too.
Here are the basic steps for air fried chicken wings
Put single layer of frozen chicken wings in your air fryer basket.
Close drawer or lid and set to 400 degrees for 15 minutes.
Then flip them over and continue cooking the wings for another 10 minutes.
Flip again, spray with olive oil spray and continue for 5 more minutes.
You could enjoy them at this time but if you want perfectly cooked crispier skins flip the wings again.
Spray with olive oil and add another 3-5 minutes at a time.
Remove when your frozen air fryer chicken wings are as crispy as you'd like.
Put on paper towels when done, sauce and enjoy!
Total cooking time will be about 30 minutes per batch.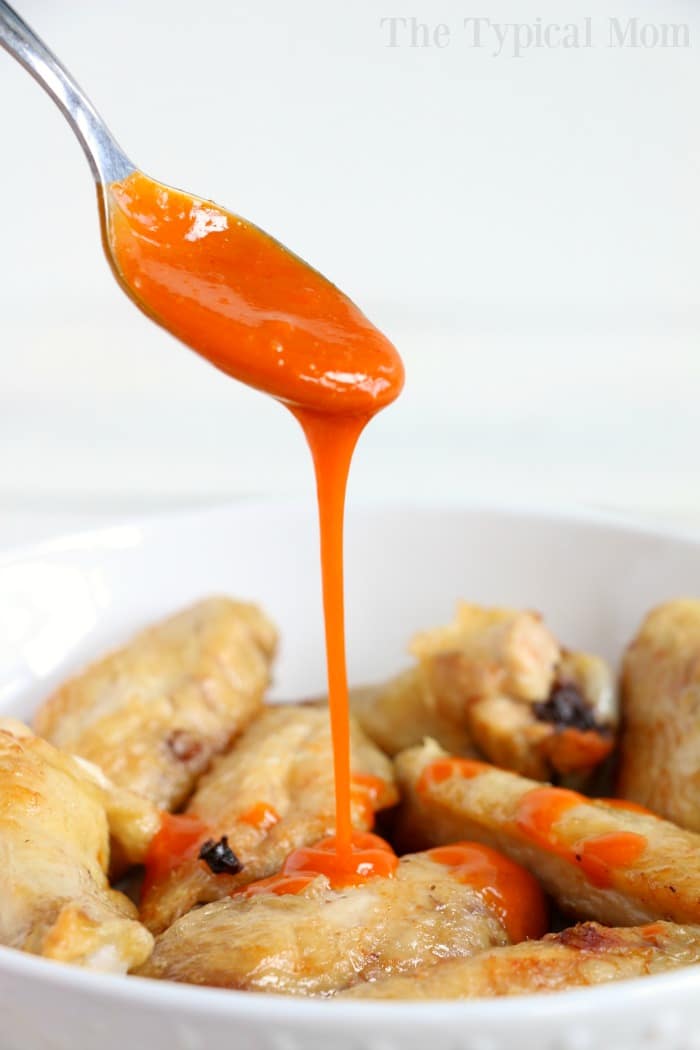 So this leads to the question…can you defrost in an air fryer?
The beauty of the air fryer is that you don't need to defrost frozen foods before cooking them. Take these air fryer tater tots. They work just like if you were to cook them in the oven. Just throw them in rock solid and they'll come out tender, but crispy on the outside. Actually, crispier than if you put them into the oven.
Love deep fried wings but want a healthier version ?
If you want to decide whether naked wings in the oven, or these are better, follow our how to bake crispy chicken wings recipe here. You use a bit of baking powder on the outside to get that CRISPY skin. That's what we did before we got this nifty machine.
What to serve with frozen chicken wings in air fryer:
For more easy recipes, tips and free printables please LIKE The Typical Mom on Facebook and follow me on Pinterest! You can also sign up for my free weekly newsletter which is packed with goodies I know you'll love. 😉
Frozen Chicken Wings in Air Fryer
Frozen chicken wings in air fryer machines actually turn out great! Tender meat on the inside with a crispy skin and smothered in sauce. It's the way to go!
Instructions
Place wings in air fryer basket so they aren't overlapping.

Close drawer and set to 400 degrees for 15 minutes.

Open, flip each one over and set again for 400 degrees for 10 minutes.

After 5 minutes spray wings with olive oil spray so they crisp up more.

Check, if you want them crispier flip them again, spray again, and set for a few more minutes.

Mix 3 ingredients together in a bowl to make sweet n spicy buffalo sauce.

Toss together to coat and serve!
Nutrition Facts
Frozen Chicken Wings in Air Fryer
Amount Per Serving (2 oz)
Calories 478
Calories from Fat 279
% Daily Value*
Fat 31g48%
Cholesterol 148mg49%
Sodium 1984mg86%
Potassium 318mg9%
Carbohydrates 13g4%
Protein 36g72%
Vitamin A 283IU6%
Vitamin C 1mg1%
Calcium 33mg3%
Iron 2mg11%
* Percent Daily Values are based on a 2000 calorie diet.